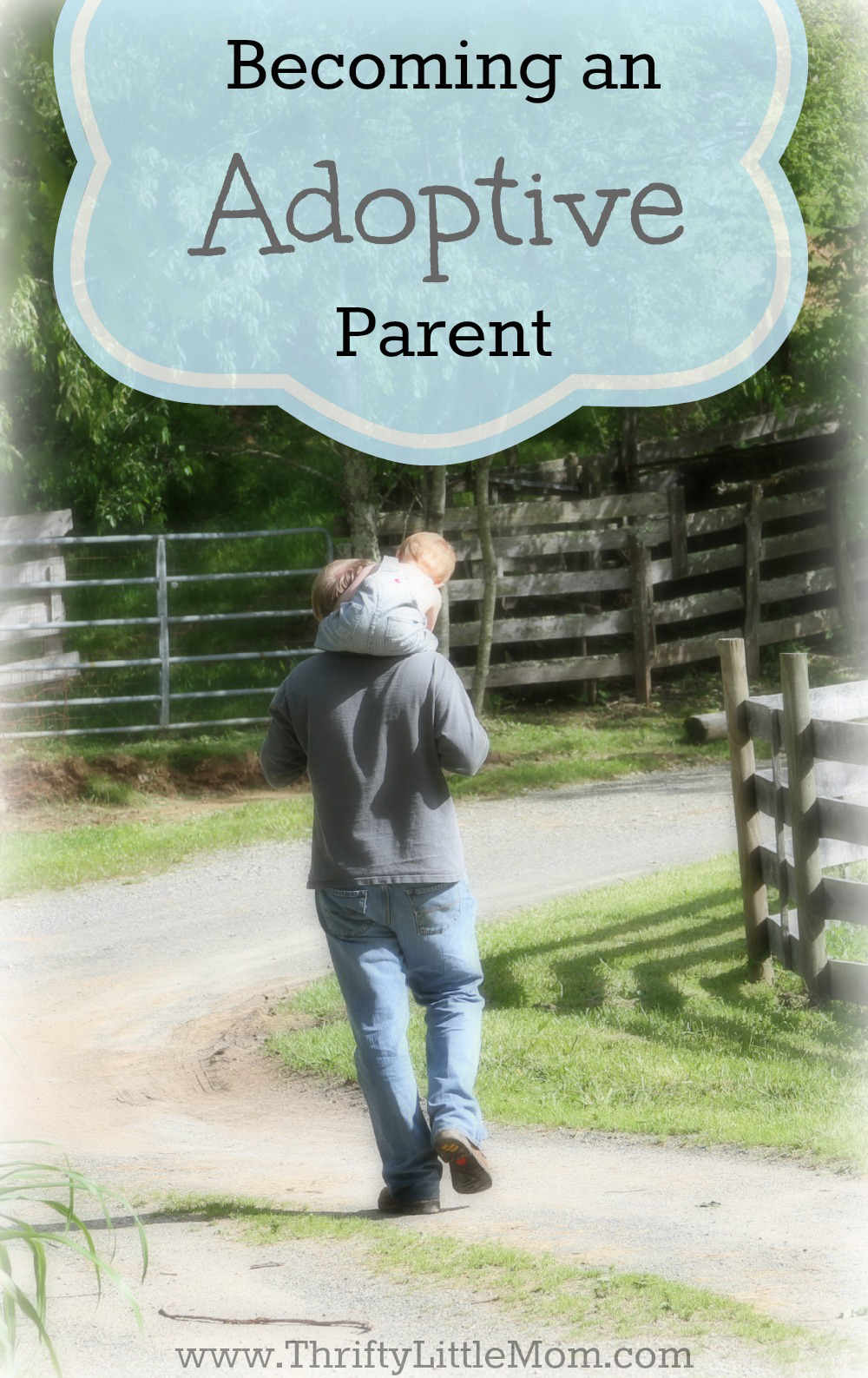 Adoption is such a powerful and fulfilling story.  Many families who have found conception difficult take the path to loving a child and taking them in as their own.  There are even families out there that have children of their own, but long to give a safe and loving home to a child who might spend their life moving through a complex and difficult system.  I and many of the other moms I know out there have considered the idea of adoption.  Adoption can seem overwhelming.  Some people just don't know where to begin.  That's why when my cousin Angie adopted her second child, I had to get her story and advice for a blog post all about adoption!  Here is her story of becoming an adoptive parent.  I hope it gives you insight into the diverse world of adoption options.  If you want more tips, check out her second post in this 2 part series titled "7 Pieces of Advice for Adoptive Parents".
Guest Post By Angie
My name is Angie, and as of the date of this I am currently shy of my 40th birthday by 6 months. I'm a single mother of 2. My daughter us 2 1/2 and my son is 3 weeks! The adoption process was completed with my daughter when she was 9 months old and we are at the beginning stages with my son.
My Marriage
I was married for 7 years, we tried to get pregnant from day one! Tried and heartbreaking failed. After hundreds of negative pregnancy tests and a few miscarriages my marriage succumbed to divorce. I do not believe this was the reason our marriage ended but I've come to see the part it played in its end. I found myself living alone for the first time!
My Healing & My Hope
Independence, freedom, self-reliance, healing and wholeness became my new focus. As an only child, my support system throughout this time was my wonderful parents. I work in the childcare field and although being surrounded by children all day was wonderful it was not as fulfilling as having my own, so I decided to take things into my own hands and enroll in Foster Care Classes. I knew that it was a door to adoption, and although I truly wanted a baby, I knew I could love an older child too. I signed up for the classes and then everything at my work fell apart. I had to decide that I would wait until things settled down (haha) and take the next classes in 6 months. I had no idea that in 6 months everything would change.
 My Path To Adoption
There are many paths that one can take to find a child in the journey of adoption. Using an adoption agency, state foster care programs, or using public announcements, word of mouth and social media. I planned to go through foster care, however in June word of mouth chose me. A co-worker knew I was looking to adopt and connected me to her friend who was pregnant and looking for someone. I met her 4 days later.
Meeting The Birth Mother
We met at our mutual friends house, she was thoughtful enough to arrange the meeting, prepare a meal and then leave. We spent this time asking each other questions. The mother wanted to know about my childhood, my relationships with my family, my religious beliefs, my thoughts on discipline, my marriage and divorce, and why I was wanting to adopt. I answered every question truthfully with my knees shaking and heart pounding the whole time.
I asked her about her family and the father. I did not have to ask many questions she was very open and willing to share why she was choosing adoption and the things that where very important to her if we proceeded. I referred to these things as strong requests. Her and his families did not know she was pregnant and she wanted to keep it that way. She told me of her childhood and was adamant that this child would be brought up differently.
At the end of the meal she slid 2 ultrasound pictures across the table and told me I could have them. She told me the baby was a girl and due in September. I like to call my adoption journey a private adoption, not because there are any sealed records, but because only myself, my parents, and the courts know the names of my daughters birth parents.
Legal Stuff 
I used a family law attorney. Fortunately I knew someone already so that was nice. If someone is using an adoption agency they should discuss that with the agency rep.
Getting Involved in the Process
After our first meeting I took the birth mom to a couple of doctors appointments I did not go into the room with her. I also had the opportunity to meet the birth father, at first he was not completely for the adoption. After meeting a couple times, he asked a lot of questions, he decided that adoption was the best choice for them and the baby. The birth mother also wanted to be involved in some of the decorating in the nursery, we had a lot of fun together. We also talked baby names and it was decided that I would pick the baby's first name and she would give the baby her middle.
The Big Day
When it came time for the day of the birth i received a phone call from the birth mom and met her up at the hospital in the evening. I did spend the whole night there with her and the birth father showed up later. As the time came closer to delivery I left the room to give them privacy.  This was a decision we had made beforehand.
Our hospital gives two wristbands out to the adults one for the birth mom and one for another person. My birth mom chose to give it to our mutual friend. This wristband allowed a person access to the nursery and they could take the baby as they chose. At first it worked well, however it did become frustrating as the friend was not at the hospital very often. (On the other hand, with my son, who was delivered C-section, I did have the second wristband and was present when they brought him into the nursery immediately after birth! It was amazing and wonderful.)   I did not have my own room so I chose to go home and sleep.
Holding My Children for The First Time
I held my daughter approximately an hour and 15 minutes after she was born. I only had her when I was in the room with the birth mother.
However with my son the birth-mother had set up with the hospital in advance. They were aware of the adoption and I was given my own room during the stay in the hospital. I had him every night and most days she did take him for a while in the morning, the afternoon, and when family came to visit. This was nice because I was given all of the newborn care information from the nurses and hospital staff.
Going Home
Our hospital has a policy that the exchange of the baby cannot happen on-site, so with both of my children I took the birth-parents home. I gave my sons birth-mother a ride home and my daughter's birth mother actually stayed with me for six days after we were released from the Hospital.
The Adoption Finish Line
The process to complete adoptions is a varied amount of steps, I'm sure that the waiting time is different in each state. In the state where I live the baby has to live with the adoptive parents for six months before the adoption can legally be finalized. There are lots of steps that happen some before the baby is even born, if there is time, as well as steps that take place after the birth of the child.
A home-study is usually completed in a couple visits, one before baby and one after baby. We signed power of attorney over to me when baby was only a couple days old then after that it was a court date to establish legal guardianship and another court date on which the judge explained rights to the punitive birth father.
At the final court date, the judge asked the birth parents if they both understood their rights and if this is was final decision. He explained what my rights would be when the adoption was finalized and their parental rights were relinquished and the child was declared as legally my adopted child.
Once the adoption was finalized and I received the final document I was able to take it to the Social Security office and was able to get the last name changed on their Social Security cards as well as receive a new birth certificate.
The whole process is stressful and an emotional roller coaster ride. Although I am in the middle of that ride with my son I wouldn't change a thing.
The Road To Adoption Is Different For Everyone
Every adoption is different there maybe more or less court dates depending on different laws and regulations per state or if you're dealing with a child from a different culture or especially international adoptions would be something completely different. I'm not sure how an adoption would work with from within adoption agency.
I also had to work with Native American tribes both of my children are part Native American and we had to work within their laws and government with the adoptions as well.
I hope this post encourages you on your journey toward becoming an adoptive parent.  If you would like to know more, check out my blog post "7 Pieces of Advice for Adoptive Parents".