Single Serve Strawberry Cheesecake Trifle
This post contains affiliate links. As an Amazon Associate, I earn from qualifying purchases. I also earn from qualifying purchases made with other brands and programs. See my
privacy policy.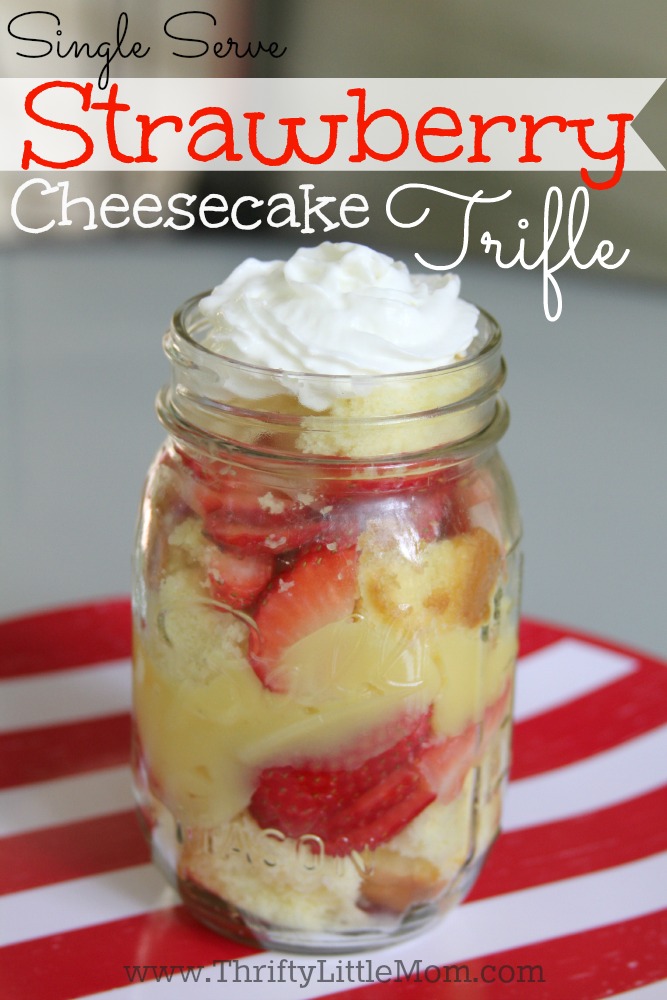 I love trifle.  I really love single serve strawberry cheesecake trifle.  It's one of my favorite things about summer!  It's fast, it's easy and most importantly, it's cold!  I live Atlanta and it gets soo hot and humid most summer days that I could eat a whole trifle bowl of this stuff.  That's why I make it single serve….
I also make it single serve because I enjoy having summer get-together's with friends and making food single serve seems to help guests eat while they socialize.  Here is the recipe and instructions for making my super easy strawberry cheesecake trifle!
This recipe is really easy and doesn't require any baking.  The best part is the filling.  You simply combine this pre-made Philadelphia Cheesecake Filling with Cool Whip and you have a magical delicious filling in seconds.
Go ahead and cut your pound cake up into easy to handle cubes.  Follow this by cutting your strawberries in whatever fashion you like.  Once these are done your almost ready to layer.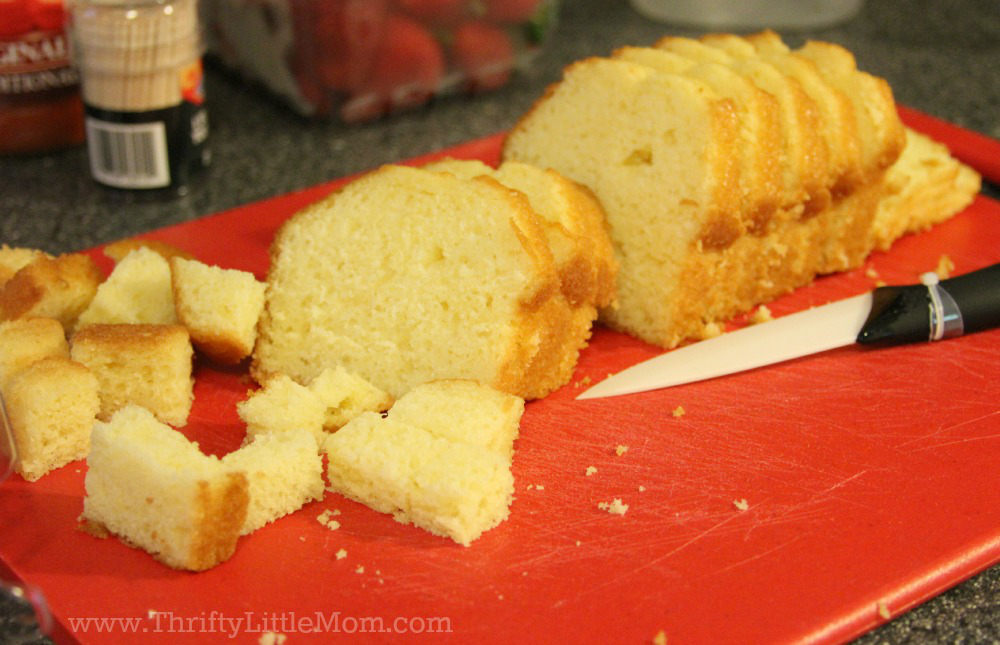 Single serve is tricky because I want it to look nice when when I display it.  To get the filling into the jars nice and neat I simply load the filling into a zip top bag, seal it up and cut one of the bag tips off.  This allows me to add the filling like cake icing and it comes out neatly and beautifully without being all over the side of the jar.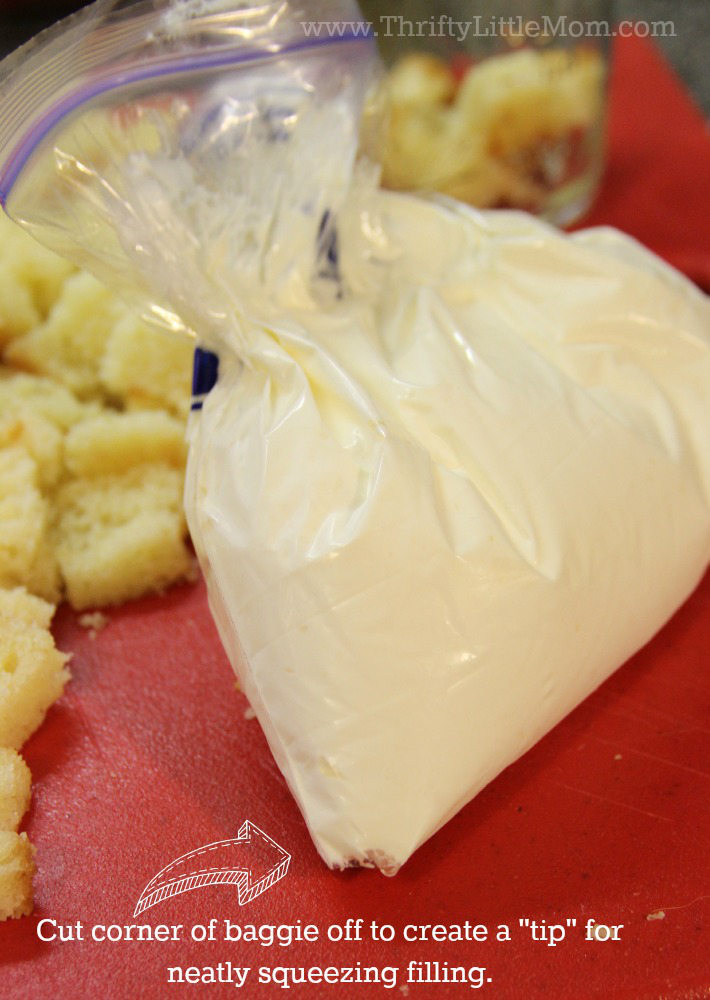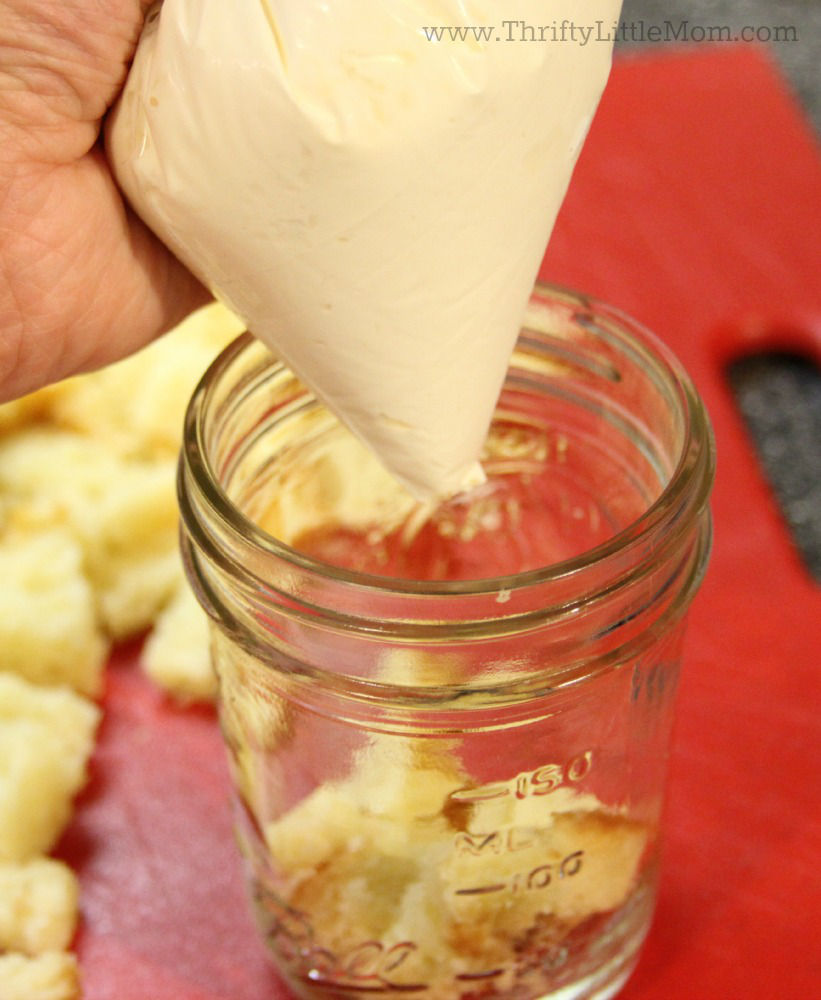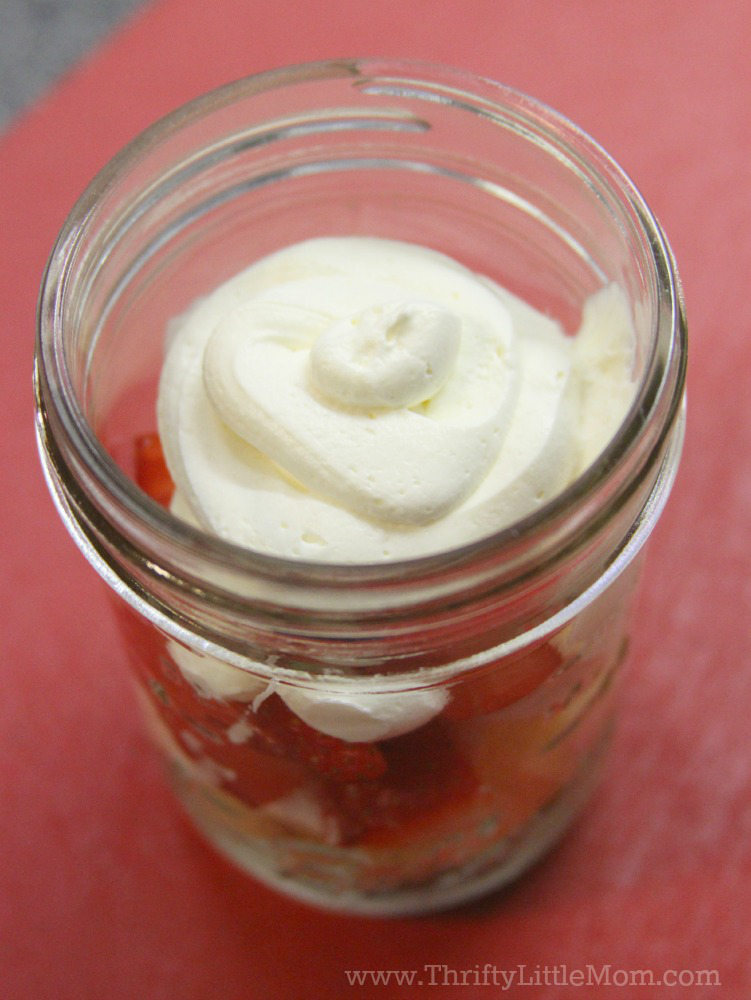 Alternate layers of cake, strawberries and filling in whatever order you like.  I like to put the cake on the bottom to start with so it soaks up all the juices.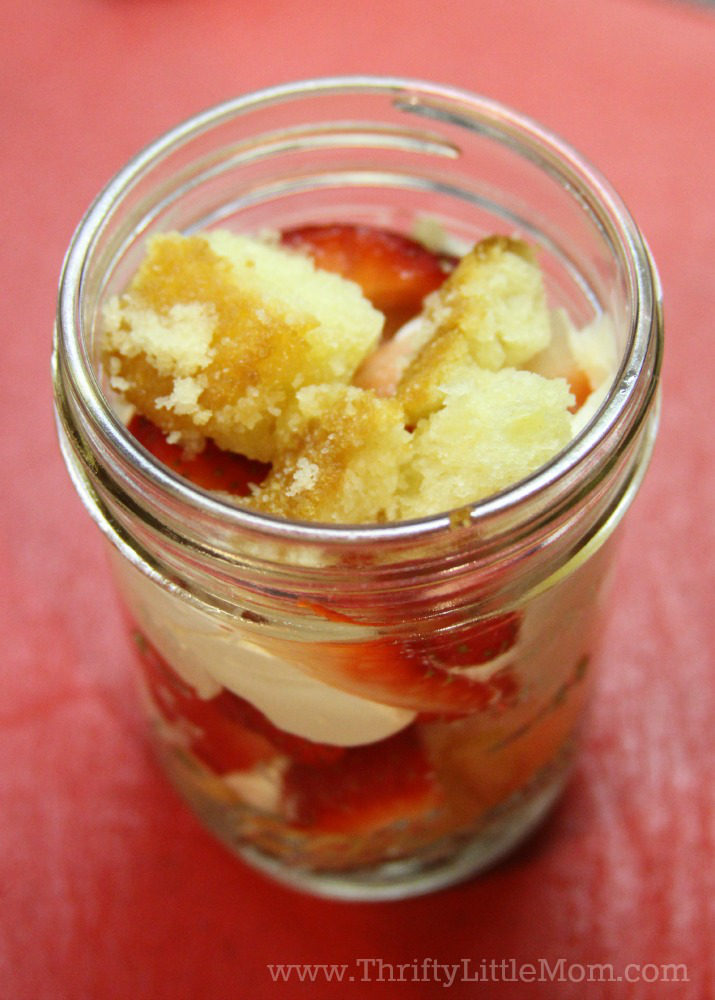 I don't add the whip cream topping until I'm ready to serve because the it kind of "melts" or deflates even in the fridge.  You could avoid this by using Cool Whip which maintains it's shape but I love the look of whip cream from the pressurized can.  Before I refrigerate, I cover each jar in cellophane and chill for at least 30 minutes.  I usually make these about 2 hours before the party just so they are fresh.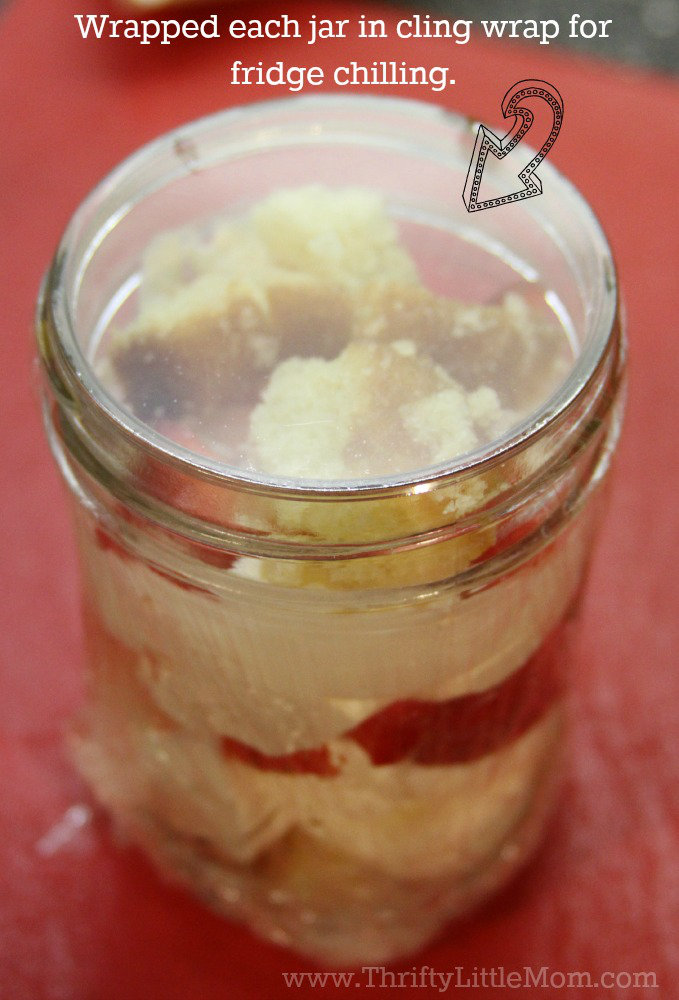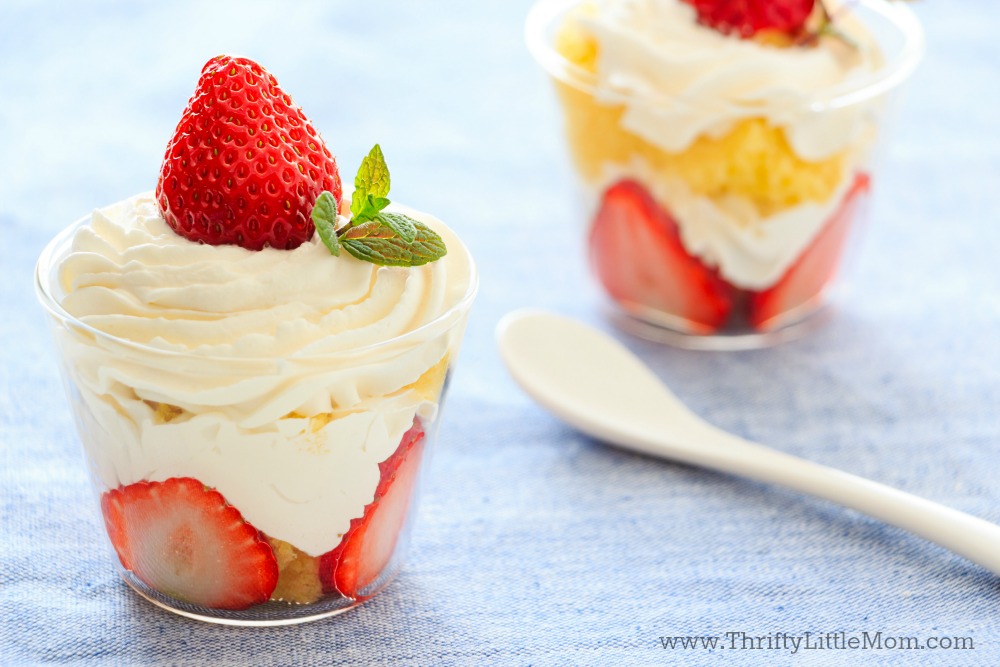 [yumprint-recipe id='2′]
Access my FREE Party Printables Vault!
Subscribe to my weekly intentional living email magazine and I'll give you access to my life printables vault! Cleaning, planning, organizing and more!
Don't forget to check out what's in the resource library! https://thriftylittlemom.com/thrifty-little-mom-resource-library/ Password: Thriftyprints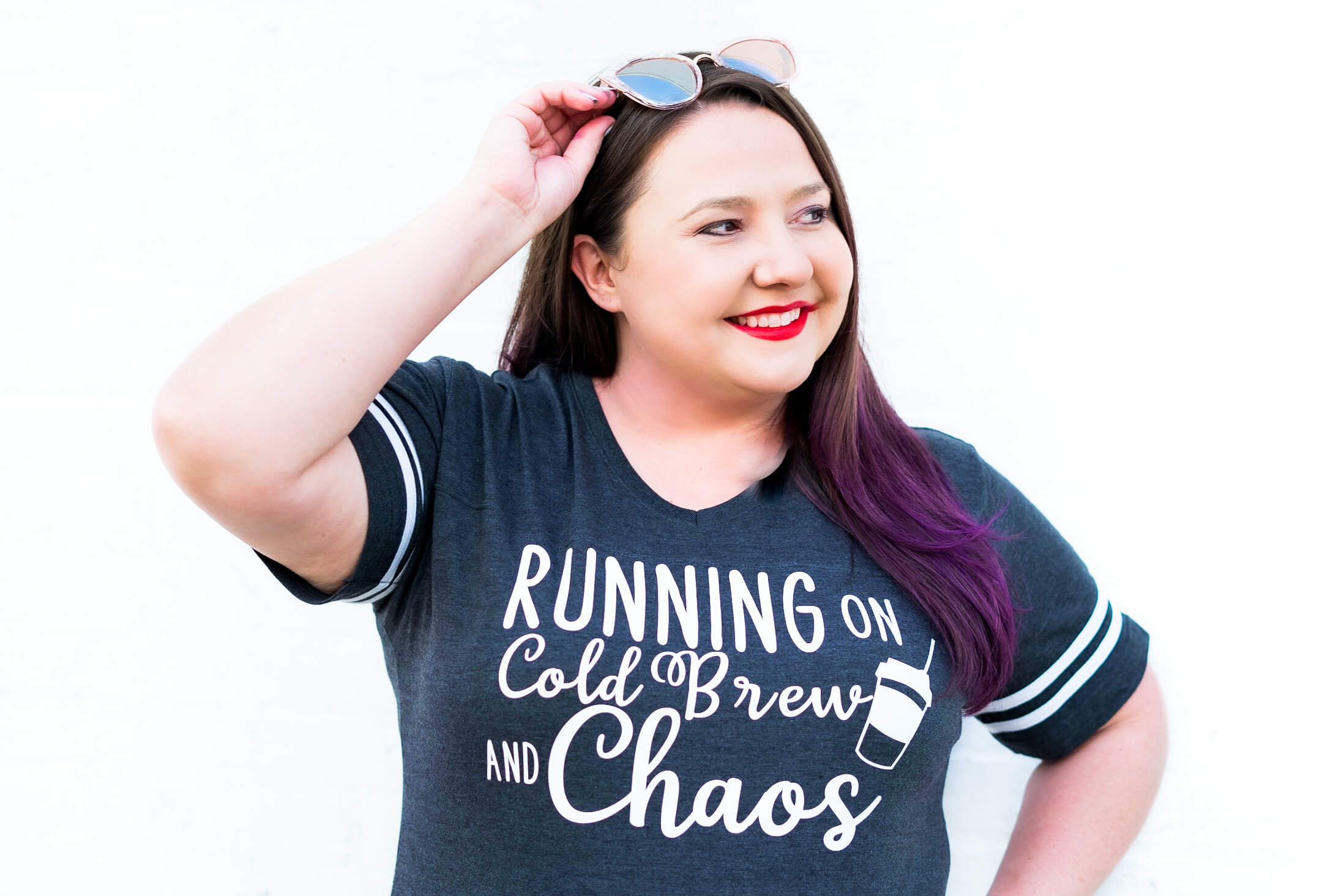 Kim Anderson is the organized chaos loving author behind the Thrifty Little Mom Blog.  She helps other people who thrive in organized chaos to stress less, remember more and feel in control of their time, money, and home. Kim is the author of: Live, Save, Spend, Repeat: The Life You Want with the Money You Have. She's been featured on Time.com, Money.com, Good Housekeeping, Women's Day, and more!