Sweet and Spicy Chicken With Naan
This post contains affiliate links. As an Amazon Associate, I earn from qualifying purchases. I also earn from qualifying purchases made with other brands and programs. See my
privacy policy.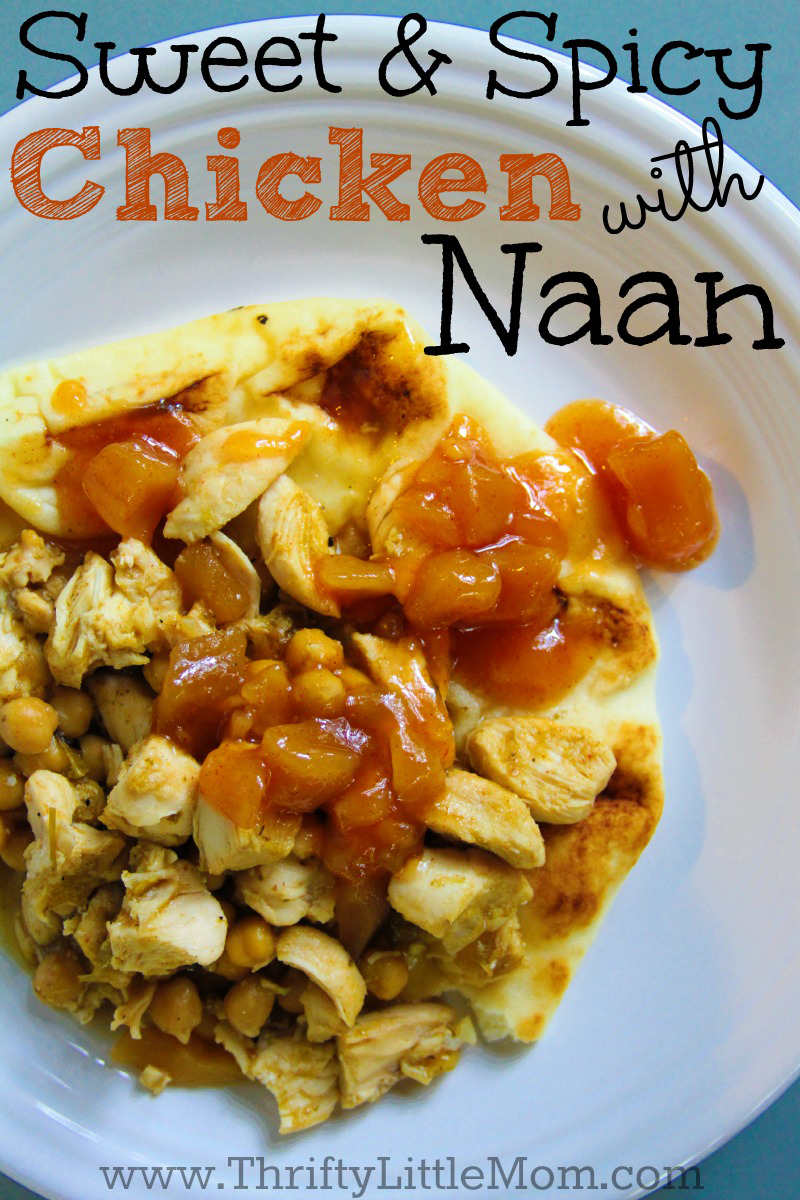 I still remember holding onto to the door handle, knuckles turning white every time we got in the car in Trinidad.  It was a frightening ride every time because that we were traveling on the opposite side of the road as I was used to, and we went very quickly around very tight spaces in high traffic.  As a team in town to lead a kids VBS at a local church, we had some down time here and there.  During those down times a sweet couple from the church would drive us all around town and take us sight-seeing.  They wanted us to feel at home so they would often find places like Pizza Hut or KFC for us to eat.  One day while we were scooting around we saw a vendor on the side of the road selling something that looked like tacos.  Our Trinidadian friend explained that they were "doubles" and they were fried flat breads stuffed with a spicy chic pea filling.  It was love at first bite.  We all craved those deliciously sweet and spicy hand held delicacies the rest of the trip!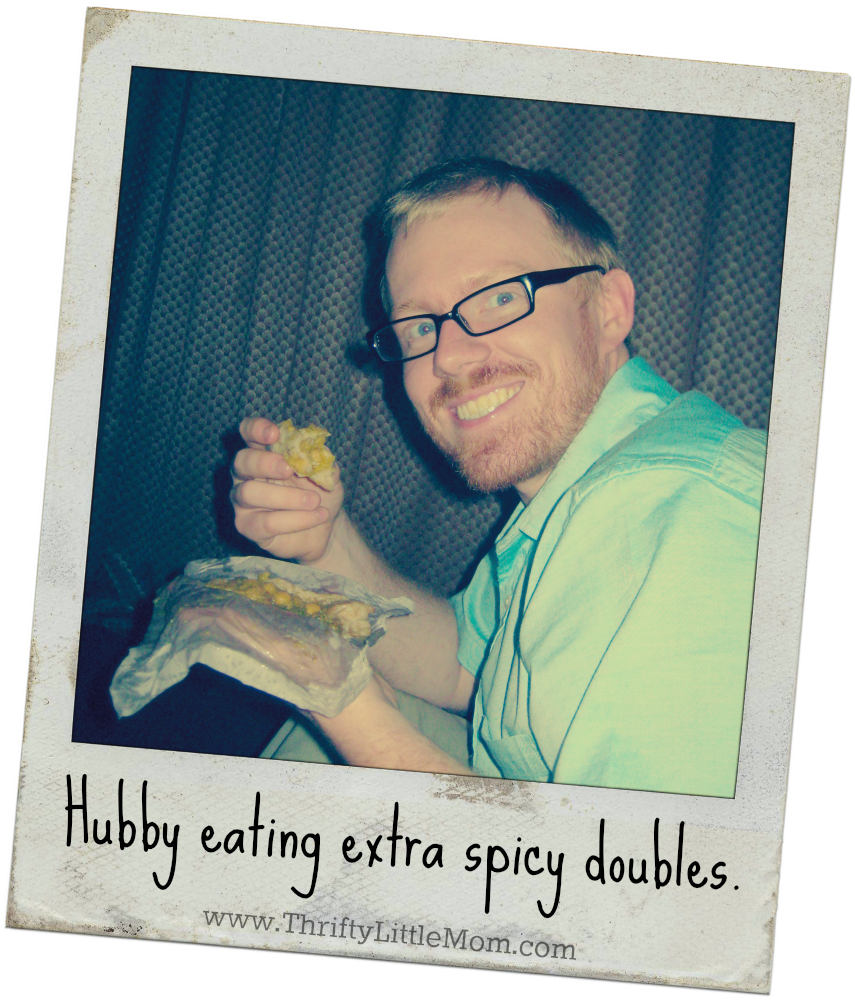 Once I got back in the states I dreamed about doubles and have had a hard time replicating them.  Then a few months back, I was trying a new taco dish combination and as my husband consumed the dish he commented, "These taste a lot like doubles".  So I changed a few things and this is the closest I have been able to get to the flavor of that street food in 4 years. I added chicken to the recipe simply because we are some protein loving people around here.  I didn't call these doubles as I feel it might bring shame to the name but it is a sweet and spicy chicken with naan recipe that its fast, easy to make and is packed with flavor!  This would also be a super easy crock pot dish.
Ingredients:
4 Chicken Breasts
1 Can of Chick Peas
1 pack of Frontera Key Lime Cilantro Taco Skillet Sauce
Chutney
Naan (I buy mine from the bakery section pre-made shhhhhhh…)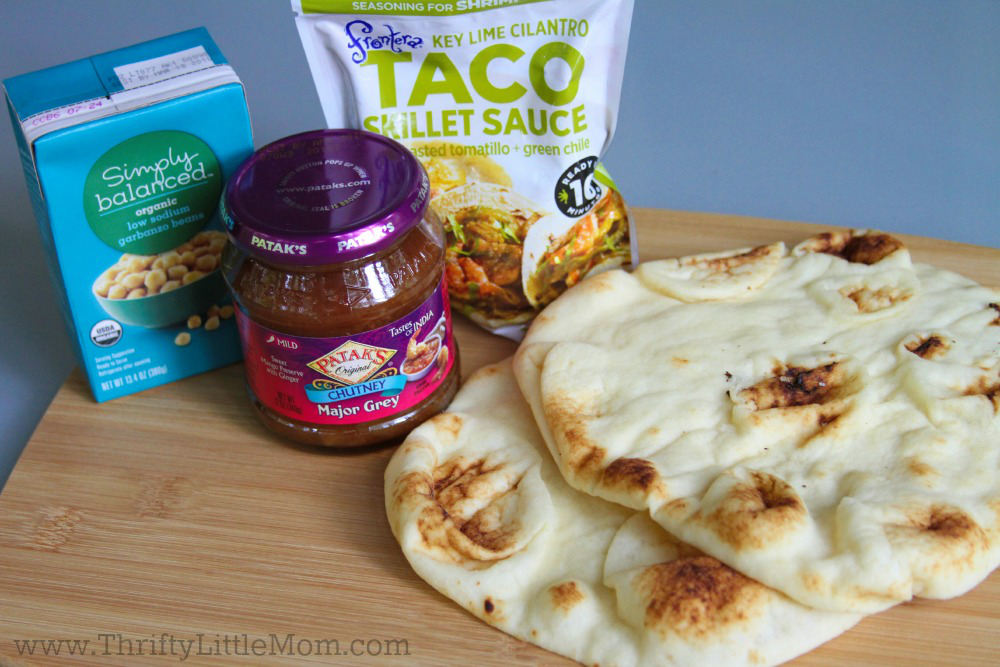 Step 1: I cut up the raw chicken in chunks and then fully cook them in a pan.
Step 2: Once chicken is fully cooked, I add the can (or box in this case) of chick peas.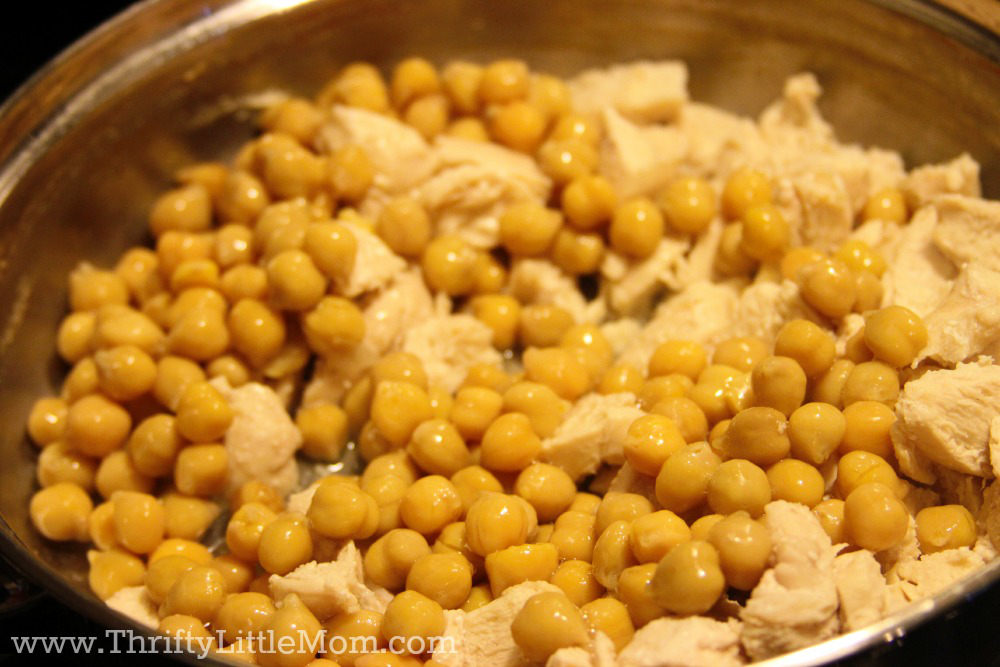 Step 3: Add the secret ingredient!  The Frontera Key Lime Cilantro Taco Skillet Sauce is the main ingredient for this dishes success.  It's about $2.50 at Target but I have seen it all major chain grocery stores.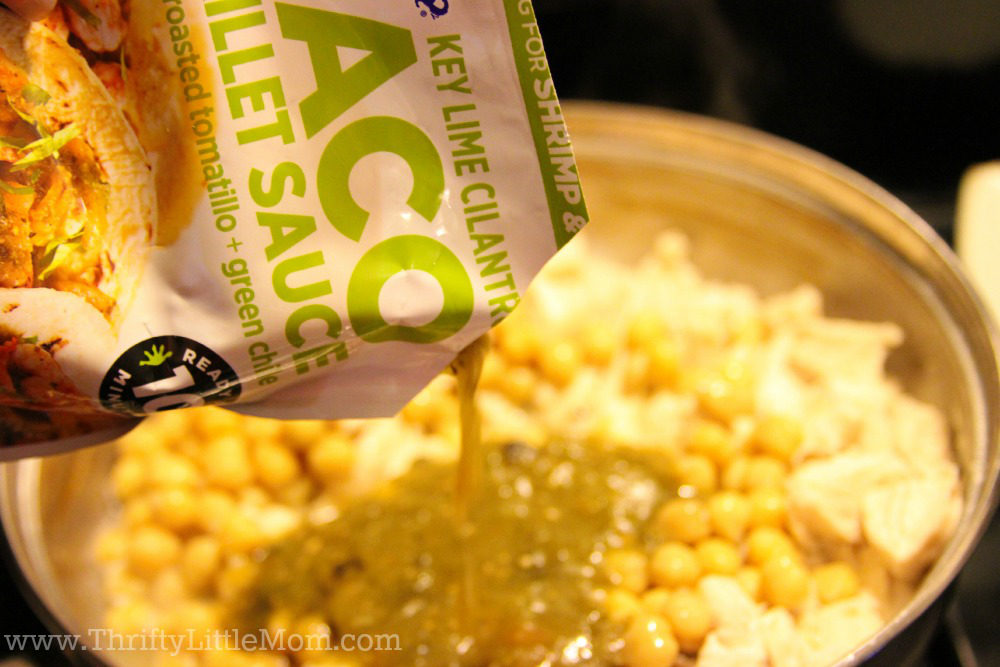 Step 4: I like my sweet and spicy chicken to be sweeter so I add a little chutney to the pan and that simmer for a few minutes with the taco sauce.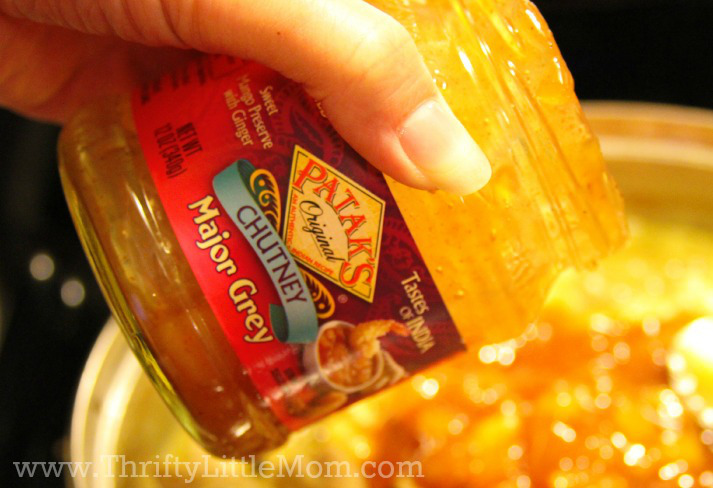 Step 5: Lay down your naan on your serving plate, spoon on your sweet and spicy chicken mixture and then top with a heaping helping of chutney.  Sometimes I tear the naan up and place it in the bottom of a chili bowl and spoon the chicken and sauce heavily on the naan so the flat bread will soak up all the delicious juices!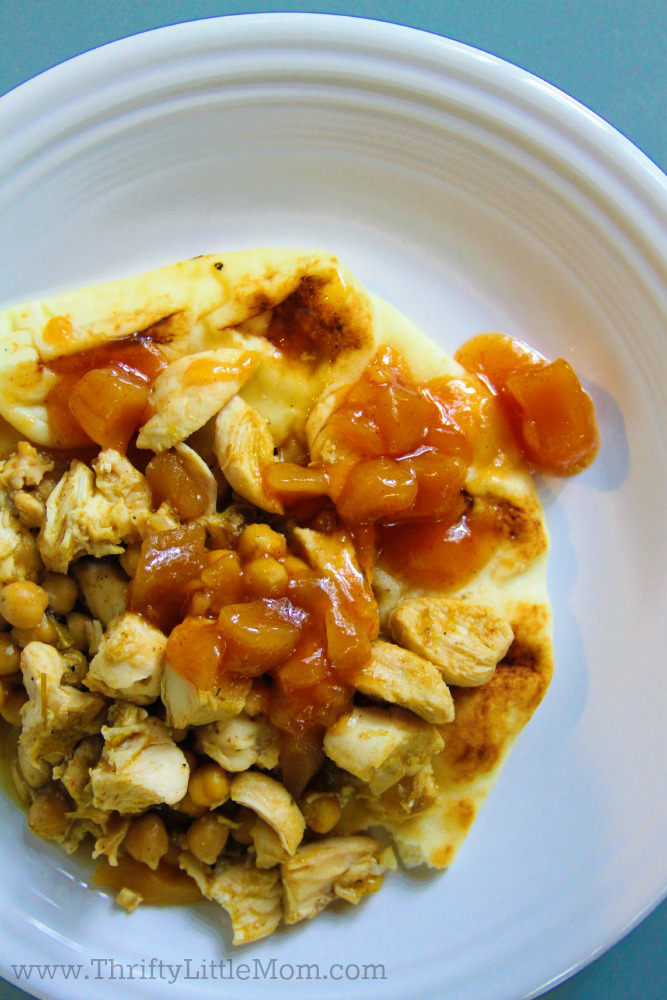 I hope you have enjoyed this sweet and spicy chicken with naan recipe or if you know of any good "doubles" recipes please please please of the love of all that is delicious share a link in the comments section below!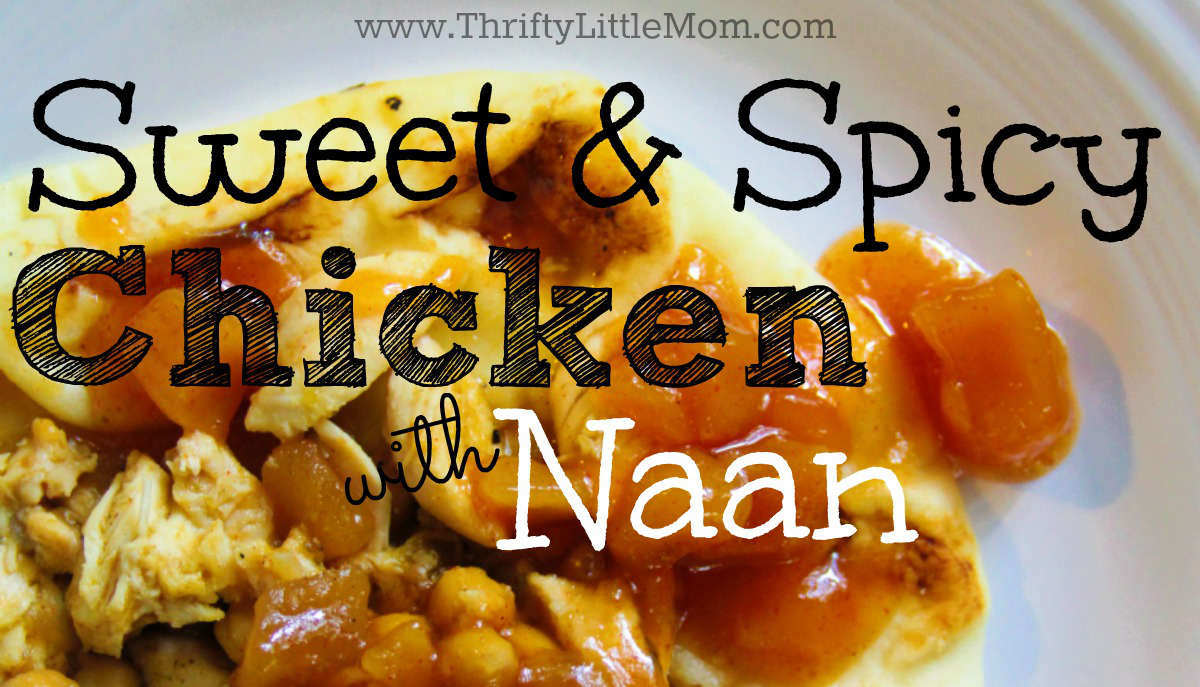 Access my FREE Party Printables Vault!
Subscribe to my weekly intentional living email magazine and I'll give you access to my life printables vault! Cleaning, planning, organizing and more!
Don't forget to check out what's in the resource library! https://thriftylittlemom.com/thrifty-little-mom-resource-library/ Password: Thriftyprints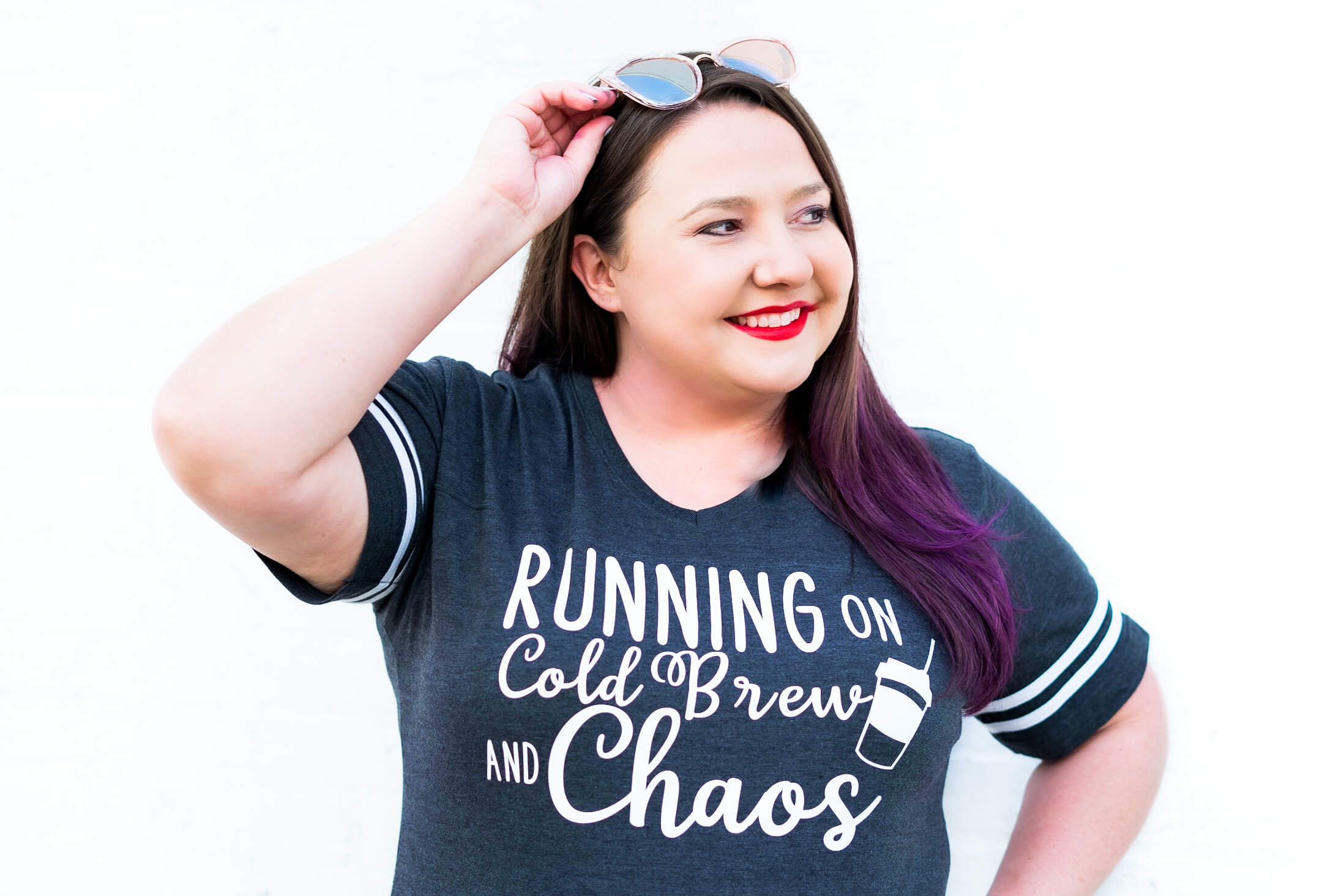 Kim Anderson is the organized chaos loving author behind the Thrifty Little Mom Blog.  She helps other people who thrive in organized chaos to stress less, remember more and feel in control of their time, money, and home. Kim is the author of: Live, Save, Spend, Repeat: The Life You Want with the Money You Have. She's been featured on Time.com, Money.com, Good Housekeeping, Women's Day, and more!