Making Money Dumping Your Clutter
This post contains affiliate links. As an Amazon Associate, I earn from qualifying purchases. I also earn from qualifying purchases made with other brands and programs. See my
privacy policy.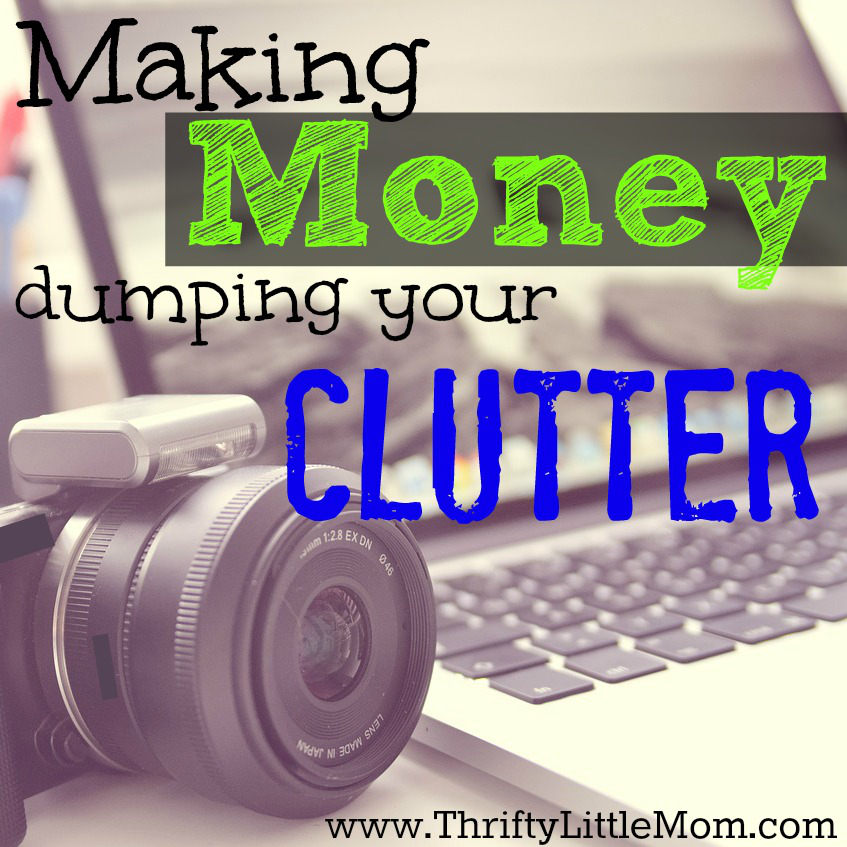 Do you have a place in your house that you stash clutter you don't know what to do with?  In my house, that's the finished basement.  There is a cluttered corner where I stash all the items that need to leave my house but I'm paralyzed with indecision about what EXACTLY to do with it all.  There are many options for getting rid of clutter from donating to making money, that sometimes I just don't know where to start.
In the past year and half of blogging I've received many great tips from reader comments about where to sell your stuff. With all those ideas I decided to find some bloggers who knew what they were talking about when it comes to selling your stuff.  I've compiled the list of resources I found extremely helpful. If one of these ideas is new to you or seems appealing please check it out!  I hope you find the perfect way for you to start making money dumping your clutter from one of these resources!
1. Selling Your Formal Wear
You've got a closet full of formal gowns, bridesmaid dresses and maybe even a wedding dress you don't know what to do with.  Gowns take up valuable space and are the types of things that other people are willing to purchase used.  Here is my guide on How To Sell Used Gowns.
2. Selling on Craigslist
Ruth Soukup at Living Well, Spending Less has a really great guide on her blog titled, 10 Tips for Buying & Selling on Craigslist.  The post offers advice on deciding how to price your items (which I know a lot of people struggle with) as well as negotiating with buyers.
3. Selling at Garage Sales
I'm not a huge fan of garage sales myself because I never make money.  On the other hand I know people who make thousands from the ones they have.  I found a really, really great post by Kalyn Brooke from Creative Savings that covers a variety of selling options but has a particularity brilliant idea for how to prepare for a garage sale that I had never ever thought to do.  Check it out in her post, Clutter Overload Part 2: Where to Donate and Sell Your Items.
4. Selling Through Facebook Groups
Every time I bring up selling clutter, someone inevitably raves about the success they have had on Facebook.  I've never done it but want to give it a try.  Victoria from Snail Pace Transformations has a really great post to give you all the info you need for putting extra money in your pocket by selling your stuff on Facebook groups. Check out Selling Saturdays: Tips for Selling in Facebook Buy and Sell Groups.
5. Selling at Consignment Stores or Sales
I'm a huge fan of selling things at consignment stores and consignment sales. Consignment stores are open year round and kid's consignment sales are typically held semi-annually at churches and empty retail spaces.  Here are two of my posts about selling items through Consignment.
 6. Selling on Ebay
Sarah Titus from Saving Money Never Goes out of Style is probably one of the go-to bloggers out there on learning about making money off Ebay.  She basically sold on Ebay to provide for her kids as a single mom.  She has two great posts (of many) that I want to point out with tips about selling on Ebay.
7. Resale Retail Stores
These are no hassle kind of places that pay you cash up-front for your items.  Typically you stop in, they go through your items and then offer you money for what they want to take and send you back home with the rest.  I've received cash from the following national resale retailers that you probably have near where you live.
Play It Again Sports
Once Upon a Child
Plato's Closet
CD Warehouse
There are many ways that you can start making money dumping your clutter.  All you have to do is decide which one (or more) you the like the best and give them a try!  It all depends on where you live and the resources you have!  Good luck!
Please share any of your own favorite ways to make money ditching clutter or your own success stories in the comments section below.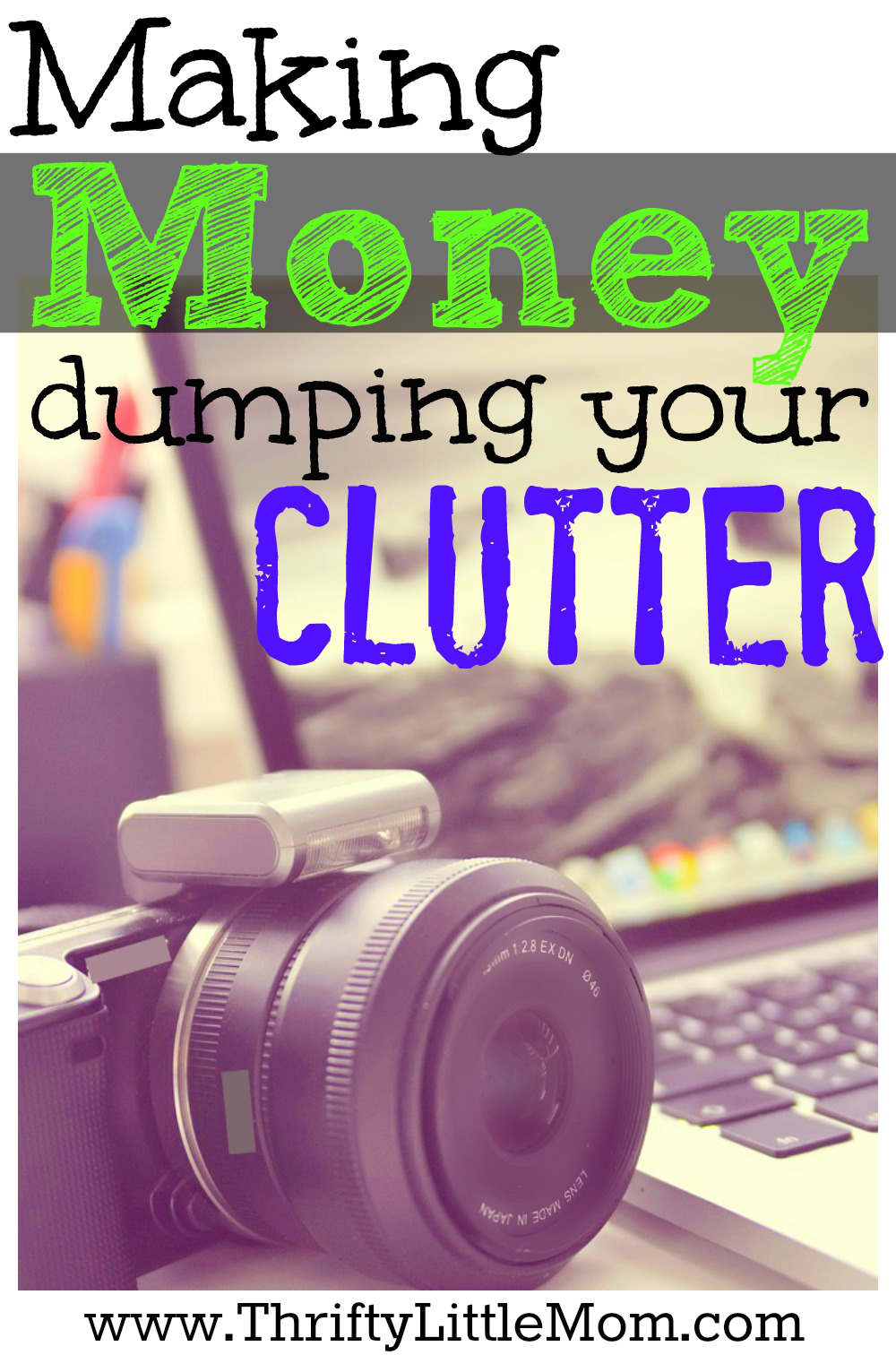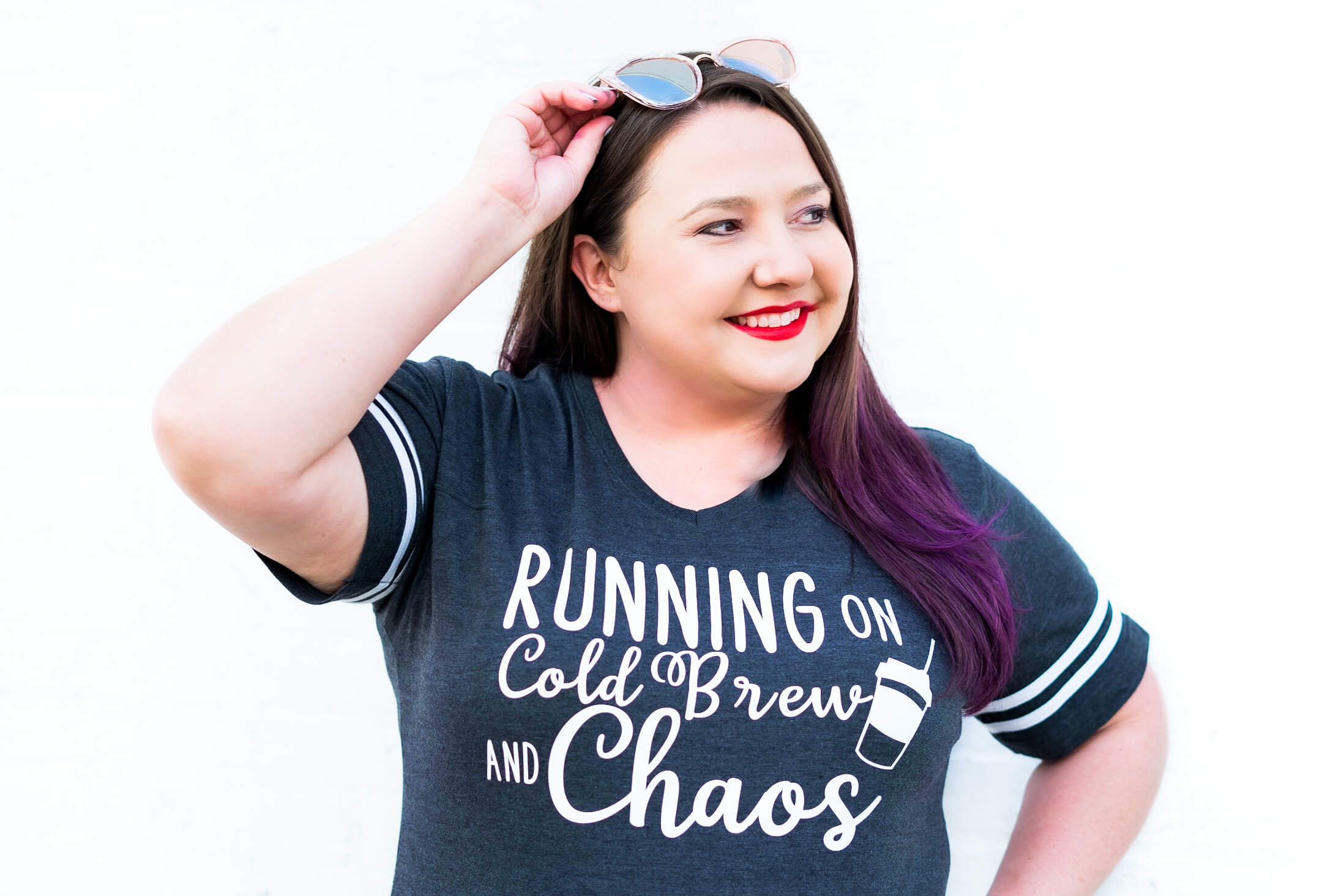 Kim Anderson is the organized chaos loving author behind the Thrifty Little Mom Blog.  She helps other people who thrive in organized chaos to stress less, remember more and feel in control of their time, money, and home. Kim is the author of: Live, Save, Spend, Repeat: The Life You Want with the Money You Have. She's been featured on Time.com, Money.com, Good Housekeeping, Women's Day, and more!