Thrifty, Convenient Art & Craft Classes for Busy Moms
This post contains affiliate links. As an Amazon Associate, I earn from qualifying purchases. I also earn from qualifying purchases made with other brands and programs. See my
privacy policy.
This post contains Affiliate Links.  If you click the link and purchase something, I make a small commission that keeps this blog up and running.  For more information you can view our Privacy Policy here.
Have you ever wanted to learn an art or craft but once you thought about the amount of effort or money it would take you decided against the idea?  Have you ever wanted to get more advanced with a creative skill that you already have?
I love learning and I love crafting.  It would be amazing to learn every crafty skill out there, but I just don't have that much time.  The main problem I face with traditional craft classes is that they meet on the same night for several weeks and rarely provide childcare. That's a recipe for disaster in most moms I know. We are lucky if we can commit the same time every single week with the variables we encounter. Throw in having to find childcare and you're stress levels start to rise.
Last year I found a solution for my craft class dilemma on a website called Craftsy. Craftsy is a site that offers really thrifty online courses for learning an art or craft at your own pace from your own computer.
Finally Learning Photography
Since I'm a blogger, I had longed to take a real photography class to understand how to use my fancy DSLR camera because I'm a visual/hands on kind of learner. The problem was that all the classes were hundreds of dollars and always at times that it would be hard for me to arrange a sitter.
When I found out Craftsy offered a DSLR 101 class on sale for $35 I was thrilled. I could learn to use my camera in my free time from my computer. Which means I could learn to use my camera in my pajamas, in the comfort of my home while my kid sleeps. I have been highly satisfied with my purchase. I simply watch the videos and take notes. When I miss something, I can just back it up and re-watch it again.  They offer lots of thrifty, convenient art & craft classes for busy moms.
 Here are some benefits of using Craftsy online classes.
1. Craftsy Has Really Thrifty Options
The site REGULARLY has sales on their courses and once you buy one, you have access to the class for life. They had a big sale last year and I signed up for the Food Photography class for around $20.  They even have mini-courses that are FREE! (You'll find that link in the list below.)
2. Advance Your Skills & Do What You Enjoy
How many creative and crafty spend their lives NEVER learning, improving or sharpening a hobby or skill that makes them really happy?  With Craftsy classes I don't have to put off advancing my skills for when I have more time in my life.  I can do it right now, from my home, in the margins of my life.  No driving, no tests, no sitter needed.
3. A WIDE Variety of Classes To Choose From
They have almost every craft imaginable from very basic, to advanced to pro. (Affiliate links below will take you to the class pages or you can explore the website):
Drawing & Painting
And WAY MORE than I can list here.
Don't forget to check out all the FREE mini-courses too!
4. Video Teaching Format
The classes that I signed up for are all in video format.  Because I'm a visual learner that highly appeals to me.  I need someone to show me.  Once I see it- I know I can figure it out.  If you need help, you can always contact the instructor!
5. Take the Class at Your Own Pace
When they run sales like they are right now, you can get up to 50% off the price of classes! This sale ends March 16th but once you purchase the class, you can take it on your own schedule at your own pace.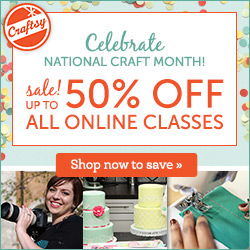 6. Money-back Guarantee
They offer a money-back guarantee. If you don't find it helpful, just get your money back.  As a thrifty person, I always appreciate this considerate option for customers.
These are the reasons that I have been able to fall in love with some of the arts and crafts I loved in my pre-children days.  Knitting, photography and painting are all extremely therapeutic for my life and I often miss doing them in the hussle and bussle of the everyday. I hope that if you try out a Crafty class, you will find it as enjoyable as I have.
Do you have a craft that you fell in love with long ago and have since lost your practice due to the busy pace of day to day life?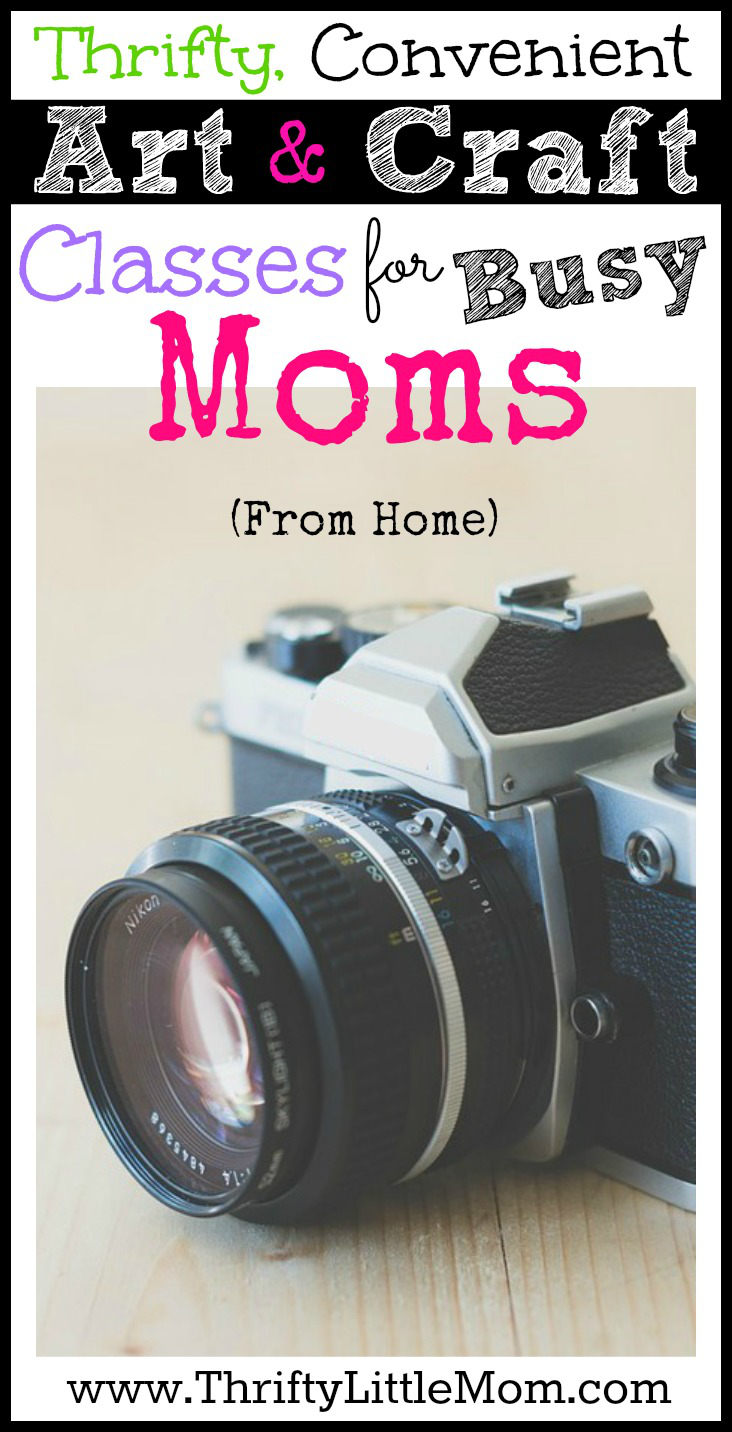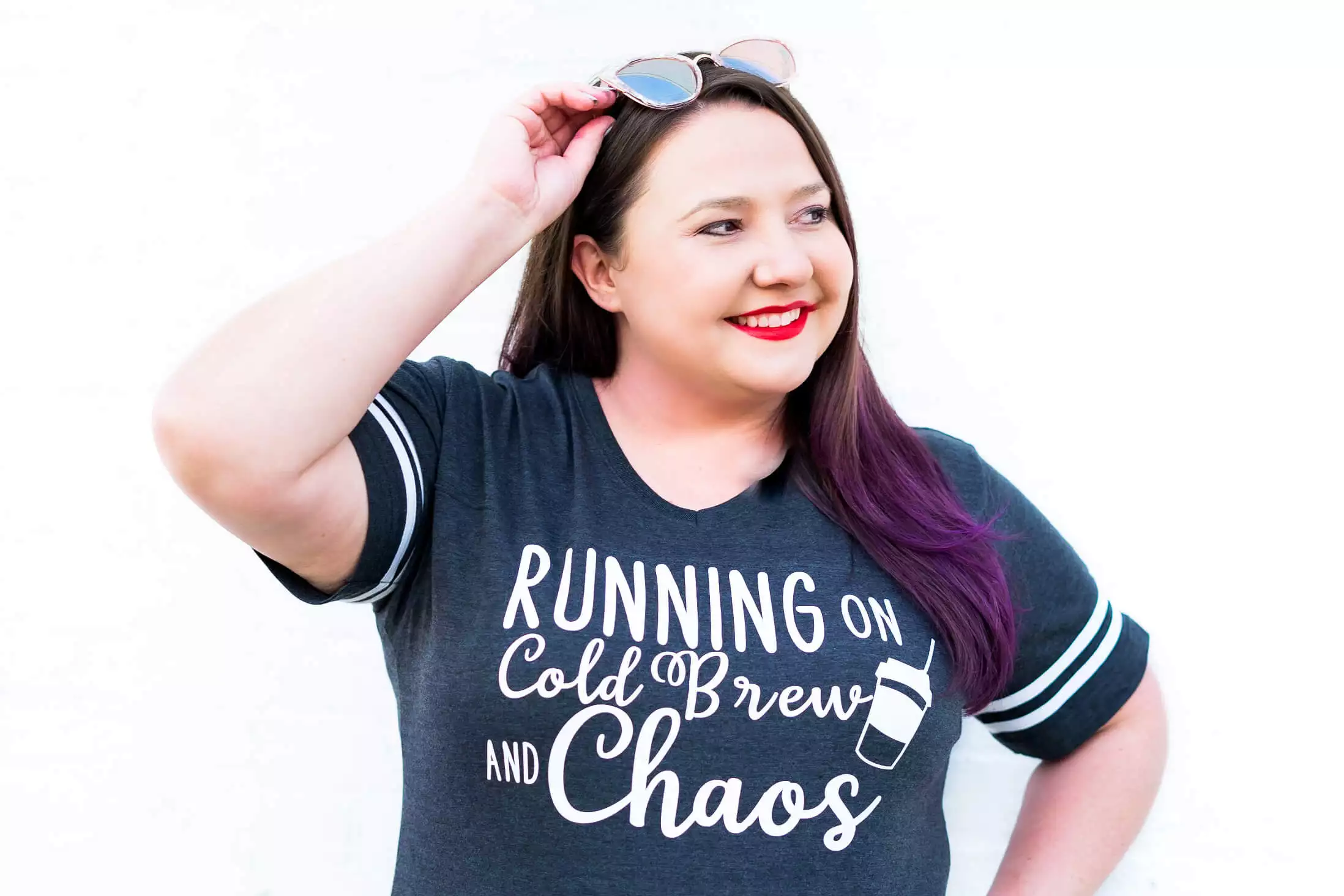 Kim Anderson is the organized chaos loving author behind the Thrifty Little Mom Blog.  She helps other people who thrive in organized chaos to stress less, remember more and feel in control of their time, money, and home. Kim is the author of: Live, Save, Spend, Repeat: The Life You Want with the Money You Have. She's been featured on Time.com, Money.com, Good Housekeeping, Women's Day, and more!