This is a sponsored post written by me on behalf of RetailMeNot for IZEA. All opinions are 100% mine.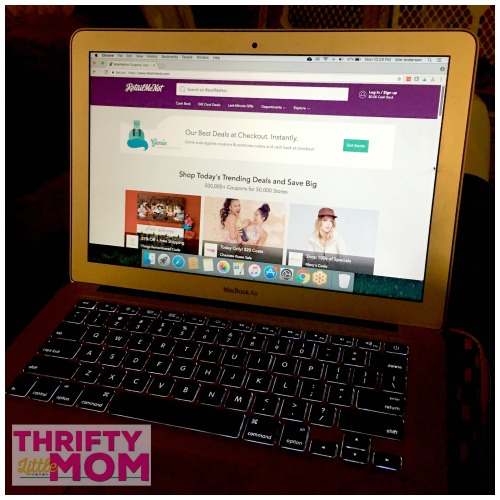 I'll never forget the time I was in line, ready to check out and realized that I had forgotten my in-store coupon!  I hopped online on my smartphone and quickly entered "Kohls in-store coupons" into Google search.
A website called RetailMeNot.com popped up first so I clicked the link and to my pleasant surprise, they had these department specific coupons that I didn't even know existed that gave me more money off my purchase than the coupon I had left on the counter at home!
I was officially "hooked" on RetailMeNot as my go-to source for shopping codes and in-store coupons!  If you are a lover of savings like me, I want to give you some serious tips for how to save ridiculous amounts of money on gifts for others or for yourself (treat yo' self).
Here are the 4 Ways I use RetailMeNot to save money all the time!
1.The 3 Part Savings Bundle Secret-
Okay so if you know me, you know I'm loop hole finder and every time I use this hack it makes me feel like a savings ninja.  Like I'm gaming the savings system.  This is how it works. You'll need a piece of paper to help with the 1-2-3 planning.
Go to RetialMeNot.com
Start with the "Gift Card Deals" Tab.

Find a few gift cards with the most percentage off.
Write them down.

Type the retailer from the gift card into the "Search on RetailMeNot" search bar at the top of the page.
Look for offers labeled with:
Once you have a gift card that also has cash back and a coupon code offers you can use all three together to save some serious cash on your online purchase. You would simply buy the gift card, then shop using the RetailMeNot website or app through the Cash Back offer and then add the coupon code at checkout.
Now, you might be concerned that this won't work because they might not let you do the cash back offer and coupon code at the same time but that's not the case.
The cash back is activated when you shop through the website and auto-applied without a code.  So you still have a chance to put in the coupon code at checkout.  (Muwhaaaaaa- insert sinister savings hack laugh here).
Here's an example of a savings combo I've found myself: 
My brother-in-law really wanted some coffee accessories this year for Christmas so I was able to find:
1)  A Gift Card to Coffee Bean & Tea Leaf at 28% off.

2) A Cash Back Offer when I shopped on the website.

3) A Coupon Code for the website.

Boom!
You can also use these in various combinations so even if you don't get all three, you can still save money on the stuff you are shopping for!
2. Use Genie to help you save!
Okay, so Genie isn't a little magic person in a bottle but that would be nice right?  Genie Browser Extension is a RetailMeNot browser extension that you can put on your web browser that helps you maximize savings.
Genie finds, combines, and applies savings at checkout — so you don't have to.  Currently it's only available for Chrome.   If you aren't a deal miner like me, you'll want to give this a go so you know your getting the best deals without having to go looking for them!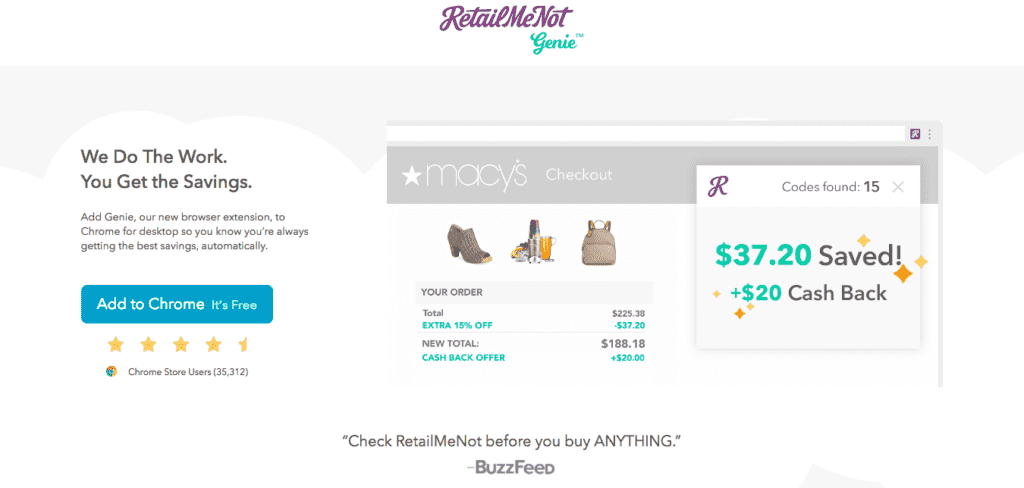 3. Take RetailMeNot with you when you shop in-store!
Truth is, I love to shop but I NEVER pay full retail price.  So for me, having the RetailMeNot app on my smartphone is vital to successful shopping for me.
When we are out holiday shopping or looking for gifts, we don't always know exactly what we want we just kind of know we are on the hunt. I don't know about you, but I do a lot of my shopping in malls or department stores and it's super convenient to pull out my phone and look for extra deals on items from stores I happen to stop in rather than some strategically laid plan!  That's why I rely on the RetailMeNot app.
The free RetailMeNot app alerts you to nearby offers that can be redeemed directly from your phone at checkout! I can't tell you how many steals of deal I've found while waiting in line to checkout.
The other awesome thing- the coupons always work!  I've never gotten to the register and not saved money with my RetailMeNot in-store coupons. That makes me happy because it's usually enough of a savings that I can take the money I saved and buy another small gift or head to the coffee shop and treat my self!
4. Check out The Real Deal Blog by RetailMeNot.
The Real Deal Blog has all kinds of great gift guides, retailer guides and keeps you up to date with all the savings you need for everyday and holiday! As we head into the Holiday Season I'm anticipating getting a few things that don't fit physically or don't fit my liking. LOL.
If you run into that too, be sure you check out The Real Deal's latest post- 12 Stores with the Best Return Policies so those gifts get put to good use instead of collecting dust in the hall closet!
I hope that you have found this post helpful as you finish out your holiday shopping! You can still find awesome savings on the Holiday Deals page  for you, friends, co-workers and family especially if you try out a few of my hacks!
If you want to stay in the loop about about all the awesome deals and savings you can score from RetialMeNot, be sure you enter your email on the RetailMeNot Sweepstakes Signup Page for your chance to win up to $1,000! When you snag your deal be sure you post a pic on social media and use #DealBrag so I can check it out!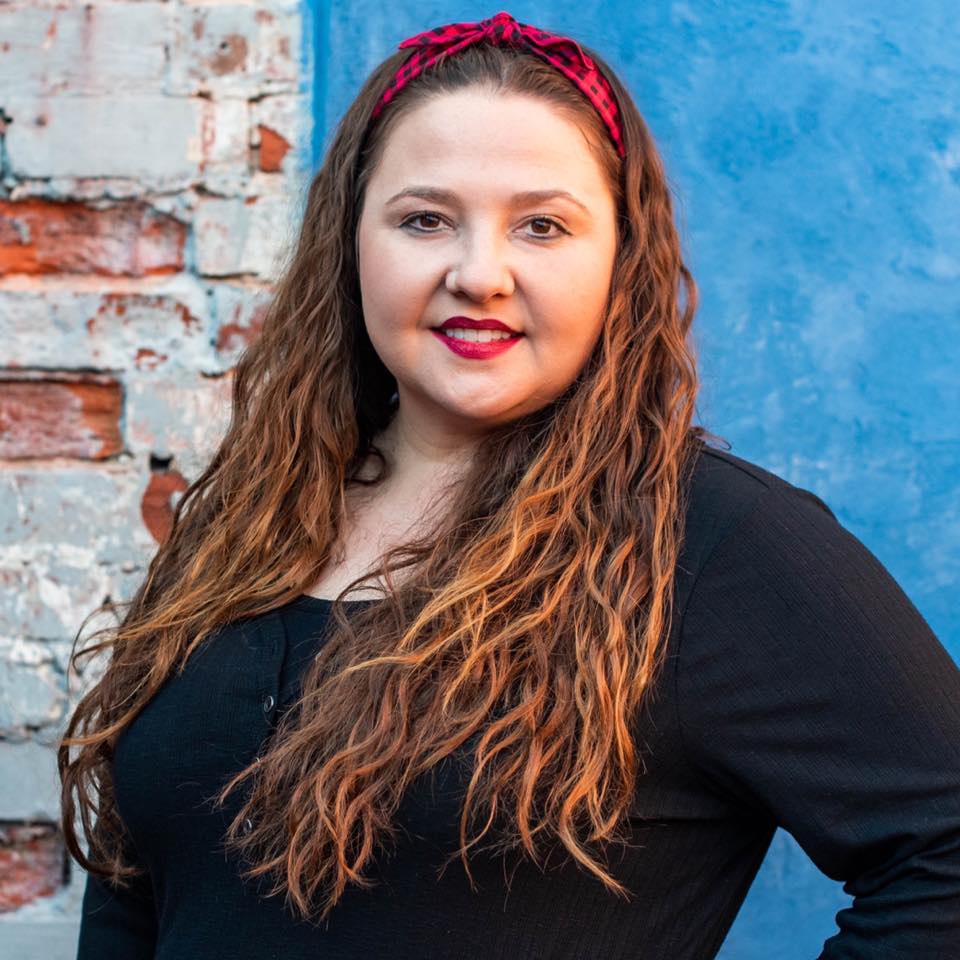 Kim's is the party planning, cupcake loving, celebration catalyst behind the Thrifty Little Mom Blog. Kim was a pro event planner for over 7 years before she became a full-time blogger. Kim is the author of: Live, Save, Spend, Repeat: The Life You Want with the Money You Have. She's been featured on Time.com, Money.com, Good Housekeeping, Women's Day and more! Kim aims to inspire you to create parties, celebrations and gatherings that everyone loves!