One thing that can make or break a party is the menu (or lack there of).  Let's face it, most people heading to a party or looking forward to hanging out with people and THE FOOD and DRINKS!
Whether you make them, buy them from the store or encourage your guests to bring their own, you can have great party food and drinks without breaking the bank or having a nervous breakdown in the process.
The key is to keep it simple, plan ahead, get help if you need it and enjoy the process.  As a party loving gal, I'm here to inspire you with simple, easy party drinks, desserts, appetizers and even some tips to help your party be AMAZING!
On this Party Food & Drink Resource Page You'll Find:
Confident Hosting Tips & Articles
Thrifty Little Mom's 10 Best Food & Drink Party Tips
Thrifty Little Mom's Top Hostess Party Food & Drink Necessity Items
Party Drinks
[pt_view id="3132d34p35″]
---
Party Desserts
[pt_view id="162f662ymx"]
---
Party Appetizers
[pt_view id="130f10amjz"]
---
Confident Hosting Tips:
[pt_view id="d930ab38g7″]
---
Thrifty Little Mom's 10 Best Party Food & Drink Tips
1. Always make a menu!
One way to ensure that you create an amazing experience for your guests is by deciding on a strong party menu.  Menu's will vary depending on the type of party, the location and even the vibe you are going for.
Having a menu determined before hand will help you deliver on an amazing experience with less stress and worry.  You can make your own menu using Pinterest or other online articles.
I'm not going to lie, I love the decorating part and the actual cooking part, but I tend to use things like eMeals Special Occasion meal planning service when I just don't have the time to plan out a big menu.  The best part: I know it's going be delicious and impress my guests!
2. Think About Party Food & Drink Logistics
When you throw a party, celebration or gathering, you want you guests to be able to socialize with food and drinks which is not always an easy task.
I've spent one too many parties on my hands an knees with carpet spray constantly cleaning up messes because I didn't think through logistics of my cups, plates and food choices!
If your family is sitting down to a big meal together for Christmas, Easter or Thanksgiving, this may not be as big of a problem.
However, if you plan to have a barbecue, game watching or highly social mingle type event where people won't have the stability of table beneath their plates, you want to think about what foods, cups, plates and dishes set people up for success!
Decide whether you need finger foods, single serve cups, trays, lidded cups or portable, stable party ware.
3. Think About Party Food Placement
Often times when I'm getting ready for a party gathering whether it's in my kitchen, in my backyard or somewhere else, I try to take a step back and look at the space; imagining the guests moving through it.
If it's buffet style, where should you put the plates, napkins, drinks and desserts?
Where are potential areas that will cause bottle necks or slow the line down?
Should you have food on the main table, kitchen island, outside table or in the corner?
Doing this beforehand can insure that there is less chaos in the food serving area and more flow!  This also prevents unwanted spills, messes and keeps the hostess from being asked a million food location questions!
In fact, my BFF Rhonda, often sets up all her serving ware in the days before the party and place sticky notes on each plate or serving dish that indicates what food will go there!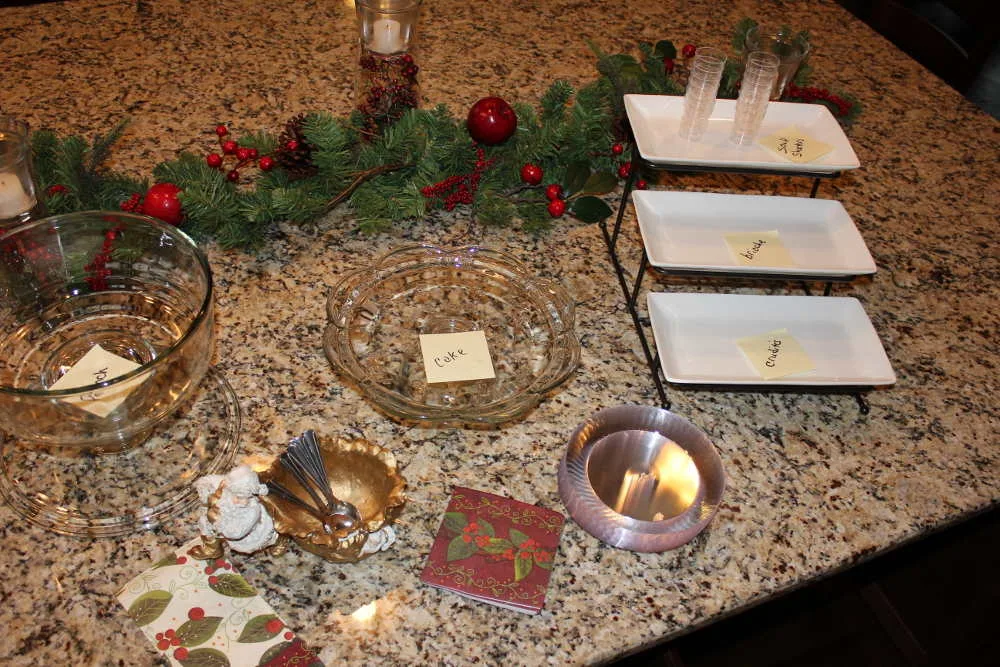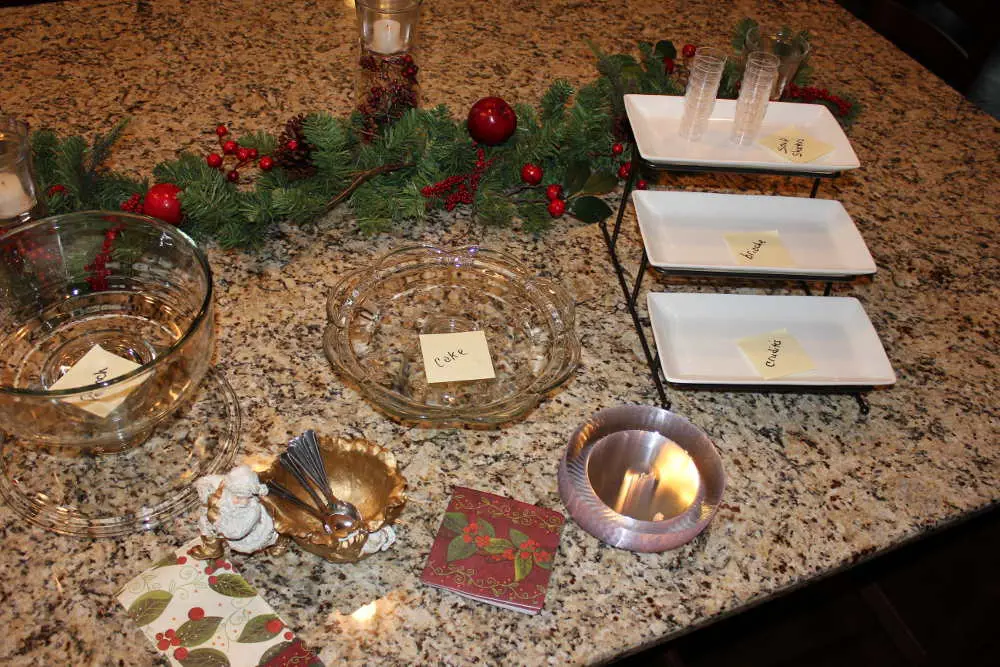 4. Think About Party Food Temperature Needs
Every hostess should consider how they will do three things with the food temperature:
Cook the meat to the right internal doneness temp.
Keep hot items hot.
Keep cold items cold.
For the first item, making sure you are fully cooking the meat, you'll need a food thermometer.
For keeping hot items hot, consider having several slow cookers in different sizes, heating plates and/or chafing dishes.
For keeping cold items cold, make sure someone is on ice duty and that you have serving containers that contain the water produced as the ice melts.  This might involve needing coolers, drink stands and/or layered serving trays with an ice layer.
5. Do As Much Party Food Prep As You Can BEFORE the Event.
One thing I often do to save time and sanity is cook any foods the day or night before that can be re-heated or cooked the next day without losing quality.
Thinks like casseroles, dips, slaws and foods that don't oxidize can be made or at least prepped for baking the day before!
6. Ask Guests To Bring Party Food & Drinks
Depending on how informal the event is, you can always ask guests to bring their own beer or drinks (BYOB or BYOD).
Another way to approach the party is to ask guests to bring sides, desserts or drinks.
If you are planning a party and haven't requested this but you have people who reach out and ask if they can bring anything, don't be afraid to say yes and take one thing off your plate for the event!
7. Get Yourself Dressed Early & Wear an Apron
One of the biggest issues I see hostesses run into is that they spend the hours leading up the party in total prep mode that they look at the clock and realize they don't have enough time to get dressed for the party before guests arrive.
My solution to this now is that I get dressed and wear and apron.  I usually set a timer to remind me to stop and put my makeup on but other than that, I'm ready to go!
8. Label & Cut Your Party Food & Drinks
When it comes to getting your guests to dig in and use the food you prepped and spent money on, it's a great idea to have some little cards that you can put out with the food to help guests know what it is.
This will help them make decisions about whether they want to try it or not and may help you have less waste at the end of the night, or have guests ask you what something is, one bazillion times.
Consider pre-cutting any cakes, pies and desserts so that you guests won't be squeamish about being the "first one" or "messing up" the look a food.
9. Think About Guests with Food Allergies or Dietary Considerations.
I always try to have a few special dietary options that are also crowd pleasers.  I always hate when someone gets to a party and can't snack for fear of the food. Here are some examples:
Meat
Cheese
Gluten free bread
Gluten free crackers
Vegan Dip
10. Invest in BIG Trashcans & Trash Bags
This may in fact be one of the best hostess priorities you can make.  I've seen many hosts and hostess not put the trash situation on their radar until it's too late.   If your guests don't have a place to throw trash things can get messy, buggy and smelly really quick!
Consider buying rather large trash bins and trash bags so you can reduce the number of times you have to empty the bin.
Hope you found these 10 tips helpful!  As I created these, I realized that it would be a good idea to create a list of party food and drink items that I think most people who host parties, celebrations and gatherings often should have in their party food and drink arsenal!
---
Thrifty Little Mom's Top 10 Hostess Necessity Items
When it comes to throwing parties or gatherings on the regular, there are few things you may want to add to your arsenal of supplies so you are always ready to entertain!
Party Drink Tools & Supplies: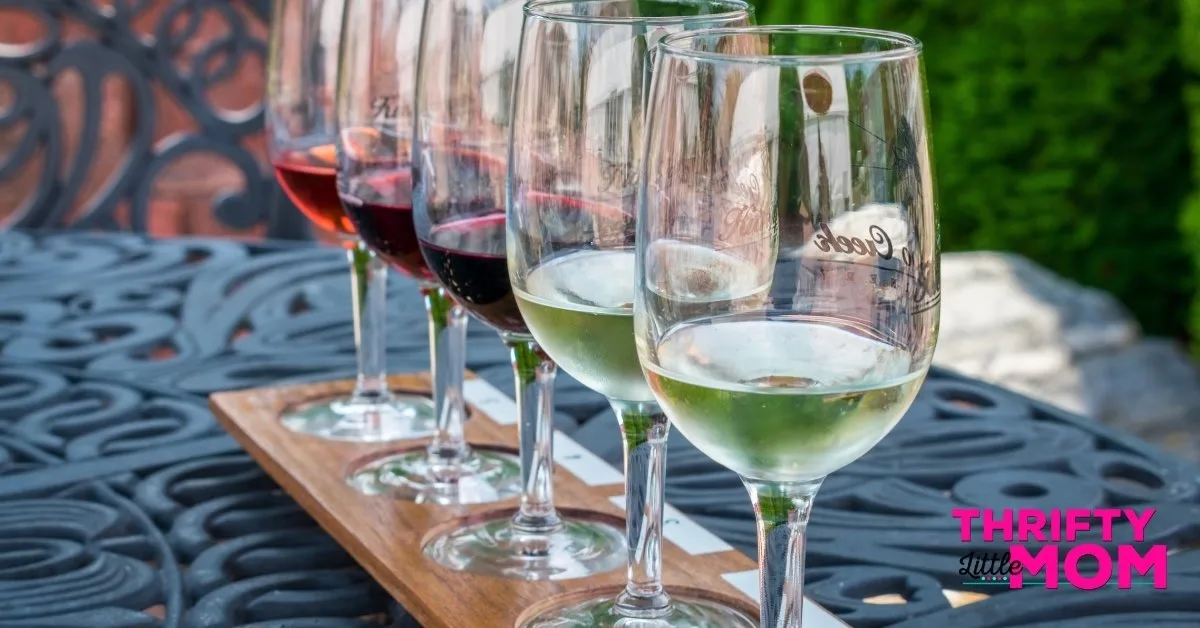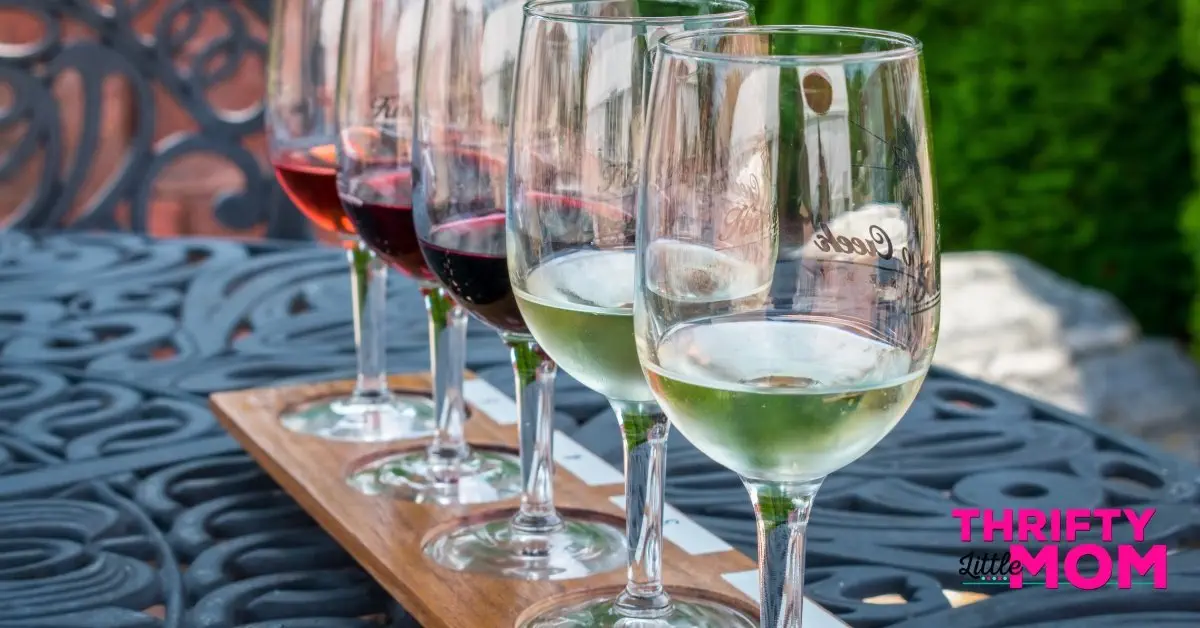 Stemless Wine Glasses
Wine Opener
Wine aerator
Bottle Opener
Cocktail shaker kit
Clear Plastic Cups
Liquid Serving Pitchers
Party Food Tools & Supplies: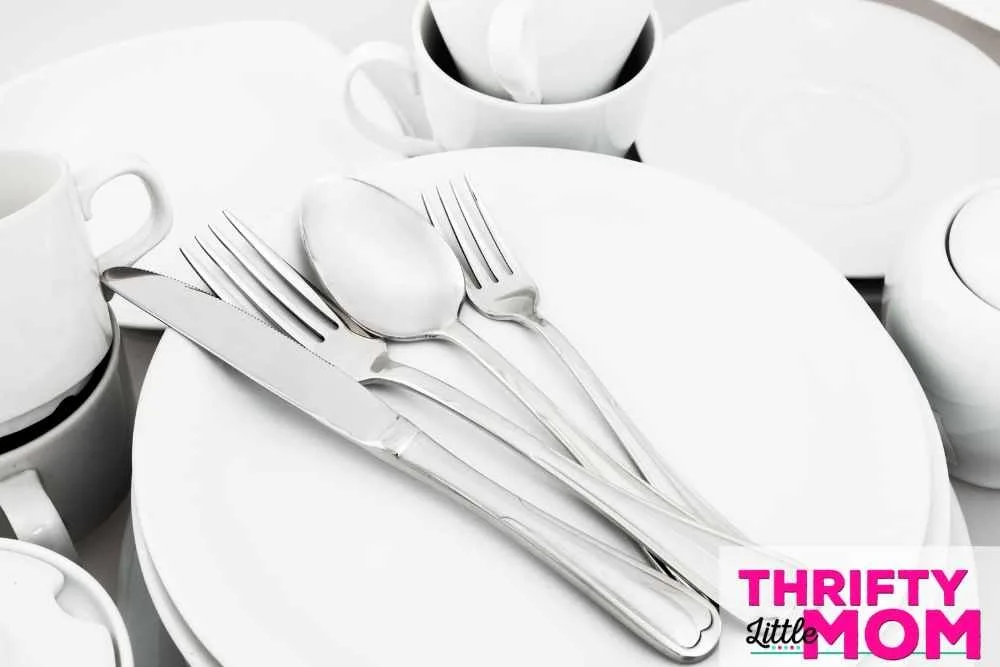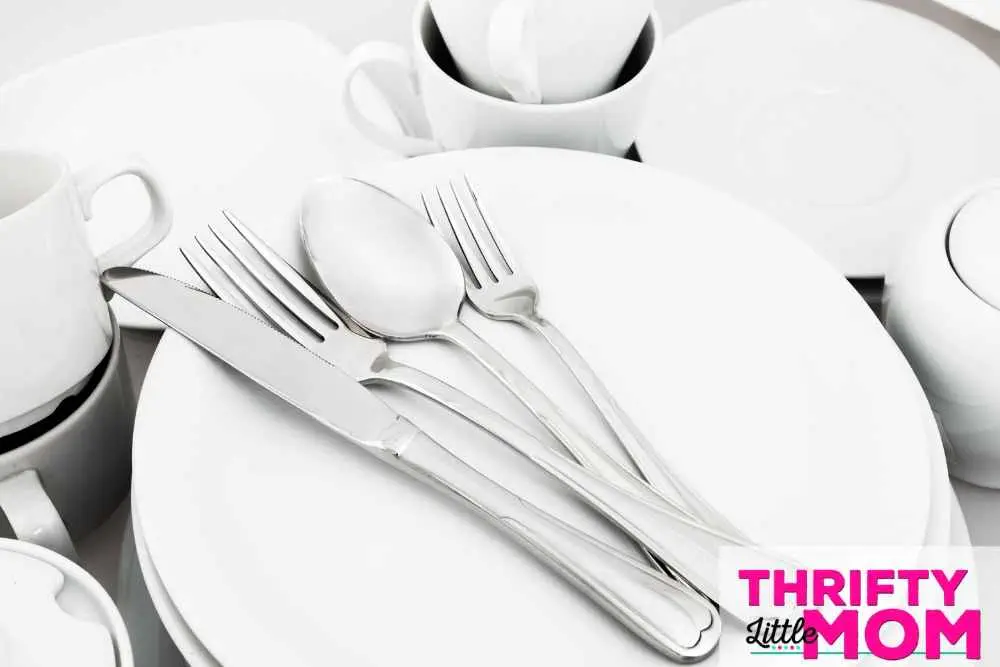 Having these items on hand can help you be sure that you have the supplies and utensils you need to serve food.
Apron
Cutting Board
Decent Cutting Knives
20 Forks
20 Spoons
20 Butter Knives
Coffee Cups (real or disposable)
Measuring Spoons
Slow Cookers
Warming Plates
Chafing Dishes
Sterno
Sturdy Paper Plates
Nice Disposable Napkins
White Table Clothes
Black Table Clothes
Large Wooden Cutting Board for Charcuterie
Finger Bowls for dips and small sized food to display
Tiny forks and spoons for serving
Large Serving Spoons
Food Thermometer
Pie Cutters/Servers
Party Foods to Keep in the Pantry: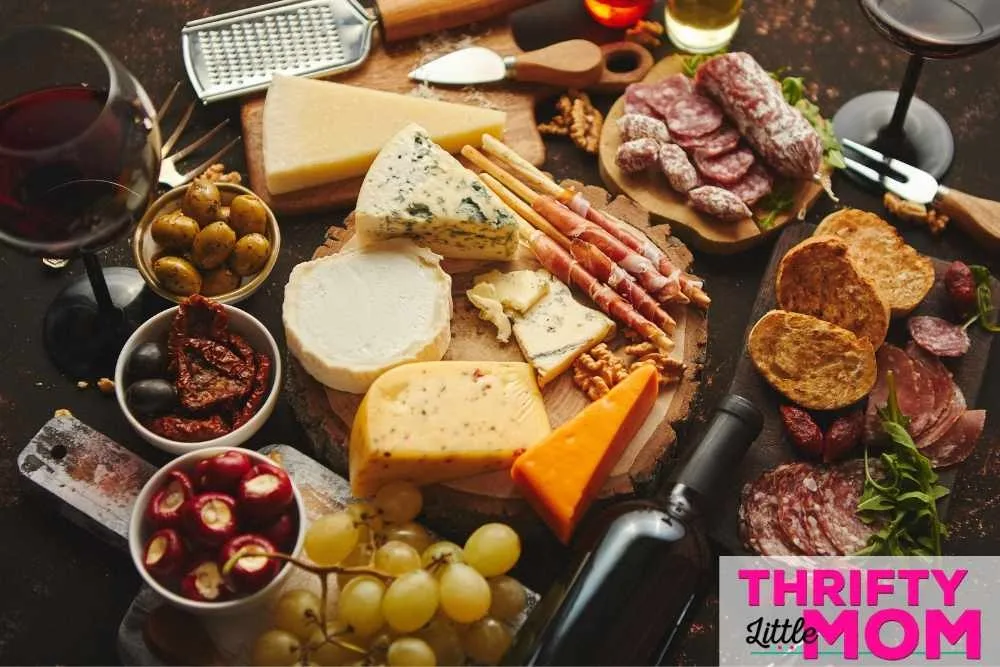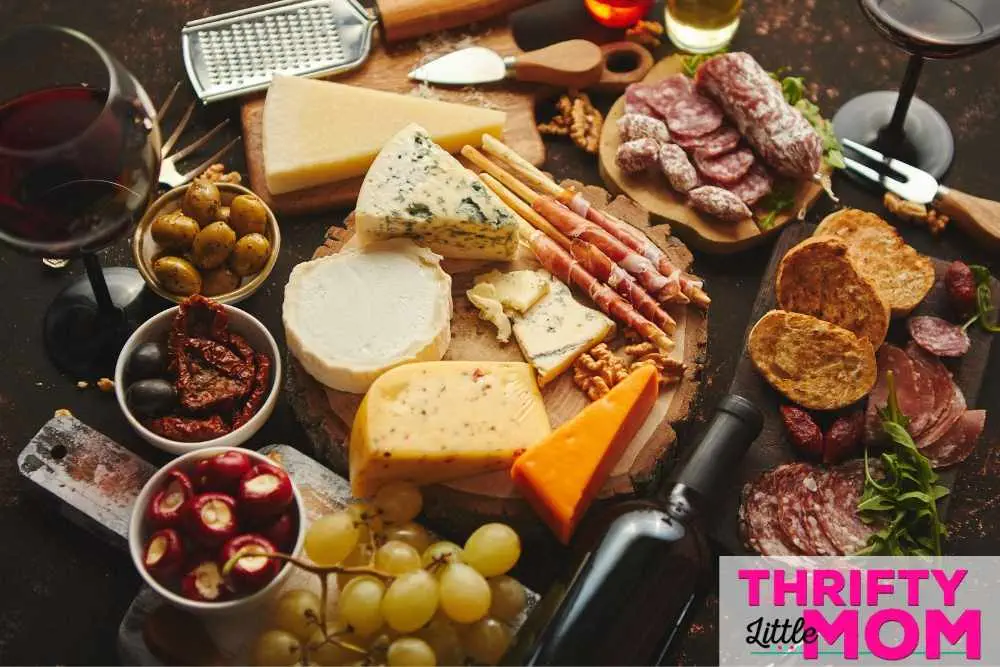 These are totally optional items but always having them on hand can help you fill in the gaps when you forget something for a party as well as be ready to entertain on the fly.
Breadsticks (from cracker isle)
Entertaining Crackers
Specialty Jams
Apricots
Dried Fruits
Olives
Pickles
Mustards
Jar of Artichokes
Jar of Red Peppers
Shelf Stable Sausage
Red Wine
White Wine
Craft Beer Variety Pack
Jars of Salsa (Having a variety of options is nice)
Tortilla Chips
Pretzels
A variety of nuts