There have been many nights that around 4:30 I have panicked because I had no idea what to cook for dinner.  I rummage through the pantry and fridge searching for a little inspiration only to find I'm always short on a key ingredient.  But thankfully those days are over.  I decided to give
eMeals
a try because it is endorsed by Dave Ramsey.  Note: This eMeals Review was officially updated in March 2017 as the plan has tons of updated features worth talking about.
This is menu planning & cooking each day on a weekly basis.  If you'd like to try freezer cooking, I highly recommend My 
Freezeasy Meal Planning
.  You make 10 or more meals in around 50 minutes and load them in the freezer.  Check out Erin's Free Freezer Cooking Online Workshop below.  This was a life saver when my twins were born.
What is eMeals?
Emeals is an online subscription based menu, budgeting & shopping plan.  It basically tells you what to shop for and cook 7 days a week based on your nutritional preferences (clean, paleo, low carb, low fat, weight watchers AKA portion control, vegetarian, gluten free, natural organic, simple gourmet, classic and few others).
Some menu's allow you to choose the store you shop at most and will make the list based on those stores brands or what's on sale (pretty awesome).  What could be more awesome than customized store lists? It will tell you how much each item on your grocery list cost therefore budgeting for you (Regionally the prices at the stores do differ slightly so it's not exact.)
Since I love to cook, I was a bit skeptical.  I love the creative cooking process.  However, after using this for several weeks I'm okay with throwing the creative cooking process out the window because this plan actually saved me time and money.  Here is my own experience with eMeals
 and tips for people who want to give it go.
1. How much does Emeals cost?
14 Days = FREE.  You can Try eMeals Free for 14 Days just to see if you like it and use it.
1 Year = $5 per month.  (Give up one latte a month people…it's totally worth it!)
3 Months = $10 per month.
You can also explore adding on bonus menu options like:

Breakfast
Lunch
Dessert
And Occassion Menus.
2. How does eMeals work exactly?
Pick the plan that best fits your dietary preferences.

Healthy Lifestyle
Low Carb
Gluten Free
Paleo Plan
Classic Plan
Vegetarian Plan
Family Friendly Plan
Clean Eating
Slow Cooker
Portion Control (It gives you the Points for all you Weight Watchers people out there).

Pick the number of people you cook for 2 or 3-6.
Pick the store you shop at most.
ALDI
Kroger
Publix
Ralphs
Safeway
Target
Walmart
Whole Foods
Something I found out about this is that there are limitations.

For example: I first signed up for organic/natural but the only store I could pick was Whole Foods and the shopping list total was showing up as about $40 more than my monthly budgeted grocery amount.
Then I switched to "clean eating" which apparently doesn't have a grocery store attached to it so it doesn't do much to help with budgeting.
3. How do I get eMeals my menus?
The easiest way to access the menu's is through the eMeals Apps
Here you can see you plan and pick and choose which recipes you want to use for the week based on the eating style plan you chose.
Once you select your recipes for the week, the app creates a shopping list for you.   One of the added features of this that I appreciate is that you can add your own items to the list keeping everything in one spot!
If you like the recipe, you can save it to your "recipe box" to use again in the future!
If you decide you want to switch to another eating style (say from Paleo to Low Carb) you can do that inside the app.
You can also just hop online, log-in and print it out.
When it's time to cook the meal, you can refer to your printed recipes or open your app in cook mode.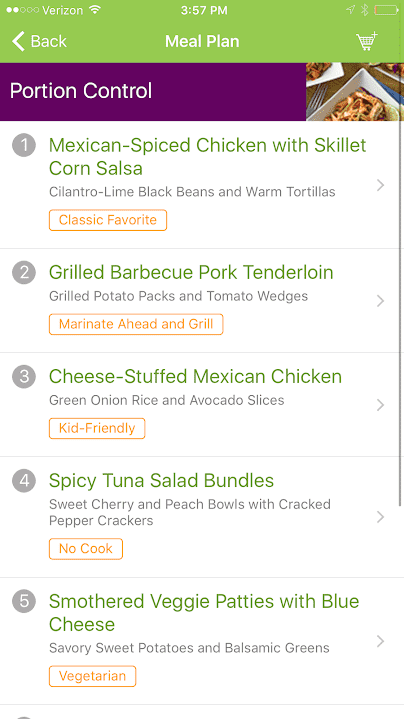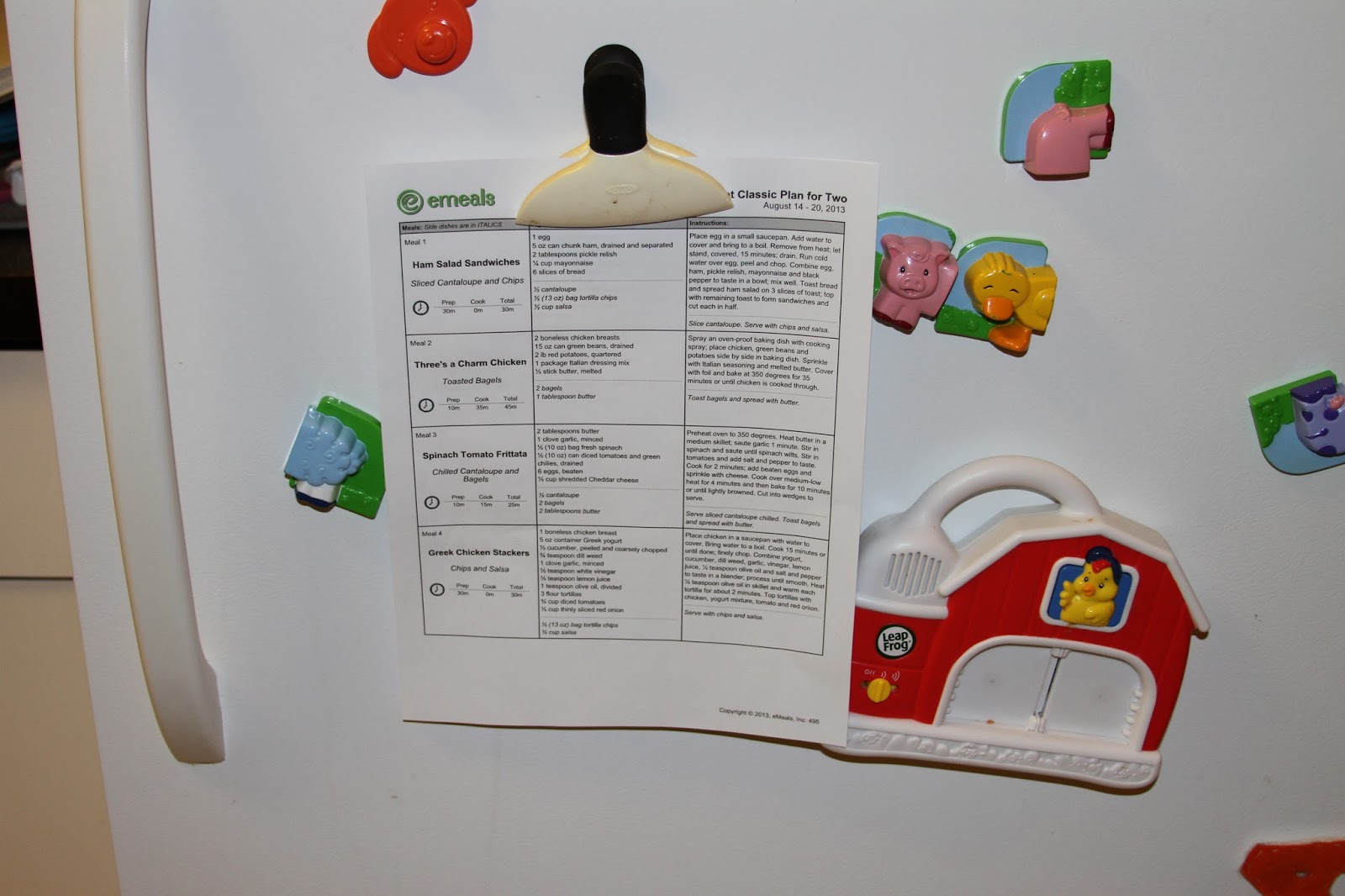 I put my weekly menu on the fridge with a magnetic
chip clip to keep it readily available and hands free!
4. What kind of money are we talking about?
So this is a little vague for me.
I finally chose the "classic" menu as my particular plan and Target as my store and it costs me around $60 for what is on the list.  That leaves me plenty of money in my grocery budget to get the other odds and ends food for lunches and snacking.
I'm sure ALDI would be the cheapest though.
Whole Foods is gonna be the most expensive.
5. eMeals Evaluation & Tips:
I got out of the grocery store with all my groceries this week at around $83 which is way under budget for me.
I stuck with the list from Emeals and the items I added myself.
I stapled my shopping list to the front of a file folder and put my coupons inside the folder.
I used target.com coupons, coupon.com coupons, Target cartwheel and my reusable grocery bags to help out a little ($5 bucks or so).
It personally didn't care for the clean eating or natural/organic menu as it was often foods we don't eat alot of, like clams and pork.
I will stick with the "classic" menu which are supposed to be like mom's meals but healthy and I agree.  My husband has enjoyed the meals this week except for the ham salad sandwiches which I have never eaten in my life til two days ago.
The best part is that I don't have to think so hard.
I go to the store and get everything on the list.  If I get everything on the list, I won't be missing any ingredients.  I know exactly what to expect the register to say at the store when I check out.
When it's time to start dinner, I look at my meal plan for the week and follow the simple, easy instructions on the page.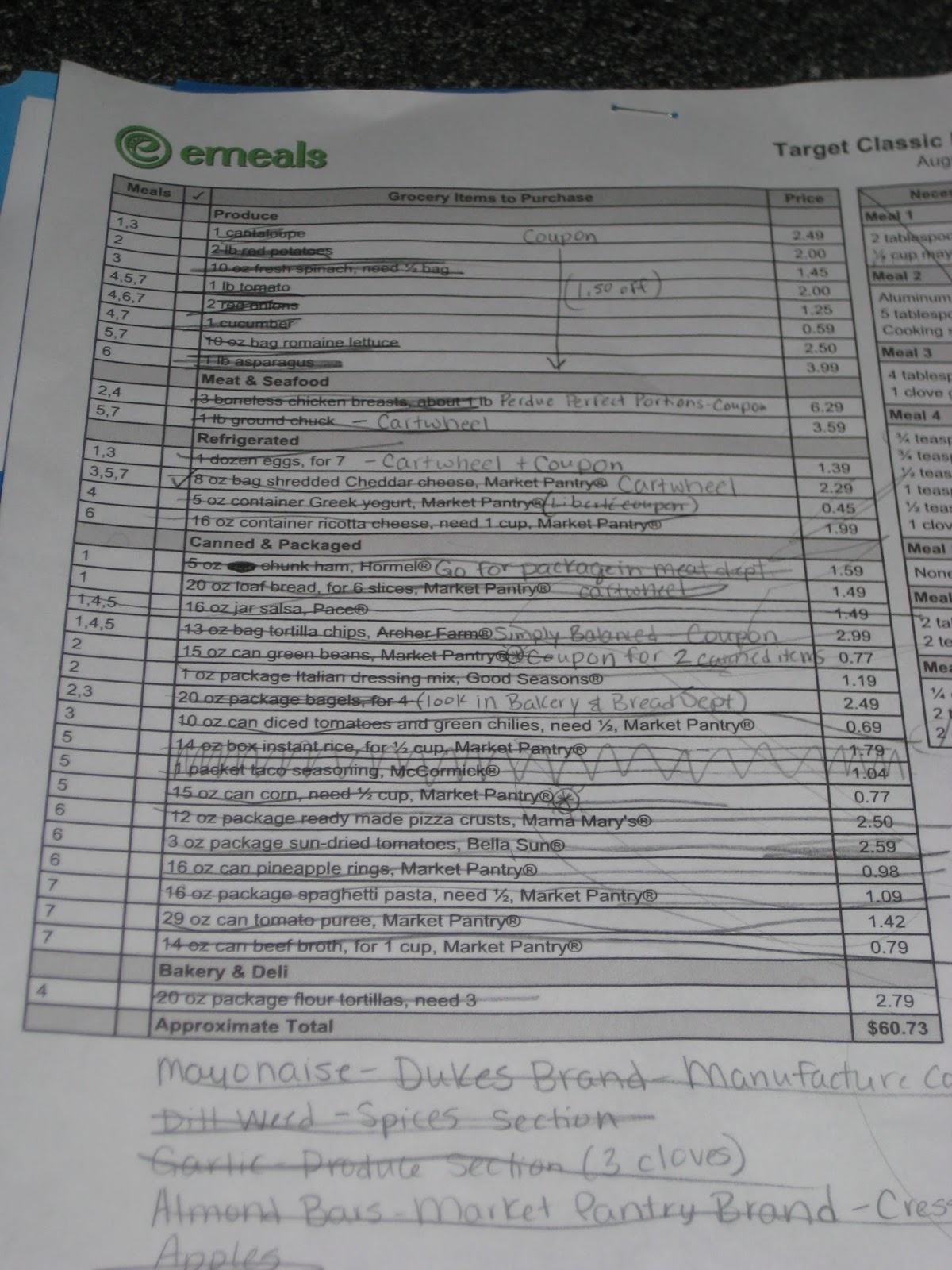 This is my used grocery list for Target.
I make notes about what coupons I have next
to the items I have coupons for.
Dinner is done, husband & kids are happy and I move on with my evening.
6. Changing Plans:
Changing plans is easy but not instant.
The first time I signed up I chose the organic/natural menu.
However that menu was out of my budget.
So, I opted for clean eating which didn't include a price list.
When I went to change it to "classic" I was told I couldn't change my menu again for a month.  However the web site indicated that all I would need to do is contact customer service.
I shot customer service an email and they changed the plan exactly as requested within 24 hours and I was on my way.
So, if you are a person who could use a little help with menu planning and grocery budgeting I would highly recommend
Emeals online meal planning
subscription.  They also offer free samples of various plans so check those out as well.  It really does make life just a little easier.  Let me know if you have tried Emeals and what you have thought of it.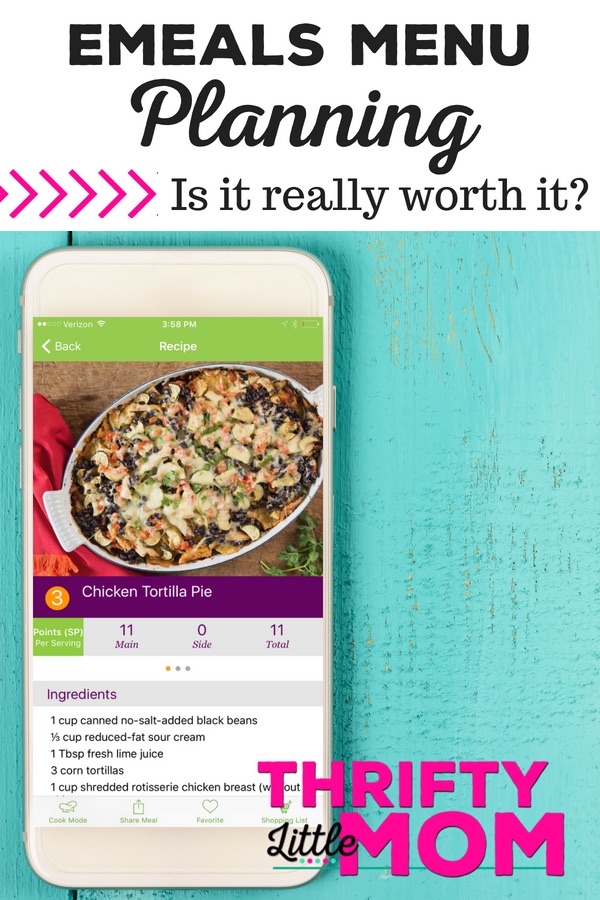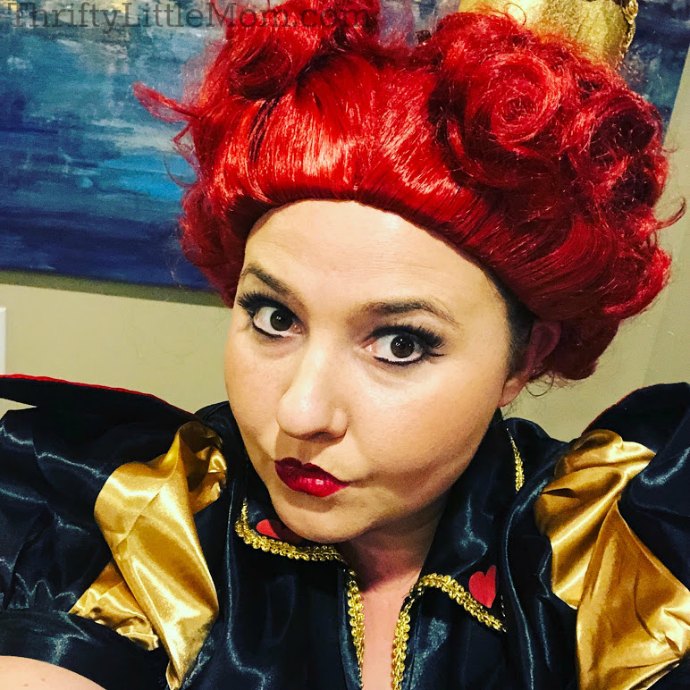 Kim's is the party planning, cupcake loving, celebration catalyst behind the Thrifty Little Mom Blog. Kim was a pro event planner for over 7 years before she became a full-time blogger. Kim is the author of: Live, Save, Spend, Repeat: The Life You Want with the Money You Have. She's been featured on Time.com, Money.com, Good Housekeeping, Women's Day and more! Kim aims to inspire you to create parties, celebrations and gatherings that everyone loves!