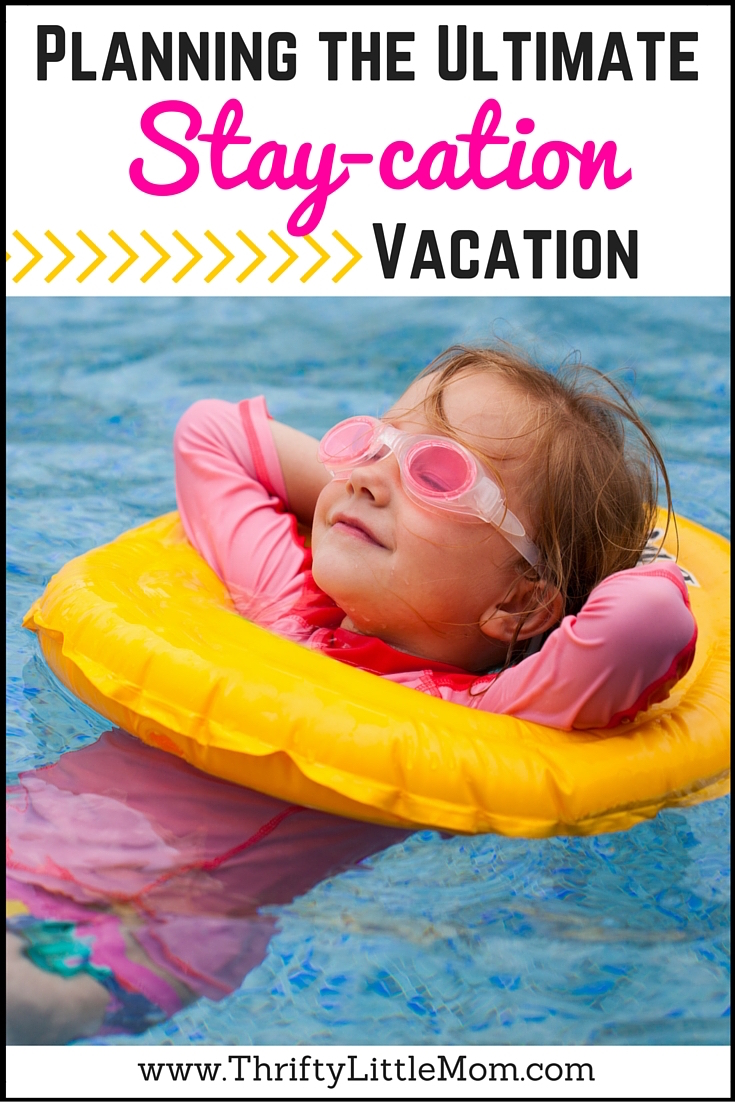 I live in Atlanta and it snowed yesterday.  Many are calling it Snow-pocolypse because we just don't get snow and ice here and when we do the city shuts down.  Being trapped in the house has me longing for a vacation soon.  We are thrifty people so we don't always take huge exotic vacations.  We tend to travel within 12 hours of our house so we can drive.  If you are similar or are finding that the funds for a big family vacation this year just are not going to happen, consider doing a "Stay-cation" this year.
Stay-cations involve staying at home and exploring your own backyard.  Not your literal backyard, but that counts too.  I mean visiting all the sights, sounds and attractions near where you live!  It's really simple and fun to do.  My husband and I did this for our first anniversary and it was very memorable.  I've even included a printable Stay-cation planner for you to print and use to organize your own stay-cation.
How to Plan a Stay-Cation:
1. Print this Stay-cation planner that I created.  It includes a page for planning your activities, doing research and making a budget for each day/activity.
2. Budget.  Decide how much you have to spend on your stay-cation.  Consider these items:
Eat in Meals/Groceries
Eat out meals
Activities/Attractions
Fun Money Budgets for kids if they want souvenirs
Parking Cost
Public Transportation Cost
Gas
3. Do some research.  Visit the chamber of commerce websites for all the cities and towns within an hour of your house.  See what things might be interesting for your family to do together.  Look for tours, concerts, museums, gold mining, gem mining, fruit picking, history centers, theme parks, public parks, fishing, boating, kayaking, hiking, attractions & even amazing restaurants.
4. Find out the cost.  Most stay-cations are thrifty vacation options.  As you visit the web sites of attractions or call around, remember to write down how much the attraction costs and any specials they are running.  Find out the peak seasons and off-season and see if there are any cost differences.  Some major cities offer a "city-pass".  It's a way of bundling the attractions you want to see at a discounted rate.
5. Plan your meals.  The beauty of staying at home is that you can cook or prepare most of your meals rather than having to eat out the whole vacation.  Get your family involved by having them tell you what their favorite meals are and you can plug those into your weekly plan.  Or, you could always get some of those meals off your Pinterest boards and onto your plates.
6. Plan your restaurants.  If your family has favorite local restaurants try eating out a few times during the week.  My husband and I try to eat out at breakfast or lunch rather than dinner because dinners are always the most expensive meal at restaurants.  Lunch time offers lots of reduced cost lunch specials.  If you want to do something special, eat out one night somewhere fancy.  Don't forget to look up restaurants that do "kids eat free" in your area.
7. Find free stuff to do.  When we did our stay-cation we not only paid for some attractions but we also found free stuff to do.  In the evenings, I cooked dinner and we brought all our pillows and blankets into the living room for a movie night.  We went down to the local Red Box and rented a movie each night that we could both enjoy.  They are only $1 and in most cases you can get one free if you find a valid coupon code online for them.  I like to look for these codes on Coupondad.com.  You can also sign up for Red Box emails.  If you want to make it an authentic movie experience, head to your local dollar store and grab everyone's favorite movie candies.  Pop some popcorn and you've got an authentic movie night for less than $10.
8. Reduced Cost Attraction Ideas:
In the summer time, many major movie theaters offer $1 movies in the mornings before the theater starts its normal show time schedule.  They are usually older family friendly films.
Free concerts in local parks.
Mall scavenger hunts- Print this Mall Scavenger Hunt that created that you complete at your local mall as a family.  When you complete the hunt, treat the family to ice cream!
Hiking is usually free and great physical exercise for everyone!
Picnic somewhere.  As a kid, my family did this often and we always grabbed a fried chicken dinner on the way to the lake.
Indoor play zones.  Indoor play zones are popping up everywhere!  You pay a small price (parents are generally free) for your kids to go in and play on giant inflatables, obstacles, climbing centers and slides!
Aquatic Centers these are usually less than $10 per person for hours of swimming fun.  My local aquatic center is almost as nice as a water park in the summer.
Game nights are fabulous family fun.  Consider grabbing a new family game with great reviews online.
Have a bake-off between family members.  Assign each person a night to create a dessert and then vote for the winner on the last day of the vacation!
9. Plan it, do it, enjoy it and save big bucks this year on a fun vacation for the whole family.
Kim Anderson
About Me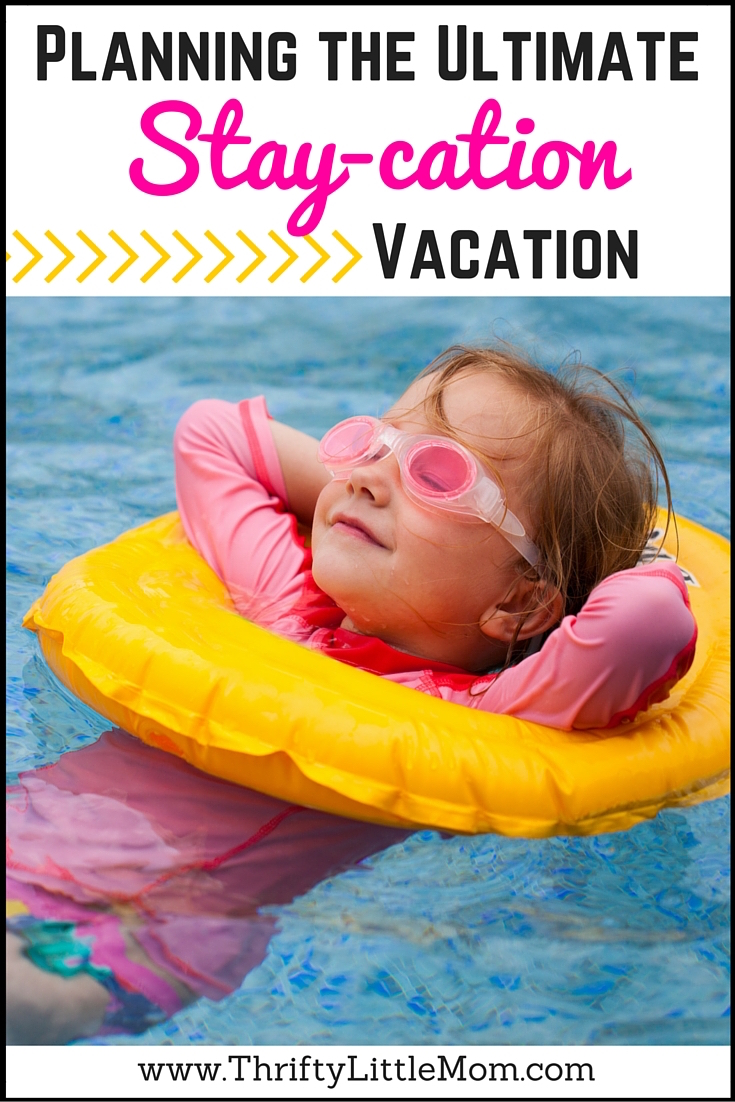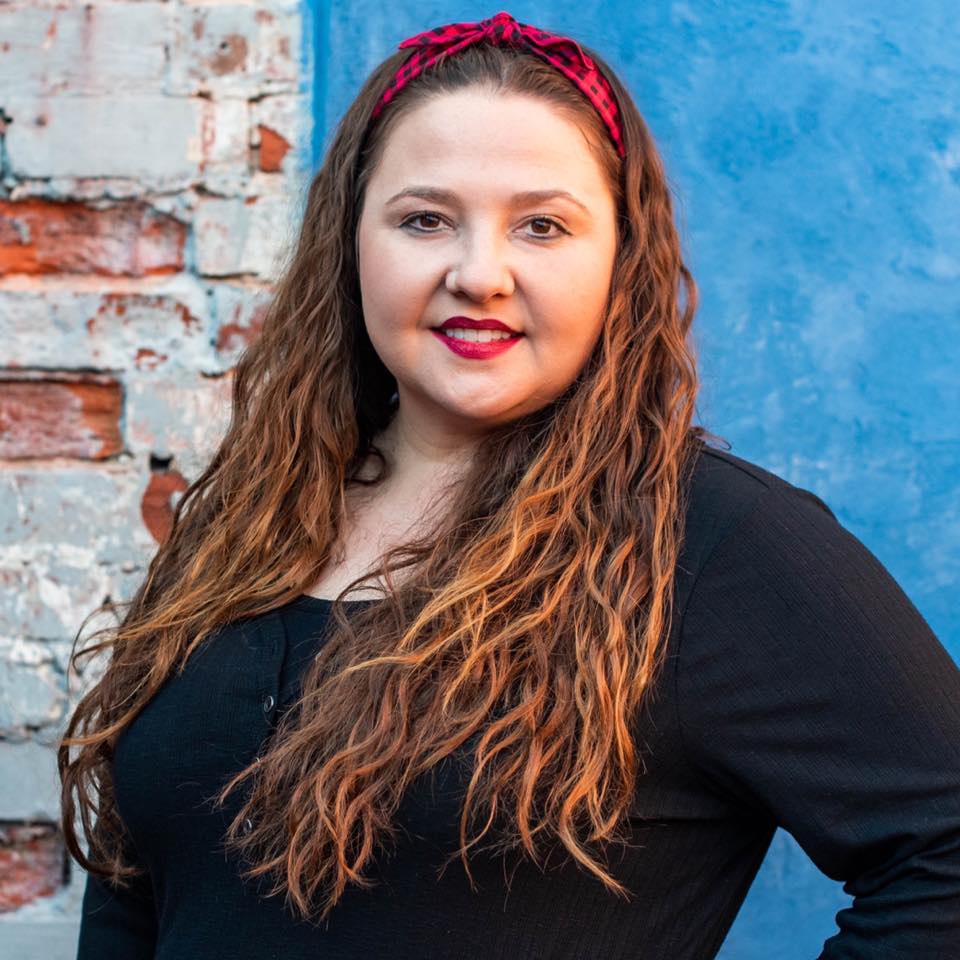 Kim's is the party planning, cupcake loving, celebration catalyst behind the Thrifty Little Mom Blog. Kim was a pro event planner for over 7 years before she became a full-time blogger. Kim is the author of: Live, Save, Spend, Repeat: The Life You Want with the Money You Have. She's been featured on Time.com, Money.com, Good Housekeeping, Women's Day and more! Kim aims to inspire you to create parties, celebrations and gatherings that everyone loves!