Make Your Own Family Costumes
This post contains affiliate links. As an Amazon Associate, I earn from qualifying purchases. I also earn from qualifying purchases made with other brands and programs. See my
privacy policy.
When I think about awesome homemade Halloween costumes, I always think of my friend Rhonda.  Rhonda is the queen of how to make your family costumes.  Here's her post that I hope you will love!
Store-bought costumes can be so cute, but I have to admit that I love to create clever, inexpensive family Halloween costumes for our family of 5. Thankfully, my husband is such a good sport because with three daughters our past costumes haven't always been 'manly.' We love discussing ideas and voting on our costumes each year, but I do get the final say since I am the one who does the shopping, sewing, crafting, etc.!
Last year's costume was my secondborn's idea-we were minions. Now I have to admit that I needed to do a little research because I didn't exactly know what a minion was! Luckily, she, also, had the idea to use canning jar bands for the eyepieces, which was the most vital part of the costume.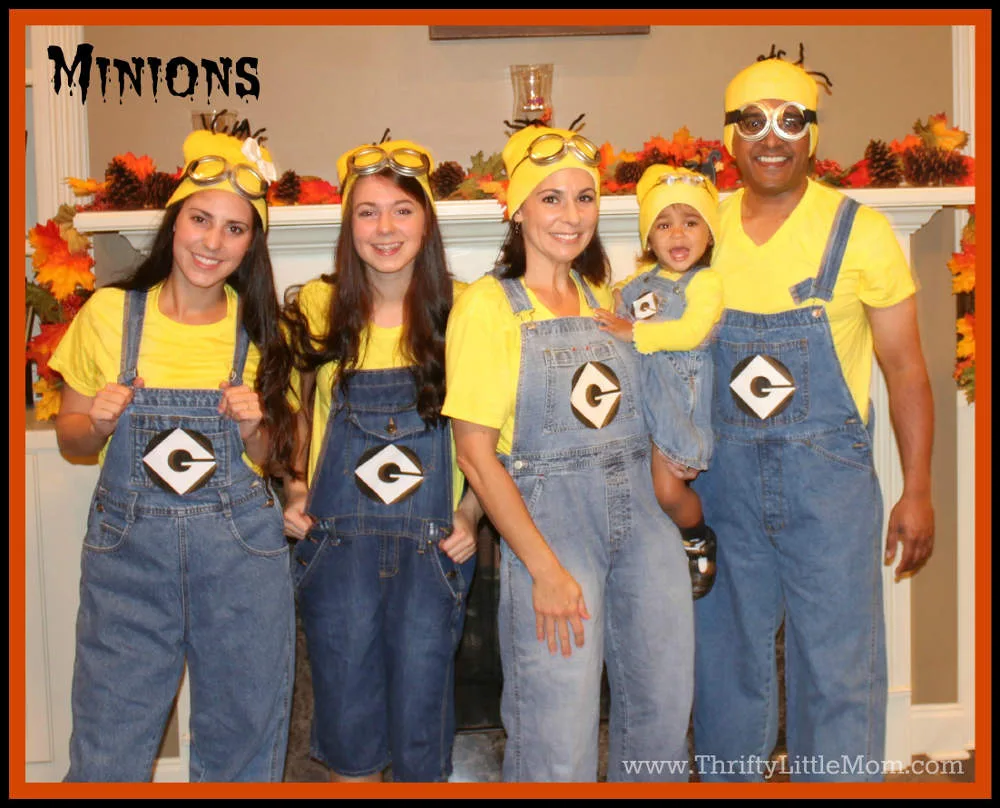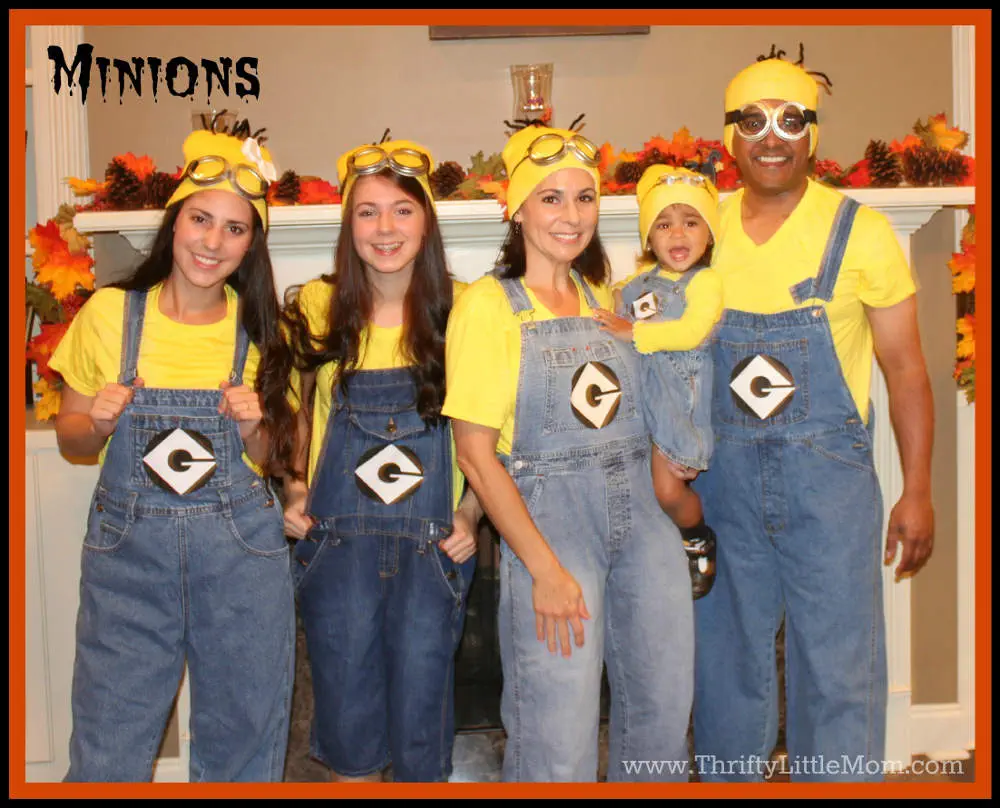 Here's what you need:
*Overalls-found at the thrift store for $3-$5 each (yay!!)
*Pack of 4 cotton t-shirts-found on clearance for $3 (yay!!)
*Canary yellow fabric dye
*Black chenille sticks/pipe cleaners
*5 Knit hats
*Canary yellow spray paint
*Black elastic
*Canning jar bands-I had these at home, but post a request on  Facebook if you need to borrow items. Friends always come through for me.
1. Go Shopping!
The first thing you should do is shop for the main item that best represents your costume. For example, if I would not have found overalls at the thrift store so easily we probably would have chosen another theme.  However, you can always substitute or find a way around the missing piece.
2. Don't Be Afraid to Improvise.
If you find it difficult to find yellow t-shirts for example, you can always dye them. For me it was a monetary decision: I found yellow t-shirts for $5.96/each, but I found a pack of 4 men's t-shirts on clearance for $3 and the dye was only $3 as well so for $6 we had 4 t-shirts! I found the knit hats for $1 each and thought I could throw them in with the t-shirts to dye; however, the fabric would not hold the dye so I decided to spray paint them instead. Failure-the author of invention
3. Create Your Goggles.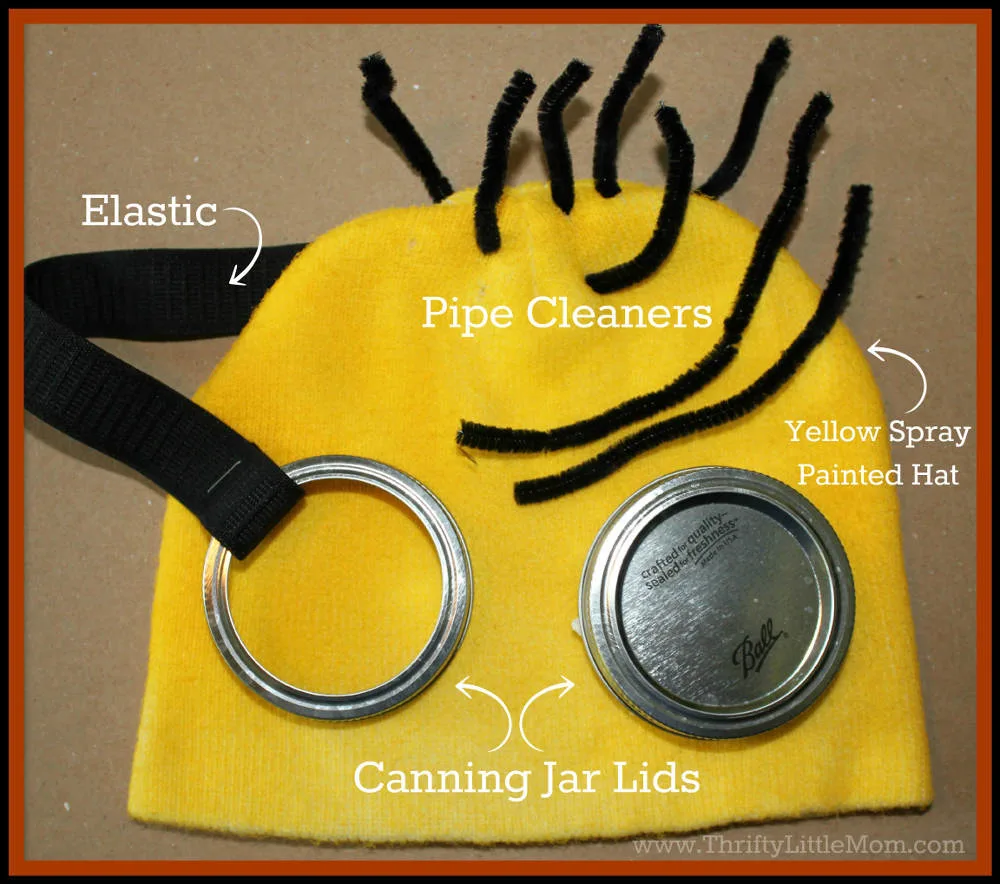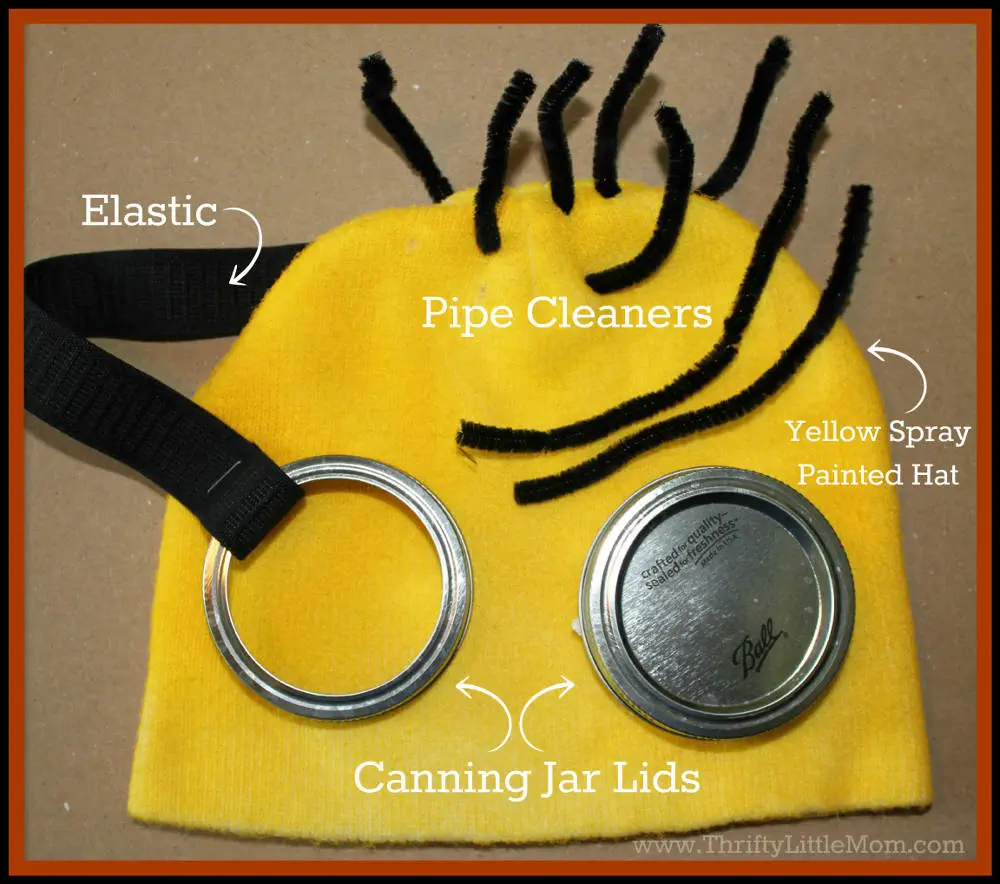 The goggles were fun to create.
All you have to do is duct tape two canning bands/rings together and attach black elastic. We tried using ribbon to attach them, but they wouldn't stay on our heads so the elastic (sewn for baby, stapled for the rest) was an easy substitution and worked perfectly.  You can also do the single can lid eye too.
Next, literally just stick and bend a few fuzzy sticks for strands of hair on the top of the knit hats.
Other Creative Family Costumes
Here are a few more ideas from our past family Halloween costumes.


I hope our family Halloween costume ideas have inspired you to make these memories for your family. Please, leave a comment and let me know what your family's thrifty costume plans are this year and don't forget to return to find out what our family decides to create this year!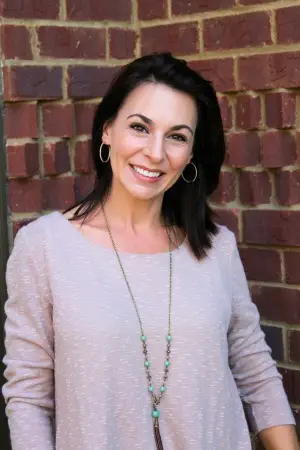 Rhonda is the owner of My Symphony Seasonings, LLC located in Georgia. She has a passion for good food, health & entertaining which was the perfect combination for creating My Symphony Seasonings, a company that encourages you to cook and eat whole foods, close to nature by providing original recipe blends of organic herbs & spices, free of fillers and artificial preservatives to add flavor, richness and health benefits to your dishes!