Convert Your Pantry Door to Kitchen Decor
This post contains affiliate links. As an Amazon Associate, I earn from qualifying purchases. I also earn from qualifying purchases made with other brands and programs. See my
privacy policy.
Thanks to Rhonda for creating this fun guest post tutorial on how she decided to convert her pantry door to kitchen decor!
I love the open floor plan of my kitchen area, but when I decided to add some color to my beige kitchen, I wasn't sure which wall(s) should be the focal point. Because the kitchen segues into the sunroom, the living room, a hallway and the dining room, it was very difficult to decide where my accent color would begin and end! THEN…I saw a lovely picture on Pinterest that helped me decide that the accent color in my kitchen would be on my pantry door. I hope you find this tutorial inspirational for your own color projects.
Step 1:
Wipe down your door to remove any dust, grease, grime, etc.
Step 2:
Gather paint, roller & handle, pan, paper towels & painter's tape (I recommend the Frog brand).
Step 3:
I removed the door handle, but taped the hinges rather than removing the whole door.
Step 4:
I like the smoothness provided by 'rolling' the door rather than 'brushing' so my next step was to simply paint the door. I ended up painting two coats with 24 hours of drying time between them.
Step 5:
The final step was to add dimension to the door by distressing it.
Now before this step, I read A LOT of tutorials online and they all seemed expensive and time consuming (two things that I cannot live with).
So this is my thrifty, nifty version:  I used two acrylic paints from the craft store that were just a few dollars each! I mixed several shades of beige and brown to not only bring out the creases but to white-wash the flat surfaces.  I created the shades by progressively mixing more white paint with the brown.

Step 6:
I didn't want to 'antique' the whole door because I was afraid it would look dirty so I used the varying brown shades of paint in the crevices only; brushing on and wiping off. For this part, it's better to brush the paint on in all directions really getting the paint into the creases and then using a light hand wipe off as much as you like.  That forces the dark color down into the deep crevices creating dimension.
Step 7:
Take a wet paper towel and wipe off any excess brown paint that you don't want to show.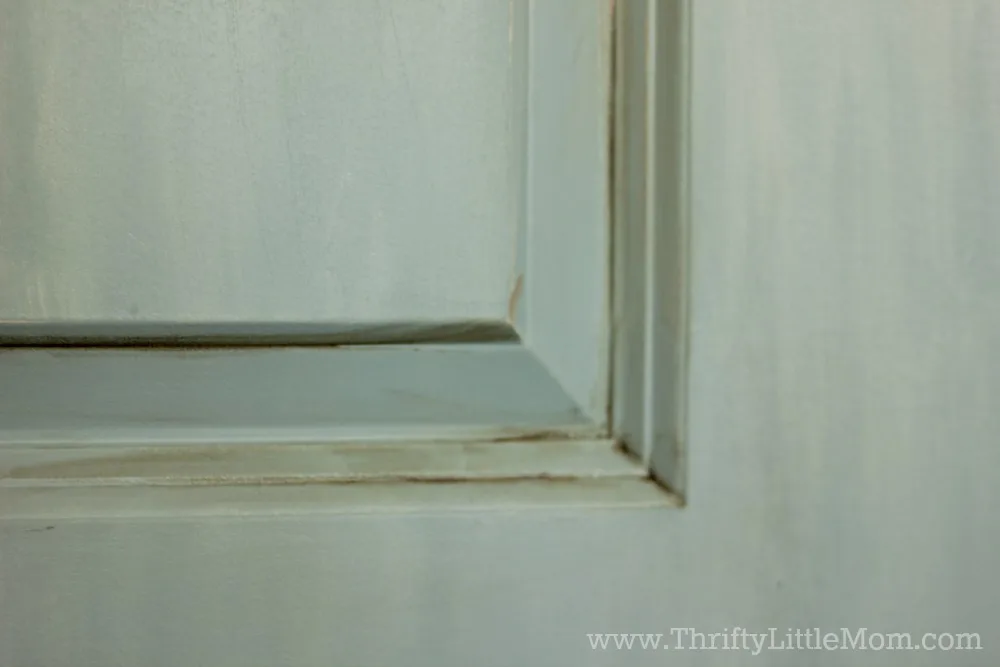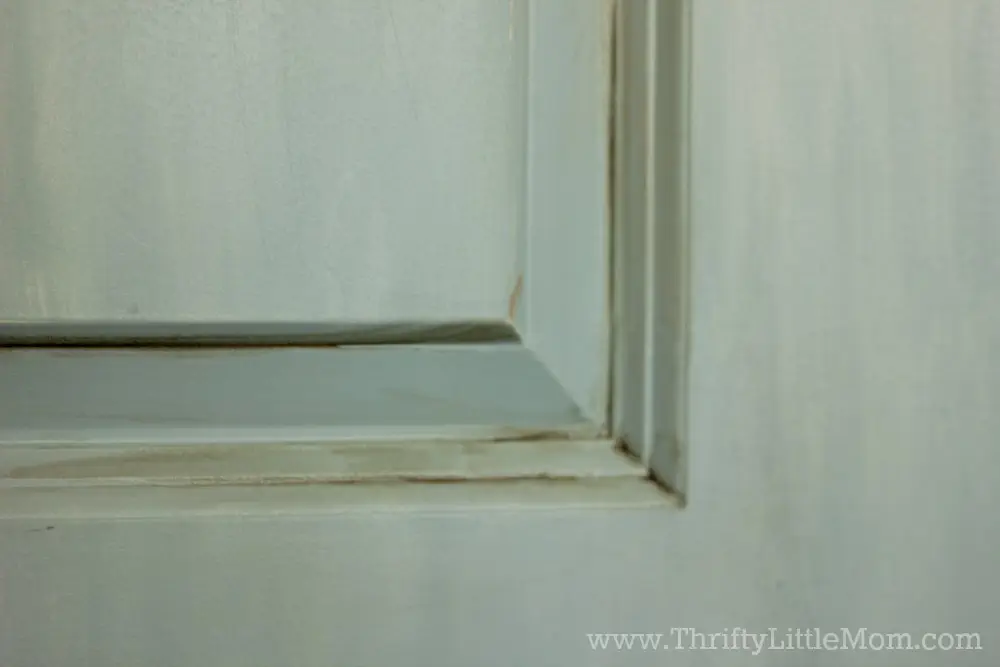 Step 8:
To white wash the door, brush a single stroke of white paint on the door then take a wet paper towel (not damp, it needs to be wet, but not dripping) and wipe the paint in one direction. I chose for my strokes to go with the length of the door so I wiped only up and down. This does not need to be one continual stroke as long as it's all the same direction it will look great.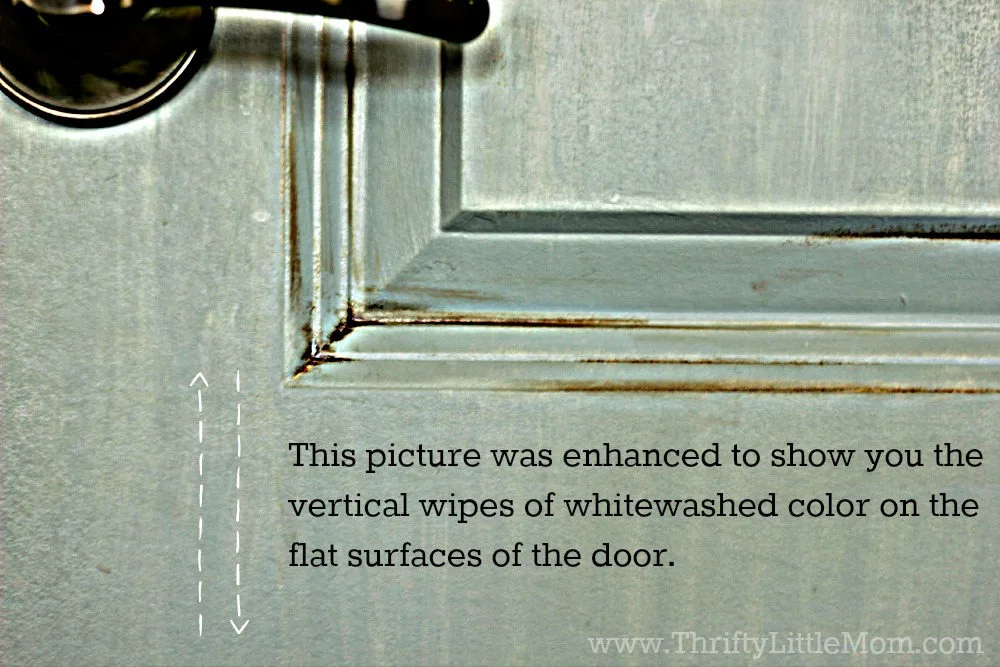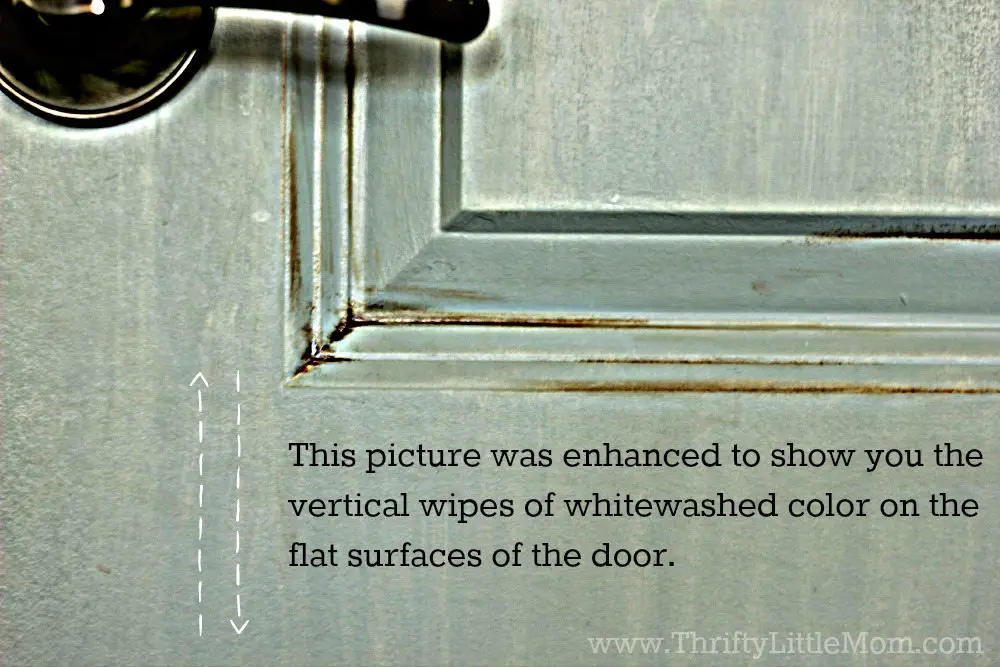 Remember for each step, if you don't like the way it looks, wipe it off and try it again. There is no right or wrong in this process, it's really comme tu desir- how you like it!  If you try it, please, email pictures of your project, we'd love to see them!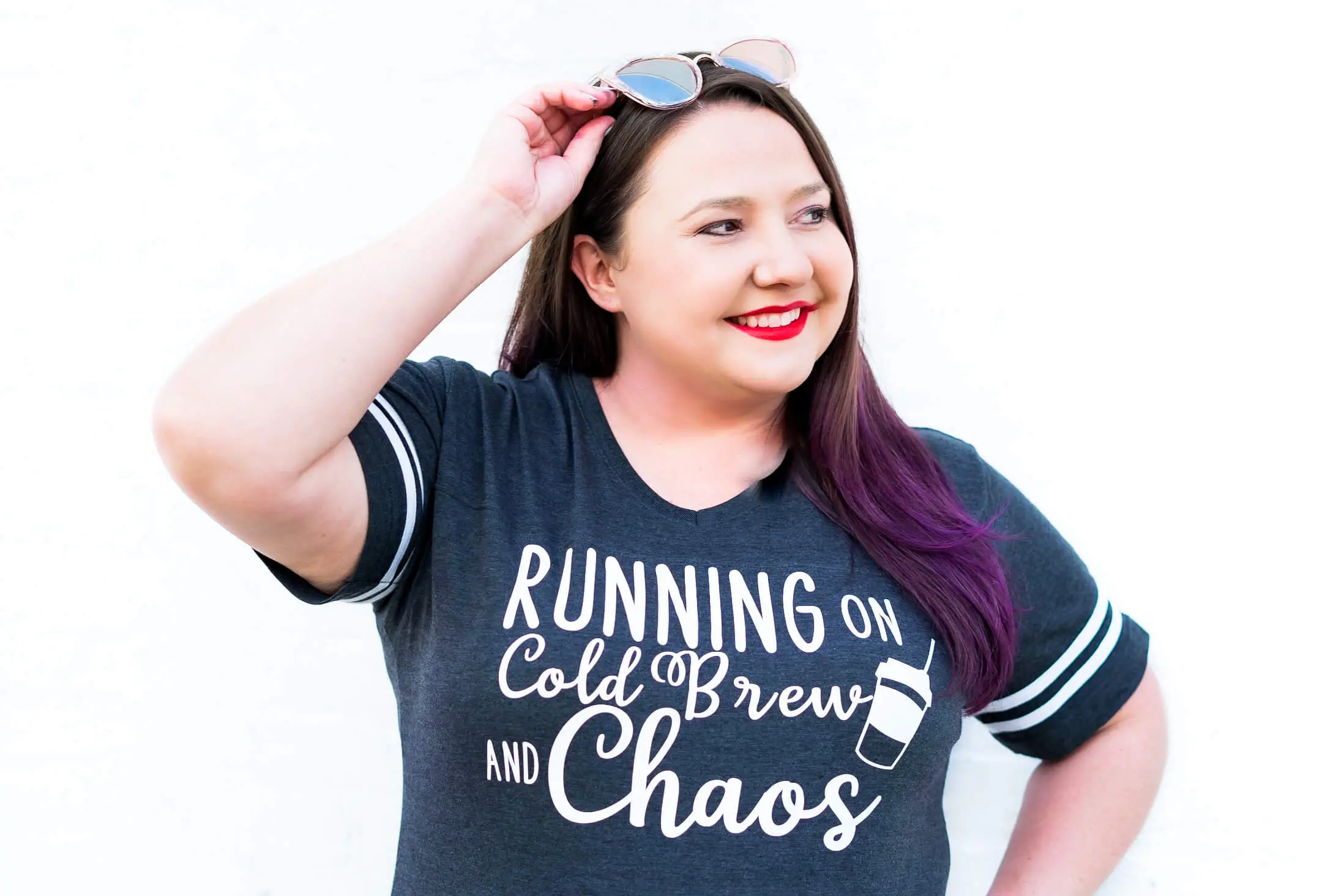 Kim Anderson is the organized chaos loving author behind the Thrifty Little Mom Blog.  She helps other people who thrive in organized chaos to stress less, remember more and feel in control of their time, money, and home. Kim is the author of: Live, Save, Spend, Repeat: The Life You Want with the Money You Have. She's been featured on Time.com, Money.com, Good Housekeeping, Women's Day, and more!