This post contains Amazon Affiliate Links.  When you click on a link and make a purchase I recieve a small comission to keep this blog up and running.  For more info please see my privacy policy here.
It's that time of year again.  When you'll start opening your mail box and pulling out fancy white washed envelopes containing high priced graduation announcements.  Now that you've seen the announcement, you have a few choices.
1- Go tell them, "Way to go!" on their Facebook page.
2- Send them a check that will inevitably be spent on late night taco runs.
3- Get them a cool gift they can actually use.
None of these options are bad.  If you decide to go with option 3, I came up with this nifty list of 8 usable gifts for graduates.  This list contains items they could actually use and enjoy.  These are gifts you can wrap up in foil paper and set on a table at a graduation party.  These gifts will ultimately come in handy when they start their new college adventure!
1. A LARGE MEMORY Flash Drive
Now I know when you and me were in college we used to carry around floppy disks, hard disks, CD's or real life printed paper.  These guys, they've got it easy.  They can carry their research papers around on sticks hanging on their key-chains.

Silicon Power 64GB Jewel J80 USB 3.0 Flash Drive, Titanium (SP064GBUF3J80V1T)
2. Cordless Bluetooth Headset
I got one of these for Christmas and I love it!  I wear it almost all day because I forget I even have it on.  It rests on your neck and when someone calls, it vibrates.  You simply pop the earbuds in your ears, touch a button and you are talking hands free.  Beyond chatting on your phone, you can listen to podcasts, lectures, music and streaming media with these headphones.
LG Electronics Tone Pro Bluetooth Stereo Headset – Retail Packaging – Black
3. No More Dead Battery Emergencies
So they forgot to charge their cell phone…again?  Instead of freaking out and searching for an outlet, this handy dandy little portable battery charger is about the size of a lipstick tube and can provide an on the go (no electrical outlet needed) charge for your cell phone or tablet.  I actually keep one of these in my car.  It can be recharged and used over and over.
Anker® 2nd Gen Astro Mini 3200mAh Lipstick-Sized Portable Charger External Battery Power Bank with PowerIQ Technology for iPhone 6 Plus 5S 5C 5 4S, iPad Air 2 Mini 3, Samsung Galaxy S6 S5 S4 Note Tab, Nexus, HTC, Motorola, Nokia, PS Vita, Gopro, more Phones and Tablets and More (Black)
4. Mr. Coffee Single Cup Maker (That uses K Cups!)
I got a Mr. Coffee K-cup machine about a year ago and I love it!  I save tons of money on coffee by using a re-usable coffee filters and these machines are way cheaper than the Keurig machines but do pretty much the same thing- brew coffee one cup at a time.  This one has 3 cup size options.
Mr. Coffee Single Serve Coffee Brewer BVMC-KG6-001, 40-Ounce, Black
5. For the Cell Phone Photographer
These little lenses snap over your smart phone lens so you can take really unique pictures right from your cell phone.  These would be great for students who love capturing life and art via their phone.
Camkix Universal 3 in 1 Cell Phone Camera Lens Kit – Fish Eye Lens / 2 in 1 Macro Lens & Wide Angle Lens / Universal Clip (Black)
6. For The Video Maker
GoPro is an amazing little camera that does so much in such a compact form.  Grads can record all their summer adventures, projects and extreme sports on this little camera that goes just about anywhere.  Guys strap it to their heads, their chests, their bikes, their dogs, their boards, their cars and just about anything that will let them record their extreme sports moments.
GoPro HERO Starter Bundle
7. A Place To Express Themselves
 Every dorm room needs a spot for students to be able to put their favorite memories, quotes and reminders. This simple photo display offers plenty of space to personalize their space.
Umbra Hangit Photo Display
8. Have Dave Ramsey Give Em' A Little Dose of Reality
College is about to be one of the most expensive ventures of their lives.  They can either go in prepared with a plan or blindly load up credit cards and student loans.  This gives students advice on managing their money wisely from the beginning.  If you want to give the teen a little incentive to actually crack this set open, offer them a monetary reward for proof of completion.  Hopefully they will follow through and set themselves up for a future of financial peace.
The Graduate's Survival Guide (Book & DVD)
These are 8 out of the box ideas for a graduate in your life.  They may not be as easy as writing a check and sticking it in an card. but they are gifts that can be used.  I hope that these gifts will help give you some creative inspiration if you trying to think outside the card this year.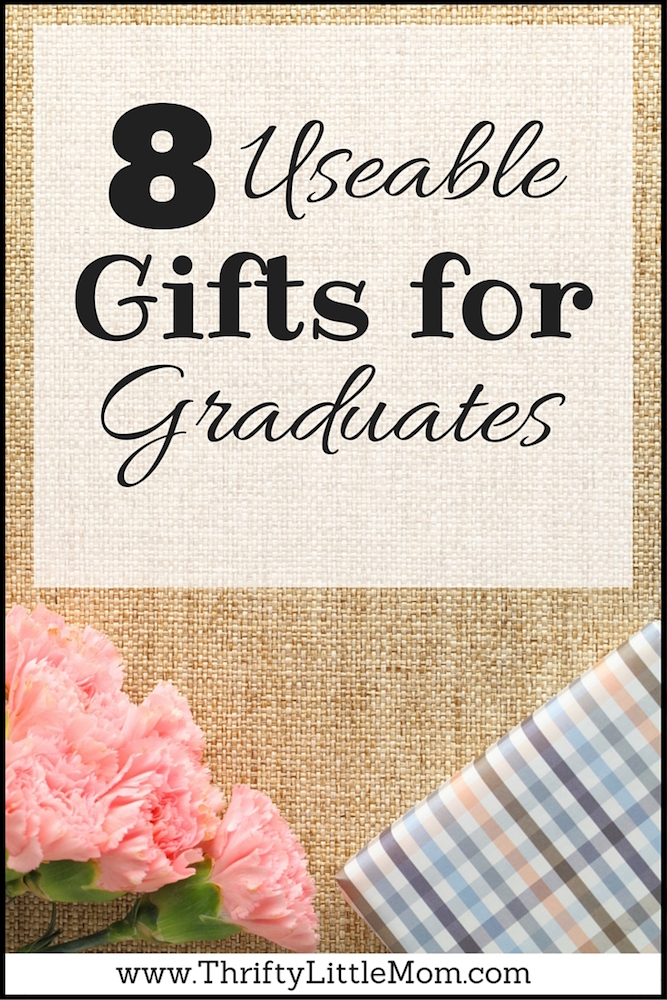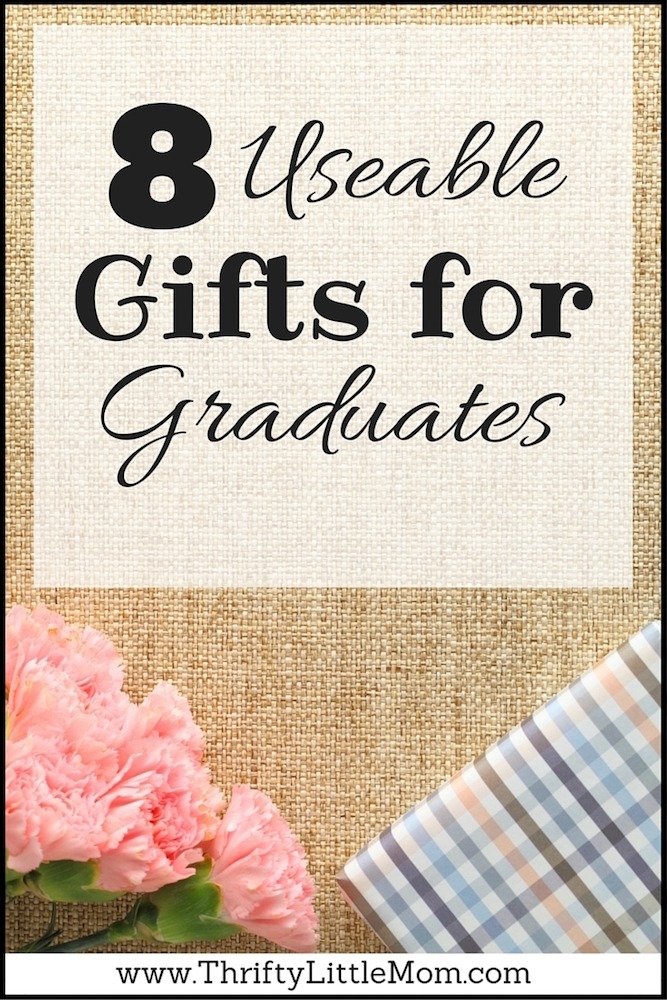 What's the best gift you've given in a graduate in your life?

Subscribe to my emails + get an all access pass to my printable library!
Get access to my printable gifts, party planners, cleaning lists and more! Be the hostess with the mostess!
Don't forget to check out what's in the resource library! https://thriftylittlemom.com/thrifty-little-mom-resource-library/ Password: Thriftyprints