6 Thrifty Gift Ideas For Grads
This post contains affiliate links. As an Amazon Associate, I earn from qualifying purchases. I also earn from qualifying purchases made with other brands and programs. See my
privacy policy.
Are you looking for thrifty, yet useful gift ideas for grads in your life?  Sometimes picking out a graduation gift can be difficult especially if you want to think outside the box.  I put together is " 6 Thrifty Gift Ideas For Grads" post to send a little inspiration your way!
1- Money Management- $20 or less
You might have thought I would just put money first, but the fact is, if you give them money and they don't understand out to manage it, you're just sending your gift straight into the hands of their favorite taco joint.
Dave Ramsey's principals have changed my own adult life so much, I only wish that I had be given a Dave Ramsey Graduate's Survival Guide.
What is it: It teaches a young adult about almost every aspect of a student's money life from budgeting to loans to credit cards.
Extra Motivation For Completion- So you have to wonder if a young adult will take the time to do the guide right?  Well, in our case, we gave the teen version to my nephew and told him there was a $100 bill waiting for him when he completed the book and DVD series.  This is just an additional gift idea you could use for a graduating teen you know.
2- DIY Money Jar- Supplies $5 or less (monetary gift is up to you).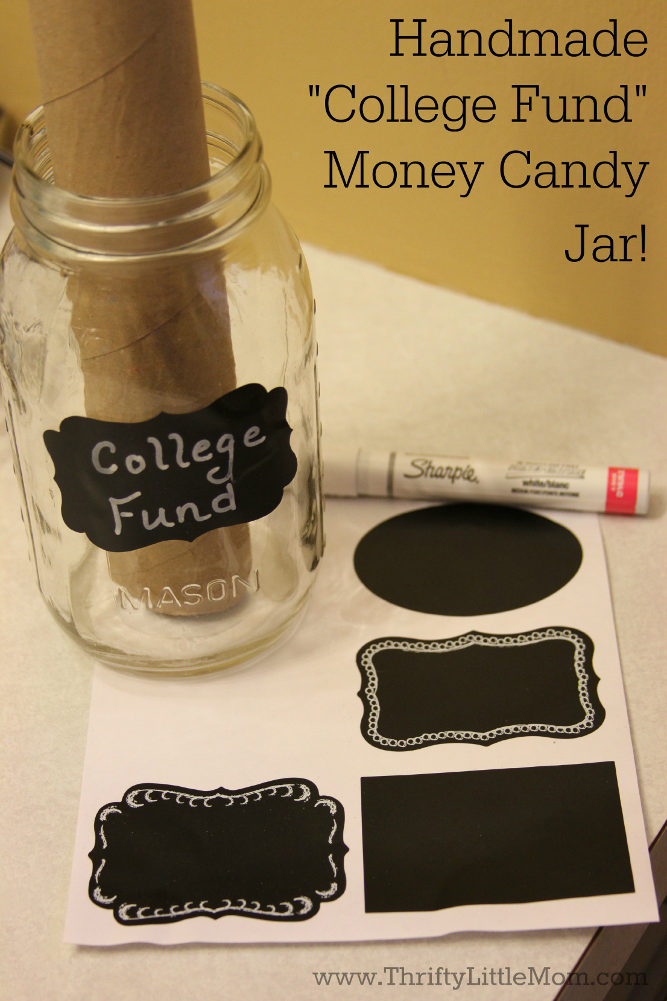 Grab a mason jar from your own stash or even the thrift store.
Put an empty toilet paper tube or cut down a paper towel tube and put the tube in the middle of the jar.
Fill in the side of the jar between the tube and the glass with mini wrapped candies.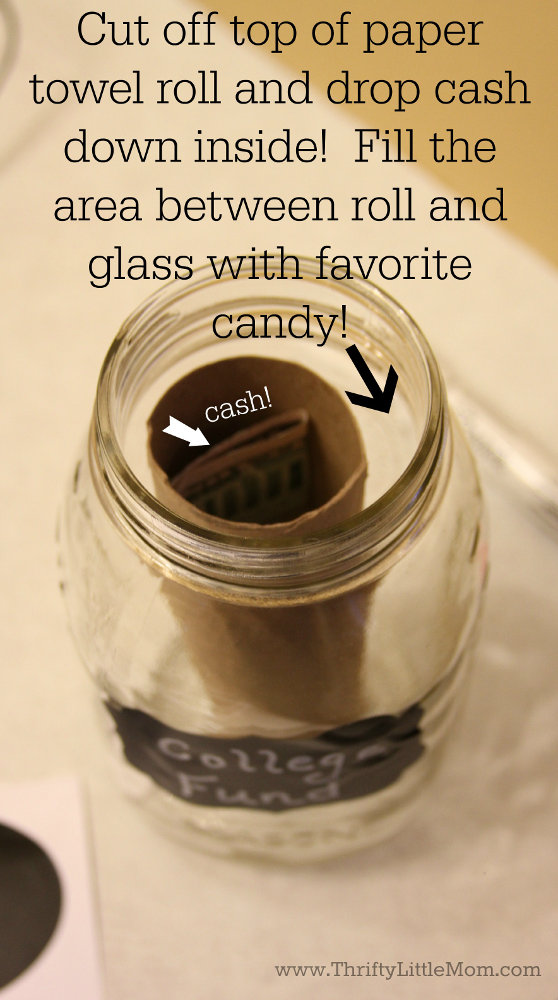 Finishing Jar- Put some cash down in the cardboard tube and put the lid on the jar.  Tie a bow around the top and give to the grad!  You could put a little sign on the side of the jar (these chalkboard stickers were $1.50 at Micheal's) with a cute saying like, "Food Money" or "College Fund" or "College Coffee Fund".
3- Make a Collegiate Throw Blanket (No Sewing Required)- $25 or less
If you are really crafty and want to make an easy, usable gift then you can obtain fleece with the student's college colors, logo or school mascot and make a simple throw.
All you need is two, 6 foot lengths of cut of fleece fabric (in the college logo print or colors), fabric scissors and some patience.
EXAMPLE: If the college's colors are yellow and black, you could use 1 six foot piece of yellow on one side and 1 six foot piece of black for the back side.
Jo-Ann Fabric sells many collegiate patterns.  You can even order online.
Fleece doesn't fray so you don't need to sew or finish the edges of this blanket.
Step 1: Simply line up your two, 6ft pieces of fleece, back to back.
Step 2: Take your scissors and cut 4-5 inch strips about 2-3 inches apart into your fabric basically creating little 2-3 inch wide frays all the way around the blanket.  If you cut through both pieces of fabric at the same time you can save yourself some time and frustration later (see picture below).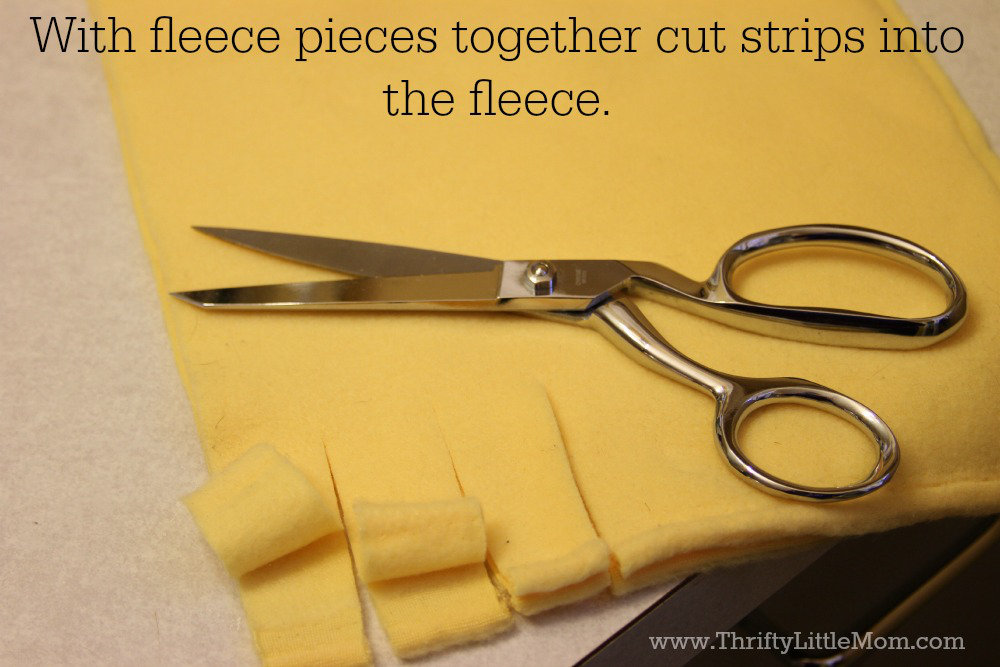 Step 3: Once you have cut the fabric frays cut all the way around all sides of both pieces of fabric, tie both sides of the fabrics frays together in double knots.  Do this all the way around the sides until every fray is tied with the fray from the bottom piece of fabric.  Once all strips are tied, your done!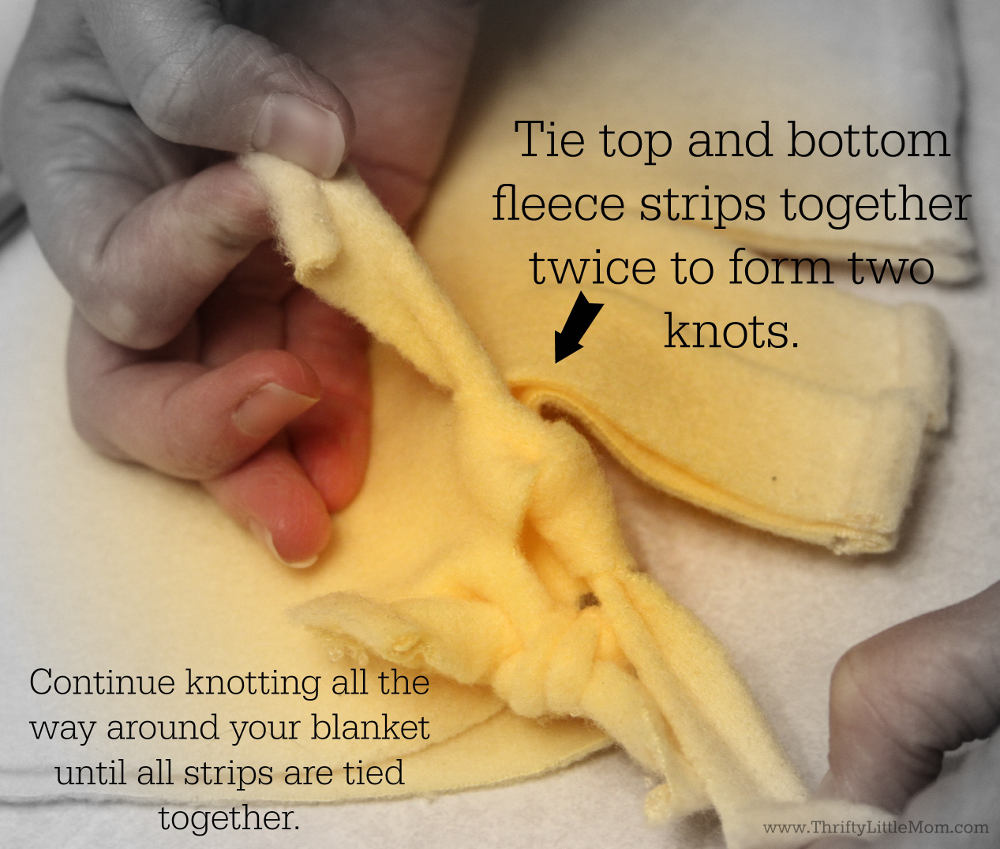 4- Dorm Life Survival Basket- $40 or less
Buy an inexpensive, usable container like a bucket, shower caddie or storage bin (check out Dollar Store) and fill it with items like:
Flip Flops (Old Navy always has cheap flip flops)
PJ Pants
College Mascot T-shirt
Favorite Candy
Favorite Snacks
iTunes Gift Card
Target Gift Card
Soft Throw Blanket
Room Spray or Febreeze
Large Bath Towel
5- Study Night Survival Basket- $30 or less
Buy an inexpensive, usable container like a bucket, shower caddie or storage bin (check out Dollar Store) and fill it with items like:
Starbucks Gift Card or
Starbucks Via instant coffee packets
Lidded Coffee Cup
Index Cards
Sticky Notes
High Quality Pens
Highlighters
Favorite Candy
Red Bulls/5 Hour Energy Drinks
6- Team Spirit Gifts- $20 or less each.
Clothing is always a usable gift.
Even if you don't know the graduates "style" getting them clothing that has their school mascot is always in style.
Here are some ideas:
T-Shirts
Pajamas
Hats/Caps
Hooded Sweatshirts
I hope these suggestions have given you some out of the box inspiration for making or getting usable gifts for a grad in your life.  Please share any gifts you have enjoyed making or found useful in the comments section below!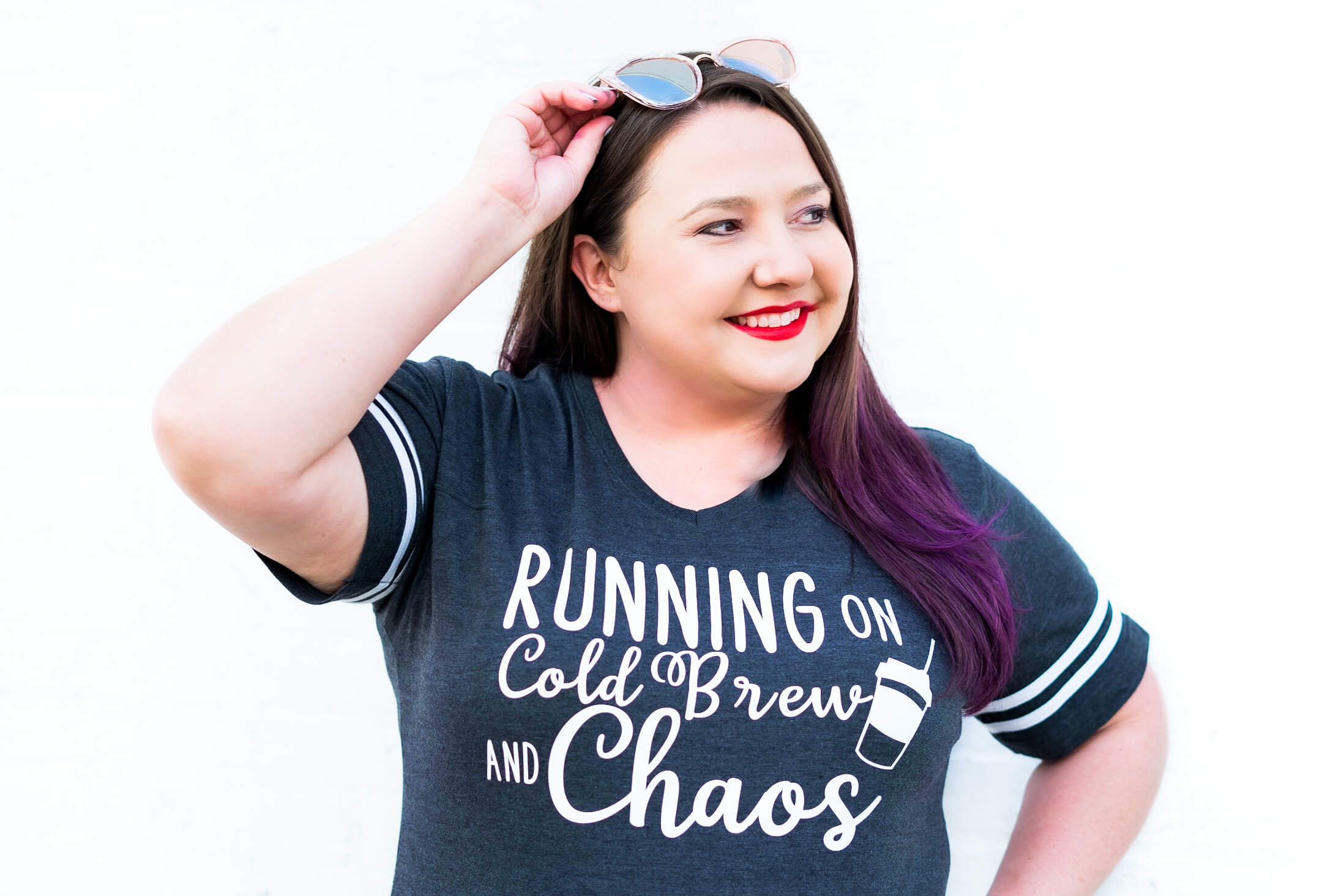 Kim Anderson is the organized chaos loving author behind the Thrifty Little Mom Blog.  She helps other people who thrive in organized chaos to stress less, remember more and feel in control of their time, money, and home. Kim is the author of: Live, Save, Spend, Repeat: The Life You Want with the Money You Have. She's been featured on Time.com, Money.com, Good Housekeeping, Women's Day, and more!