Easy Raised Garden Bed Instructions
This post contains affiliate links. As an Amazon Associate, I earn from qualifying purchases. I also earn from qualifying purchases made with other brands and programs. See my
privacy policy.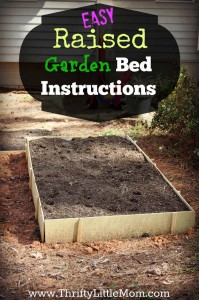 Ah!  Winter is finally over and it's time to start prepping for a summer garden!  Last year we had about 5 trees removed from our yard so we could have a garden that got some sunlight.  My husband decided to build a raised garden bed and give growing our own veggies a try.  This year we added 3 more beds and are excited to see what happens.  I've put together easy raised garden bed instructions for you in case you wanted to give raised beds a try for yourself.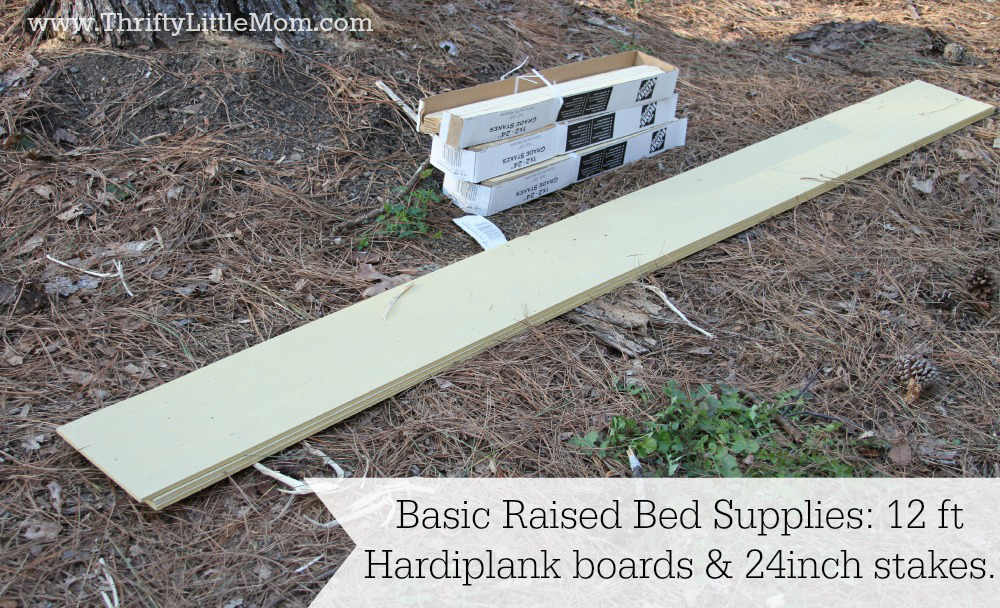 Supplies Needed for 1 Raised Garden Bed:
2- 12ft Pieces of HardiePlank Siding Board (Cut out two 8ft & two 4ft boards) per bed.  Purchased from Home Depot.
Note: If you plan to make more than one bed and you plan for them to be side by side you can use some boards to create the walls of more than one bed as you can see we did in some of our pictures.
12-14 Ground Stakes (2 ft tall or 24 inches) Purchased from Home Depot.
Small Sledge Hammer
Rake
Level (optional)
Our Dirt- 1.75 truck loads of 2:1 ratio top soil (2) & mushroom compost (1) from farm/animal supply store. (This was cheaper than buying bags from the Home Improvement Store).
Wheelbarrow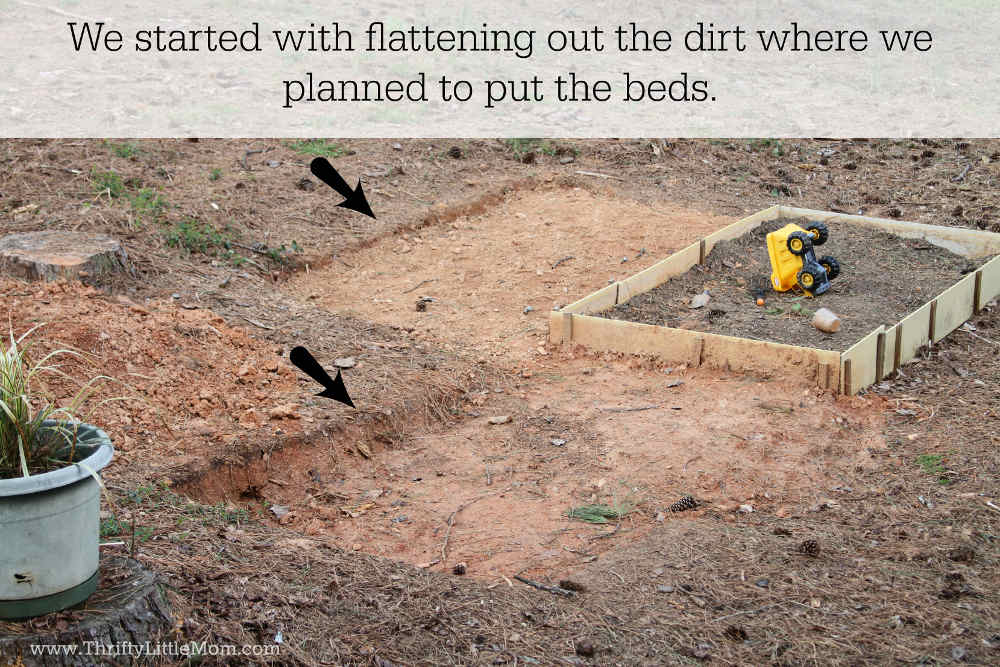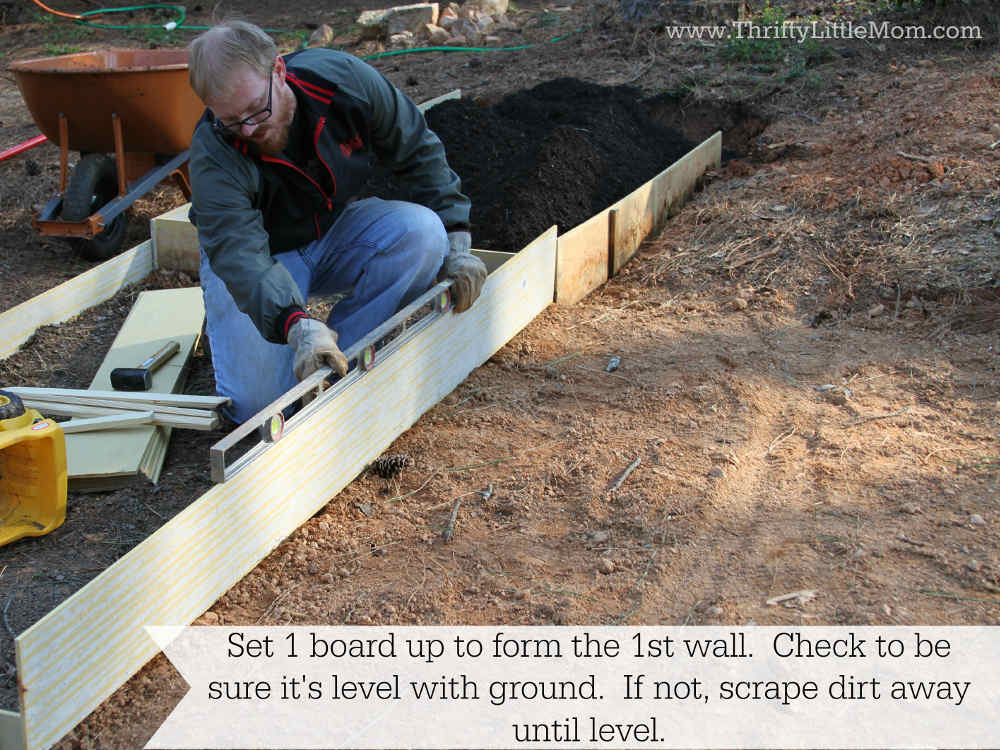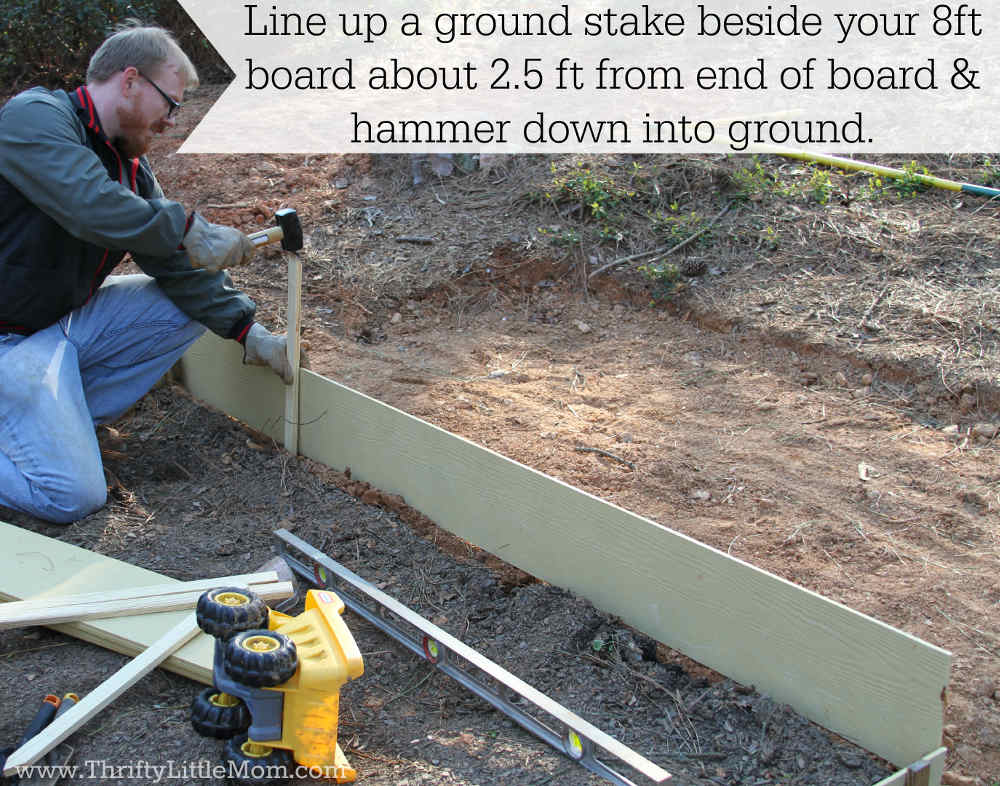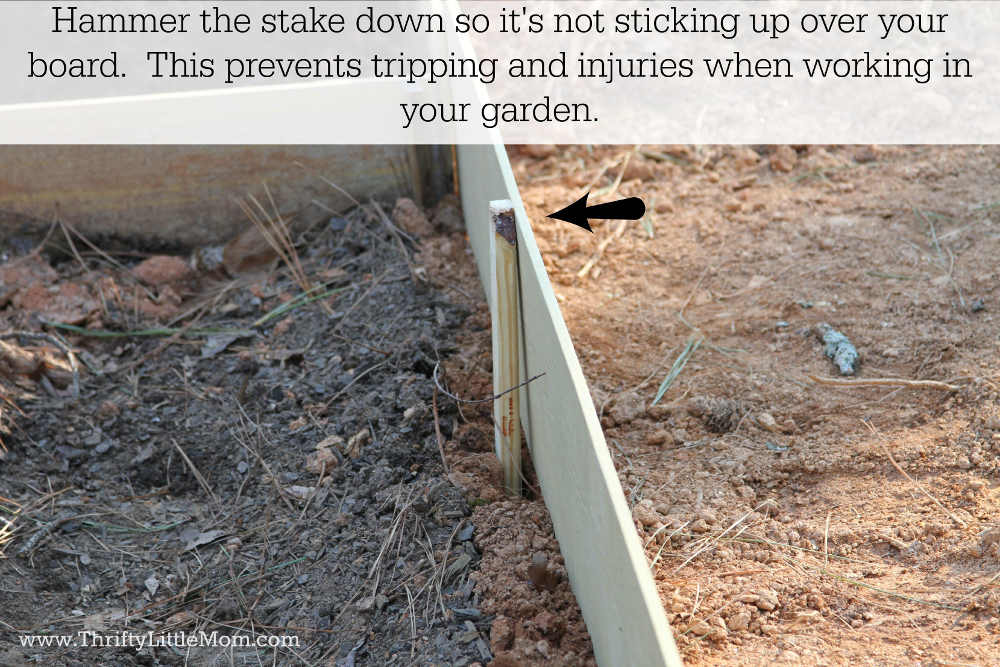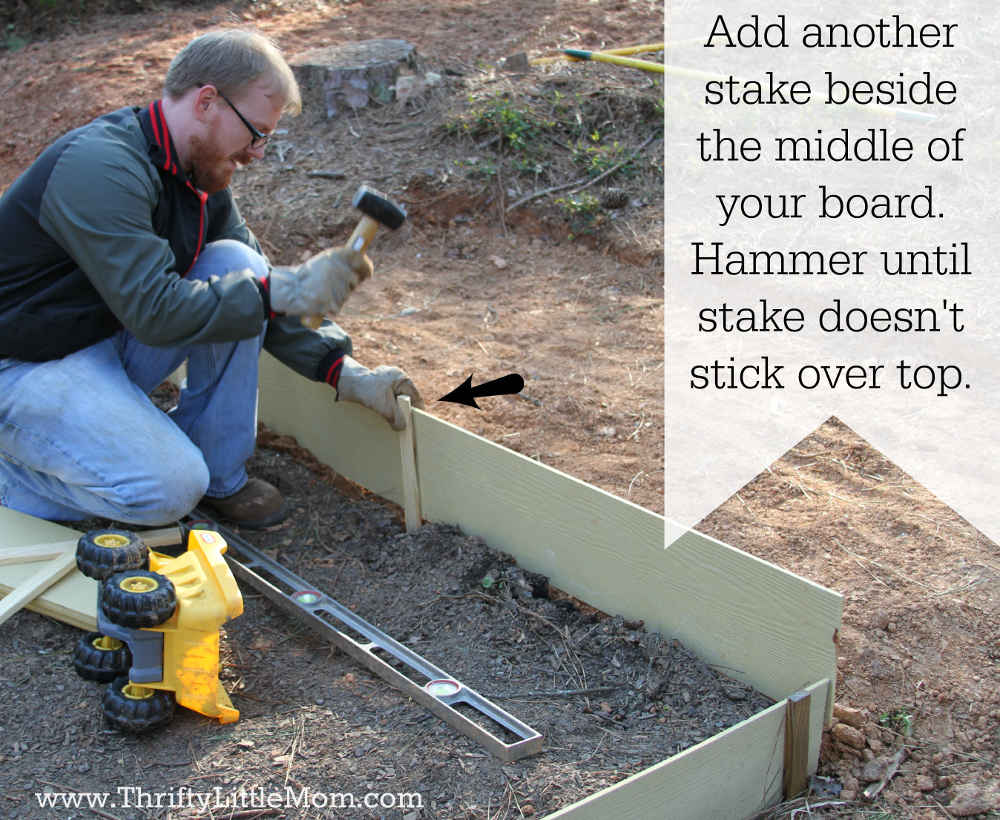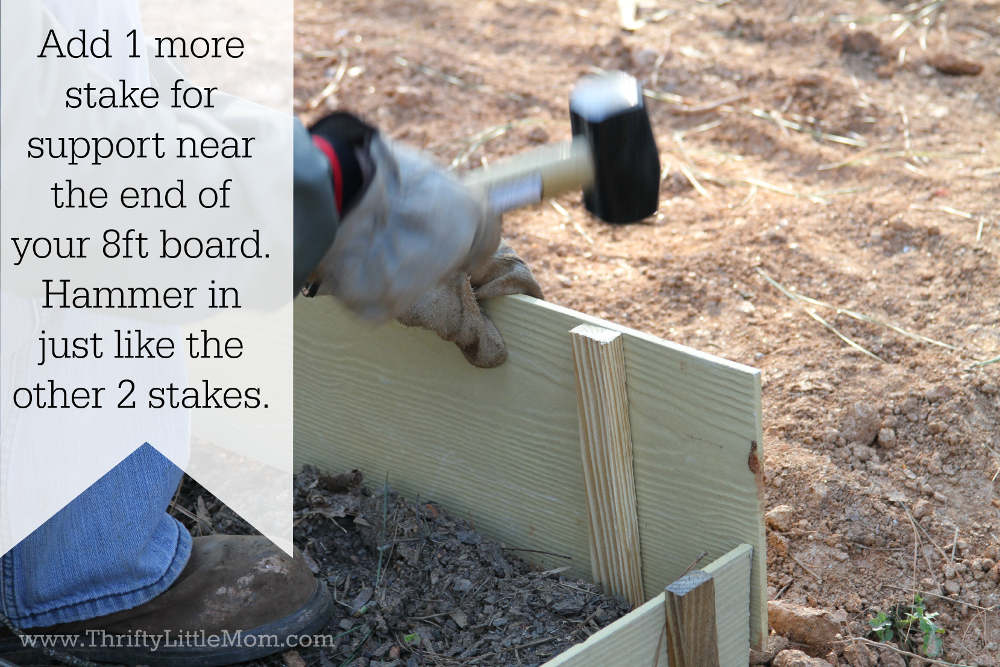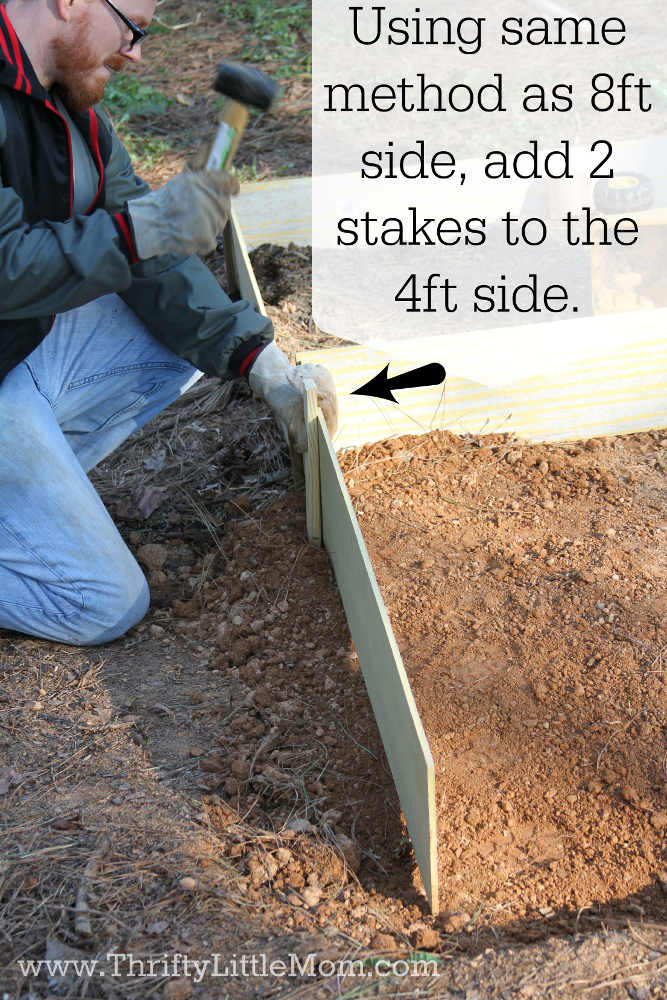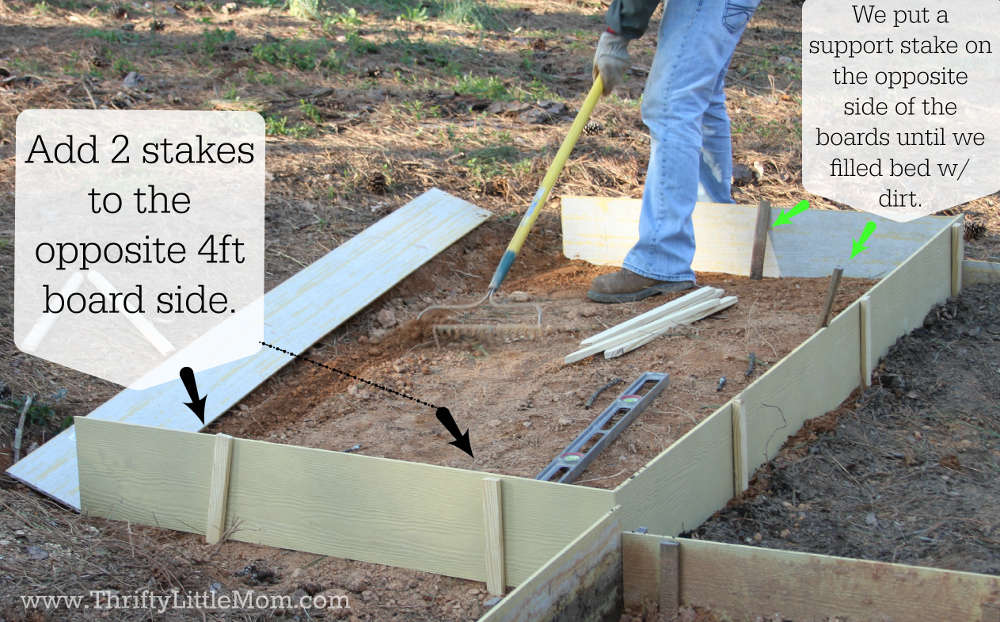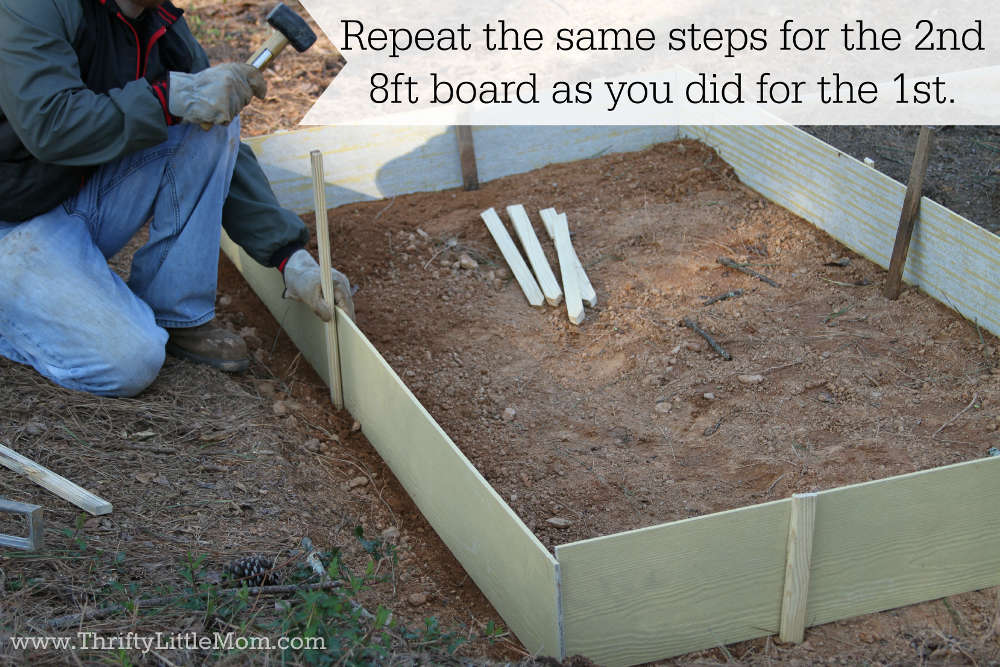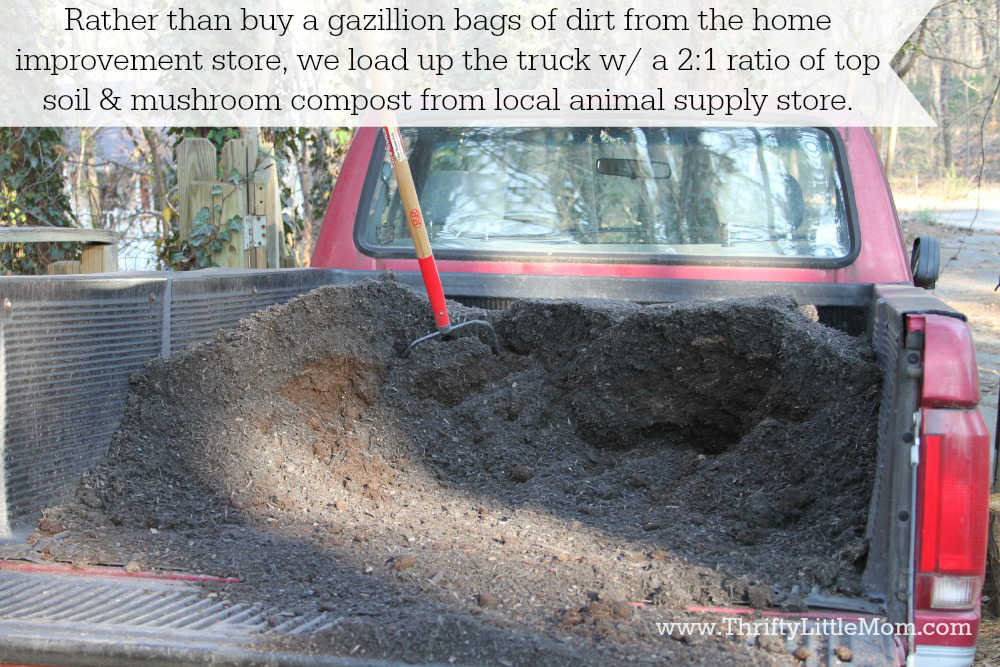 Creating side by side raised garden beds: As you can see in the picture below, we used the end and side of two other beds to create the 8ft & 4ft wall of the bottom garden bed.  That saves time, $ and resources.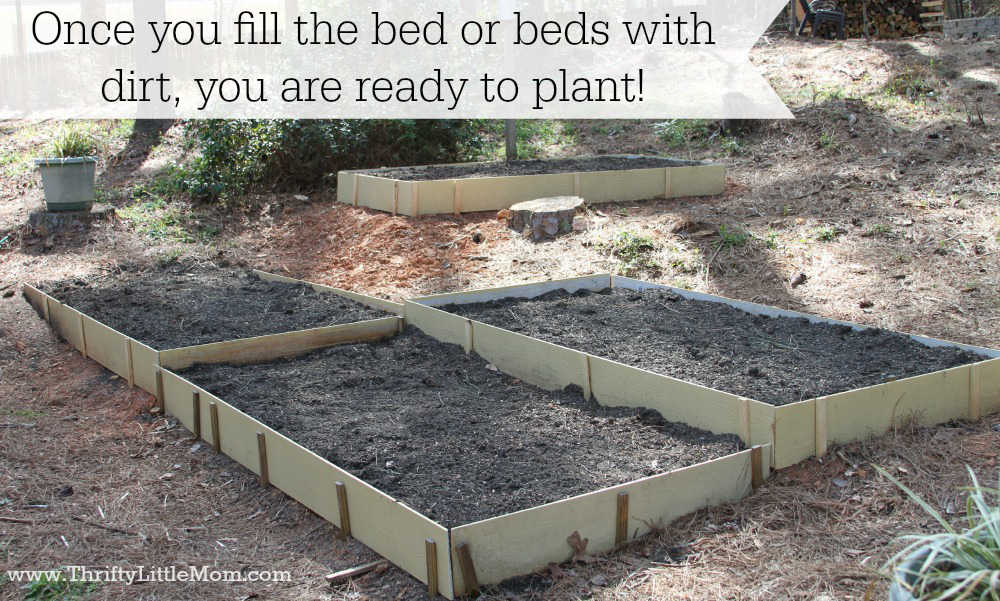 Updated Picture Below: June 30th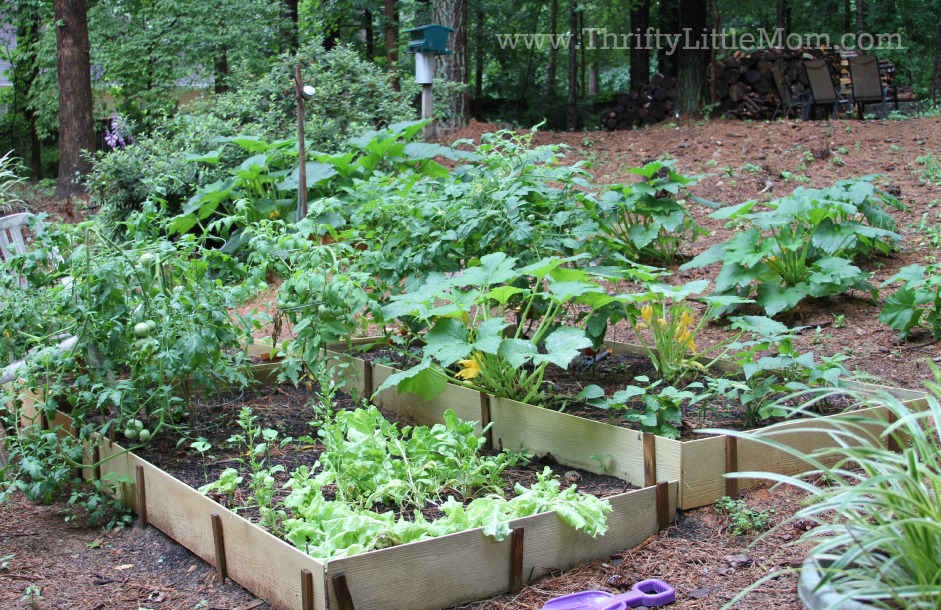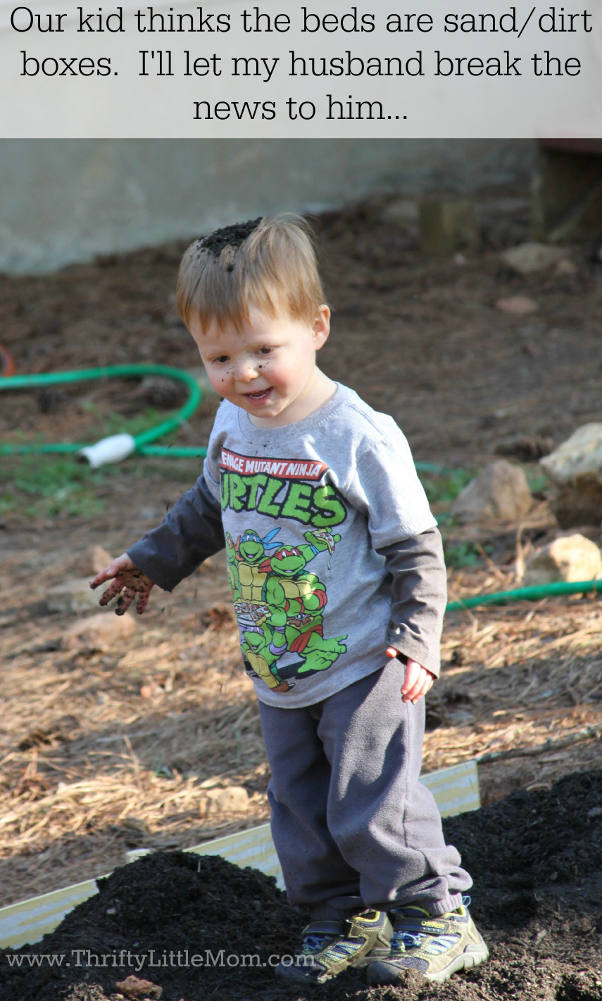 I hope these easy raised garden bed instructions have offered you a little thrifty, creative inspiration for making your own.  Please feel free to leave any questions or ideas for you have used for your own raised garden beds in the comments below!
UPDATES!  Reader Kathy asked to see updated pictures of how the garden beds are doing so here they are!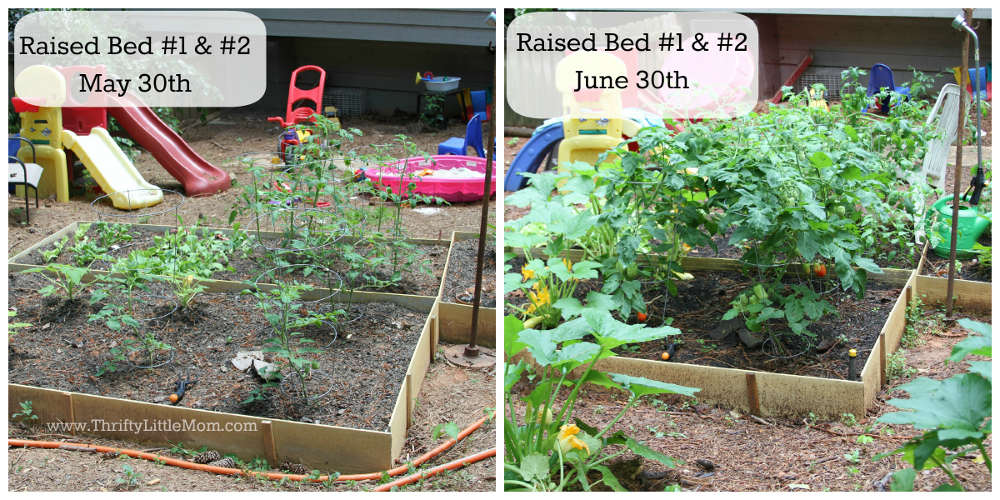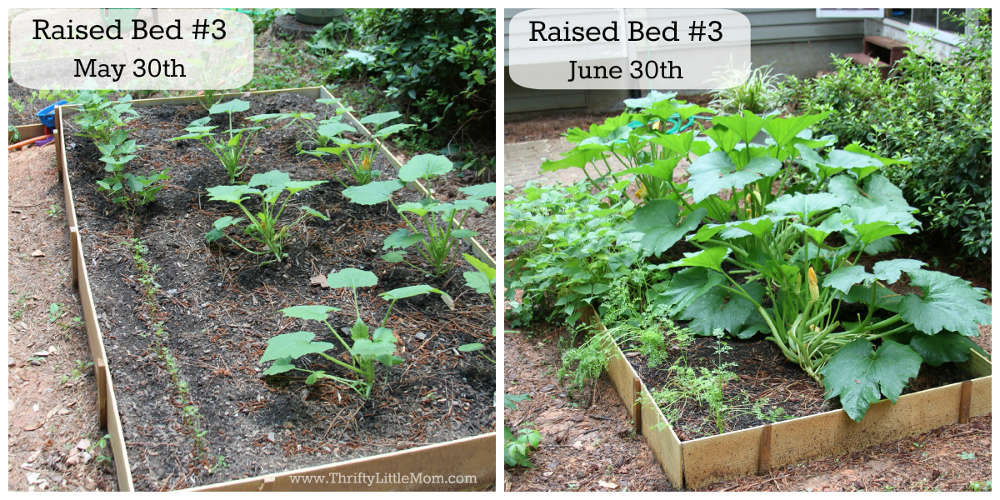 What We Learned: We actually had to transplant several the zucchini plants because they get HUGE!!!  Even though we followed the recommended spacing for all the plants we put in the soil we feel that we could have given everything a little more space.  Next year we will spread them out a bit more and probably add another bed.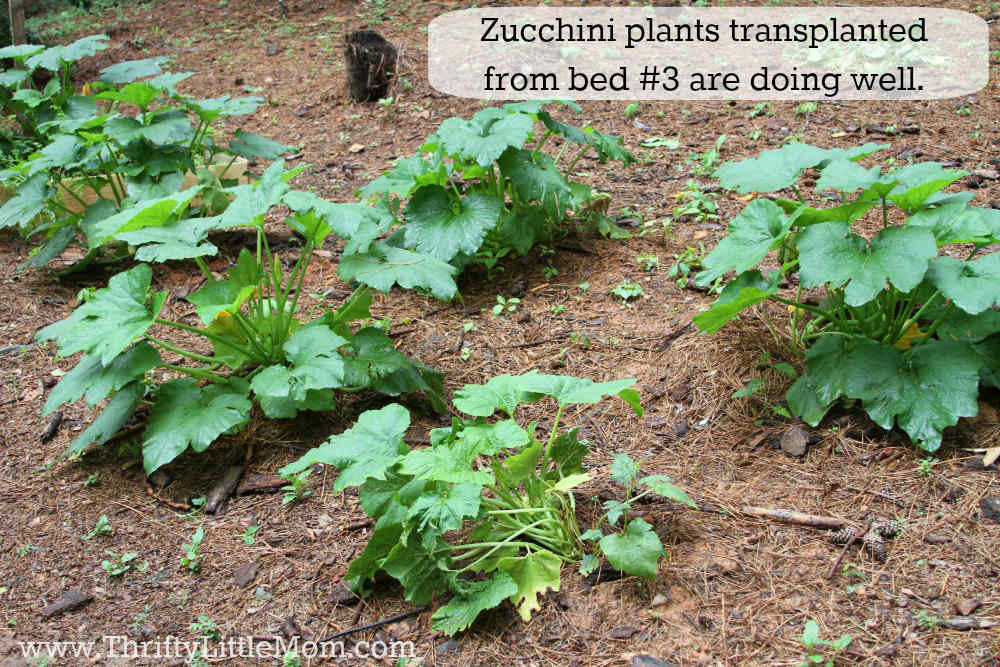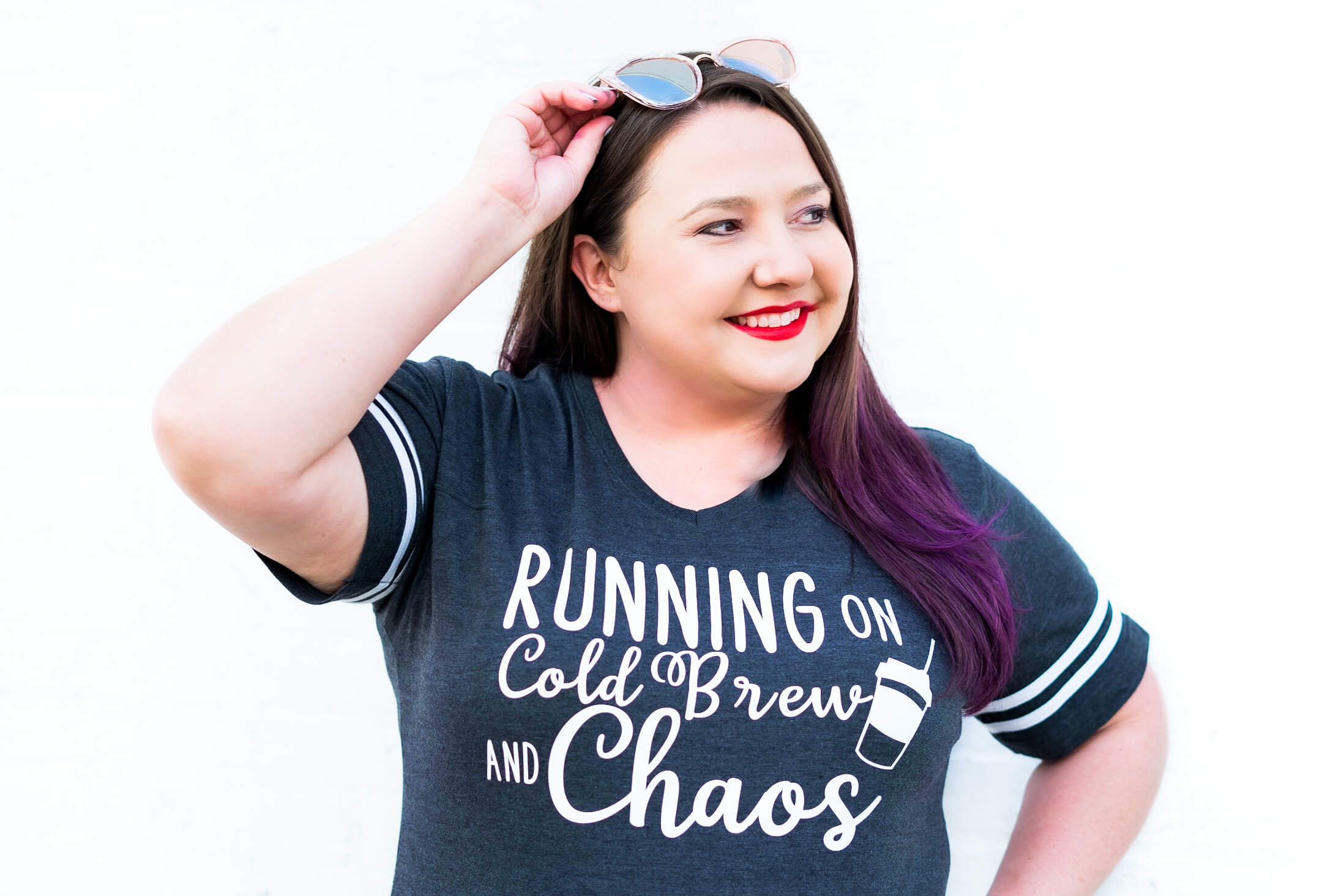 Kim Anderson is the organized chaos loving author behind the Thrifty Little Mom Blog.  She helps other people who thrive in organized chaos to stress less, remember more and feel in control of their time, money, and home. Kim is the author of: Live, Save, Spend, Repeat: The Life You Want with the Money You Have. She's been featured on Time.com, Money.com, Good Housekeeping, Women's Day, and more!