I've Got Way Too Many Zucchini Chocolate Chip Pecan Bread Recipe
This post contains affiliate links. As an Amazon Associate, I earn from qualifying purchases. I also earn from qualifying purchases made with other brands and programs. See my
privacy policy.
This post contains Amazon Affiliate Links.  If you click the link and make a purchase, I receive a small commission from the sale to keep this blog up and running! For more info visit my privacy policy.
I'm going to start this post by saying that I've got way to many zucchinis.  Thus the title: I've got way to many zucchinis chocolate chip pecan bread.  If I had any idea that those small little plants on the Home Depot plant stand would turn into the mega beast plants they are today I would have only planted 2 instead of….8!  HOLY COW!  We literally had to transplant 4 of them out of our raised bed because they were so ginormous.
I'm starting to feel like "The Count" from Sesame Street over here!  So I decided to make zucchini chocolate chip pecan bread because it sounds amazing and it's a way to get my preschooler to unknowingly eat a green vegetable (insert evil mastermind laugh here).   At the same time I like to cut out as much sugar as possible in my breads so this time I used apple sauce!  I hope you enjoy it as much we did!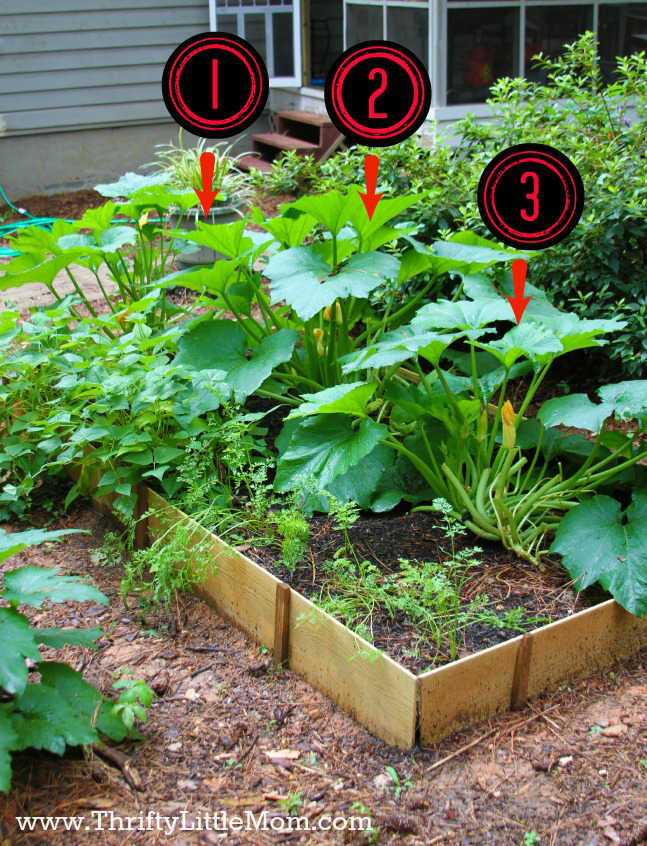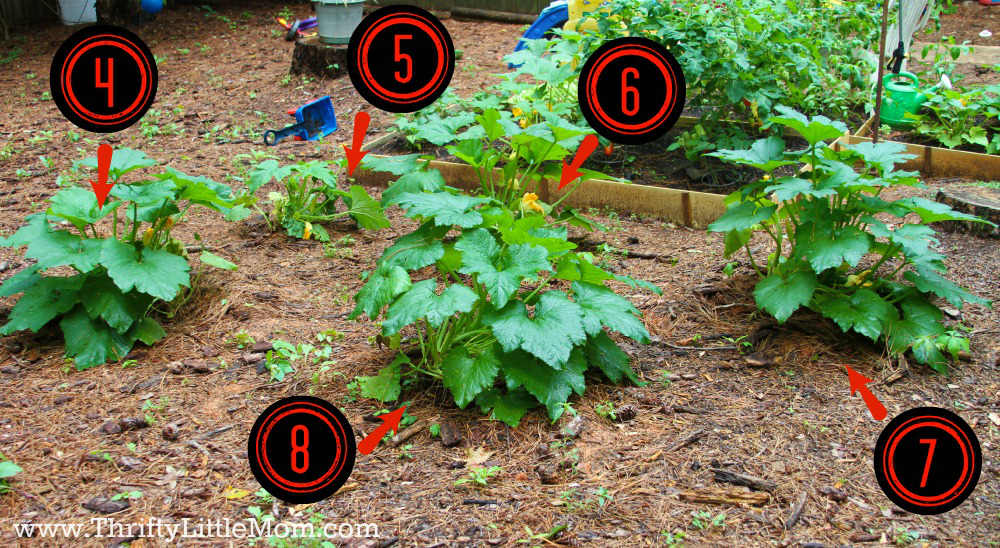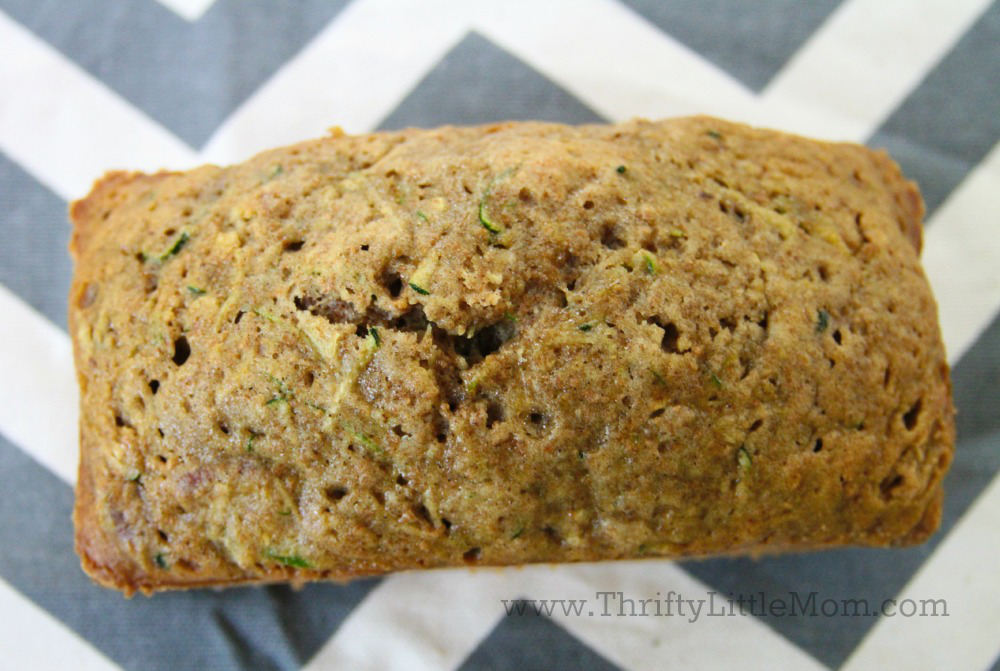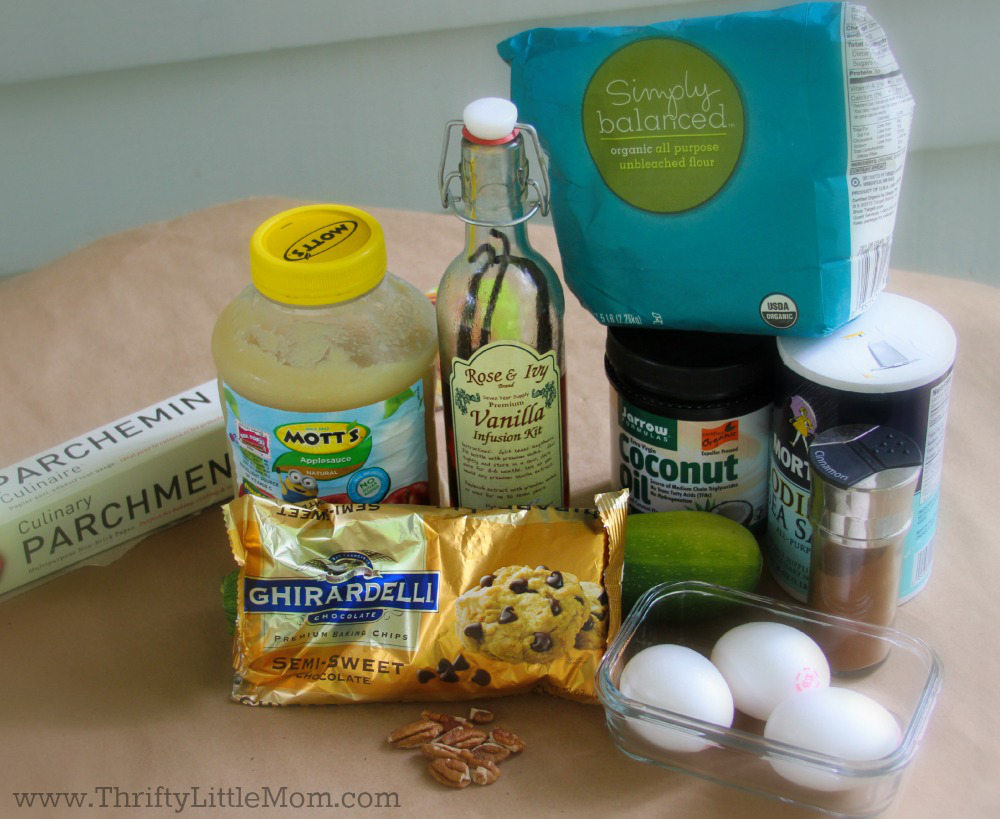 What I used:
Wilton Recipe Right 4 Cavity Mini Loaf Pan
Parchment paper
3 Cups Simply Balanced Organic All-purpose Unbleached  Flour
1 Teaspoon of baking soda
1 teaspoon of baking powder
2 teaspoons of cinnamon
1 cup melted coconut oil
3 Eggs (Pretty sure this is what makes these so moist)
2 1/4 cups Apple Sauce (at room temperature to prevent the coconut oil from solidifying.)
2 teaspoons of vanilla extract
2 Cups zucchini shredded in my food processor.
1 Cup of Pecans (I'm from the south and put these in EVERYTHING
3/4 cup of chocolate chips (or more depending on how much chocolate you like)
* I love my Wilton Recipe Right 4 Cavity Mini Loaf Pan
 to make up 4 mini loaves in one shot.  They are just so adorable!  I only needed to cook the mini loaves for about 30 minutes.  Then I can give some loaves away to friends or neighbors!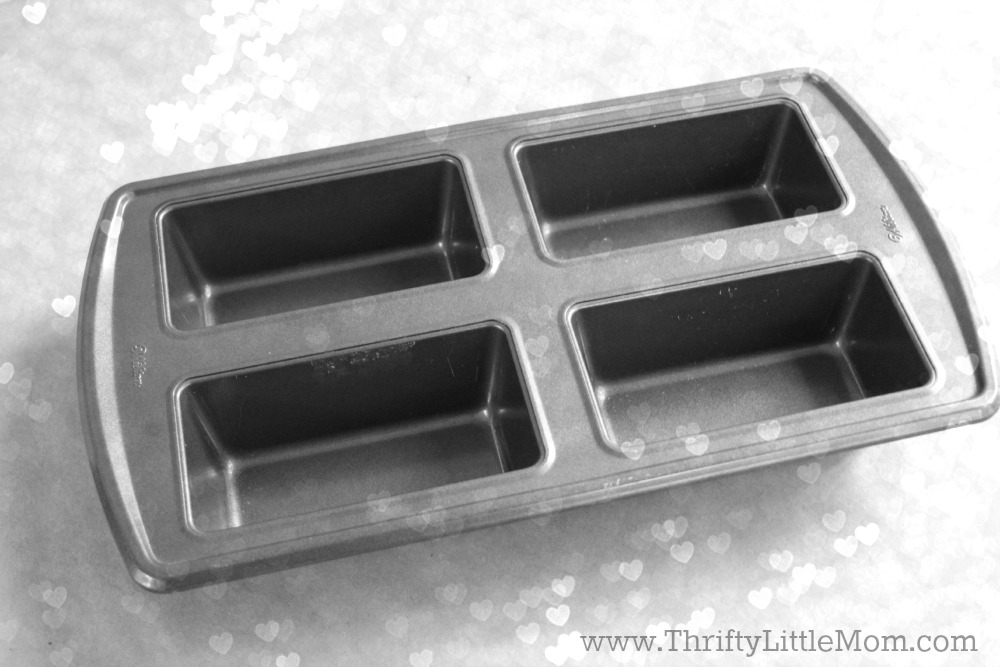 Preheat oven to 350 degrees.
Go ahead and mix all the dry ingredients together starting with your flour.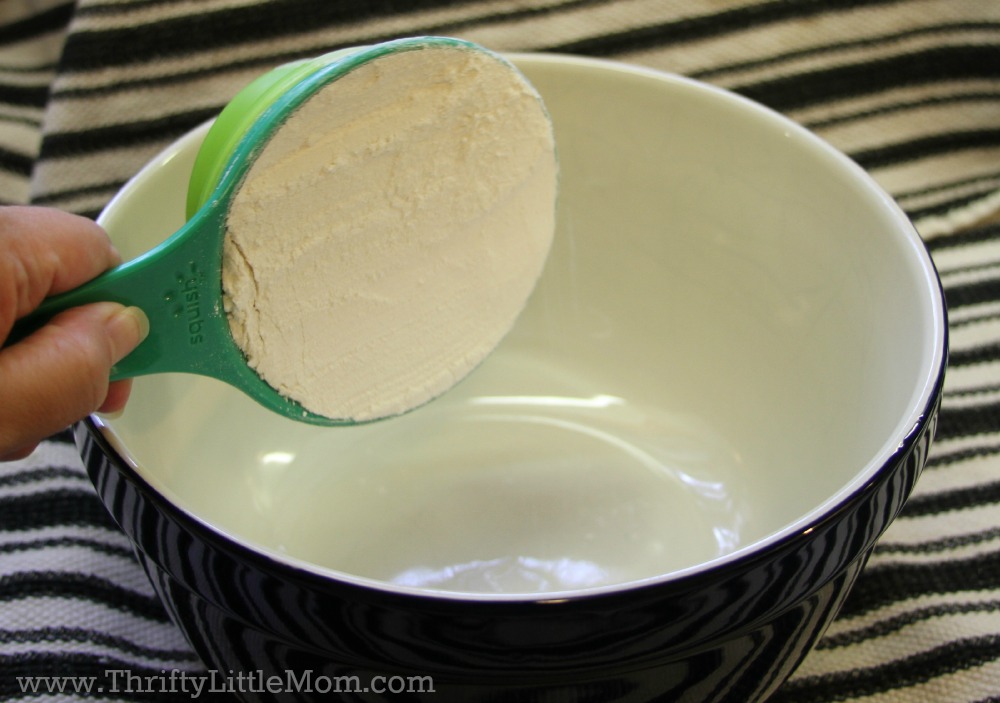 Add Salt- It's pretty important in baking!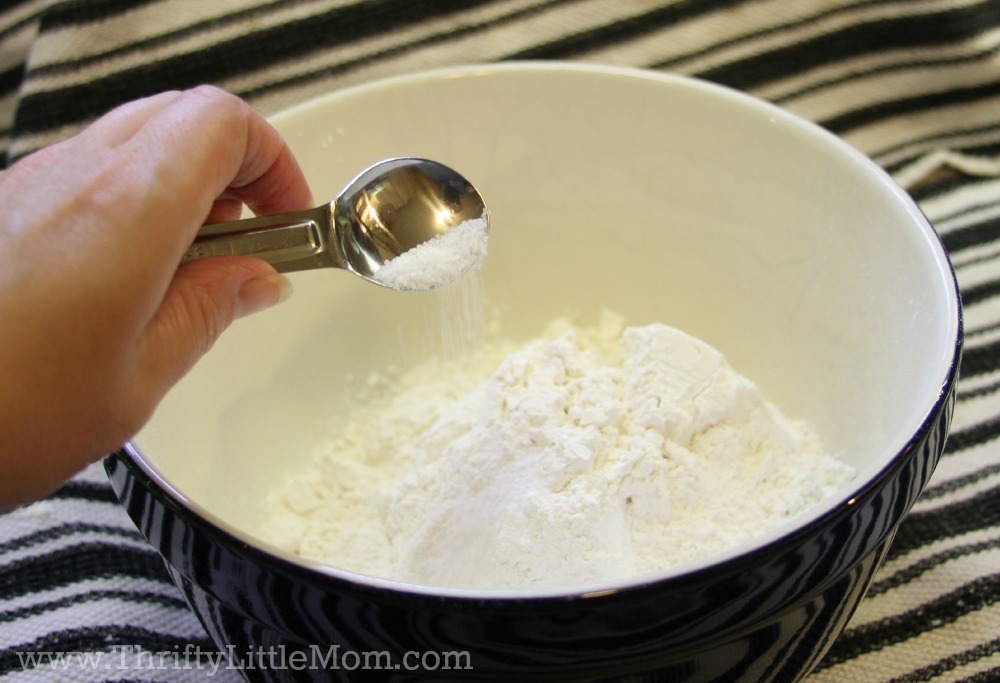 Add your baking soda and baking powder!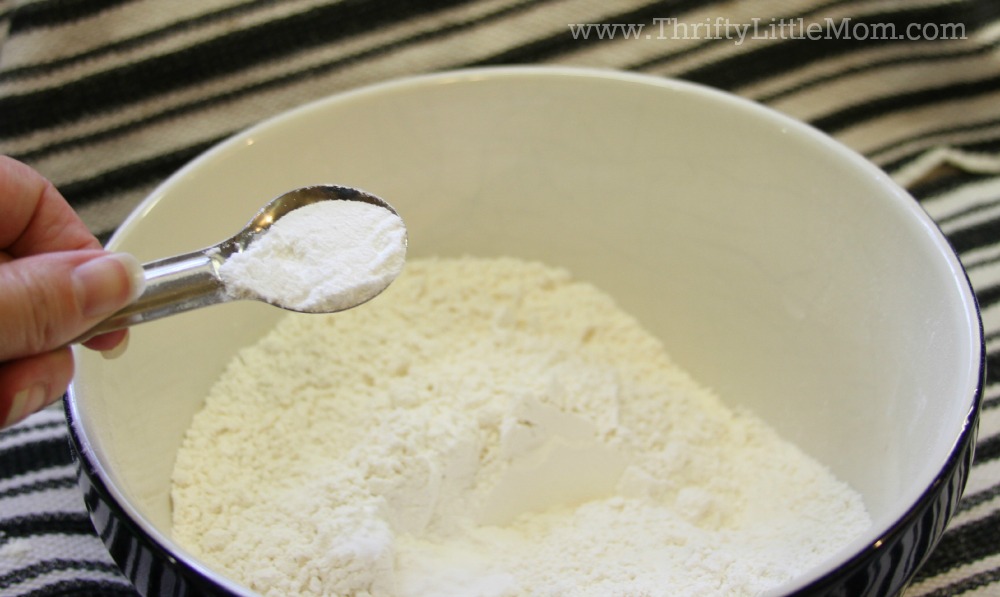 Add your cinnamon spice cause it makes everything nice!
Then in a separate (but just as important) bowl, mix all your wet ingredients.  Remember that if you are using coconut oil like I did that your wet ingredients should be close to room temperature or your coconut oil is gonna start to harden making things a little lumpy.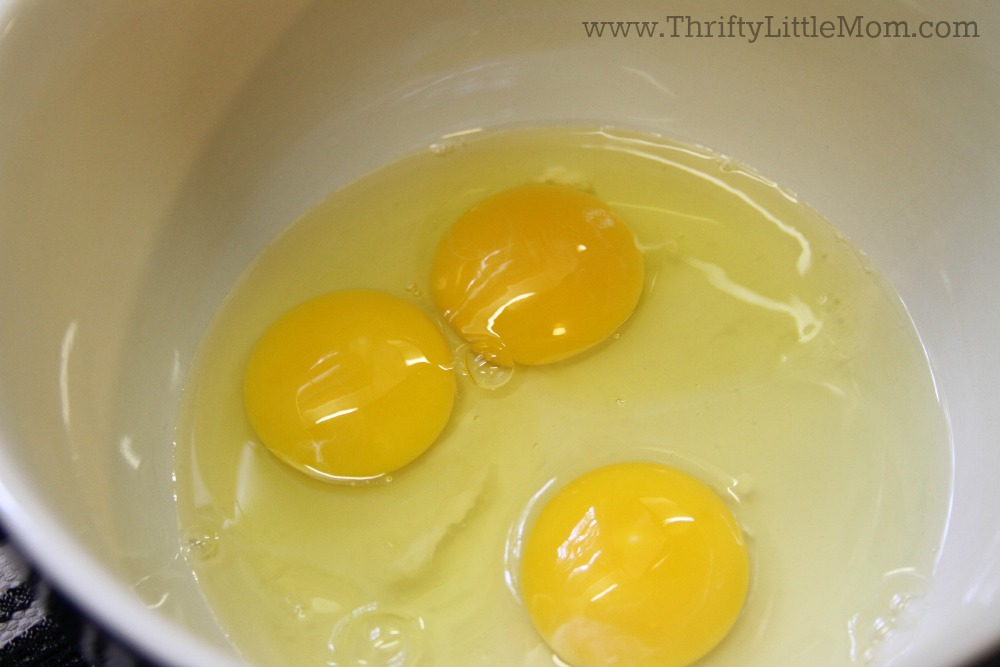 I like to use no sugar added apple sauce instead of sugar because it cuts down on the calories!  Therefore I can enjoy more bread with less guilt!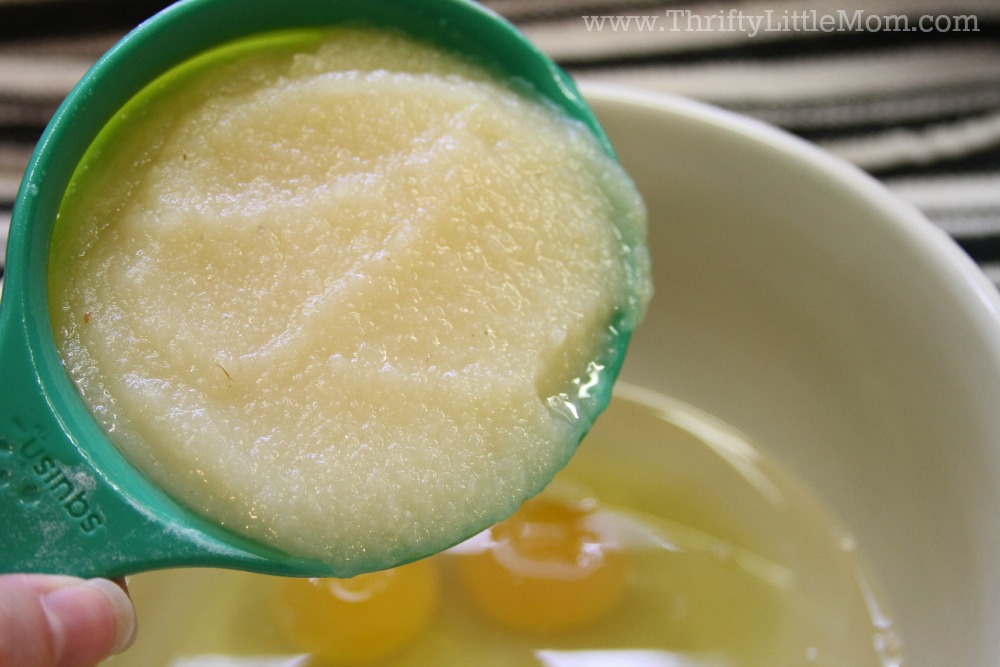 This is one of my favorite parts!  Add the vanilla!  Doesn't that smell AMAZING!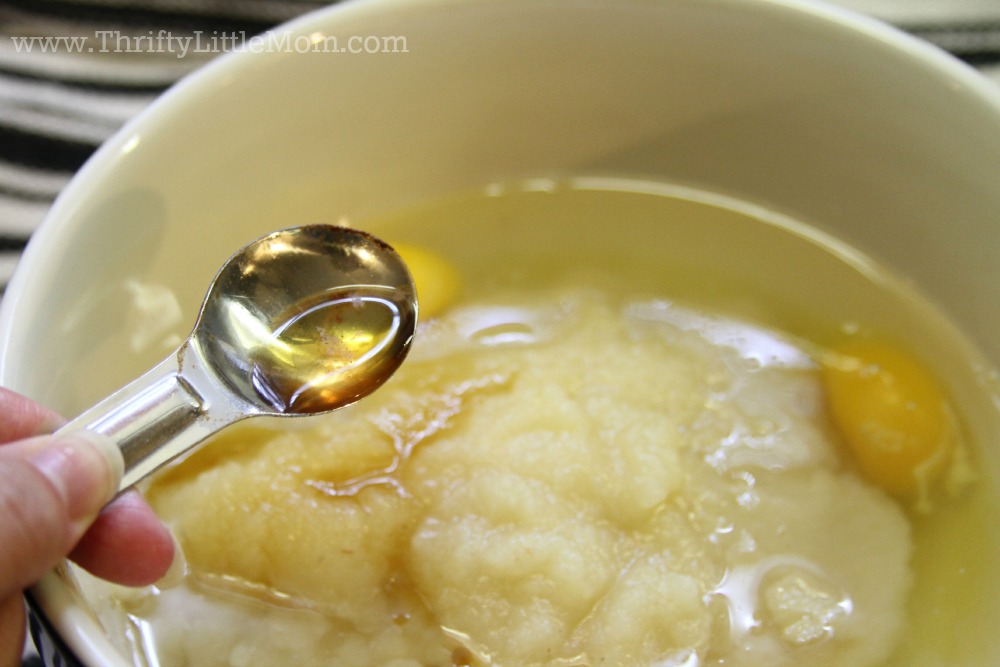 Mix all the wet ingredients together!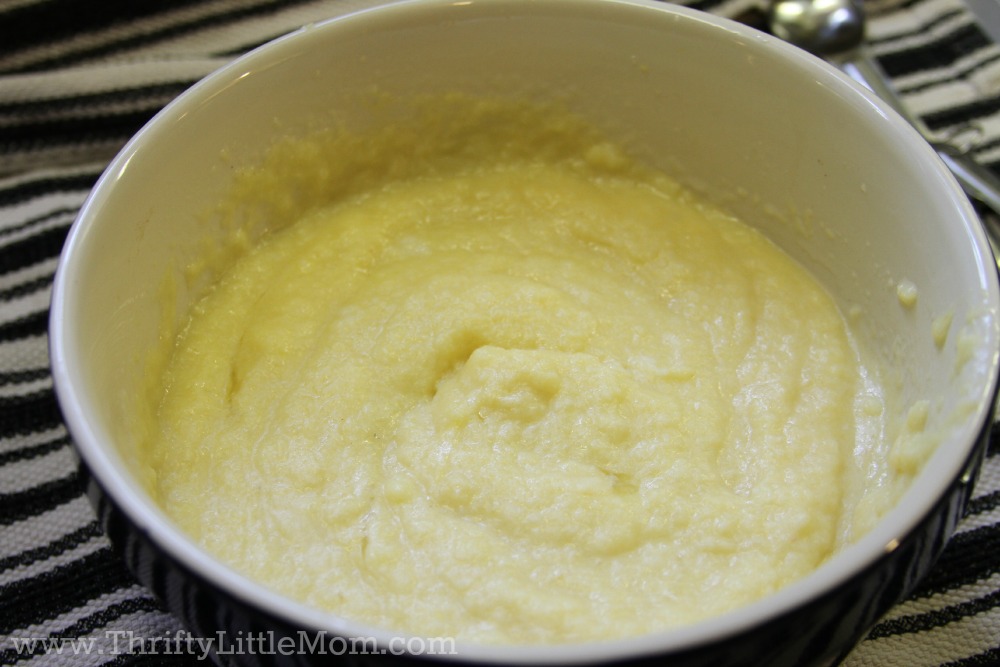 Put your zucchini in the food processor.  I have a little 3-cup one for my kitchen that's perfect for these kinds of jobs.
You may want to squeeze a little moisture out of the chopped up zucchini before you mix it in the wet ingredients bowl.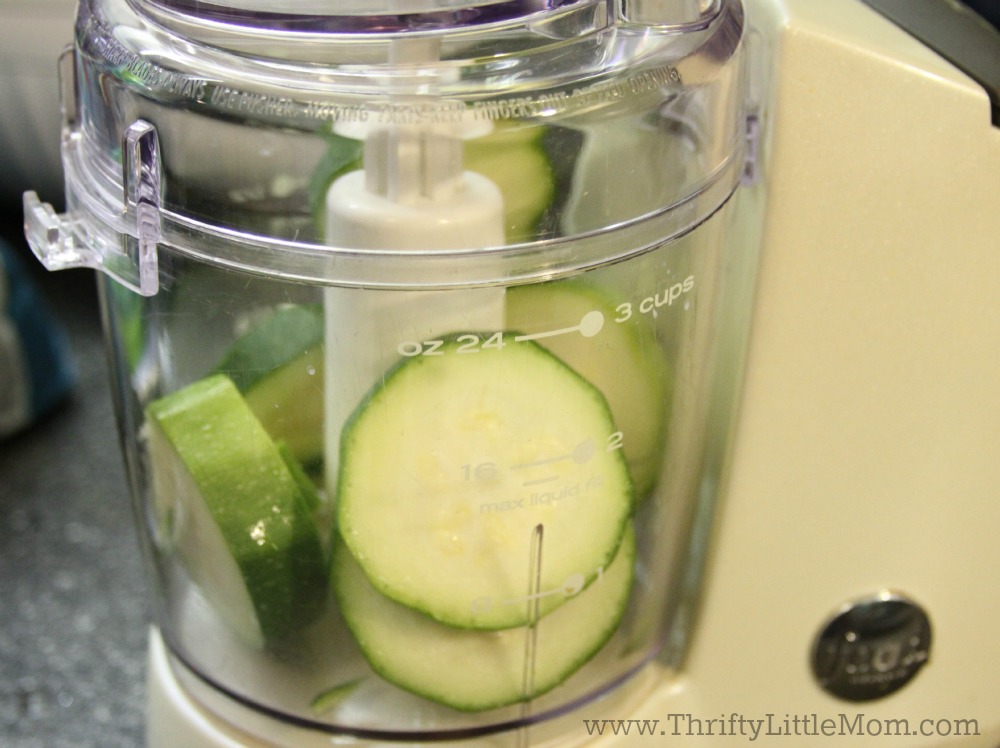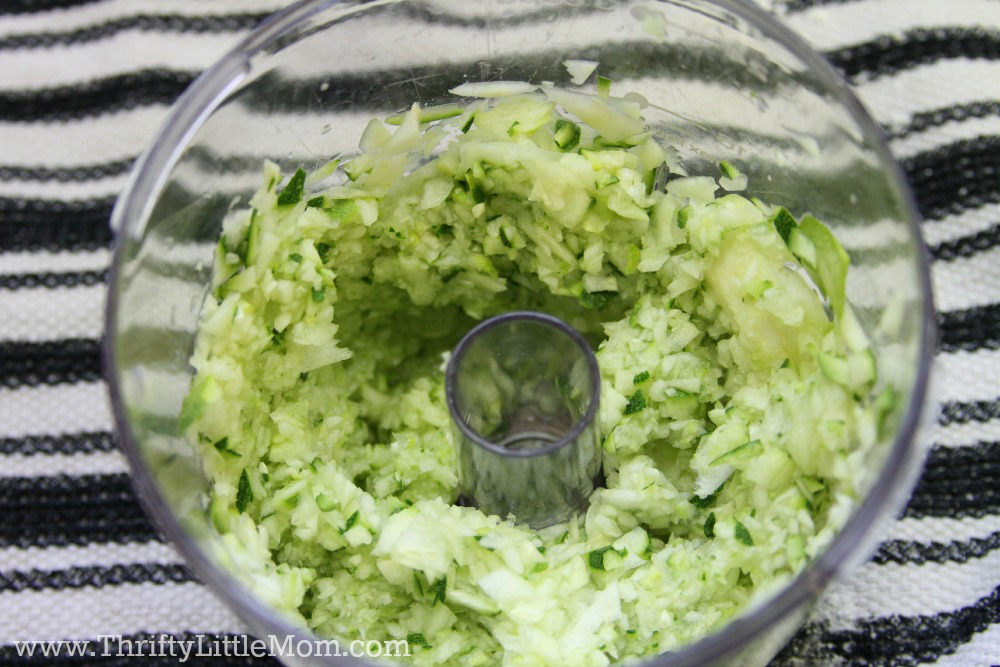 If you find large chunks of zucchini, simply remove and eat.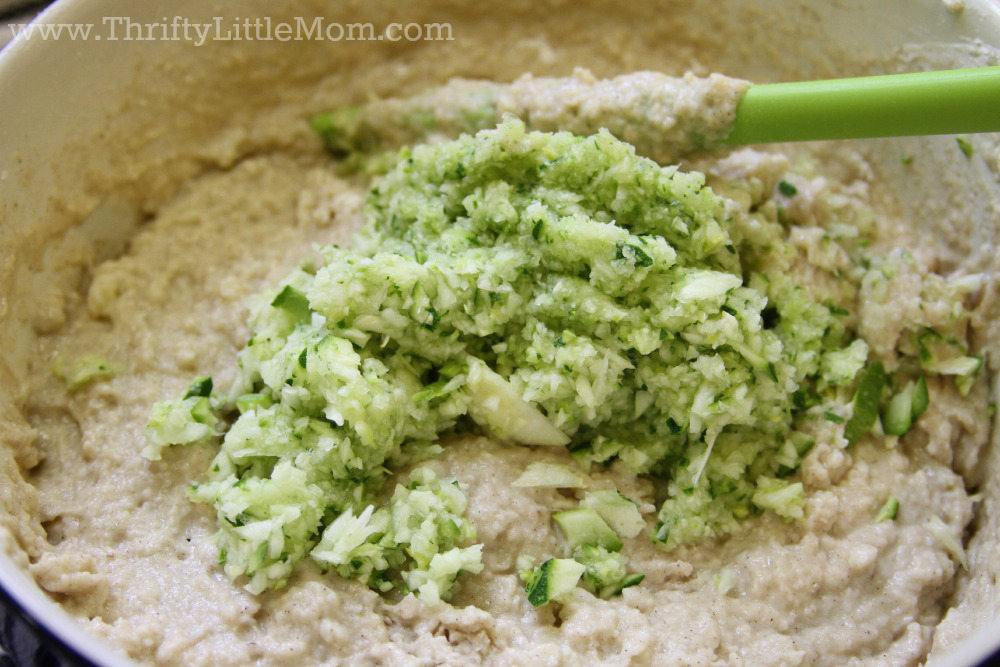 Add your dry mix to your wet mix and mix.  Sheesh that's a lot of mixin'.
MY MOST FAVORITE PART!  Add the chocolate chips and pecans (and sneak a few in your mouth while your at it…just for taste testing purposes of course).  Stir til' incorporated.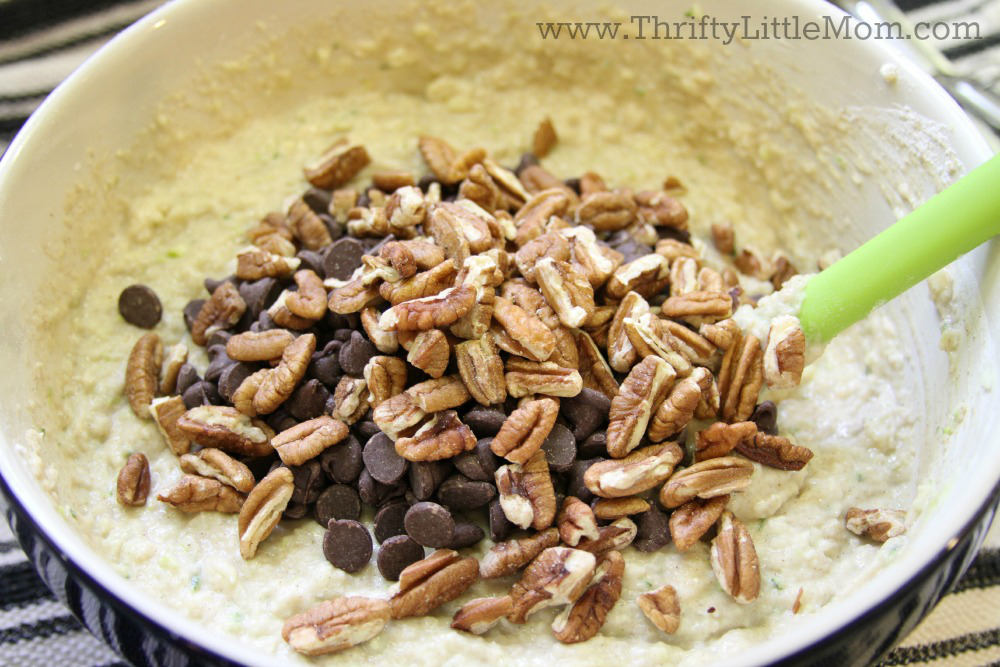 Mix this all together!
I then proceeded to cut parchment paper into 11″ x 7.5″ rectangles to situate down into my adorable little 4 part bread making pan!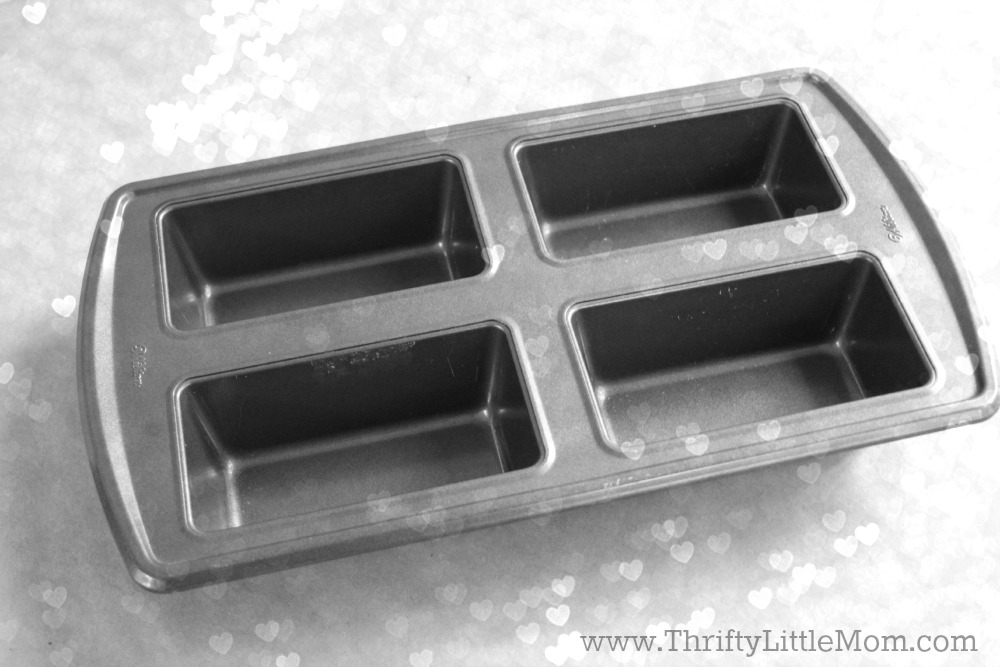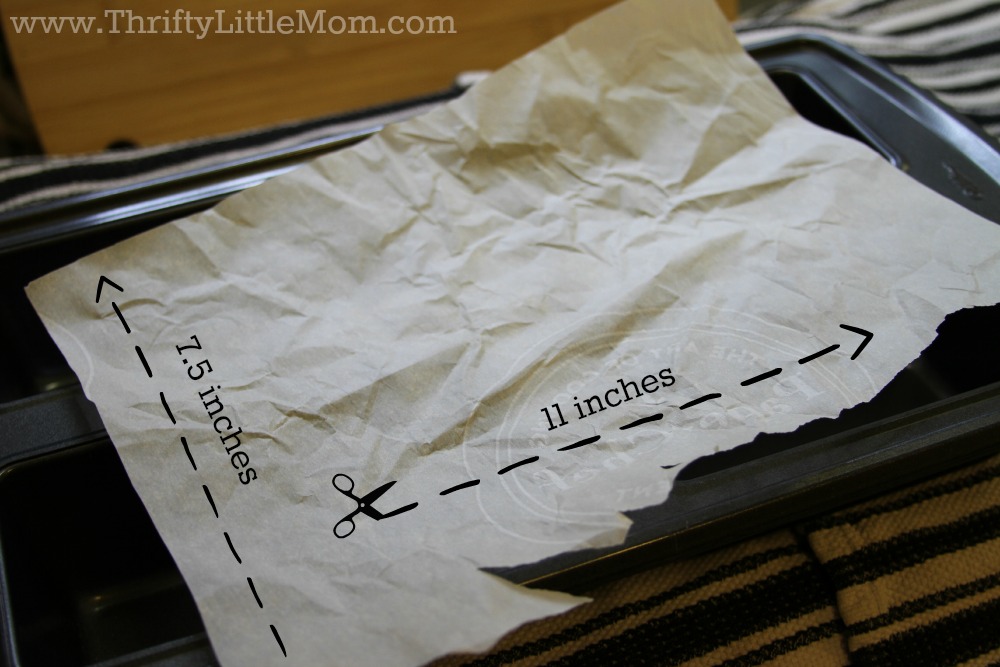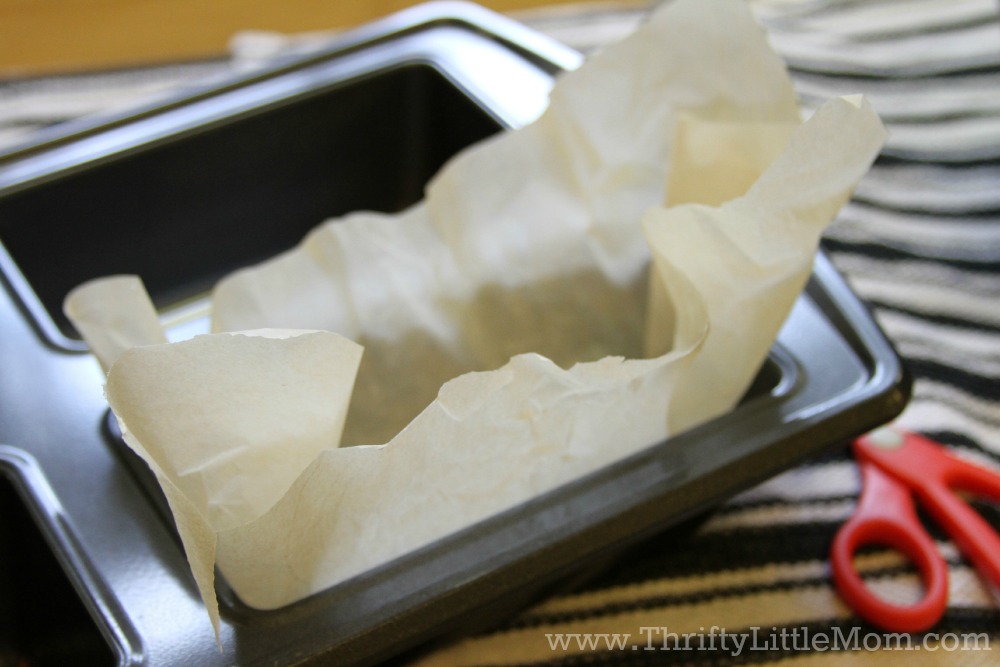 Add the batter to each lined compartment.  If you don't have parchment paper just use nonstick spray.
Bake it in the oven for about 30 minutes or until you can stick a toothpick or wooden chopstick in the center and it comes out clean!
Let it cool down for about 20 minutes and then you can start enjoying it!  Please note that since this bread is made with coconut oil and apple sauce it's come out a little heavier so if you don't like heavy bread than just use regular cooking oil along with regular old sugar.  It's up to you!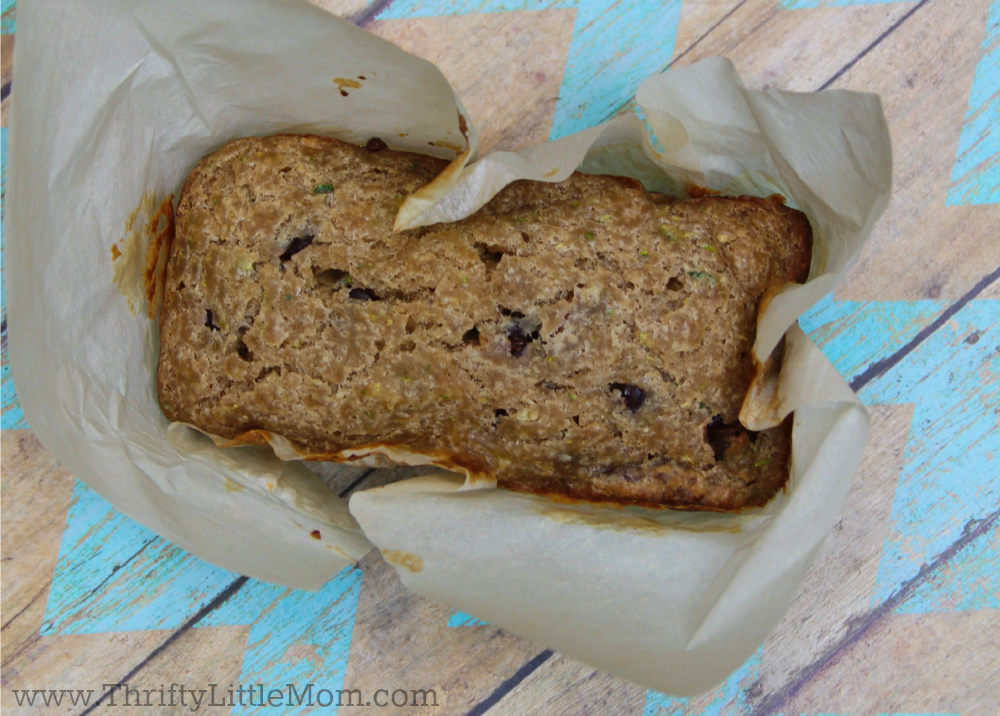 What's a summer garden vegetable you always seem to get more of that you can eat?  Leave your thoughts or ideas in the comments section below.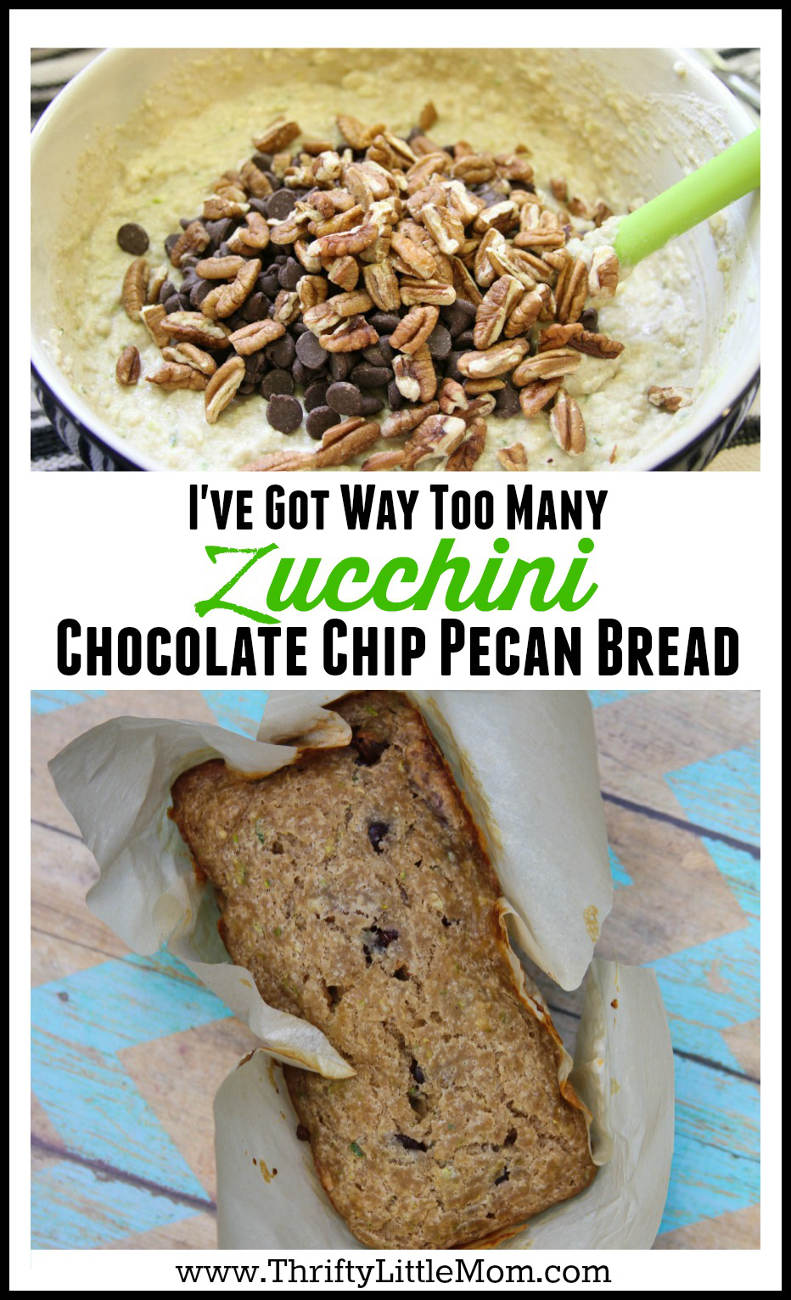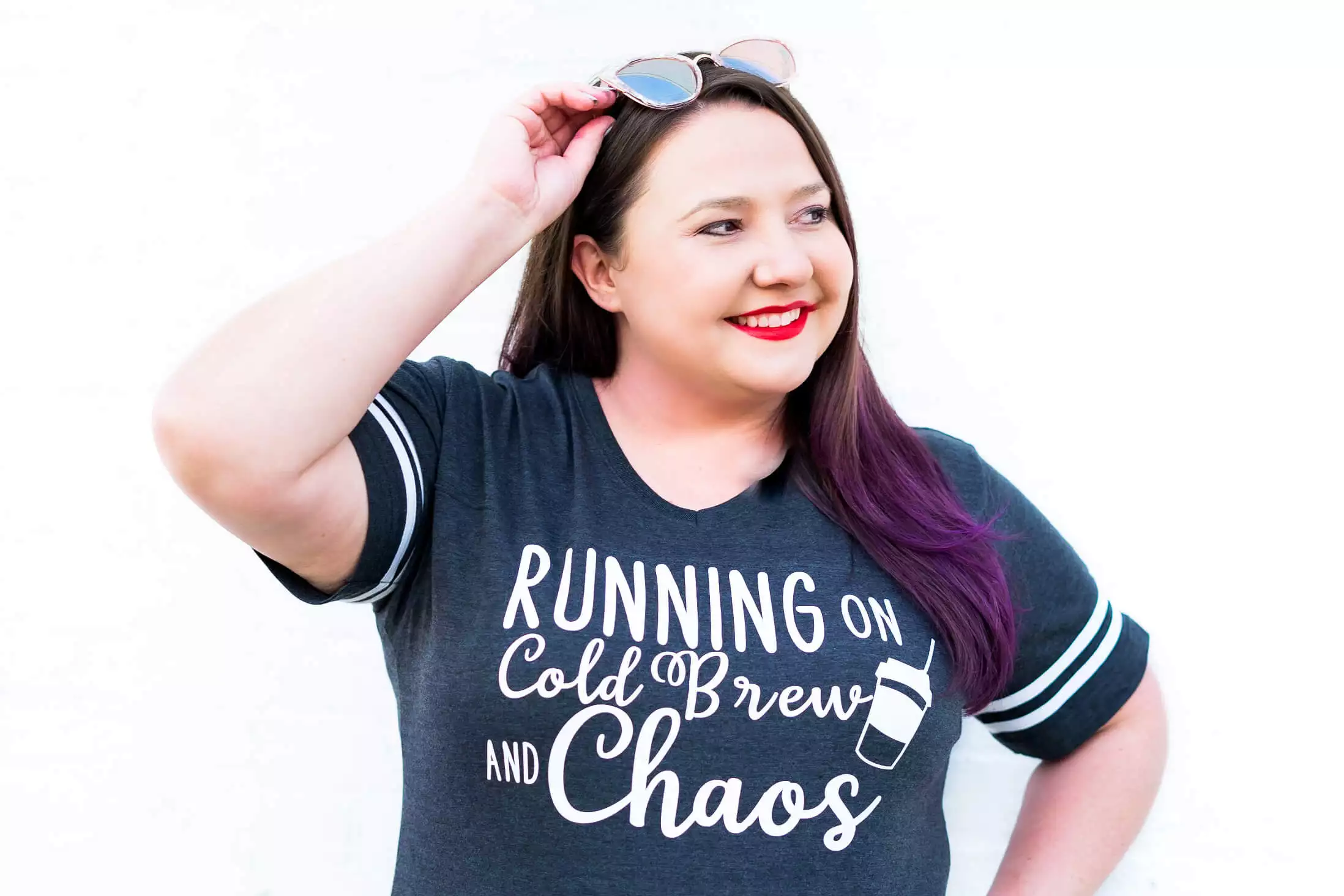 Kim Anderson is the organized chaos loving author behind the Thrifty Little Mom Blog.  She helps other people who thrive in organized chaos to stress less, remember more and feel in control of their time, money, and home. Kim is the author of: Live, Save, Spend, Repeat: The Life You Want with the Money You Have. She's been featured on Time.com, Money.com, Good Housekeeping, Women's Day, and more!