Thrifty Deck & Patio Makeover Tips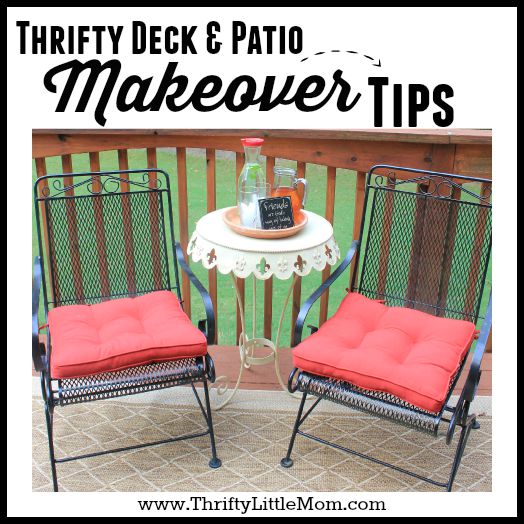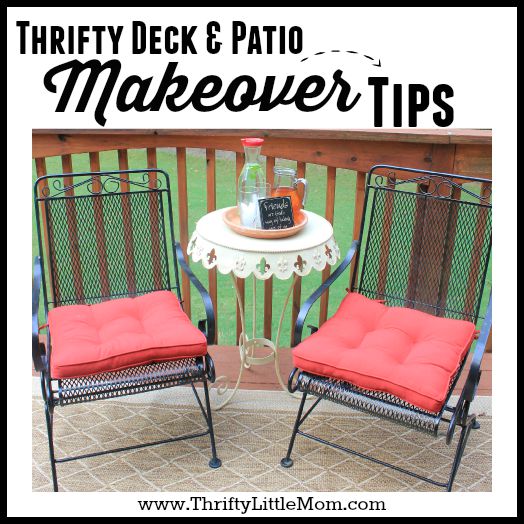 It's the life long debate: nurture vs. nature. I don't know the answer, but I can say that I'd like some time to nurture myself while enjoying nature!
We all need an area of retreat. An area where we can unwind, not think about the dishes in the sink or the piles of laundry, and better yet is right outside our door.
So let's create an Outdoor Living Space the Thrifty Little Mom way by taking advantage of the 'End of the Season' Clearance Sales and sprucing up items you already own. A little paint can update many items allowing them to fit into your new retreat area.  In this post I'm going to give you some thrifty deck and patio makeover tips!
Use these 7 tips to complete your Outdoor Living Space:
Tip 1:
Add a touch of paint to old dirty mats and gave them new life again!  Do you have a sturdy outdoor rug you could jazz up?  I used up paints I had around the house.  It has rained 4-5 times since I updated the rugs with paint and they still look good!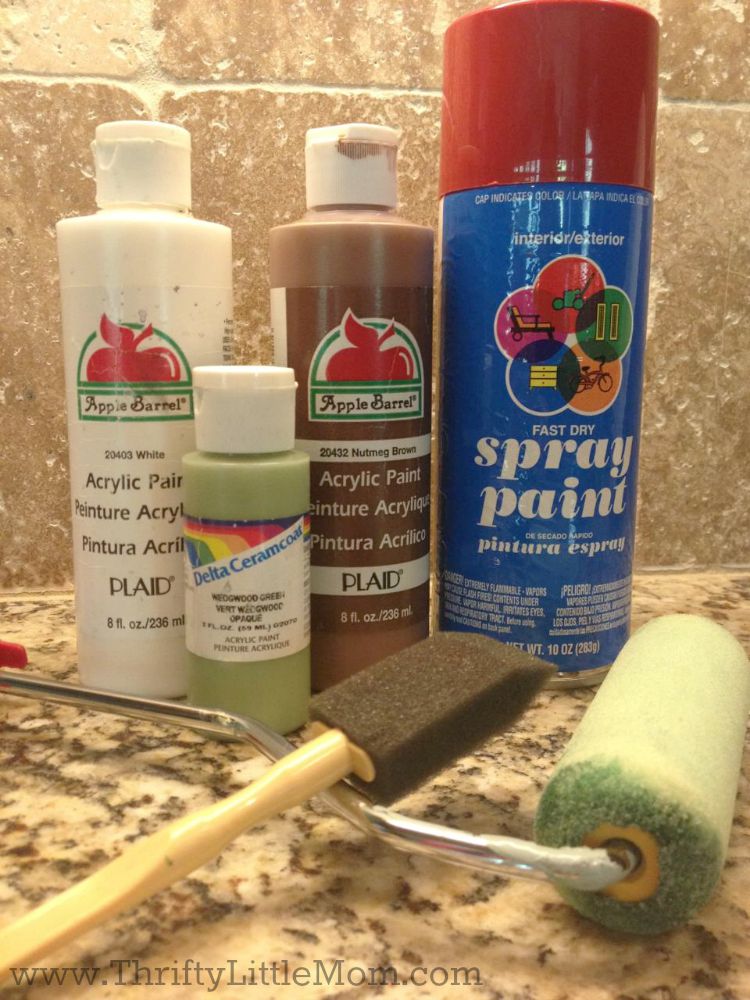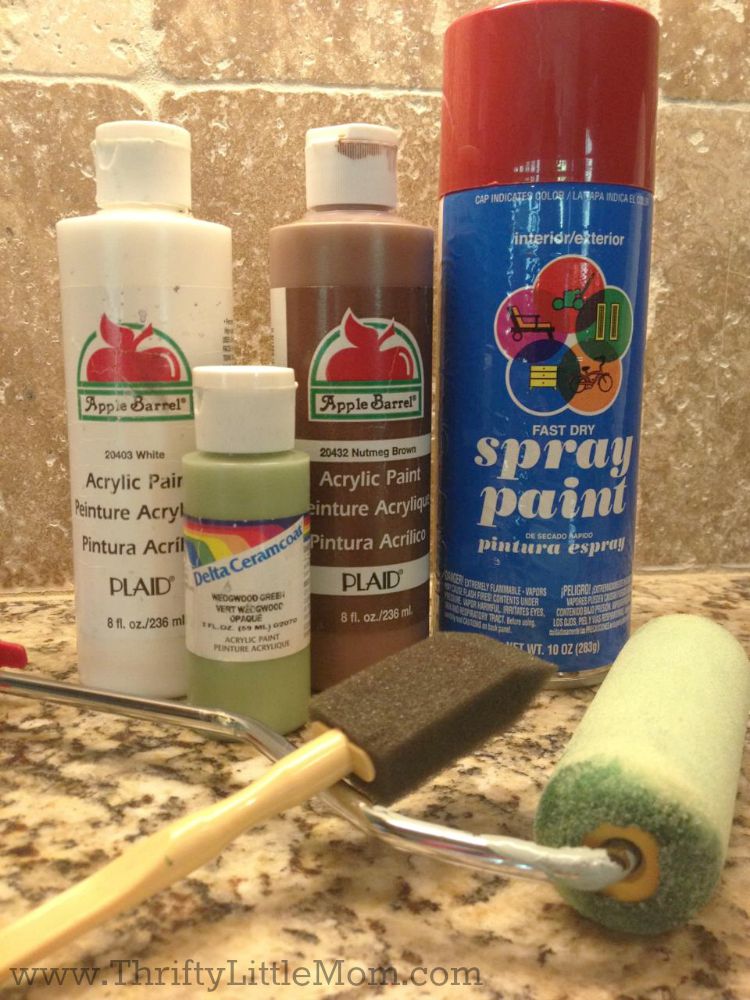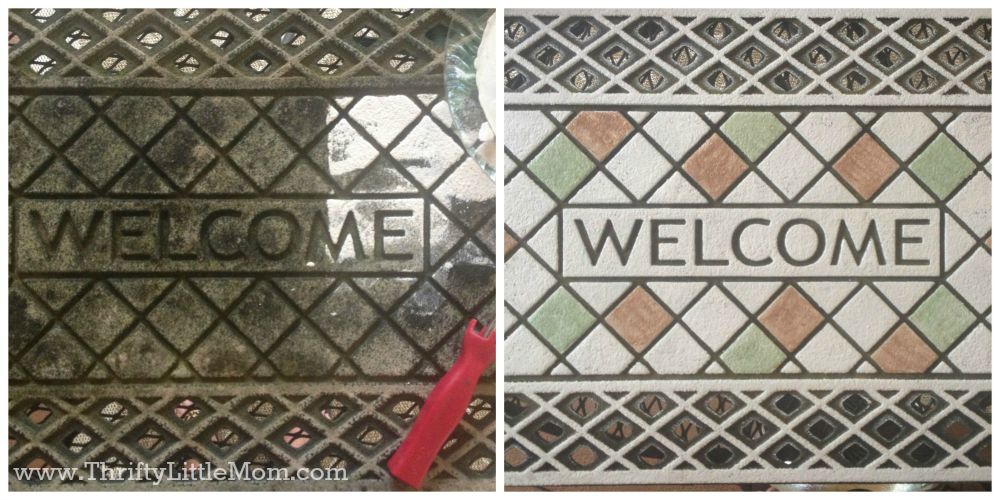 Tip 2:
I took this plain old plant stand and made it look trendy and new with a splash of red spray paint!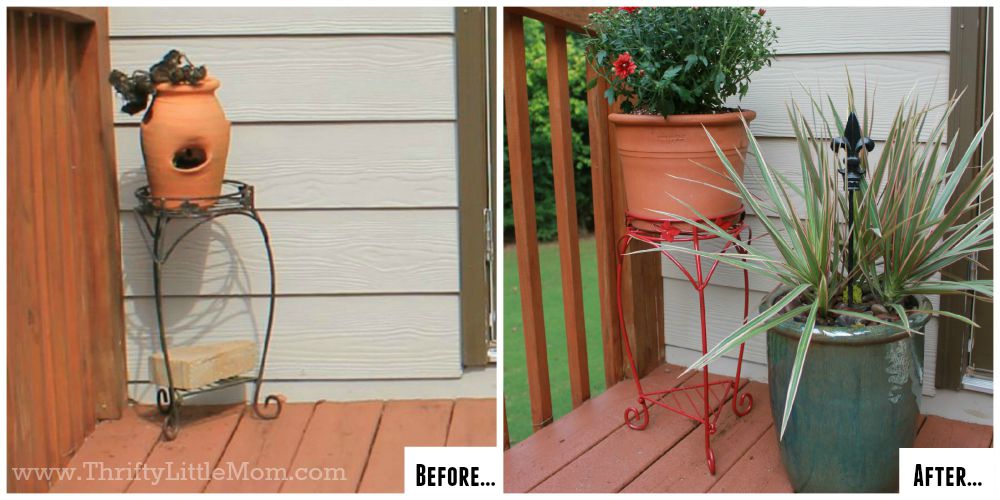 Tip 3 Seating-
Invest in quality pieces while they are on sale. Believe it or not the wrought iron table and rocking chairs pictured were purchased about 18 years ago at a garage sale. This year we added two more chairs to the mix. Every two years or so apply a fresh coat of paint that controls rust and your quality wrought iron pieces will last you a long time too.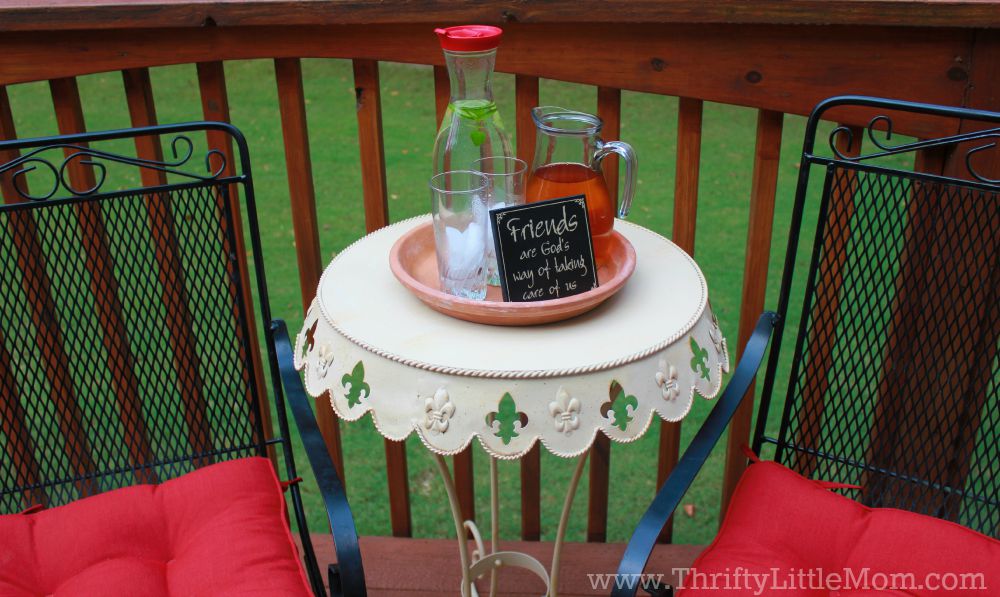 Tip 4- Focal Point:
Adding artwork brings warmth and interest to your outdoor retreat.
Tip 5- Color:
Add color with your seat cushions and accents like candles, plant stands, pillows and blooms.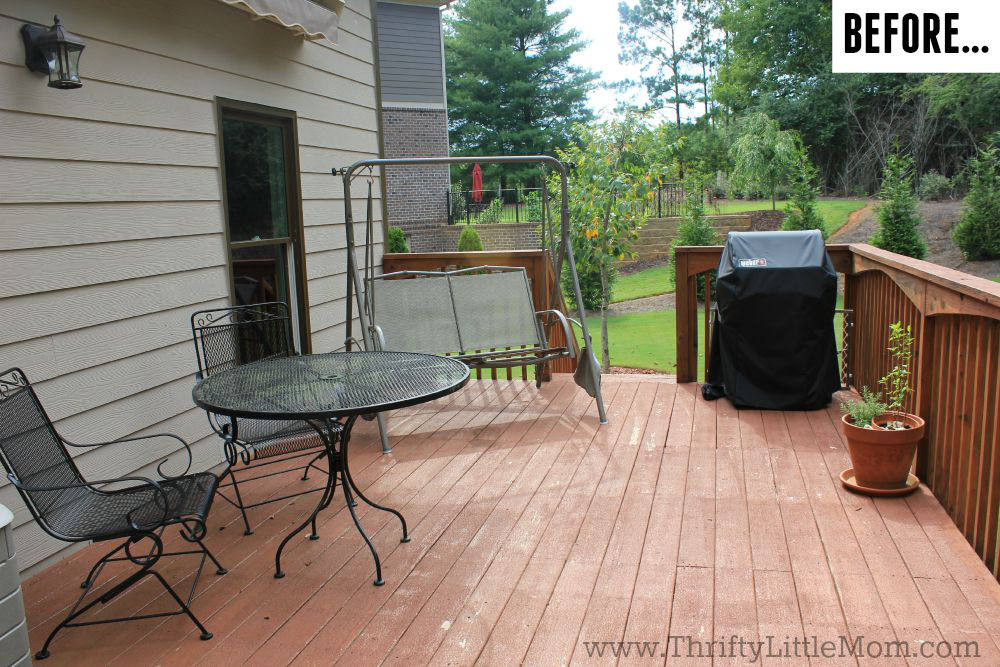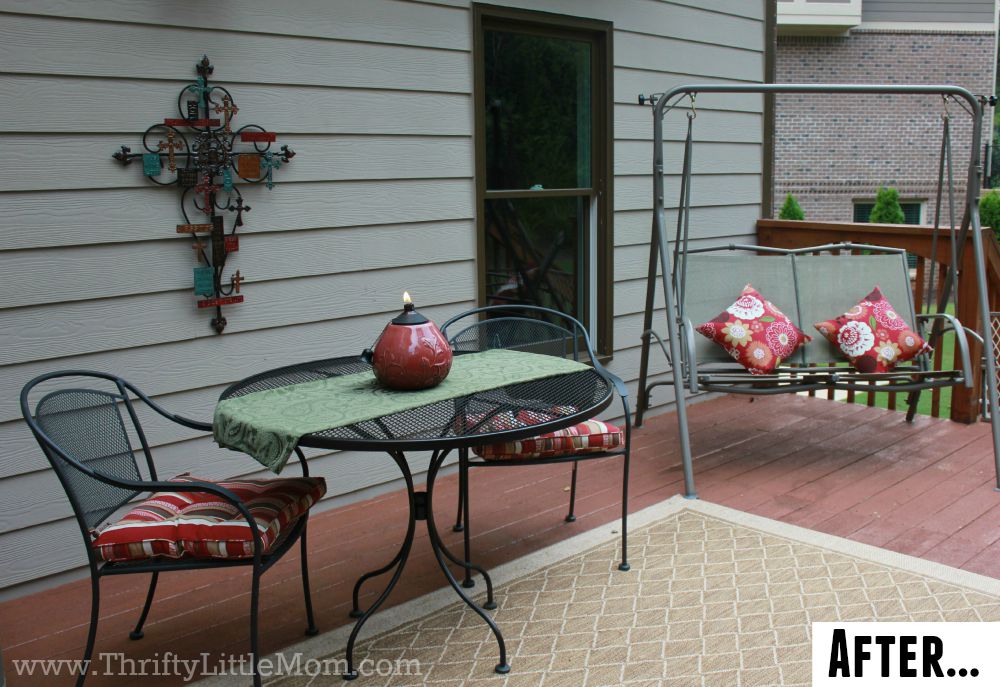 Tip 6- Texture:
An exterior sisal rug and plants with varying colored foliage are excellent additions to beautify your outdoor living space.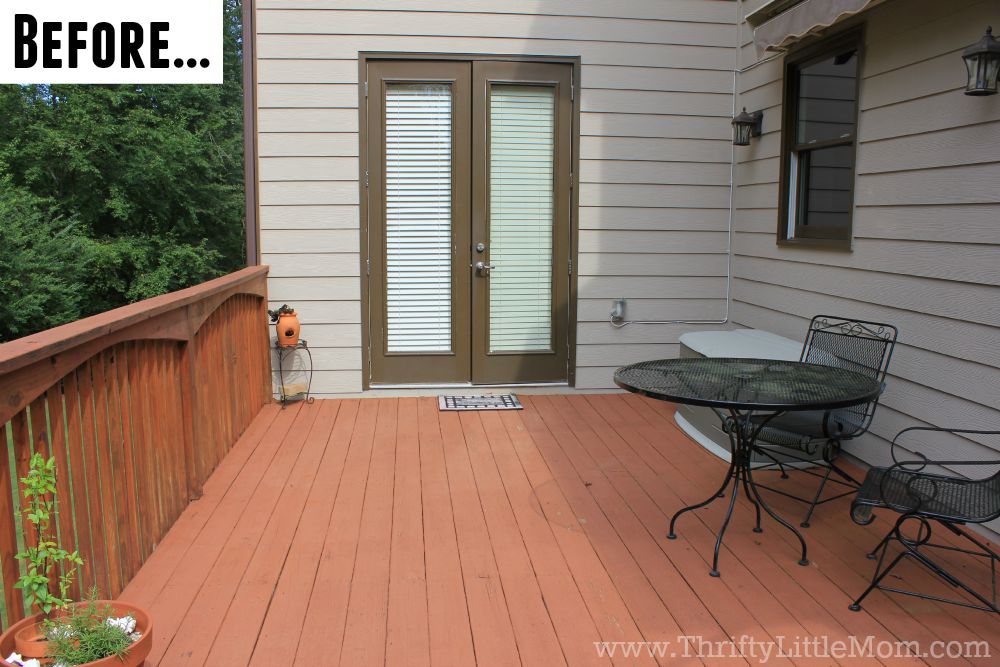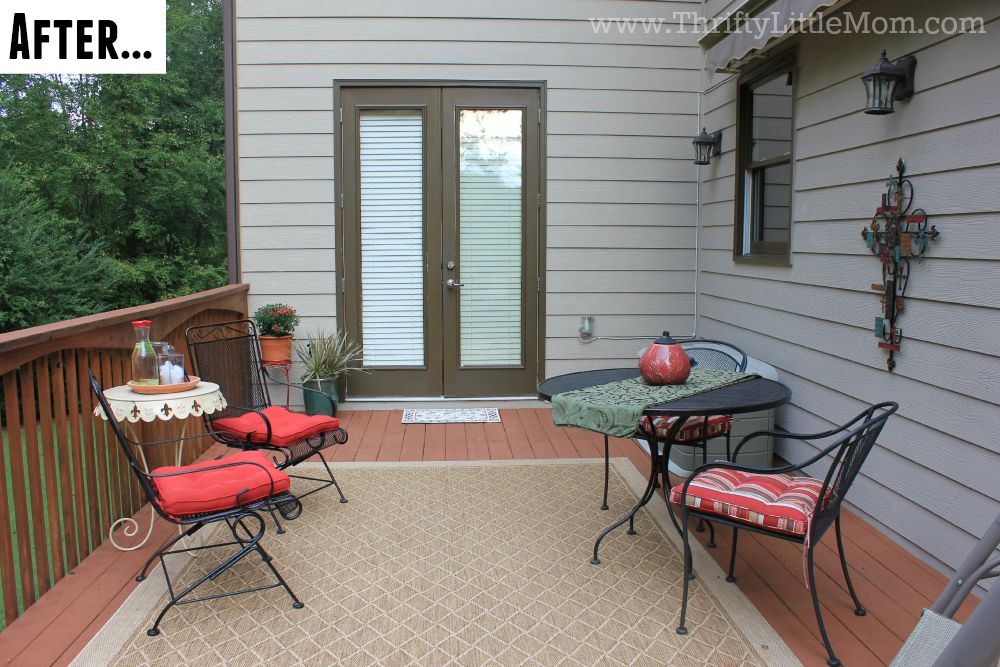 Tip 7- Storage:
Investing in a storage bench is vital to really loving your redesigned retreat area because you can quickly store your cushions & pillows keeping them out of inclement weather so they'll last longer.
We hope you've been inspired to create your own  outdoor living space with these thrifty deck & patio makeover tips and if so be sure to send us pictures!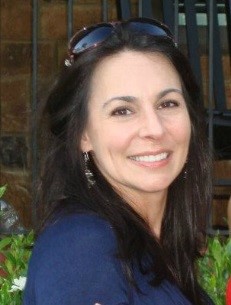 Special thanks to Rhonda John for contributing another one of her fabulously thrifty home makeover posts!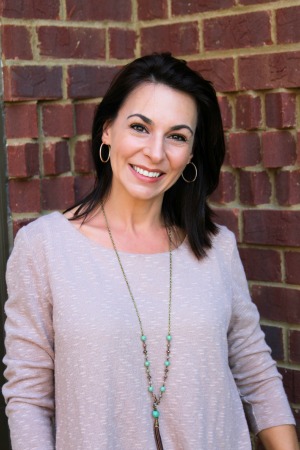 Rhonda is the owner of My Symphony Seasonings, LLC located in Georgia. She has a passion for good food, health & entertaining which was the perfect combination for creating My Symphony Seasonings, a company that encourages you to cook and eat whole foods, close to nature by providing original recipe blends of organic herbs & spices, free of fillers and artificial preservatives to add flavor, richness and health benefits to your dishes!