If you've got kids who loves a pizza hot pocket and you can't get to the grocery store, try your hand at making this homemade version.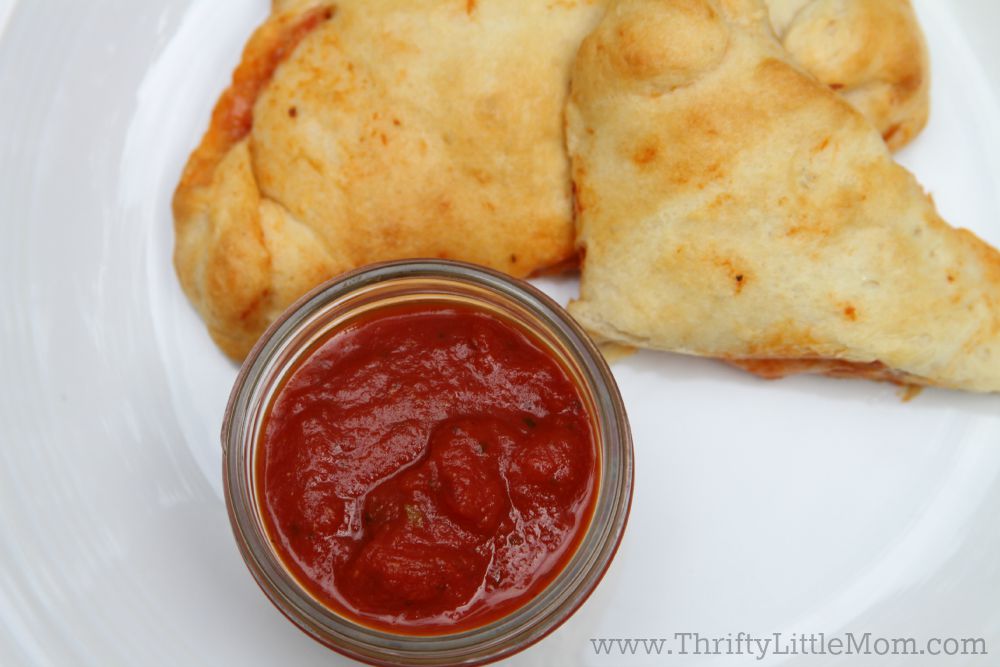 It's super easy and you can weave in organic or gluten free ingredients if you prefer to use them!
One challenge I face is that my son is kind of a picky eater. I don't want to be a short order cook kind of mom so I'm starting to weave in dinners that I know my son will enjoy and that won't require me to sing the Daniel Tiger song, "You gotta try new things cause' it might taste good!" at every. single. meal.
From that quest I created this easy homemade pizza hot pocket and you can to. Here is the recipe plus a quick video. You can scroll down below the recipe to see step by step picture turtorial if you prefer!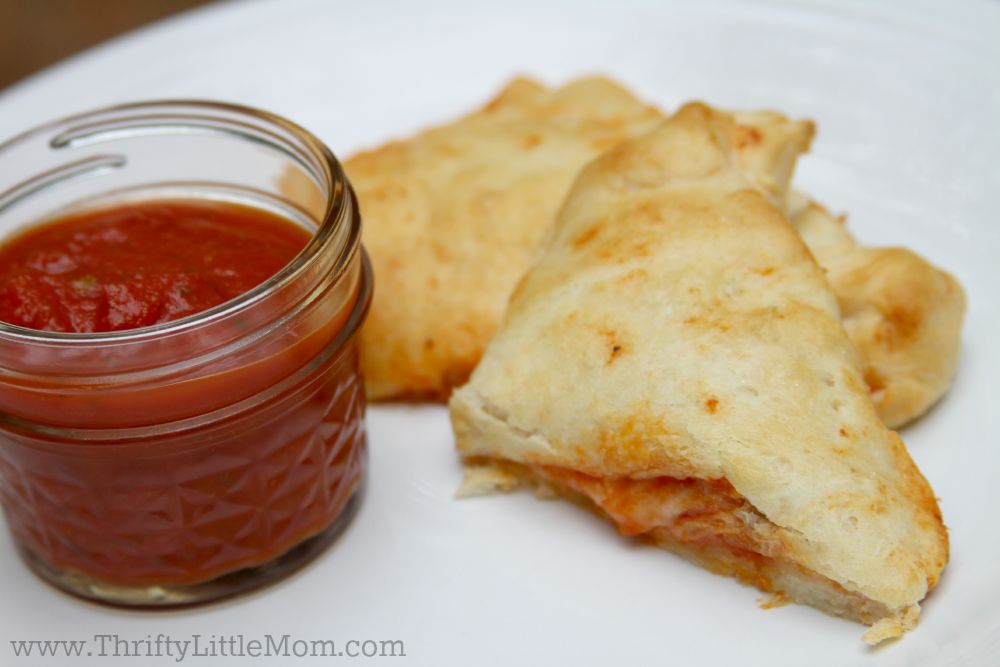 Easy Homemade Pizza Hot Pocket
Yield: 4 Pockets
Prep Time: 10 minutes
Cook Time: 10 minutes
Total Time: 20 minutes
This is a simple way to make your own homemade dough pockets with pizza filling!
Ingredients
1 Jar of Marinara or Pizza Sauce
1 - 8oz tube of refrigerated crescent rolls 
1 Package of Pepperoni
1 - 8oz Package of Shredded Mozzarella
Instructions
Preheat the oven to the temperature found on the back of your crescent roll package. Unroll the crescent rolls. Popping the can is my favorite part! I use two crescent roll triangles to make one pocket.
Spoon on a little marinara sauce and smooth it out using the back of the spoon. Leave a little non-sauced rim around each pocket so you can close them up and avoid a big saucy mess. Sprinkle on some cheese.
Chop up your pepperoni slices into small pieces.
Sprinkle on your chopped up pepperoni on top of the cheese in each pocket.
Fold the top of the crescent dough over the side with all the ingredients.
Pinch the sides of your dough closed. I leave the back seam open (as you can see in the pictures in the full article) so that the insides are able to vent and the pocket doesn't burst from built-up pressure.
Bake the pockets according to the time on the back of your crescent roll package looking for a nice golden brown appearance.
Notes
Considering keeping some of the marinara sauce on the side and put them in small side dishes for dipping!
Nutrition Information:
Yield: 4 Servings
Serving Size: 1 pocket
Amount Per Serving:
Calories: 378
Total Fat: 18.5g
Saturated Fat: -g
Trans Fat: -g
Cholesterol: 40mg
Sodium: -mg
Carbohydrates: 35g
Net Carbohydrates: -g
Fiber: -g
Sugar: -g
Sugar Alcohols: -g
Protein: 12.5g
Please note that I'm not a nutritionist so nutritional information isn't always accurate and will depend on the ingredients you choose to use in your own recipe.
Pizza Hot Pocket Step 1:
Don't forget to pre-heat the oven and spray your baking pan with non-stick spray when you start!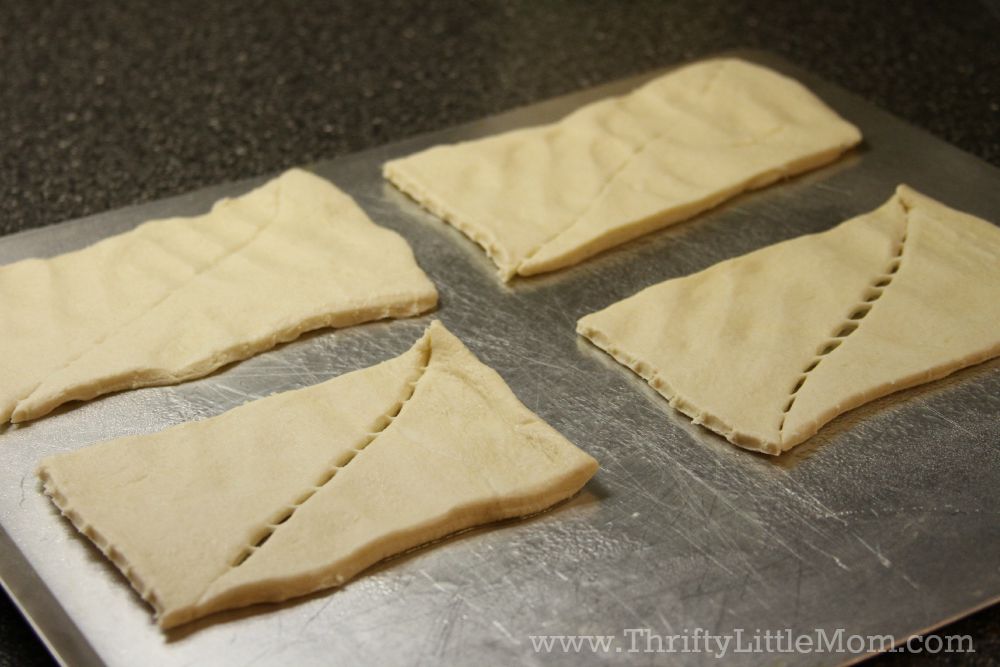 Pizza Pockets Step 2: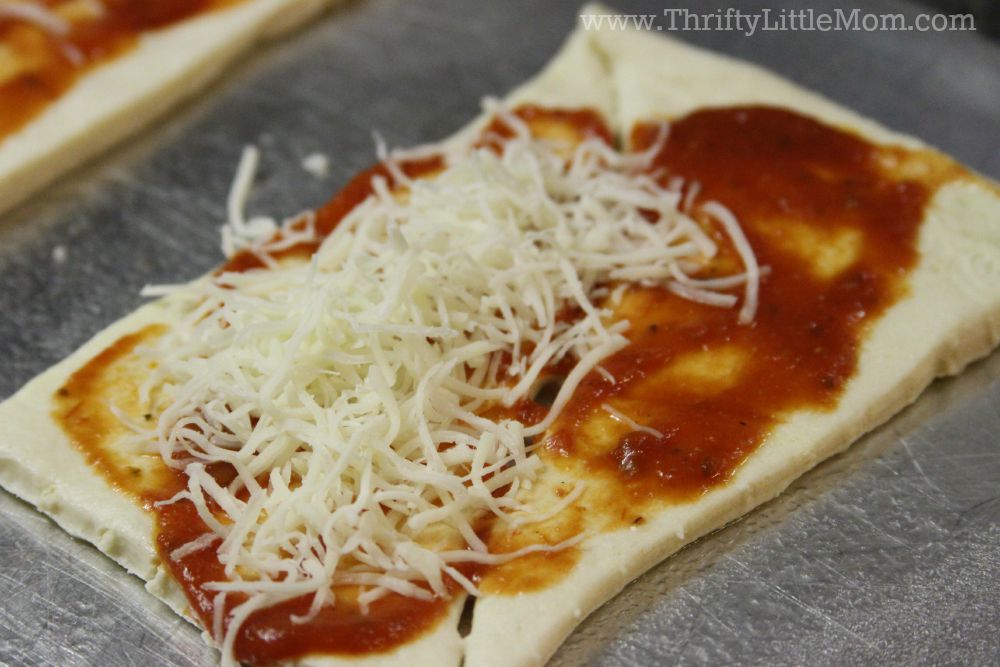 Pizza Pockets Step 3: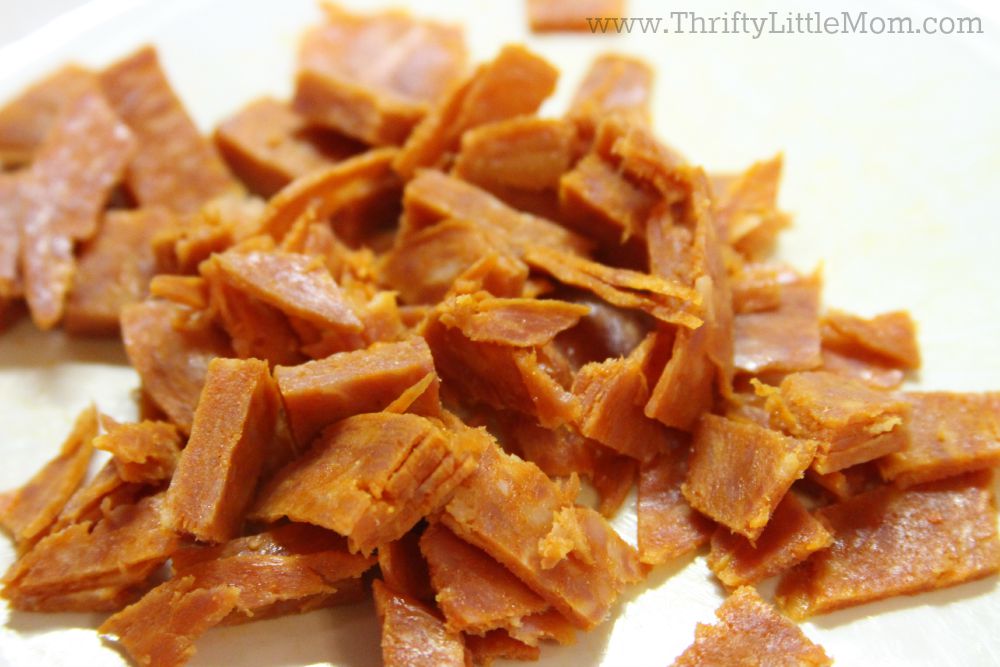 Pizza Pockets Step 4: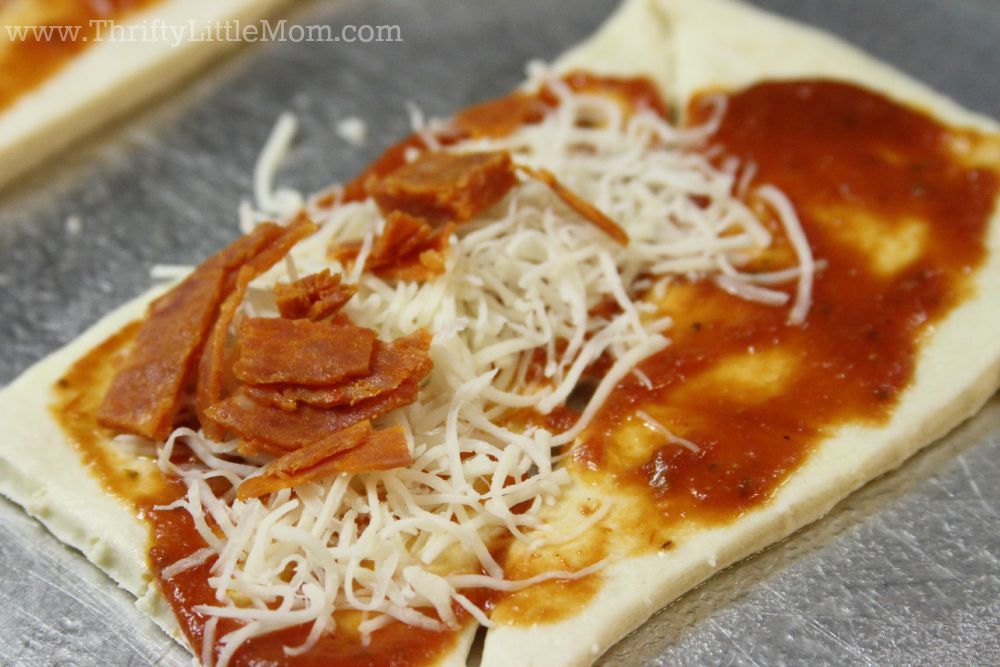 Pizza Pockets Step 5: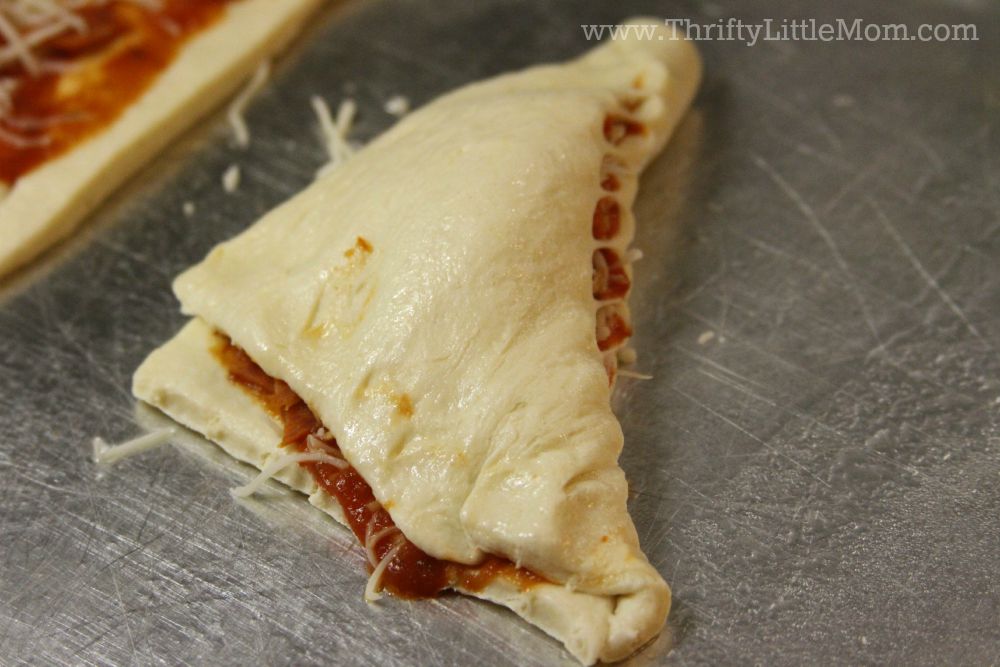 Pizza Pockets Step 6:
Rember to leave one seam slightly open in the back or cut slits in the top of the dough before you bake it to keep it from bursting while baking.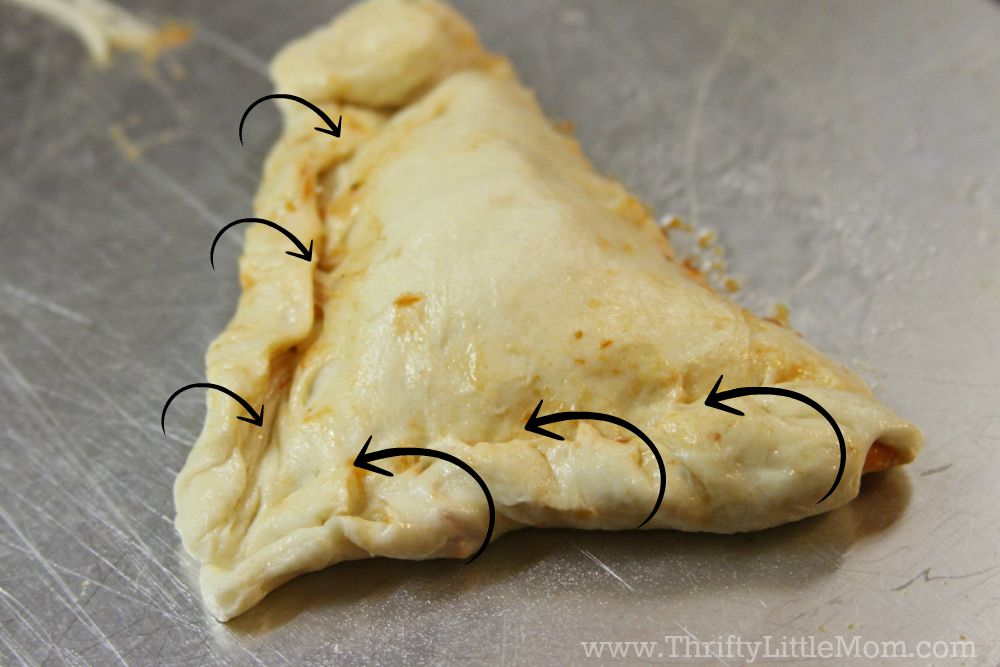 Pizza Pockets Step 7: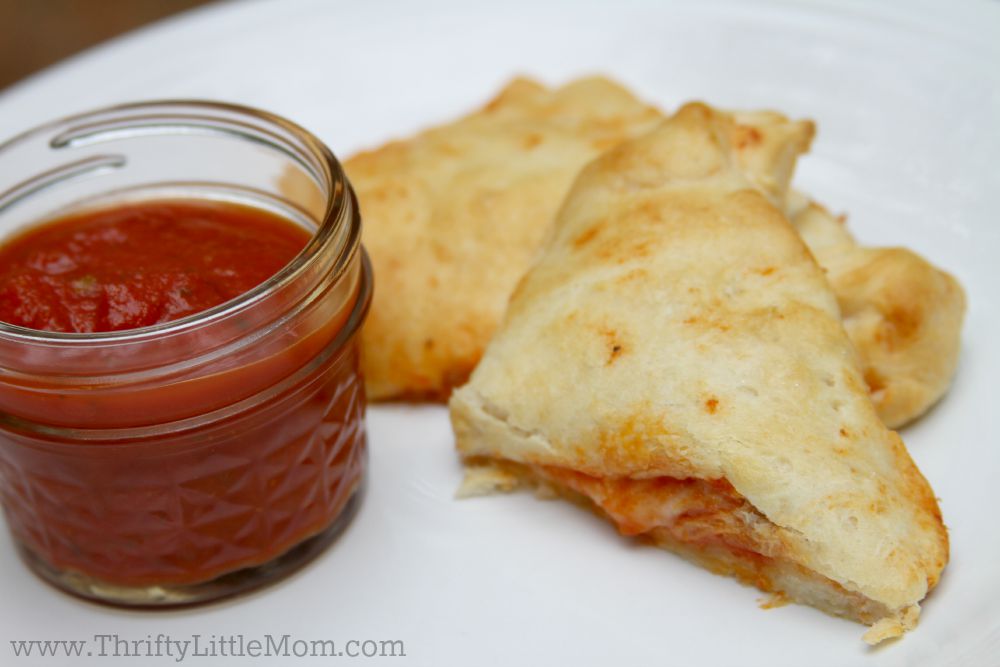 Other Pizza Hot Pocket Variations
One great thing about this pizza pocket recipe is that it's really diverse. You could fill these pockets with:
Broccoli
Cheese
Ham
Chicken
Turkey
Ground Beef
Manwhich
Veggies
Chick Peas for a Vegetarian Option
Onions
Peppers
If you want to get really fancy you can make your own homemade crescent dough at home using this recipe.
The crescents make the crust, you just need a yummy filling! Hope that you and your family enjoy this quick and easy homemade pizza hot pocket recipe! If you can't make it now be sure to pin this for later!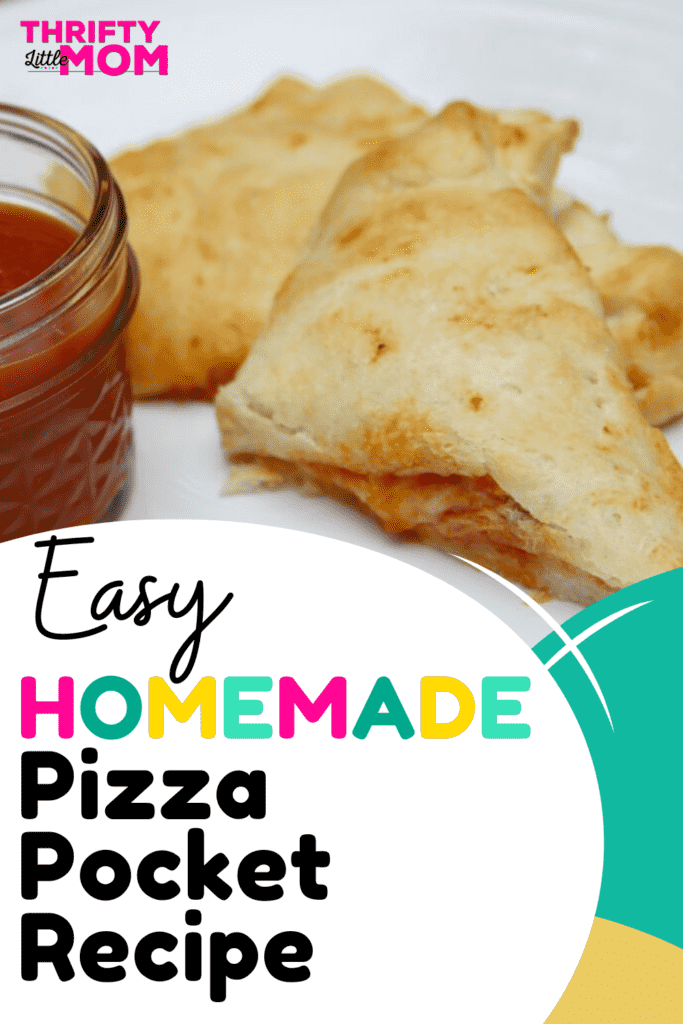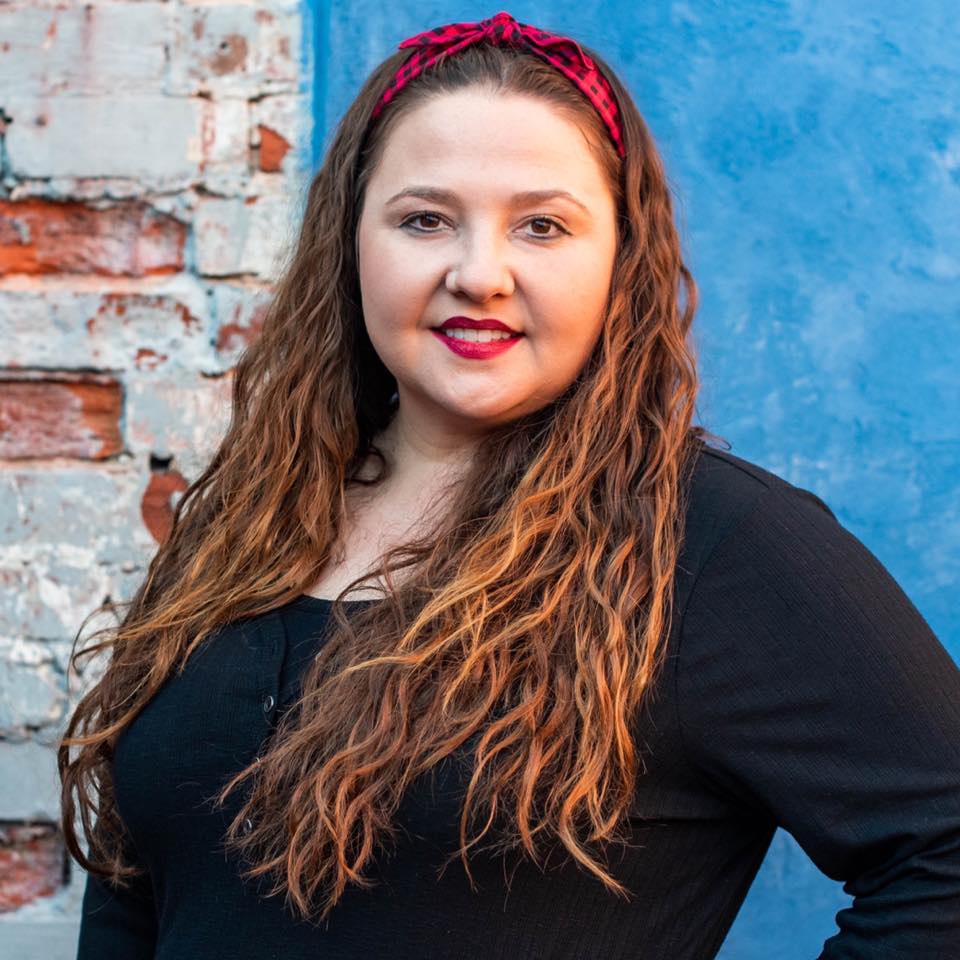 Kim's is the party planning, cupcake loving, celebration catalyst behind the Thrifty Little Mom Blog. Kim was a pro event planner for over 7 years before she became a full-time blogger. Kim is the author of: Live, Save, Spend, Repeat: The Life You Want with the Money You Have. She's been featured on Time.com, Money.com, Good Housekeeping, Women's Day and more! Kim aims to inspire you to create parties, celebrations and gatherings that everyone loves!