This is a sponsored post written by me on behalf of NABISCO Cookies and Crackers for IZEA. All opinions are 100% mine.
I love throwing a party at my house in December, but I have to admit that it's far less stressful to just go to someone else's party than have to do all the work myself.  It can be extremely overwhelming to plan a menu, decide on who to invite, buy decorations and then actually execute the party itself.  If you are planning a holiday party this year, I hope that this post gives you some actionable inspiration that helps reduce your stress as you plan your own holiday fun!
1. Keep It Simple
From the guest list to the menu, the less you decide to invite and serve, the less stress you will have.  I keep my stress levels down by inviting our closest friends to a more intimate party environment and that means I can have a little more fun with the menu.  Less guests means I can easily prepare single serve snacks and foods that people enjoy with plenty of time to spare.
2.  Put a Fun Spin on Classic Recipes
Typically when I'm at a party, I appreciate when the food isn't so bizarre that I have to secretly ask someone what it is.  Because of this I like to make appetizing snacks with ingredients that are easily identifiable to my guests at my own parties.  I don't think you can go wrong with NABISCO crackers.  Whether it's a Triscut or a Ritz, everyone at the party will be familiar with the tasty flavor and be more likely to dive right in.  Use these classic holiday crackers as the base for an unlimited number of unique recipes.
Growing up, my mom always made Ritz crackers with pepperoni and cheese.  So when I got to test out NABISCO's Grilled Pineapple-Kielbasa Bites recipe I was excited to put a new spin on an old classic from my childhood holiday party memories.  If you want to give these a try at your next party, here's how I made them step by step!  The best part is that these little snacks take just a few simple steps to make!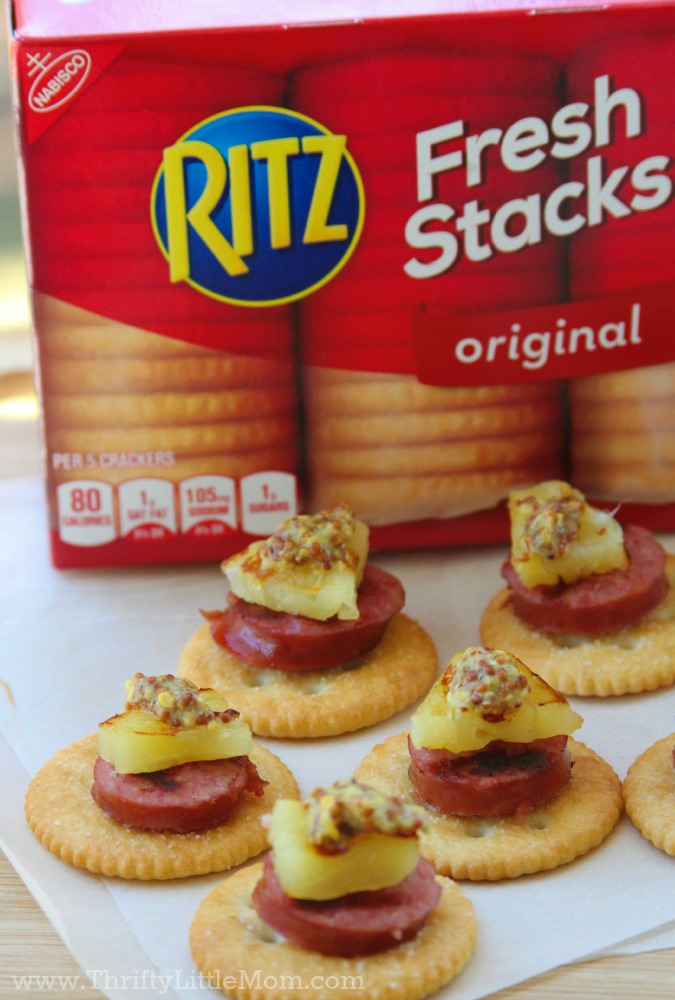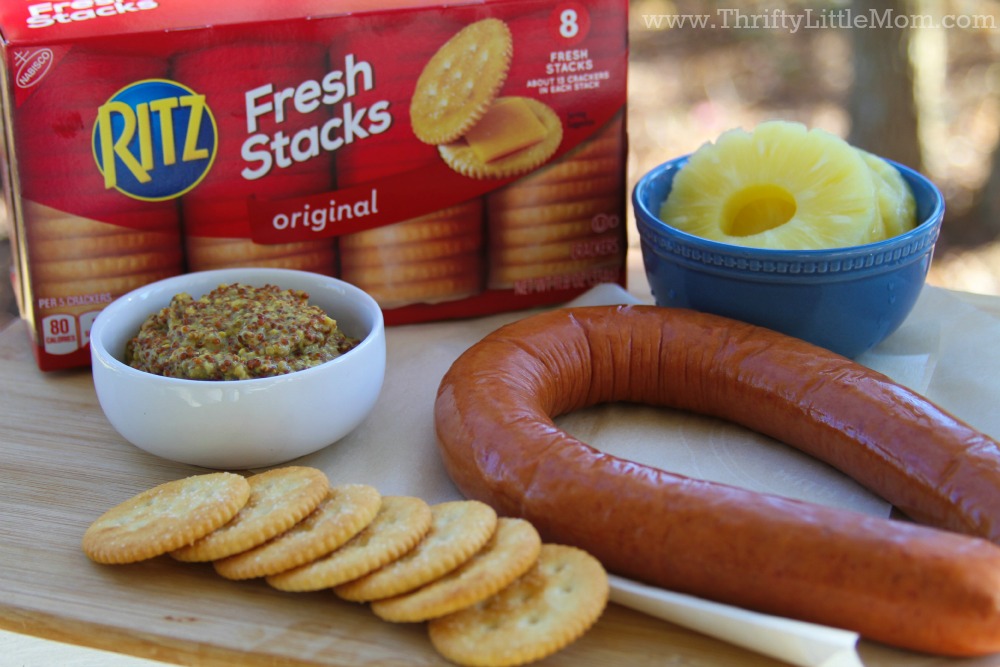 Prep Time: 15 minutes   Makes 12 servings, 2 topped crackers each.
Ingredients:
7 oz. (1/2 of 14oz pkg.) kielbasa, cut into 24 slices
4 drained canned pineapple rings
24 RITZ Crackers
2tsp. whole grain mustard
Start with heating a grill pan sprayed with cooking spray on Medium-high heat. (I used a George Foreman Grill).
Add the Kielbasa and Pineapple ring.  Cook these 2 to 3 minutes on each side or until grill marked on both sides.
Cut each pineapple ring into 6 pieces.
Top Ritz crackers with a slice of kielbasa, a piece of pineapple and a dab of mustard.
Tips: You can substitute canned pineapple rings for fresh by slicing them in 1/4 inch thick rings.
Nutrition:
90 Calories, 6g total fat, 2g saturated fat, 10mg cholesterol, 220mg sodium, 7g carbohydrate, 0g dietary fiber, 3g sugars, 2g protein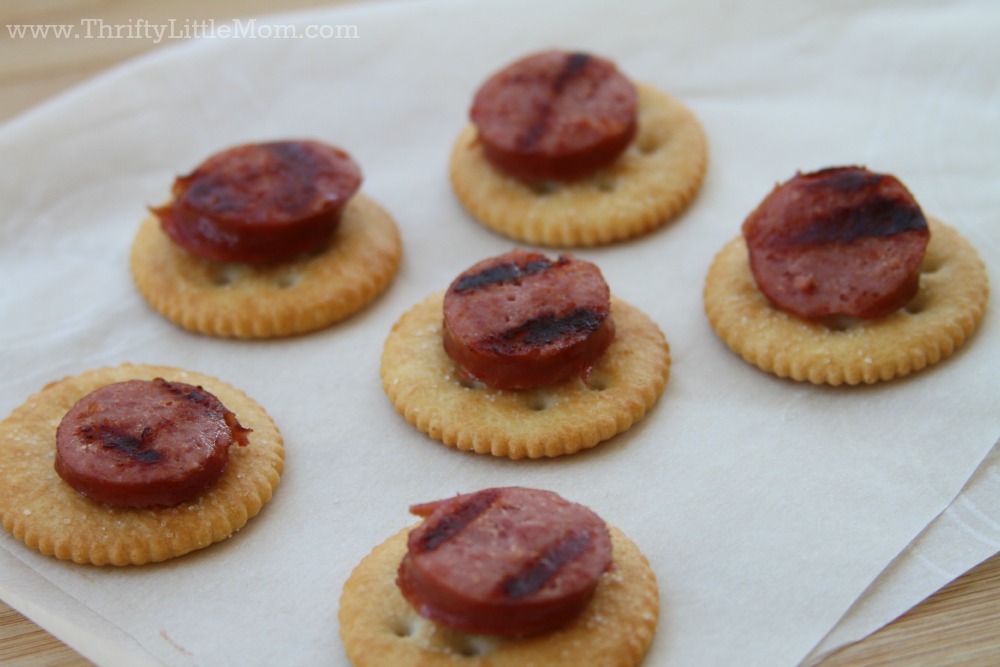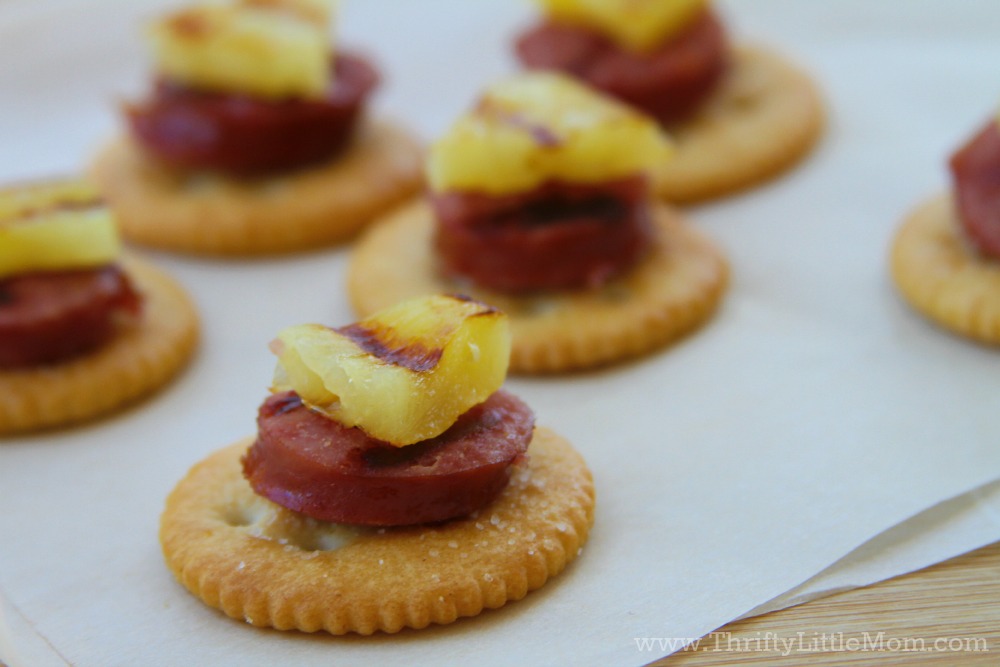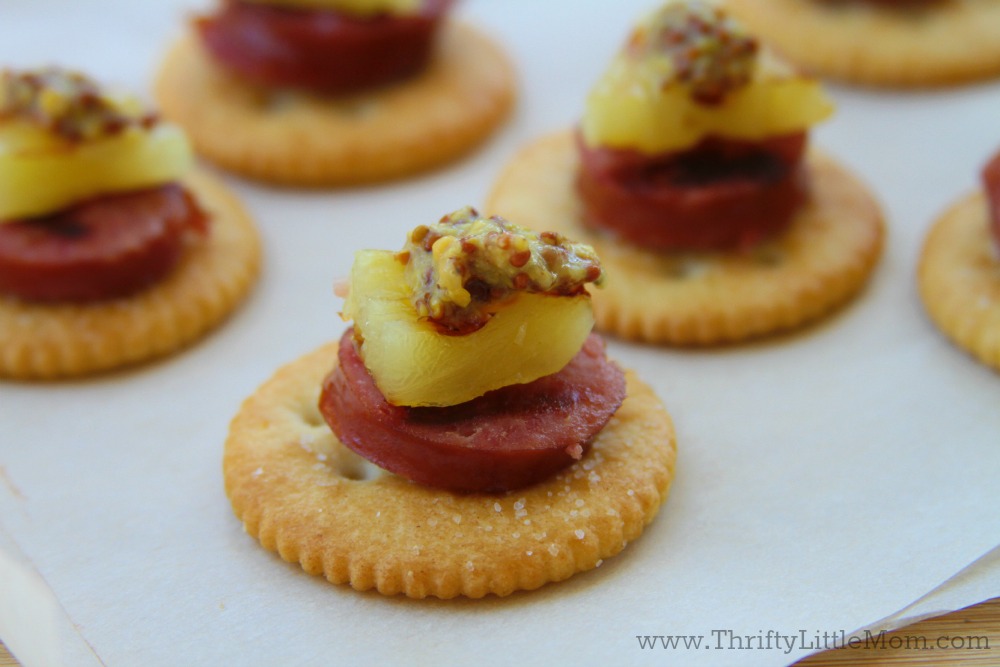 I highly encourage you to visit the NABISCO Party Planner website for more ideas like this one!  They are sure to be a hit at your next gathering.  Be sure to check out the $0.55 off coupons on the NABISCO Party Planner website and save extra money on NABISCO products by shopping at Publix!
3.Pre-label Your Platters
One stress reducing party tip I learned from my best friend Rhonda is to put your serving dishes and platters out the night before the party and label each one with food item will go on them.  For example for my Pineapple-Kielbasa Bites I'd have an empty platter with a paper note on top that read "Pineapple-Kielbasa Bites". Once they were prepared I would transfer them right to the their serving platter on the table!  This idea also keeps you from forgetting about any of the food you planned to serve!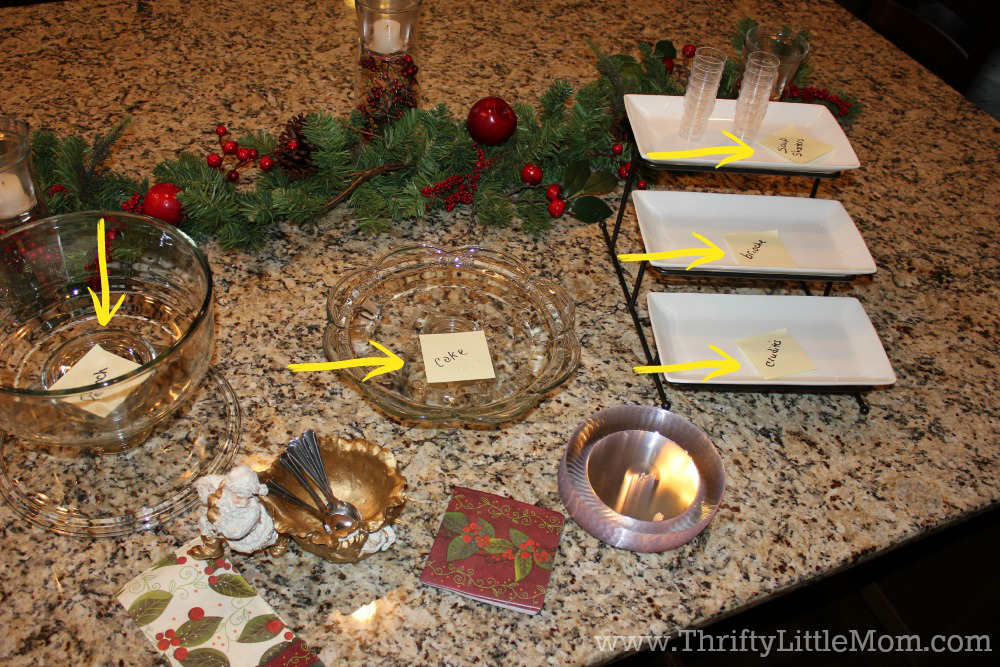 4. Keep your decorations simple.
It the midst of party planning it can be easy to get caught up in creating the perfect atmosphere for your guests.  You might feel like you need tons of decorations that go with your theme.  The important thing about decor is to factor in how much time it will take to put them up.  Sometimes when you plan too many decorations you get behind on the rest of the party preparations and your stress levels rise.  Consider picking a simple theme and putting 3 simple touches in each party room.  One of my favorite time saving decoration ideas is simple filling glass containers with colorful Christmas ornaments to match my theme.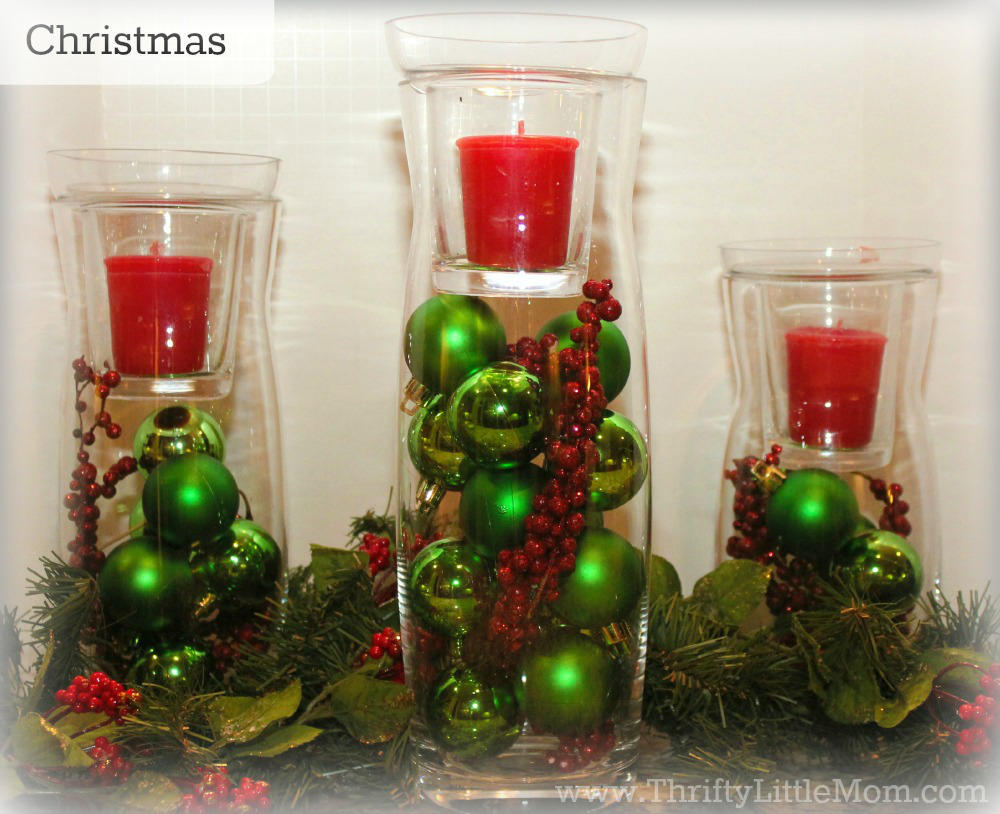 5. Remember to have fun.
When the food is on the table and the guests are settled remember to relax and have fun yourself.  Don't get so caught up in constant party preparation mode that you miss the party all together!  By keeping your invite list short, your food and recipes simple and doing a little planning ahead of time you should be able to serve the food, welcome your guests and enjoy quality time with people in your life that matter.
Holiday parties can be extremely stressful or they can be amazing opportunities to celebrate the season with your friends and family.  As you plan your own get together I hope you find these tips helpful.
What's your best stress-reducing holiday party tip?  Feel free to share them in the comments section below!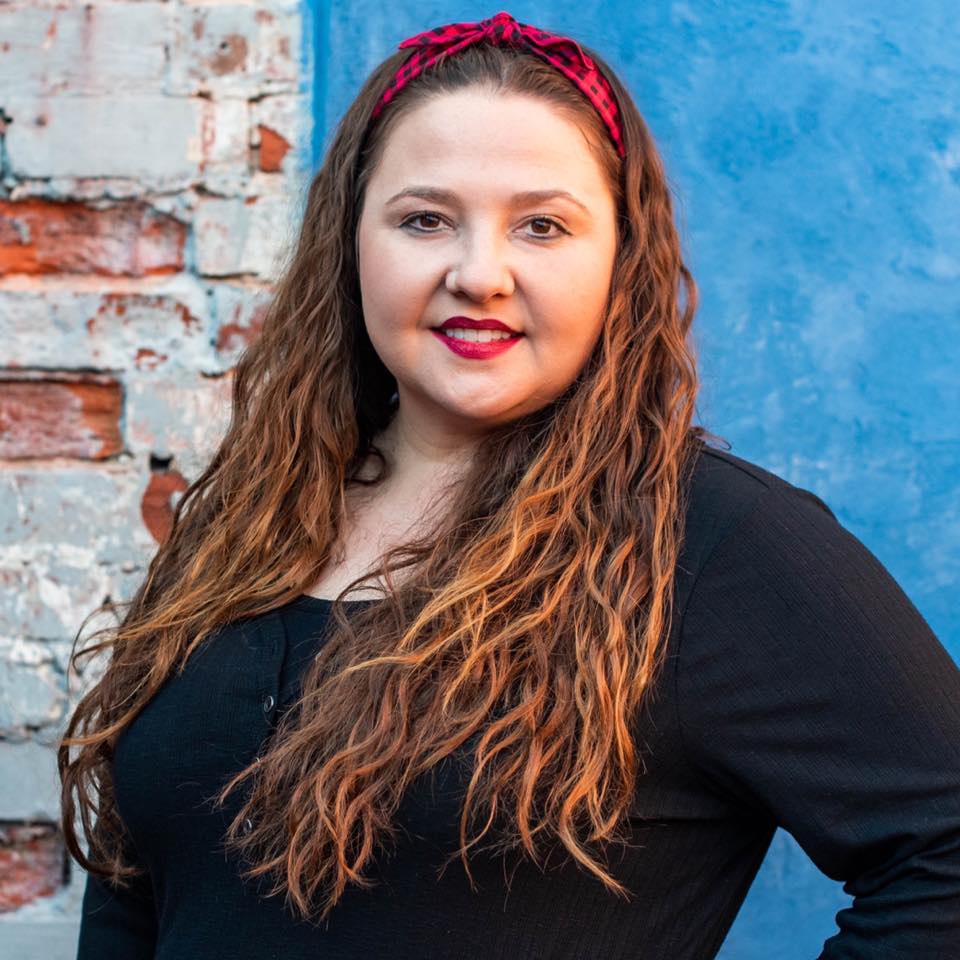 Kim's is the party planning, thrifty life-loving, intentional living catalyst behind the Thrifty Little Mom Blog. Kim was a pro event planner for over 7 years before she became a full-time blogger. Kim is the author of: Live, Save, Spend, Repeat: The Life You Want with the Money You Have. She's been featured on Time.com, Money.com, Good Housekeeping, Women's Day, and more! Kim aims to inspire you to create, celebrate, and live life intentionally!