Throwing an Indoor Movie Party
This post contains affiliate links. As an Amazon Associate, I earn from qualifying purchases. I also earn from qualifying purchases made with other brands and programs. See my
privacy policy.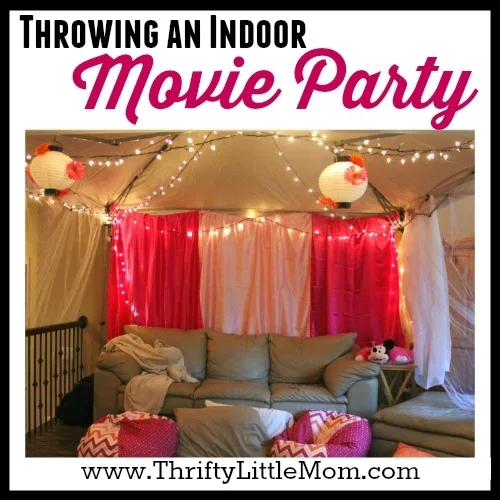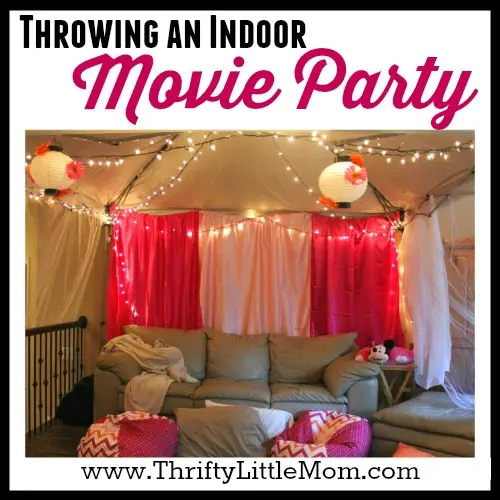 The older your children get, the easier it is to help them celebrate any occasion. Typically all you have to provide is a little direction and a few snacks. For this party my daughter and her friends wanted a movie under the stars theme, but the weather was not cooperating so we brought it all indoors!  Therefore we turned it into the perfect indoor movie night party!  These would also work well as movie night at home ideas!
Supplies:
A lot of the supplies you'll see in this post are available on Amazon.com at really great prices.  If you don't want to run all over town looking for party supplies, this is an easy way to get them all in one spot!  These links and other links * in this post are Amazon Affiliate links so when you click them and make a purchase, I receive a small commission (at no additional charge to you) that keeps this blog up and running! Thanks for your support! For more information view our privacy policy.
Indoor Movie Party Statement Piece Decor:
The statement piece of this indoor movie party décor: a pop-up tent! If you don't have an easy pop-up tent take your request to social media because I'm sure someone you know has one that you can borrow. Set the tent up in your family room and add tulle & twinkling lights to set the stage.
QUICK TIP: I put colorful socks on the feet of the tent frame to keep them from scratching up the wood floors.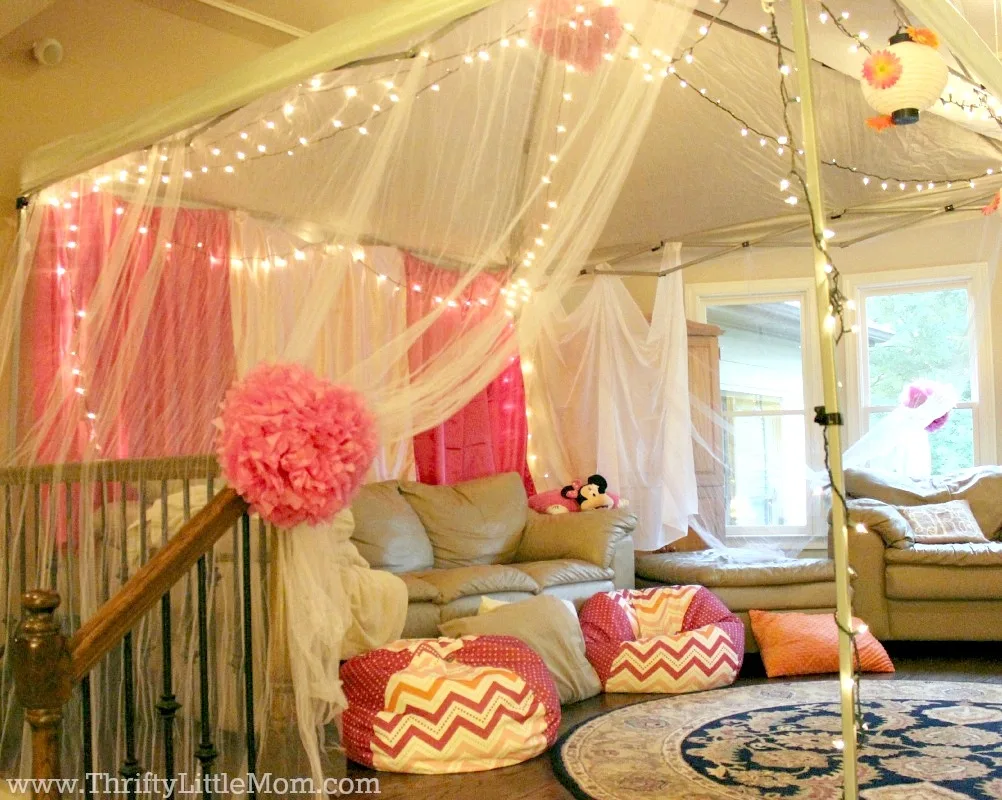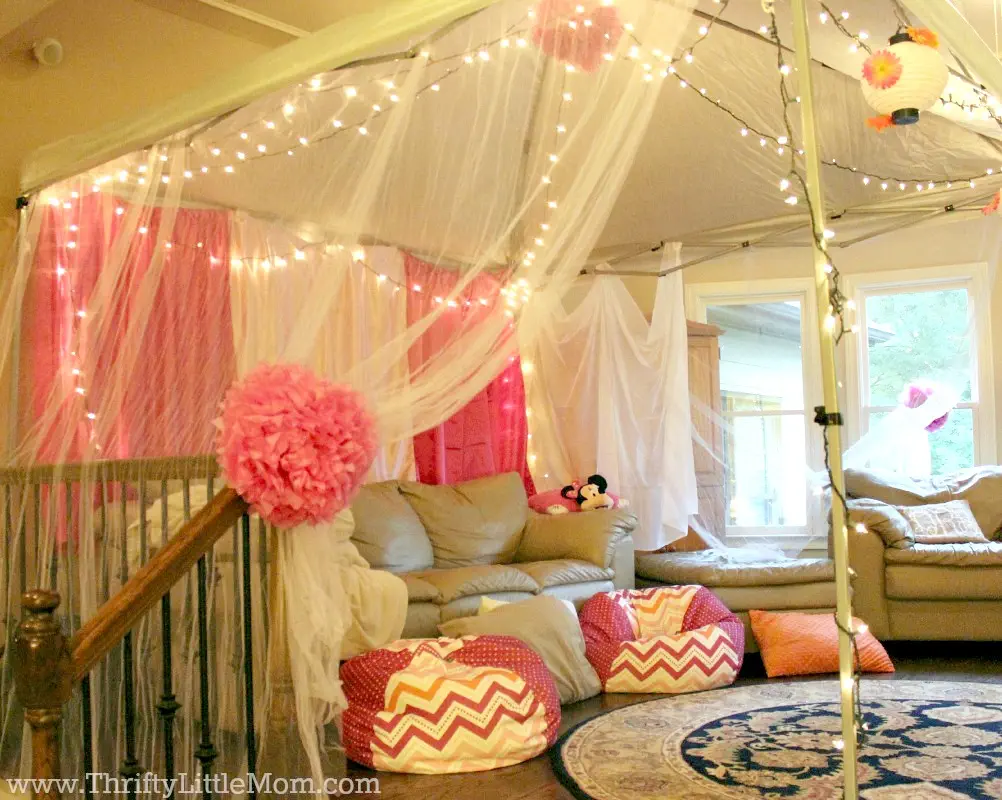 Backdrop:
One piece of the decorating puzzle that really brings this tent together is the backdrop fabric.  You could use curtains, shower curtains or even fabric from the fabric store.  Amazon has some really inexpensive and cute options in the shower curtain department like these ruffle ones pictured in the link below.
Lanterns:
You can also hang paper lanterns with battery operated lights inside to illuminate the space and you can add color around the tent with fabric/tablecloths/sheets- whatever you have on hand. Simply safety pin them around the tent frame to hold them securely in place.
Pillows & Bean Bag Chairs:
To finish decorating the space, toss in some bean bags, throw pillows and blankets.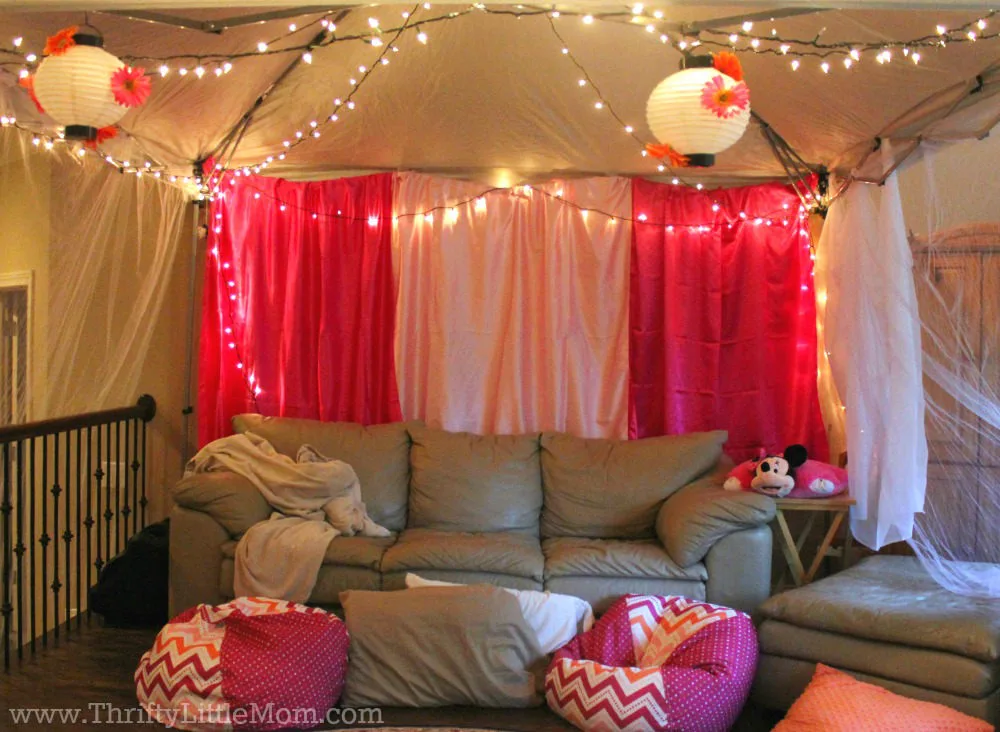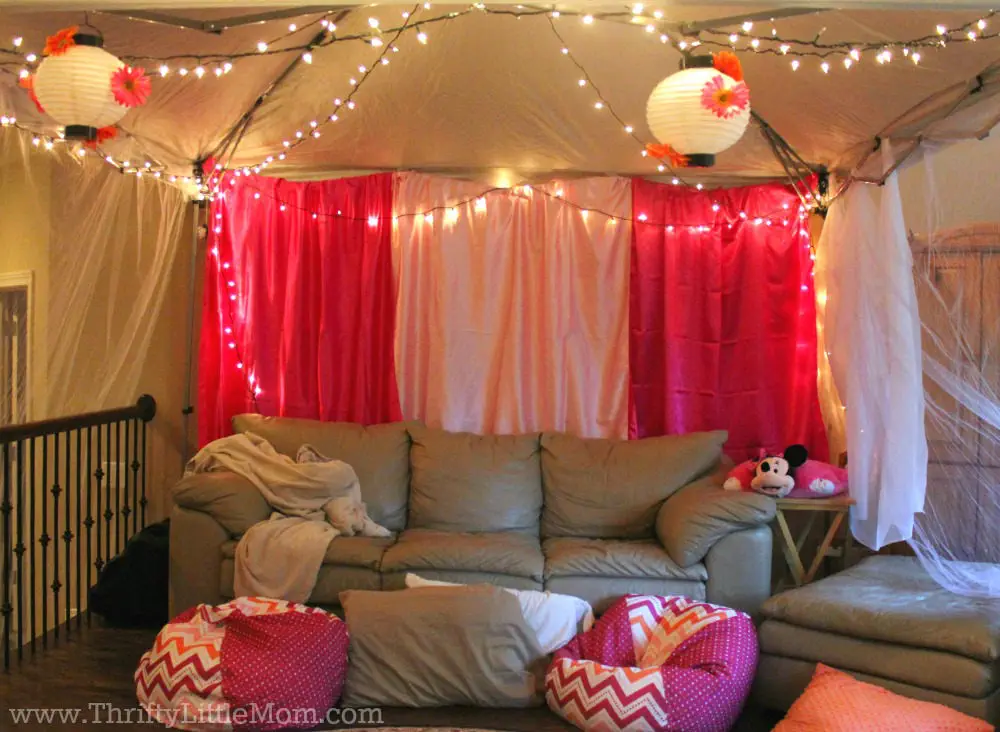 The Perfect Indoor Movie Party Snacks:
The perfect movie night at home snacks for this party: a popcorn bar complete with plenty of the typical cinema candies set up to the side of the movie/television screen.  You can head over to your local Dollar Store or Target and get movie theater boxed candies for right around $1 per box on the candy aisle.


For intermission you can serve pudding cups with whipped topping and sprinkles along with your guest of honor's favorite punch.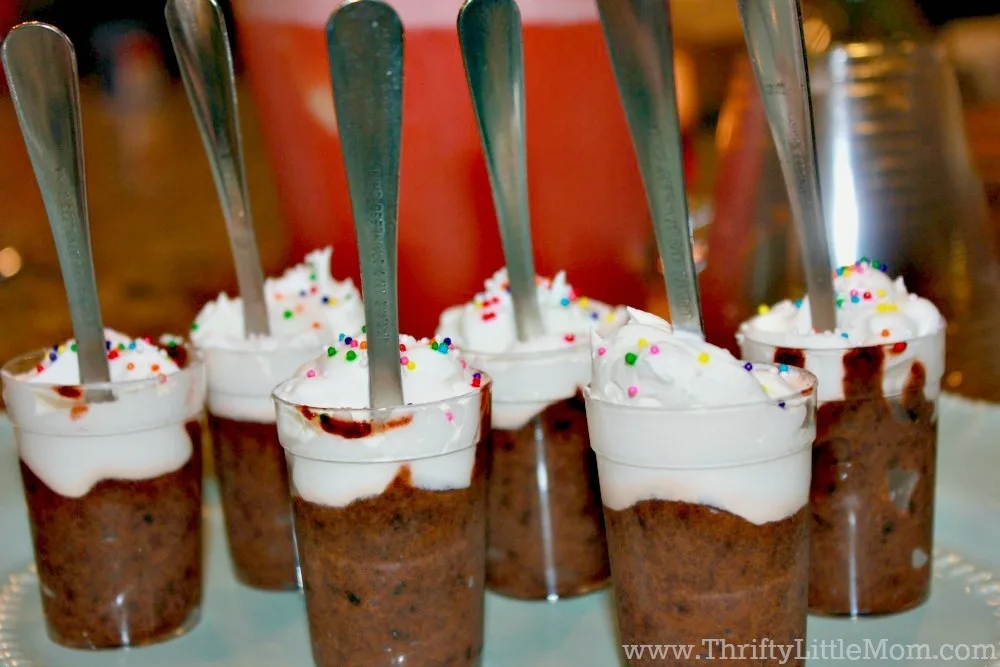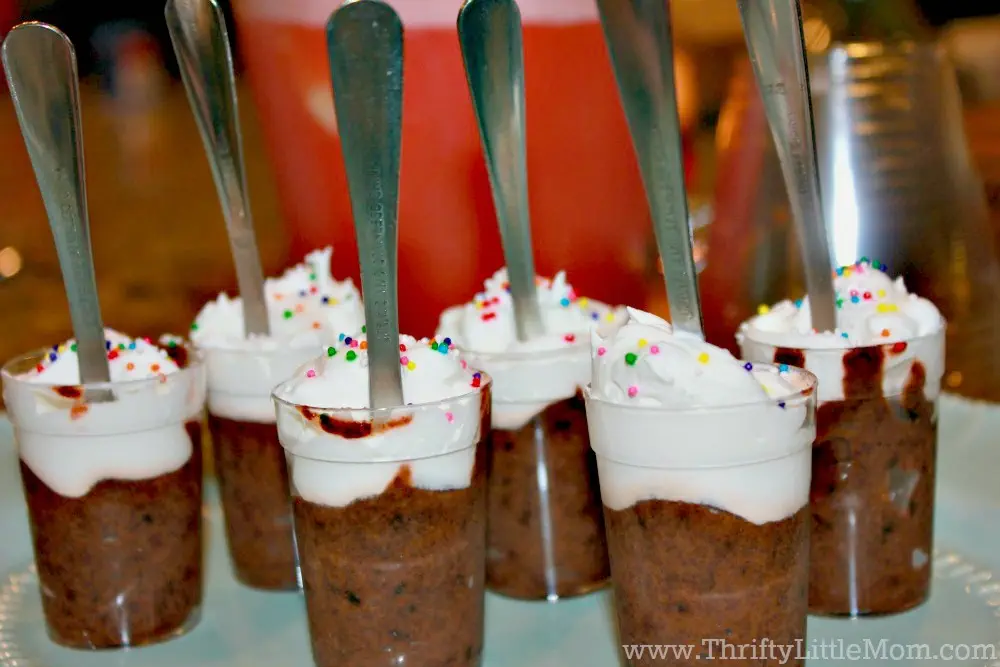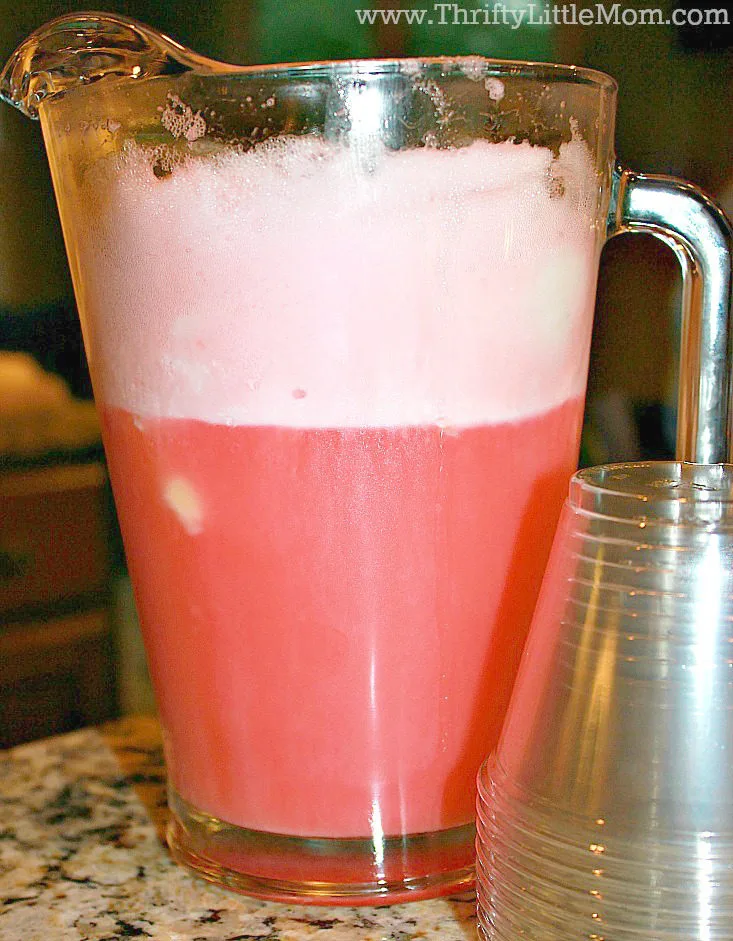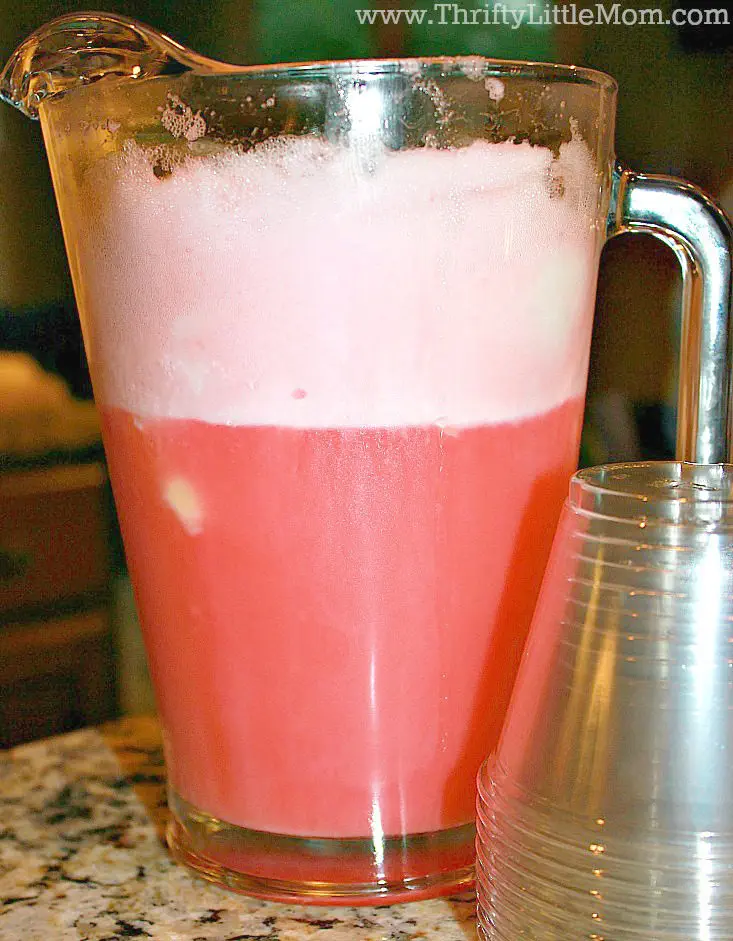 Indoor Movie Party Photo Booth:
If you choose to set up a photo booth area, these fun images were printed on card stock paper, cut out and adhered to wooden BBQ skewers with tape then tucked into a sand bucket using play-doh to hold them upright.
Simply do a Google search of images in your theme (seasonal or holiday, etc.) to find photo booth props.  There is also a link in the supply list at the top of the post to grab a set on Amazon.com for less than $10.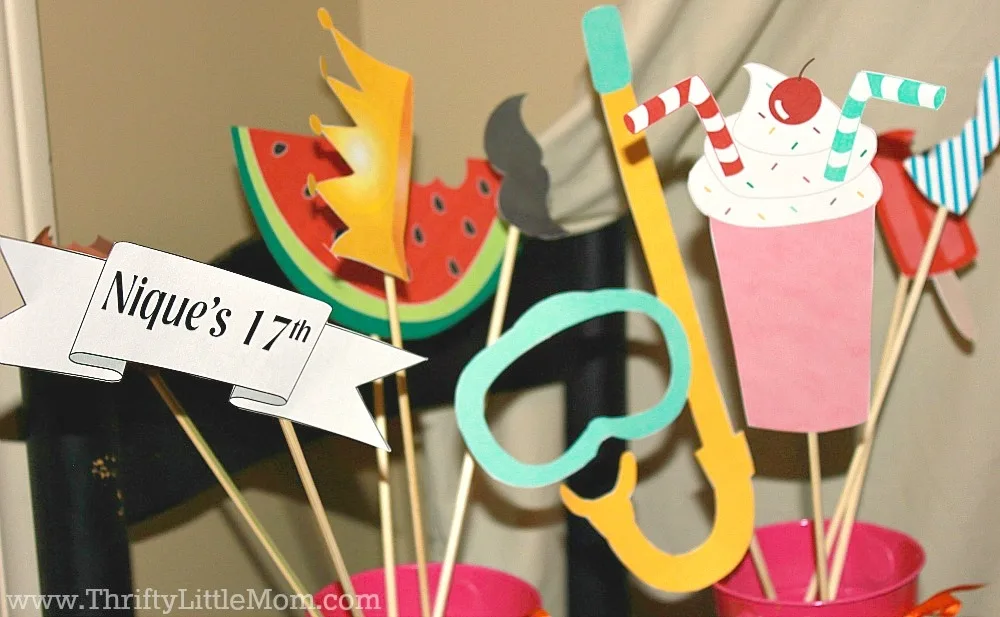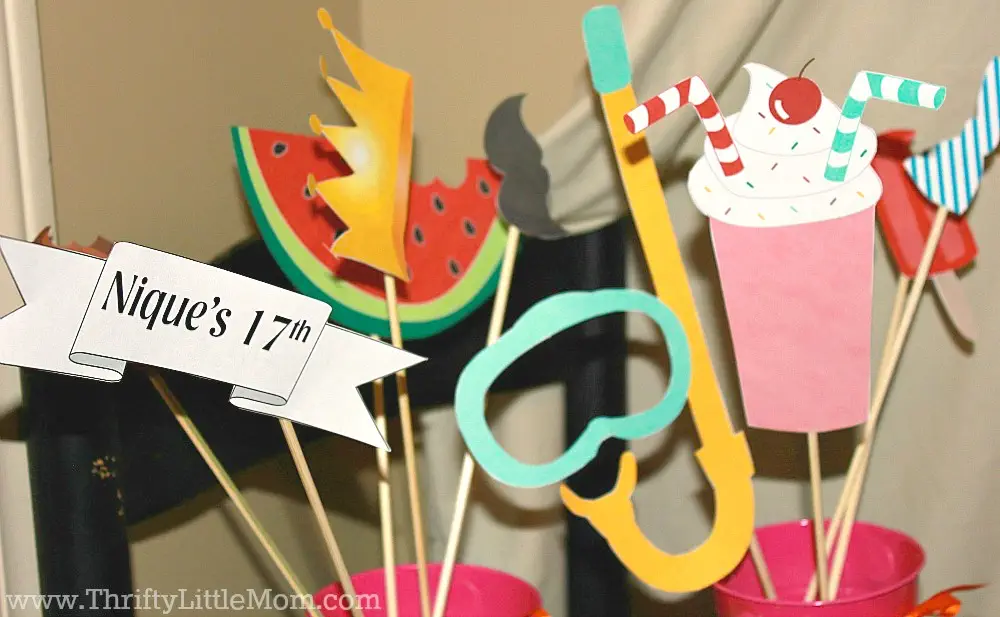 Goody Bags:
Sending home simple goody bags is an extra touch that your attendees will love: these contained a pack of popcorn and a chocolate candy bar with a note saying, "Thanks for popping by our party!"
We hope you find many occasions in your life that you wish to celebrate and when you do, let us know how you choose to commemorate the event!  I also like the look of Chinese take out favor boxes!
25 Hot Pink Chinese Take-Out Food and Party Favor Boxes, 16 oz each – Less than $10 Amazon.com *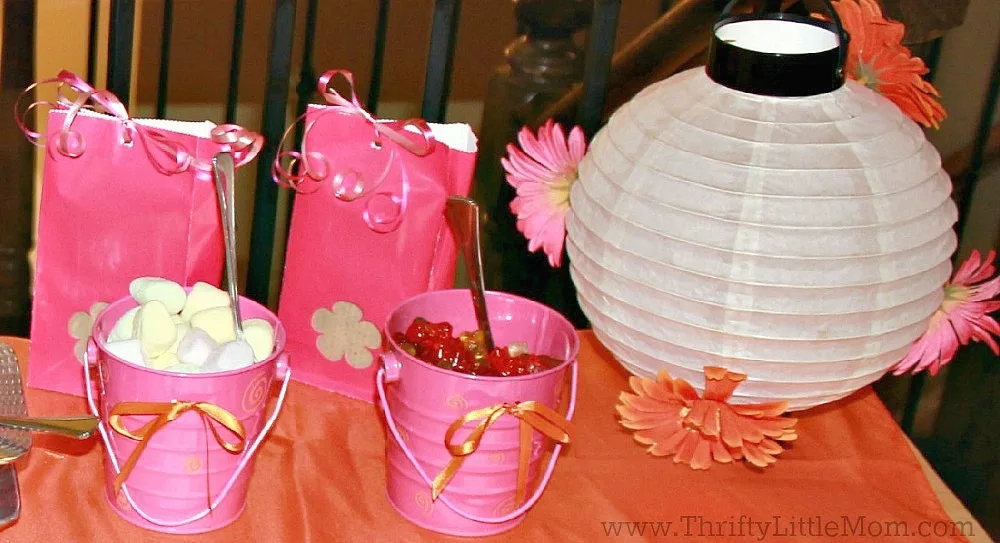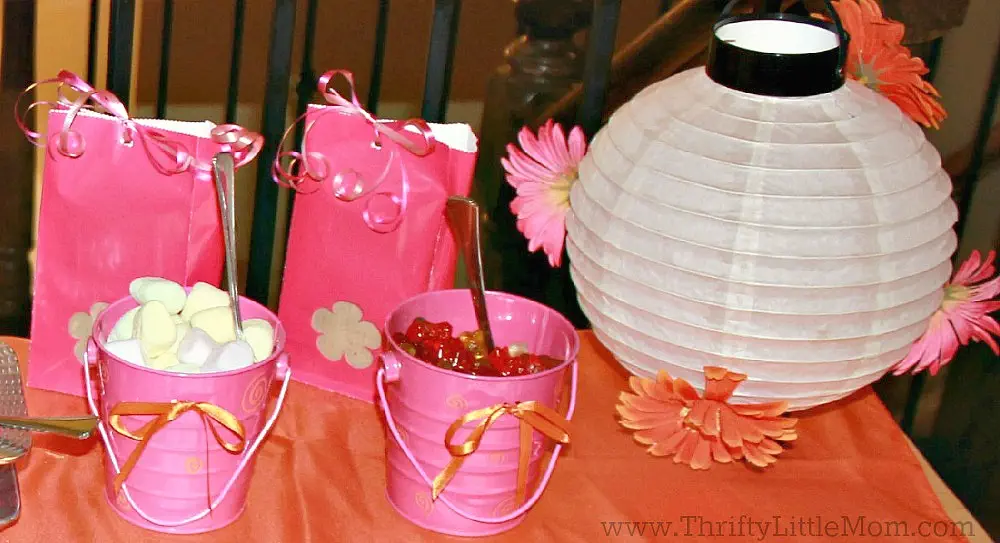 Picking the Best Movie for a Group-
One thing to take into consideration is the age of your participants.  If this is a group of kids who are in 4th to 9th grade, you should probably read the Kids In Mind Review of what your kids will be watching- if you haven't seen it yet or haven't see it in the awhile as some kids are more sensitive to others to particular topics (like horror, death of parent, sexuality etc).  They also may be a little more or less sheltered than your child.  So here are two things to consider:
Be sure that you keep parental controls on especially for late night sleep over style parties where you might be going to bed before your kids do.  All it takes is one curious kid with a remote to send the whole group home with new images in their heads and even more curiosity about things their parents would have preferred talk to them about one on one.
Know what's in the movie and be aware as to whether it's really age appropriate for the kids in attendance.  What I'm finding out is that 1980's PG is not quit the same as 2000's PG.  You don't want parents calling the next day to ask you what you let them watch.
If you need help coming up with a good list check out Common Sense Media's lists like: Best Sleepover Movies for inspiration!
If this is a Christmas themed movie party check out my post 14 Family Night Christmas Movie Ideas.
These are all ideas you can use to throw an awesome indoor movie party at your home!  I really hope you enjoy them and feel free to share your own ideas in the comments below.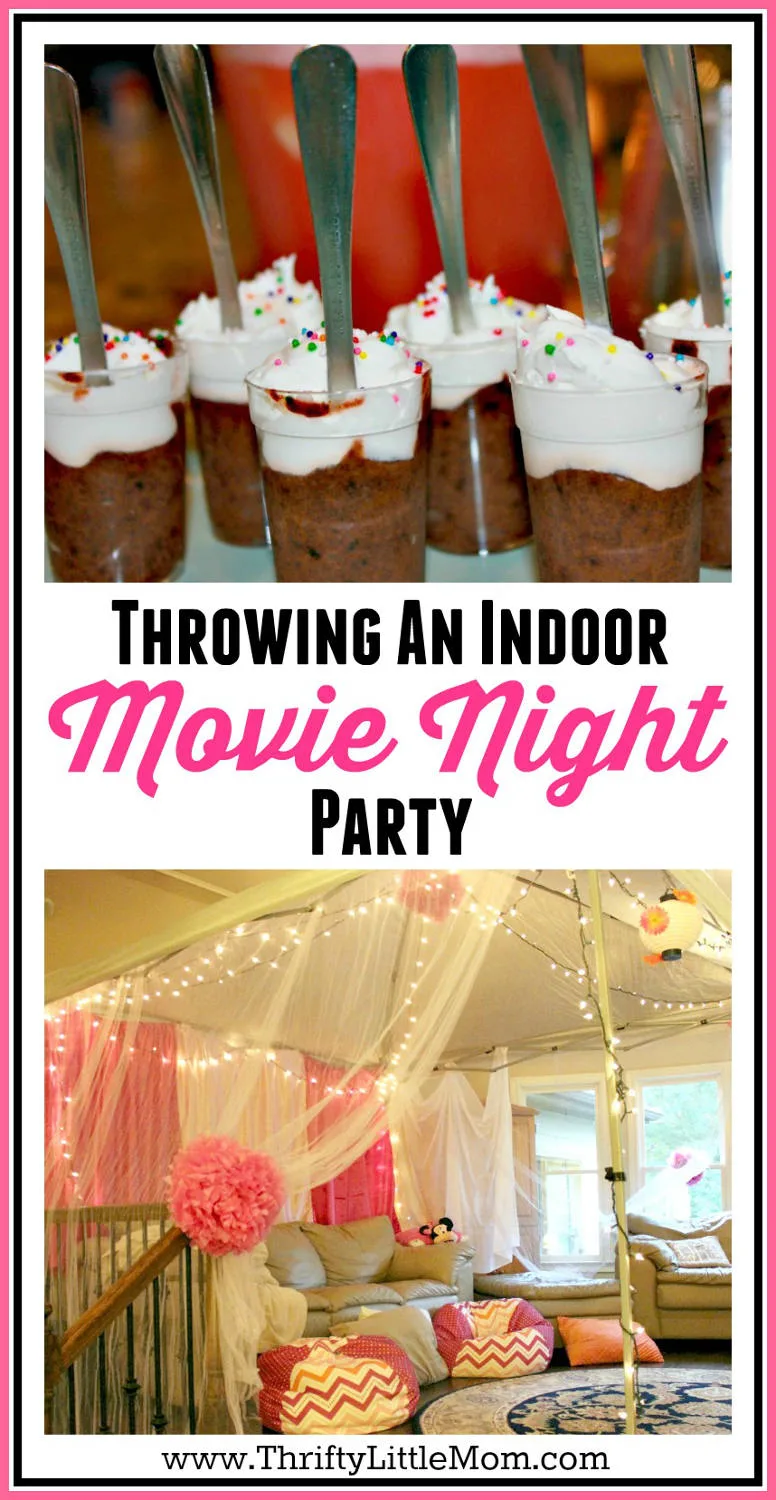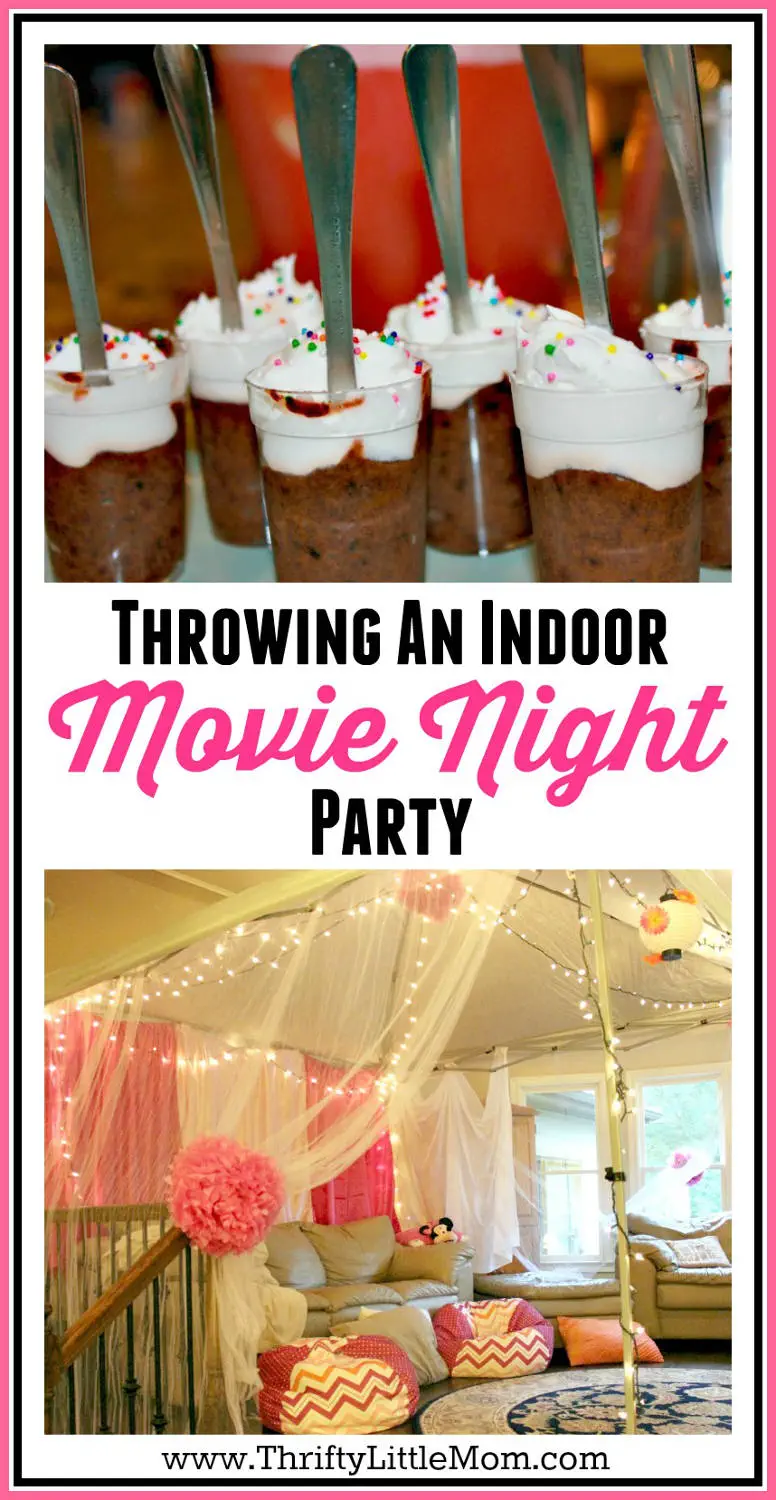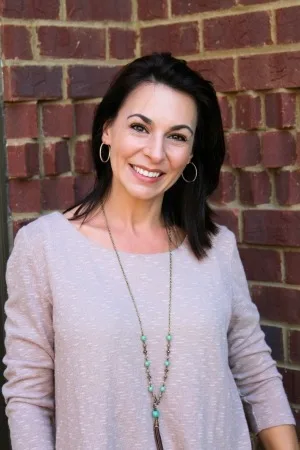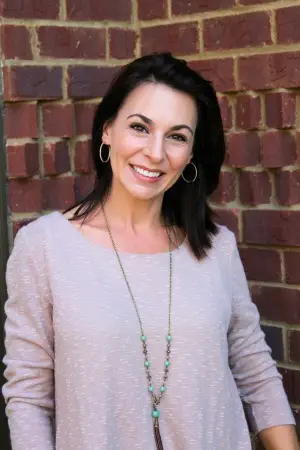 Hi, I'm Rhonda! I'm a regular contributing author at Thrifty Little Mom.  I have a wonderful, caring husband, 3 beautiful, sweet & smart girls and a fluffy little dog who thinks his job is to be my bodyguard!  Entertaining is my thing and I can do so (to my standards) on a dime.  Lastly, my whole family and I are foodies; I love preparing and eating a variety of healthy meals much of which I love to share with readers.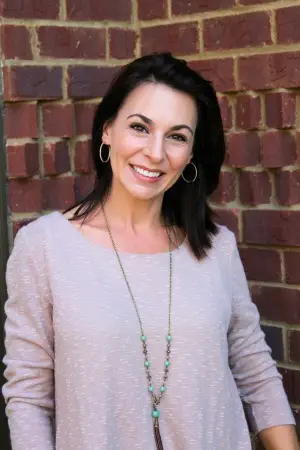 Rhonda is the owner of My Symphony Seasonings, LLC located in Georgia. She has a passion for good food, health & entertaining which was the perfect combination for creating My Symphony Seasonings, a company that encourages you to cook and eat whole foods, close to nature by providing original recipe blends of organic herbs & spices, free of fillers and artificial preservatives to add flavor, richness and health benefits to your dishes!
Summary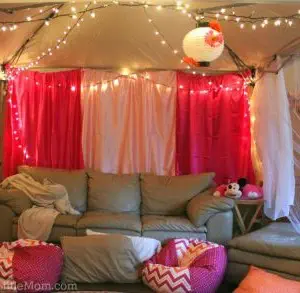 Article Name
Throwing and indoor movie party
Description
If you are wanting to throw a fun yet simple indoor movie party at your house this article gives you 5 awesome decorating, food and movie selection tips!
Author
Publisher Name
Publisher Logo