Speed Up Your Spring Cleaning Routine
This post contains affiliate links. As an Amazon Associate, I earn from qualifying purchases. I also earn from qualifying purchases made with other brands and programs. See my
privacy policy.
Special thanks to Kimberly-Clark and The Motherhood for sponsoring this post.  All thoughts and opinions expressed in this post are 100% mine!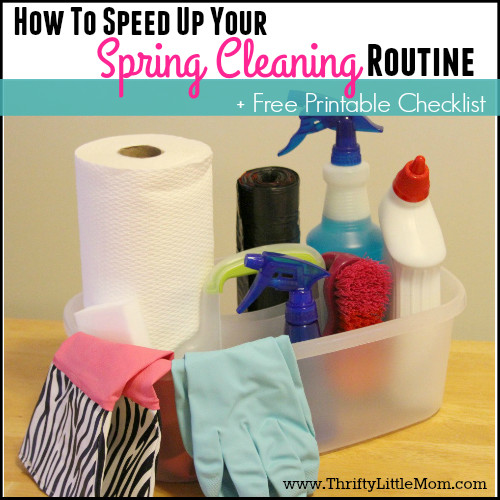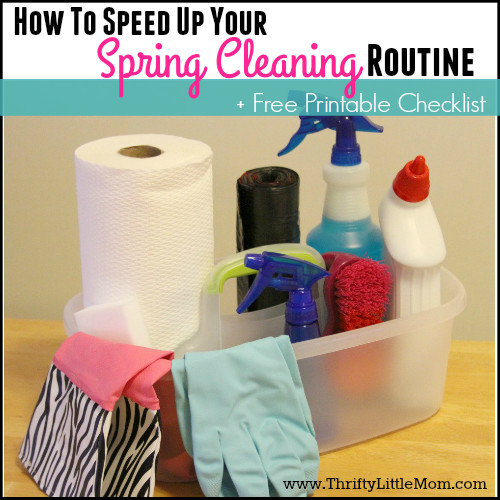 Spring is the air!  What does it make you think of?  For me, there is something about the warm weather and flowers blooming that makes me want to refresh my house.  We start opening all the windows and letting the cool air in.  It's always this time of year when I feel like tackling clutter and facing some of the cleaning projects around my house that I need to manage.  I'm also highly motivated by the fact that I'm having twins in just 5 months.  I want to tackle some deep cleaning projects while I still have the energy and the ability to bend!
But I also realize that a spring cleaning routine can be daunting for most people (including myself).  When we spring clean it makes us tackle chores we don't do on a weekly basis and therefore take us a little longer than normal to complete.  You may not even be sure where to start!  I'm here to help you spend less time cleaning and more time enjoying all the fun springtime has to offer.  So let's break down how you can speed up your spring cleaning routine in 4 simple steps.  Be sure to check out my free printable checklist too!
Step 1: Ensure You Have all the Supplies You Need
If you want your spring cleaning to be thrifty and efficient, it's super important that you shop your house for supplies first and then head out to the store to pick up whatever you don't have.  Running to the store in the middle of cleaning projects can lead to lots of wasted time, energy and impulse buys.
For my spring cleaning projects, I stocked up at my local Walmart store on my Viva®, Cottonelle® and Scott® products since I know I can find great deals on these brands that I use as well as save money on everything on my list.  Honestly, I also shopped there because I knew I could get all my supplies in one stop without running all over town.
I usually make a spring cleaning caddy with all the supplies I need to clean each room.  It's easy transport and doesn't leave me constantly on the hunt for my spray bottles and towels.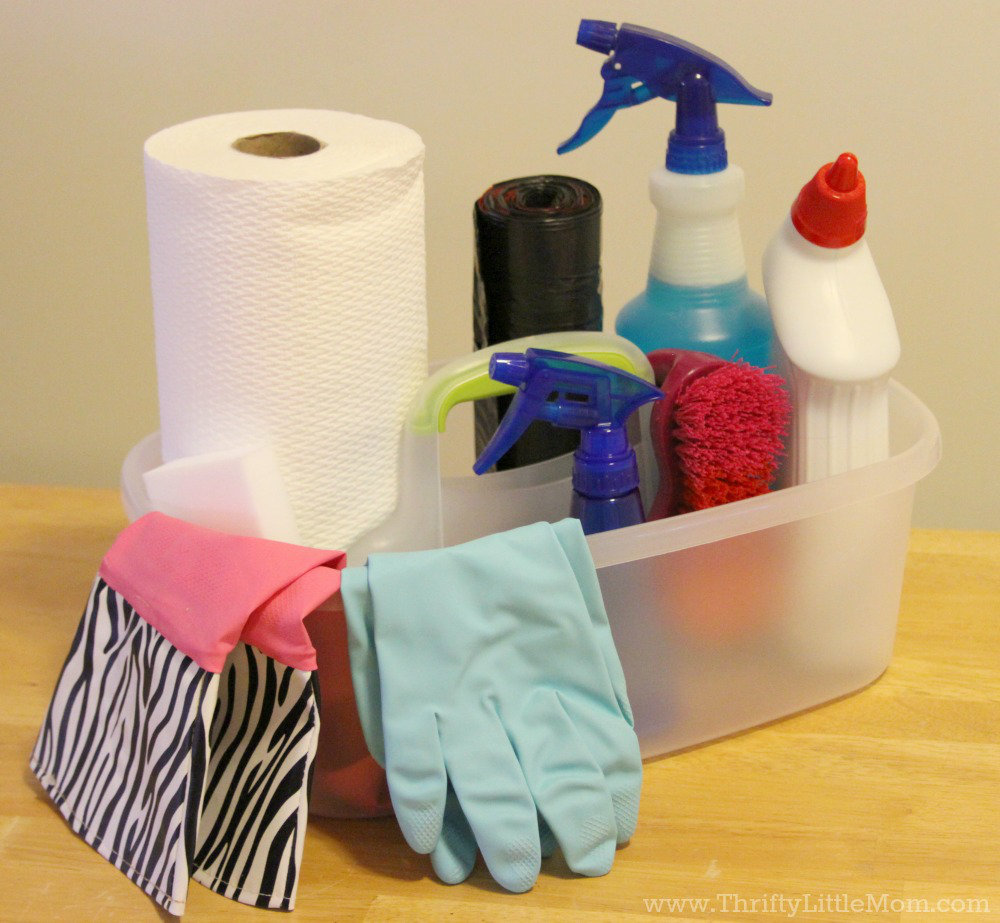 Here's a list of items that make sure I have on hand before I begin my cleaning routine.
Cleaning Caddy (optional)
Cleaning Gloves
White Vinegar
Baking Soda
Empty Spray Bottles
Trash Bags
Viva® Big Roll Paper Towels (Regular)- These are everyday towels that work like cloth.  They are great for almost any cleaning task.
Viva® Big Roll Paper Towels (Vantage®)- These have terrycloth like texture that's great for scrubbing. These are perfect for stainless steel appliances, sining glassware and scrubbing stovetops or other grimy surfaces.
Toilet Bowl Cleaner
Glass Cleaner
White Sponge Household Erasers
Vacuum Cleaner
Mop
Bucket
Carpet Cleaning Foam
Hand Held Scrubbing Brush
Optional (Oven Cleaner)
New Replacement Air Filters for your home – Before you leave the house be sure you check for the size of filter you need and write them down.  The 3 numbers will be located on the sides of the air filters.  We change ours out every 90 days.
As part of my spring cleaning routine, I go ahead and stock up on toiletries that my family uses everyday like:
Cottonelle® Toilet Paper Double Rolls (Clean Care and/or Ultra Comfort Care)
Scott® 1000 Bathroom Tissue
Deodorant
Shampoos
Soap
Toothpaste
Floss
I have a nice spot in my linen closet where I can store all the items we use and run out of most around our house.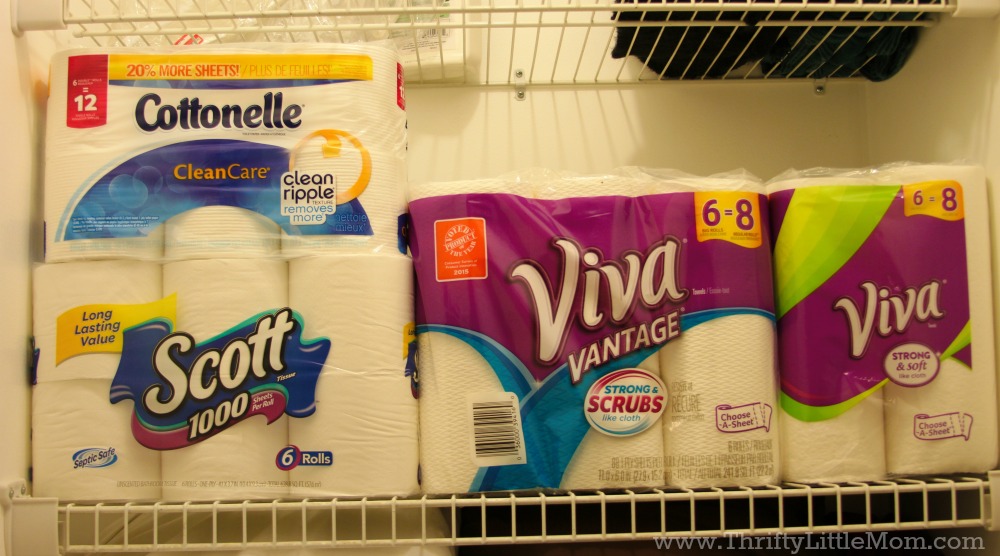 Step 2: Prioritize What Needs To Be Done
Next, you'll need to decide what needs to be done around your home. If the thought of that overwhelms you, I've created this FREE printable Spring Cleaning Checklist to help you get started.  It has blanks that you can fill in with any items you need to add around your home.  If you feel like any of the items on this list aren't applicable or necessary to your spring cleaning routine simply cross them out and move on!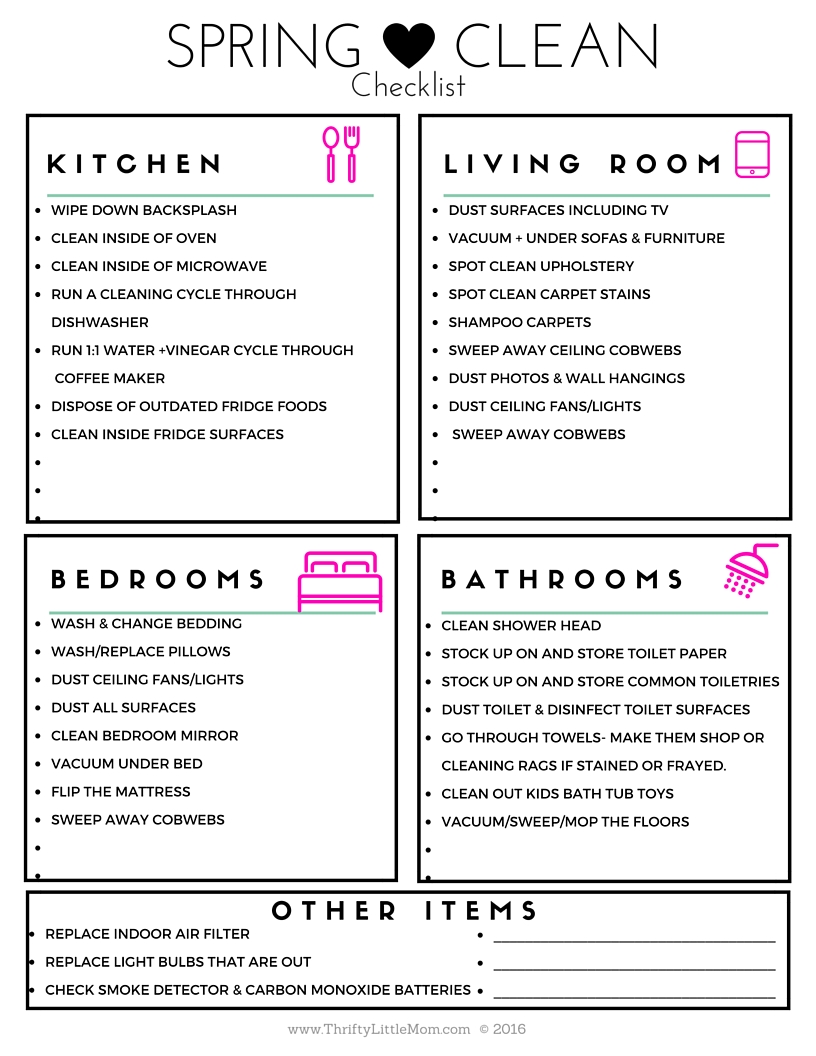 Step 3: Break Your Projects Down into Manageable Time Blocks
Don't get overwhelmed by your list.  Decide up front what things you can realistically get done in the time you have each day.  If you over do it, you're setting yourself up for frustration.  The point of spring cleaning is to feel clean and refreshed when you are done with the task.
It might help to set a timer, make it a game and see if you can get your task done in less than 30 minutes.  I personally find the time goes by faster and easier if my mind is entertained by listening to music, audio books or my favorite podcasts.
I would suggest assigning one room or zone of the house to a day of the week.  For example:

Monday- Master Bedroom
Tuesday- Bathrooms
Wednesday- Living Room
Thursday- Kitchen
Friday- Kid's Rooms
Saturday- Misc. Projects
Step 4: Divide and Conquer
Depending on the age of your kids and how domestic your spouse is, it's smart to enlist help.  Give everyone a few tasks to do and when they are done consider giving everyone a treat.  Take the family out to dinner, order pizza or go out for ice-cream.  Anything that will motivate your crew to help you speed up your spring cleaning routine!
I hope this quick guide and printable will give you some inspiration and motivation to get going on your own spring cleaning projects!!  Check out all the great Kimberly-Clark Family Care products for your spring cleaning project at Walmart.com.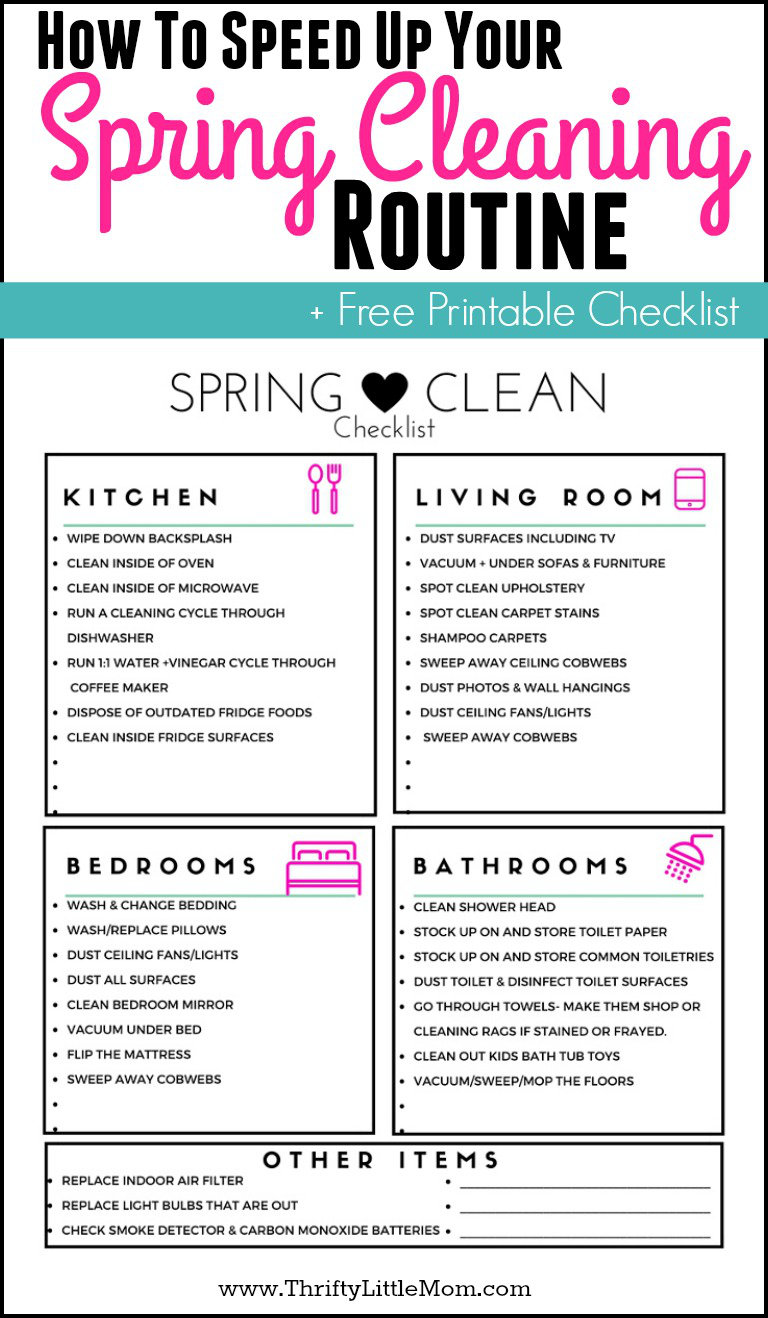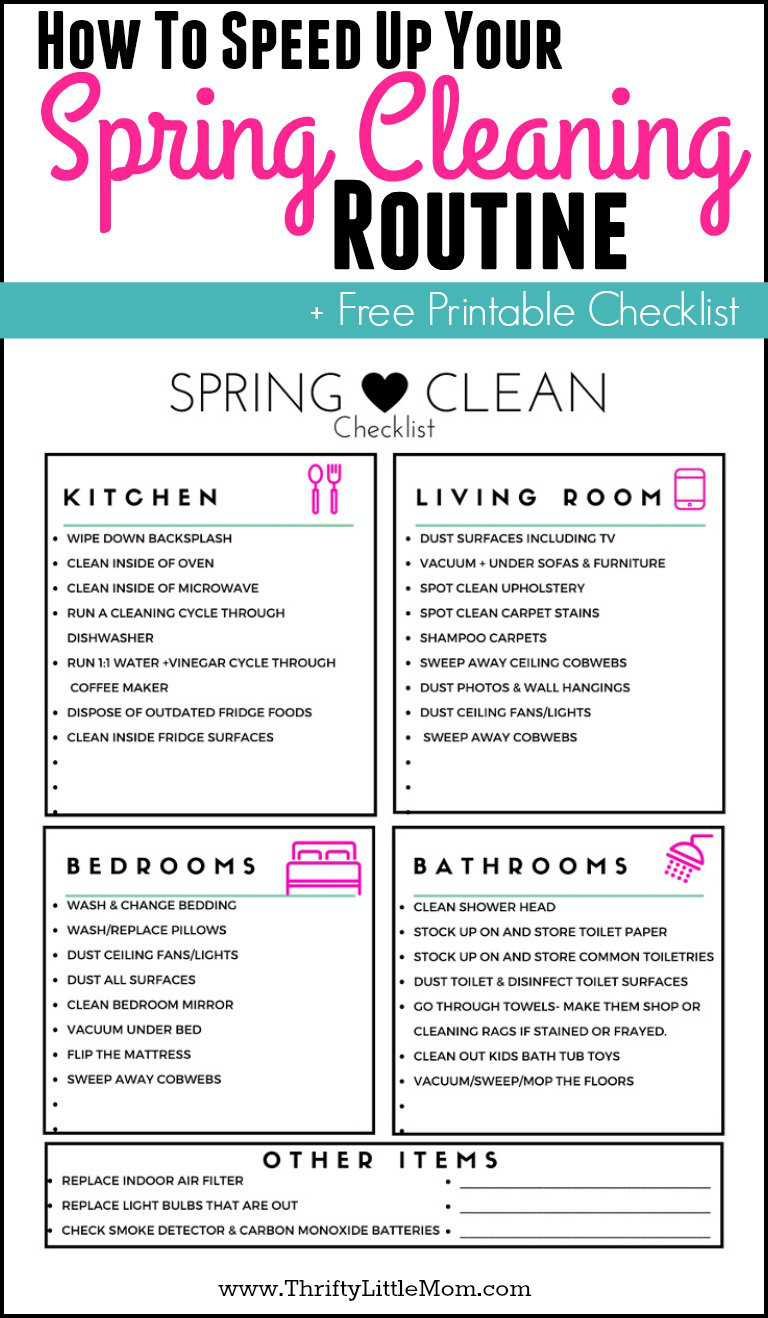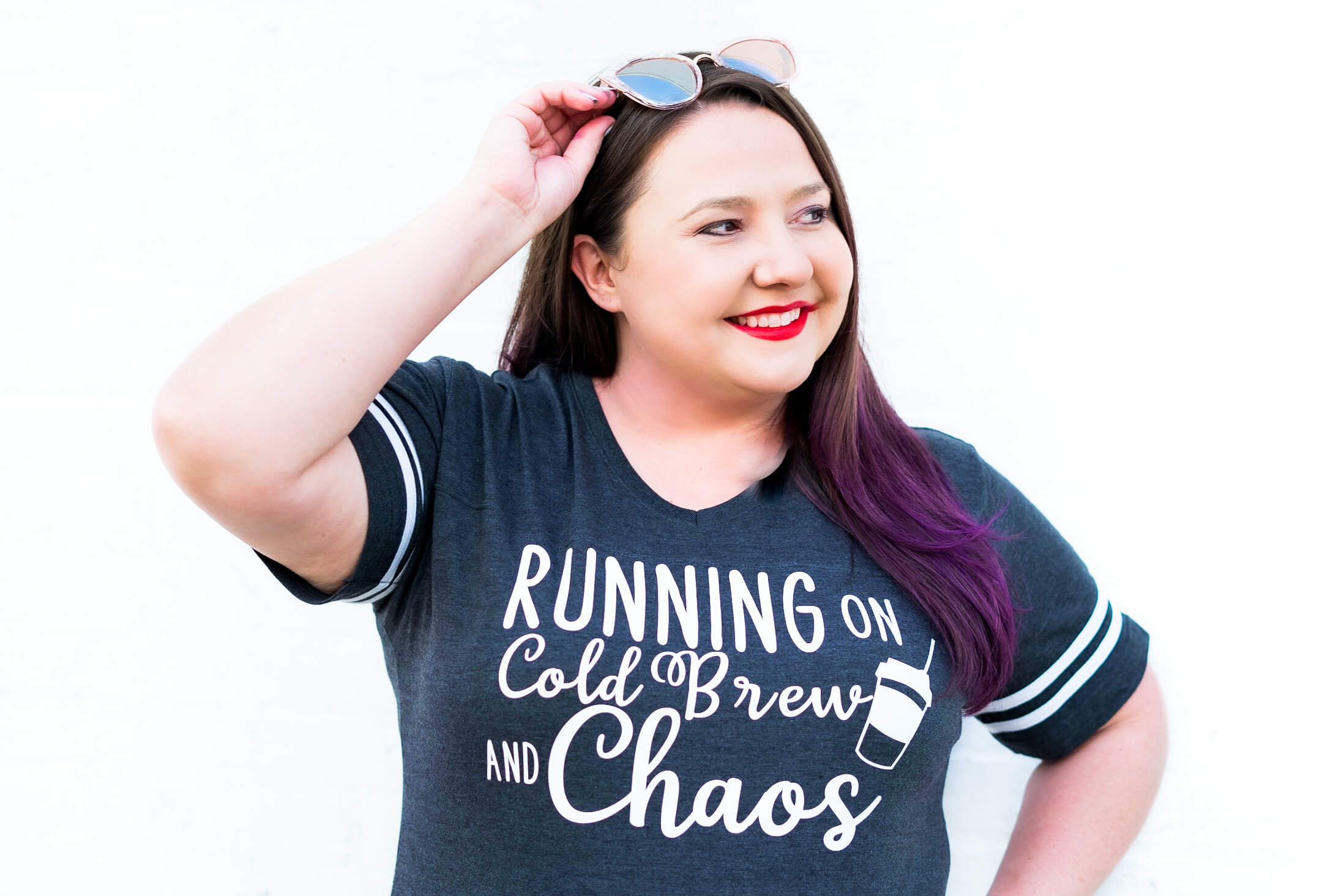 Kim Anderson is the organized chaos loving author behind the Thrifty Little Mom Blog.  She helps other people who thrive in organized chaos to stress less, remember more and feel in control of their time, money, and home. Kim is the author of: Live, Save, Spend, Repeat: The Life You Want with the Money You Have. She's been featured on Time.com, Money.com, Good Housekeeping, Women's Day, and more!