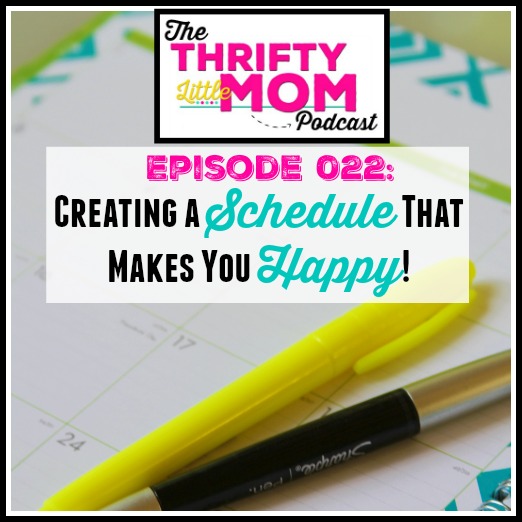 Most people have a routine or schedule for their lives.  Sometimes those routines and schedules are dictated by our current life circumstances but sometimes we get ourselves into a cycle that really don't enjoy.  In today's podcast episode Rhonda and I are talking about how to make a schedule for you and your family that actually makes you happy!!!
Listen Now:
Subscribe on iTunes:
https://itunes.apple.com/bt/podcast/thrifty-little-mom-podcast/id1051357786
Show Notes & Resources Mentioned in Today's Podcast:
OK to Wake! Children's Alarm Clock and Nightlight
– This is the clock I use to help my 4 year old son stay in his room in the mornings when he wakes up earlier than the rest of the house.
Show Outline:
Create a Time Budget
Learn to Say No
Making Trades Not Sacrifices
Consider Choosing What is Better

Ask The Questions:

Does this serve my soul?
Does this serve my goals?
Does this serve my mind?
Does this serve my health?
Does this serve my family/marriage/relationships?
Subscribe to my emails + get an all access pass to my printable library!
Get access to my printable gifts, party planners, cleaning lists and more! Be the hostess with the mostess!
Don't forget to check out what's in the resource library! https://thriftylittlemom.com/thrifty-little-mom-resource-library/ Password: Thriftyprints