Decluttering The Clothing of Your Past
This post contains affiliate links. As an Amazon Associate, I earn from qualifying purchases. I also earn from qualifying purchases made with other brands and programs. See my
privacy policy.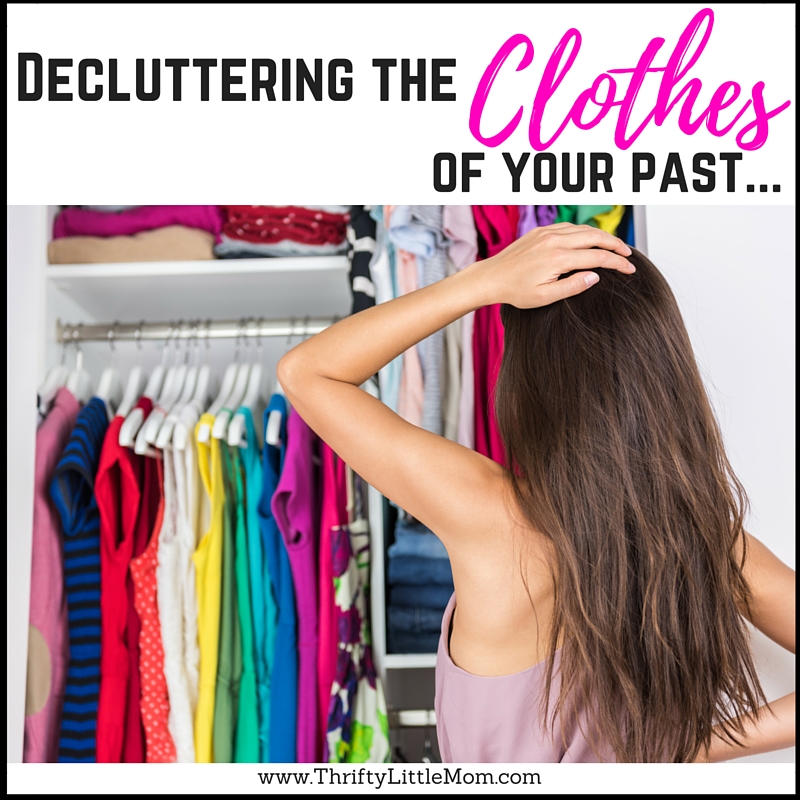 Welcome to post of number 1 in series of 4 that are part of the Thrifty Little Mom De-clutter Your Past 21 Day Challenge!  The simplest place to start this process is in your very own closet space.  Having closets that are jam packed with clothes and accessories really slows us down because it can give us paralysis of analysis.  How many times have you woken up and had to "try on" 4 different outfit combinations before you found one you were happy with only to look around and see that there are clothes everywhere that you now have to re-hang.
Last year I took a challenge to get my closet down to just 40 hangers!  Now, I'm NOT going to ask you to do THAT but I will tell you what happened when I did it. My mornings were FAR more efficient!  Instead of deciding what to wear, I just chose what to wear out of the all the options I had that fit perfectly, that I loved and felt good in.  Simple!  Plus it makes laundry day far more efficient and necessary when you only have a few outfits that need to washed to be worn again!
So this week's challenge is take some time to get in your closet and let go of some past fashion baggage.  Free up some space.  Free up some time.  And build a wardrobe that makes you happy no matter what your size or shape.  Let's begin!
Start With Your Closet-
Do you have clothing hanging in your closet that is decades old?  An old high school band shirt?  A college club?  Maybe it's totally out of style!  Or maybe, just maybe you're like me and keep clothes around because they are a size you used to wear but haven't worn in 3+ years.  Let's go through the steps we need to walk through in order to ditch things that are cluttering up our life, causing us excessive laundry to wash and keeping us in the past.
Let's Get Started:
Step 1:
To begin this project, I'd like for you to remove everything that's hanging in your section of the closet. We are just working with the closet.  Don't empty drawers, shelves or storage bins yet.
Go through each piece one by one and ask yourself these questions (feel free to print this and keep it handy as you de-clutter)-
When was the last time I wore this?

If it was 6 months to 1 year (and it's not a seasonal item) put it in your donate or sell pile.
If it was less than six months ago and is seasonal- Keep it.

Does it fit if I put it on right now?

If it's too big or too small for you WHY are you keeping it?

If it's because you plan to lose or gain weight, why not de-clutter it from your closet and go buy new clothes as a reward when you get to that actual size?

Is it sentimental?

I've kept a few college t-shirts in my day but honestly, if I've got a picture of me wearing it back then, that's enough for me. So I donated all my old T-shirts.

Is is brand new or still has the tags on it?

Pick at date that you will wear it.
If you still have the receipt try and take it back.
If not, consider consigning them item at ThreadUp.com or a local consignment store near you.
One thing that I struggle with, is when I buy something for a special occasion like a conference or event, I will "save" it. Like it's special or something.  But then it never gets worn again and what's the point?  If you bought it for an event and you've gone to that event, go ahead and put it into your normal wardrobe cycle.

What condition is the item in?
If you struggle with Fashion or Your Body:
This process may be hard for some of us because we weren't born fashion diva's but we still want to look good.  Some of us are just not happy with our body type, body shape or body size and therefore buying clothes and wearing clothes is frustrating and emotional.  If you struggle in these areas, I highly encourage you to consider investing in Help Me, Jesus! I Have Nothing to Wear!: The Go-To Guide for All Shapes and Sizes
.  I met the author at an event last year and she gave me some great advice and I really enjoyed the book.  I'm more confident in my wardrobe buying now and find that I waste less money and time trying on and buying items/colors that aren't best for my skin and body shape.
Step 2: Drawers, Shoes and Accessories
Once you've tackled your closet, do the same process with the apparel in your drawers, your shoes and your accessories.
Undergarments- This is a great time to consider cleaning out your undergarments that are torn, have holes, are worn out or are missing wires.
Here are some cool organization tools that can help you minimize what you keep while keeping it all where you can see it and find it quickly!
1. Marcus Mayfield 2 sided Dress Style Hanging Organizer with Satin Hanger for Jewelry and Makeup Accessories (Black, Pink)
2. Shoe Slotz Space Saver, 6 piece set
  – These create more space on your shoe shelves so that instead of storing shoes side by side, you store them one on top of the other instantly doubling your shelve space.

Step 3: Special Occasion Items
Last but not least- face your special events clothing storage.
Go through your gowns, dresses and yep- even your wedding gown to decide what to keep and what to get rid of.
When you get to this point, feel free to read my post on "How to Sell Your Special Occasion Dresses" for inspiration on what do with the items you decide to purge.
If you plan to keep clothing or linens for long term storage consider looking into these Sar Acid-Free Storage Box Small

storage boxes from Amazon.  They come in several different sizes depending on what you are storing from dresses to quilts.
Step 4: Take Care of Business
Once you have everything divided into a keep, sell, donate or repair pile you are ready to give these items a new home.
Donate- Bag up donations and put them in your car immediately.  If you can leave the house right now and take them to the donation center- JUST GO!  The longer they linger the more likely you are to go digging back through!
Sell- If you plan to sell it, I would fold it neatly and place it in an empty storage bin or laundry basket so it doesn't get wrinkled.
Keep– If you plan to keep it, hang it back up in your closet putting your most worn and most favorite items right up front.
Repair- If you plan to repair it, consider sitting down when you are done with a good Netflix show, a thread and needle and fixing the problem then.  If it's a stain, go ahead a treat the stain, run it through the wash and see if it comes out! When you are ready to repair something check out my post on DIY Retailor Repair Secrets to see how retail stores get clothes back in shape after stains or picks.
Kids/Babies Clothing You are Storing or saving:
There are several common reason that people hoard I mean store, baby clothing: Future kids of your own, sentimental reasons and future grandkids.  Let's think about those reasons below:
Saving Clothes For Future Kids of Your Own:
One thing I hear lots of moms say is that they are keeping clothes around for the next kid.  If you plan on having kids back to back, I agree that this makes a lot of sense.  In my case I waited 4 years in-between mine and I only kept about 5 pajamas that I loved that my son wore. Now that I found out I'm having twin girls, those little garments have been donated!
It's way too easy and inexpensive for me to just go out to garage sales, thrift stores and consignment sales and replace all the items that I bought at garage sales, thrift stores and consignment sales the first time around.
In fact, I consign all the clothes I would have stored and save the money for the next kid or buy my current kid clothes in the size he can wear now.
Did you take pictures?
If you took pictures of your kids in outfits that you find sentimental, that's really all you need.  If you are set on keeping them, consider printing the picture and putting the picture along with the clothing into a Shadow Box.  Here's my tutorial on how I did this with my son's items.  At least that way you can see them all the time, remember them and they aren't hiding in an attic somewhere waiting until your 85 to go back through them!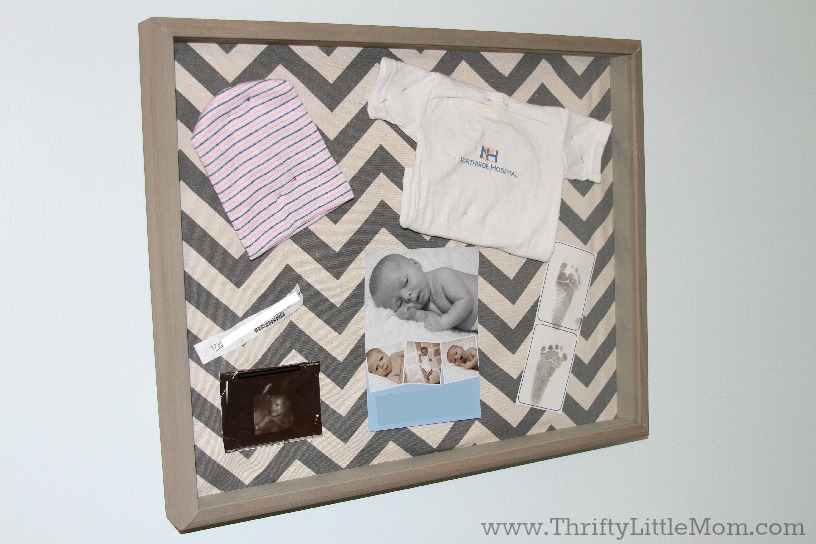 Children's Clothing- For The Empty Nesters or Parents of Teens
This is about climbing up in the attic or wherever and pulling down clothes your kids have long outgrown.  Here are the facts:
There is a super high probability that your kids are NOT going to want their baby or kids clothes for their own kids.
You'll be lucky if those clothes make it 20+ years in storage without breaking down, changing color or going totally and completely out of style.
If your kids are already grown, give them a call and ask if they WANT them.  If they say yes, get those clothes over to them ASAP.  If they say no, prepare to go through and select just a few items that mean something very special to you and donate the rest!!!
Take a Picture…It Lasts Longer-
In our case we took pictures of my son wearing some of the same clothes that my husband wore in his pictures when he was a baby or young child. Once we had the picture, we either donated them or gave them back to grandma.  Pictures take up little to no storage space, especially when they are digital!  Below you can see where we took a picture of my son wearing my husband's baby picture outfit on my husband's baby blanket.  This was the only thing we needed and it's a cute memory without the clutter to go along with it!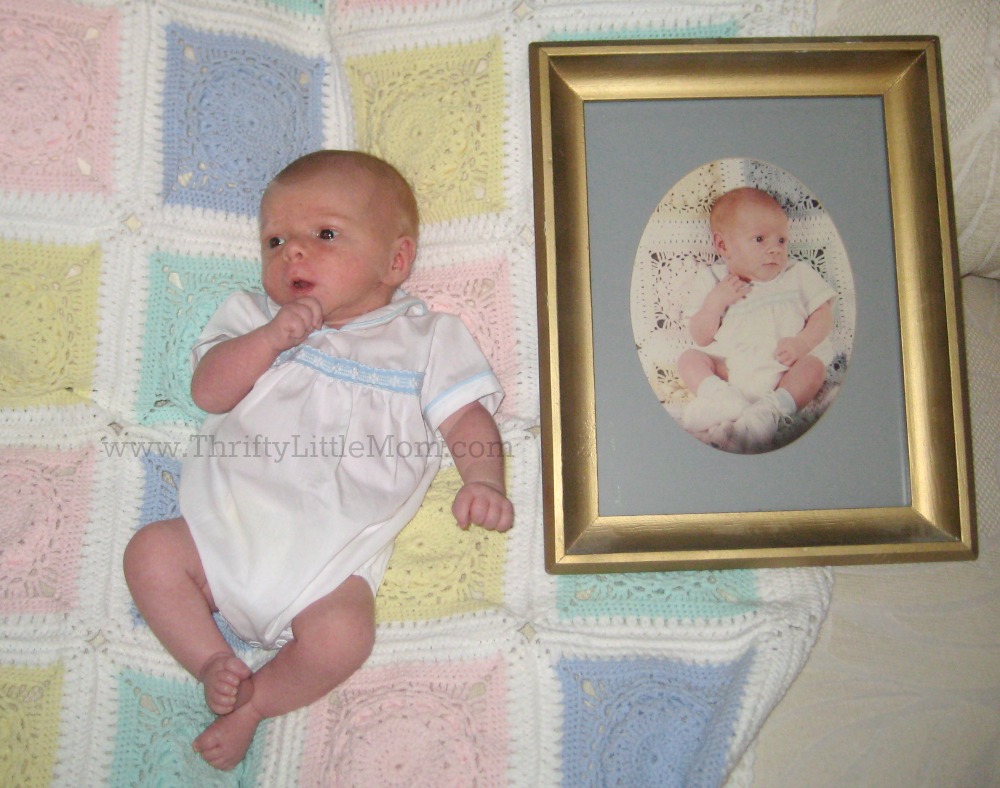 Those are the two major areas of holding onto the past.  If you or your kids have outgrown something, decide what you will do with during this purge.  Give it a home either in your closet or someone else's house.  Either way, you are letting go of the past and freeing up space all around you!  Hope this post helped you de-clutter a little of your past found in your clothing!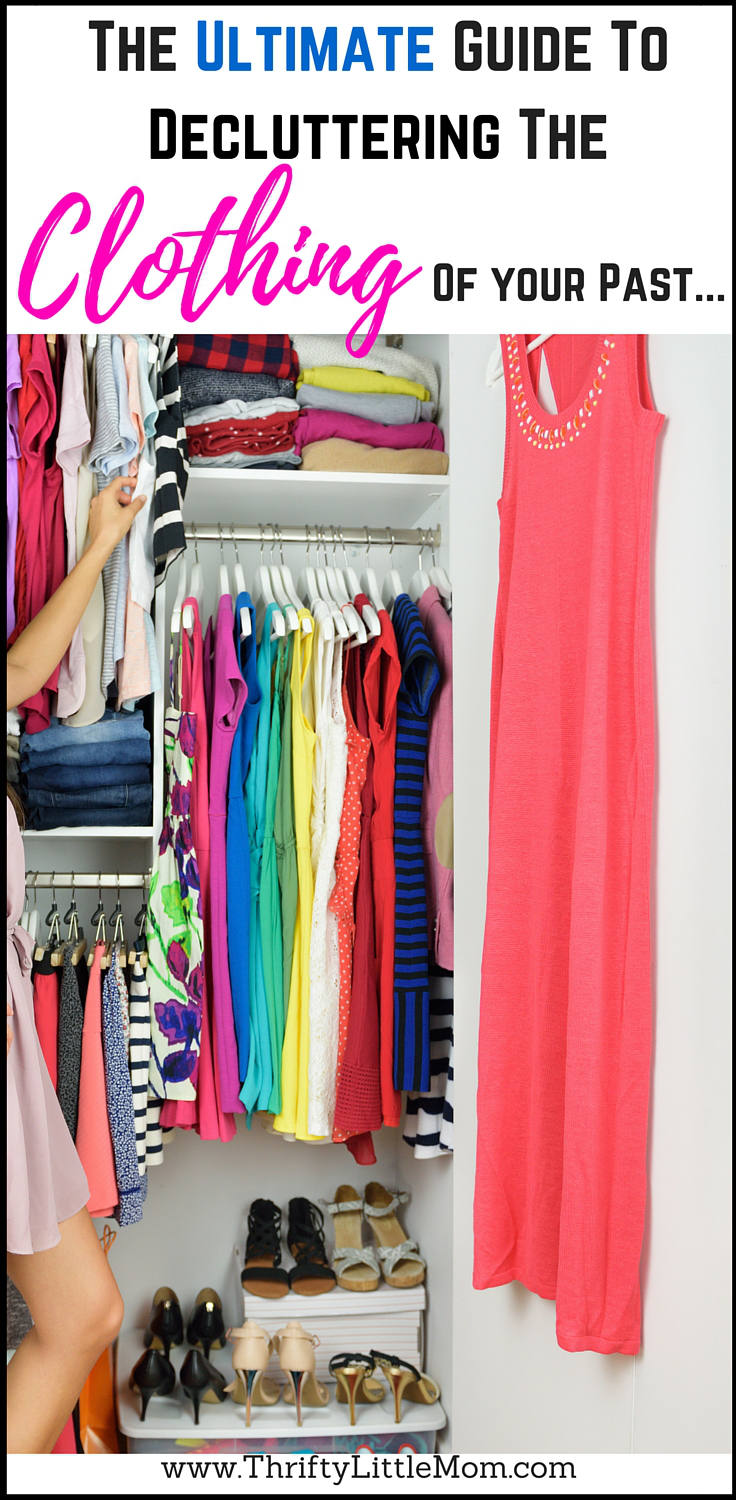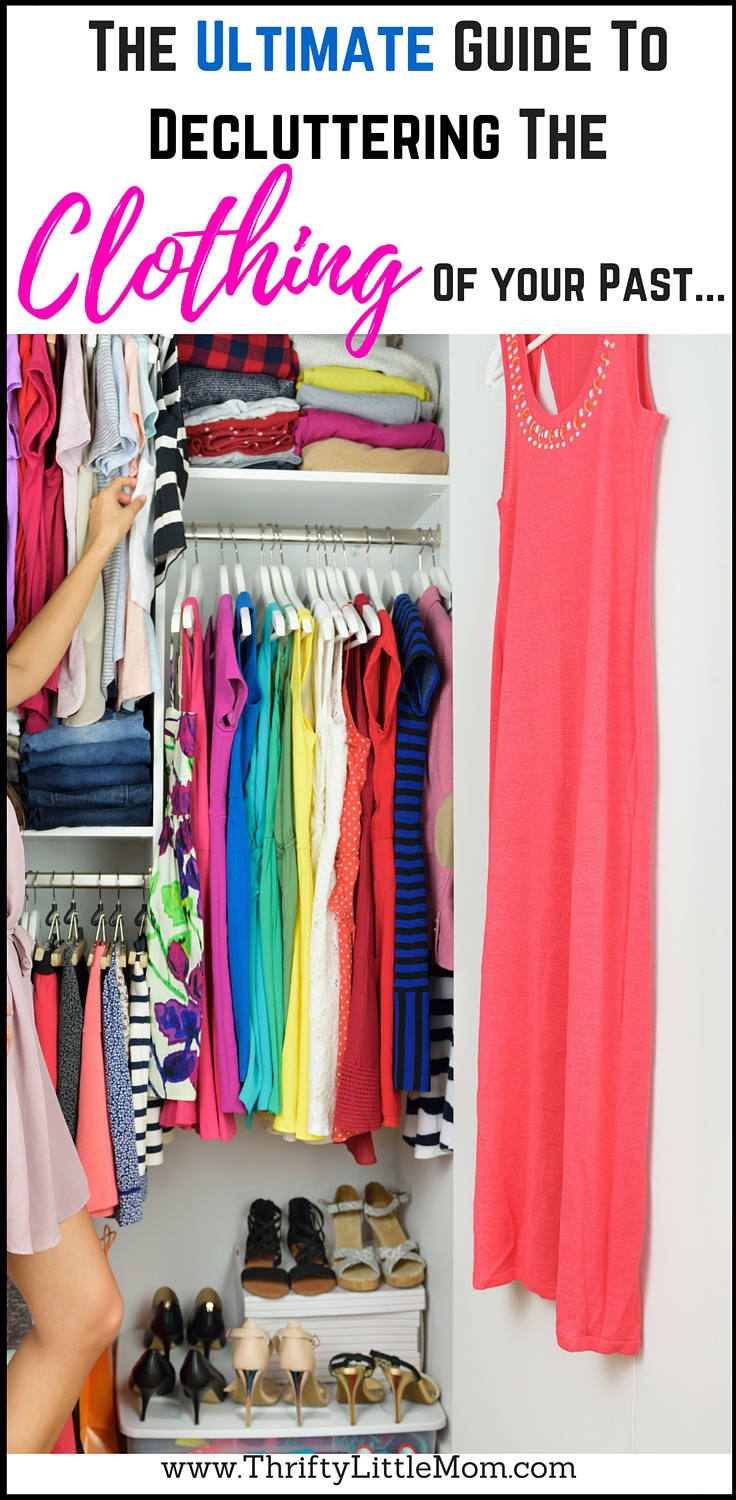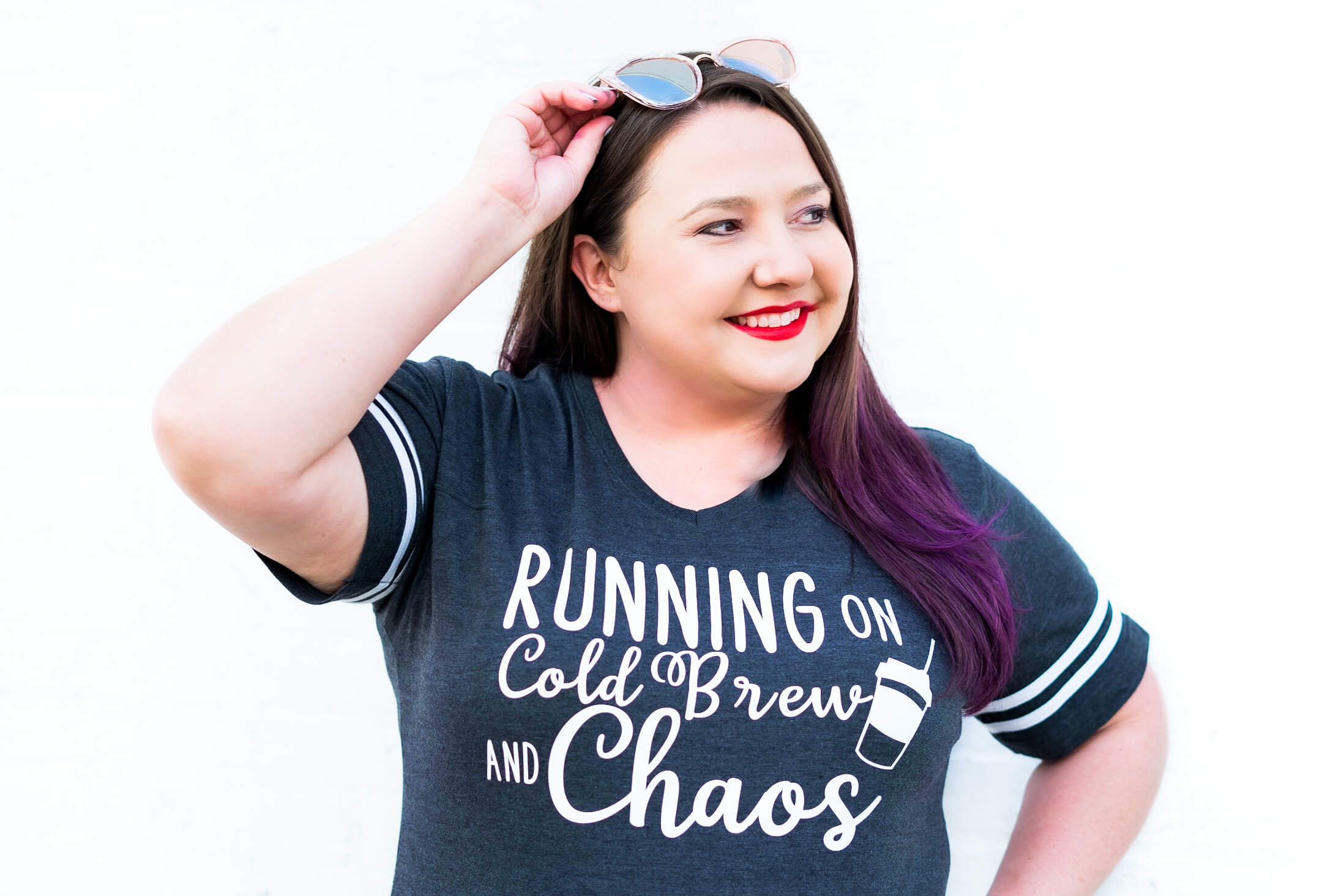 Kim Anderson is the organized chaos loving author behind the Thrifty Little Mom Blog.  She helps other people who thrive in organized chaos to stress less, remember more and feel in control of their time, money, and home. Kim is the author of: Live, Save, Spend, Repeat: The Life You Want with the Money You Have. She's been featured on Time.com, Money.com, Good Housekeeping, Women's Day, and more!