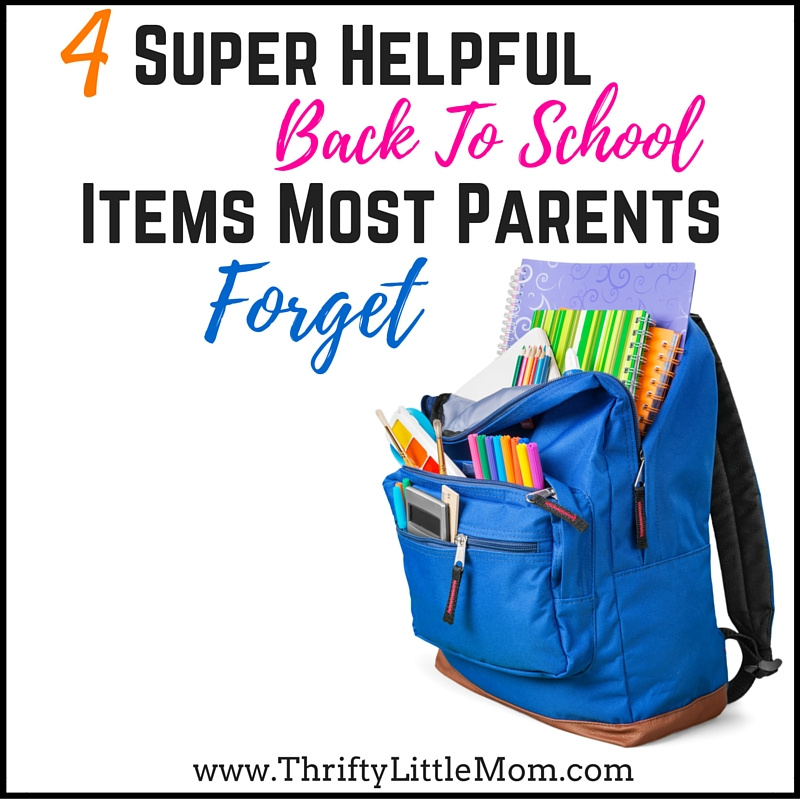 It's back to school time and I'm sure like many parents your walking the isles of your local mega mart store clutching your kids back to school supplies list trying to make sure you have everything they need for this year without forgetting anything.  There's special pencils, particular calculator models, correctly sized notebook lines and all kind of details to pay attention to.
But there are probably a few items not on that list that could make your school year go a little smoother and little more organized.  So here are what I consider to be 4 super helpful back to school supplies most parents forget about!
1.Name Labels that Stick
Once you have all those items (that 400 other kids from the same school purchased) how do you help your kid keep track of them?  Maybe you write their name on everything with a permanent marker or some kind of special tape?  This year consider snagging Mabel's Labels Back to School Combos.  They have name stickers that will stay inside shoes, clothing and even on bags.  Plus they have name stickers for pencils and school supplies as well as food allergy labels!
Mabel's Labels offers a 100% satisfaction guarantee, labels are dishwasher safe, microwave safe, and waterproof. They stick for the long haul!
2. Eyeglasses For Under $20
If you've got a kid who wears eyeglasses, it's probably one of the most stress inducing school supplies they have.  Anytime they drop them, take them off, loose them or break them it's a BIG deal because they cost so much money!  That's why as a Thrifty Little Mom I simply order my families glasses from Zenni Optical.  I order multiple pairs at a time for far less the cost of one at the eye-doctor and then I don't have to worry or get mad when accidents happen!
You simply snag the prescription from your eye doctor, fill the info from the prescription in the order form and within a few weeks you're kid has stylish and sturdy glasses that cost you less than $20.  No insurance needed- although check to see if your insurance company will reimburse you the cost of the glasses with your Zenni receipt. Try shopping up front low prices on prescription glasses at ZenniOptical.com. Frames start at just $6.95.
My husband orders all his prescription eyeglasses glasses from here and loves them!  I also order my hard to find +0.75 glasses from Zenni for around $12.95 each.
3. Is it time for a new toothbrush?
Back to school can be a good time to throw out your kids old toothbrush and replace it with a new one!  After talking with the dentist and using one myself, I upgraded my son to a Philips Sonicare for Kids Connected Sonic Electric Rechargeable Toothbrush.  My son is 4 and uses his each night.  I remember my dentist suggesting that I get one of these when I was younger and now, years later I wished I had listened.
They prevented me in my adult life from having to have an expensive tooth scaling procedure and now my whole family uses them!
In fact if your kid isn't flossing, now is the perfect time to get them in the habit!  They make these fun shaped flossing sticks for kids too!
4. Haircuts
If you need a quick back to school haircut don't forget to check out sites like Groupon to save on your family's haircut needs at local hair shops for the new school year.  (Go ahead and get your hair done too if you find a great deal!)  Some haircut chain stores in my area run specials based on when you come in. So they give you a discount during certain "slow" hours of their day.  Also be sure to sign up for emails from your favorite local hair places to get coupons, deals and updates that might just save you some cash!