This is a sponsored conversation written by me on behalf of Save-A-Lot. The opinions and text are all mine.

Do you have that one dessert in your life that brings childhood memories souring back into your consciousness the moment you take a bite and your taste buds light up? I do. And lucky for me it's one of the fastest, easiest, thriftiest, "better than the box", impossible to mess up- recipes. My grandma used to make this during the holiday season and my mother continued the same tradition!
As moms who are already overwhelmed with all the to-dos for the holidays, it's down right hard to come up with a recipe that will impress your family and yet not have to spend two hours in the kitchen. But as always, I want to show you how to put together a super FAST dessert (prepped in under 5 minutes) that everyone at your holiday gathering will love!
I'm telling you, if you make this ridiculously easy holiday peach cobbler cake your baking dish will be empty within an hour and you might catch your hubby licking the pan when no one is looking! And secretly, you'll be smiling knowing you saved money and time on this dessert!
For years I've made this dessert with cherries and blueberries but since I'm a Georgia girl I thought I'd give peaches a go and this may be my new favorite way to make my grandma's family famous dessert!
One of my favorite stores is Save-A-Lot so I headed there to grab all my ingredients because I know I can get my ingredients at the best prices in a store that doesn't overwhelm me! If you want to grab your ingredients there too you can find your closest Save-A-Lot location using this store finder tool!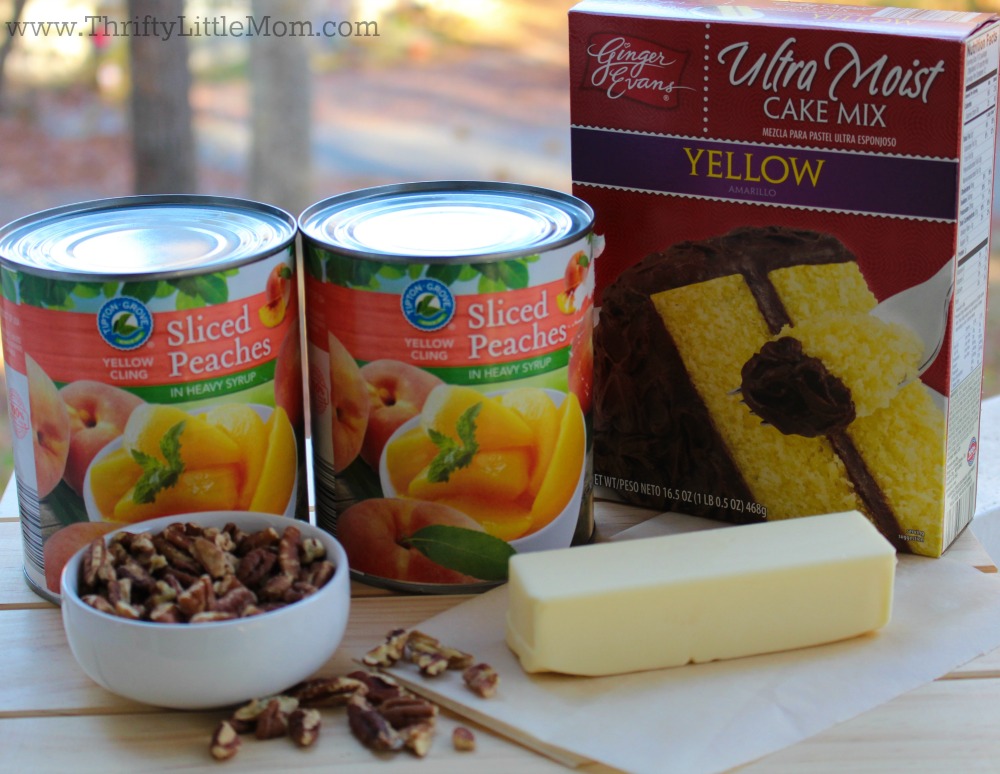 Here's what you need:
1- 9 x 13 baking dish
1 Box of Yellow Cake Mix
2 Large Cans of Sliced Peaches
1 Cup of Water
1 Stick of Salted Butter
1 Cup of Water
1 Bag of Pecans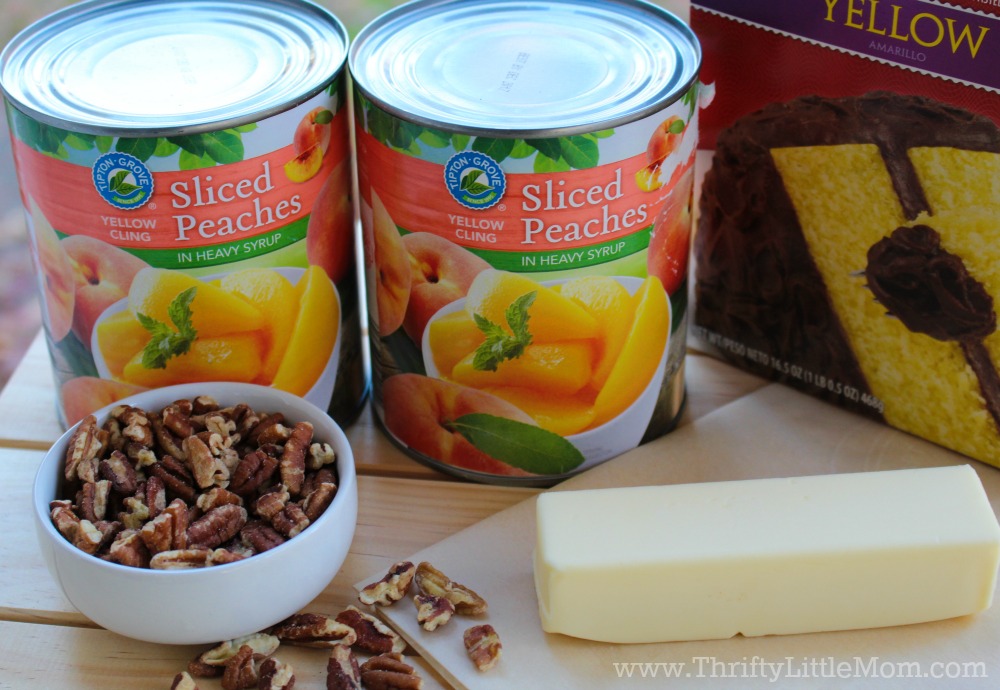 Step 1: Preheat your oven to 350 degrees. Spray your 9 x 13 pan with non-stick spray.
Step 2: Pour your peaches into your 9 x 13 dish making a layer of peaches covering the bottom of your pan.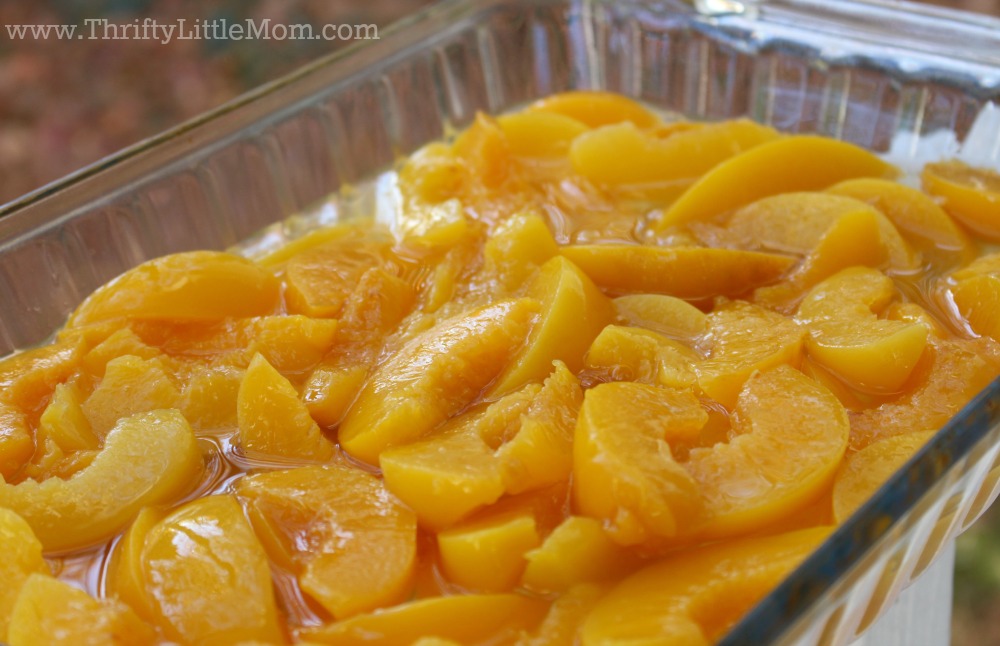 Step 3: Sprinkle the entire bag of RAW powder yellow cake mix over the top of the peach layer. Evenly distribute the cake mix so it completely covers the peaches. (This layer is meant to be loose so avoid the temptation to pat the cake powder down. The butter won't absorb properly if it's packed down.)
Step 4: Completely melt 1 stick of butter in 1 cup of water in your microwave in a microwave safe bowl. When you take it out of the microwave be sure you mix the water and butter together.
Step 5: Sprinkle the pecans over your RAW powder cake mix layer. Then carefully pour the water/butter mixture over the entire dish. Go slow. Pour a little bit of mix over each part. If you see spots of raw cake mix powder peaking out from the liquid layer, use a spoon and spoon grab some of the butter/water mixer from other parts of the cake that have pools of extra and cover the spots of raw cake mix powder with your extra.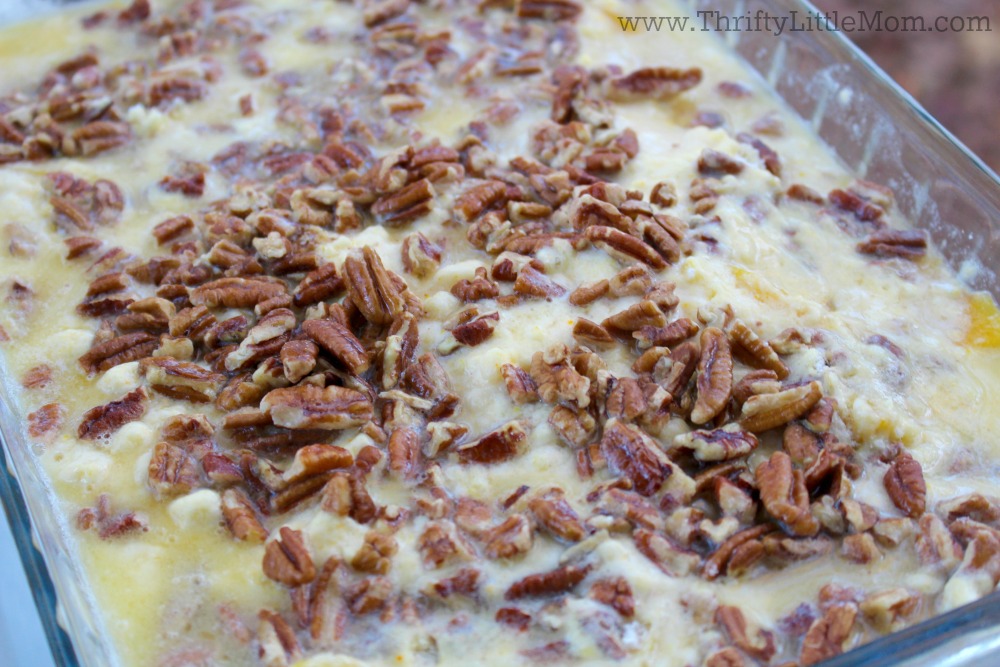 Step 6: Put this pan into the oven for 30 minutes or until the cake is golden on top. Step 7: Let your peach cobbler cake cool then serve it with a little scoop of vanilla ice cream or whip cream!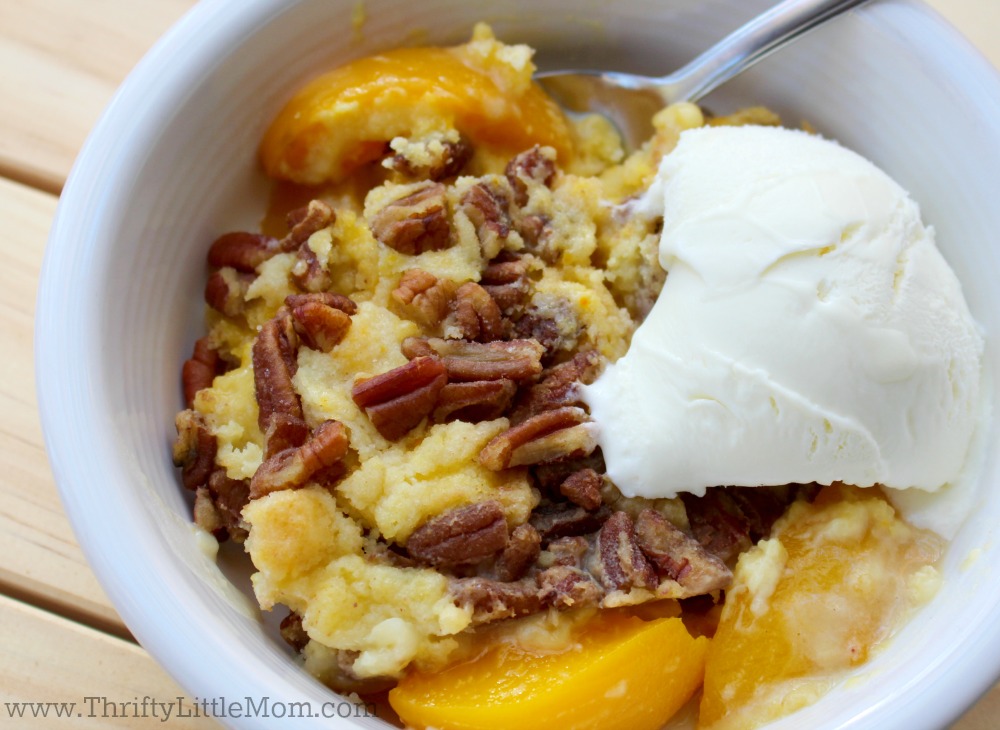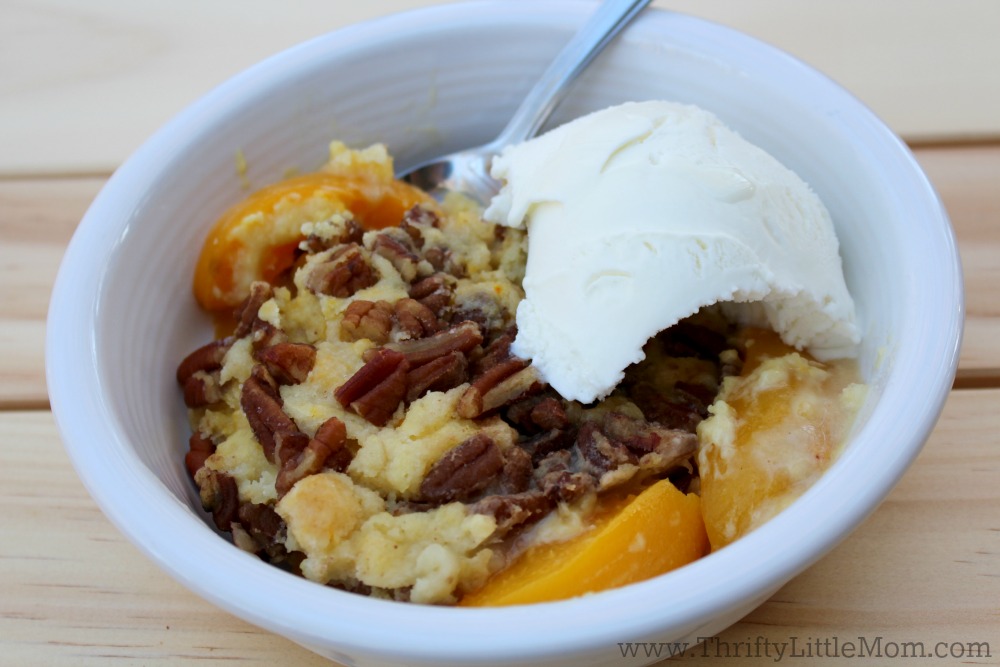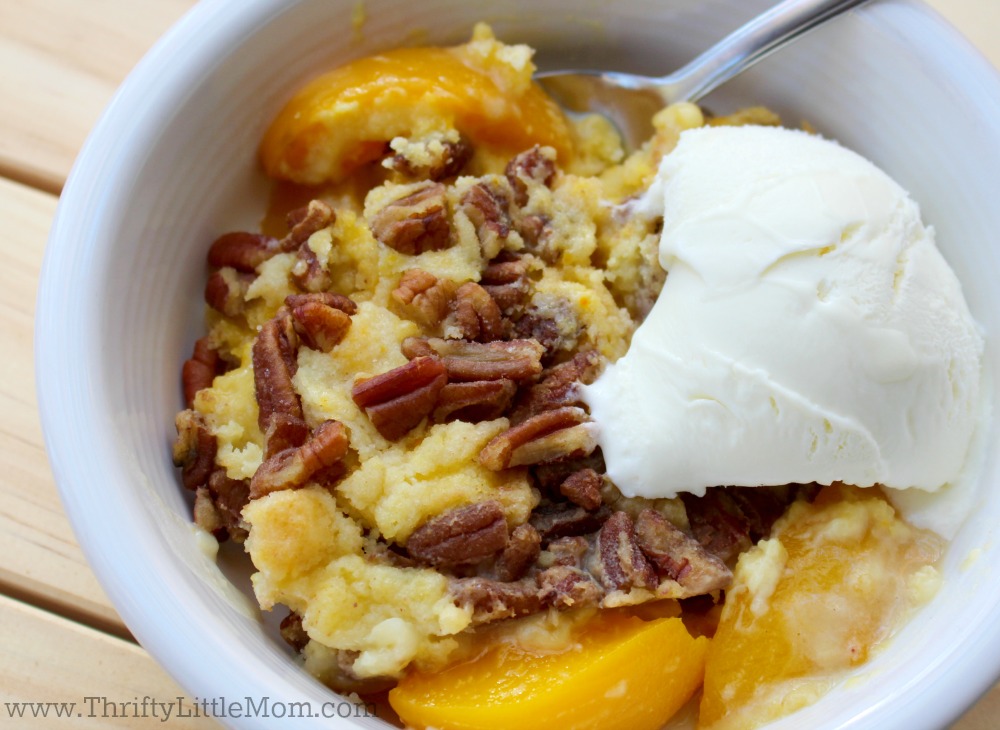 Before you head out to snag your ingredients and holiday recipe needs from Save-A-Lot be sure you join the Save-A-Lot Smart Shopper Club! As part of the club you'll get the latest specials delivered to your email as well as thrifty recipes, cooking tips and entertaining ideas!
Comments submitted may be displayed on other websites owned by the sponsoring brand.
This is a sponsored conversation written by me on behalf of Save-A-Lot. The opinions and text are all mine.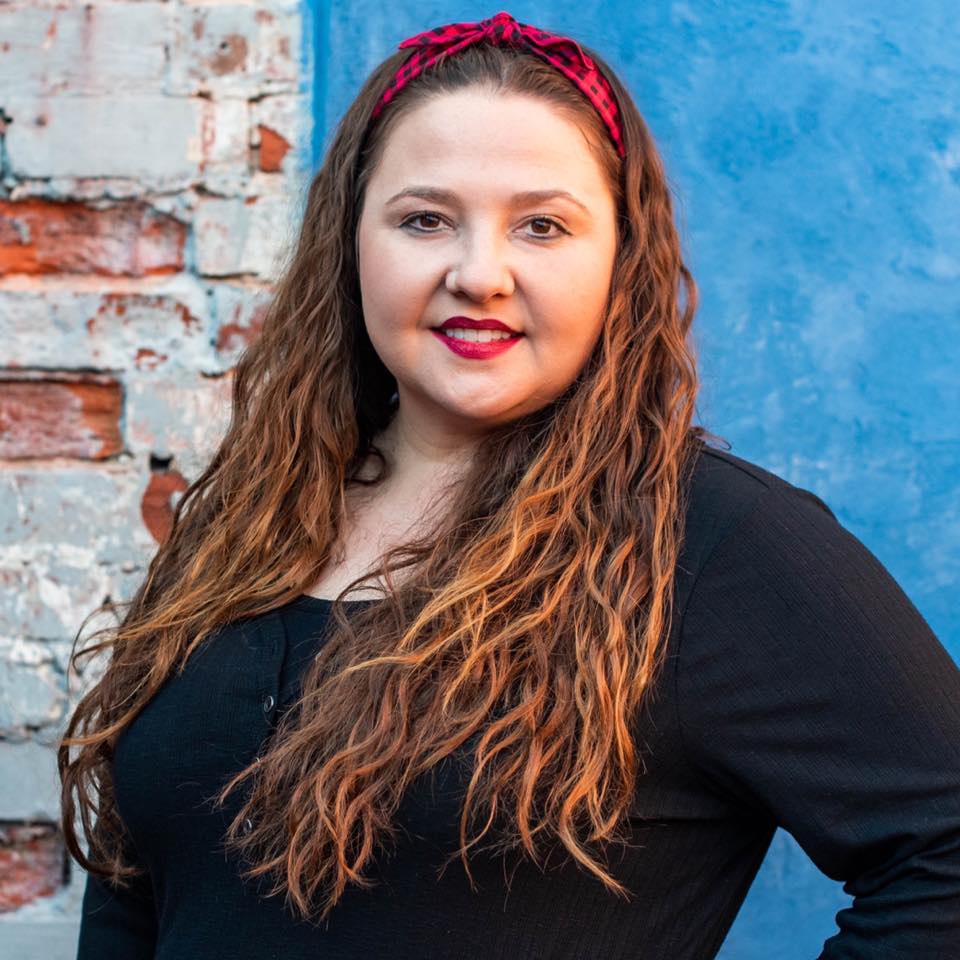 Kim's is the party planning, thrifty life-loving, intentional living catalyst behind the Thrifty Little Mom Blog. Kim was a pro event planner for over 7 years before she became a full-time blogger. Kim is the author of: Live, Save, Spend, Repeat: The Life You Want with the Money You Have. She's been featured on Time.com, Money.com, Good Housekeeping, Women's Day, and more! Kim aims to inspire you to create, celebrate, and live life intentionally!