The Lazy Baker's Guide to Classy Naked Cakes
This post contains affiliate links. As an Amazon Associate, I earn from qualifying purchases. I also earn from qualifying purchases made with other brands and programs. See my
privacy policy.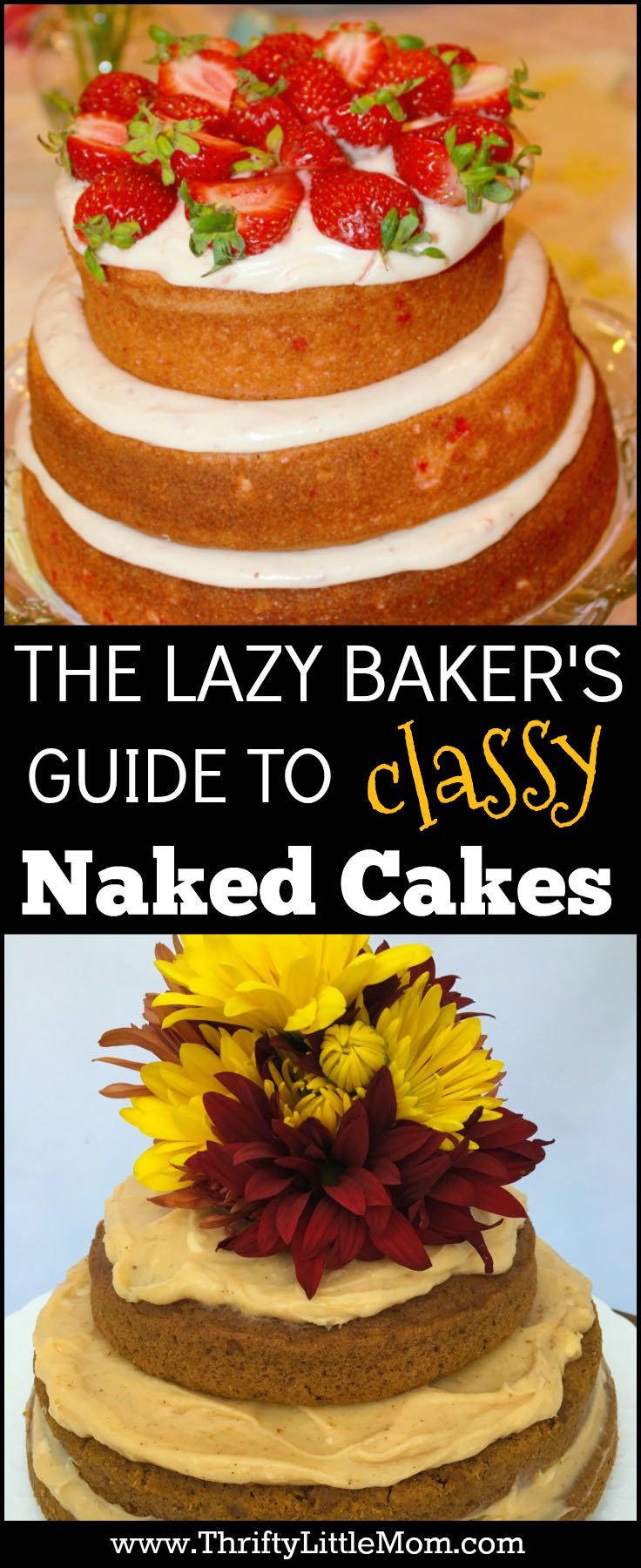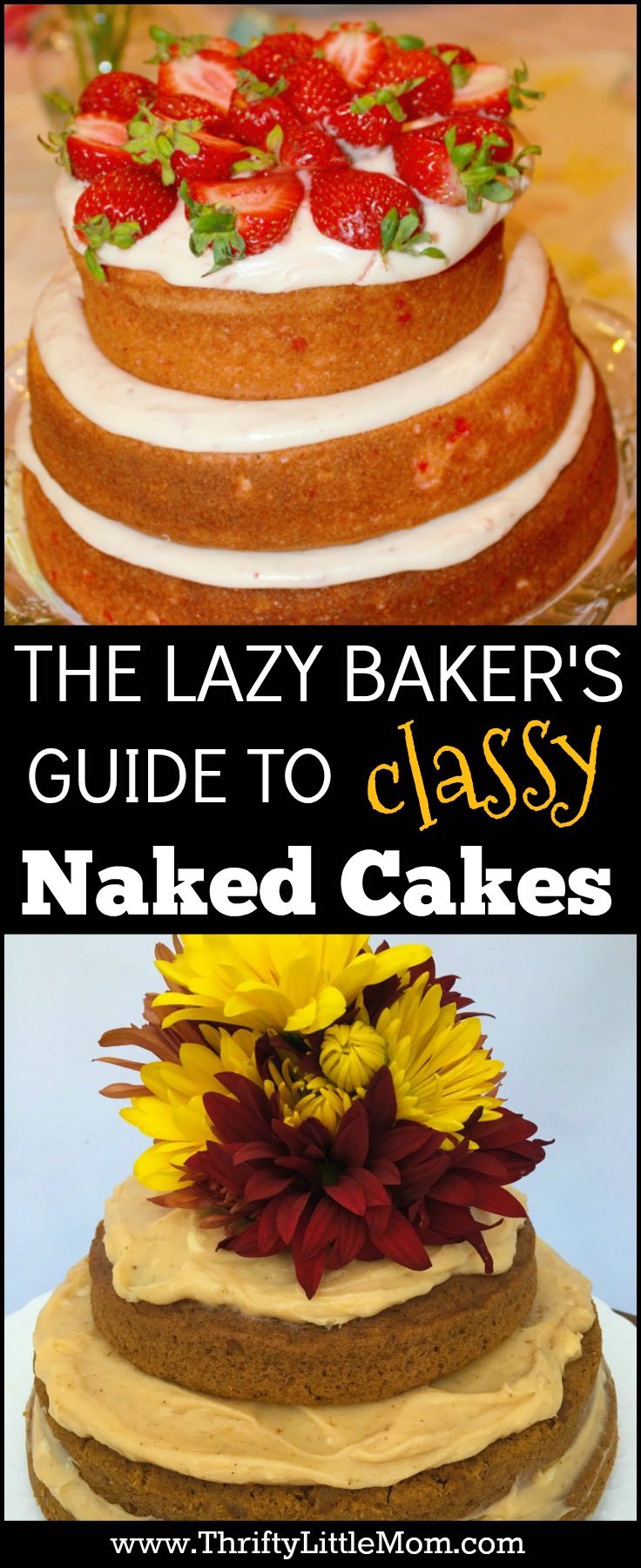 Here's the truth.  I'm writing the ultimate guide to classy naked cakes for lazy bakers because I love to bake and I love to eat what I bake.  But when this chronically disorganized mama bakes it looks like a freakin' bomb went off in my kitchen.   And though I like "made from scratch" desserts in my imaginations perfect world, doing it in real life is hard for me because there are too many ingredients to keep track of and it takes too much time and focus.  Since I'm highly distracted with the 3 kids in my house (4 if you count my hubby), baking needs to have minimal ingredients and take less than 30 minutes or I get seriously overwhelmed and just eat all the icing.  Plus I hate washing dishes.  For all these reasons, I'm known as the queen of 15 minute recipes.
So when my best friend Rhonda baked a gorgeous naked cake for my baby shower last summer and I found out it was made with a box mix, I got SUPER EXCITED!  Because what I know is that you want to be a person who makes some tasty and classy looking desserts without being in the kitchen for hours and without having to take a Wilton's Cake Decorating class at your local craft store to make it happen.  So here's how you can turn almost any store bought cake mix into a tasty and easy work of art!
It's simply layers of cake with frosting slapped on top.  No fancy tools or technology necessary!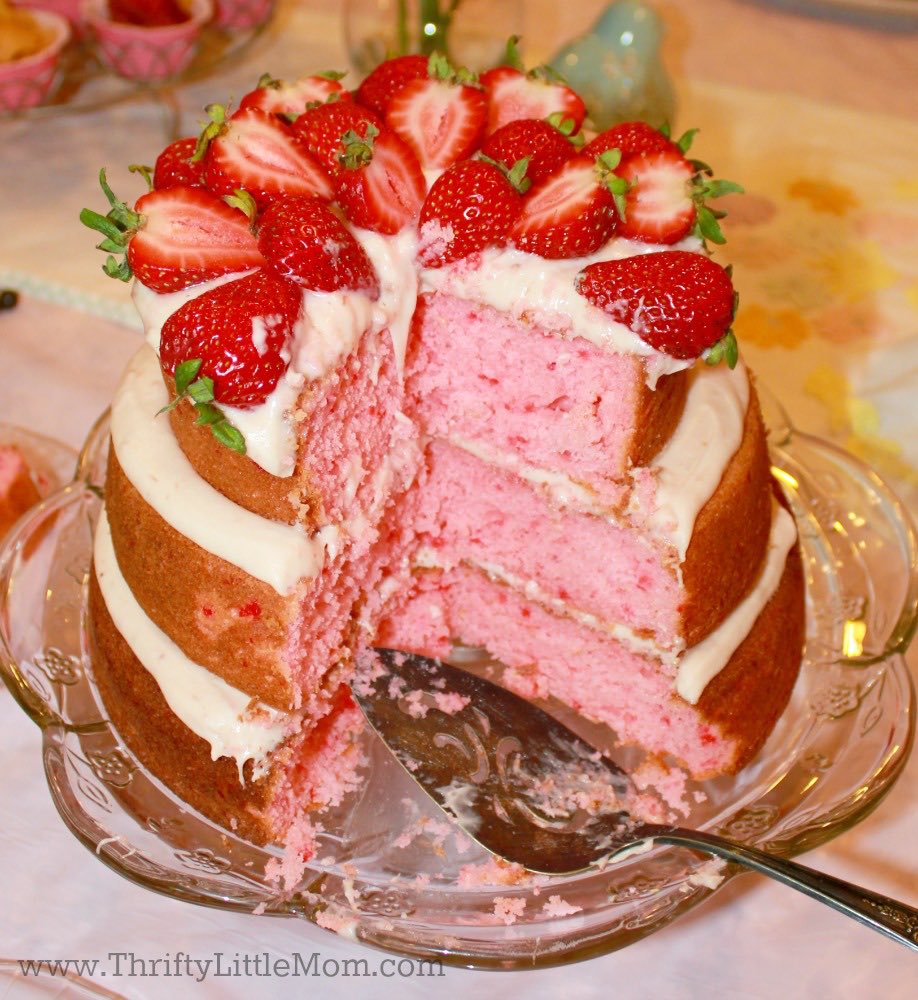 Step 1: Pick Your Boxed Cake & Pans
Whatever kind of cake you like, you can have and you can follow the directions on the back of the box to make each cake layer.  If you don't have fancy pans that get progressively smaller that's cool….  You can use regular pans and leave them all the same size or cut them down later with a bread knife. A great place to score some super thrifty round baking pans is your local thrift store!!!
Pan set that gets progressively smaller 
 Same size cake pans that can be cut down
Classy Box Cake Mix Addition Tip:
If you look at some of the classy easy recipes I include at the bottom of this post, you'll find that Rhonda added a little flare with some simple additions to the cake mix.  For example she will add pumpkin puree to a boxed spice cake mix or she will add strawberry preserves to a strawberry box cake mix.  You can think creatively like this if you want to add a little pizazz to whatever cake you choose.
Other examples: 
Chocolate chips to chocolate cake mix
Blueberries in a lemon cake mix
Step 2: Pick Your Icing Flavor
Here are my icing tips for these cakes:
Easy- If you want the easiest possible icing- just buy the containers on the same aisle as your boxed cake mix.  It's inexpensive and already made cutting down more mess, stress and cost.
Pro Made- If you like bakery icing flavor and have no interest in making it yourself, just go up to the bakery lady at your local grocery store or bakery and ask her to sell you some icing.  She will.  It's like $5 or less usually.  She'll even color it if you want.
DIY- If you want to make your very own buttercream icing my bestie Kalyn Comings has an awesome Easy Buttercream Frosting recipe on The Creative Savings Blog you can try out.
Copy Cat- Rhonda also provided her own icing recipes in the 2 cake recipes at the bottom of this post!
Step 3: Bake The Cake & Let It Cool
Follow the instructions on the box and bake your cake in the round pans.  Be patient and let it cool before you add icing or icing will melt on you.  Not so pretty….  Because I'm not patient and will most likely get distracted and forget that I was even baking in the first place I pop mine in the freezer to speed things up.  But it will probably taste better if you don't do that…
Cit it down to the size you need it to be unless you plan to keep each layer the same size!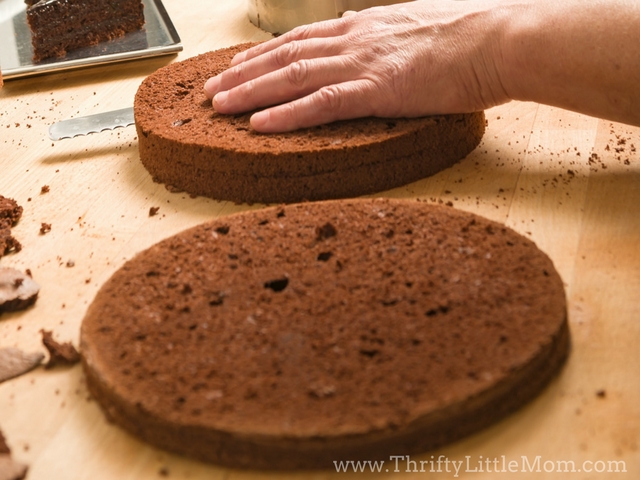 Step 4: Add Icing
The nice thing about these cakes is that you don't need anything more than a spoon or butter knife to add the icing.  Just put icing between each layer that you have.  Cover the entire top of each layer and it's okay if the icing is wider than the cake above it! If you get a little on the sides of the cakes it's okay, just gently scrape it off.  It's not supposed to be smooth or perfect.  It's beauty is in the imperfection!
Step 5: Add some kind of pretty topper.
With the strawberry cake, Rhonda topped it with sliced strawberries.  Here's a list of food toppers you could try on your cake:
Chocolate Chips Sprinkled
Chocolate Shavings
Fruit: Berries are pretty!
Coconut shreds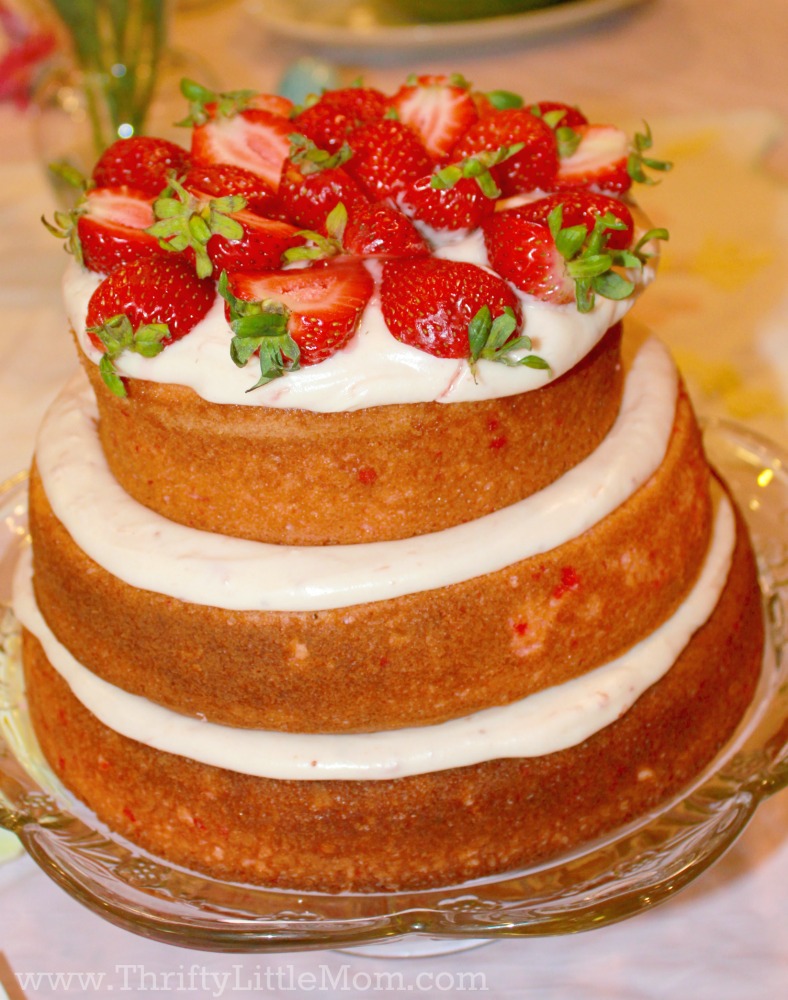 How to Top Cakes With Real or Fake Flowers:
For a stunning finish, top the cake with a beautiful bouquet of flowers! The simplest way to do this is to place a small vase directly inside the cake centered right on top by inverting the vase and twisting it to remove just enough cake to place the vase in so it is secure. Next gather your bouquet stems tightly together, trim accordingly to fit the vase, secure them with a rubber band and place inside the vase.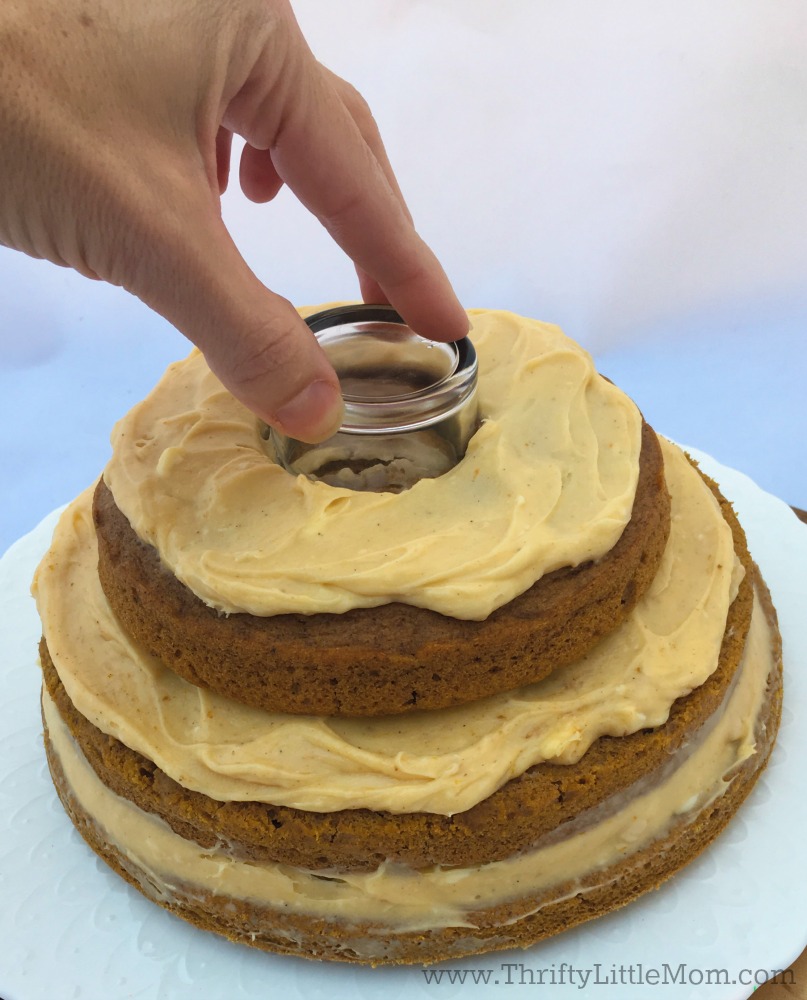 If you are planning to serve the cake right away and don't want to bother with a vase, simply skip that step. Gather your bouquet stems tightly together, trim, secure them with a rubber band, wrap aluminum foil around the stems and place the foil covered stems directly into the center on top of the cake.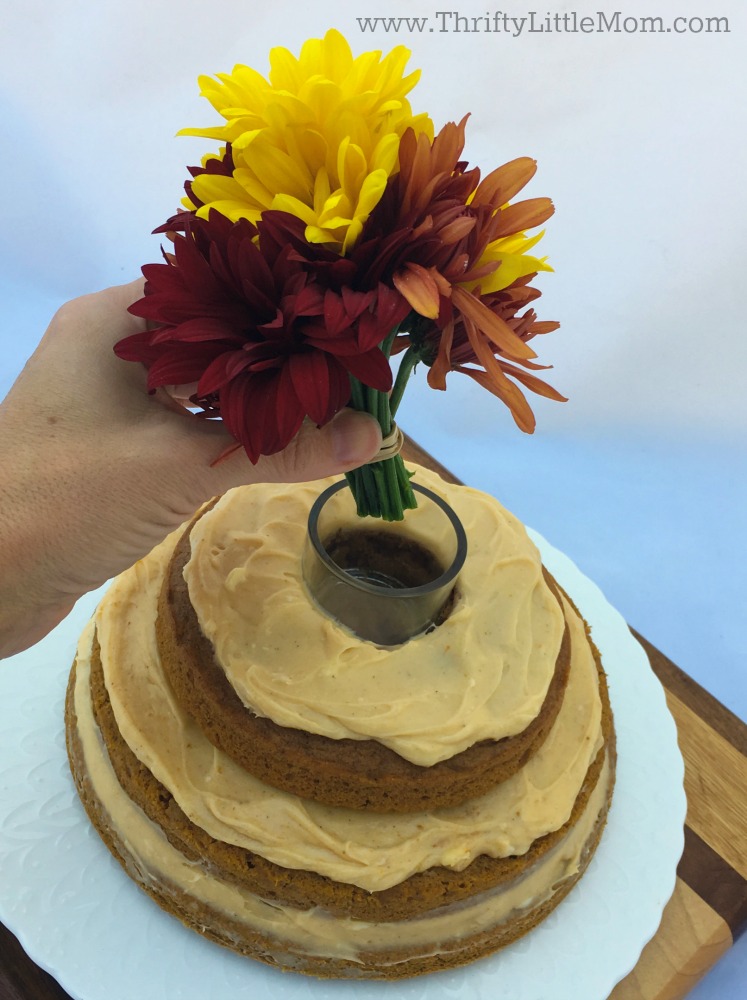 Pumpkin Spice Naked Cake Recipe

Ingredients for Pumpkin Spice Naked Cake:
1-box of Spice Cake Mix
15 ounce can of 100% Pure Pumpkin
2 tablespoons Pumpkin Pie Spice
1 cup Water
Preheat oven to 350 degrees F (175 degrees C). Grease your cake pans. Combine the pumpkin and 2 Tbsps. of Pumpkin Pie seasonings together. Remove 1 tablespoon of the seasoned pumpkin puree and set aside to be used later in the frosting. Add the water and dry cake mix alternately to the seasoned pumpkin puree in a mixing bowl. Beat until just mixed. Pour batter equally into greased cake pans and bake for 25 minutes.  You can make all the layers the same size or make each layer a little smaller by using smaller pans or simply cutting each layer smaller with a bread knife. Remove from heat and allow to cool.
'Naked' cakes are all the trend right now and you will love making one because it's such a forgiving and easy way to frost. Simply put you keep the cake 'naked' on the sides and only frost between the layers.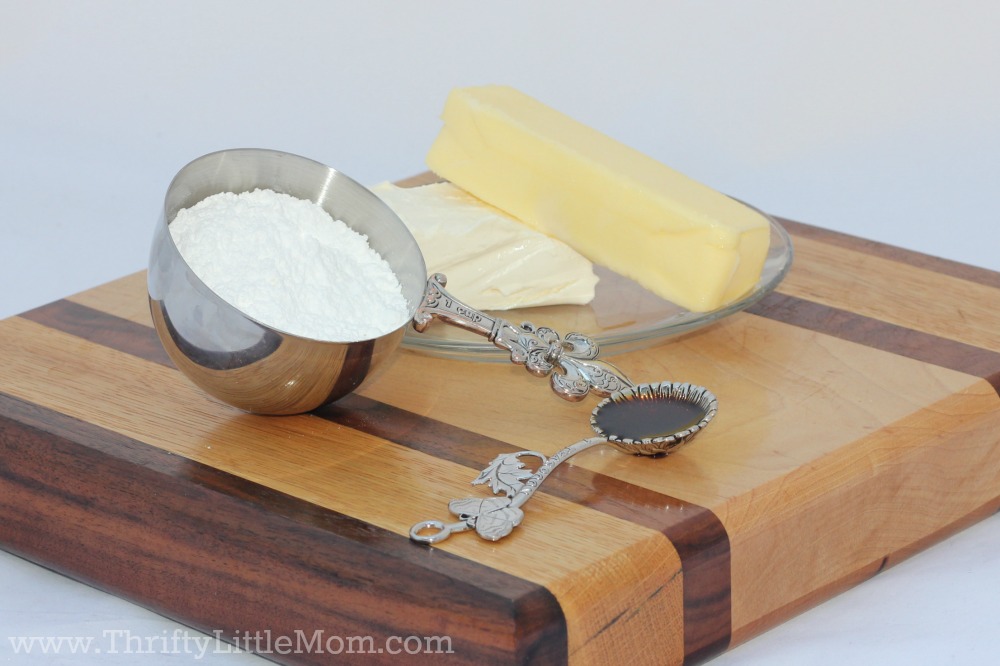 Ingredients for Frosting:
1-4 ounce brick of Cream Cheese
1-4 ounce stick of butter
2 cups Powdered Sugar
1 teaspoon Vanilla
1 tablespoon Seasoned Pumpkin Puree (reserved from the cake mix above)
Allow the cream cheese and butter to come to room temperature then simply mix all of the ingredients listed above together in a bowl. Lastly, spread the frosting between the layers and on top.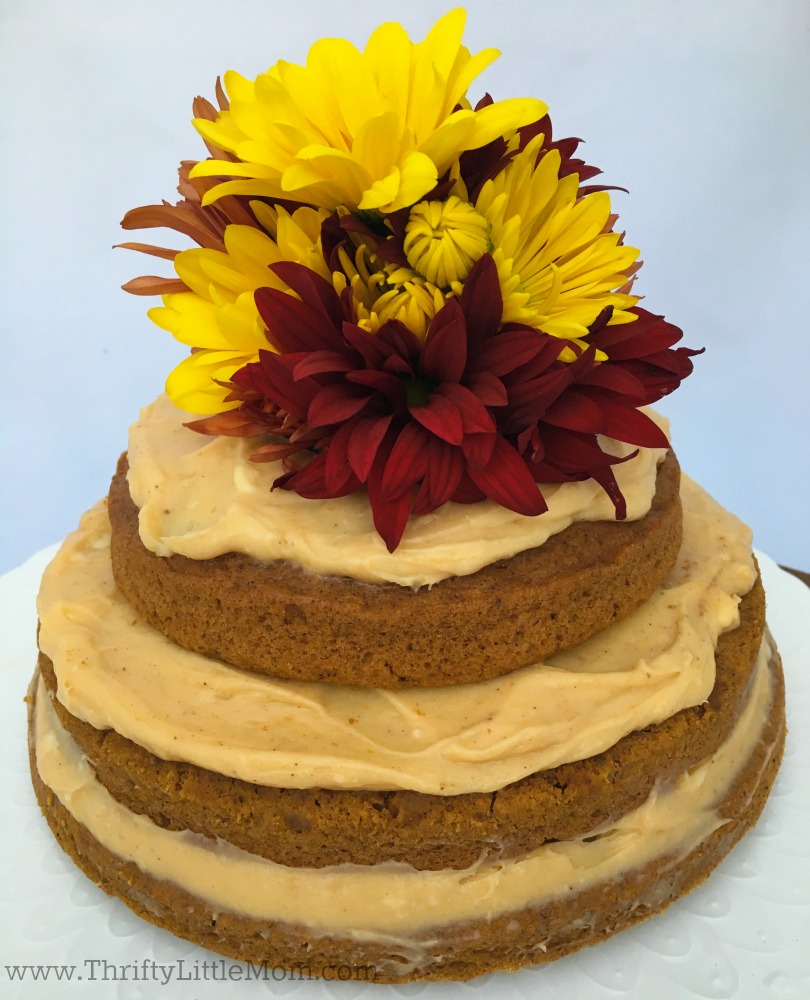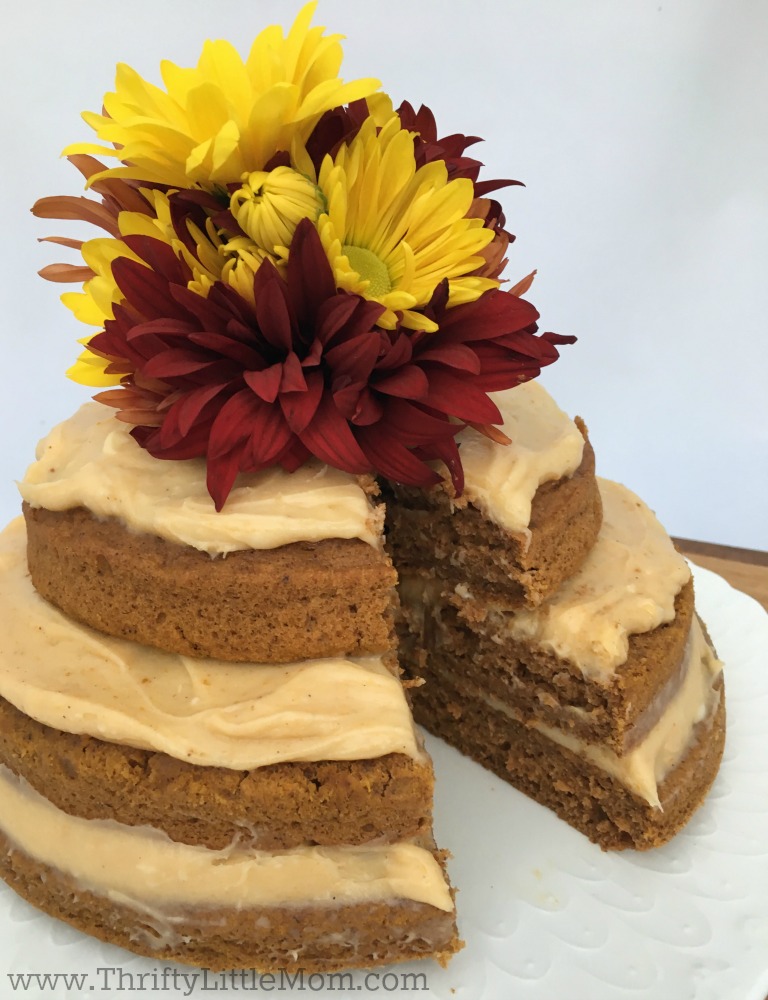 Sinfully Sweet Strawberry Naked Cake Recipe
Unlike the 4 ingredient spice cake mix, the Strawberry cake follows the instructions while adding a few extra ingredients:
Ingredients for Cake:
1-box mix of strawberry cake
4 eggs
1/2 cup coconut oil
1/2 cup strawberry preserves
1/4 water
Ingredients for Frosting:
1-4 ounce brick of Cream Cheese
1-4 ounce stick of butter
2 cups Powdered Sugar
1 teaspoon Vanilla
1 tablespoon Strawberry Preserves
Allow the cream cheese and butter to come to room temperature then simply mix all of the ingredients listed above together in a bowl. Lastly, spread the frosting between the layers and on top.
When you make this cake at home, share your pictures on the Thrifty Little Mom Facebook group! We love to see how creative our readers are too!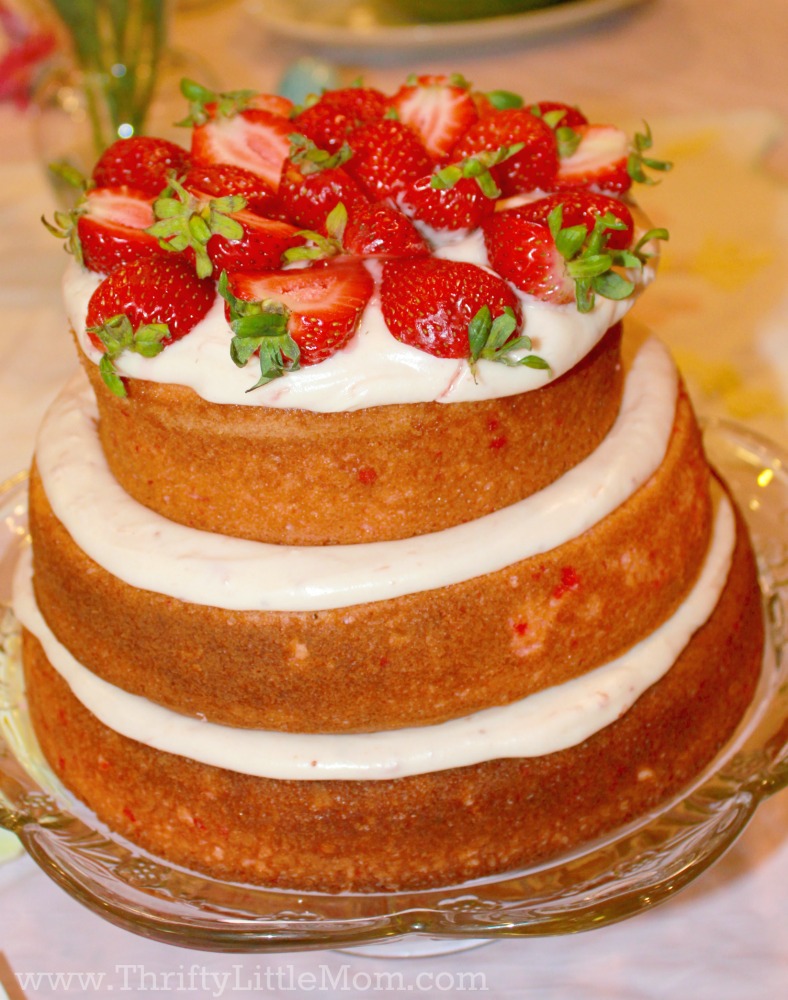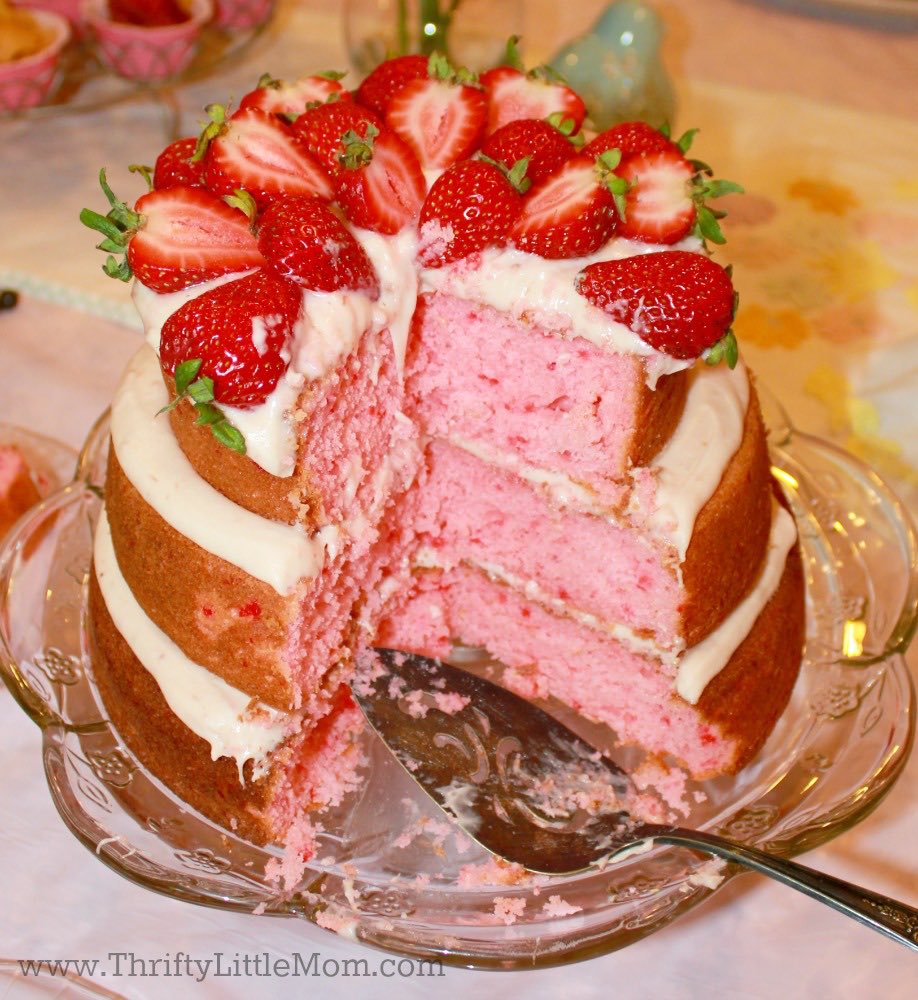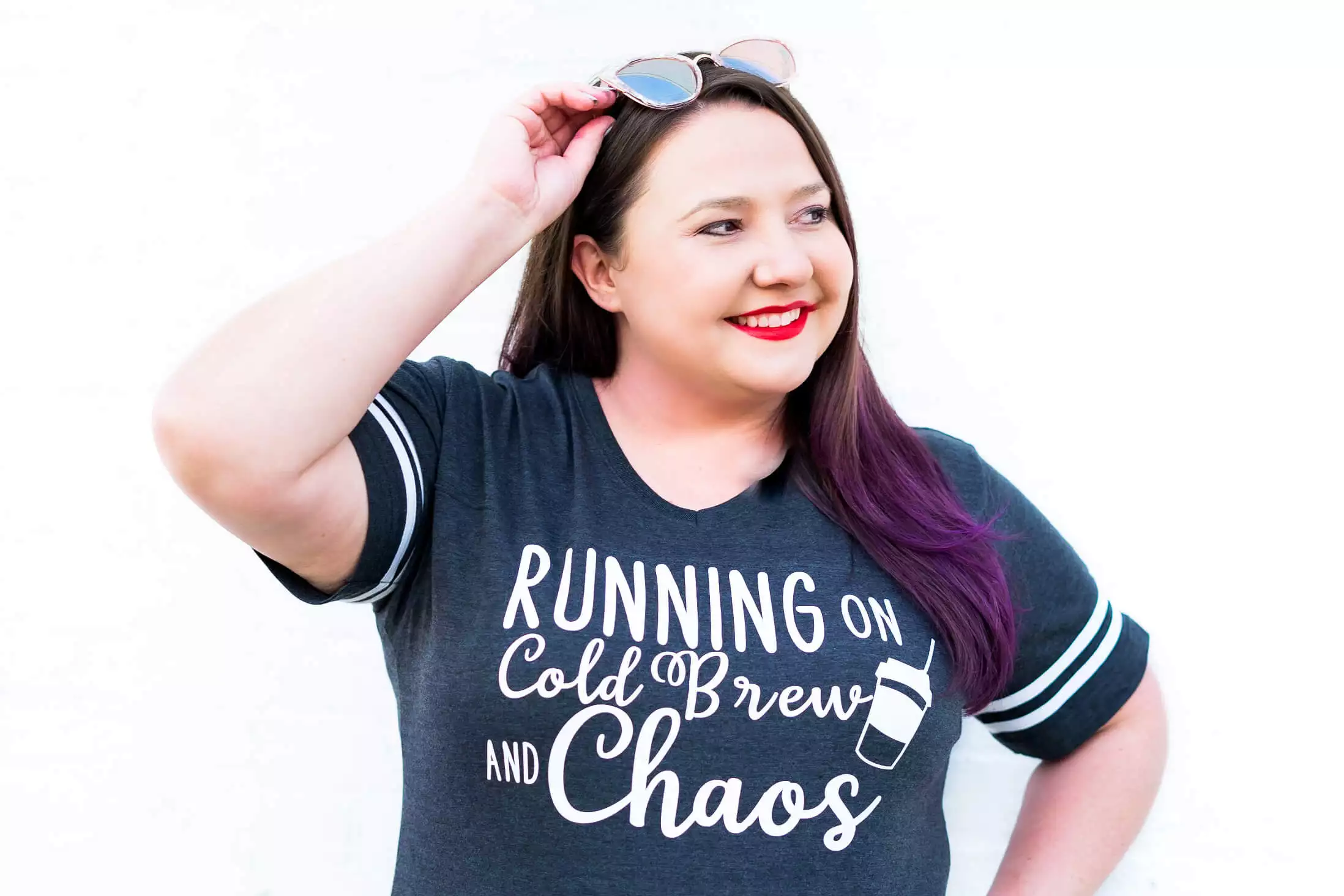 Kim Anderson is the organized chaos loving author behind the Thrifty Little Mom Blog.  She helps other people who thrive in organized chaos to stress less, remember more and feel in control of their time, money, and home. Kim is the author of: Live, Save, Spend, Repeat: The Life You Want with the Money You Have. She's been featured on Time.com, Money.com, Good Housekeeping, Women's Day, and more!