Instant Pot Dried Bean White Chicken Chili
This post contains affiliate links. As an Amazon Associate, I earn from qualifying purchases. I also earn from qualifying purchases made with other brands and programs. See my
privacy policy.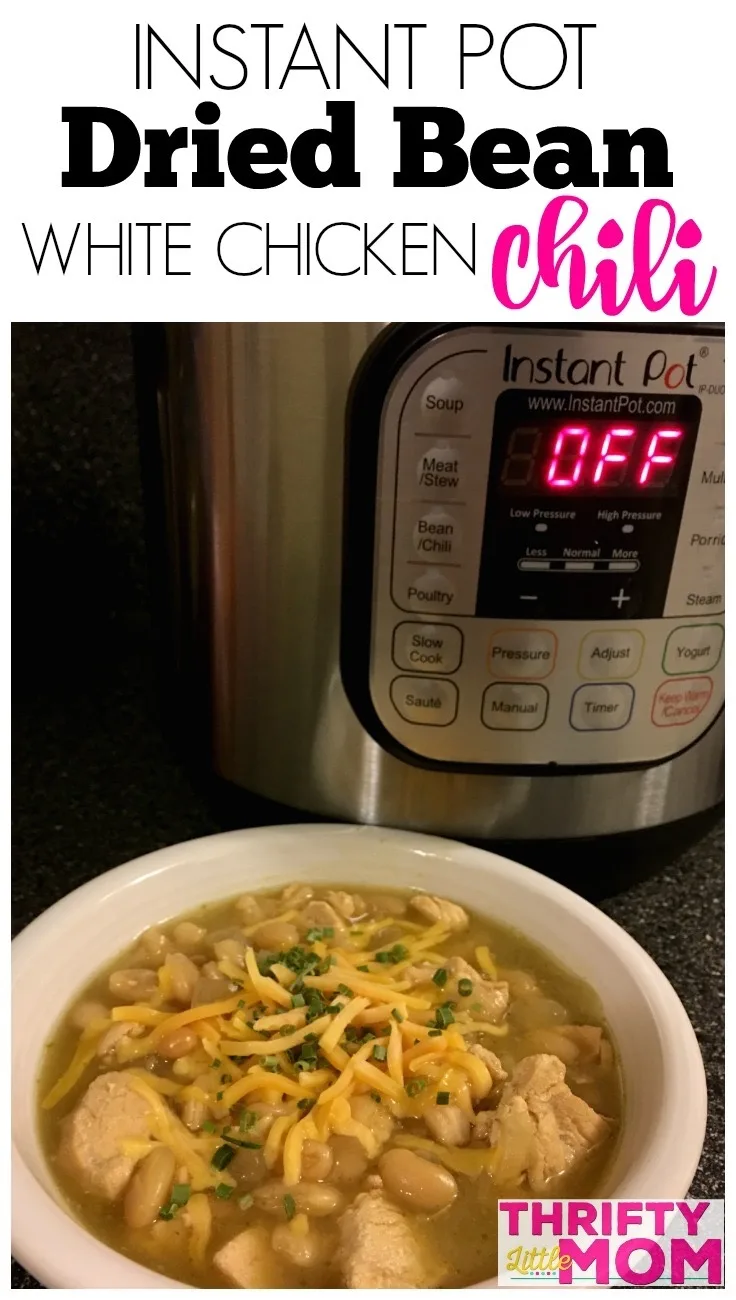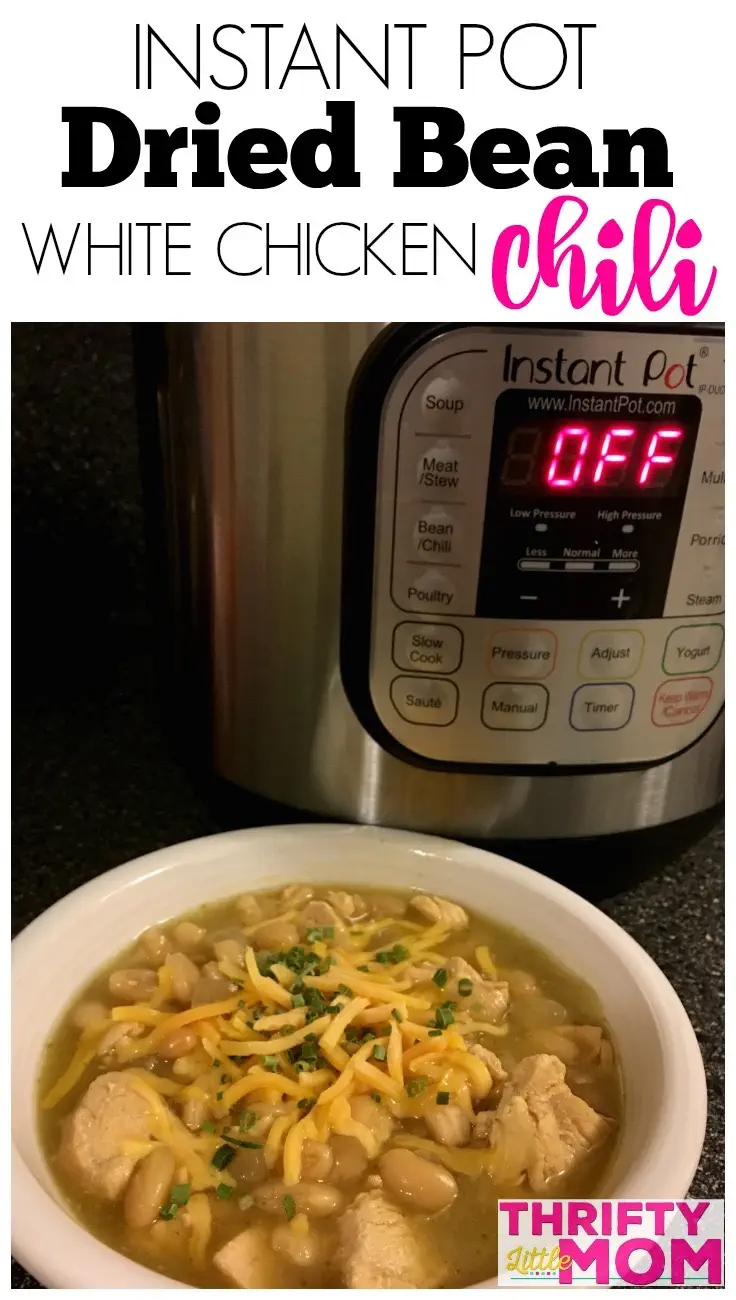 I love this Instant Pot Dried Bean White Chicken Chili Recipe.  If you didn't know already I'm super obsessed with my Instant Pot (I have the Instant Pot IP-DUO60 7-in-1 Multi-Functional Pressure Cooker, 6Qt/1000W
version).  My slow cooker is literally collecting dust and I feel sorry for it because it's kind of like Woody in the Toy Story movie when Buzz comes around.  It got replaced!  This super distracted mama has always wanted to use dried beans because for one, they are WAYYYY cheaper than buying them in the can but alas, I can't remember to soak them the night before.  And then, if I'm being brutally honest, if I do remember to soak them- I totally forget the beans are in my fridge- so it's sorta pointless!  Outta sight, outta mind for me.
Enter the Instant Pot which can cook dried beans from dried (no soaking) to fully cooked in around 1 hour total.  It's like magic!  Now every week I make my families most favorite meal- White Chicken Chili from dried beans and save money on our groceries each week!  I wanted to share with you how I make my Instant Pot Dried Bean White Chicken Chili!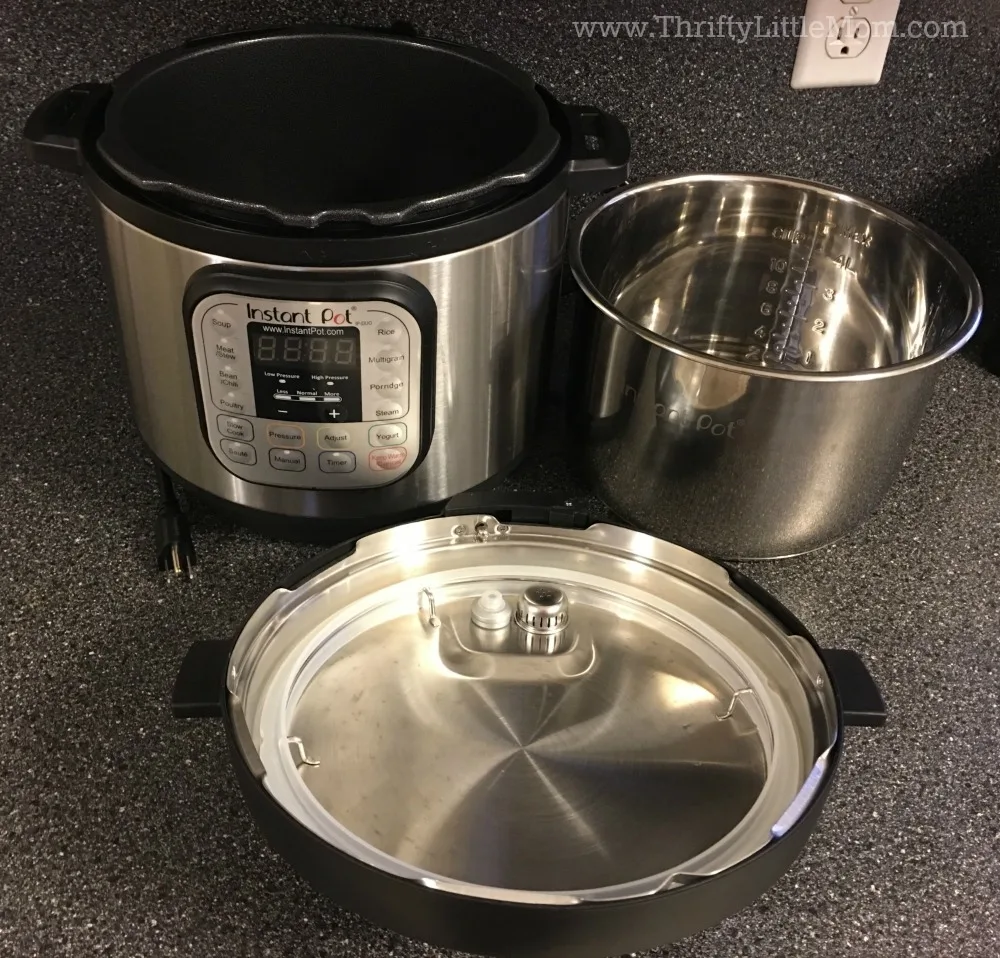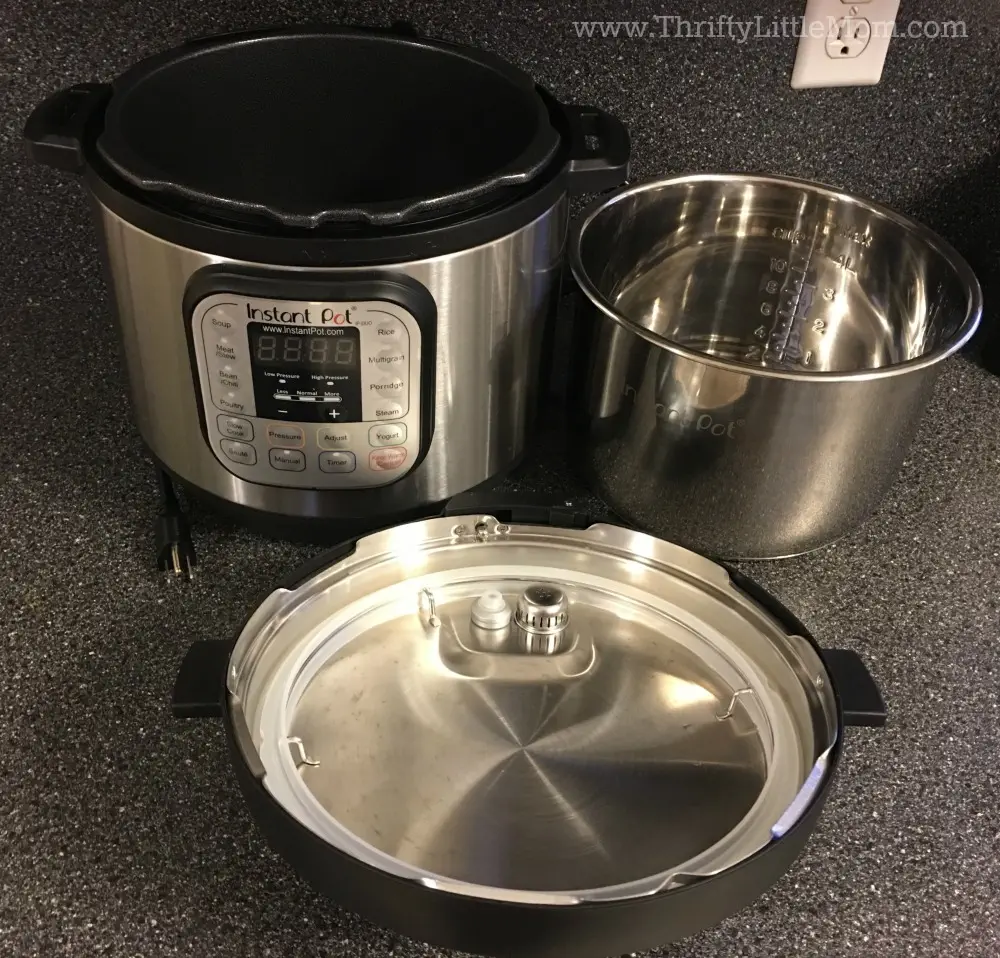 If your instant pot intimidates you because you're afraid it might blow up your kitchen- I get it!  I didn't open mine up for like 2 weeks.  You are in luck though because one of the thriftiest cooks on the internet, Erin Chase, just came out with a Electric Pressure Cooker 101 class that's awesome!  It teaches you how to use it, how to cook in and even has some menu planning extras!  Check it out!

Ingredients:
3 Chicken Breasts cut into cube-ish shapes
1- 28oz can of Green Chile Enchilada Sauce
2 Cups of Water (or chicken broth if you want extra flavor)
2 cups of Dried Cannellini Beans
Chopped Onions
Chopped red and green peppers (optional)
Corn Kernels (optional)
Garnish (Optional):
Shredded Cheese
Crushed Tortilla Chips
Sour Cream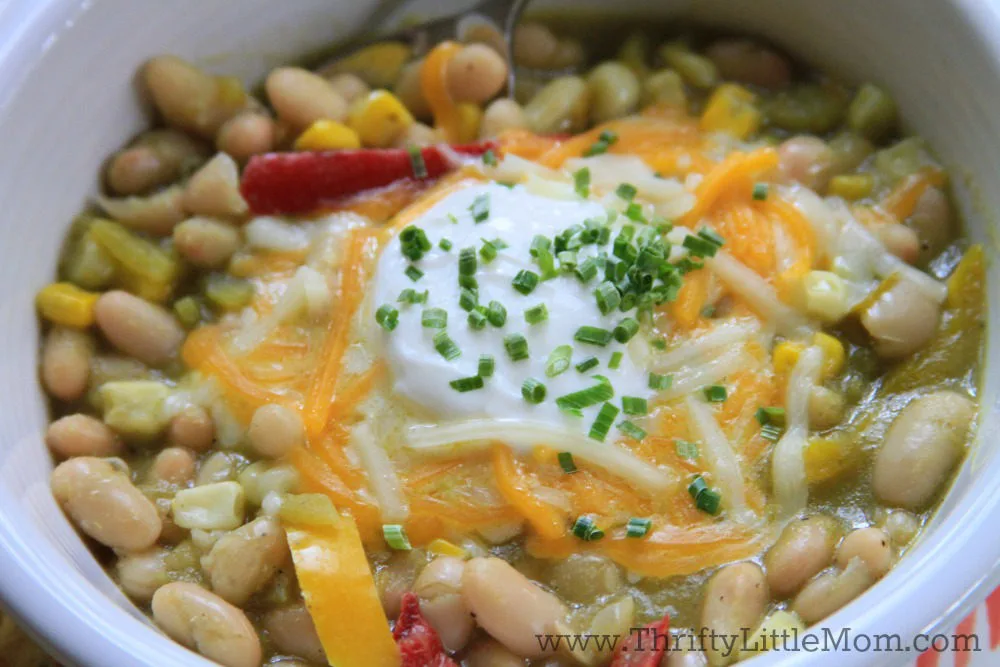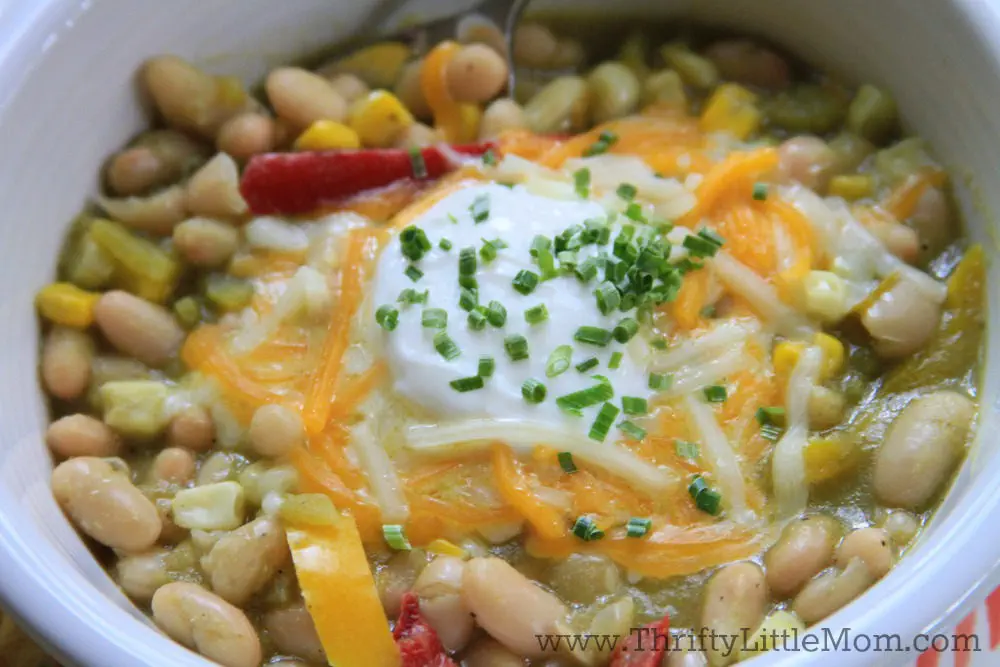 Be sure that you follow all the instructions and safety guidelines for using your Instant Pot or electric pressure cooker!
Step 1: Cut the chicken breasts up into bite sized chuncks.
Step 2: Brown the chicken breasts.  Many people do this inside the Instant Pot but I still do it on the stove since mine is gas and I can control the heat that way.
Step 3: Pour in the Enchilada Sauce, 2 Cups of water and 2 cups of dried beans into your Instant Pot Stainless Steel pot.  (Be sure that you watch how full your pot is getting as you add ingredients because with dried bean dishes, Instant Pot states the pot shouldn't allow it to get over 1/2 full. )
Step 4: Saute your onions and peppers until they are a little soft and then add to the pot.
Step 5: Lock your lid in place and press the Bean/Chili button.
Step 6: I set my Bean/Chili setting to go for 40 minutes since I don't soak my beans.
Step 7: When the timer goes off on the Instant Pot, let the pot release the pressure naturally and slowly.  In other words don't use the quick vent function because the beans won't be tender.  If you let it de-pressurize slowly, the chili will be PERFECT!!!!
I really hope you enjoy this recipe and it helps take a little overwhelm out of your schedule as well as makes you feel like a more confident cook!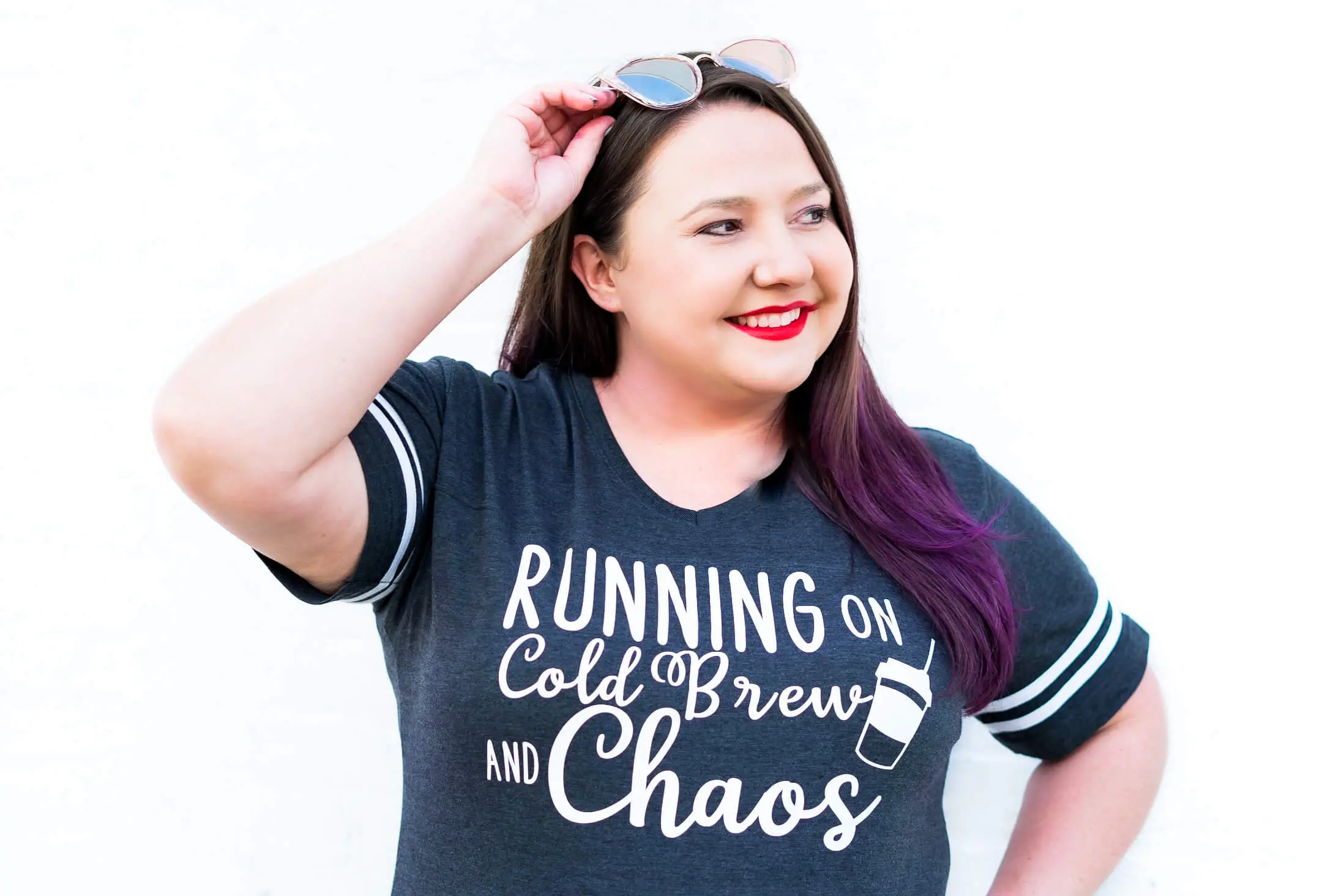 Kim Anderson is the organized chaos loving author behind the Thrifty Little Mom Blog.  She helps other people who thrive in organized chaos to stress less, remember more and feel in control of their time, money, and home. Kim is the author of: Live, Save, Spend, Repeat: The Life You Want with the Money You Have. She's been featured on Time.com, Money.com, Good Housekeeping, Women's Day, and more!