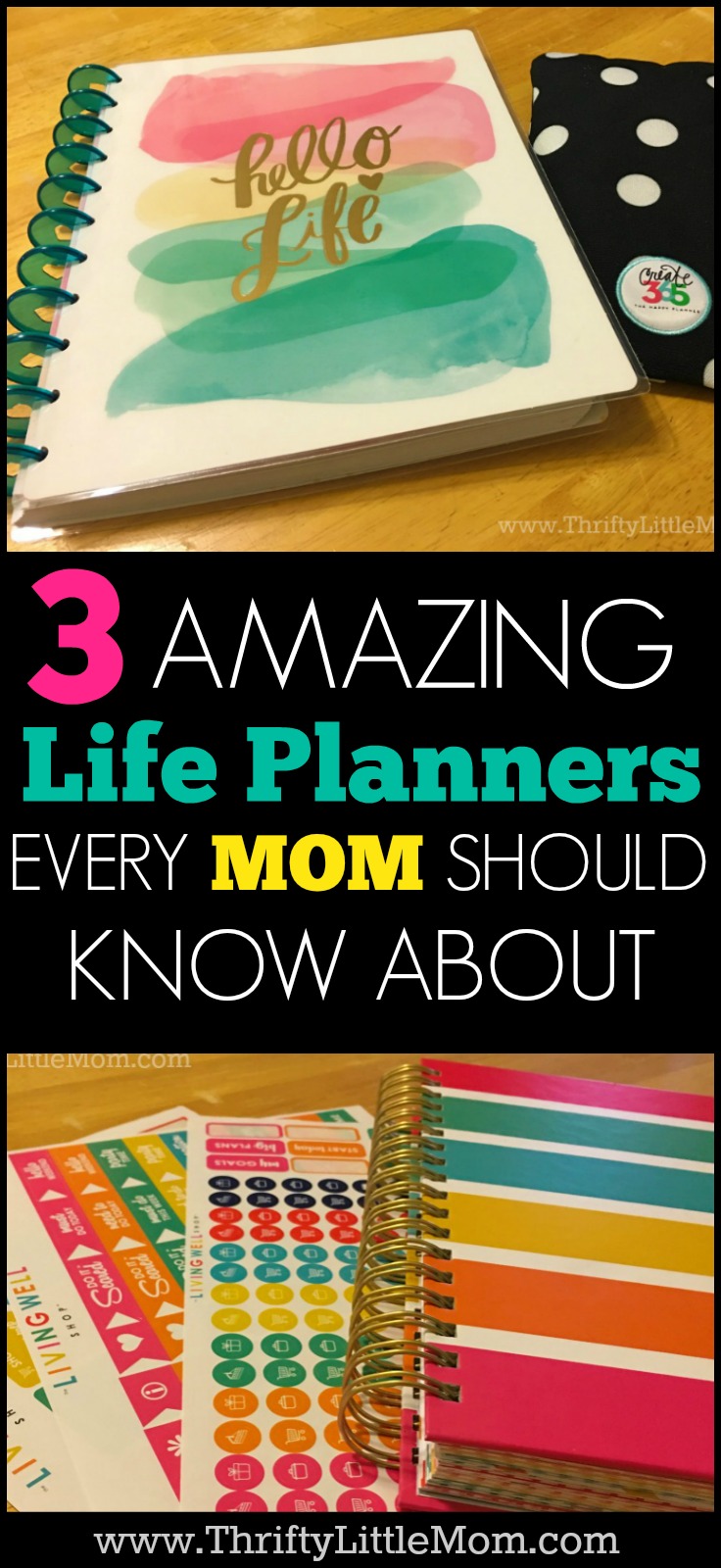 Are you a planner addict like me?  I literally get excited at the beginning of the New Year and the beginning of the school year because that's when all the new planners come out!  I love to explore all the pretty designs.
For years I've used those classic $12 planners that you find at Target but they've always been a little….lacking.  Their capabilities are limited.  They only give us so much planning power.  They offer the basics of a monthly view calendar and daily spaces to write to-do's or appointments.
But honestly, I felt confined by the lines and I wanted more.   I wanted a place to manage more than my day- I wanted to manage my life all in one gorgeously, personalize-able space.  Because I suffer from chronic disorganization I need planners help me keep my mom life together in one single spot in my house.  I also want a planner that comes with stickers.  I love stickers!  So essentially I like my planners to be functional and a little like a scrapbook.
In my quest to overcome my disorganization (with a little pizazz), I discovered 3 specific planners that take the planner game to a whole new level!  Here are three planners that I believe put all other planners to shame and you should know about them because they can help you get your life well organized too!
The Living Well Planner
The Living Well Planner was designed and created by the New York Times Best Selling Author Ruth Soukup.  This is the planner that I use everyday now and is the one I most highly recommend out of all the planners I'll talk about in this post.  That's because it's fun, very functional, comes with some fun accessories but is also simple at the same time!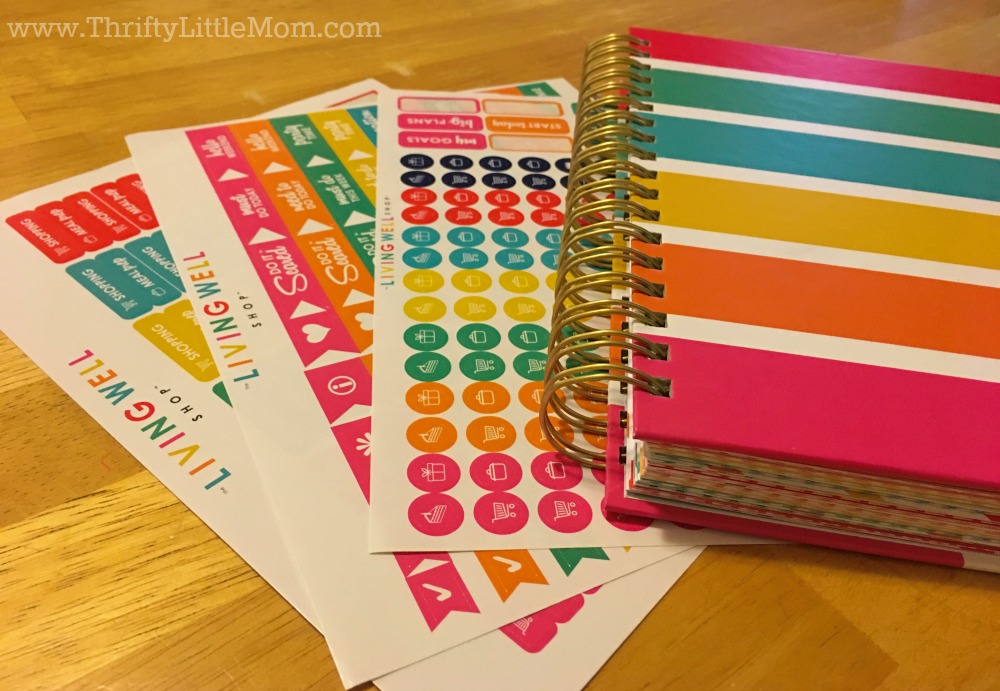 Here are my thoughts:
Were to get it- This planner can only be purchased online at the Living Well Shop.  
Its Pretty!- It has one style and the colors are bright and cheery.  This makes this planner easier to spot when you are looking for where you put it down.
Large Spiral Binding- I like the large spiral binding.  It makes flipping through the pages quick, easy and I don't have to worry about ripping my nice pages.  It also allows you to fold the book backward at the spine when you want to write on one page with ease.
Hard Back Cover.  Some planner covers are flimsy and that's annoying because they don't protect the pages well.  This planner however comes in a really think and sturdy cover.  It's perfect for using as a hard writing surface when taking notes or making lists.  It also has a pocket on the backside of the front cover!
Great Real Life Features:  This planner has the following pages for every month:

Monthly Goals Page broken down into- Personal Growth, Fun & Recreation, Heath & Fitness, Home Improvement, Finance and Who to Connect with.  These are all parts of life that I find value in and it's nice to have a planner that directs me to make those a priority.
Goal Crushing- Breaking your goals for the month down into Bite Sized pieces.
Project Planning- Notes & Ideas, Must Do and Brainstorming sections.
a two page Monthly Calendar at a glance with lined squares for each day and a place for notes and big days on the side.
Monthly Budget Worksheet- Here you can plan your income, spending and saving for the month!
Weekly Plans- Each month has five sets of weekly plans.  The weekly plans span two pages.  Each day is a column that contains hourly lines starting at 6am and ending at 10 pm.  Then each column contains a Must Do Bullet list and a space for menu planning for that day!!!
Menu Planning- I love that each day of the week has a space for menu planning with lines!
Monthly Expenses- This is where you track the money you spent from your budget.
Thoughts and Thanks- One of my favorite features is that it has a Thoughts and Thanks section for each month where you can reflect on things you are grateful for!
Notes- There is one whole page designated to notes.

Blank Date Spaces- This is great because it means that the planner is useable all year any year whenever you want to use it!  No pre-filled in dates.
Accessories- Ruth has come out with some pretty cool stickers and accessories to match the colors and them of the notebook.  Some are functional others are inspirational.  Either way, they take this planner up a notch because you personalize your planning with fun, artistic stickers.  Stickers are sold separately from the planner at around $8.50.
Size- This planner is just the right size to carry around in my laptop bag measuring around 10 inches long and 9 inches wide including the binder rings.
Crushing It™ Central – You'll get FREE access to an exclusive, members-only center to help you get the most use out of every single page. Packed full of motivational and inspirational videos, a printable library, plus so much more.
Crushing It™ Bootcamp – You'll get a series of emails that will guide you step-by-step on how to set up your planner to maximizing its effectiveness in your life.
Crushing It™ Community- You'll be invited to a private Facebook group available only to Living Well Planner users, where you can connect with other like-minded women and get the support and accountability you need to succeed.
Price Point- $55.00.  For as much as I'm able to plan and organize with this binder plus all the awesome community centered bonuses she offers, this is a great price in my opinion.This is the one I most HIGHLY recommend!
I think Ruth hit the nail on the head with this actually being a "whole life" planner.  It gets down to the nitty gritty and every feature is about giving you more control over every detail of your life- including your money!  I've been able to try both the prototype and this version of the planner for free. Hands down, of the three planners I'm going to list in this article, this is my most favorite planner because of the way it's organized, it's sturdy features and it's fill in the blank dates make it my favorite!
There are just enough accessories that's it's fun and yet minimal.  There aren't hundreds of accessories to choose from.  Being that focus is a struggle for me in everyday life, this planner makes the most sense and keeps my brain from getting overloaded with options.  I just make my plans, fill in the blanks, add my stickers and I'm happy!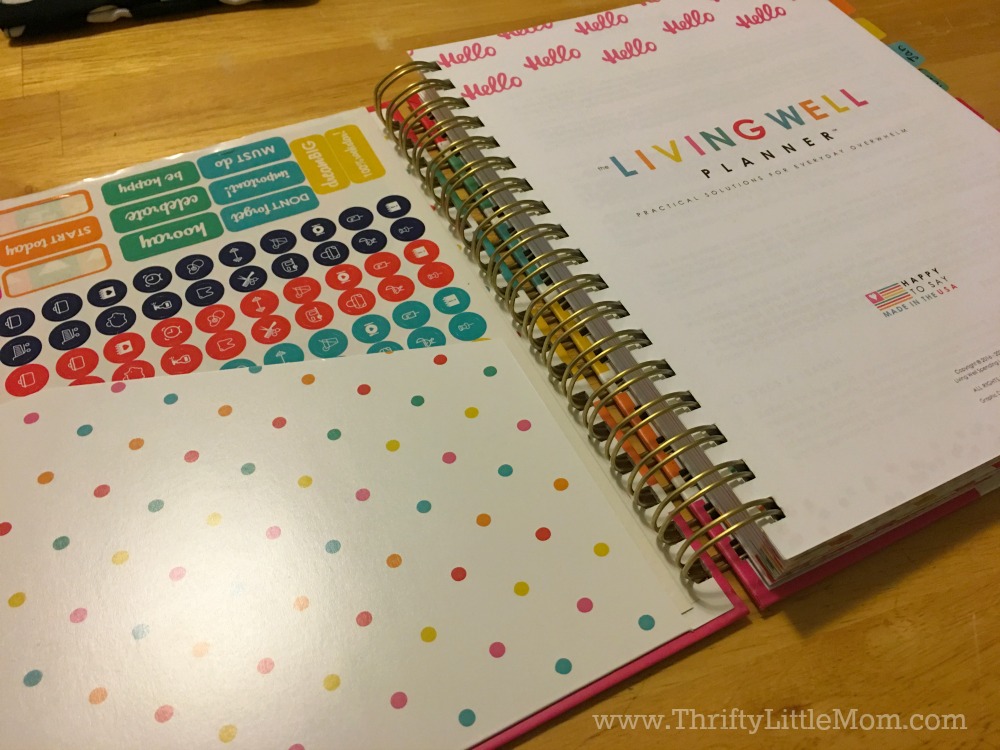 Create 365 The Happy Planner
This planner is by me & my BIG ideas.  If you are super artsy and like lots and lots of options, this fun planner is perfect for you!  I call this the Transformer planner (as in Transformer Robots) because it's versatility is kind of ridiculous!  This is one that I recommend but I don't really use anymore.  It's good, but it just doesn't have a whole lot of everyday life features like budgeting or menu planning.  It's a blank canvas.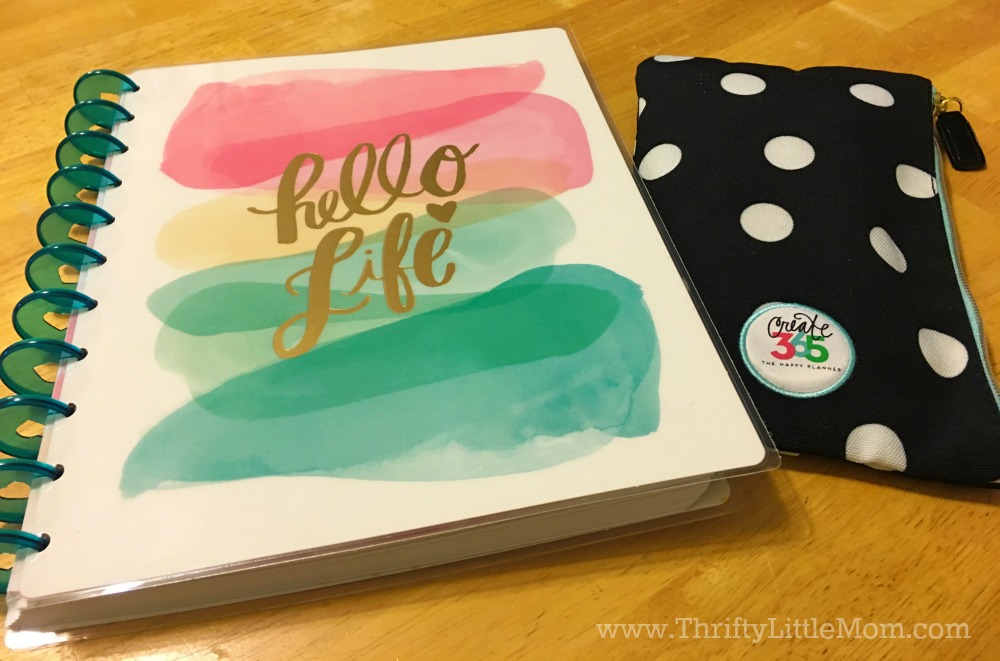 Here are my thoughts:
Where to buy the planner/accessories- Amazon, Michaels Craft Store & Hobby Lobby.
Sizes- This planner comes in about 3 different sizes.  The largest size (which I own) is kind of clunky to me.  It's a little too big at 11.5 inches by 10 inches so if I buy it again, I'd opt for the smaller version of 8.5 x 11.
Unique Binding- Each planner is bound with these really interesting plastic rings. This particular feature really makes this planner interesting because you can buy a speciality page hole puncher (me & my BIG ideas PUN-01 Happy Planner Punch) for this planner and you could literally use it to punch holes in ANYTHING and then put that page into your planner.  So, if you had a favorite online printable that you used or something you wanted to print and include in the binder, all you have to do is have the special hole puncher and you can add whatever pages you want.  That's pretty cool in my opinion.

They also sell larger rings (me & my BIG ideas Create 365 The Happy Planner Expander Rings,) so if you're binder is getting full, you can make more space by buying bigger circles!!  It's pretty genius in my opinion!
Plus if you want to eliminate some of the bulky factor of this planner, each time you finish a month- you can just remove it from the binder completely.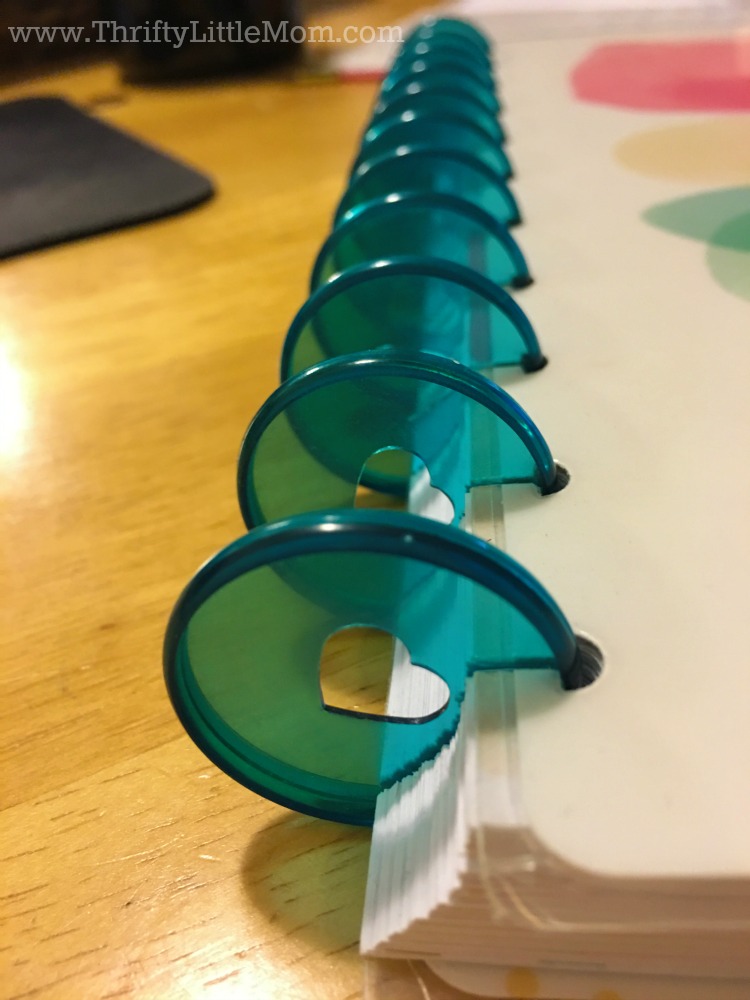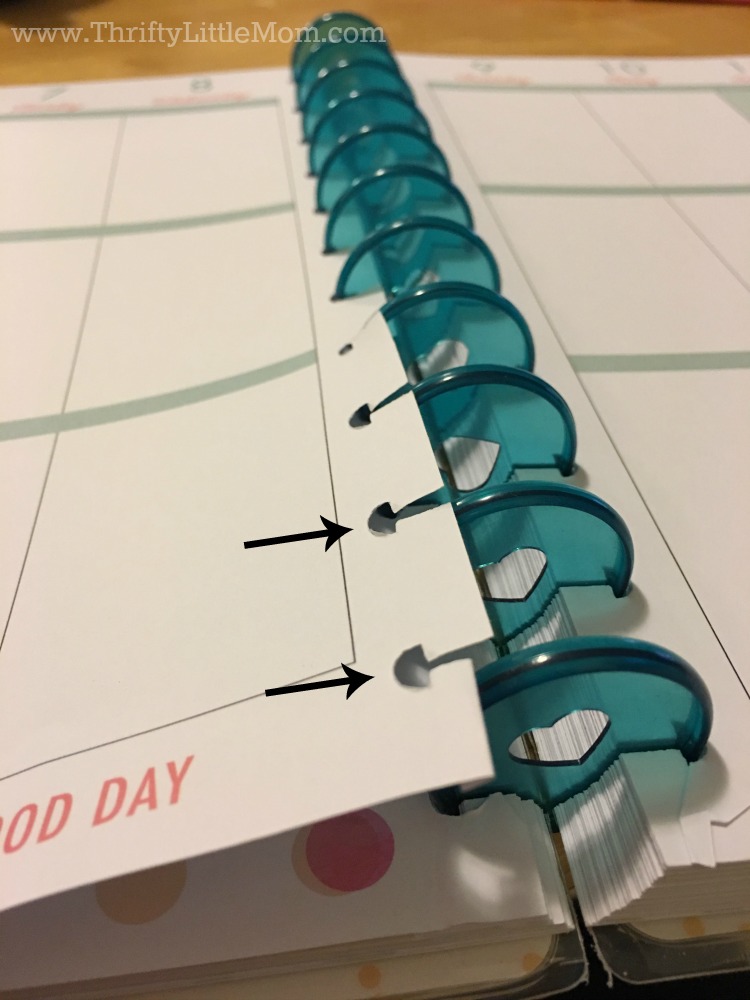 Dates are already filled in- If you prefer not to have to mess with filling in the days of the month, this is one of those planners that are created for each specific year and is totally filled in with dates when you get it.  These come in 12 month or 18 month versions.  If you want a blank one just search for "undated" versions.
What's Inside-

 Month at a Glance with space on the side for notes.  Major holidays noted.
Weekly view with each day as a column with three areas to write in for each individual day.
Month in Review Page- This has a space for you to sort of keep a one line journal of what you are reading, planning, watching, cooking, eating, drinking, pinning, crafting, going, loving, dreaming, feeling, listening, or celebrating.  That's kinda cool.  It also has a place to remember birthdays, a few goals and important dates.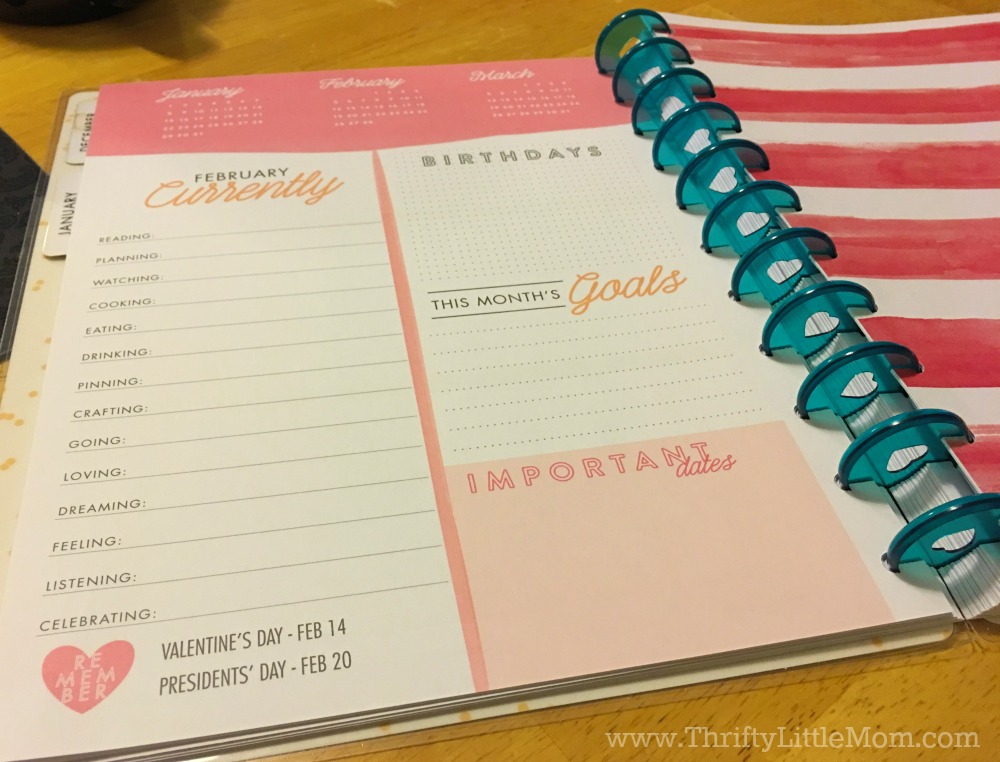 Sturdy Cover- These planners offer many different options when it comes to cover design and the actual cover appears to be a super duty lamination job.  So the cover is going to stand up.
Accessories-  Now if you are person who loves some serious planner accessories- this is the planner for you!  It has pencil bags, speciality hole punches, ink stamps, sticky notes, extra speciality pages you can insert for things like exercise or health tracking and tons and tons of stickers!!!  It's almost like scrapbooking for your daily, weekly and monthly planning.  I like that!
Price Points- The small size (7.52″ x 5.62″ x 0.93″) is around $20.  The medium size 8.5″ x 11″ is around $30.  The largest size is around $35.  However, they offer a pretty awesome "bundle" with a planner and tons of themed out accessories like this Me & My Big Ideas MAMBOX.109 Create 365 HP Planner Kit Best Yearfor a great price.
Erin Condren-
I consider Erin Condren to be the "Coach" or "Kate Spade" of the planner creation world.  Their product is called the Lifeplanner™ stylized organizer.
Binding- Spiral Bound
Cover- The covers that I have seen are a sturdy lamination.  You can pick from a variety of designs for the cover including a collage of pictures, empowering statements and even have your name printed on it!
Price- It cost $55 for just the basic planner.  It can however be expanded to include fitness trackers, budget forms and other items at an additional cost per add on.
What's Inside?

You can choose color or black and white for the printed pages inside.
Weekly Plan- this is also in long columns
Month at a Glance
Year at a Glance
Note Page
Page with a inspirational quote.

Accessories- This planners offer many many accessories at an additional cost from personalized note cards to erasers they have it ALL.  Stickers, expander packs, pens, pencils and highlighters!  Check out the Erin Condren site to see what all they offer!
To be honest with you, Erin Condren is not a planner I have actually tried out but I know they are amazing planners because I've held them in my hand and for about a year it was all my blogging friends could talk about.  These planners are HIGHLY personalizable. If you are a person who loves pretty planners with your name on it and wants to have some flexibility in building your own personalized design, this is the planner for you.
I really hope that you have found these quick reviews helpful as you hunt for your next planner!  They are all great options, beautiful but each offers something unique to the buyer.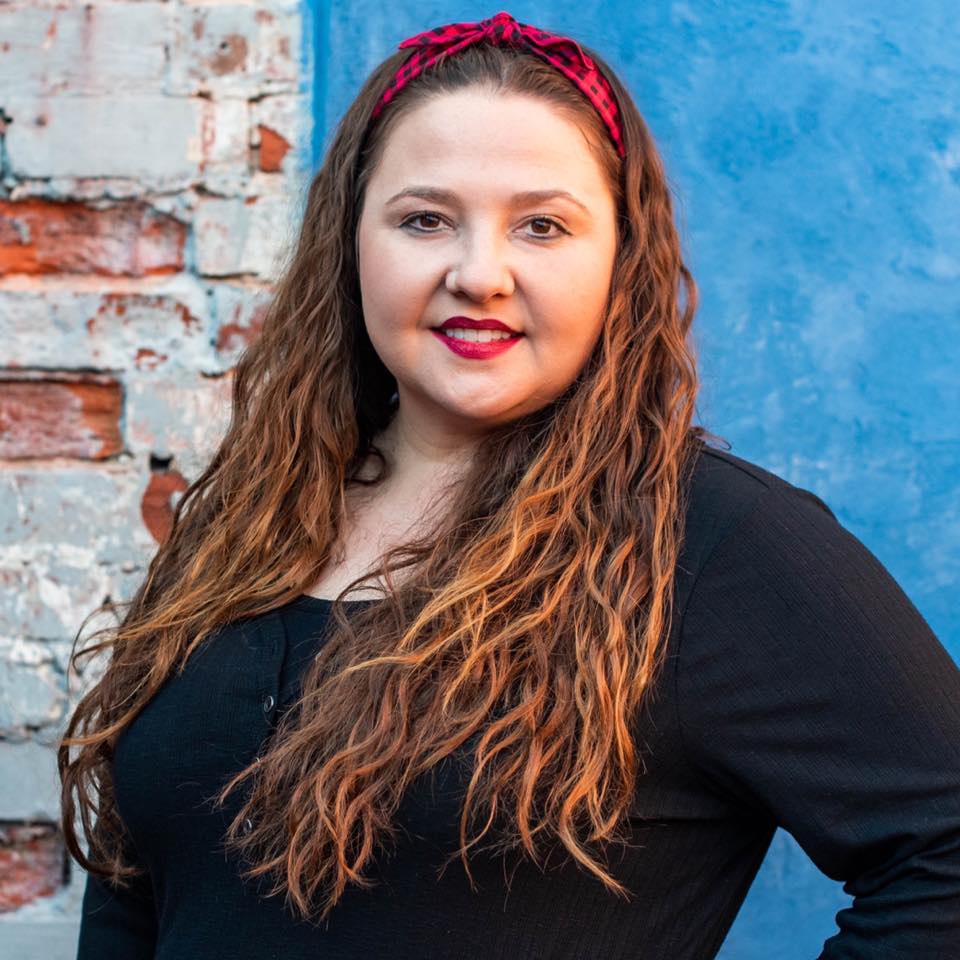 Kim's is the party planning, thrifty life-loving, intentional living catalyst behind the Thrifty Little Mom Blog. Kim was a pro event planner for over 7 years before she became a full-time blogger. Kim is the author of: Live, Save, Spend, Repeat: The Life You Want with the Money You Have. She's been featured on Time.com, Money.com, Good Housekeeping, Women's Day, and more! Kim aims to inspire you to create, celebrate, and live life intentionally!