5 Ways to help Your Preschooler Master a Daily Personal Care Routine
This post contains affiliate links. As an Amazon Associate, I earn from qualifying purchases. I also earn from qualifying purchases made with other brands and programs. See my
privacy policy.
Disclosure: So happy to share this blog post I created as a Suave Kids partner. The Disney, Frozen and Star Wars trademarks are used by Unilever pursuant to a license agreement with The Walt Disney Company. All rights reserved.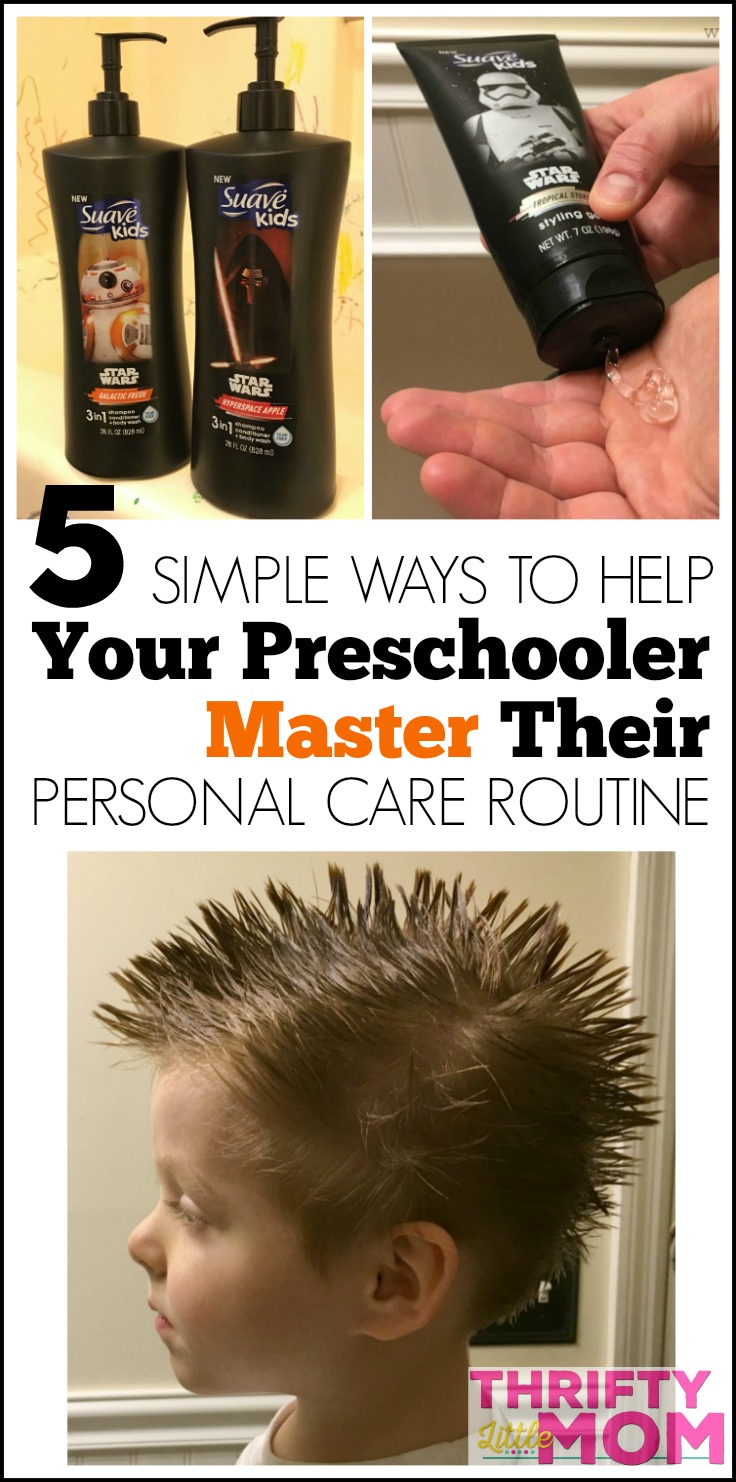 I think all parents face unique challenges when it comes to parenting.  Each age and developmental stage creates new learning experiences, emotions, break downs, humor and even attitudes.  Every parent at one point or another has frantically searched the internet for instant answers to their current parenting dilemma.
Sometimes the answer is simple and then sometimes you find yourself lost in a forum of opinions leaving more confused than you were when you showed up.   One my most current #boymom problems is that we are tackling the task of teaching our 5-year-old to get into a personal care routine.  You know, being able to wash hands, bathe, wash hair, floss, brush teeth and all that, more independently.
He seems to be getting the hang of it over time. There are still days when he finds a way to make a ridiculous mess on his face, hand, clothes or bathroom sink.  Some that are easy for him to clean up while others require parent backup and a full on bath emersion.
But one thing is for sure, I may not always know what to do with his little rebellious streaks, but I can help him learn to be independent when it comes to personal hygiene.  So can you!   Here are 5 secrets to teaching your preschool boy how to be more independent and less messy.
1. Keep Bath time Simple.
When my son gets in the tub, all he cares about is playing, drawing on the walls with tub crayons and dumping water all over the place. So my objective when it comes to helping him get nice clean is to keep the personal hygiene process streamlined with products he's he finds simple to use and one's he thinks are just for him!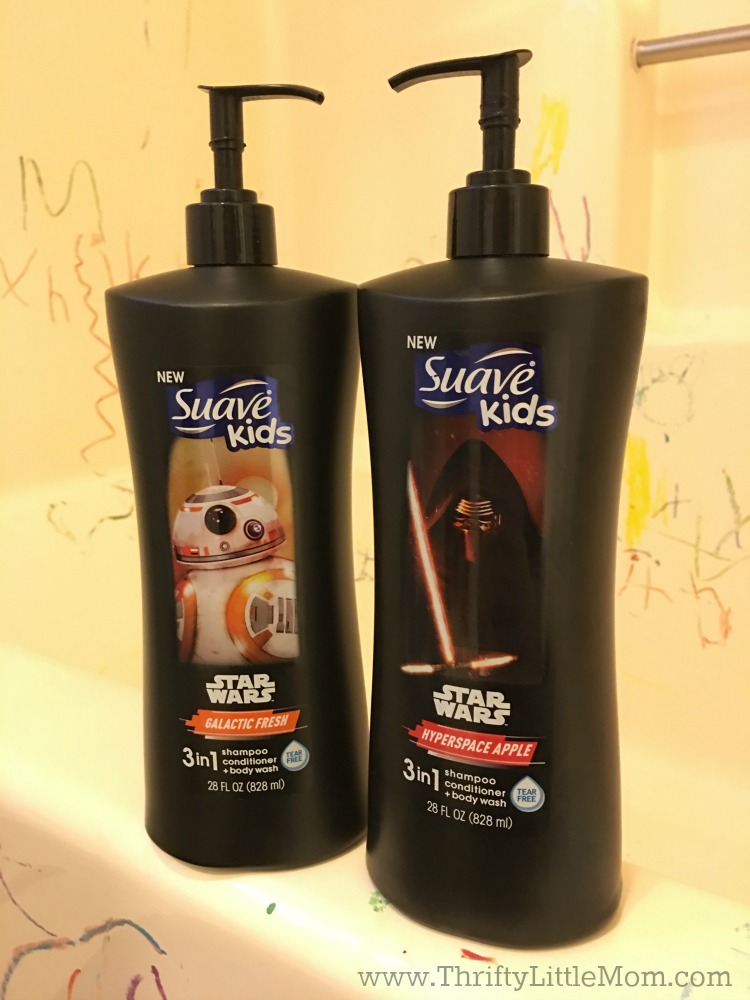 Instead of having separate bath soap, shampoo and conditioner in the tub, I use all-in-one products that contain all three.
We've been using the New Suave Kids® Disney Star Wars™ collection for a few months now. My son gets super excited when I pull out anything with his favorite Disney Star Wars™ characters.  His two favorite bath time products are the:
Disney Star Wars™ Kylo Ren 3-in-1 Shampoo + Conditioner + Body Wash in Hyperspace Apple
Disney Star Wars™ BB-8 3-in-1 Shampoo + Conditioner + Body Wash in Galactic Fresh
I really appreciate that they come in a 28oz pump bottle because that in and of itself prevents a big mess (plus it lasts a long time!).  My son is able to easily pump the wash into his hand and clean his hair independently.  I don't have to worry about him freaking out if he gets a little in his eyes because it's Dermatologist and ophthalmologist tested to help make bath time tear-free.
My kid plays hard so he always has the smell of sweat, dirt and grass in his hair.  Even though that's a wonderful thing, I really enjoy it when he smells fresh and clean and the Hyperspace Apple and Galactic Fresh scent seems stick with him all day.  Plus we are a pool loving family.  Chlorine is very harsh on his hair. I noticed a significant difference in the cleanliness and shininess of his hair after he started using the Suave Kids® products.
The key to helping your kid be independent is setting them up for success with bath products that they know are made just for them and are designed with kids in mind to help them smell fresh and keep bath time simple so they don't get frustrated by too many steps.
2. Add Person Hygiene items to your chore or routine charts.
One thing we do with our son to help him get excited about personal care, is that we add it to his daily routine star chart.  When he completes an item on the routine chart he gets a star.  When he gets 50 stars we take him to the indoor trampoline center to play.
It's a kind of a sneaky (non-meltdown inducing) way to get him to wash his hair, brush his teeth, brush his hair and wash his hands multiple times per day.
3. Keep Messy Items Out of Reach
I don't know what has happened to my son in the last 6 months but he is really, really curious about everything.  He wants to know how stuff works, feels and tastes.  Which has led us to some serious messes.
Typically speaking I know something is up when things get a little too quite if you know what I mean.  Before I know it I'm walking into the bathroom discover he's gotten his baby sisters petroleum jelly jar and made the biggest mess on the planet!  Do you know how hard it is to get petroleum jelly off the counter and out of the bathroom towels?
So to prevent messes now I'm mindful of what products I leave out within his reach.  Now I store it all high in our bathroom closet and take it down when its bath time, hair time or toothbrush time.  One of the best ways to prevent crazy messes in your bathroom is to keep messy things out of reach.  Then your curious little boy won't have easy access to an arsenal of destructive tools.
4. Create Boy Hairstyles Based on Their Favorite Characters
One way we get our son to let us fix up his morning bed head is by telling him we are going to fix his hair up like his favorite cartoon character. Some days he's got his comb over Clark Kent do.   Some mornings he's BeeBop from Ninja Turtles with the Mohawk.
I've used a lot of gels and pomades over the last few years and I'm always disappointed because they don't hold up or last.  He comes home from school looking like he's got greasy hair without any style left.
So when I got to try the NEW Disney Star Wars™ Stormtrooper Styling Gel in Tropical Storm I was a little skeptical.  My husband is the hair stylist around our house so when we did his Beebop hairdo with this styling gel, I was shocked when he got home from school his Mohawk was still solidly in place.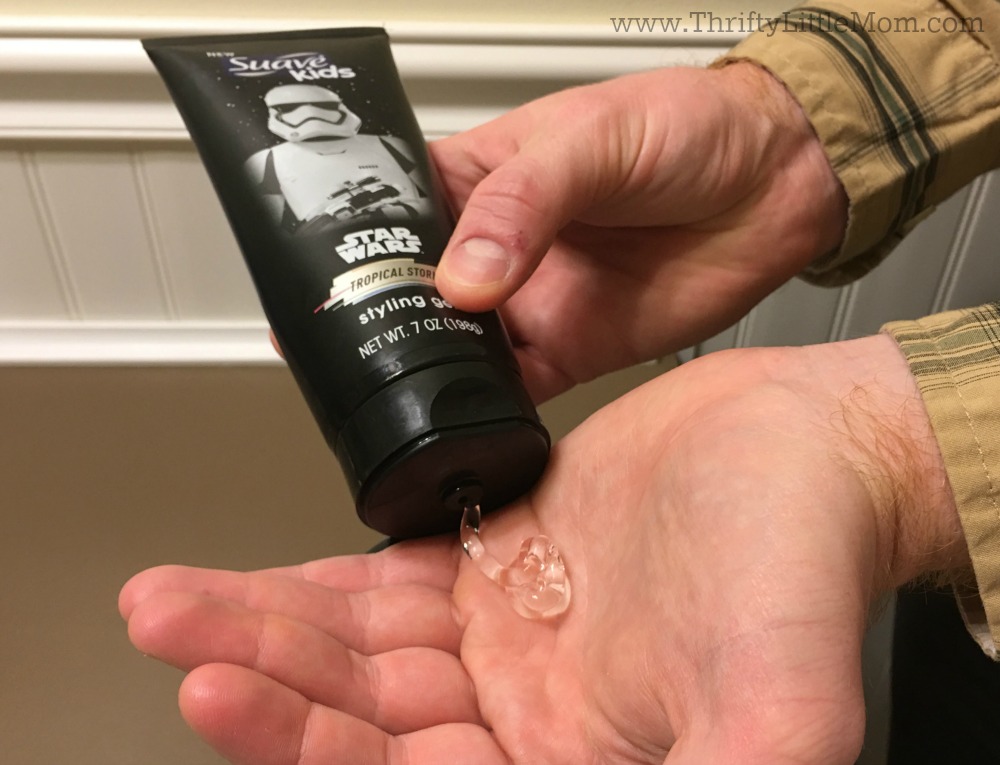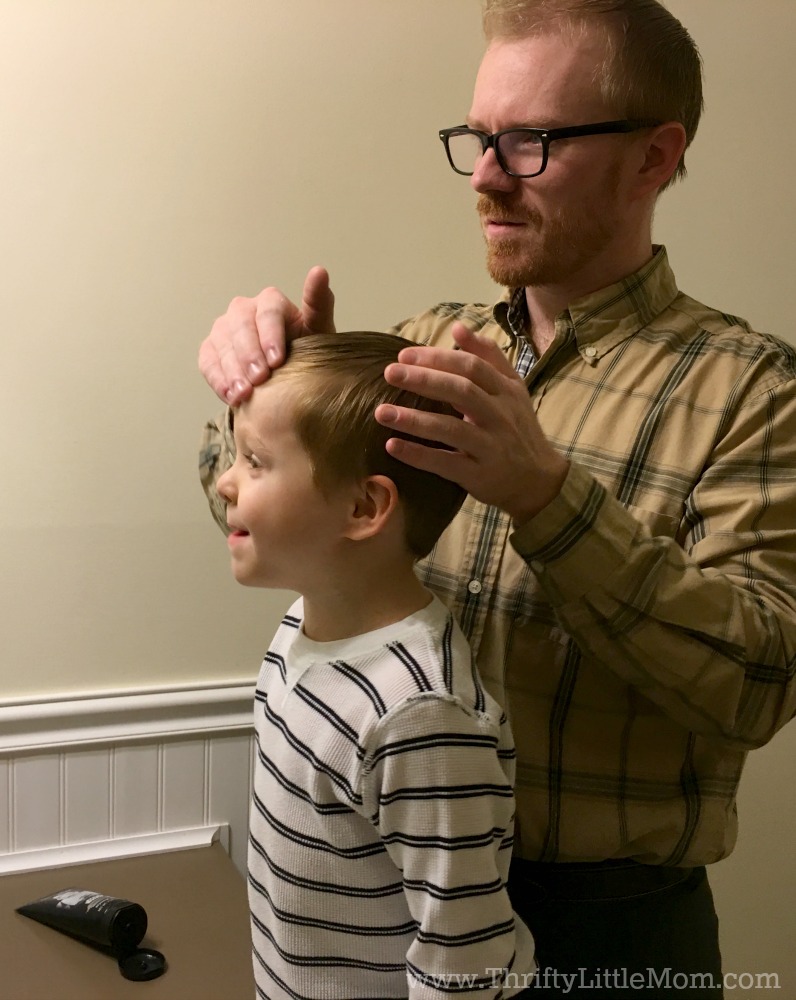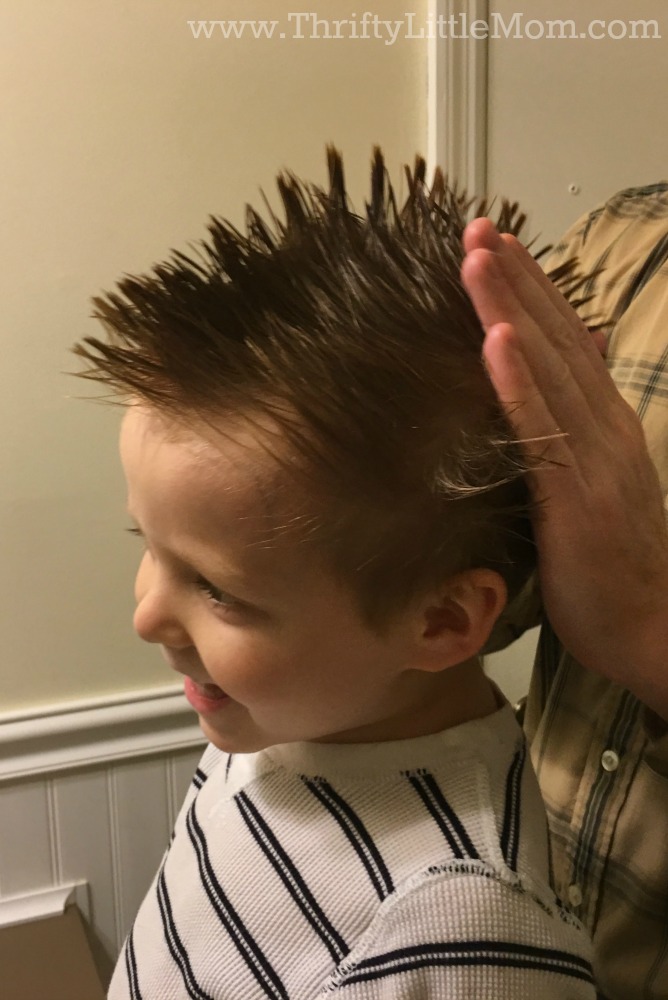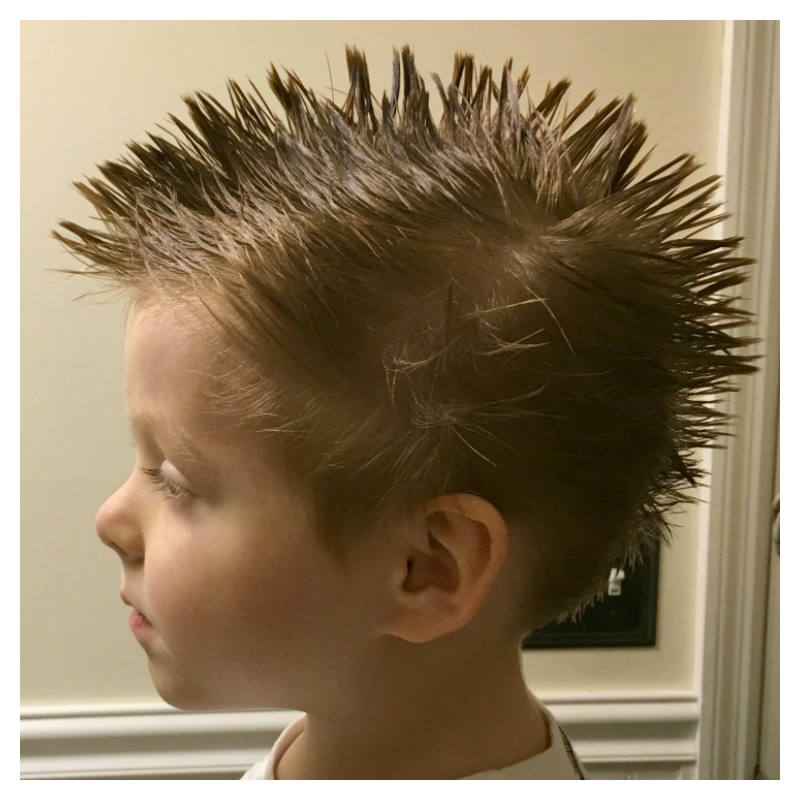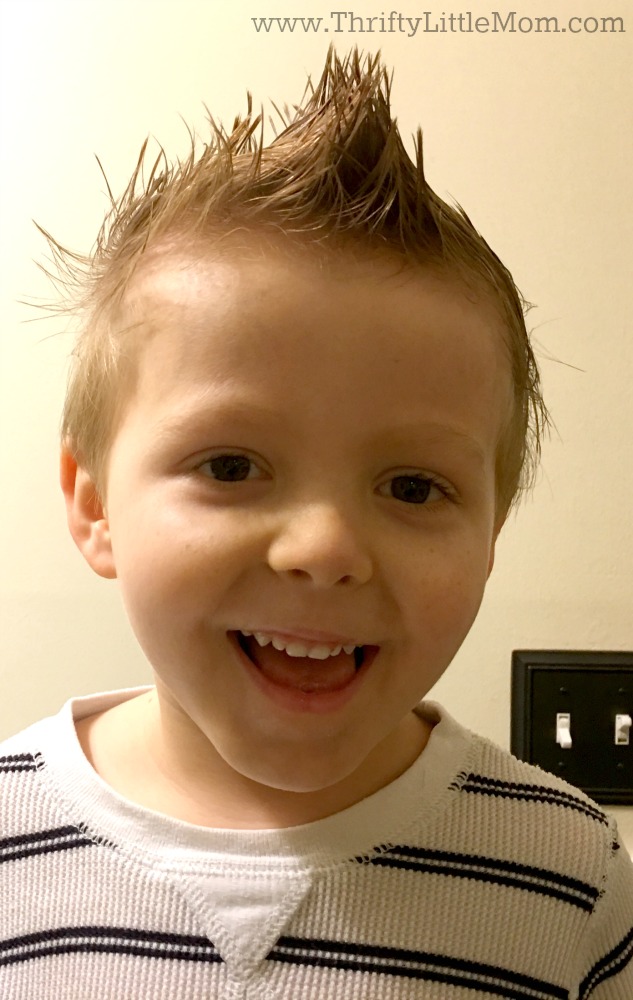 Imagination can go a long way in getting your kid out the door each day with a decent looking do.  Because if it were up to them, they'd leave it as is and let it ride… at least until Middle School.
5. Get Your Kid a Step Stool
 If you are one of those moms with a kid in the 98th percentile for height, you may not need a step stool for your kiddo.  Be on the other hand, I make it easy (and a little fun) for him to reach the sink and soap himself by putting a two step stool in the bathroom.
It's perfect for helping him wash his hands, wash his face and even brush his teeth at night.  He can access the faucet and the mirror with easy making it easier for him to manage his own hygiene without my help.
I know we all have our boy mom battles, but personal care doesn't have to be one of them.  If we set our kids up for success, find great products that work and help them be more independent, we can reduce our stress and have one less thing in life to tackle!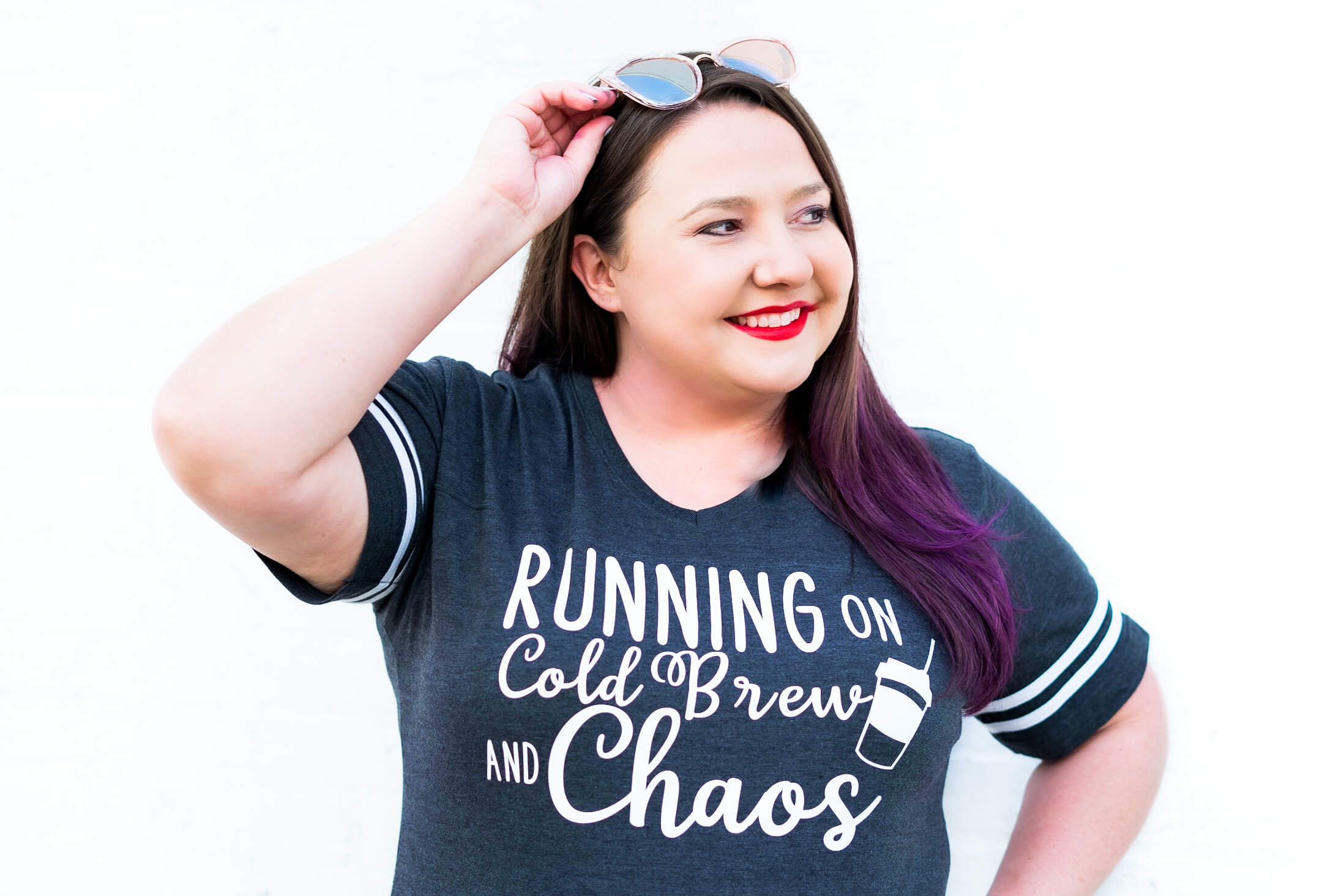 Kim Anderson is the organized chaos loving author behind the Thrifty Little Mom Blog.  She helps other people who thrive in organized chaos to stress less, remember more and feel in control of their time, money, and home. Kim is the author of: Live, Save, Spend, Repeat: The Life You Want with the Money You Have. She's been featured on Time.com, Money.com, Good Housekeeping, Women's Day, and more!