4 Ridiculously Fast Chicken Dinner Ideas
This post contains affiliate links. As an Amazon Associate, I earn from qualifying purchases. I also earn from qualifying purchases made with other brands and programs. See my
privacy policy.
This is a sponsored post written by me on behalf of Tyson Foods, Inc. for IZEA. All opinions are 100% mine.
I don't know about you but there are just certain days of the week when I have epic dinner cooking fails.  Nights when I get distracted, walk away and burn something.  Or nights when my routine gets so out of sync that I find myself staring into the pantry trying to imagine what I might be able to throw together before everyone in the family gets too hangry.  
Now that I know these nights come around weekly, the easiest thing for me to do is plan for what I like to call 15 minute dinner nights.   These are 4 ridiculously fast chicken dinner ideas.   My favorite way to accomplish that is to grab a few packages of fully cooked chicken from the refrigerated section at my grocery store.
About a year ago I found Tyson® Grilled & Ready® Refrigerated Fully Cooked Chicken and it turned out to be the perfect way to put a quick and nutritious dinner on the table for my family in less than 15 minutes. 
When I went in to Publix this week to pick up a bag, the first thing I noticed was that they had made some big improvements to the quality of the chicken and look of the packages!  So now you'll want to look for a new larger 12 oz package with a zipper for reseal-ability that's labeled  Tyson® Refrigerated Fully Cooked Chicken.  See the picture below.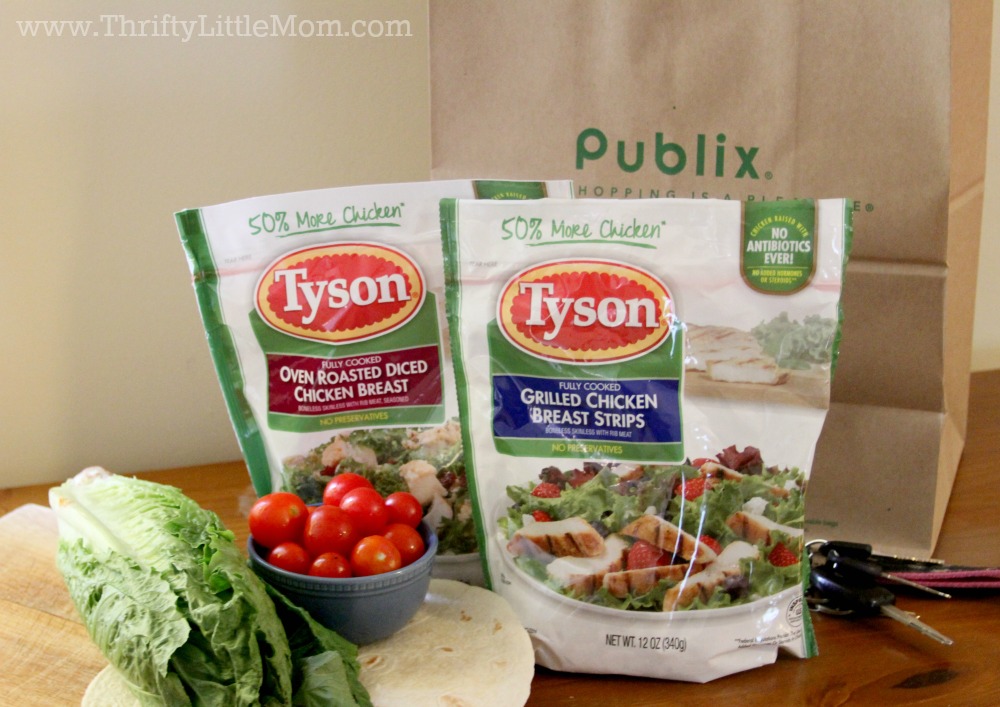 Grab the coupon!
Because the chicken is fully cooked it significantly reduces prep time!  This week, consider picking up a package of  Tyson® Refrigerated Fully Cooked Chicken at your local Publix and trying it with one of my dinner ideas below!  It think you're really going to enjoy the flavor and convenience of these dinner ideas!  
1.Chicken Wraps
Chicken breast wraps were a go-to power food back in the day when I was in college and now I just love them because they are fast to make and I can stuff them with a nice serving of protein plus as many veggies as the wrap will hold!  
All you need is some lettuce, carrots, cucumbers, tomatoes, Tyson® Refrigerated Fully Cooked Chicken, wraps and little of your favorite dressing and you've got a great meal for your family in minutes!
You could even go the Caesar chicken wrap route by layering Romaine lettuce, parmesan, fully cooked chicken with Caesar dressing drizzled on!
2.

  Chicken 

Rice Bowls
Rice Bowls are a fast and tasty meal for a week night when you want something really filling fast.  My two go-to rice bowls are Mexican Rice Bowls and Indian Rice Bowls. For the Mexican rice bowl I simply layer in the chicken, rice, black beans, salsa, Mexican shredded cheese and add a dallop of sour cream on top. For Indian Rice Bowls I simmer the chicken in a Masala sauce on the stove.  I then layer the rice, Masala chicken, green peas and add a dallop of chutney on top.  It's a family favorite!
3.

 

Chicken Tacos or Fajitas 
This one is pretty easy and straight forward (I actually use the microwave for this one sometimes to if I'm in a time pickle).  I sprinkle taco or fajita seasoning onto my fully cooked chicken, heat it up and then add it to a taco shell with shredded lettuce, shredded cheese and salsa!
4. Oven Baked Chicken Nachos
My personal favorite is oven baked chicken nachos.  I preheat the oven to 350 degrees.  I get out a flat baking sheet, spread out a layer of tortilla chips, sprinkle on the fully cooked chicken, black beans, tomatoes, a few onions and shredded Mexican cheese.
I pop the baking sheet in the oven for 10 minutes (or until the cheese looks melty) and serve!  You can garnish with jalapeños, cilantro or any of your families favorite nacho toppings!
I hope that you find these quick dinner ideas useful for your family and that you give it a try this week when you want a home cooked meal but don't have tons of time to wait!   Head out to Publix and grab a package of Tyson® Refrigerated Fully Cooked Chicken for dinner this week!  Don't forget your $1 off coupon!  Save $1 on any ONE (1) Tyson® Refrigerated Fully Cooked Chicken!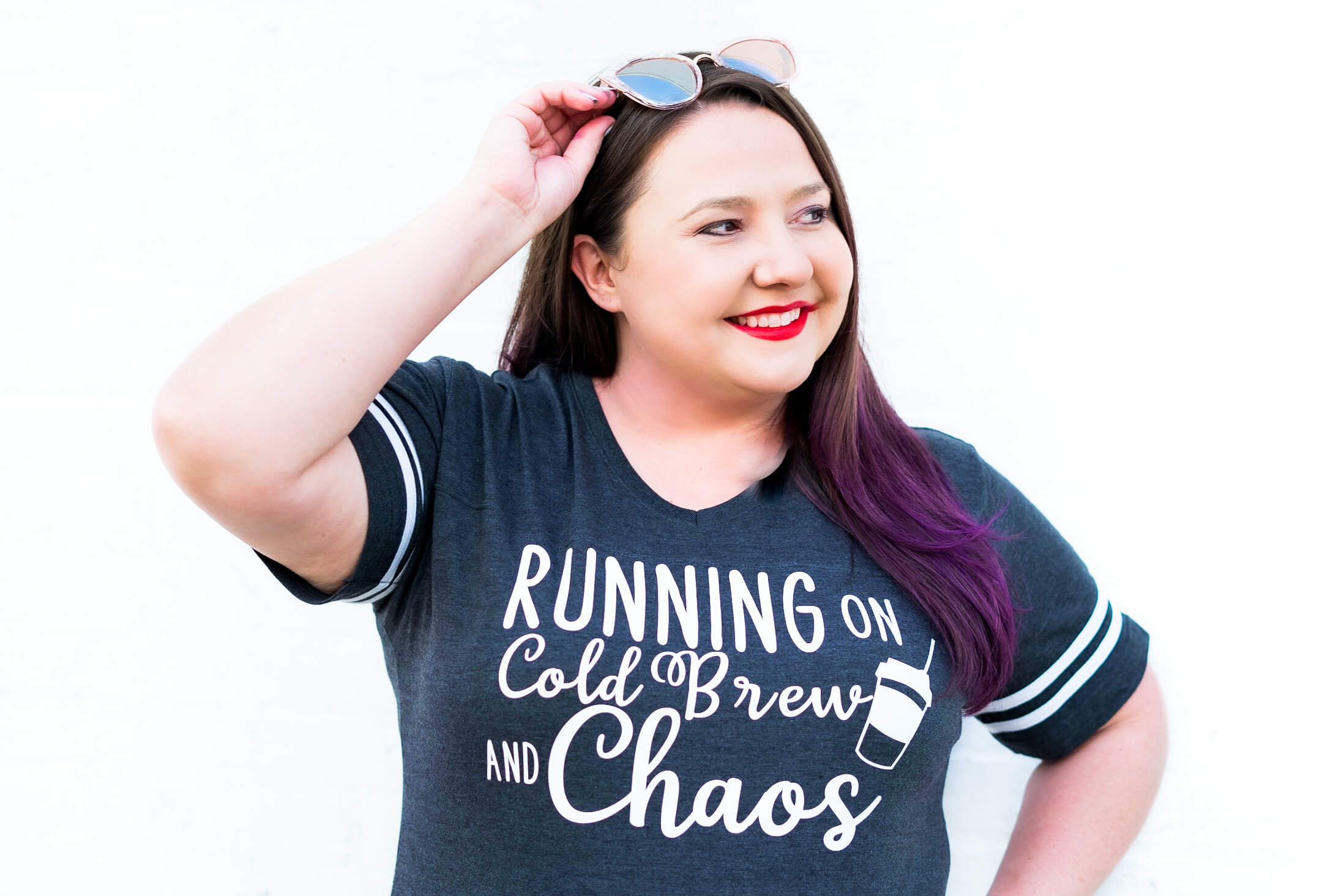 Kim Anderson is the organized chaos loving author behind the Thrifty Little Mom Blog.  She helps other people who thrive in organized chaos to stress less, remember more and feel in control of their time, money, and home. Kim is the author of: Live, Save, Spend, Repeat: The Life You Want with the Money You Have. She's been featured on Time.com, Money.com, Good Housekeeping, Women's Day, and more!