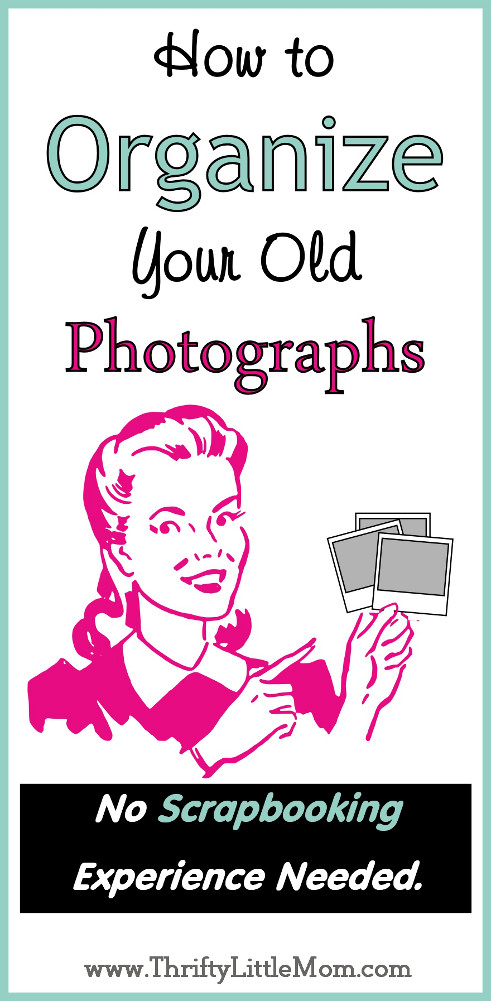 Update: 3/1/17 Ready to take back your life in the New Year? For a limited time get FREE access to the 5 Day Complete Life Management Course & Workbook! Grab it here before it's gone!
Do you have a tons of physical printed photos around?  Maybe they are in those 80's and 90's sticky albums where the photos are yellowing over time or simply fall out every time you pick up the book.  Maybe you have tons of photos hoarded away in boxes, bags or storage containers in the basement or attic.  No matter what kind of photo organization situation you find yourself, I'm here to take away the overwhelm and help you tackle those stacks step by step and show you how to organize old photos so you can get them out storage and out where you can enjoy them.
I recently stumbled upon hundreds of pictures from my childhood, tween years, teen years and college days before digital photos were a way of life.  Over the years I've literally just dumped all these in containers and thought I was organized.  However I wasn't and I talk more about that in my post, Are You Organized or Just Hoarding Clutter.
Even though I love the idea of "scrapbooking" I've got a 5 year old and twin baby girls around now and I just don't have the time to do it!  But I still enjoy the idea of being able to look back and reminisce without having to go through storage boxes to do it.  So I figured out several quick and easy systems for getting my photo's in a place I can enjoy them without scrapbooking for hours!  Now I'll share how to organize printed photos with you.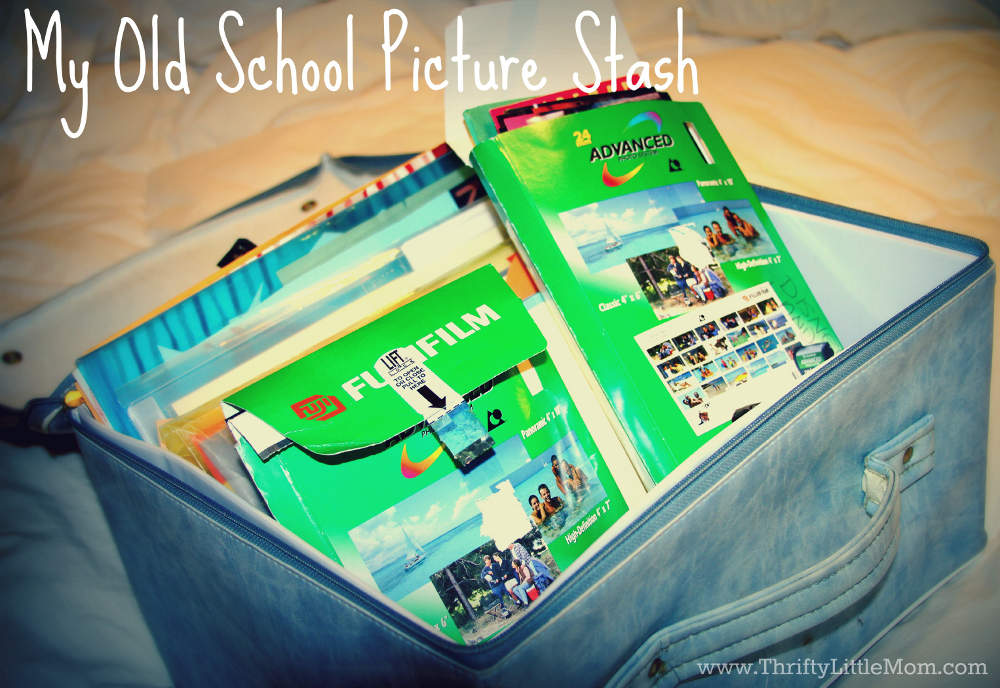 1. Organize Your Old Photos by Divide and Conquer
Depending on the number of photos you have, this is going to be a pretty big project so if struggle with finishing what you start, you might want to read my article: How to Finish Everything You Start.
Get Some Entertainment Going- I struggle to stick with these long term type projects without some form of entertainment going.  So whether that's music, tv shows or movies, I turn them on, grab a cup of coffee and get to work!  I last much longer this way.
Sort – This is the best way to sort old photos for me.  Get yourself a few empty mailing envelopes, empty bins or just spots on the floor for sorting.  Sort them into whatever system you want.

Here are some ideas: Family, friends, year by year or holidays.  It totally depends on what you think will be the easiest way to enjoy your pictures.

Once you have decided how you want to divide the pictures, start going through them one and one and placing them into the piles you have created.
One more container you should be sure to keep near by?  A trash can…
2. Minimize Your Old Photos
Who IS that?– Lets be honest here, there are pictures of grandma and grandpa and then there are pictures of that guy you had a crush on in 7th grade.  Seriously, "what's his face" has no real "meaning" in my life and I will never talk to him again.  Therefore, I have to decide that he isn't that big a deal and completely throw away the picture!  GASP!  Throw away a memory?  No, if I could tell you what his name was and that he made a difference in my life, I would give him real estate in the remainder of my life, but he doesn't.  So out he goes!
What does it mean?– Go through each picture and figure out its true meaning.  Does it deserve a spot in storage?  Will your child care a thing in the world about the picture, the place or the thing in it?  Does it bring you happiness to look at and reminisce about?  If the answer is yes, keep it.  If the answer is no, throw it away!  Otherwise you are storing garbage which is like the definition of "hoarder" (I'm not judging, I've stored plenty of 10-year-old receipts in my life).
3. Go Shopping
Yay!  The fun & easy part.
Once you get through your organization nightmare, you can now get ready to give those pictures a home.
I went down to my local "Ross" store since they are the cheapest and picked up some "Acid Free" or "Archival Quality" photo books.
I tried to find ones in similar height and width so the fit nicely side by side on a shelf.
I did a little research and found that Amazon has a few albums with good reviews that also offer a place to write memo's beside the pictures in case you don't live near a craft store.
These Fabric Frame Cover Photo Album 200 Pockets Hold 4×6 Photos come in about 20 different colors, are safe and have spots for writing notes for under $13 each.

Like this Pioneer "Family" Text Design Sewn Faux Suede Cover Photo Album, Brown
 at right around $15.
Pioneer Photo Albums 200-Pocket Chalkboard Printed "Happiness" Theme Photo Album for 4 by 6-Inch Prints
 ($12.50)
Pioneer Sewn Bonded Leather BookBound Bi-Directional Photo Album, Holds 300 4×6″ Photos, 3 Per Page. Color: Black.
 ($14.95)
Those books with sticky pages and clear covers are the worst.  Get ones that you can just slide the picture into.
You can also get these at places like Kohls, TJ Maxx, Target, Micheal's and Hobby Lobby.  Ross and TJ Maxx are going to be the cheapest at regular price.  If Kohls, Hobby Lobby, or Micheals are having a 50% off sale, you can get them at a good price too.  I needed 3 and they cost anywhere from $9.99 to $12.99 each.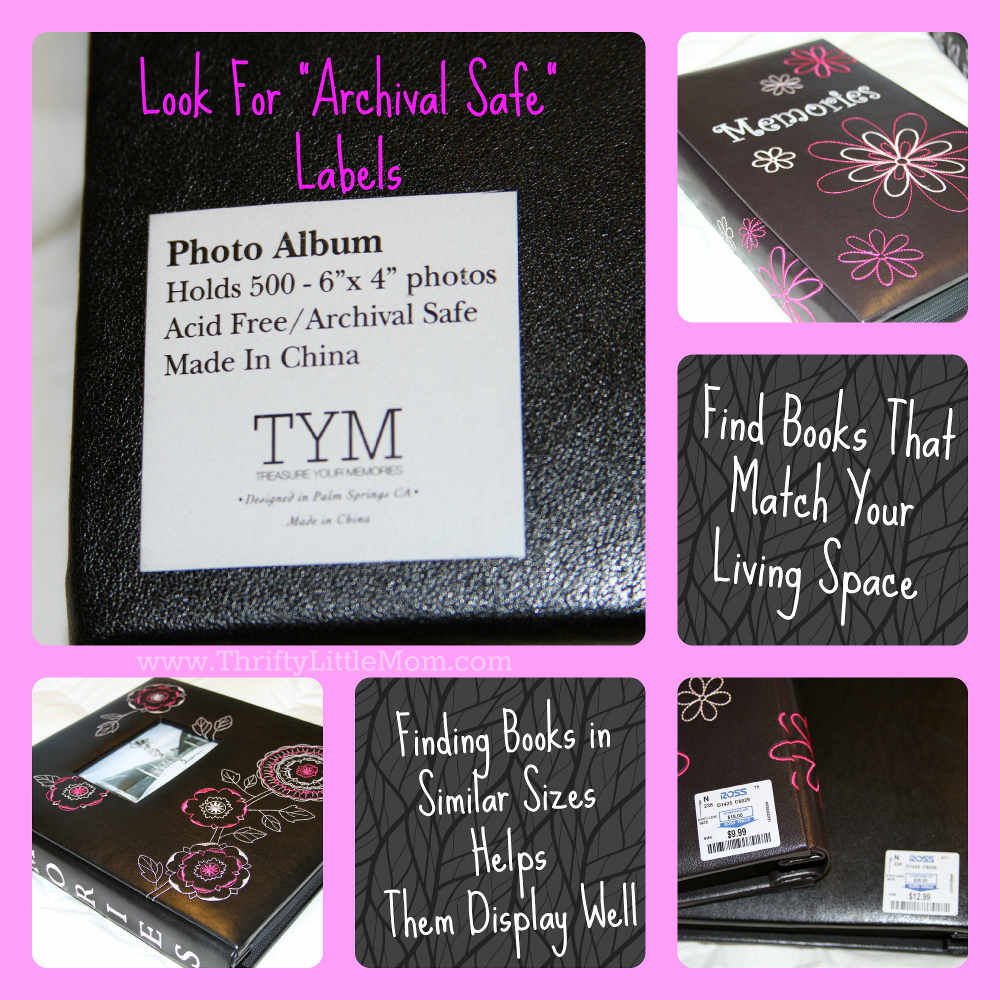 How to Choose an Album:
#1- I started first at looking at appearance.  I wanted photo books that were aesthetically appealing so I wouldn't be embarrassed to have them out on a shelf in a public area of my house.
#2- I  looked for books that held the most pictures.
#3- I looked for books that had a few lines to the side so I could write notes about who or what was in the picture.  You may hate scrapbooking, but at least this way you can leave a note about who's in the picture for family historical evidence (although there are those cases where you wish you could erase certain historical moments of your past such as those awkward middle school pictures where you blinked just in time to make you look high).
4. Start Loading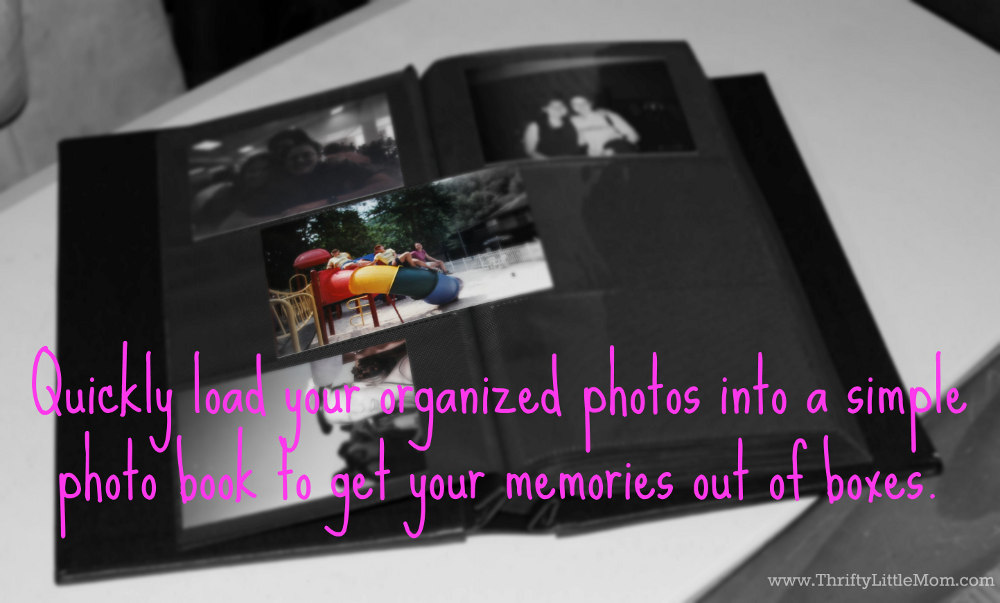 This is going to be a moment you wish you had an "upload" button for your pictures.  But alas, we have not lived in the digital age forever!
Go through your piles and start loading and making notes as you go.
If you have pictures that don't fit well or ones you can cut down and slide two together, go for it!
Your goal is to get those memories out where you can enjoy them.  Not spend hours debating whether you should chop out the random person in the background.  It's okay to cut them up!
If you get overwhelmed by the idea of putting all the pictures in albums and decide you'd like to know how to store old photos in boxes, consider a sturdy container system like this one from Amazon. IRIS Photo and Craft Keeper, Small.  You can sort them and then organize them for safe keeping.  These cost around $10.
And if your concerned about how to store printed photo negatives, there are also plastic protective holders for those too! Print FIle 35-7B25 for 35mm Film Negatives 7 Strips 25 Pack
5. Display Your Work
Put your nice, attractive photo albums on a shelf or table in your family room.
Donate your old suitcase.
Breath in a deep breath and feel the weight of old clutter leave your body!
You just preserved your family history!  Way to go!
Now that you're physical photos are sorted, have you thought about trying Digital Scrapbooking?
Or if that project has you feeling like a weight has been lifted off your shoulders, consider using my tutorial for Decluttering Mementos and Keepsakes!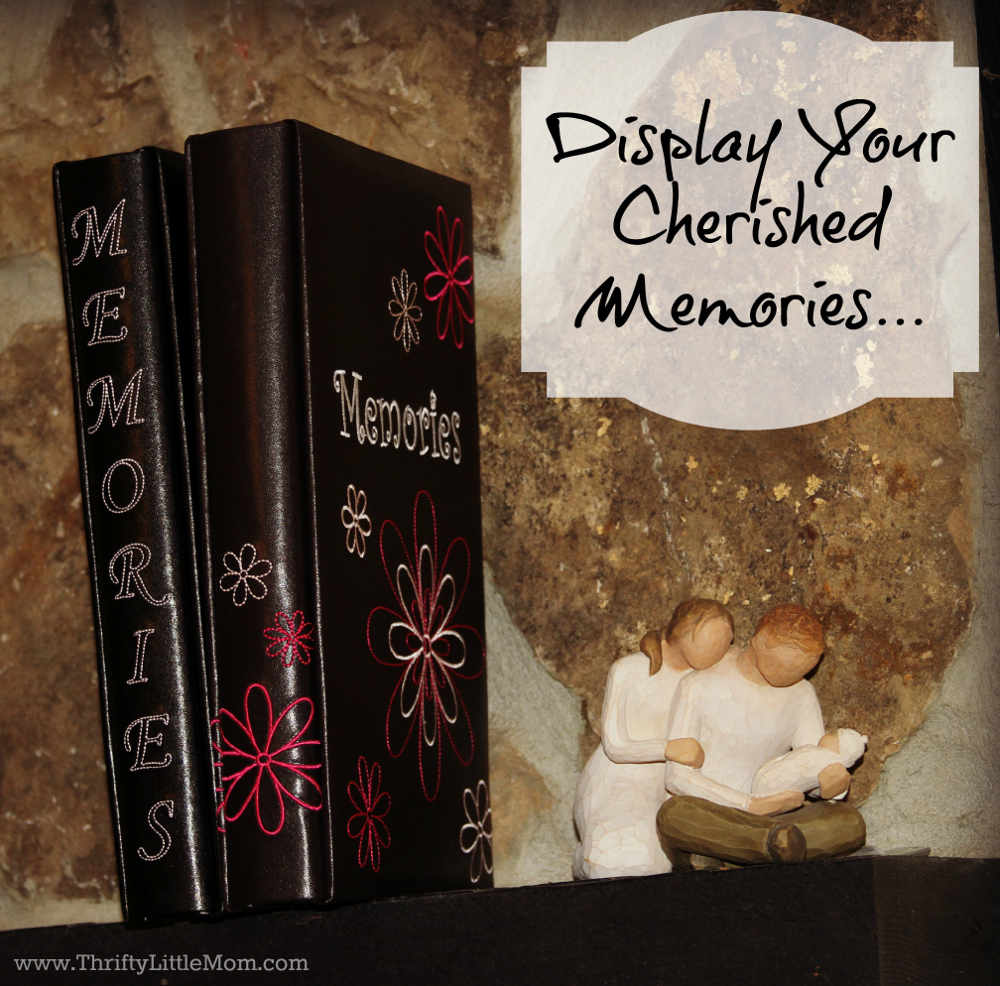 If you have any suggestions or ways you creatively preserved your old print pictures share them in the comments section!  If you enjoyed this post consider taking my 5 Day Complete Life Management Course and Workbook. For years I struggled with being late, feeling overwhelmed with cooking and cleaning and keeping the family organized.  But then I developed a system that worked and you can too! If you struggle to keep your everyday life on time, organized and feeling put together, this course can change your life forever!
Check out this other posts from Thrifty Little Mom: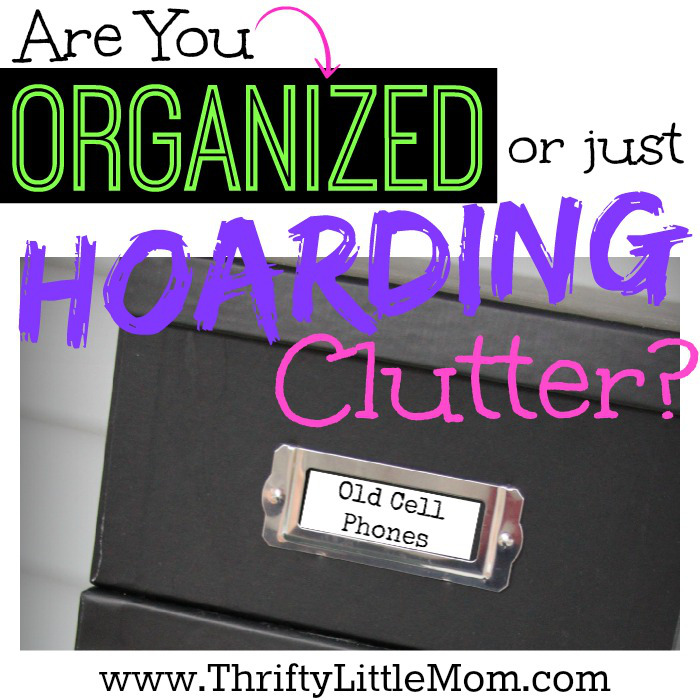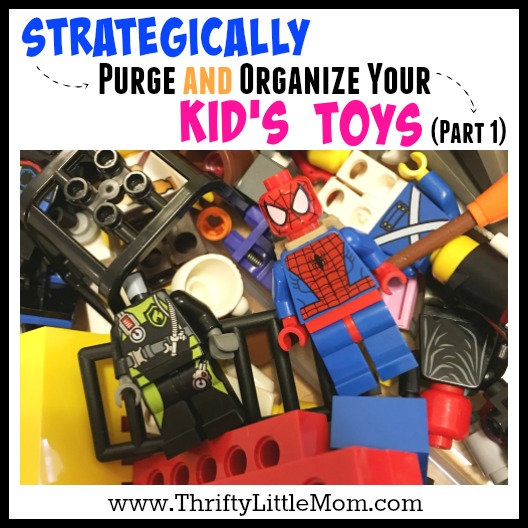 Summary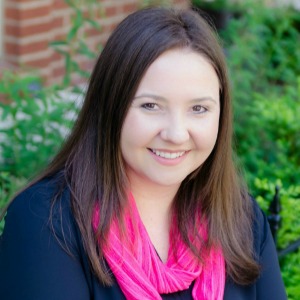 Article Name
How To Organize Old Photographs
Description
Do you have a stash of old printed photos that need to be organized? This article shows you step by step how to organize old photographs!
Author
Kim Anderson
Publisher Name
Thrifty Little Mom
Publisher Logo