How To Get Your Dishwasher Cleaning Again
This post contains affiliate links. As an Amazon Associate, I earn from qualifying purchases. I also earn from qualifying purchases made with other brands and programs. See my
privacy policy.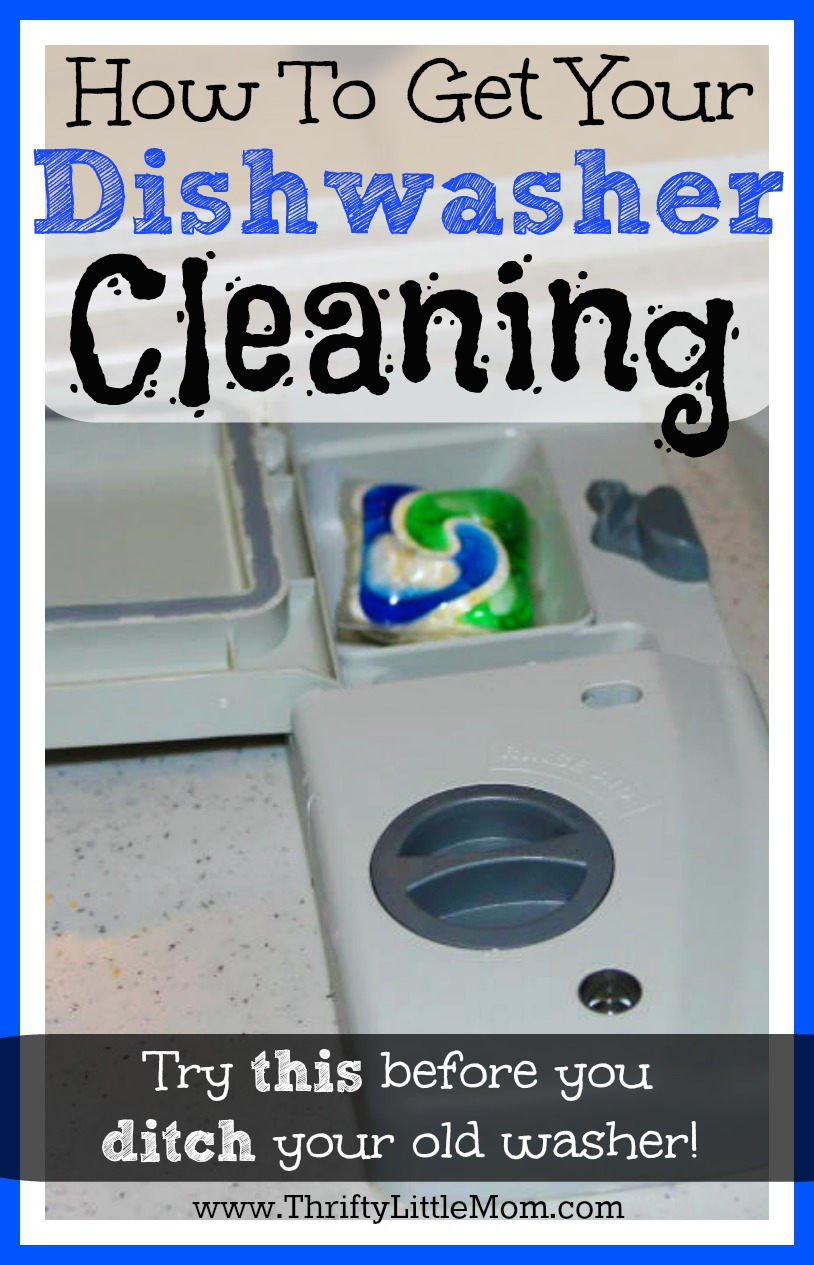 Are you about ready to throw in the towel on your dishwasher?  Well, check out this simple tip for how to get your dishwasher cleaning again.  Before you go shopping for a replacement try this out.
I have never lived in a home or apartment with a new dishwasher.  I have always been aggravated by how unclean my dishes are.  They always have spots or small food particles stuck all over them.  I almost went and bought a new dishwasher, even though mine isn't that old.  Until, by accident, I found a product that turned my dishwasher into my new best friend.
It started with my love- hate relationship with the rinse aid compartment.  You see, I can't hit that thing for the life of me.  I always end up with rinse aid all over the washer door because no matter what I do, I can't pour that blue goo straight.  So in desperation, I started looking for an easier way and I found the answer.  It comes in a tiny pod with green and blue liquid swirled on top.  I discovered Cascade Complete All-in-1 ActionPacs Dishwasher Detergent pods.  I was excited because the rinse aid is built in.  No more pouring…or dumping in my case.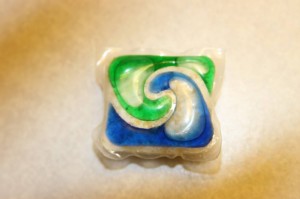 After my first wash with these I noticed a total difference.  You just drop it right into the normal detergent compartment and close the little door.  Not a single dish had residue or food left on it.  After I started using it regularly, I never have to re-wash glasses or plates.  I've always been a person that cheaps out on these things.  I always bought the cheapest gel possible.  But now, I'm willing to pay a little more for a consistently clean load of dishes.  These little babies kept me from hassling with buying a new dishwasher.  Now I can live with and love my dish washer.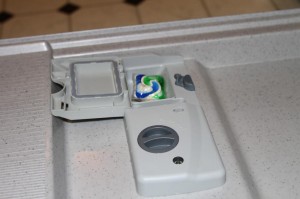 Just put it right into your detergent compartment.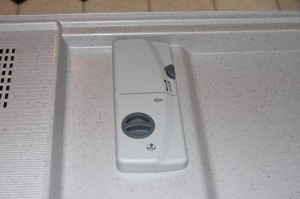 Then shut the little door!
So, if you have a slightly older dishwasher, or even a dinosaur, give this product a try before you run down and buy a brand new one.  It might just save the day and help you tolerate your day to day dish washing.  To make sure you get the right ones, be sure the package says "Complete" on it and the pods have a blue and green liquid swirl on top.  They have also come out with one called Cascade "Platinum" which work just as well.  I didn't notice a huge difference in the pods so I won't pay a little more for the Platinum ones.  If these don't work, and you've tried everything else, it may be time to throw in the towel.  If you need a new dishwasher and want to save some money look for a Sears Outlet or scratch and dent store near you.  Good luck!
If you want to try these little pods before you "invest" in whole pack, you can get a sample pack at Target for around $1.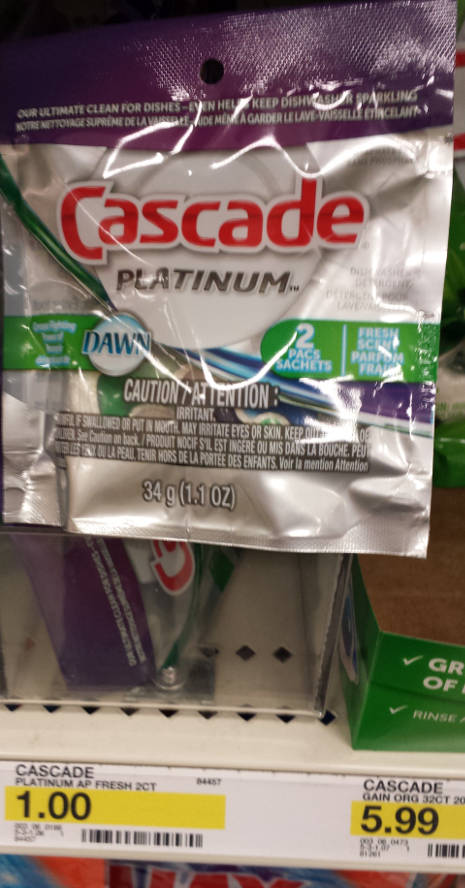 Let me know if this works for you or if you have found other great dishwasher savers!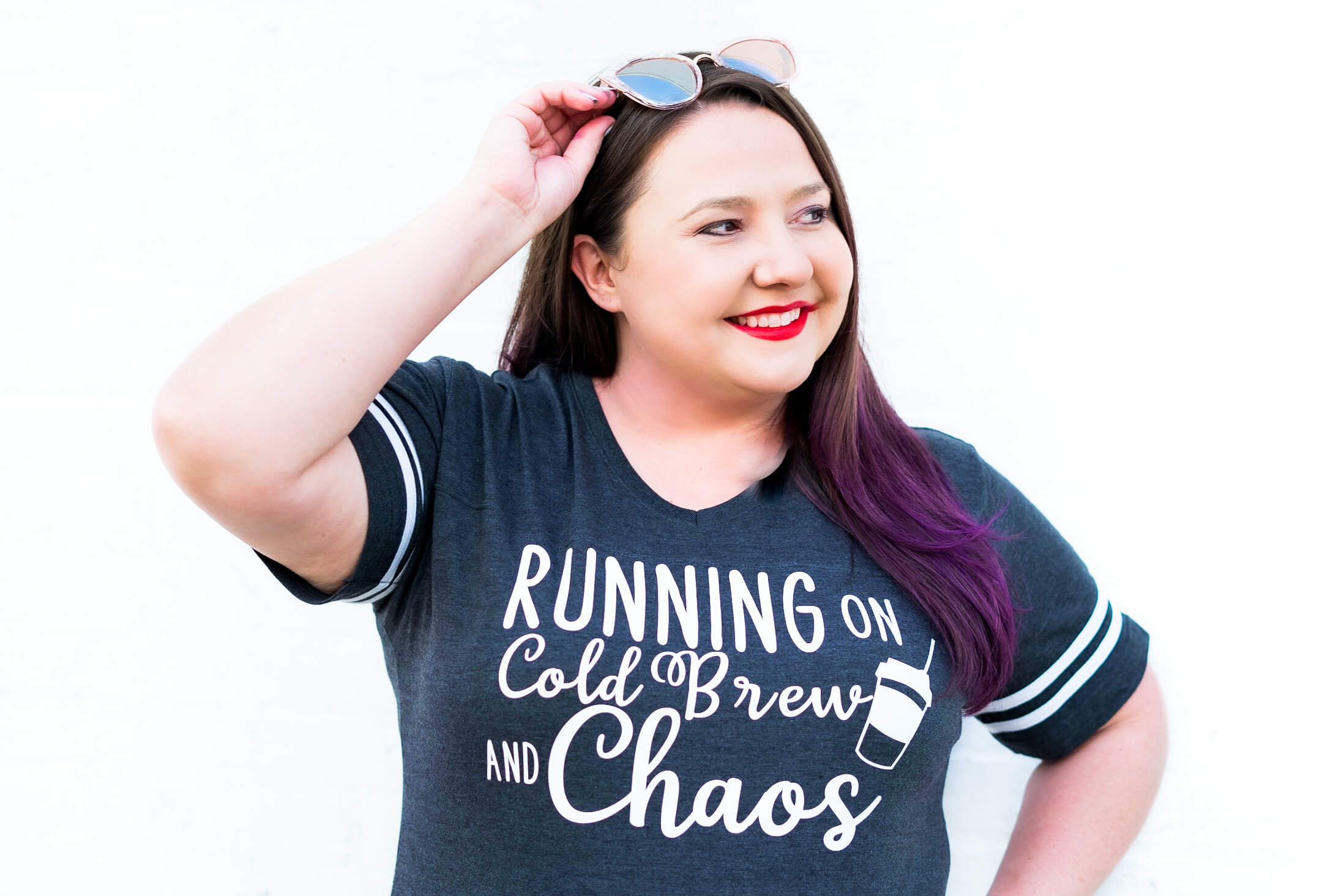 Kim Anderson is the organized chaos loving author behind the Thrifty Little Mom Blog.  She helps other people who thrive in organized chaos to stress less, remember more and feel in control of their time, money, and home. Kim is the author of: Live, Save, Spend, Repeat: The Life You Want with the Money You Have. She's been featured on Time.com, Money.com, Good Housekeeping, Women's Day, and more!