Where To Get Great Deals on Kid's Clothes
This post contains affiliate links. As an Amazon Associate, I earn from qualifying purchases. I also earn from qualifying purchases made with other brands and programs. See my
privacy policy.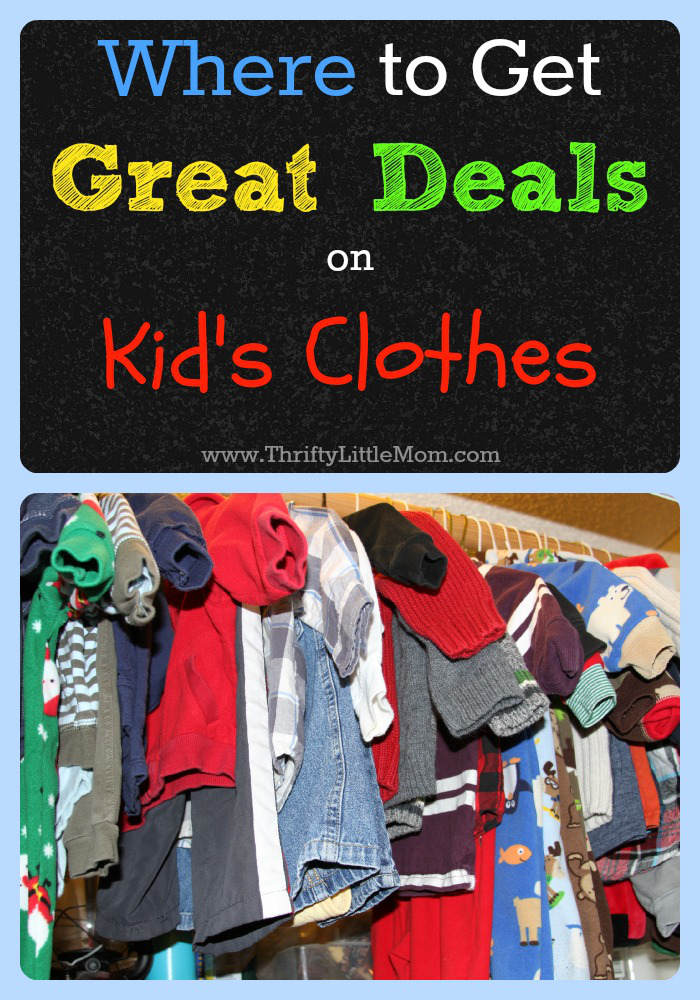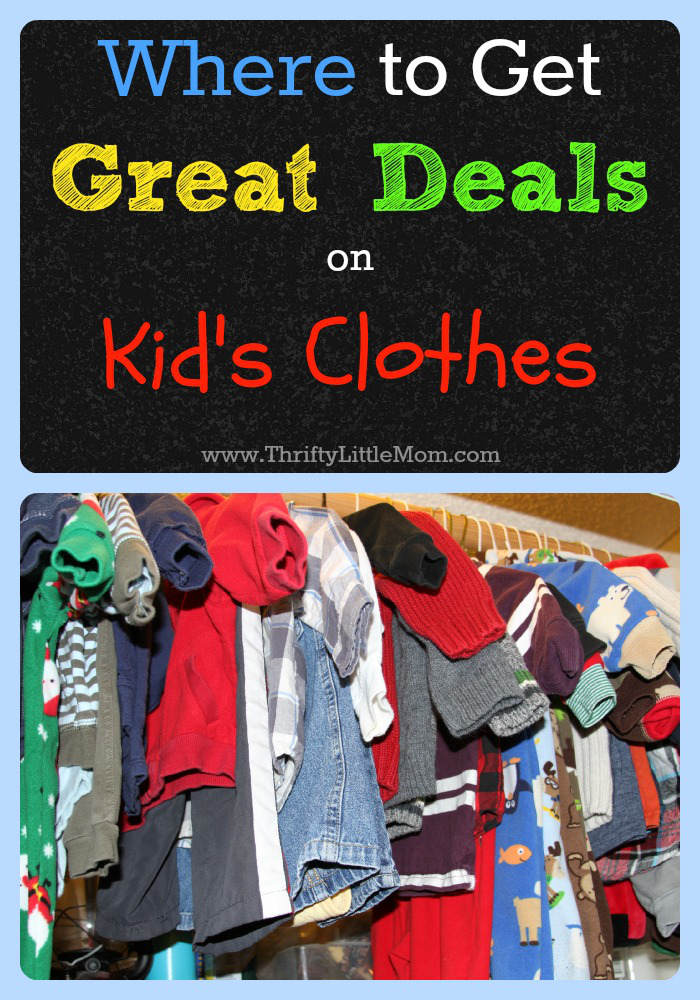 I think that since the economy took a nose dive a few years back people who never thought they would set foot in a second hand store are moseying their way down the thrift store isles.  My family members are all thrift store fans.  My mother in law calls Goodwill the "G.W. Boutique".  At the end of the day, babies/kids cost money.  They grow out of clothes so fast!  Paying full price for clothes (they are gonna half ruin) is difficult to swing for some.  So I have written this post to give you a heads up on some outstanding places to get the hook up on cheap, yet nice clothes for your kids.  I wanted to give you info on where to get great deals on kid's clothes.  We will ease our way into this starting with new clothes.  This is for those of you who have yet to venture into the amazing world of recycled clothing.  We will then progress to the serious deal seekers secrets.
1. Ridiculous Retail Clearance Sales-
Kohls– At the end of particular seasons, Kohls gets crazy and will mark their kids clothes down up to 80%.

Go ahead and sign up for their emails, even if you don't have a charge card because they send out sale announcements that let you know when clearance will be 80% off along with coupons you can use as a non- charge customer.
I've gotten Jumping Bean brand clothing for around $1 at these sales.  I also used to get my tween nephew Tony Hawk clothing for super cheap during these times.

Target- The key to Target is going on a clearance prowl each time you visit the store.  I have gotten my son Spiderman light-up shoes that were normally $25 for $5.  They keep their clearance at the ends of the isles or on the back racks.  Look for the signs & go on a hunt for amazing deals!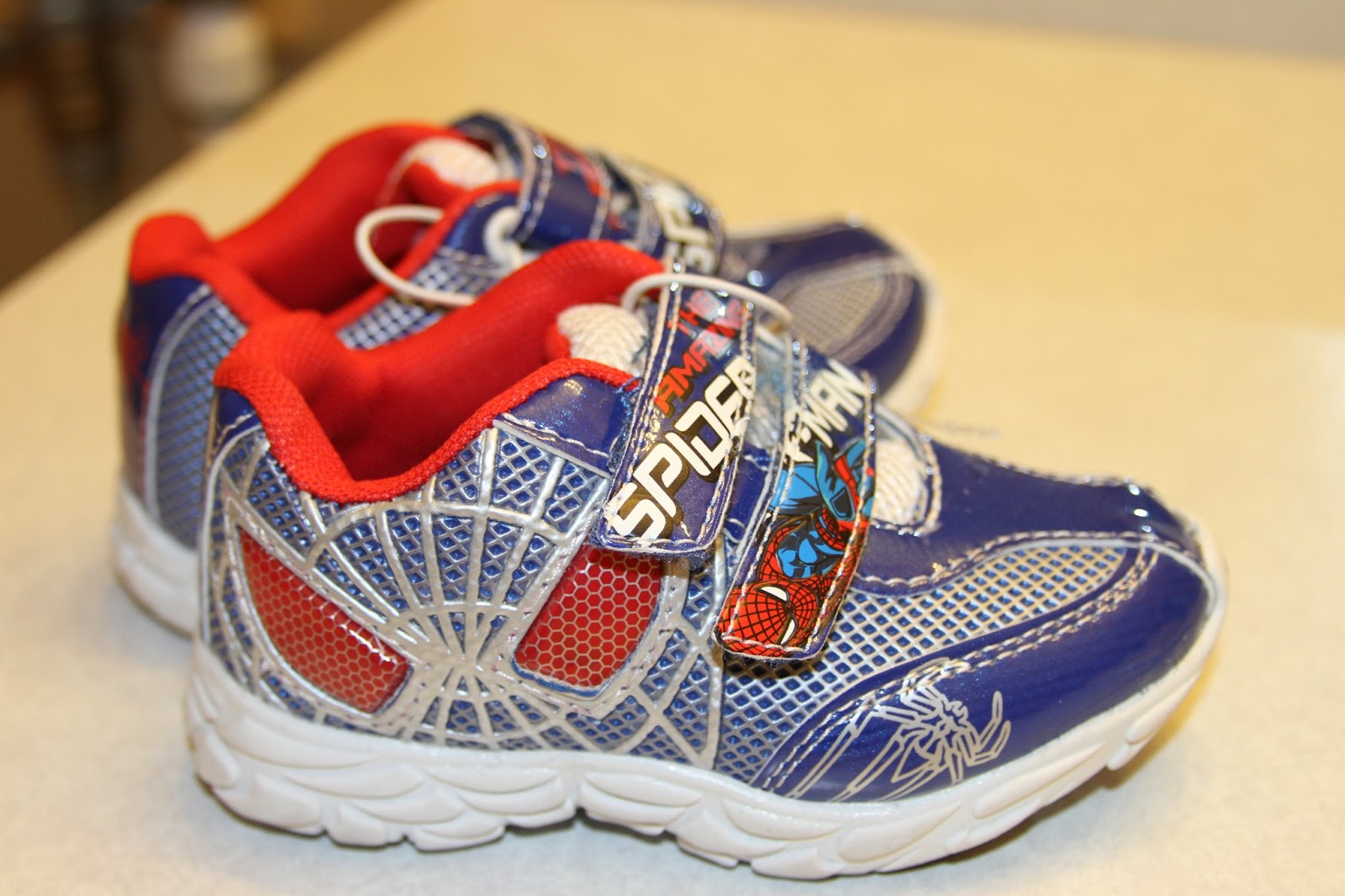 $5 Spiderman Shoes on Clearance @ Target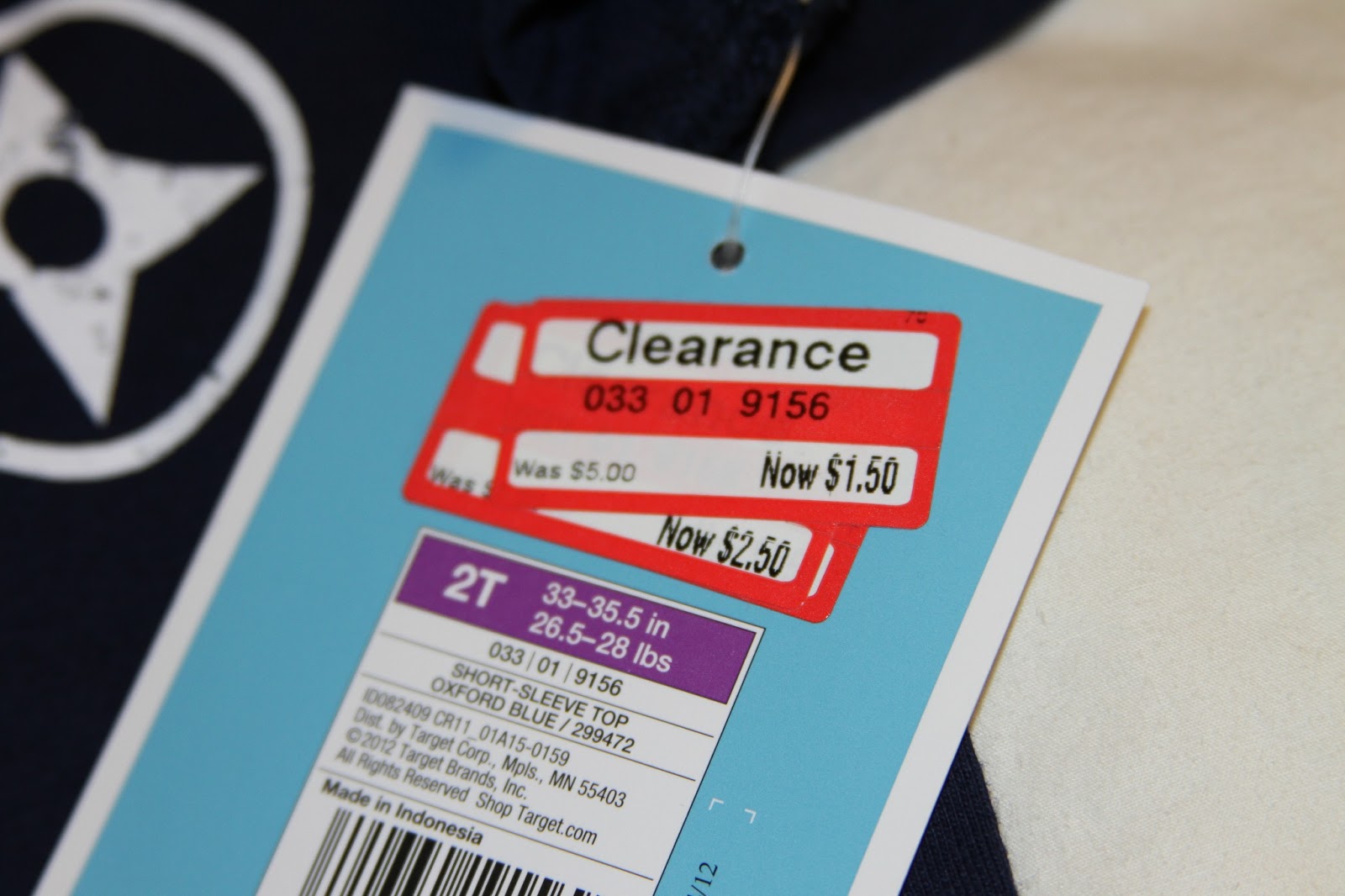 Target Clearance Ninja T-Shirt
They also mark their clothes down in the kid/baby sections up to 70% off.  Just look for the 70% off signs when you go into your kids clothing section.  The Circo brand can be as low as $1 as well.
Kid's Mall Stores- The Children's Place, Carters, The Limited Too, Janie and Jack, Baby Gap, Old Navy. etc.  Sign up for the emails to the stores you like the most and look for emails that indicate clearance or a percentage off clearance (even better).  I have paid $1.50 for baby shorts at Baby Gap before because I grabbed them at the right time. Many of these stores also have "outlet" locations that sell last seasons stuff cheap.
2. Re-sale Stores
This is for people ready to open themselves up to the idea of second-hand clothing.
If you've got a baby or elementary age kid- Once Upon a Child is a nationwide chain of re-sale stores.

I stumbled upon a $1 sale at my local store last week and got all my kid's winter clothes for $1 each.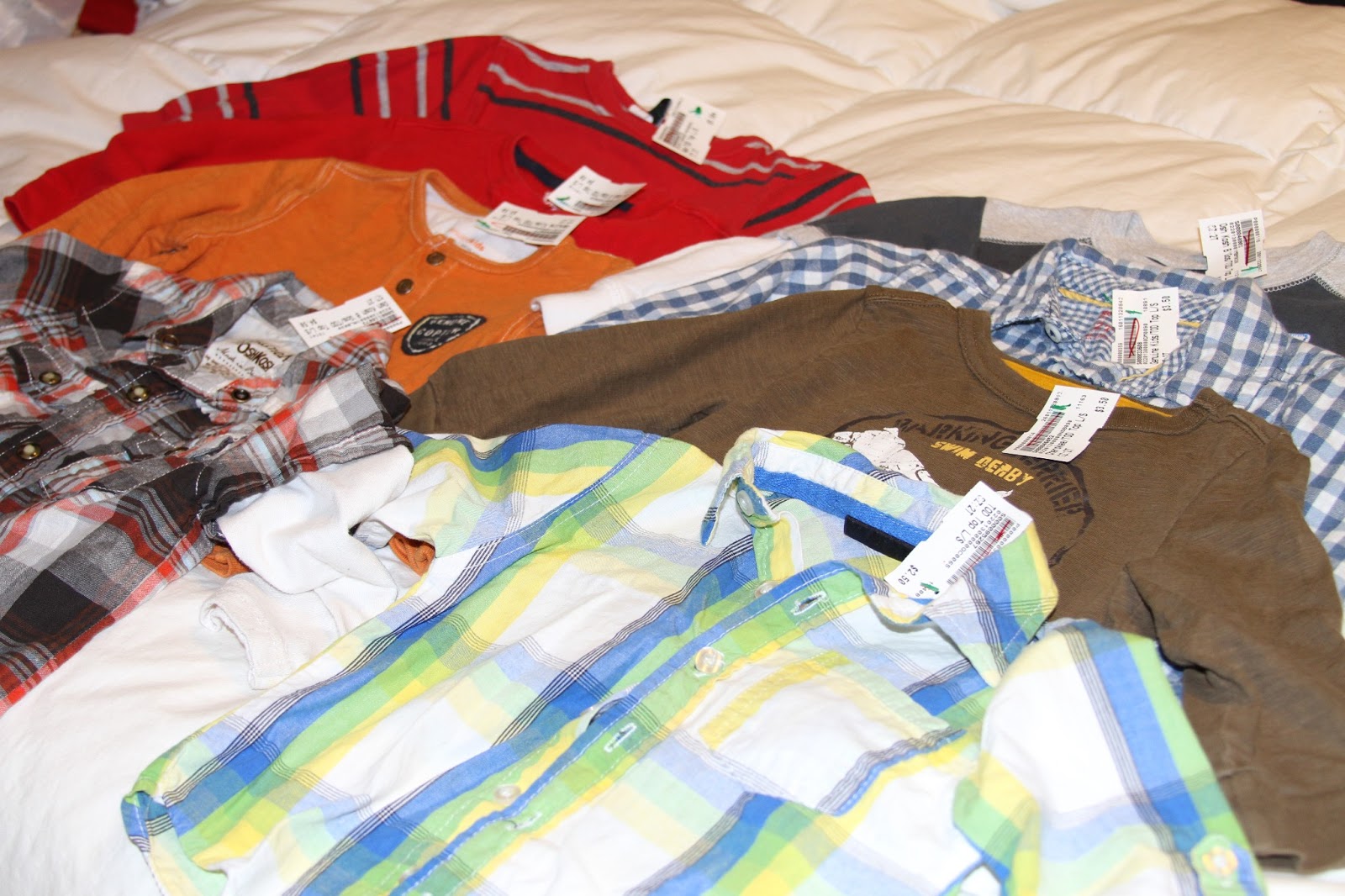 My Once Upon a Child $1 Stock Up For Fall 
If you've got a Tween/Teens- Plato's Closet is a nationwide chain of re-sale stores.
These two stores basically buy people's gently used clothes and turn around and sell them.
Again, signing up for emails for these retailers will let you know when you can do things like "fill a bag" and get a huge discount.
3. Consignment Sales
This is a more thrilling way to get your hands on some kids clothing.
I never realized that their was a subculture of women involved in consignment sales until I had my first baby.
You'll need a little prep for shopping these.
You should bring cash (most sales charge a fee for running cards).
You will also need some sort of shopping cart contraption.  Mine is a laundry basket with rope attached that I drag on the floor behind me (seriously).
Consignment sales can be in churches, community centers, empty shopping plaza's or fairgrounds.
There will be alot to look at.
Plan to have some time on your hands.
Plan to bring your patience with you and leave the little ones at home.
Plan to bring a calculator and a budget because it can get really crazy really fast!
Saturday is usually 1/2 price day at the sales.

If a cosigner marks "Yes" to Discount or Half Price, you will pay half the price on the tag.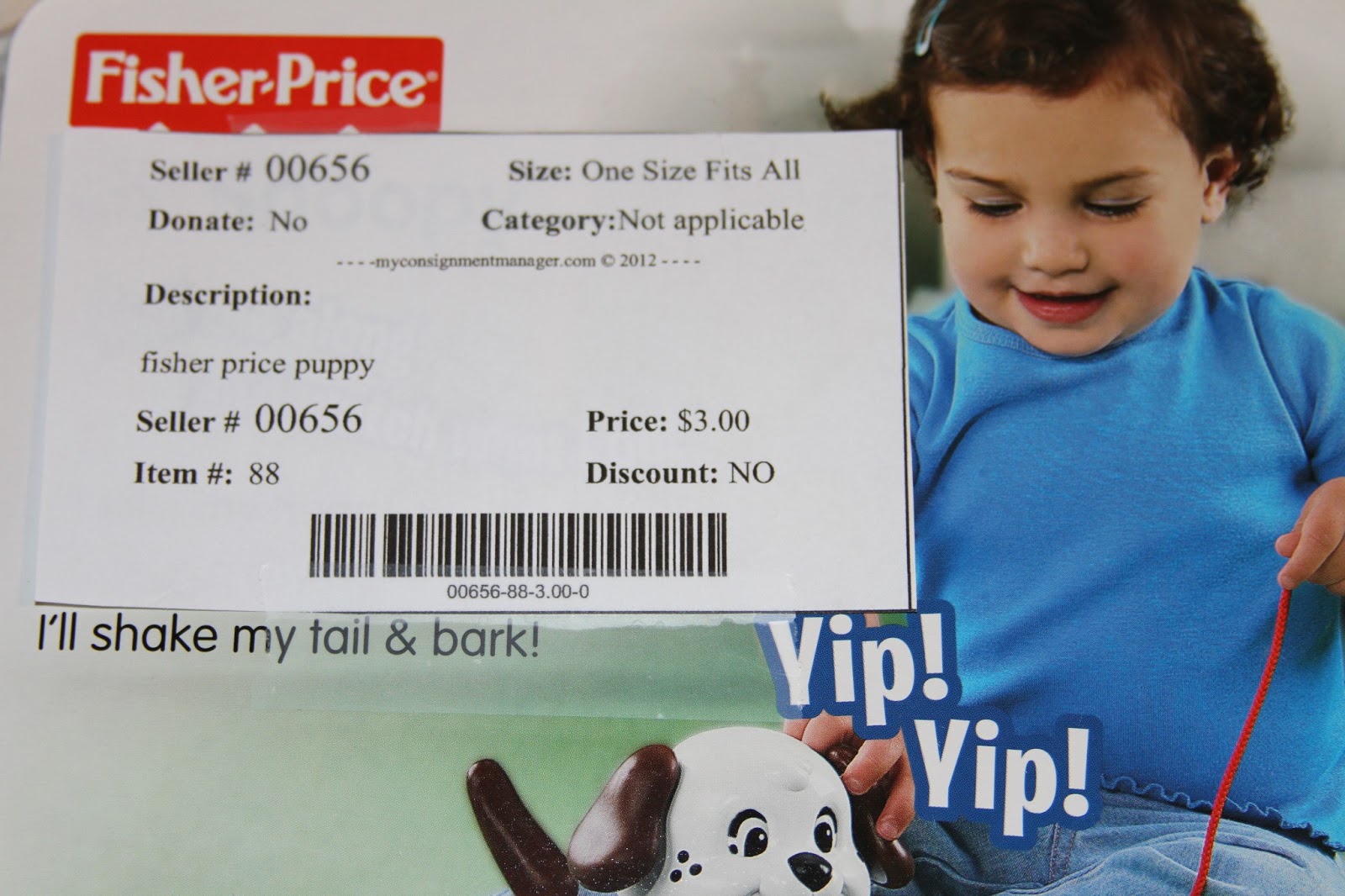 Consignment Tags Often Look Like This.
If it has Discount: No, then it won't be half price on Saturday.
4. Consignment Stores
This is where people bring their items, they are looked over well and then put on a sales floor in the consignment store.
The store splits the price of the item with the seller.
The seller gets paid when and if the item sells.
This is for people that may not be ready to walk through thrift stores.
Consignment stores are usually highly selective in what they sell.

Therefore you will pay a little more than thrift store prices but you'll also not have to filter through clothes wondering if you missed a stain.
5. Thrift Stores
Thrift stores are one stop shops for cheap prices on kids clothes.
Thrift stores take clothing & item donations from people and usually re-sale them to benefit non-profit organizations.
Since it's based on donations, thrift stores usually take whatever they can get and put it out to make money.
You really have to look stuff over good.

This doesn't mean you can't get nice stuff because there are plenty of rich people who would rather dump it for the tax write-off than sell it themselves.
Look out for holes, missing buttons, missing zippers or stains.
Sometimes you can get the stains out and then sometimes you don't want to know what they are.

Thrift stores are open year round so you can stop in and check out clothes without waiting for a particular season of the year (unlike consignment and garage sales).
Prices for kids clothes are usually always less than $5.
You can also easily find "uniform" friendly clothing in thrift stores.
6. Thrift Store Outlets
This is the last stop for clothes from thrift stores.
For example:

Goodwill gets such high quantities of donations, they send leftovers to these places.
You just have to "Google" your state and "Goodwill Outlet" to look them up and see if any are near you.

These are for serious deal seekers.
Clothes are no longer on racks at this point.
They are in giant bins and you have to wade through them to find the good stuff.

My mother and a I have a system where we get on opposite sides of the bin and start shifting the clothing rejects back into the bin behind it.

Clothing is also not priced per item, it's priced….BY THE POUND!
At the Goodwill Outlet I used to go to in Tampa and in Charlotte, clothes were $1.29 per pound and let me just say, you can get a lot of clothes for that kind of money.
You may want to wear gloves but you will definitely need hand sanitizer :).
7. Garage Sales
The key to finding kids clothes at garage sales without wasting tons of gas is to watch out for "Neighborhood", "Community", or Church yard sales.  That way you can just park and walk from house to house.
This is usually the cheapest way to buy clothes.
But, it's hard to tell who's selling the sizes you need.
I usually pay $0.25-$2.00 for my kids clothes at these.
If you don't find "community" sales, look on craigslist for sales featuring kids clothing in the sizes you need.  Then you can just drive straight there.
Bring cash, comfy shoes and wear some sun screen.
Now you know some where to get great deals on kid's clothes. Shop at your comfort level and enjoy the thrill of the savings!  Let me know of any places you love to shop for good deals on clothes.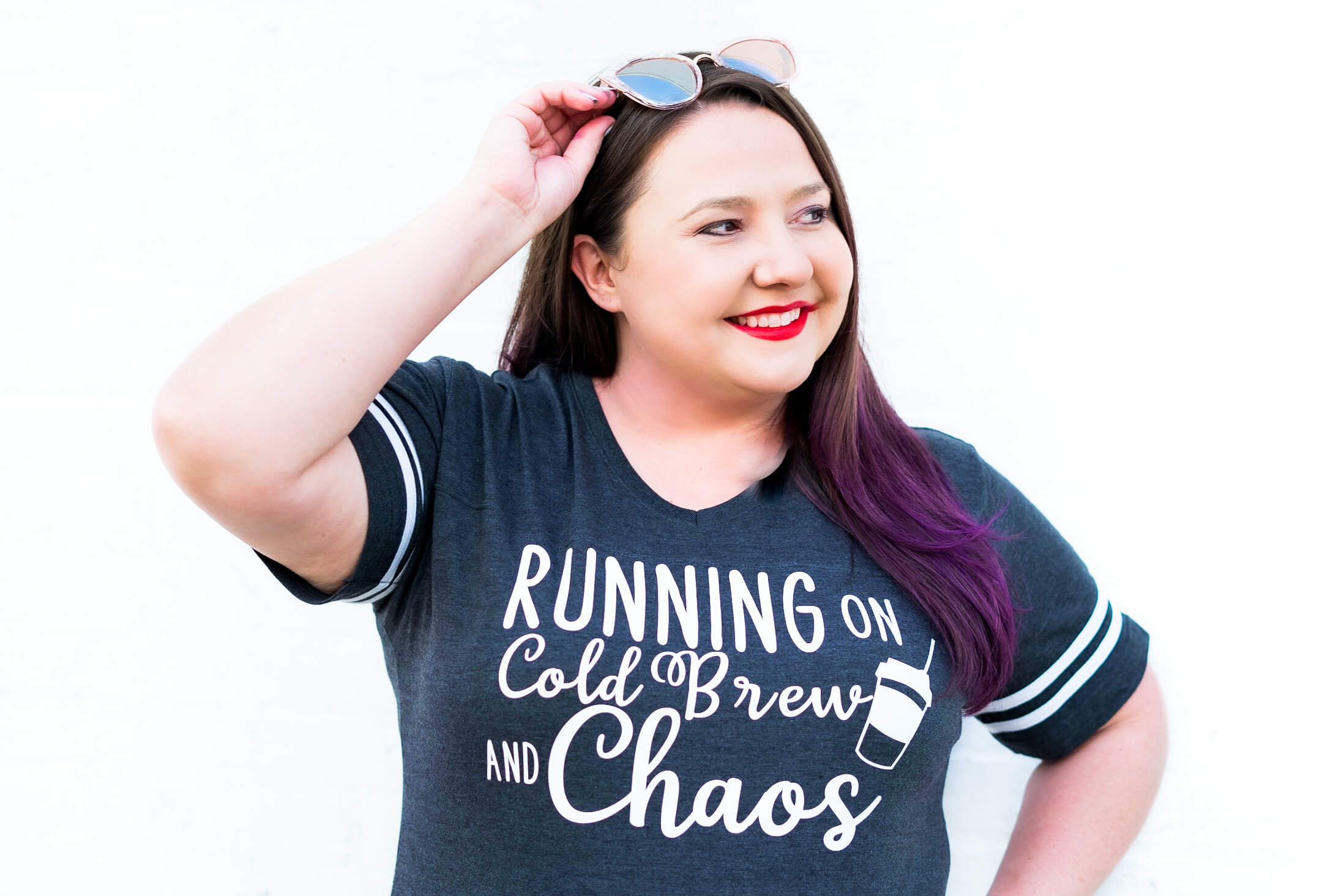 Kim Anderson is the organized chaos loving author behind the Thrifty Little Mom Blog.  She helps other people who thrive in organized chaos to stress less, remember more and feel in control of their time, money, and home. Kim is the author of: Live, Save, Spend, Repeat: The Life You Want with the Money You Have. She's been featured on Time.com, Money.com, Good Housekeeping, Women's Day, and more!