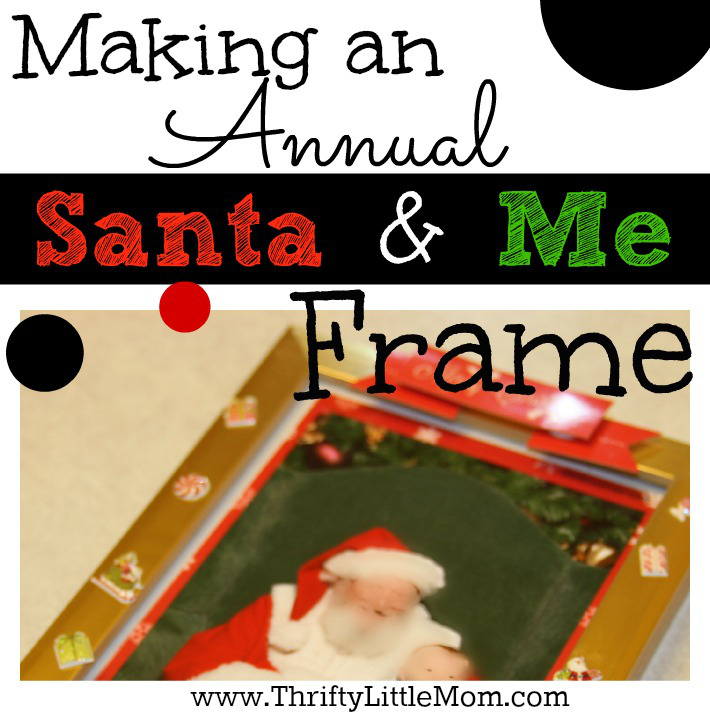 I hadn't planned on being a mom that did Santa pictures every year because they are super expensive. But my mom and sister kind of talked me into it my son's first year.  So I conceded (grandma paid) and the picture came out great! Now I'm really looking forward to his Santa session this year.
The trouble is, that little Santa picture that was a fairly expensive memory, just got stuck on the side of my fridge.  It's cute, but it doesn't have a special home.  The more I thought about making it an annual tradition, I suddenly had a thought about also making an annual frame with my son to put it in.  My hope is that the pictures can get carefully stored with my Christmas decorations and each year and it will be fun to pull them out and joyfully remember the years past.   I can then slowly over the years build a collage of "Santa and Me photos" of my kids that will serve as delightful decorations on a wall of my home during the holidays.
If your family isn't into Santa photos consider still making a frame for your annual family Christmas photo or one you put on your family card.  You can even just take cute Christmas footed pajama pictures of your kid every year and load them up.  It's all about catching the joy and memory of your family or child each Christmas.
Here's how I this project, the thrifty way.  On the order of $5.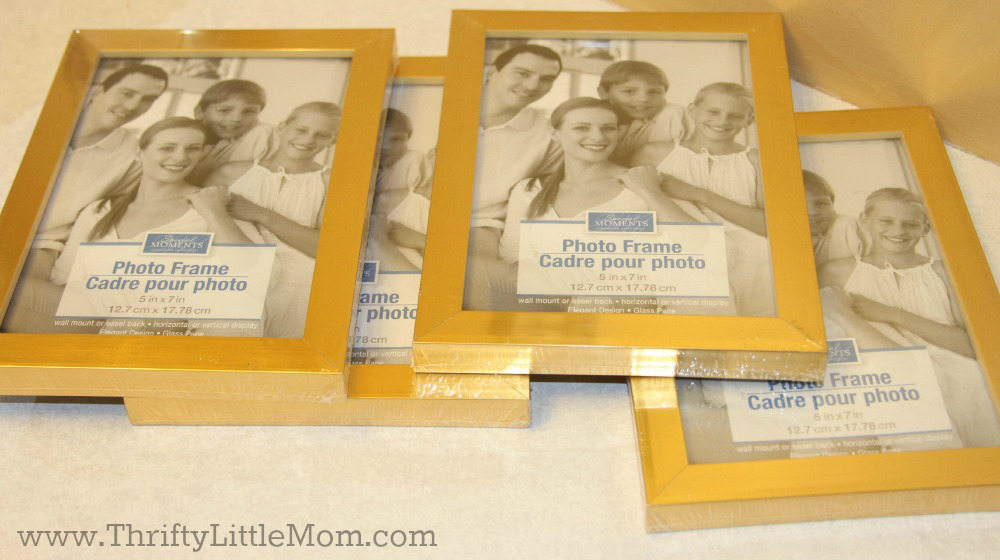 Step 1- The Frame
I went to my local dollar store and picked up 5 small gold frames (1 for each upcoming year).  I picked ones that had a flat surface since I'm planning to decorate the frame as mess free as possible with my son.
Frame = $1.00
Step 2- The Decorations
Since my son is only 2, I went with adorable stickers as my decoration medium. I picked these up from my local craft store on sale at 40% off.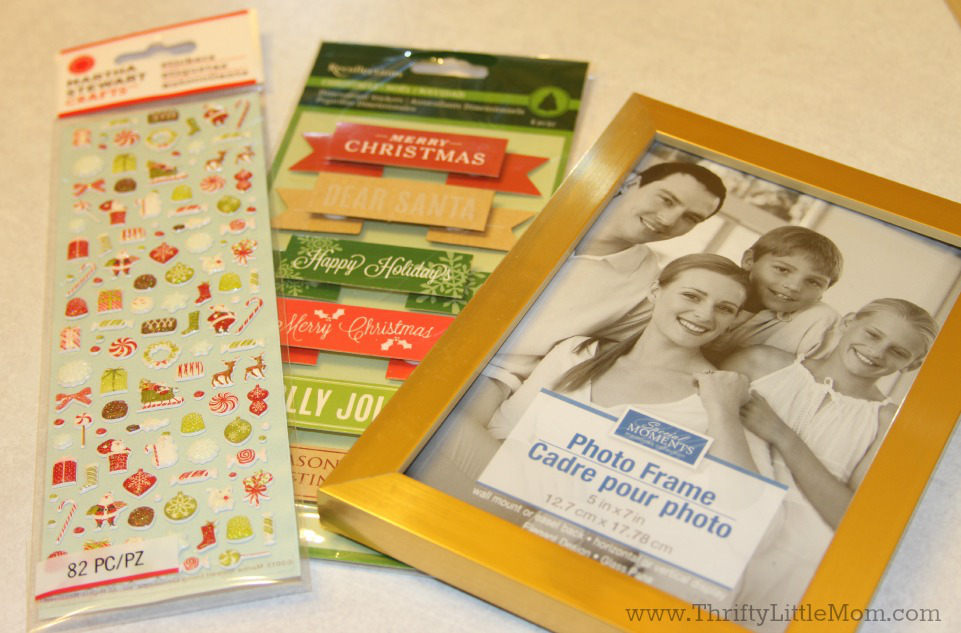 With Thanksgiving in few days, the last thing I need is more messes to clean up.  Maybe we can do some puff paint next year.
The craft store had lots of 3D stickers that my son could stick on and smoosh.
Stickers = $4.00 (I plan to use the left over stickers for future year projects).
Step 3- Let Him Decorate!
I sat my son down at the kitchen table and handed him the stickers to stick on.  He needed help with some and others he "smooshed" himself.  He picked out the ones he wanted to use and we used them!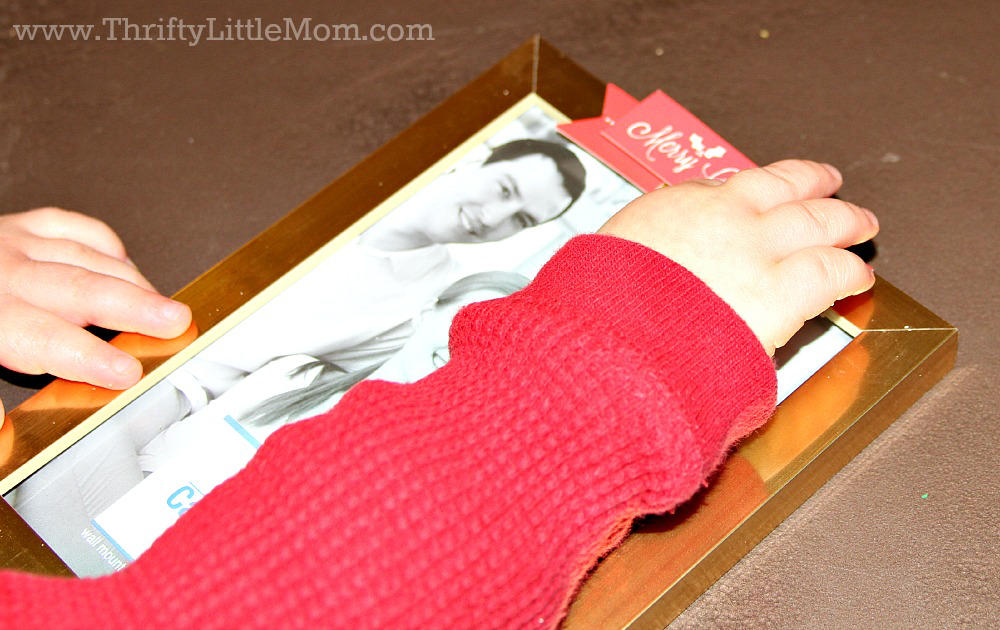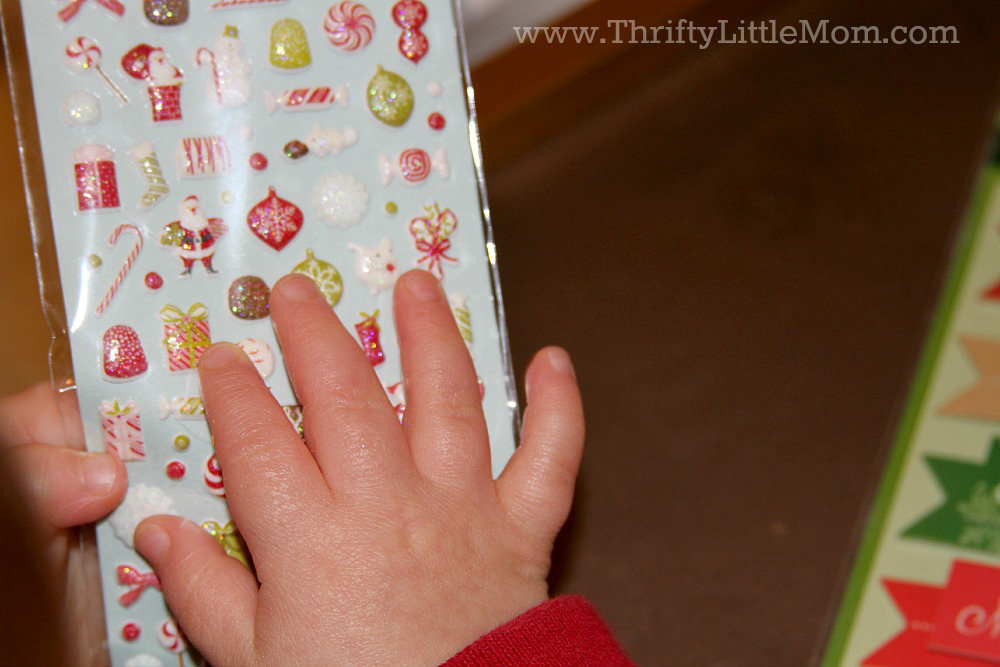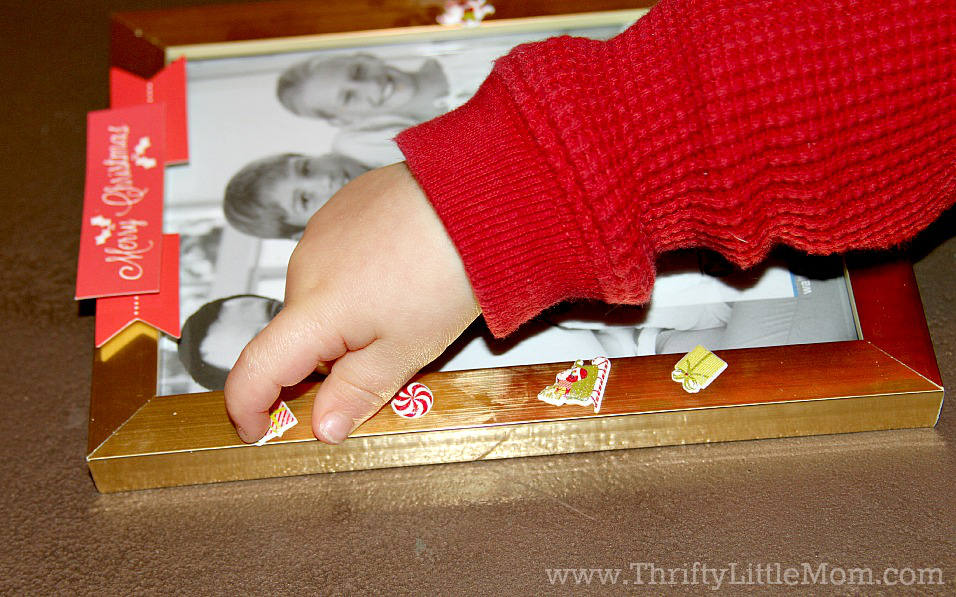 A few did end up on him, I mean, it's a sticker!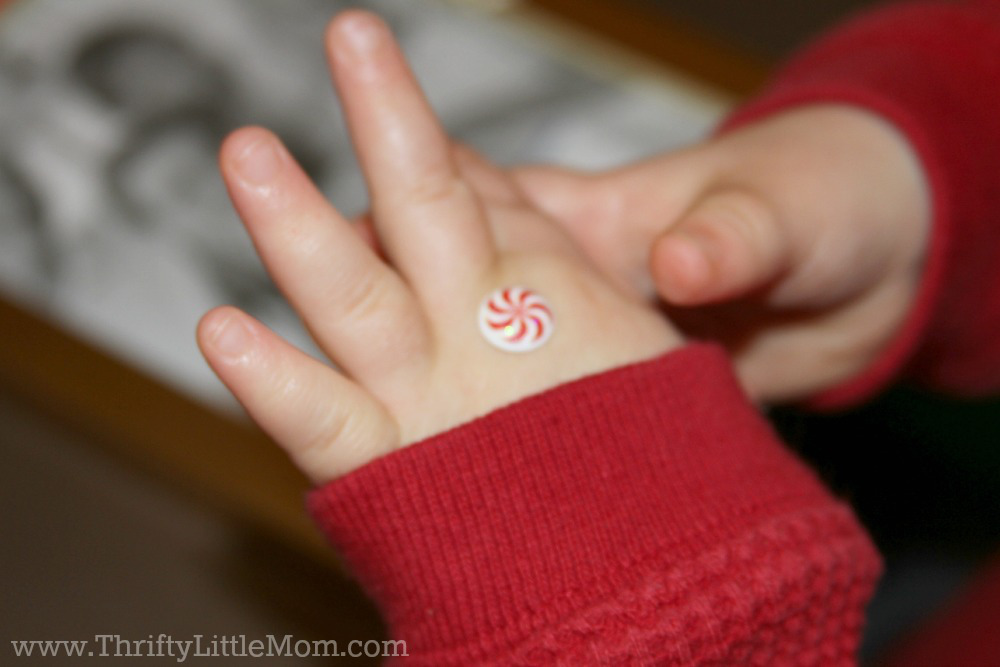 This activity also worked on his fine motor skills as I picked out relatively small stickers for embellishing.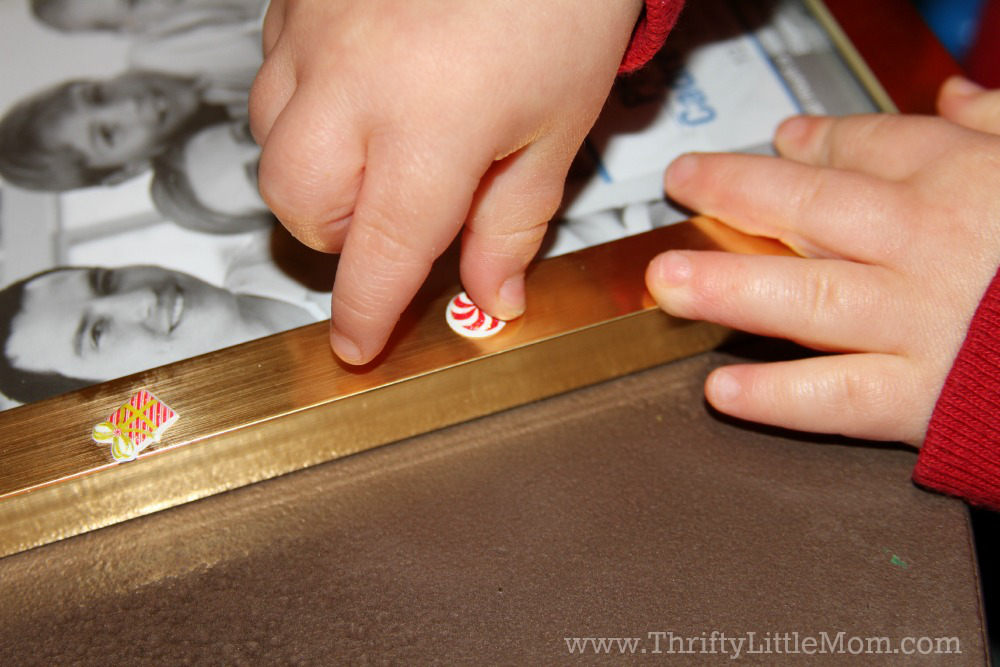 He did put some on the glass, but we moved those over and he enjoyed taking them off and putting them back on.  The activity took about 15 minutes.
I was able to do a craft with my kid and then have a special home for the Santa picture on the fridge for under $5.00.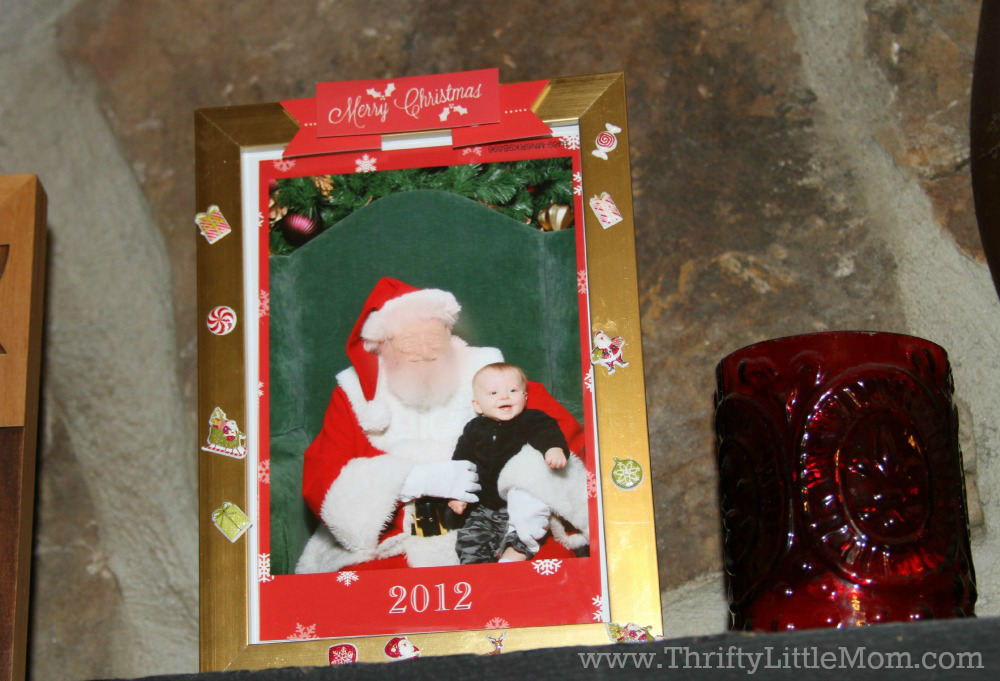 Step 4- Repeat!
Make it a fun tradition from year to year to let your child make a Christmas frame to house special Christmas photos.
If your kid is particularly crabby one year in the picture, maybe make a Grinch themed frame.  Not all those Santa pictures come out like sparkles and rainbows.
Kim Anderson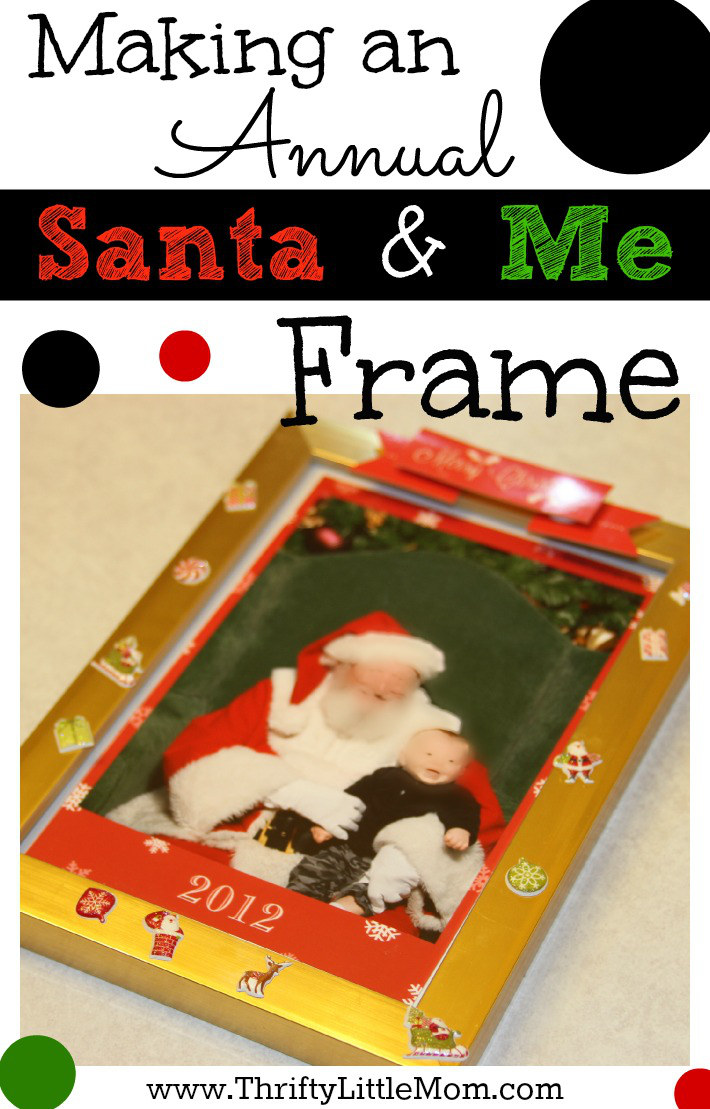 Access my FREE Party Printables Vault!
Subscribe to my weekly intentional living email magazine and I'll give you access to my life printables vault! Cleaning, planning, organizing and more!
Don't forget to check out what's in the resource library! https://thriftylittlemom.com/thrifty-little-mom-resource-library/ Password: Thriftyprints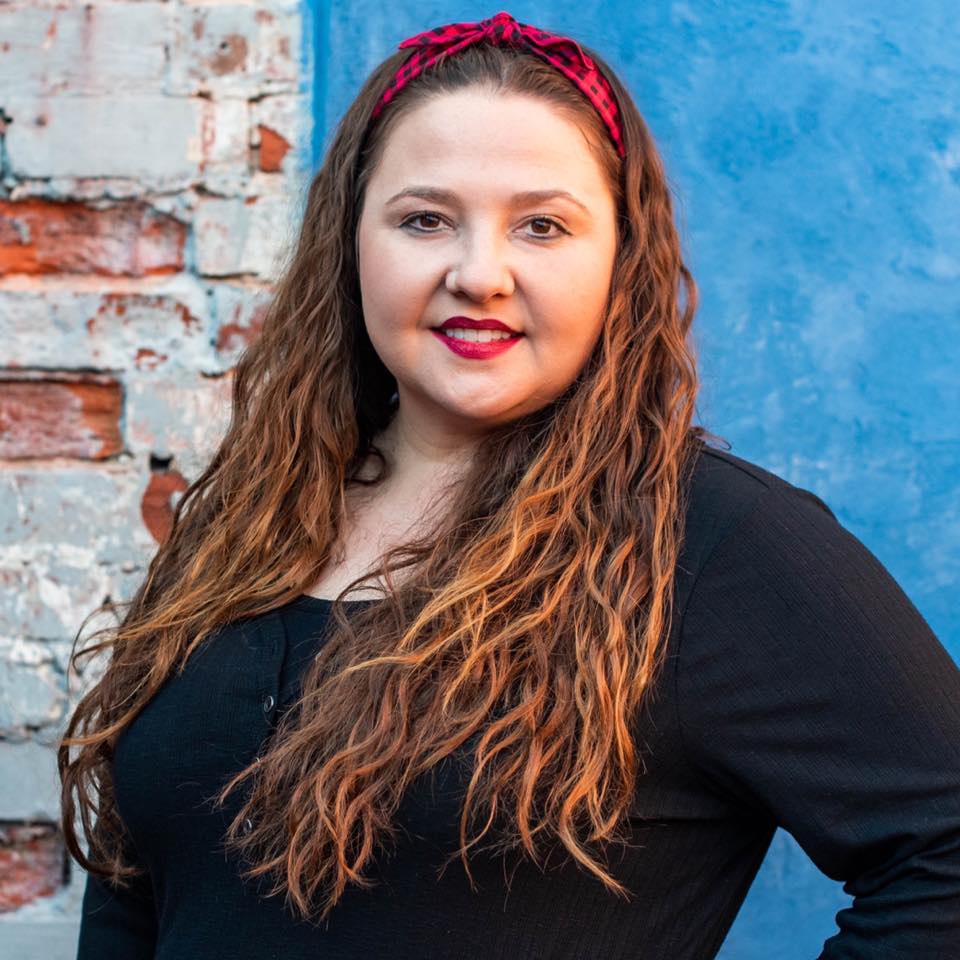 Kim's is the party planning, cupcake loving, celebration catalyst behind the Thrifty Little Mom Blog. Kim was a pro event planner for over 7 years before she became a full-time blogger. Kim is the author of: Live, Save, Spend, Repeat: The Life You Want with the Money You Have. She's been featured on Time.com, Money.com, Good Housekeeping, Women's Day and more! Kim aims to inspire you to create parties, celebrations and gatherings that everyone loves!