Making Dinner the Least Stressful Part of Your Day
This post contains affiliate links. As an Amazon Associate, I earn from qualifying purchases. I also earn from qualifying purchases made with other brands and programs. See my
privacy policy.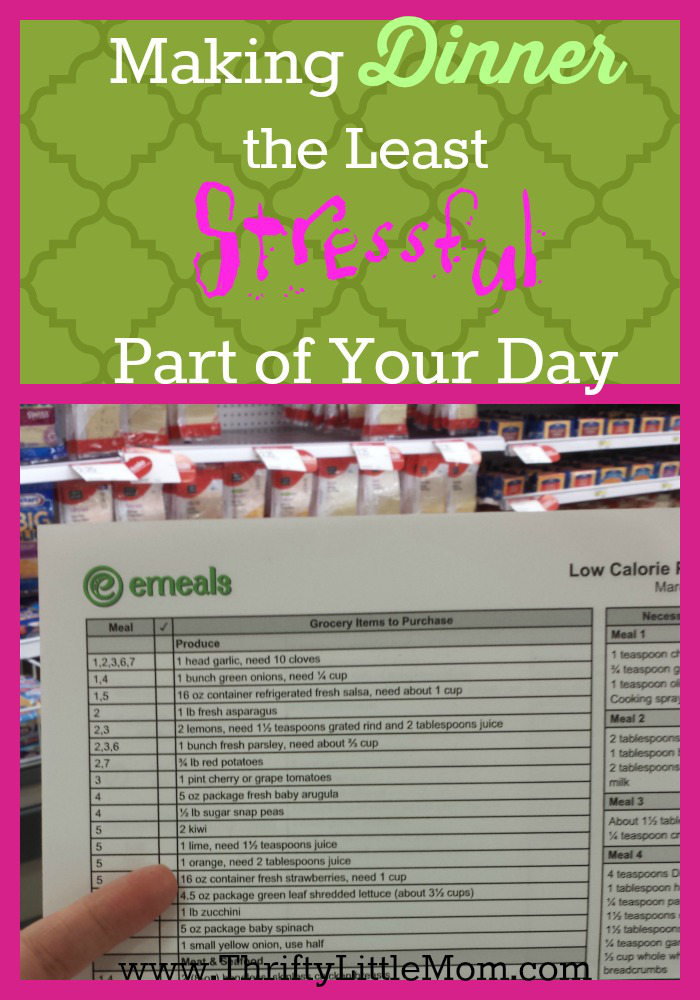 Back in March I went on this crazy quest for 30 days to use up the contents of my freezer and cabinets since I was running out of storage.  My challenge went pretty well with the exception that I ran to the grocery store more times per week for small random purchases and dinner time became the most stressful part of my day.  Every night I was throwing stuff together and praying that it came out tasting okay just to use up what I had.  Up until that challenge I suppose I had gotten a little spoiled.  I had grown accustomed to having a meal plan already laid out each week where I literally didn't have to think about dinner.  Even though I'm glad I did it, I'm ready to return to a little order in my life.  If you find that cooking dinner is one of the most stressful parts of your day, let me enlighten you to a new way of cooking!
1. It Starts With a Plan
I had heard about an online meal planning program through Dave Ramsey's radio broadcast for over 2 years.  Everyday I heard about eMeals but always assumed meal plans were for people who couldn't cook.  Boy was I wrong!
eMeals is an online meal planning tool.
You simply choose the number of people in your family (1-2) or (3-6).
Then pick a menu plan based on your family's eating style. There are 14 to choose from:
Classic Meals
Clean Eating
Paleo
Low Calorie
Slow Cooker
Low Fat
Low Carb
Kid Friendly
Simple Gourmet
Mediterranean
Natural/Organic
Gluten Free
Vegetarian
Portion Control (WW Point Friendly)
2. Purchase Your Plan.
Choose from the following payment options.
3 months: $30 ($10 per month)
6 months: $48 ($8 per month)
12 months: $58 ($5 per month)

3. Go Shopping With A Pre-made list
My favorite part of eMeals is the shopping list they provide each week.
You literally walk through the store with your list and shop for what is on it.
If you follow the list you will have every ingredient you need at your disposal for every meal during the week.
Thrifty Factor: Some of the plans are detailed enough to let you pick the store you shop at and they will tell how much each item on the list should cost approximately.  Meaning if you are on a budget you can see about how much the week's plan is going to cost you.  Some of these plans also are formulated around sales on items that the particular store is having.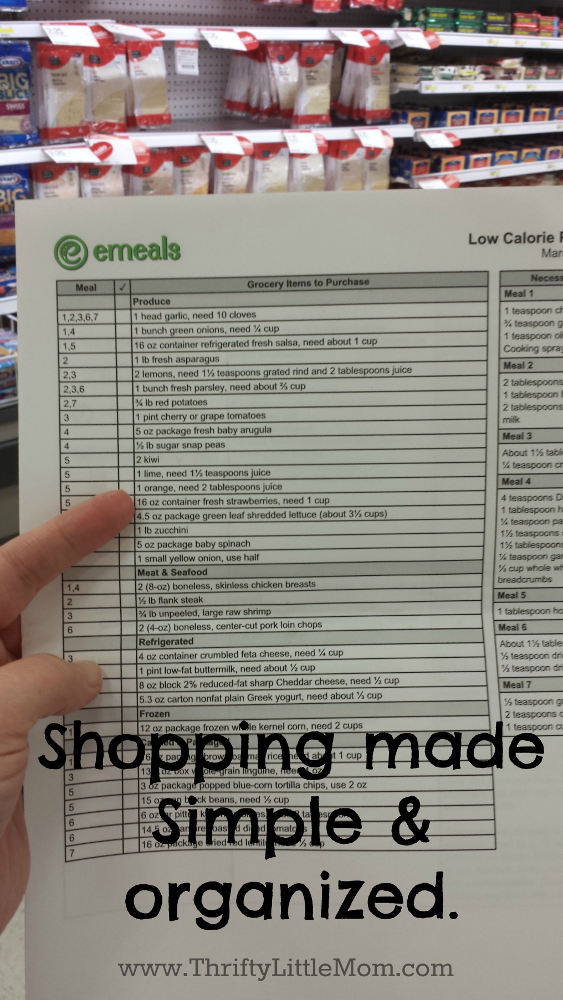 4. Make Dinner Without Having To Think About It
When dinner comes around each week, just pull out the recipe from your menu for the week and make it following the super simple instructions provided for each day of your plan.
I hang my menu plan on the fridge using a magnetic clip.
All your ingredients are in your cabinet and dinner just happens.
Dinner also tastes pretty darn good!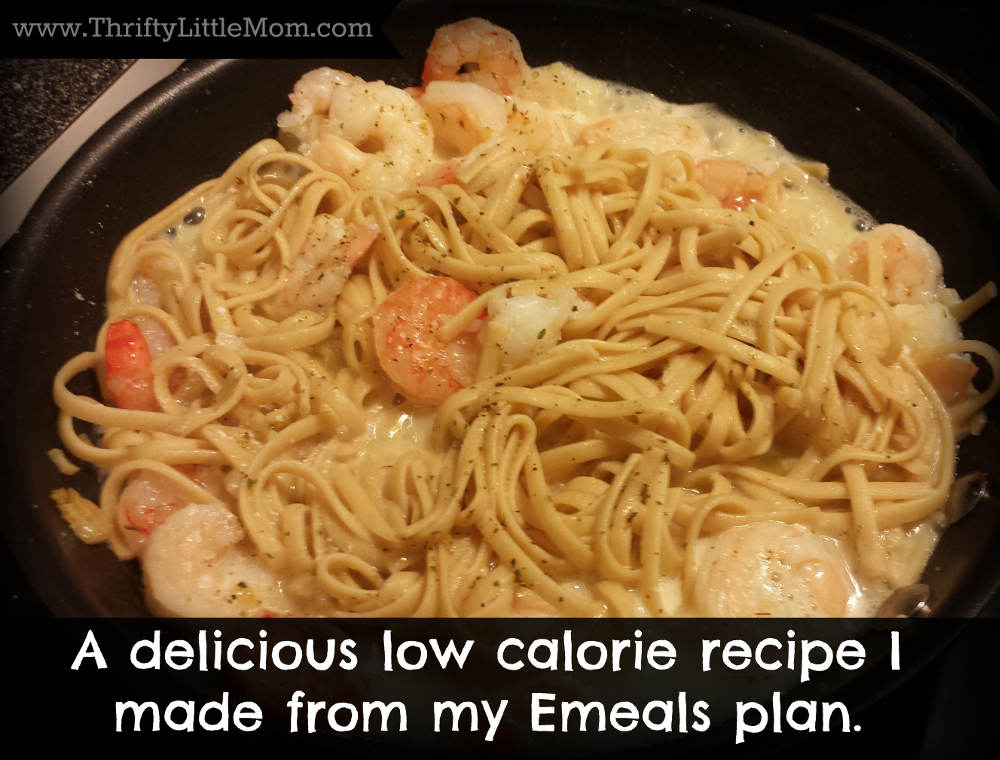 Why It Works For Me
This plan is awesome for me because I have a 2-year-old and trying to prep dinner with him around makes it already kind of difficult for me to focus.
I chose the low-calorie plan so I know that what will be on the menu lines up with my personal health & lifestyle goals.
I feel like eMeals literally just takes one more thing off my already full plate.
I avoid a million mini trips to the grocery store during a given week.
When grocery day comes around I just hope on my account, print out my new menu, look for coupons for the items on the list and then go shopping.  (Check out this post for how I stack up my grocery savings at Target).
When my husband leaves work, I start prepping dinner from the menu based on the day of the week and move on with my life.
If there is meat on the list that we don't normally eat, I simply switch it out for chicken because let's face it, chicken tastes good almost anyway you make it.
How To Make Dinner the Least Stressful Part of Your Day
Go explore the eMeals website.
Watch the YouTube video on the home page.
Check out the sample menu's for plans that interest you.
If you decide to give it a go, try using the coupon code MEALS15 for 15% off your subscription.
Start saving time, energy and money!
I hope you found this post informative and helpful!  Please feel free to share your experience with eMeals or any questions you may have in the comments section below.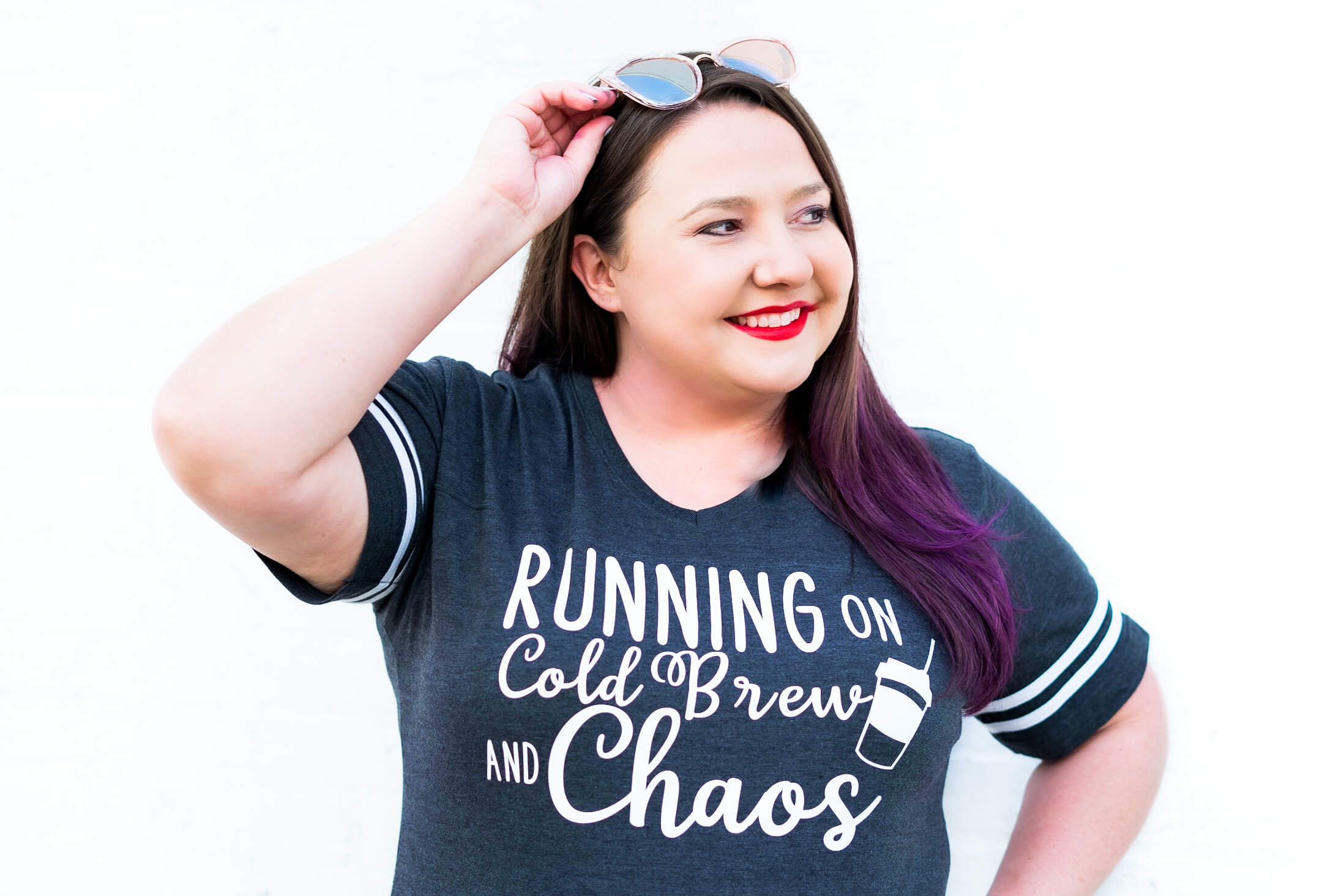 Kim Anderson is the organized chaos loving author behind the Thrifty Little Mom Blog.  She helps other people who thrive in organized chaos to stress less, remember more and feel in control of their time, money, and home. Kim is the author of: Live, Save, Spend, Repeat: The Life You Want with the Money You Have. She's been featured on Time.com, Money.com, Good Housekeeping, Women's Day, and more!