Super Easy Pumpkin Spice Muffins
I'll be the first to admit that I'm not big on baking.  I'm a free spirit in the kitchen.  I don't like to "measure".  I like to just cook with my heart and my taste-buds.  Typically this isn't a good idea in baking.  You need to measure or else stuff doesn't come out the right density, size or shape.  For these reasons I like to keep baking pretty simple.  When I call these Super Easy Pumpkin Spice Muffins I'm not kidding around.
Last October my husbands family got together and stayed in the family timeshare for a week.  During this time, my mother-in-law decided to whip up a batch of brownies.  I typically help with cooking so I hung around in the kitchen to help.  I stood back and watched the woman dump a box of brownie mix in a bowl and then add a can of pumpkin puree.  She stirred it to dark gooey perfection and began to dump it into the brownie pan.  This is when I interjected that she had forgotten the eggs and oil.  She smiled and let me know that with pumpkin puree, you don't need it.  She was right.  They were perfect.  Every guy in the room ate one without a word and came back for more.
During a recent gallivant to Target I was on the cake aisle looking for something when I saw a box of Spice cake mix.  My friend and I already had some pumpkin puree in the cart for making cookies and I put the two together in my brain and these muffins were born!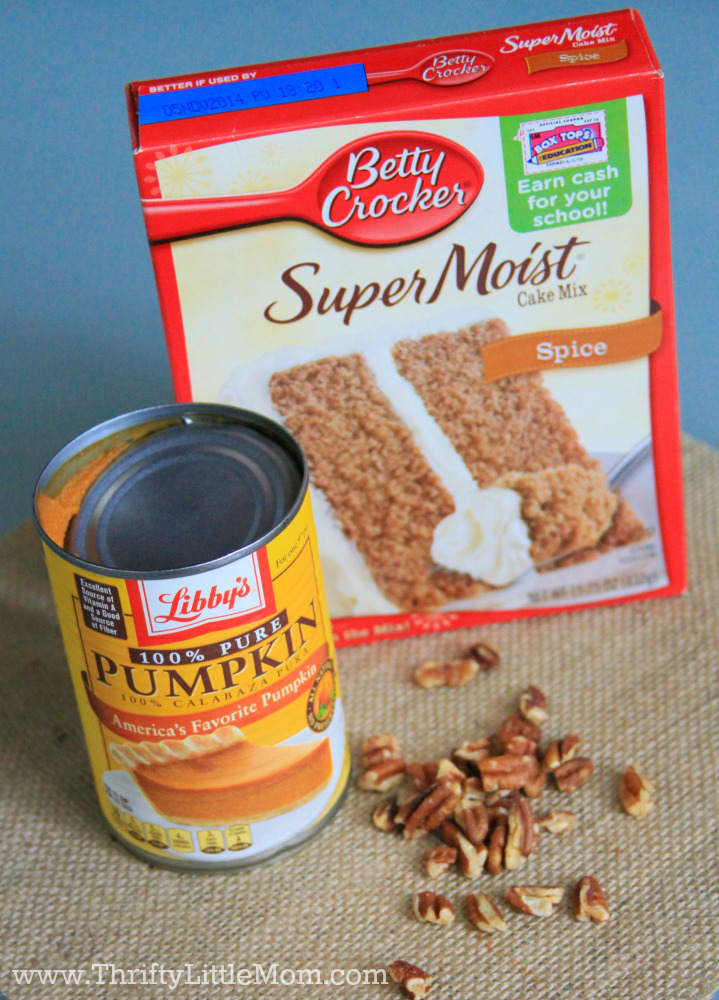 Ingredients:
1 Can Pumpkin Puree (Not Pumpkin Pie Filling)
 1 Box of Betty Crocker Super Moist Spice Cake Mix
3/4 cup your favorite nuts (Optional)  I love me some pecans!
Raisins (Optional)
White Chocolate or Chocolate Chips (Optional)
Step 1- Preheat oven to temperature recommended on the box of cake mix.  Dump in your raw cake mix!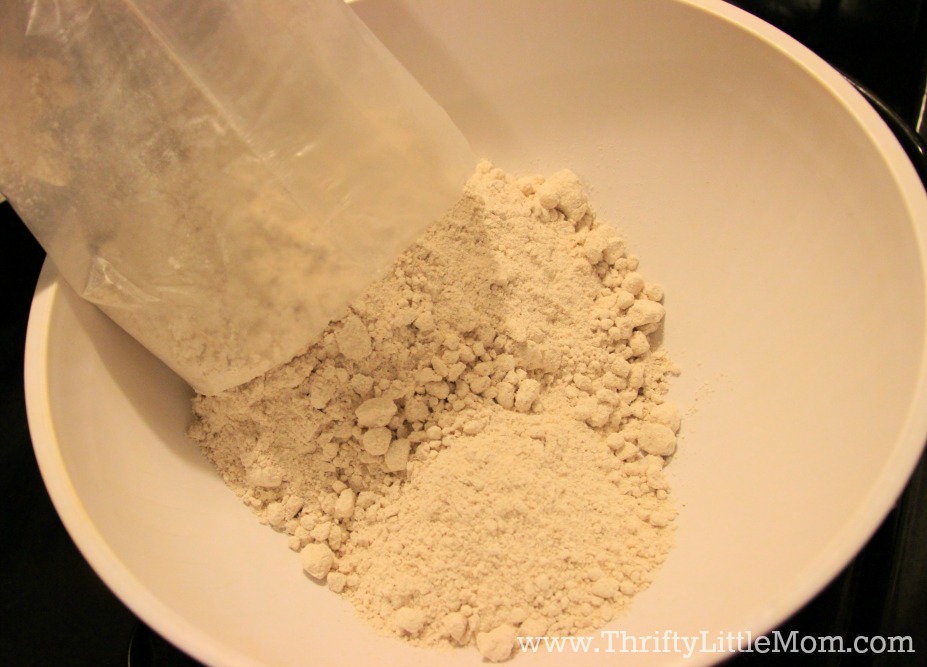 Step 2- Dump in your can of pumpkin puree!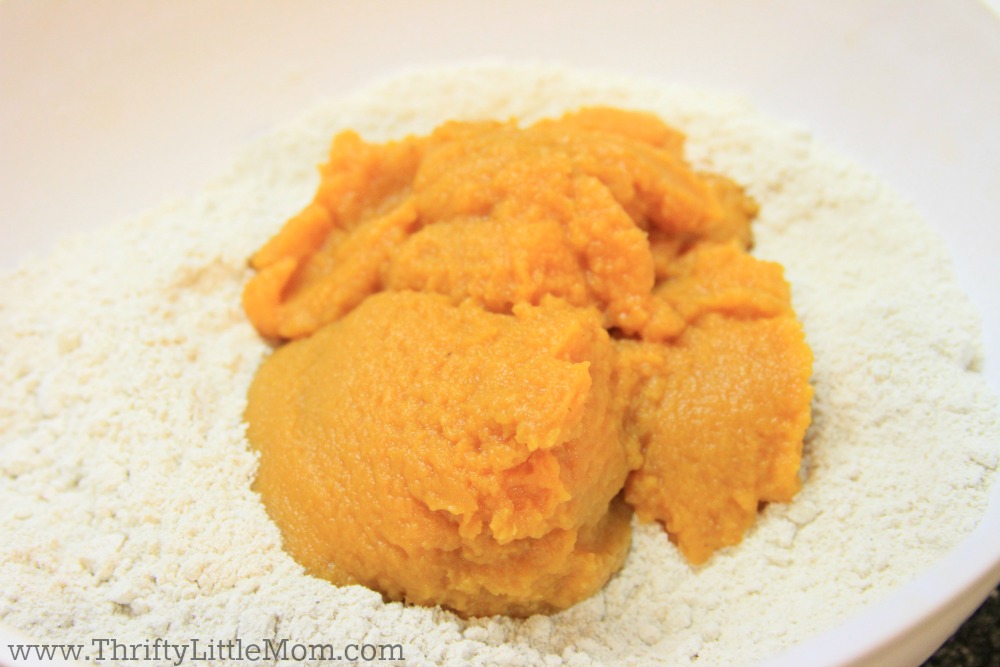 Step 3- Mix the puree and cake mix together til cake mix is moistened.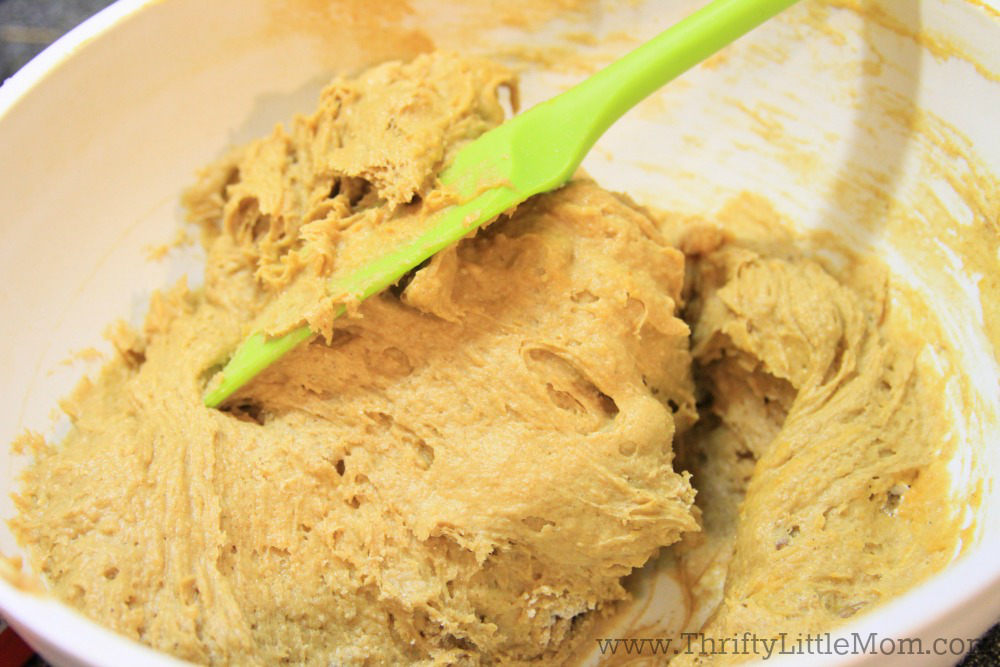 Step 4- Add in your favorite things.  I love golden raisins and pecans!  You could add any kind of nut you like or even chocolate morsels (white chocolate morsels would be amazing in these things!)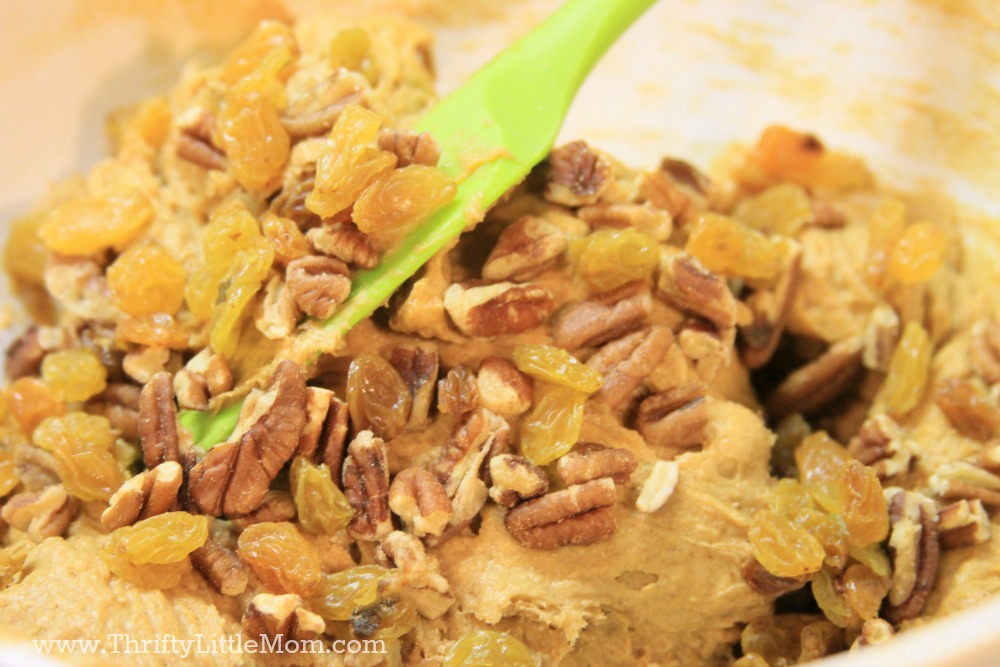 Step 5- Spray your muffin tins with non-stick spray. If you hate that spray check out how Kalyn Brooke at Creative Savings was able to Ditch the Cooking Spray.  Then using a spoon or cookie dough scoop drop little heaps of muffin mix into each muffin cup.
Step 6- I baked these at the temperature shown on the back of the cake mix box but because they were mini muffins I only baked them for about 12-15 minutes.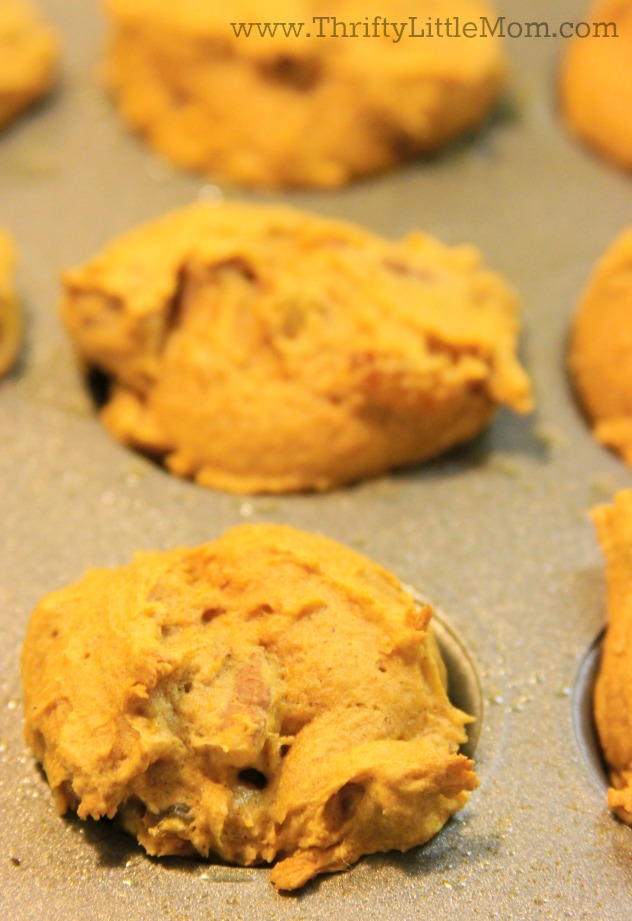 Step 7- Serve and enjoy!  These are so good it's hard to believe that are so easy, simple and inexpensive to make. I love these because it's just one more way I can sneak vegetables into my toddlers diet.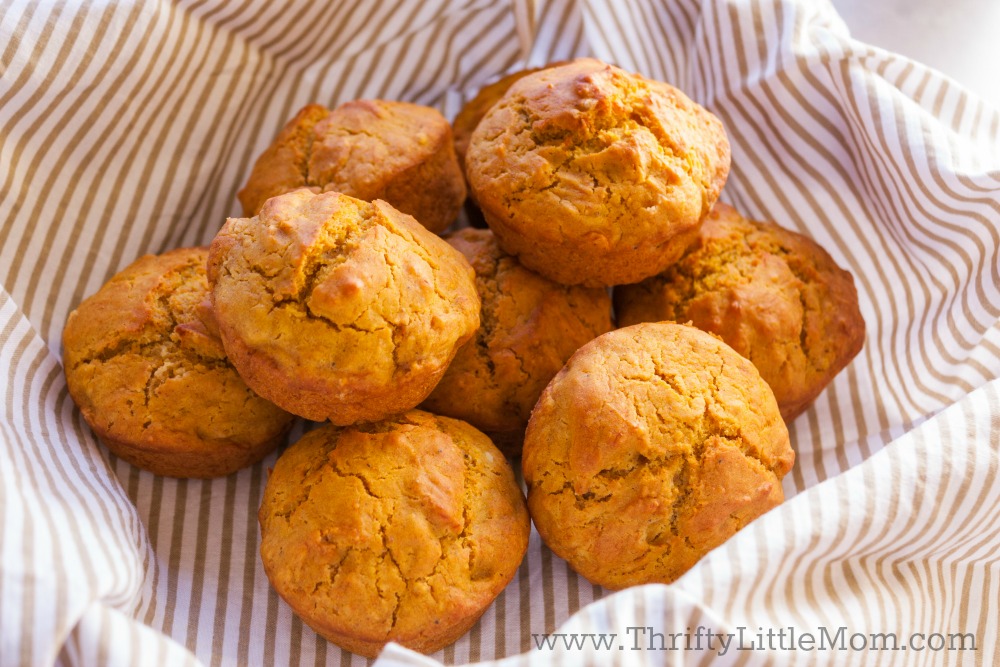 Let me know if you give these a try and what you think!  If you love fall and the taste of pumpkin everything, you are going to love these little babies!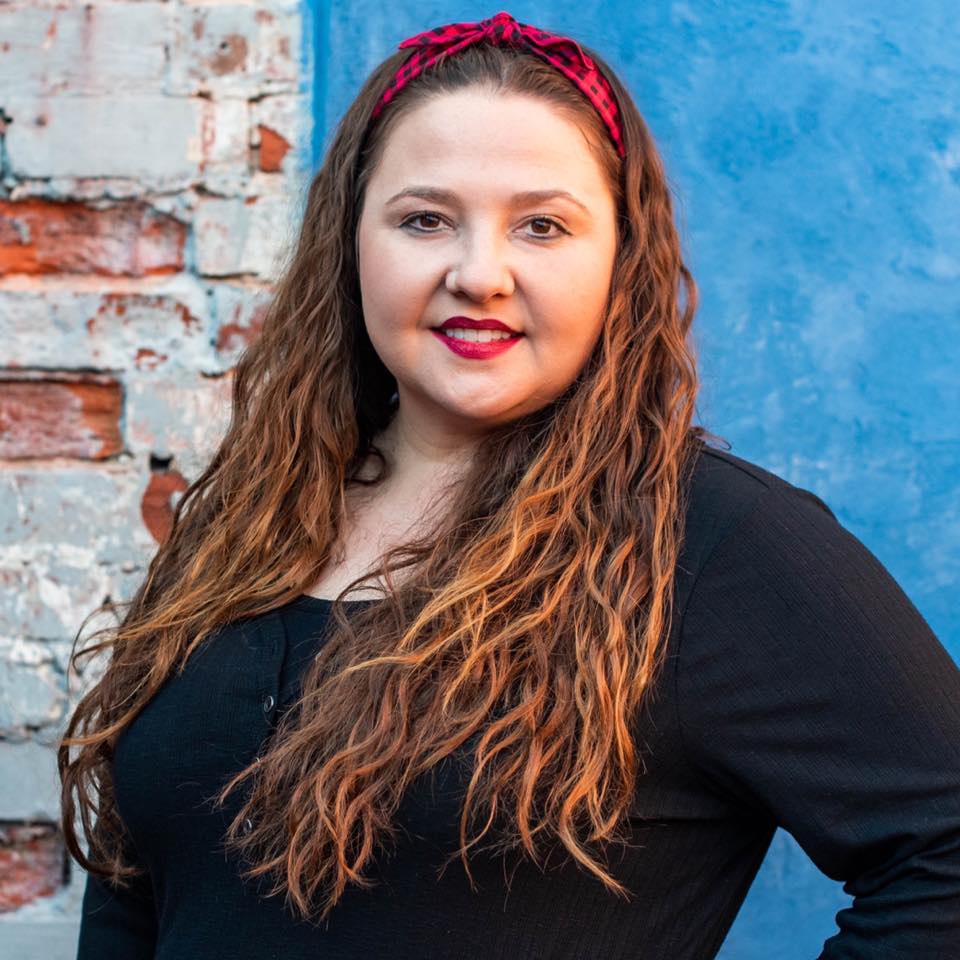 Kim's is the party planning, thrifty life-loving, intentional living catalyst behind the Thrifty Little Mom Blog. Kim was a pro event planner for over 7 years before she became a full-time blogger. Kim is the author of: Live, Save, Spend, Repeat: The Life You Want with the Money You Have. She's been featured on Time.com, Money.com, Good Housekeeping, Women's Day, and more! Kim aims to inspire you to create, celebrate, and live life intentionally!