Build Your Own Backyard Fire Pit Using Free Materials
This post contains affiliate links. As an Amazon Associate, I earn from qualifying purchases. I also earn from qualifying purchases made with other brands and programs. See my
privacy policy.
My favorite way to bring my family together is gathering around a blazing, warm fire pit. I don't know what happens around a fire pit but it almost seems magical. Fire has a way of bringing people together. I want to help you make one for free.
Anyone can have a fire pit for enjoyment. You don't need a patio designed by a landscape architect to enjoy one. You can build your own backyard fire pit using free materials from the great outdoors.
Our Fire Pit Building Experience:
Several years ago we built a fire pit for our backyard for around $50 just using blocks from our local home improvement store. It is actually the most popular post on my blog because it's thrifty and super easy to build. Here's a link to the DIY Fire pit post.
The Free Fire Pit Discovery
Last fall we went on our annual vacation to the family mountain homestead. One source of entertainment for us has been building a fire in the evenings. Traditionally the fire was built from stacking wood in an old metal barrel.
After building our own fire pit at home we had a epiphany. We thought it would be great to build a decent pit at the homestead that everyone could enjoy and was more permanent.
The house is rather rural so we needed to build it without having to run to a home improvement store. We got resourceful and found large stones at the creek behind the house and just stacked them in a way that created a fire barrier as well as had a way for air to get into the pit.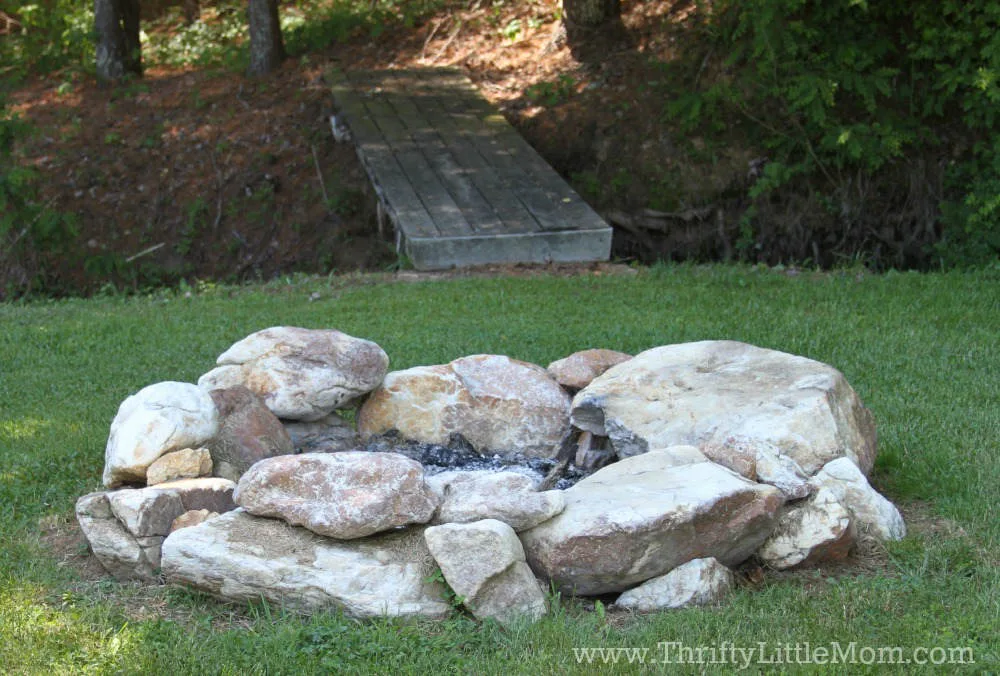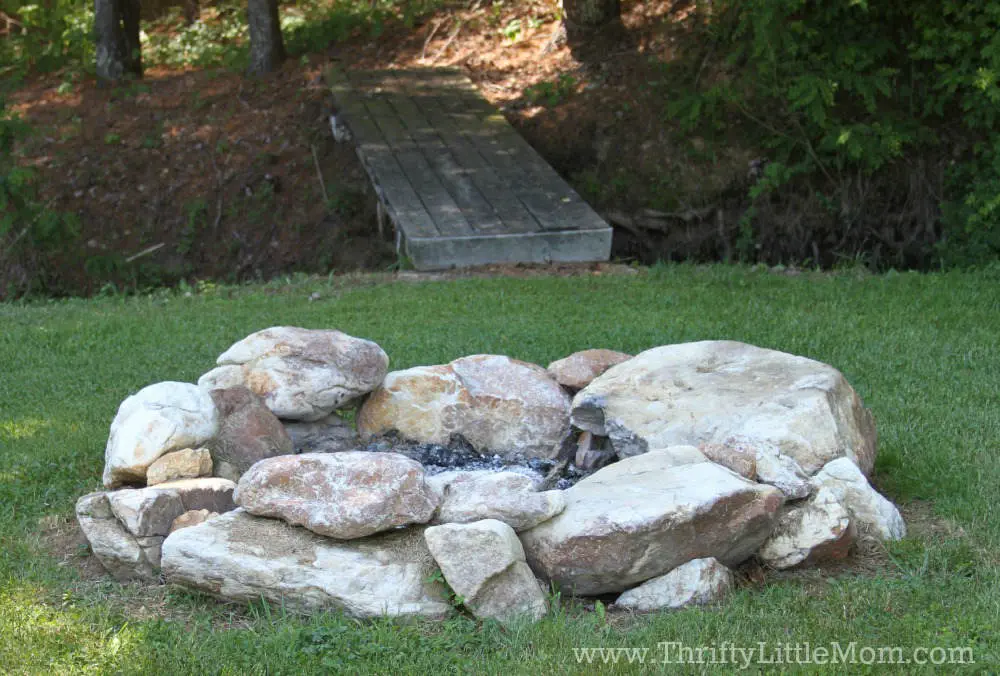 Free Fire Pit Supply List:
Unlike our pre-formed block fire pit, we were using rocks of different shapes and sizes that we could find and that's pretty much it!
Safety- Remember, we are not fire pit professionals. These are just ideas for you to use in making your own fire pit. Be sure to contact your local fire marshall and find out about what size pits are allowed for recreational use in your area.
Step 1: Gather Rocks & Prep
Gather the rocks or blocks.
Step 2: Stack the walls.
Stack the rocker or blocks and be sure you leave spaces for air to escape.
Note: These rocks probably shouldn't be stacked higher than about 2 levels.

If you build your own pit out of rocks, remember to keep safety and physics first.
Never build anything with unstable walls or foundations.
Here is the video for how we stacked our blocks on our original fire pit so you can see how you can pattern your stack as well.
Step 3: Be Safe!
Before you go crazy with your fire pit be sure you go through the steps discussed in this article from Fire Safe Kids on Campfire prep and Fire Pit Use Safety.
Free Fire Pit Building Tips:
Tip 1:
Work as a team. My husband built this with the help of several other people. Don't go lifting giant bolders by yourself! When making a pit out of rocks, get someone to help you carry them.
Tip 2:
Use proper lifting techniques so you don't injure yourself moving rocks around.
Tip 3:
The key is stack the rocks around your selected area in way that makes the sides sturdy and stable. It's a little like playing Tetris. We made sure to position a few rocks with gaps so we could get airflow at base.
This pit cost us nothing to build and now we all have a fun place to hang out in the evenings to chat, roast marshmallows and enjoy the great outdoors.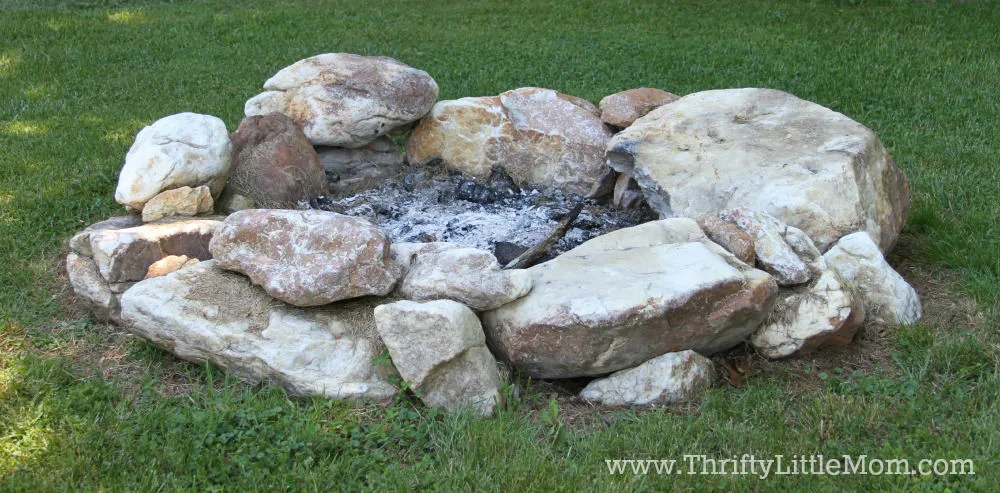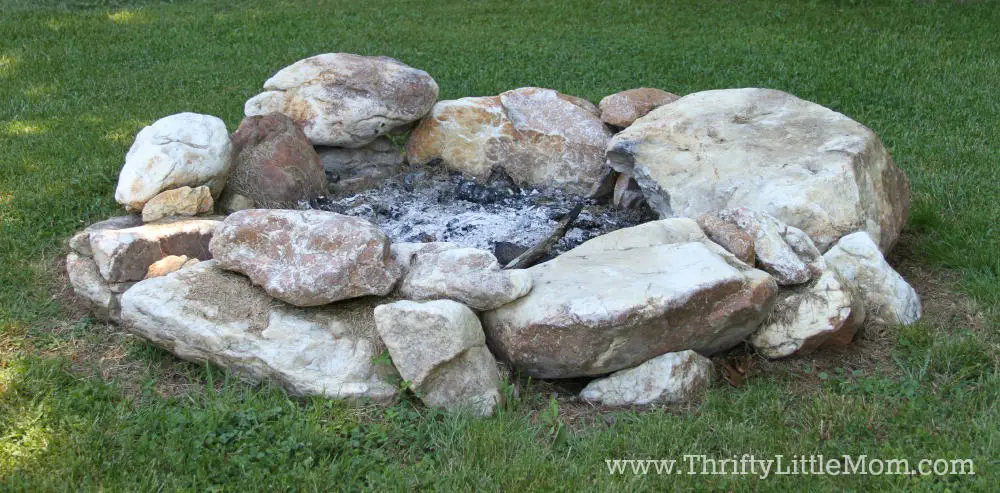 What Happens Around a Fire…
Now we have a nice looking, permanent, naturally built fire pit at our family mountain house. Having such a nice pit in the backyard means we have far more times of laughter, memories and story telling.
More importantly when we gather together in this special place, the tablets, the phones and other devices are left quietly hidden away as the human interactions guiding our time are far more fun that any virtual reality could ever offer.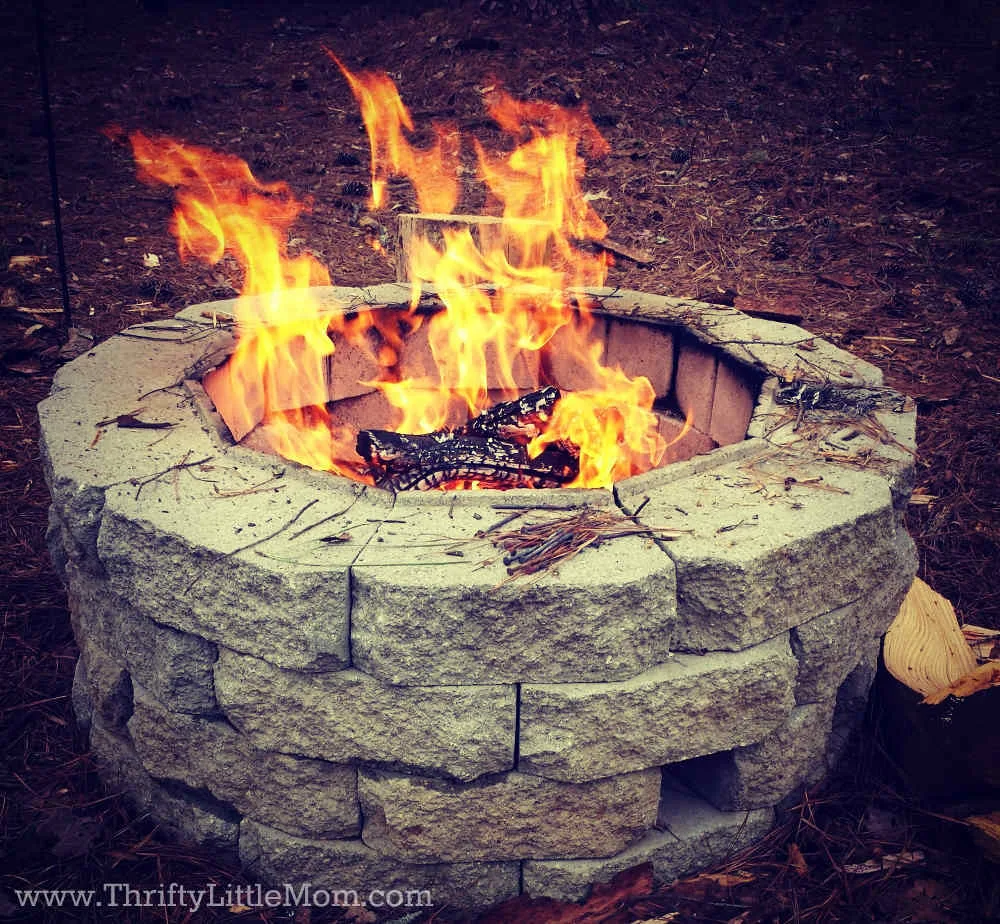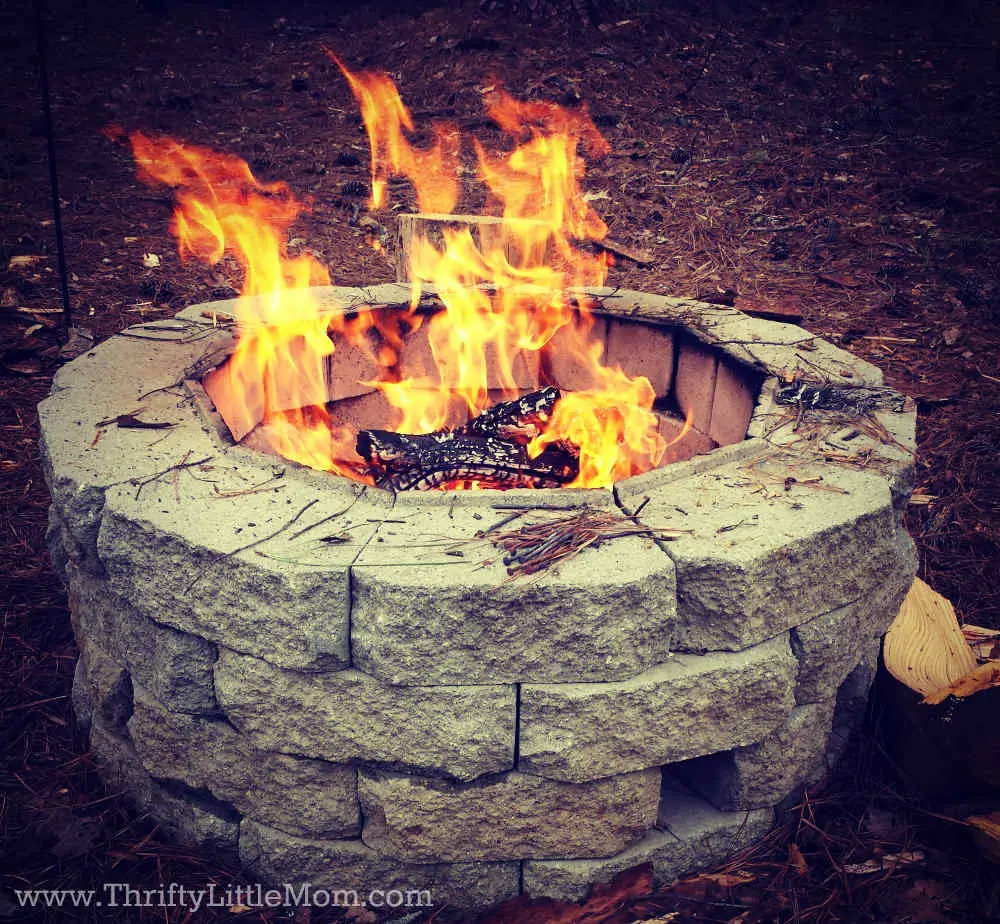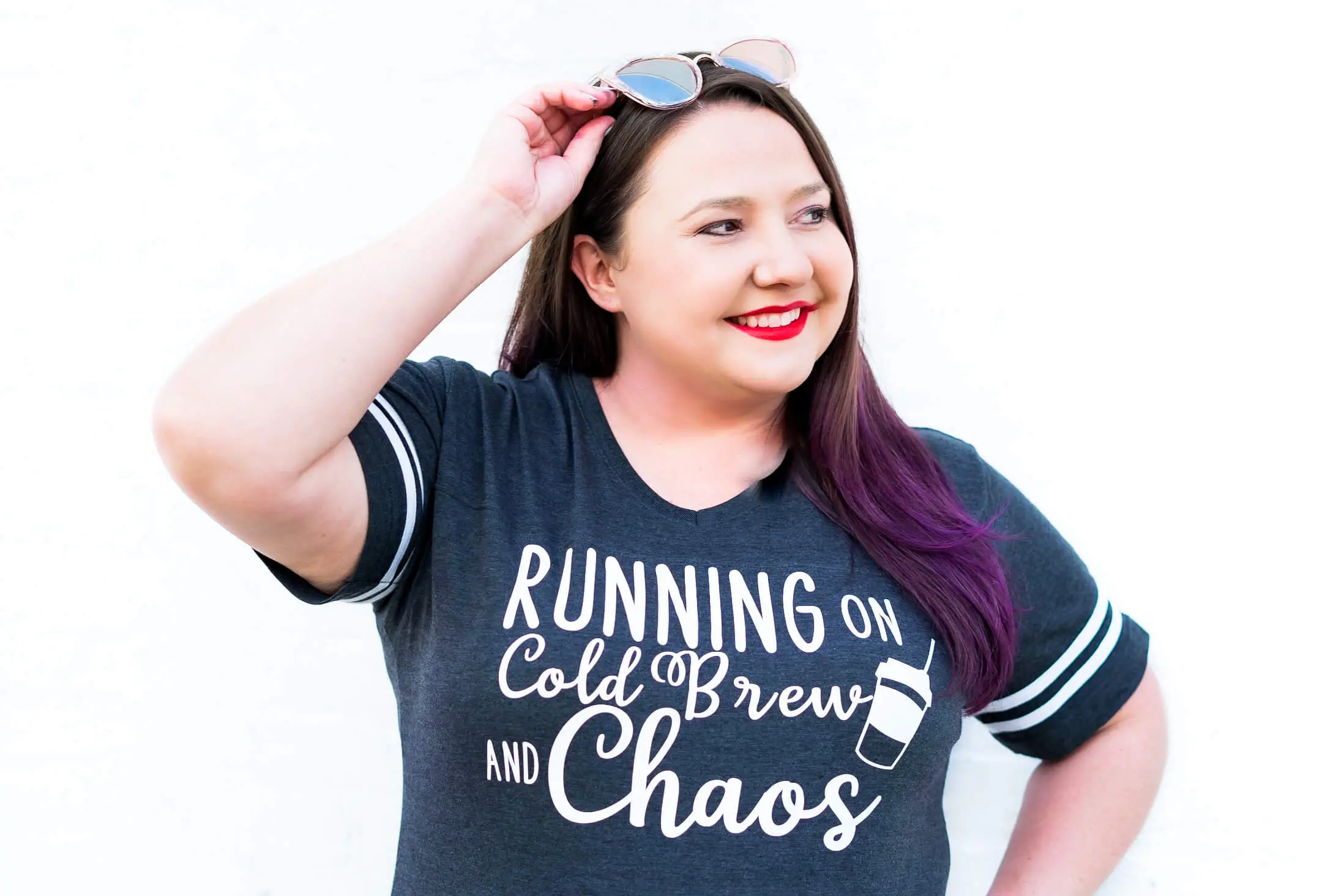 Kim Anderson is the organized chaos loving author behind the Thrifty Little Mom Blog.  She helps other people who thrive in organized chaos to stress less, remember more and feel in control of their time, money, and home. Kim is the author of: Live, Save, Spend, Repeat: The Life You Want with the Money You Have. She's been featured on Time.com, Money.com, Good Housekeeping, Women's Day, and more!