Turning Off Autopilot and Taking Back Control of Your Time
This post contains affiliate links. As an Amazon Associate, I earn from qualifying purchases. I also earn from qualifying purchases made with other brands and programs. See my
privacy policy.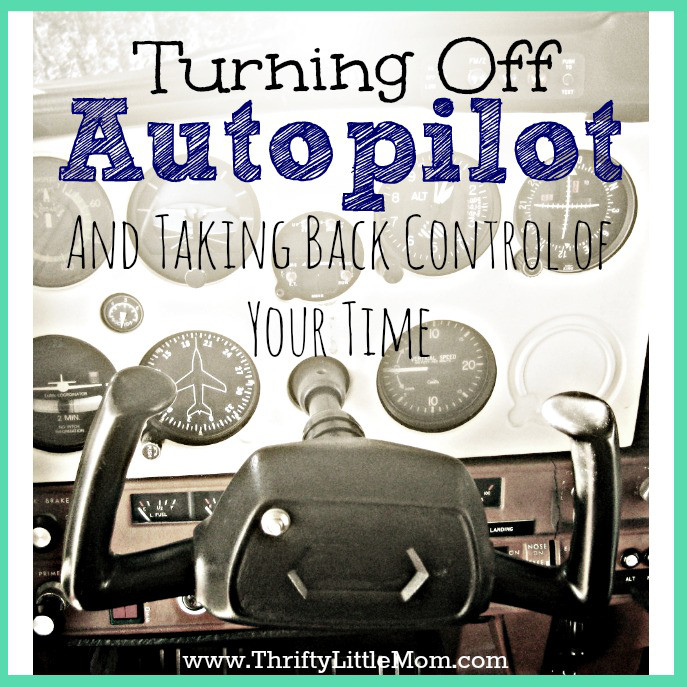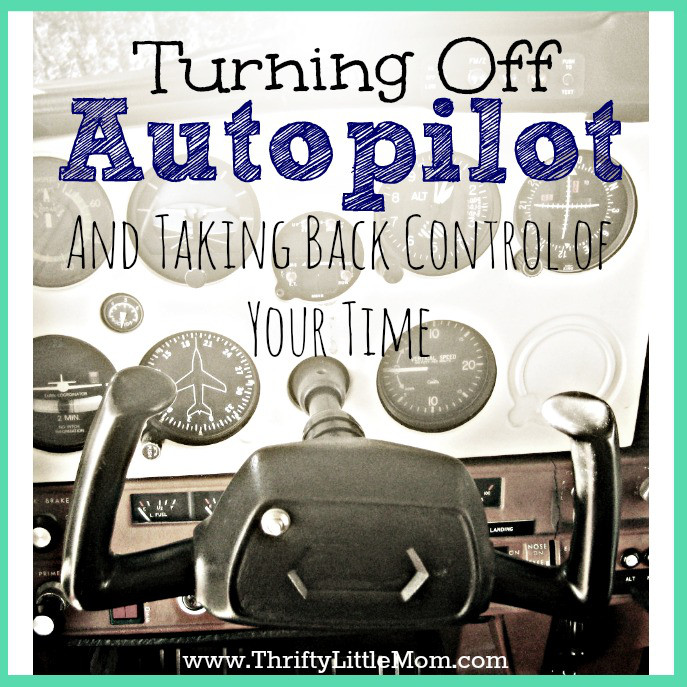 Tick, tock, tick, tock, tick, tock…..Have you ever been sitting in a room so quiet that you can hear the minutes ticking away on a walk clock?  It's seconds and minutes of your life constantly lost by a small movement on a plastic, battery-operated device.  Maybe you're listening to one of those creepy, eye moving, tail wagging, cat wall clocks.  Either way, that sound is reminding you that life is moving on…with, or without you.  Is it time for you to start taking back control of your time?
I had one of those moments recently.  I sat down to take a quick breather before rushing off to do laundry. Drinking my iced coffee, resting on my couch, my ears picked up on the tick, tock.  My brain honed in on the sound, my heart and mind suddenly woke up from the haze of life.  I was momentarily off autopilot and suddenly very aware of time.  In those seconds of clarity one thought resonated, "I gotta start bossing my time around."
I wrote a blog post last year about how to boss your money around. I had never thought of applying the same concept of budgeting to time management.
I've only got so many hours in my day, just like I only have so much money to work with.  I'm pretty detailed about how I spend my money but not my time.  In my brain time feels like some unlimited thing.  Like winning the lottery.  But…it's not.  Time is more precious than money.  I can make more money.  I can't make more time.
With this epiphany came a hard question.  What am I doing with all these seconds I have?  There are hours that must be budgeted for cleaning, cooking, exercising & working.  What am I doing with those hours, minutes and seconds left over?
The truth is I'm going over budget every single day.  Just like any good book-keeper I had to look for the areas I was overspending.  Those items that I was overspending on were clearly staring me in the face.  Committing to things I didn't want to do, being distracted with things that didn't matter and living my life to please other people.  So the question is, how do we turn of autopilot and start truly budgeting time?
1. Just. Say. No.
As you budget your time, start with counting the hours that are already used up and see what exactly you have left over.  When I did this I came to the conclusion that I had about 5 hours per day that weren't filled with my "have-tos".  Those extra five hours were full of stuff I didn't really want to do which came from my inability to say the simplest word, "No."
In the quest for clarity and control in my life, I've been reading The Best Yes: Making Wise Decisions in the Midst of Endless Demands by Lysa Terkeurst (President of Proverbs 31 Ministries).  I've always known that I struggle with saying, "No".  I just never thought about choosing my best yes.  The book has been perfect for this season of my life.  It's funny, it's inspiring, it's challenging and it's easy to read!
A quote I love from Lisa Terkeurst is, "Saying yes to everything doesn't make you Wonder Woman it makes you a worn out woman." 
Can I see a raise of hands of anyone right now that feels like a worn out woman?  It's happening because we don't know how to say simply say, "No."  No to the bake sale.  No to just one more team sport.  No to PTA.  No to the woman's Bible study group.  No to being the classroom mom.  We just keep saying yes and it's never our best so we just keep getting worn down until we have little else to give to anyone.
When we start choosing the best yes instead of every yes, our lives become freer and we can start living in the control seat rather than constantly getting through each day on autopilot.
2. Cut back distractions that just. don't. matter.
Social media is THE worst for this kind of distraction.  Instead of getting online and checking out pictures of your newborn niece, you run into a political rant by someone you knew in 10th grade.  You see the most adorable cat video on the planet.  You notice a handsome guy standing by a woman you know and you start stalking her profile to see if she made a status update to "in a relationship".  It's the biggest bunny trail on the planet I am guilty of following it deeper and deeper.
45 minutes later I come to and realize I just hopped online to see if I could retrieve an email address.  In those 45 minutes a whole load of laundry could have been done and put in the dryer. Instead I'm sitting 45 minutes in the future with 45 minutes lost and nothing to show for it except stress and frustration over all the TMI of other people's lives that have nothing to do with me!
What distractions keep you checked out of your life?  TV?  Constantly running errands?
Novels you just can't seem to put down?  Surfing the web?  Talking to co-workers?  On-line window shopping?  Whatever it is, it doesn't have to be eliminated, just start bossing it around and telling it when it can be a part of your day.
3. Stop Being Consumed By People Pleasing
I have distinct moments in my life where I knew it was time to move on from a commitment or job and didn't because I was afraid of making someone else mad or messing up something good they had going.
I was so afraid of disappointing someone or their view of me changing in some way that I just went on autopilot.  I never made changes.  I just sort of got through.
I would give myself the occasional pep talk to push down the dread that would inevitably rise.  My peace was gone and it didn't matter how many motivational speeches I gave my psyche in the shower, it didn't change how I knew that I felt deep down.
If you feel your time is over-budgeted and you know it's because you are adding tasks to your day to please other people, it may be time to start pissing some people off and moving on in your own timeline.  Get out of theirs.  You've only got as much time as they do.  Use your time your best way.
Do what you know you need to do with your time so you can have a enough of you left over to give to the people in your life that actually matter in the long run like your spouse and kids.  More importantly, budget time for you.  You need time to take care of your
physical and mental health.  When you invest in you, your family reaps the benefits of a happy healthy person.
I've not arrived at perfect time budgeting just like I'm not perfect with my own personal budget all the time.  However, if budgeting has taught me anything, it's that when you sit down, make a plan and decide where your time is going to go each day (and stick with it), you can get far more done and feel less dread, every single day.  Taking back control of your time starts with an intentional plan.  Start yours today.
What kinds of things in your life keep you on autopilot?  Please share your thoughts in the comments section below.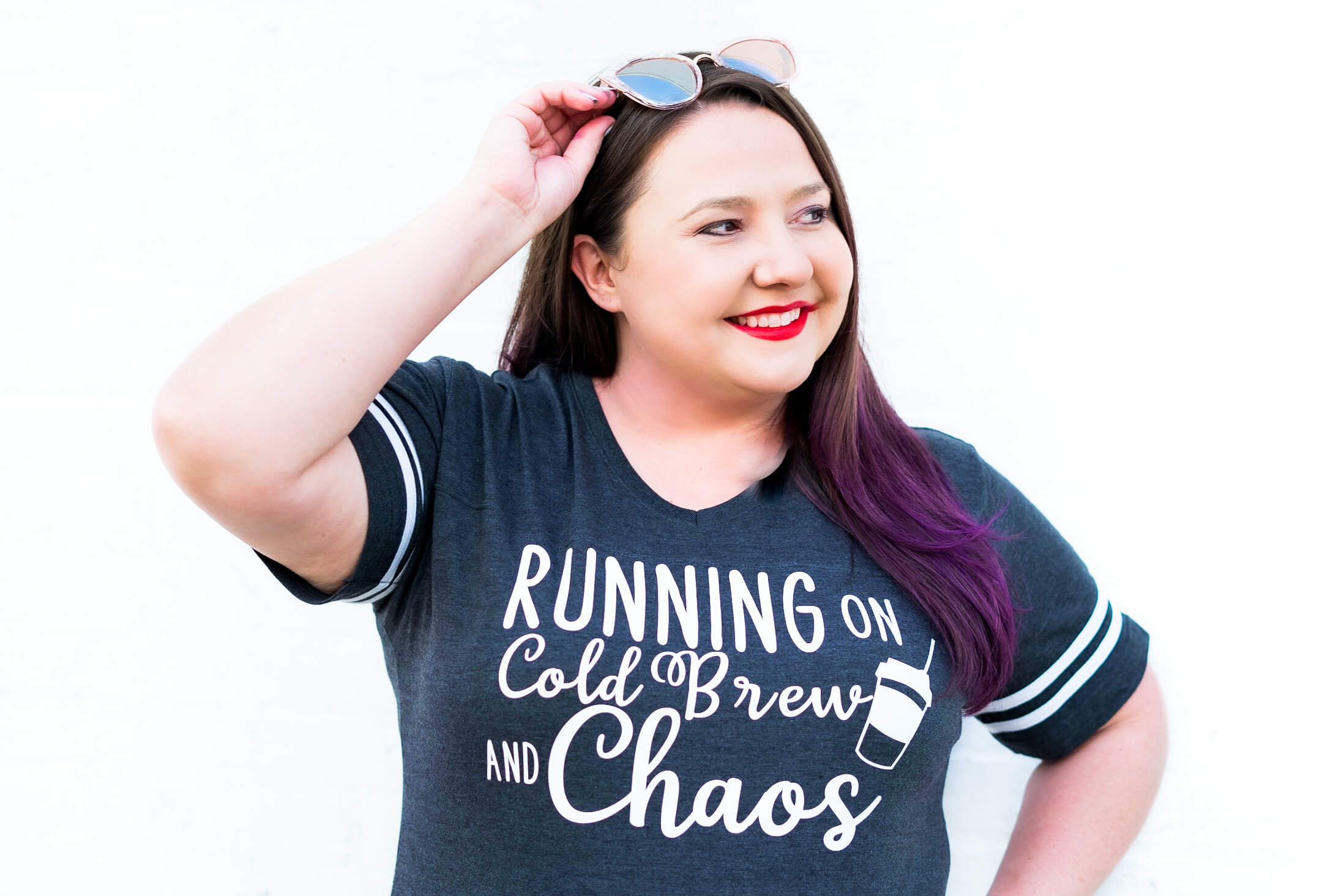 Kim Anderson is the organized chaos loving author behind the Thrifty Little Mom Blog.  She helps other people who thrive in organized chaos to stress less, remember more and feel in control of their time, money, and home. Kim is the author of: Live, Save, Spend, Repeat: The Life You Want with the Money You Have. She's been featured on Time.com, Money.com, Good Housekeeping, Women's Day, and more!