Really Easy Slow Cooker Chicken Jambalaya
This post contains affiliate links. As an Amazon Associate, I earn from qualifying purchases. I also earn from qualifying purchases made with other brands and programs. See my
privacy policy.
Big thanks to my dear friend Rhonda for infusing this blog with some real Cajun love!  Here is her instructions for how she makes her Really Easy Slow Cooker Chicken Jambalaya.
If you're not familiar with Mardi Gras, it is a time of celebration before the Lenten season begins on Ash Wednesday.  A lot of Christians in south Louisiana where I'm from don't eat meat on Fridays during Lent so it is very common to find many Cajuns feasting on the meat filled dish before this time of fasting.

If I could create a mental picture for you, Fat
Tuesday
in my home town is the entire city tail gating; just instead of the big game we are awaiting the parades! Lafayette's celebrations are family friendly so it is very common to see whole families camping out for the day and cooking huge pots of jambalaya to feast on and share, of course!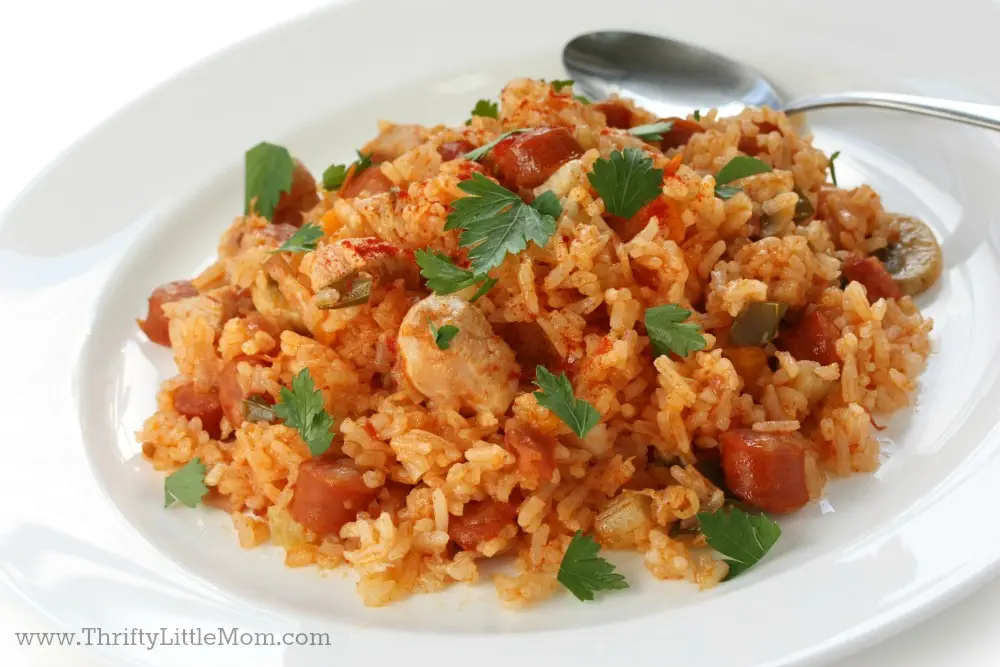 I haven't been 'home' for Carnival in 12 years so I'm very excited to share the experience this year with my husband and toddler! If you're a reader from Lafayette and will be on a float, look for me and my krewe (the Krewe of Cajun Peaches!) and 'Throw us something, Mister!'
Ingredients:
Boneless Skinless Chicken Breasts
2 Packages of Tasso or any smoked/spicy meat (Turkey or Ham)
1 can Rotel
6 oz Mirepoix (chopped mixture of onions, celery & bell pepper)
2 cups of Broth
2 cups o Rice (dry)
2 Tbsp Butter
Seasoning (I use Tony Cachere's Cajun seasoning)
Parsley
Frozen cut green beans (optional side dish)
Fresh mandarin orange or tangerine
 Directions:  
Set slow cooker to cook for 3 hours.  Butterfly and liberally season chicken breasts then place them in the slow cooker with your choice of smoked meat on top.  Next spread the mirepoix evenly over the meat, cover and cook for 3 hours or until done. Cut up the meat then return it to the slow cooker. Do not drain the broth.
Bring 2 cups of broth to a boil then stir in 2 cups of long grain rice, 1 can of Rotel, 2 Tbsp butter and salt. Return to a boil, reduce heat to a simmer, cover and cook for about 15-18 minutes. Do not over cook rice; it is better to slightly under cook because the rice will continue to absorb broth when added to the slow cooker.
Combine rice with the meat in the slow cooker on warm until ready to serve!  Garnish with freshly chopped parsley before serving.
My family loves to eat steamed green beans as a side dish with jambalaya and it's an equally easy, but tasty and healthy side. All I do is steam green beans then before serving zest the peel and squeeze the juice from an orange straight onto the green beans.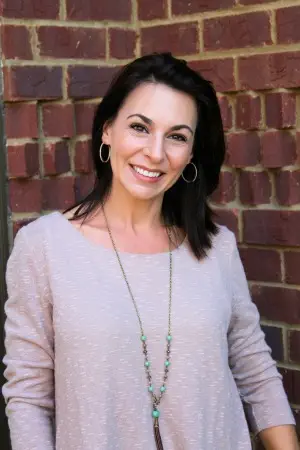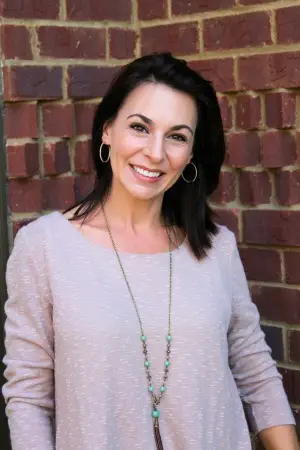 I'm Rhonda!  My abbreviated bio includes being a grateful wife to my wonderful husband and blessed mother to my three terrific girls! In addition to that, I am obsessed with saving money every chance I get, but apparently I have expensive taste for everything including food, fashion, decorating, etc.  I know…those two don't usually get along together too well! Hopefully I will prove to you how you too can save money without sacrificing style as you read my entries periodically here on Thrifty Little Mom's blog.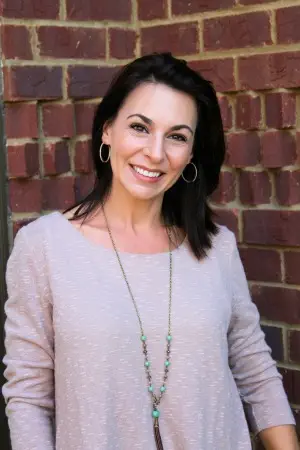 Rhonda is the owner of My Symphony Seasonings, LLC located in Georgia. She has a passion for good food, health & entertaining which was the perfect combination for creating My Symphony Seasonings, a company that encourages you to cook and eat whole foods, close to nature by providing original recipe blends of organic herbs & spices, free of fillers and artificial preservatives to add flavor, richness and health benefits to your dishes!