This is a sponsored post written by me on behalf of Goodwill of North Georgia. All opinions are 100% mine.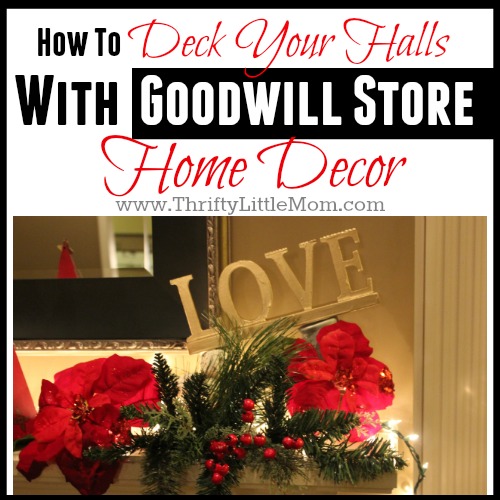 As a kid there was something magical and exciting about seeing all the Christmas decoration boxes come down out of the attic.  It's like it made everything official.  Christmas was here.  My mother had several years of decor that she had received, collected, purchased and cherished.  Each piece made an impact whether it was festive or sentimental.  I'm finding that each year I like to jazz up my decor and one of the thriftiest places to do that is Goodwill.  It's a DIYer, up-cycler, home decorator HAVEN! Where else can you get beautiful home decor for such low prices?  Beyond just low prices, every time you make a purchase you end up helping put people to work in your community.
Goodwill of North Georgia recently gave me the challenge of decorating for the Holiday from my local store using $50 or less. I took the challenge and headed down to do some serious hunting.  I want to show you how easy it is to find amazing home decor items in your local Goodwill and add some really classy decor to your home this season!  Here are my tips for successful holiday decor hunting at Goodwill.
1. Think About Color
Before you go shopping consider what your basic color scheme will be.  I usually go with 3 colors.  Since I'm a fan of the classic Christmas look I usually go with a bright red, dark green and gold color scheme, but the possibilities are endless.  Choose 3 colors and keep those in mind as you head to the store.
2. Explore Beyond the Seasonal Aisle
Goodwill stores are well organized so there is typically an aisle dedicated to seasonal items and decor.  Start here and work your way out.  I discovered about 50% of my finds on the seasonal aisle and the other 50% from the other sections.  I looked for things that had potential if they weren't already a perfect color, shape or size fit.  For example I found lots of items painted white that I could see being beautiful in gold so I grabbed them and put them in the cart!
I love evergreen, poinsettias and berry sprigs so I kept an eye out for those as I walked around the store.  Those items can go a long way in adding texture and color on a mantel or tablescape as you'll see in pictures toward the end of this post!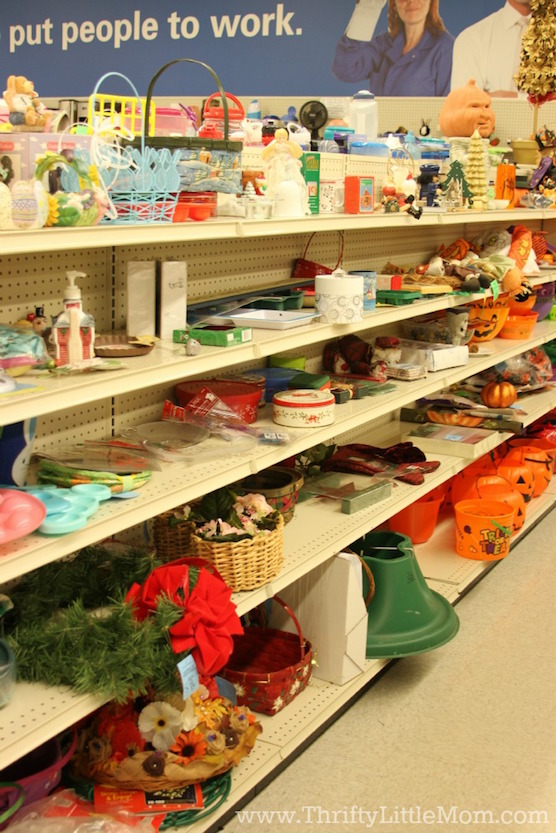 As I walked down the regular housewares aisle, I found two red tin Christmas Tree shaped wall hangings with stars on top only to discover that they were actually triangular wall sconces with a star that dangles from the bottom.  Even though I realized they weren't actually Christmas trees, my minds eye saw that when they were turned upside down and so I put them in the cart!  I was able to get all this cart full of decor for under $40!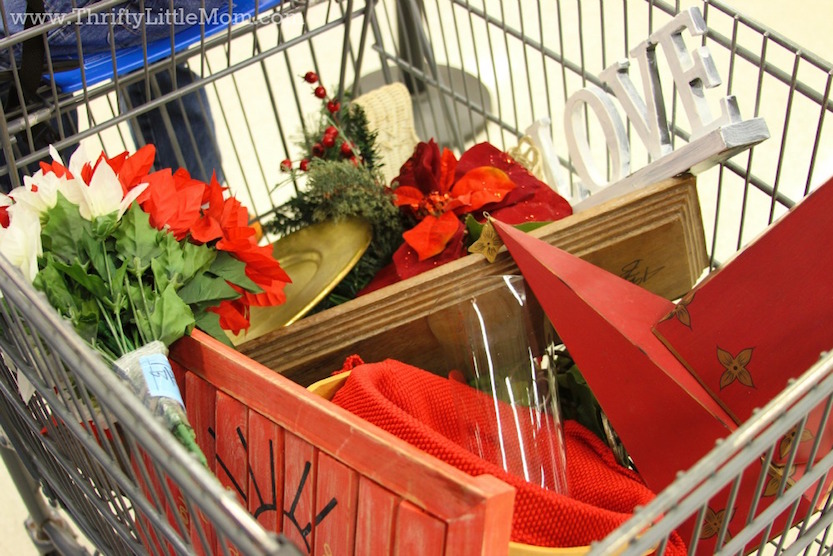 If you are looking for placemats, table runners, tablecloths or tree skirts be sure you look in the linens department.
3. Look for Lights
One thing I knew that I wanted was white lights and some sort of candle.  There were plenty of electric string lights and the store provided electrical outlets nearby for me to test them out.  Once I found my lights I looked for a simple glass vase or jar that I could put a flickering candle in.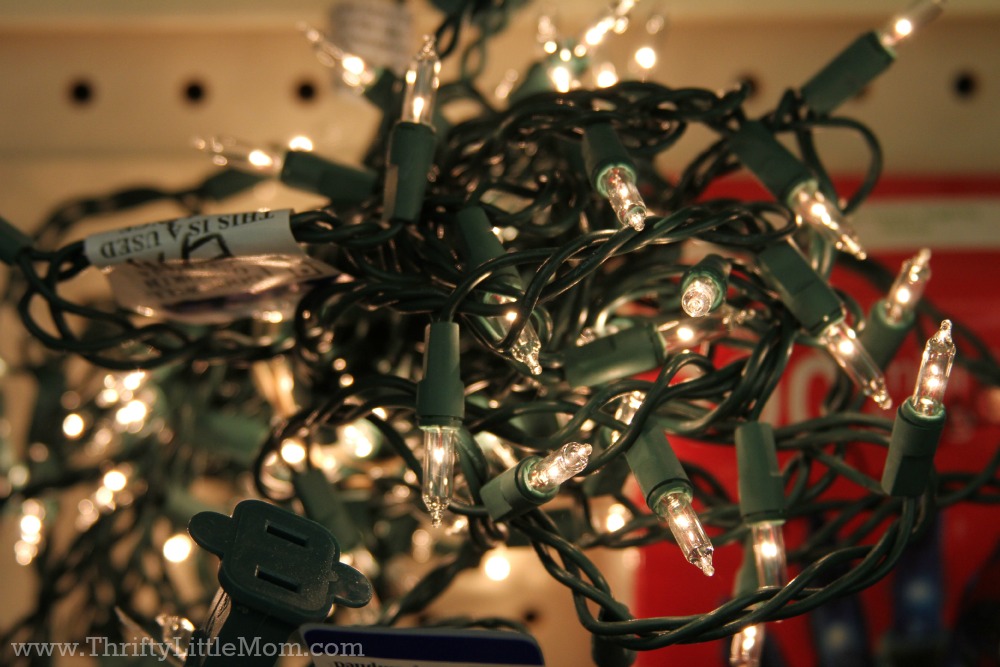 4. Organize Your Finds
In my case I put my $39 haul on my kitchen table and started figuring out which pieces needed to be jazzed up with a new paint color and which ones I was going to leave as is!  Laying everything out also helps when you go to decorate because you can find the perfect place for pieces as you go and nothing get's left hidden in a bag and forgotten about!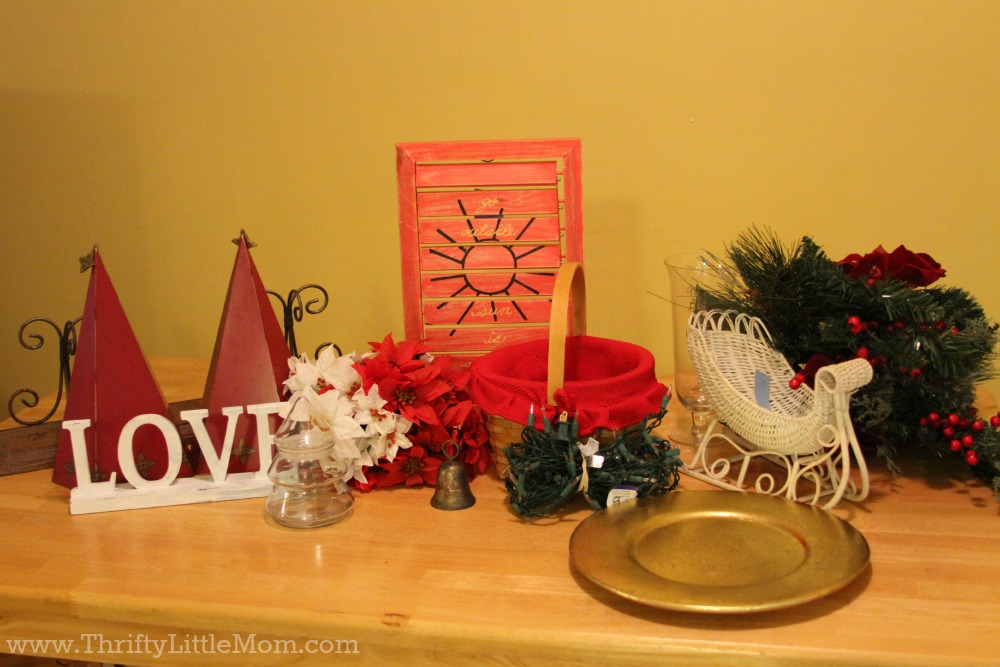 5. Make it Yours!
In my case I found so many items at the store that were just what I needed, but not the color I envisioned.  I solved that problem in about 30 minutes by spray painting them gold!  It doesn't hurt to gently scrub the surfaces of wood or wicker with a little sand paper and clean it off before you paint for better adhesion.  It made the process even more fun for me to bring new life to my new treasures.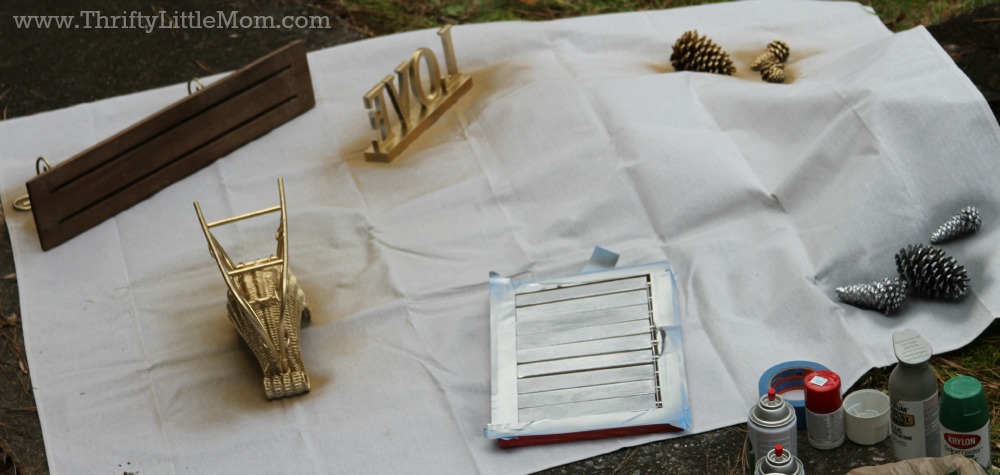 6. Keep It Simple & Balanced
That night I wanted to show my best friend Rhonda all my fabulous finds so we hung out and she helped me create this beautiful mantel display.  One tip she taught me was to run the string of lights behind the display on the mantle.  When we started I was trying to wrap the lights around the greenery and the red trees.  This is much more classy looking!
We kept this display simple and balanced by putting out the 3 pieces of evergreen, 4 large poinsettias, 2 red trees (upside-down sconces) and balanced the ends with two gold (spray painted) angled items.  I was thrilled with the result and really glad I decided to take the extra 30 minutes to blast my favorite finds with gold paint!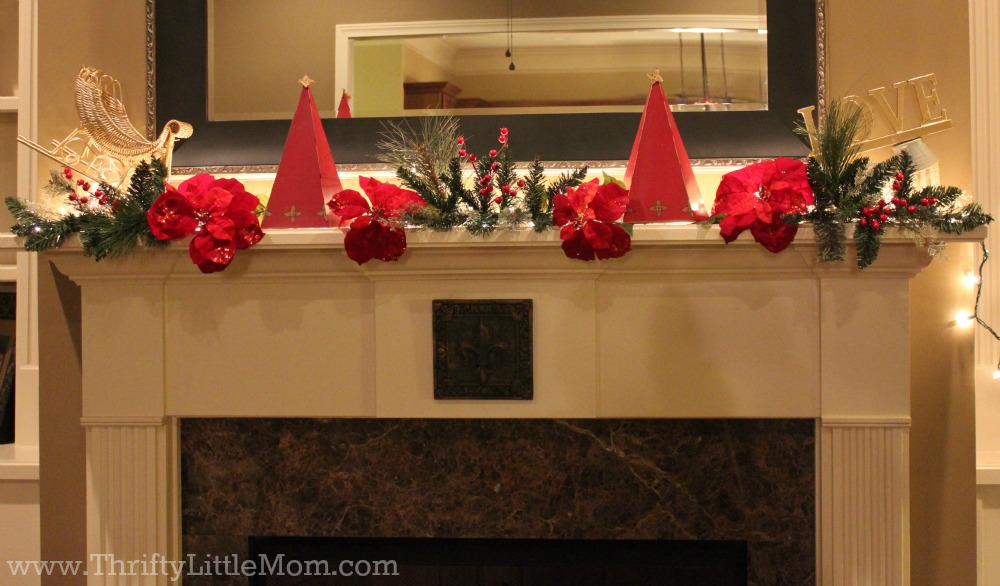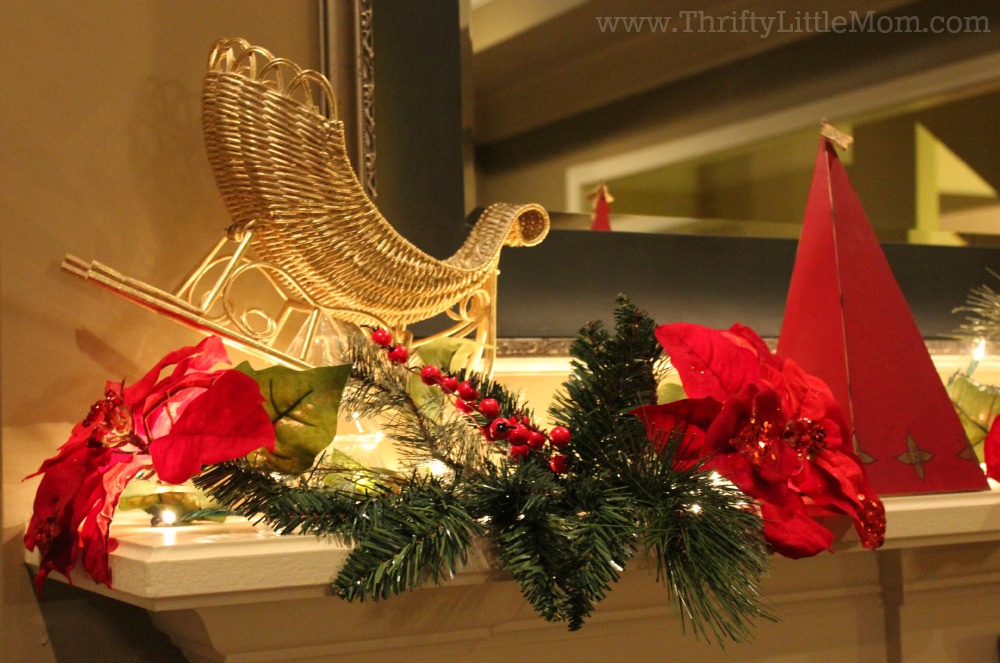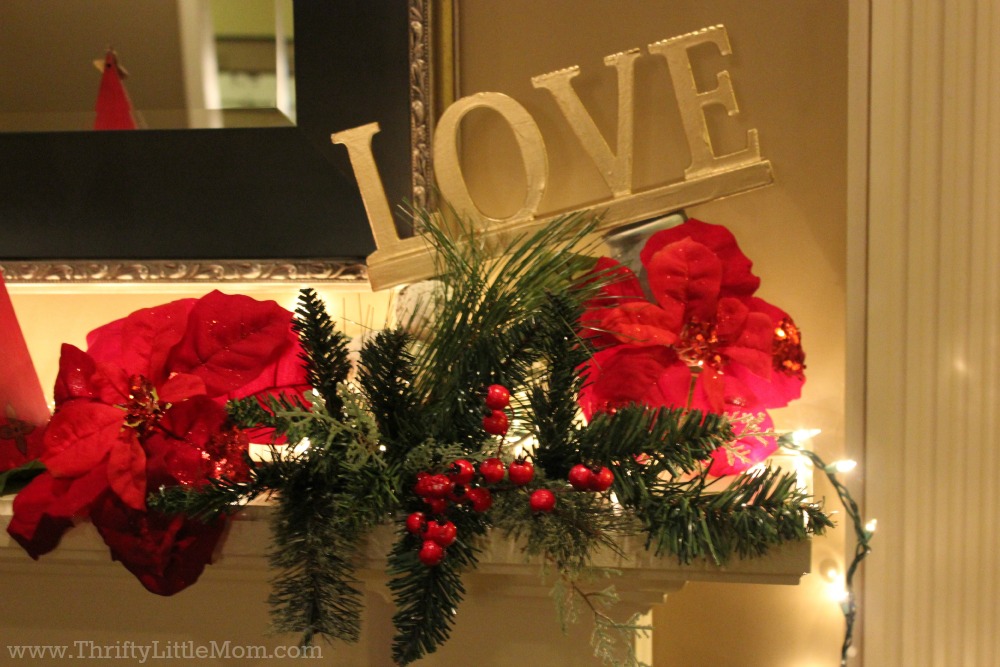 7. Think Outside the Living Room
We could have stopped our decorating spree in the living room, but we decided to keep going and show you just how diverse your Goodwill decor can be by weaving it in with items that you already own.  In the picture below we used the evergreen sprigs, lights, the gold painted LOVE sign and the gold charger plate I found at Goodwill to create this gorgeous tablescape.  I retrieved the pine cones from the yard and painted those while I was out painting the other items!  I already had the manger scene and the white tulle.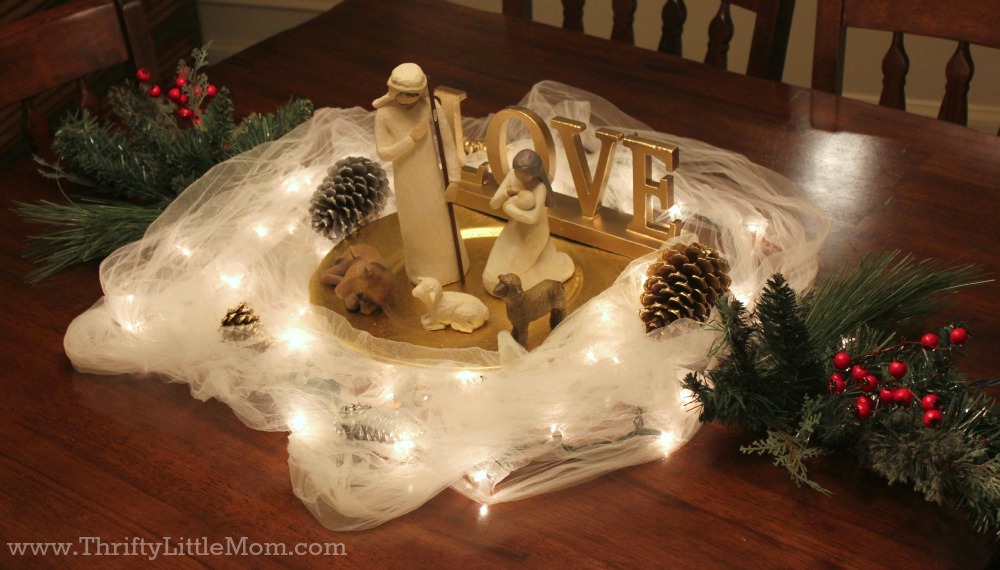 The last place we decorated was the bathroom.  I knew I wanted at least one candle in my holiday decor this year so this was what we created.  The glass vase and poinsettia's came from my Goodwill store and the bow and candle came from pieces I already had. My Goodwill finds added new life to my old holiday decor!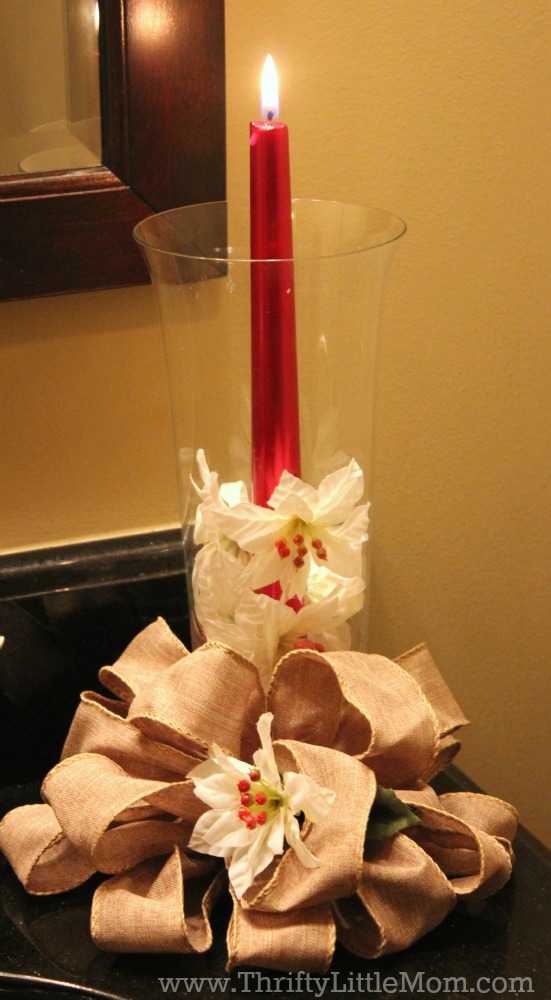 You can never go wrong with a simple basket filled with greenery and texture like the one below.  The evergreen sprig and basket came from Goodwill and then we added the pine cones for texture!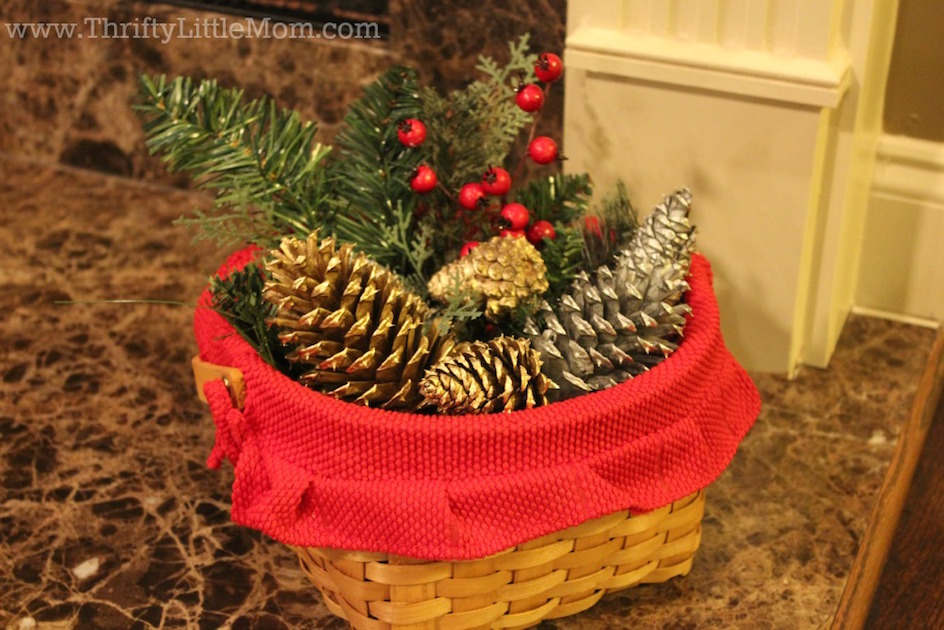 I hope that these tips, tricks and pictures will help you as you head out in search of some fun and festive holiday decor for your own home.  By doing your decor shopping in a Goodwill store you are helping the organization continue to put people to work!  This is Goodwill's 90th birthday.  Consider supporting an amazing organization while recycling, saving money and making your home feel like Christmas!  And don't forget, as you prepare your home for new and exciting things, to donate your gently used items to a Goodwill near you!  Check out these Donation Locations.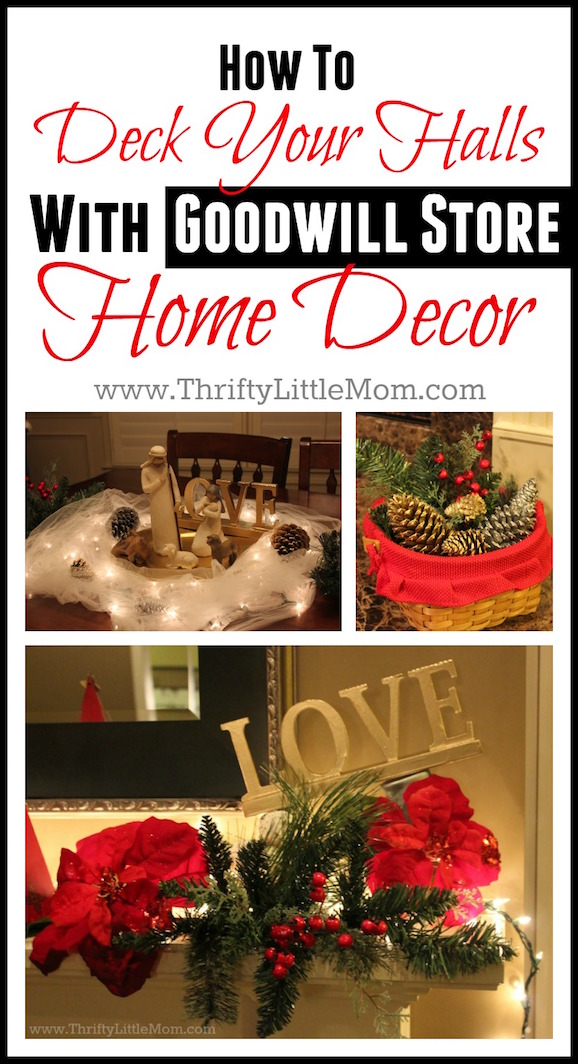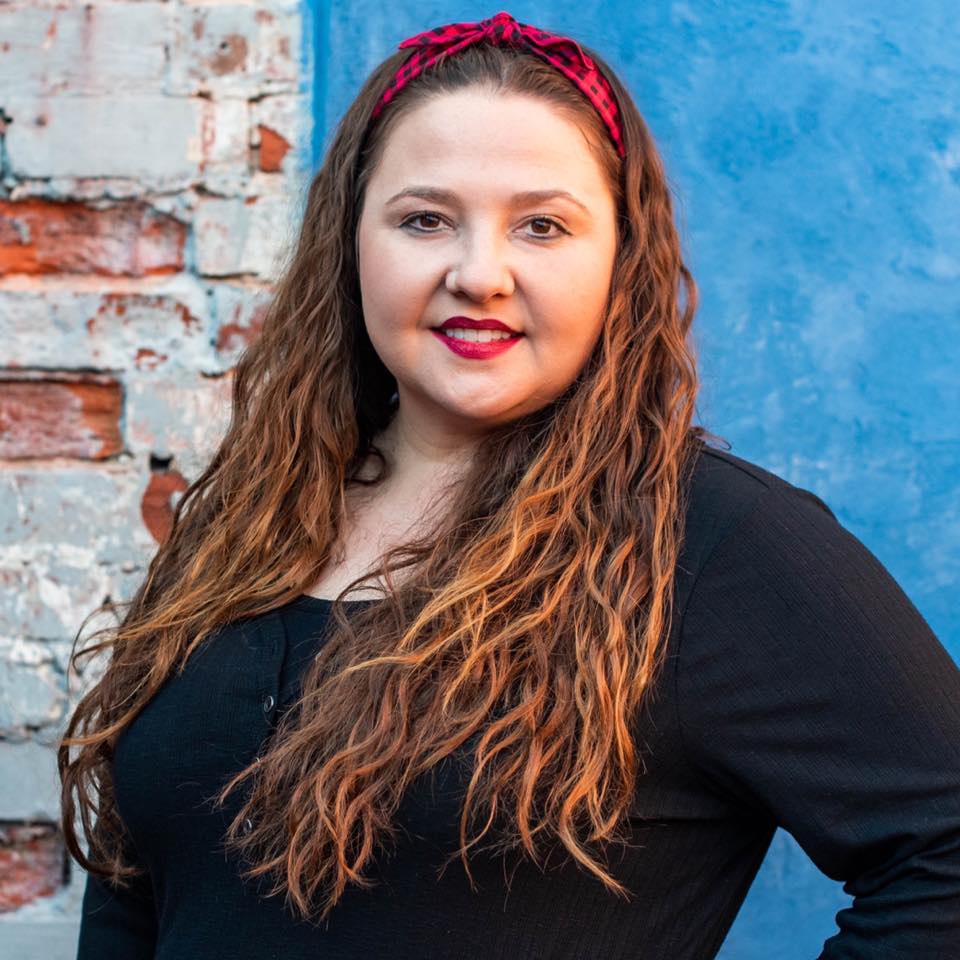 Kim's is the party planning, thrifty life-loving, intentional living catalyst behind the Thrifty Little Mom Blog. Kim was a pro event planner for over 7 years before she became a full-time blogger. Kim is the author of: Live, Save, Spend, Repeat: The Life You Want with the Money You Have. She's been featured on Time.com, Money.com, Good Housekeeping, Women's Day, and more! Kim aims to inspire you to create, celebrate, and live life intentionally!