Making Your Minivan a Moving Mobile Hotspot
This post contains affiliate links. As an Amazon Associate, I earn from qualifying purchases. I also earn from qualifying purchases made with other brands and programs. See my
privacy policy.
This post contains Amazon Affiliate Links.  If you click the link and make a purchase I receive a small commission to keep this blog up and running! View my Privacy Policy here.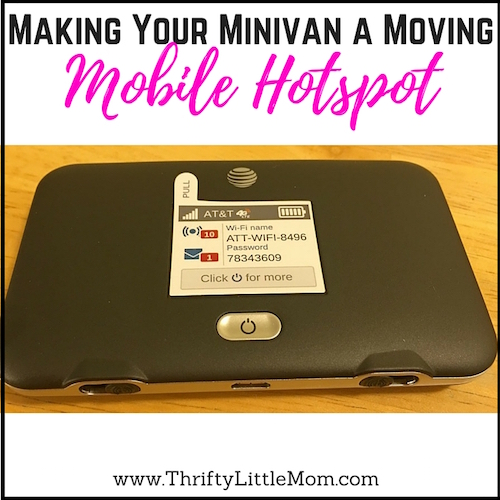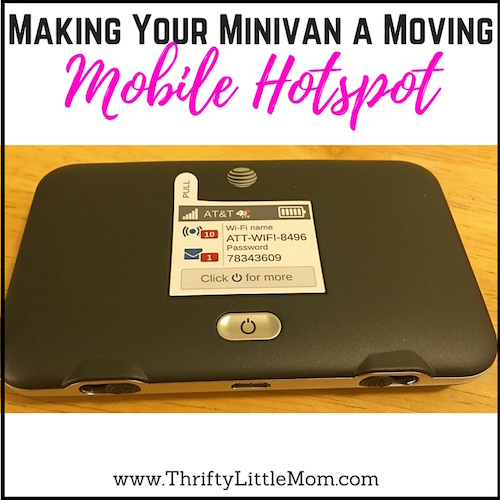 FYI: I asked to try out the pay-as-you go 4G LTE AT&T Unite Express Mobile Hotspot by NETGEAR and received the hotspot and a $25, 2G reload card free of charge in order to write this review.  The thoughts and opinions expressed in this post are 100% mine.
Summer is upon us and that means travel is on the horizon!  Whether you are taking grand family vacations or taking your kids down to the local pool, keeping your sanity in the car comes down to keeping your kids either sleeping or occupied.  Now when I was kid (this makes me feel old) I had my portable CD player and art desk for entertainment and most kids I knew had a portable game console that they took everywhere.  It was as simple as packing batteries and the game cartridges.
Fast Forward…
But as time went on, things changed.  Fast forward to now and it seems like everything we do almost everyday depends on being connected to the internet.  In fact, one of the reasons I enjoy vacation so much is getting to finally waste an hour of my life on Pinterest and Facebook without feeling guilty.  Plus there have been many times that I desperately wished I could connect to the internet just to download a movie on the Kindle Fire or iPad for my son when I realize it didn't work before I left home. 
The Downside…
The downside is that if everyone in your family is doing this on a road trip, your smart phone internet data plan is going to get annihilated quickly.  I learned this the hard way on a 15 hour road trip where we listened to Podcasts on my phone for 8 hours.  I had to turn my 4G off for about 2 weeks to prevent overages.
The Solution…
So last fall when I was at a blogging conference and saw AT&T had pay-as-you-go, no annual contract mobile hotspots I was really interested in trying it out.  In fact after the conference I asked if they would send me one to try out!  My initial reason was because of what I do.  As a blogger, the internet is where I do everything!  So there have been many times where I would have killed just to have a hot-spot to connect to without having to track down a local coffee shop with Wifi while on vacation.
Second, I knew that there were lots of thrifty little families like mine out there who don't really want another contract or to be locked into paying for something on a monthly basis. Especially if you don't use it all that often.  So after trying it out, I wanted to give you a run down of what I thought so you can decide if this is something your family might want to try out!
My Review of the AT&T Unite Express Mobile Hotspot by NETGEAR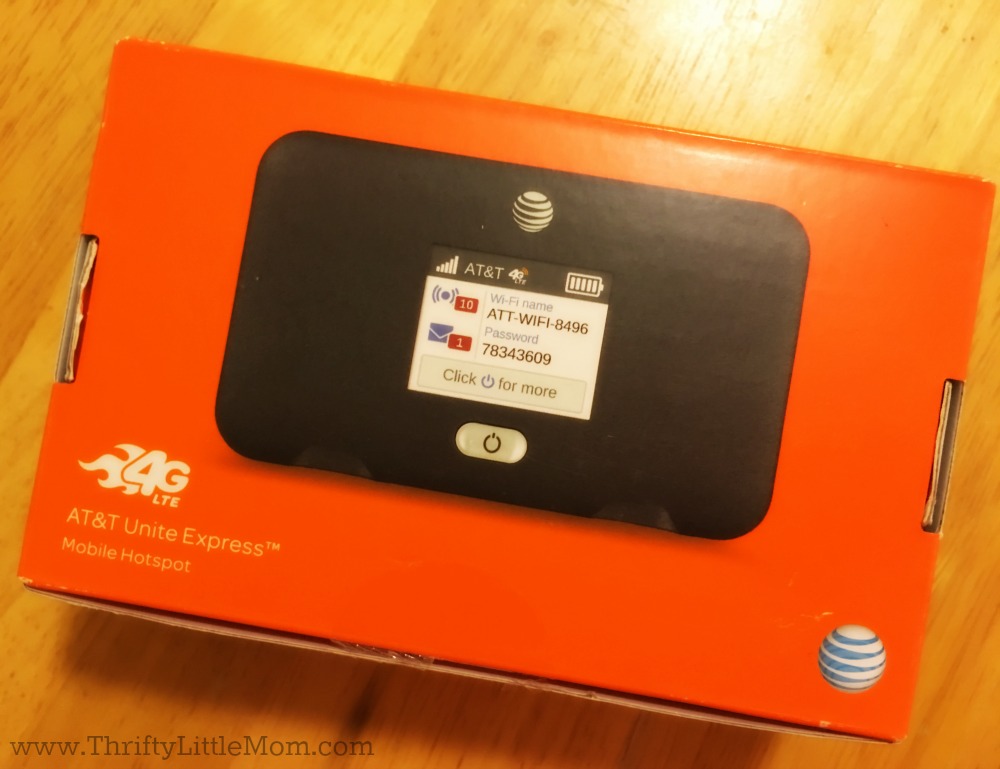 Pros-
One Flat Price- Much like other pay-as-you-go cell phones, you buy the phone for one low price and it's yours.

The device price is $79.99 with no annual contract, no credit check, and no monthly commitment.  It's available at AT&T stores, Amazon, BestBuy, Target, Walmart.

Easy to Put Together- It was really simple to put the device together out of the box and the instructions were fairly simple to follow.

Customer Service Was Helpful- I attempted to activate the device online following the instructions but was having trouble so I simply called the customer service line and they had my device activated and my 2GB data card loaded for me in about 10 minutes.
Easy To Connect To- When turned on, you can see the name of the device you need to connect to and below this is the wi-fi password on the screen so it's super easy to connect once you get the device activated.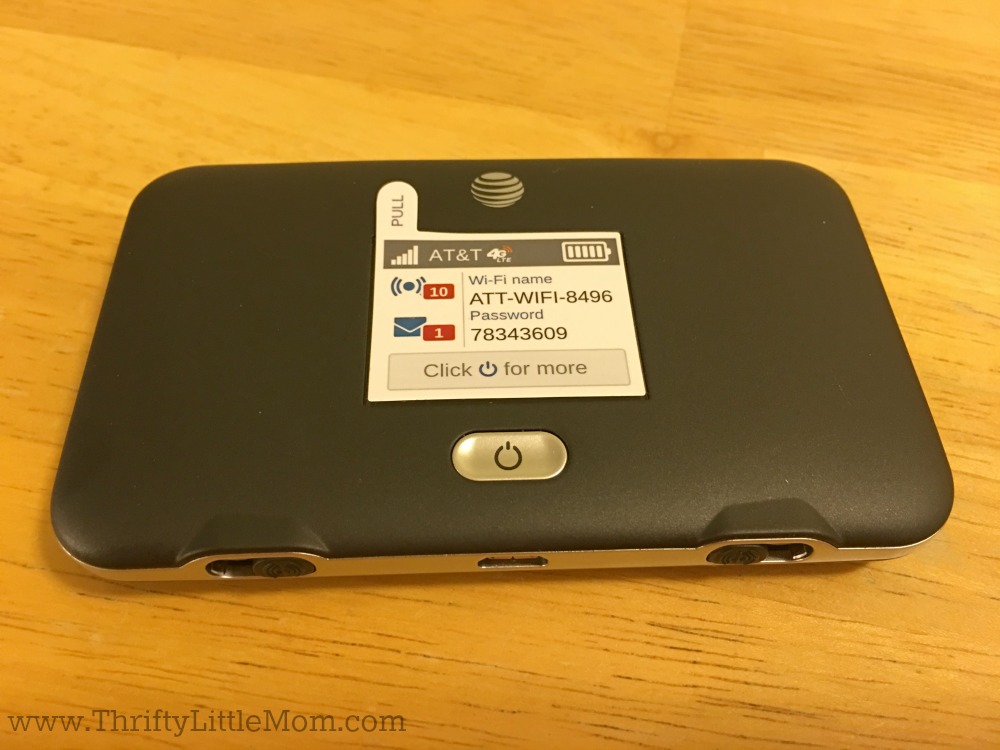 Physical Size- The device is really compact. It would fit well in my purse and is about the same weight as my iPhone 6 S plus.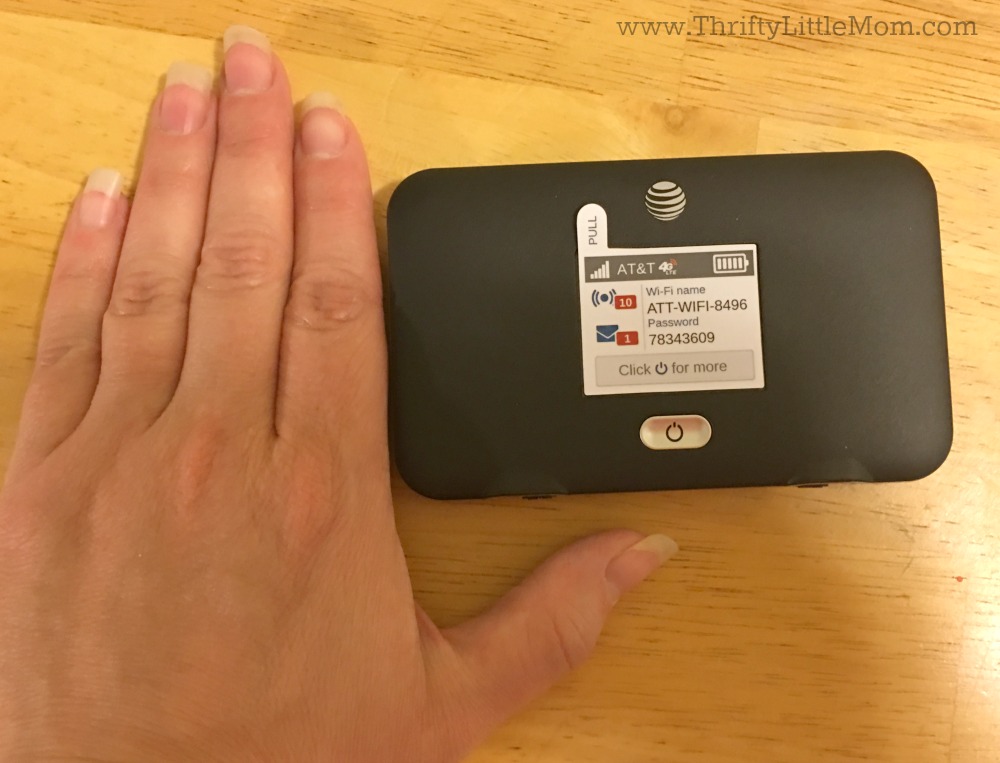 Battery Life- It has a 10 hour battery life.  It comes with a USB based wall plug which means you could charge the device on the go using a USB outlet charger in your vehicle.
Solid Speed- I never had any issues with the 4G LTE speed.  I didn't notice any reduction in speed when I connected more than one device.
Connectivity- I like that you can connect up to 10 wi-fi enabled devices.  That would make it worthwhile for taking to a larger family vacation gathering.
Lots of Reload Options- I really like flexibility and I feel like this device offers that.  There are several re-load options:

Auto Refill- With this option you just pick a data size plan and then set it up to auto-refill when you run out of data or your data expires.

$25 = 2GB of data for 30 days
$50 = 5GB of data for 30 days
$75 = 8GB of data for 30 days

Refill by phone
Add a refill card to account just like pay-as-you-go phones.  I believe these come in the same amounts as listed under the Auto Refill details above.
If you're not sure which reload option will cover your needs, AT&T has a chart toward the bottom of the page that breaks down what kinds of things you can do with each data plan here.
Cons-
The instructions are easy to follow but I felt like they lacked some details that would have made it easier to for me to set up on my own online.
The data doesn't roll over.  If you don't use the 2GB, 5GB or 8GB you pay for, you lose it!
Because these run on AT&T 4G LTE you'll want to make sure that it works where you live or where you plan to travel.  Check out the coverage map to be sure you can get service.
With all that being said, I hope that if you face the same dilemma that I do that you will consider trying one of these hotspots out and see if it doesn't just make staying connected while you travel, a little more thrifty for your family!
Have you tried one of these out before?  Feel free to leave your questions or thoughts in the comments section below!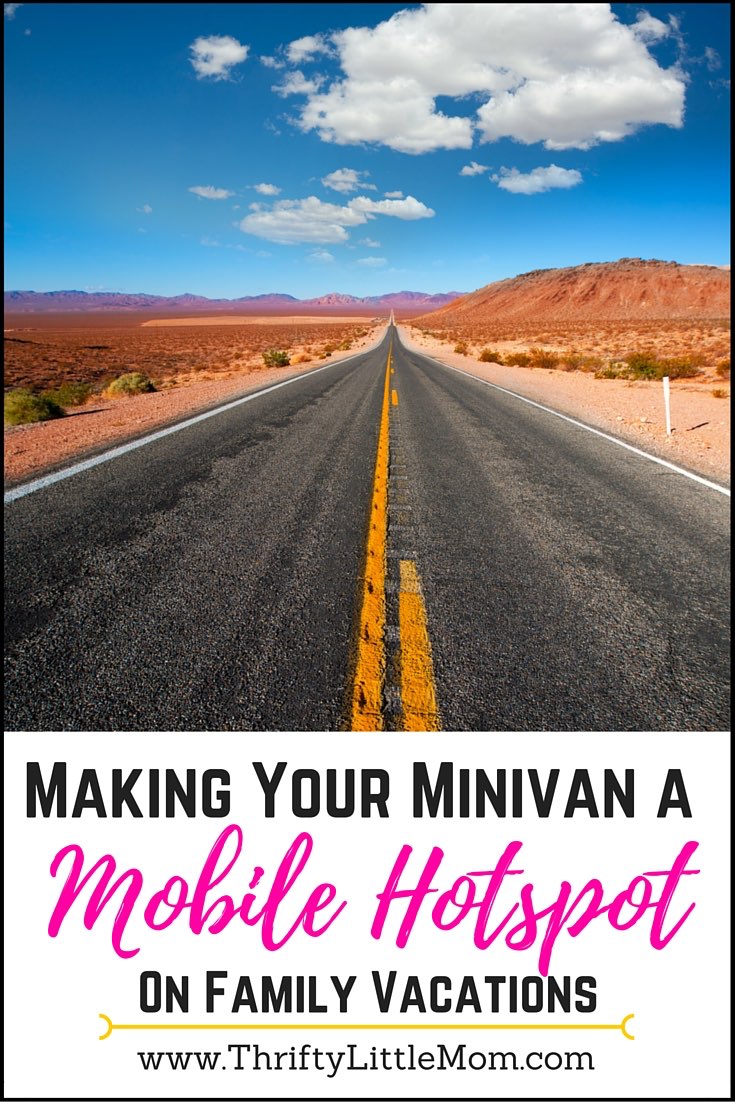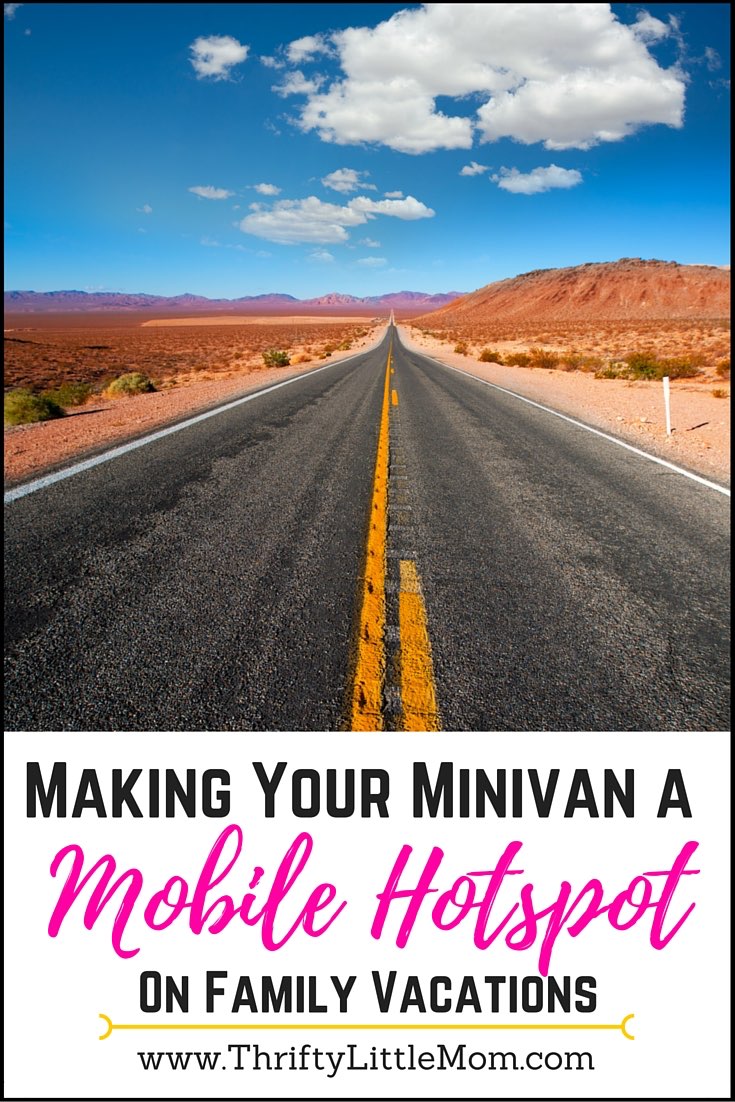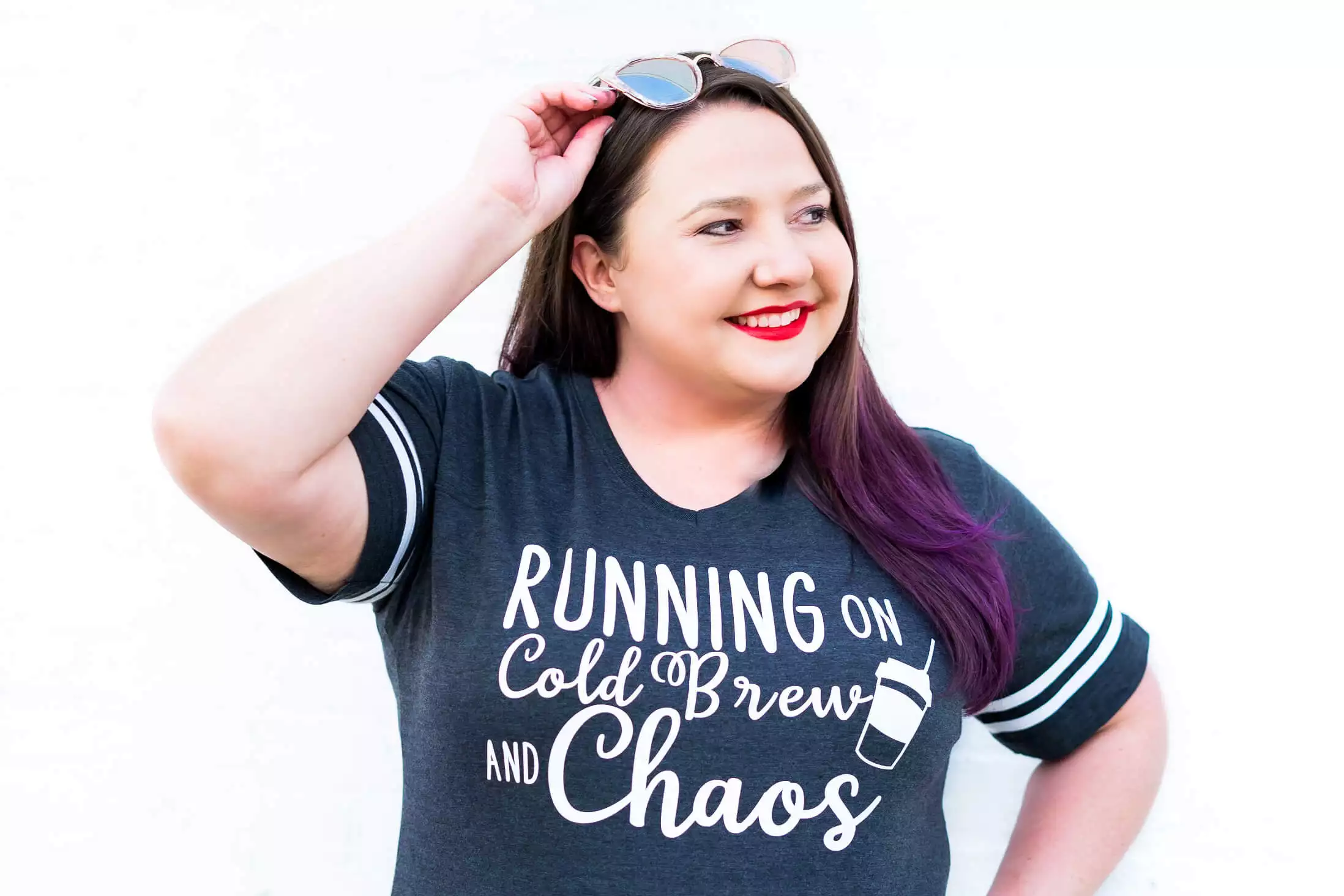 Kim Anderson is the organized chaos loving author behind the Thrifty Little Mom Blog.  She helps other people who thrive in organized chaos to stress less, remember more and feel in control of their time, money, and home. Kim is the author of: Live, Save, Spend, Repeat: The Life You Want with the Money You Have. She's been featured on Time.com, Money.com, Good Housekeeping, Women's Day, and more!