Have you ever seen these adorable beverage bouquets in gift shops or on Pinterest and thought, "I can do that and for a lot less money!"? Well, yes you can!
Whether you are looking for a holiday themed gift, a hostess gift or just a small token of appreciation, these beverage bouquets are inexpensive, easy to do and beautiful!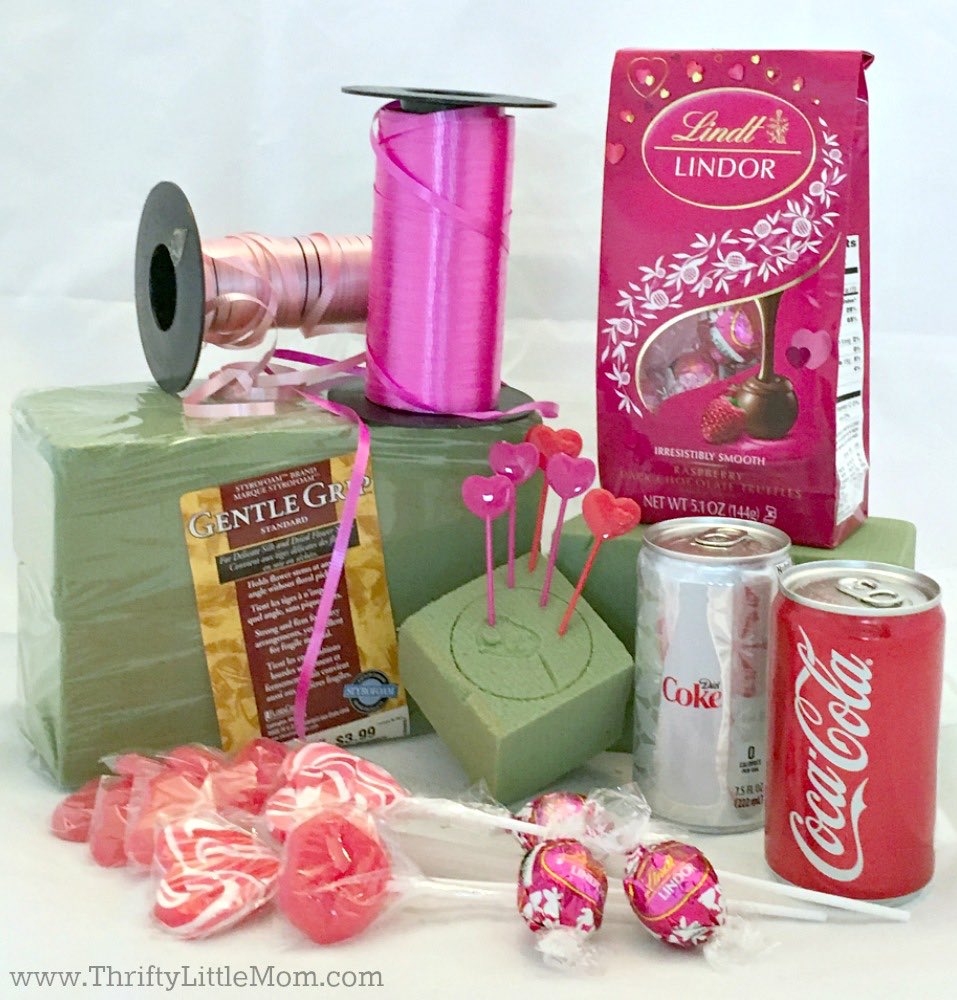 Supplies:
Floral Foam
Toothpicks
Beverage bottles/cans
Candy, lollipops, gum
Curling Ribbon
Scissors
Hot glue gun & glue sticks
Optional-cupcake liners, plastic Easter eggs
Step #1)
Cut a piece of the floral foam to fit right on top of the can then hot glue the foam onto the top of the beverage can.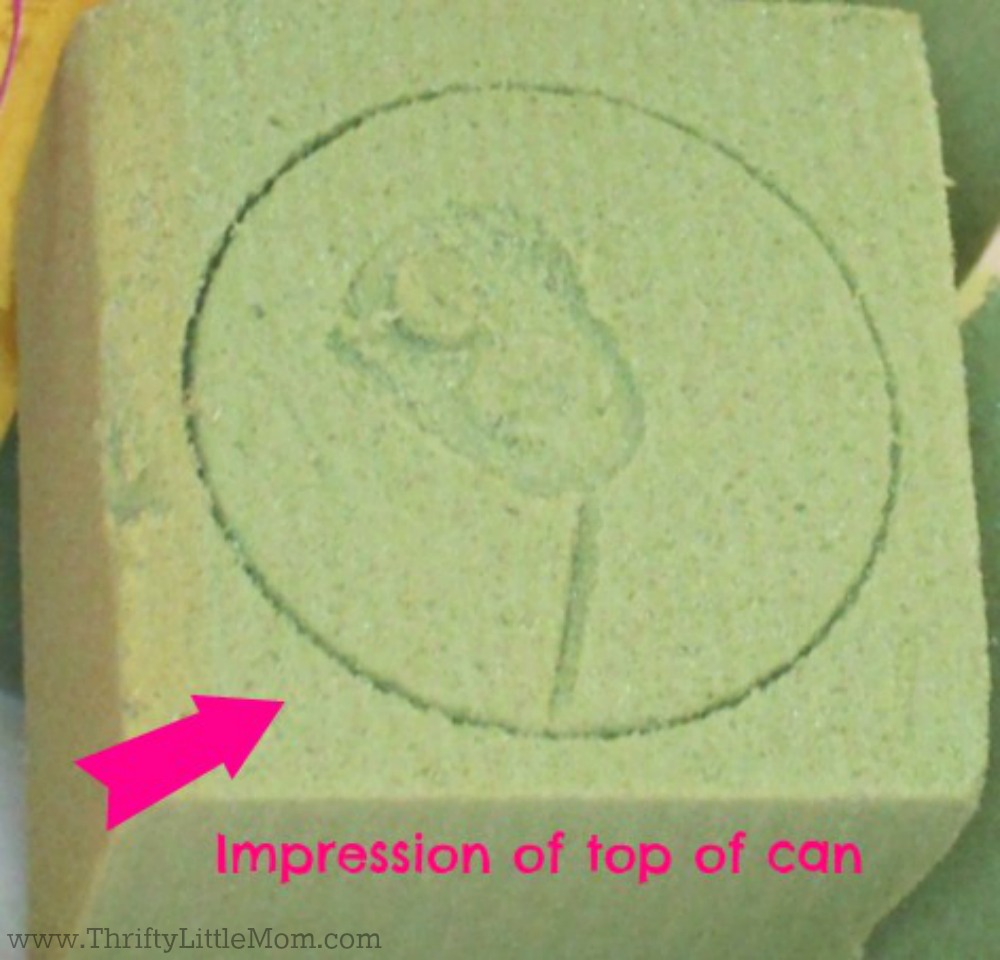 Hint: invert the can and make an impression of the can's top onto the foam as shown in the picture then cut around the impression.
If using a foam ball for a bottle, cut the bottom portion off to make it flat then using a melon baller, scoop out enough of the foam to fit perfectly on top of a beverage bottle. This step can be messy, but cutting it on a cutting board will make it easier to clean up the debris.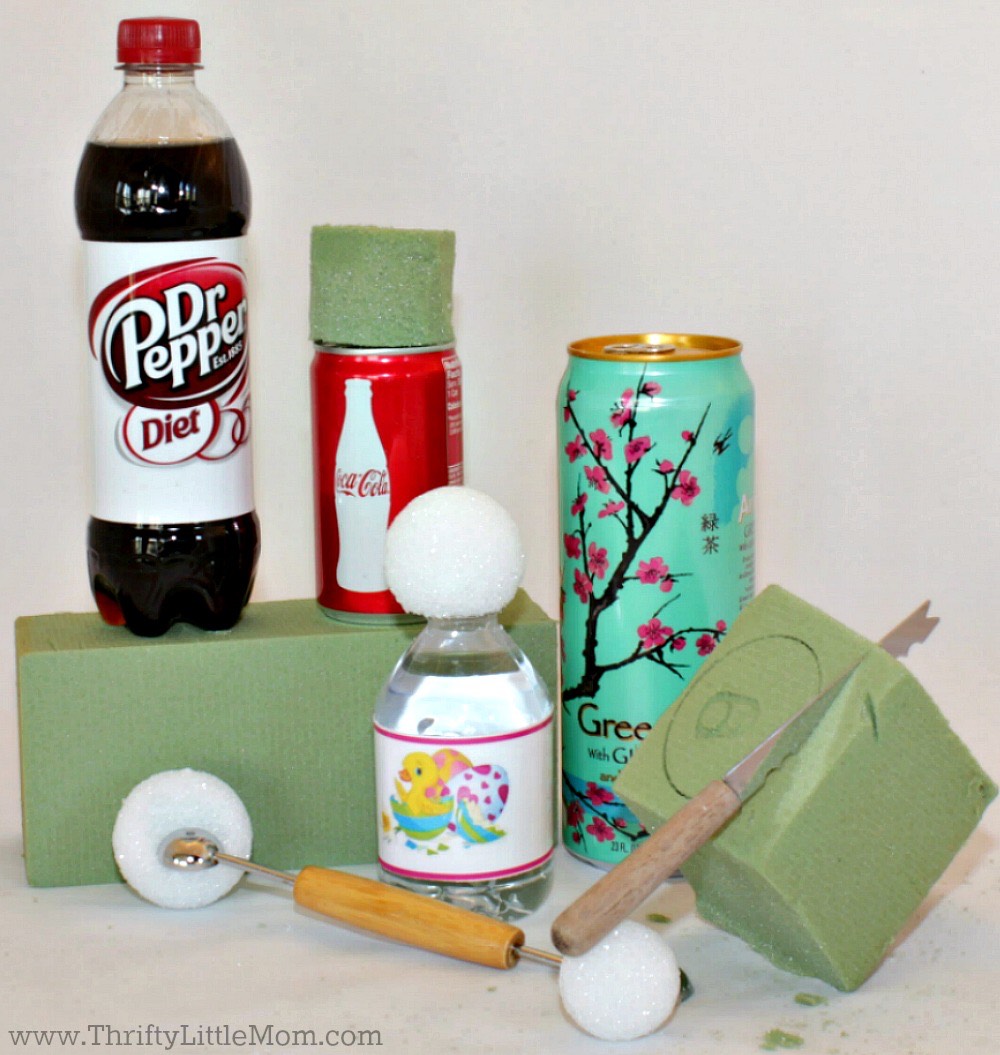 *Optional: Cover the foam with a cupcake liner. I often use so much ribbon that I skip this step.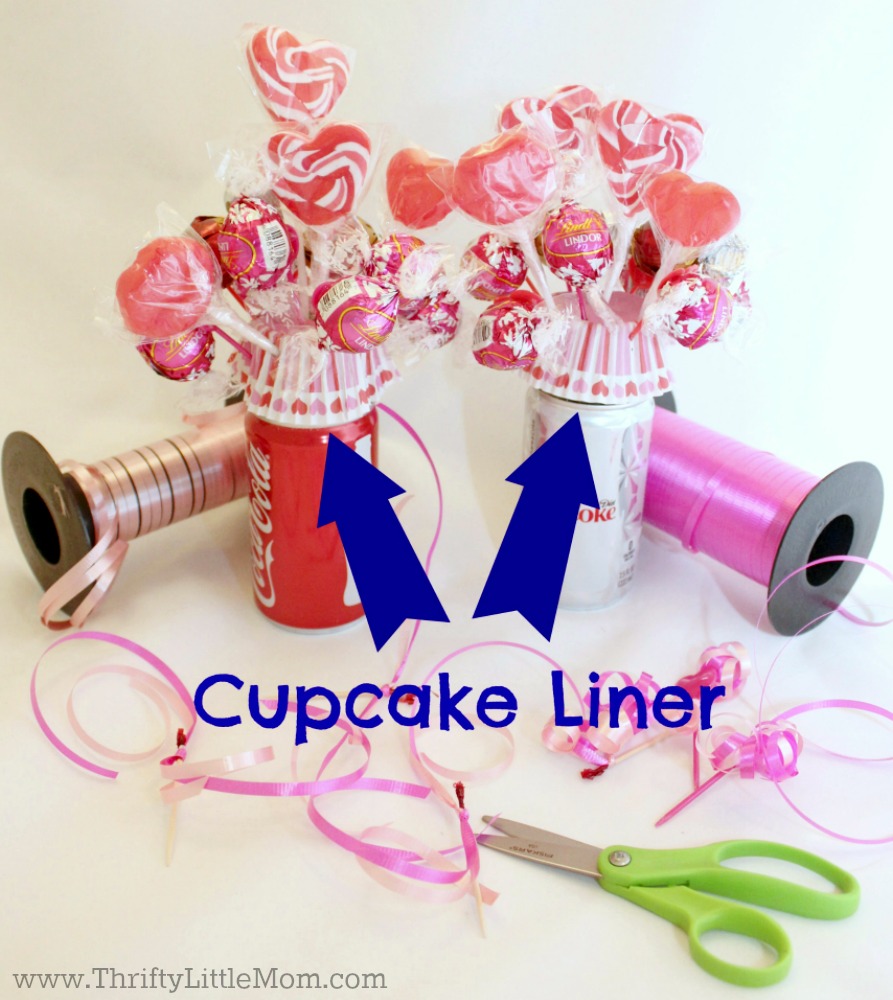 Step #2)
Hot glue picks onto the candy and plastic eggs if using them. When dry randomly place picks, lollipops and plastic eggs into the foam.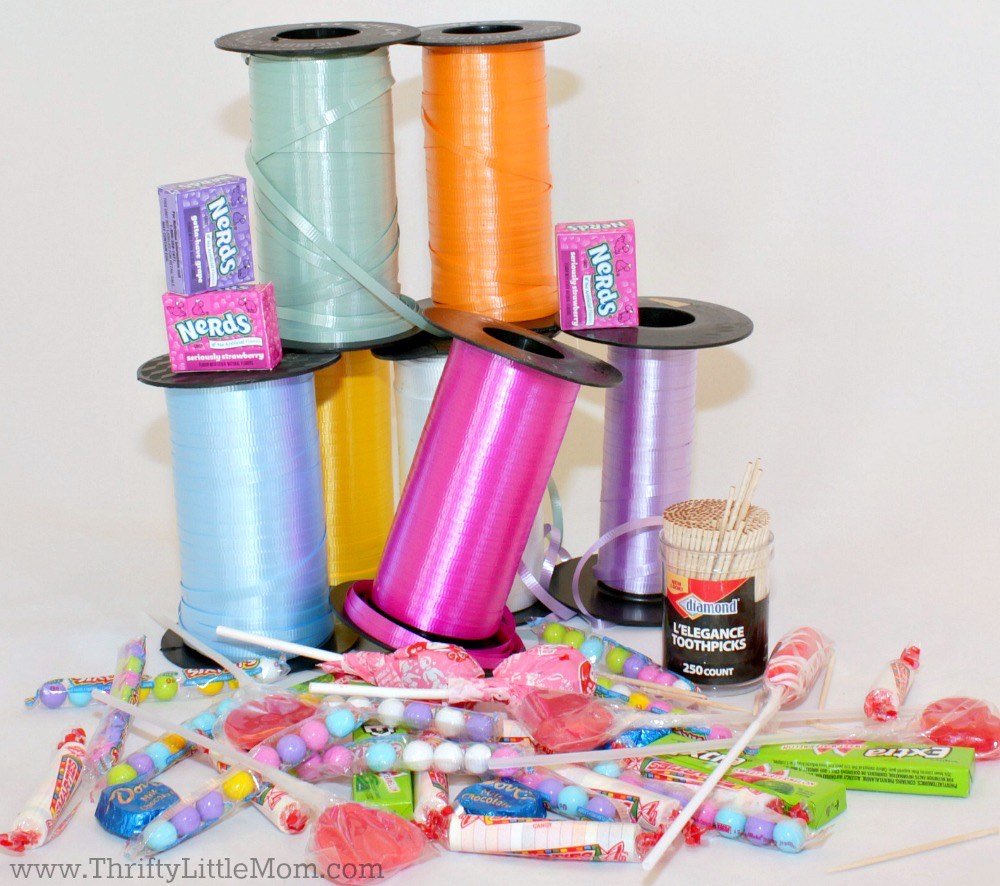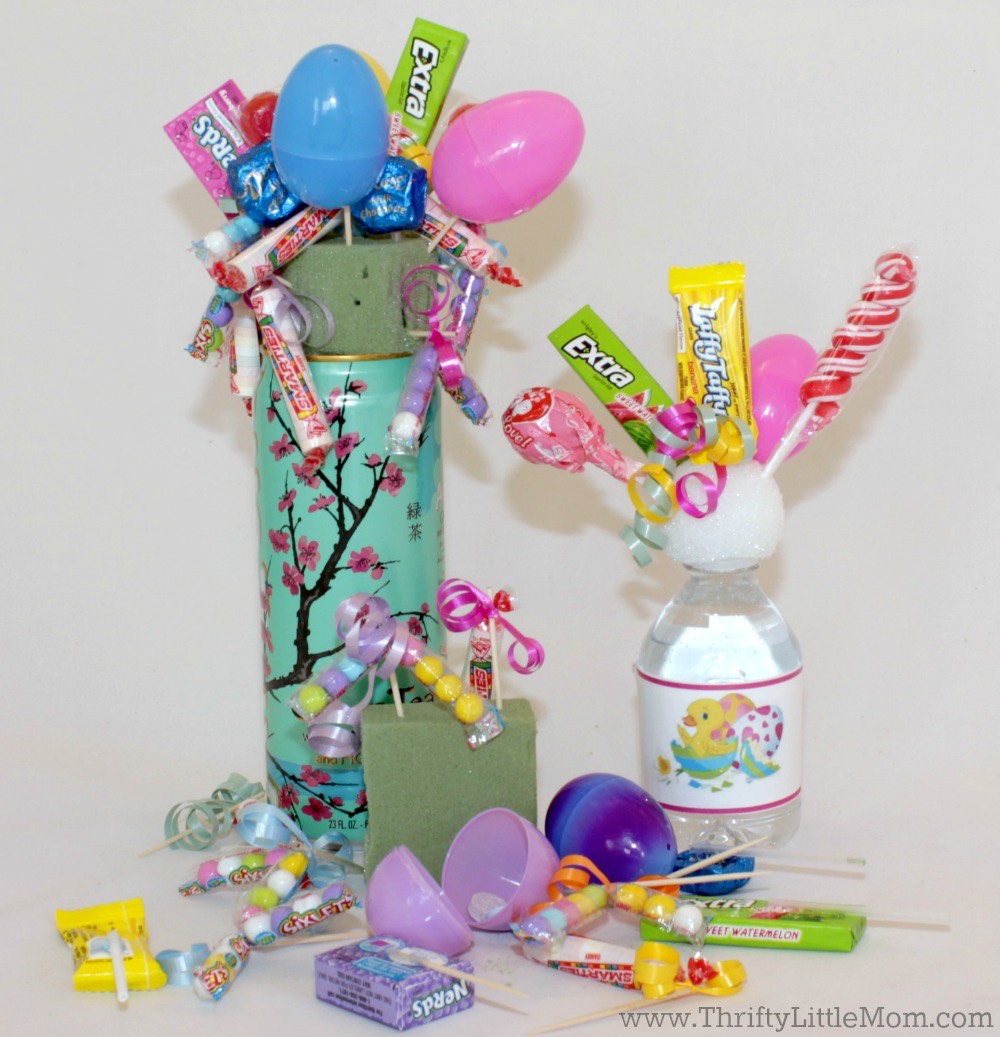 Step #3)
Cut ribbon about 5 inches in length, tie onto a toothpick, curl with scissors and place the ribbon pick into the foam covering the bare spots.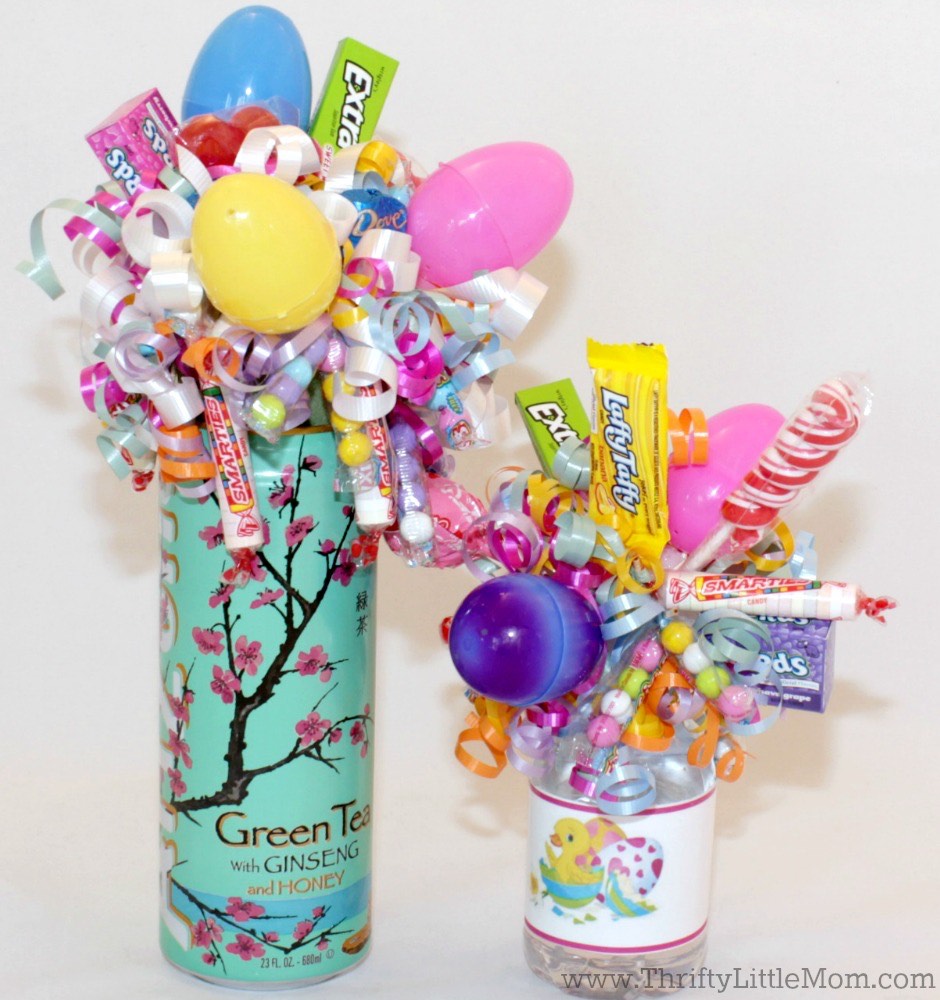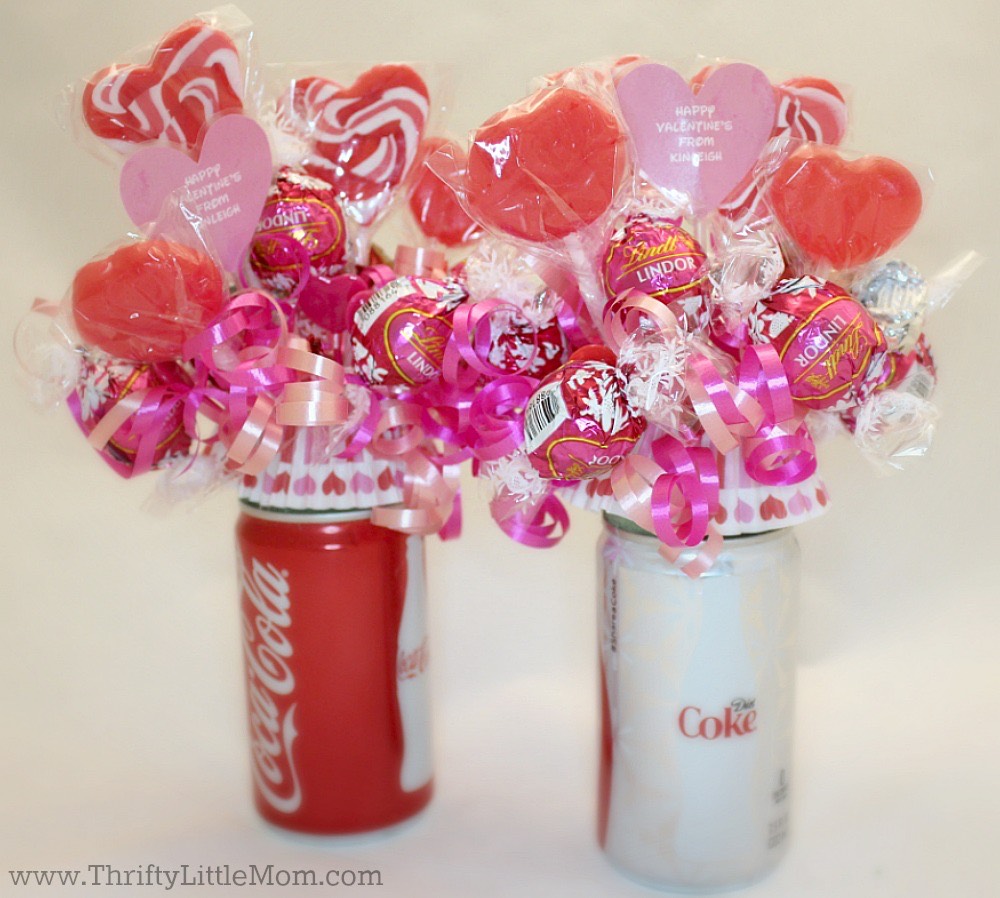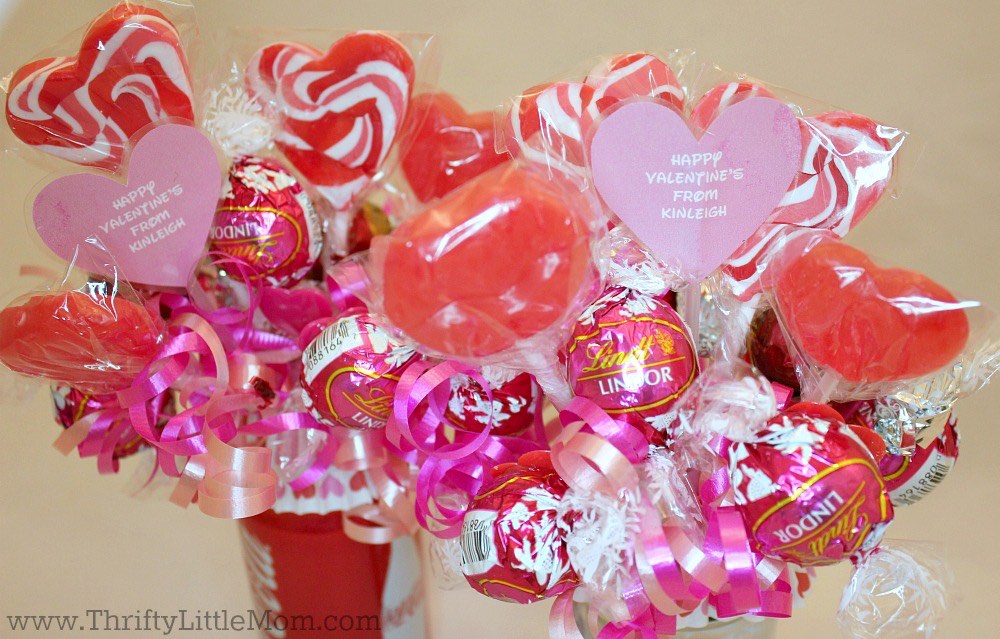 *Optional: Design a special greeting card to add to the bouquet. I like to print out a small greeting, cover with packing tape or contact paper, cut it out and glue it to a toothpick to insert into the foam.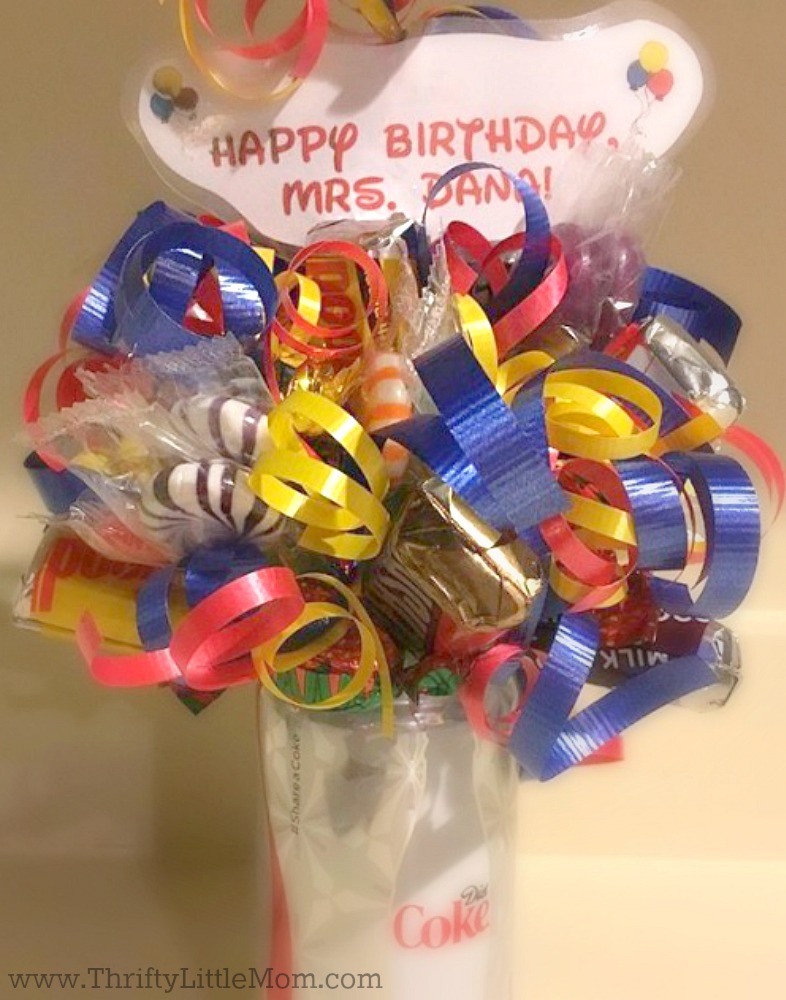 Your kids, their teachers, neighbors, anyone would love to receive a beverage bouquet! They are so colorful & fun! Make sure to let us know what theme you decided to make in the comment section below.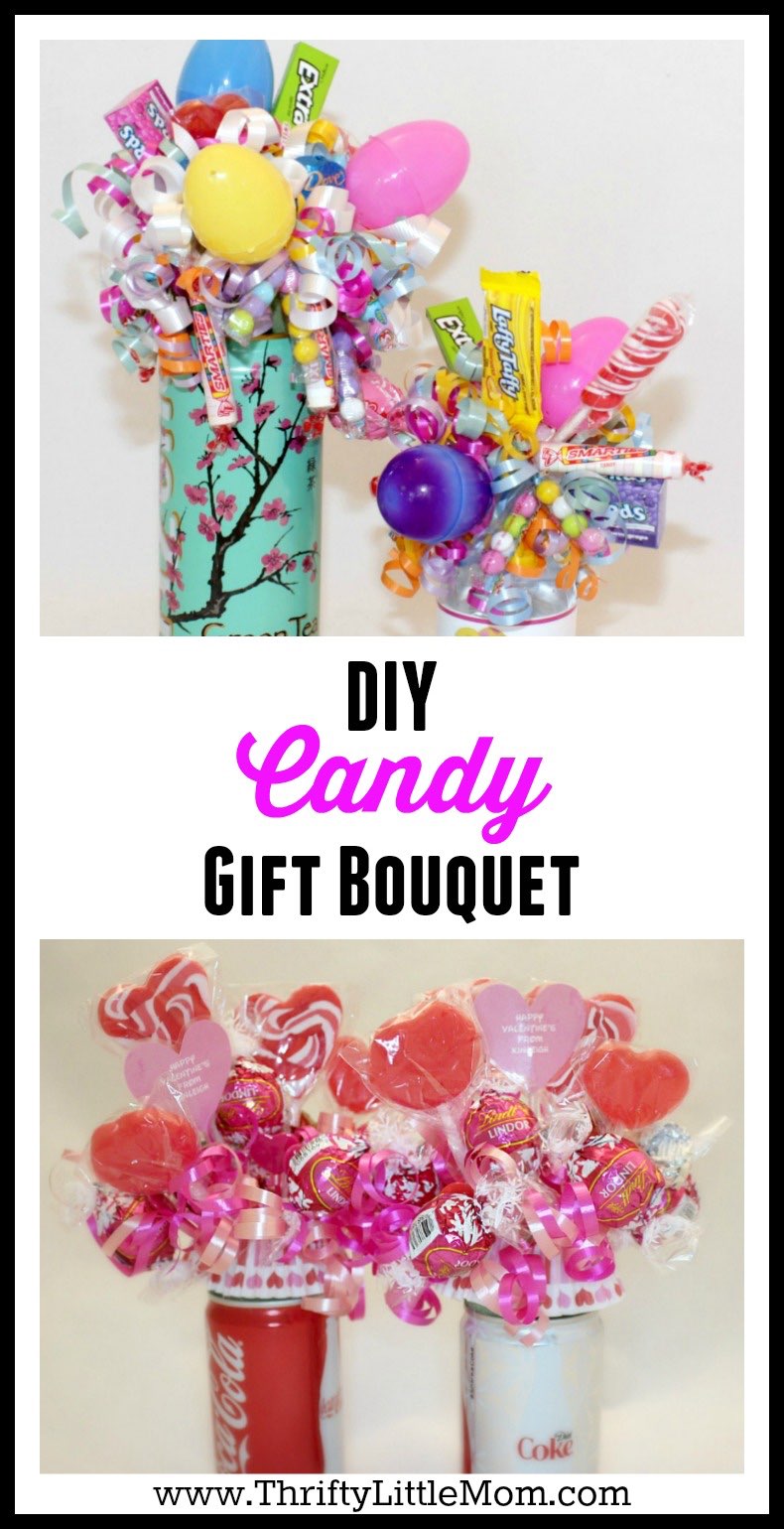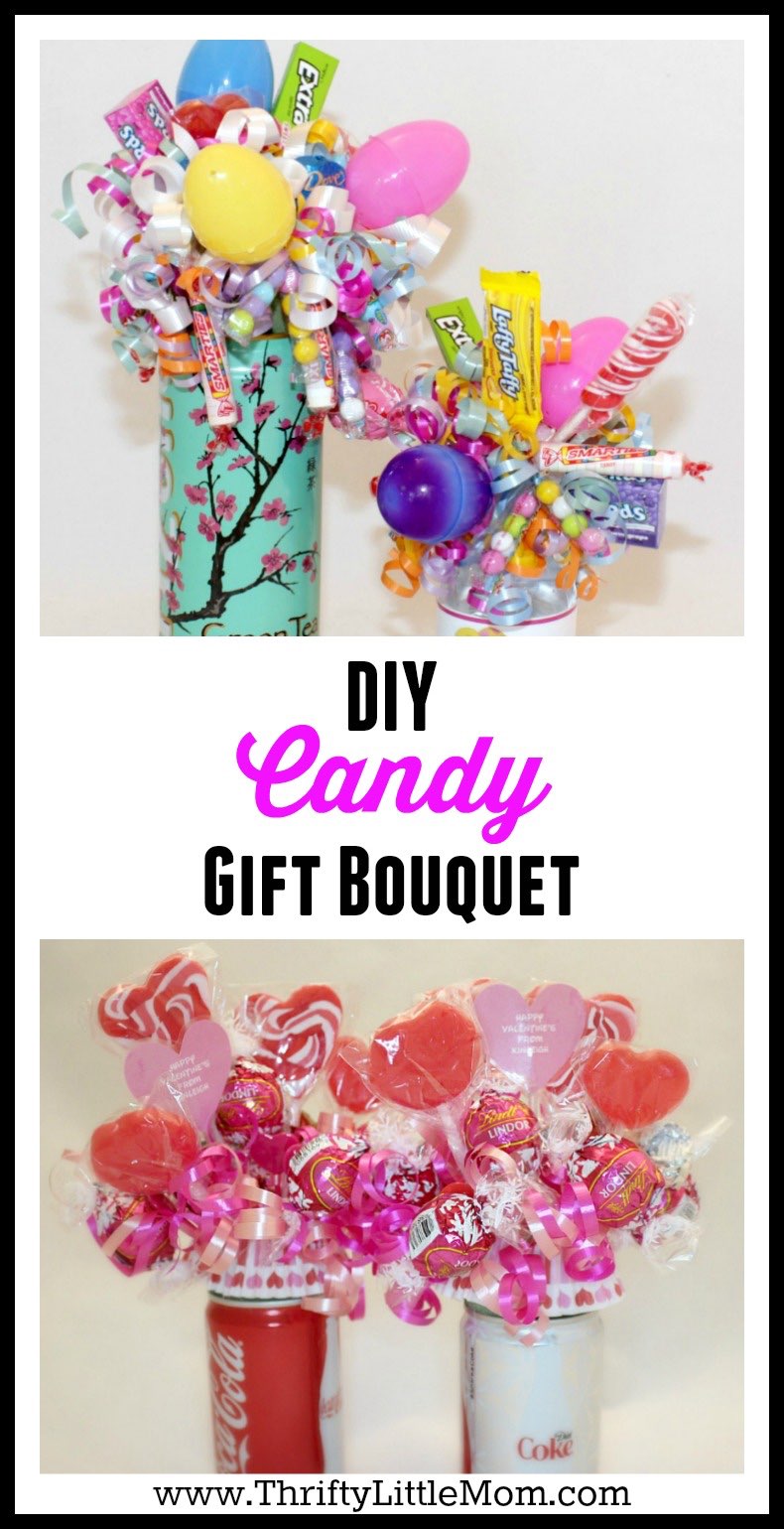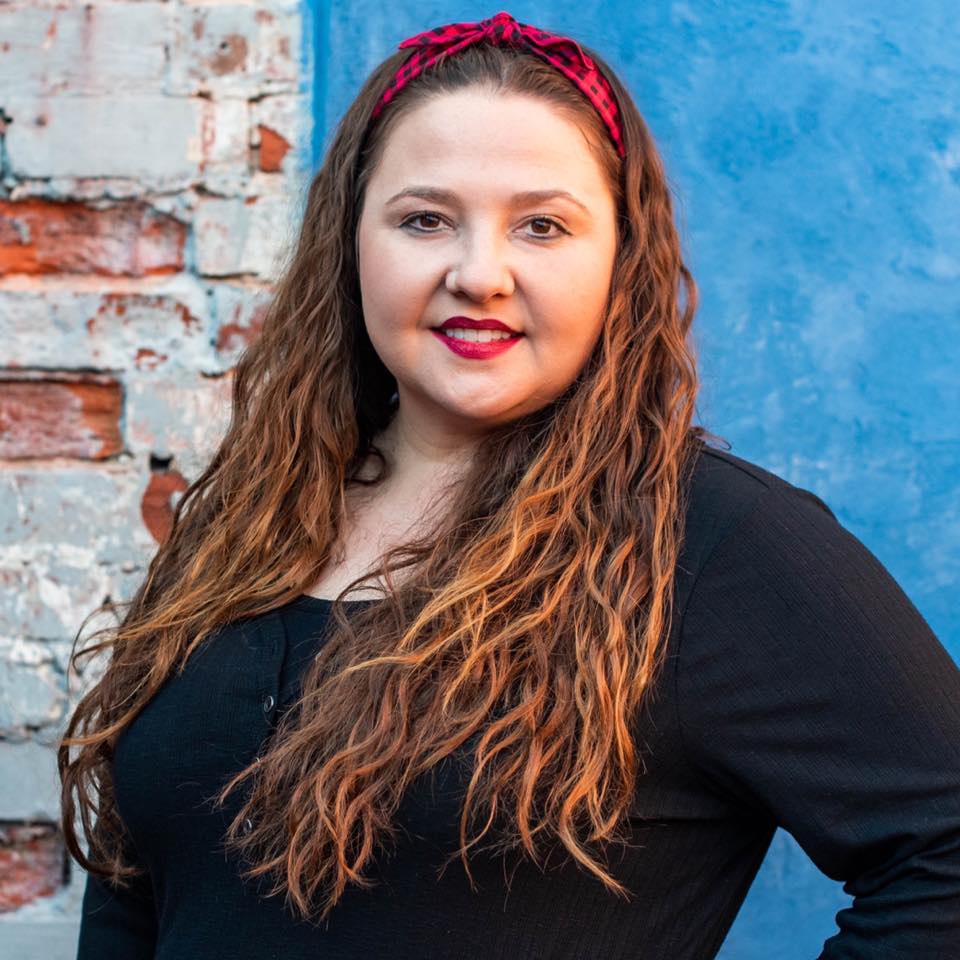 Kim's is the party planning, cupcake loving, celebration catalyst behind the Thrifty Little Mom Blog. Kim was a pro event planner for over 7 years before she became a full-time blogger. Kim is the author of: Live, Save, Spend, Repeat: The Life You Want with the Money You Have. She's been featured on Time.com, Money.com, Good Housekeeping, Women's Day and more! Kim aims to inspire you to create parties, celebrations and gatherings that everyone loves!