Cool and Creamy Summer Berry Trifle Recipe
This post contains affiliate links. As an Amazon Associate, I earn from qualifying purchases. I also earn from qualifying purchases made with other brands and programs. See my
privacy policy.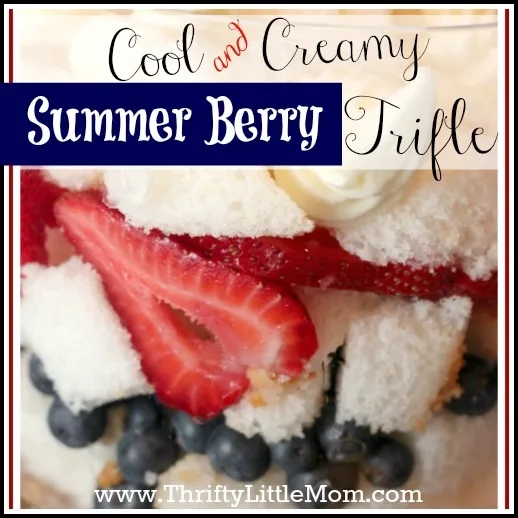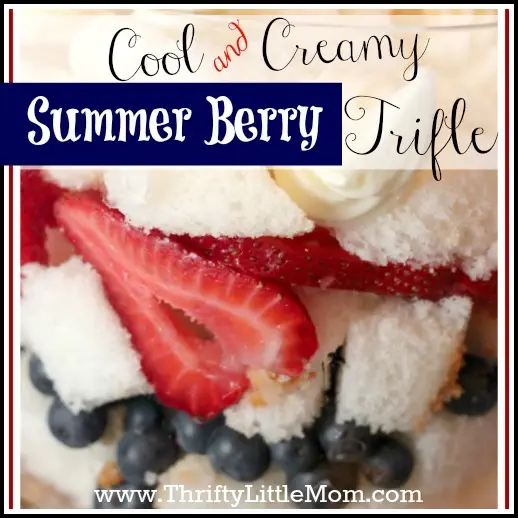 Do you need a little independence from your usual 4th of July dessert? Well…right about the same time that I was preparing to share a new recipe with you, my trifle loving, oldest daughter and I were talking about our love for anything almond flavored over coffee & pastries! That's when the idea for a new, updated trifle came to me! Here it is…an easy and delicious take on ole glory that you would be delighted to take to any celebration! Not only is it really tasty, but since berries are in season it's thrifty too!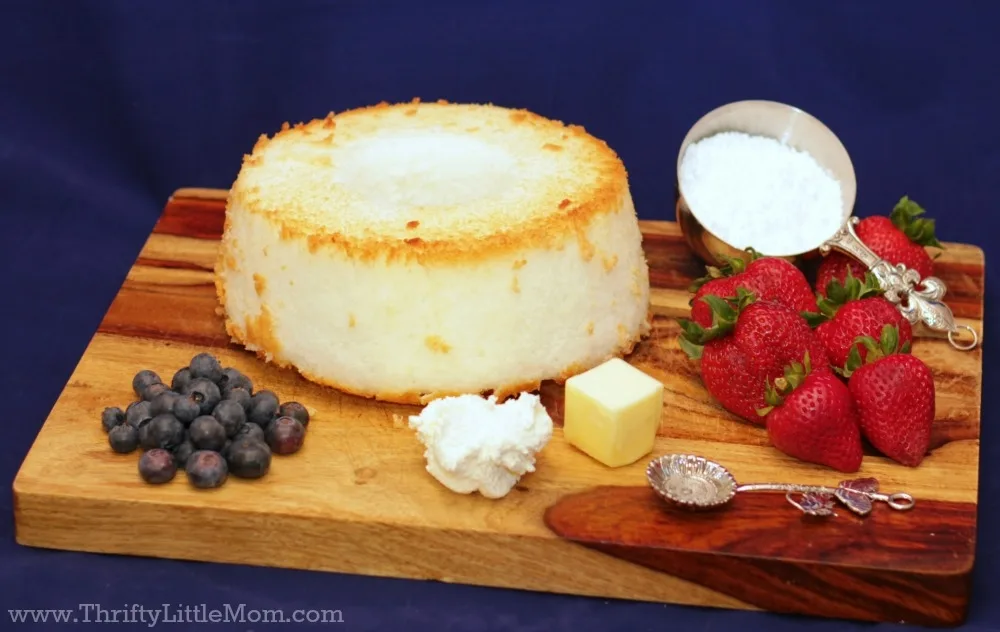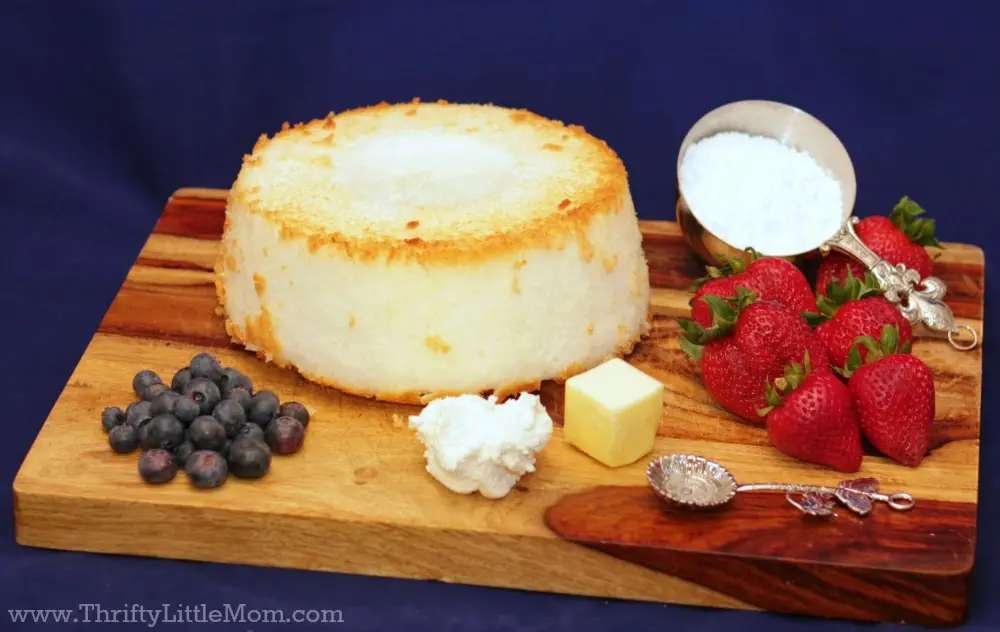 Ingredients:
Angel Food Cake Mix plus its required ingredients
½ Cup water
½ Cup Granulated Sugar
1 tsp. Pure Almond Extract
4 Tbsps. Room temperature Butter
6 oz. Room temperature Whipped Cream Cheese
1 Cup Powdered Sugar
8 oz. Strawberries washed, dried and sliced
6 oz. Blueberries washed & dried
Step 1)
Make the Cake:
Prepare a box mix of Angel Food Cake according to directions. Once baked set aside to cool. Once cooled cut into small cubes.
Step 2)
Make a Simple Syrup:
Over low heat, stir together ½ Cup Water & ½ Cup Granulated Sugar until the sugar is dissolved. Remove from heat. Once the syrup has cooled, add 1 teaspoon of Pure Almond Extract to the syrup and stir.
Step 3)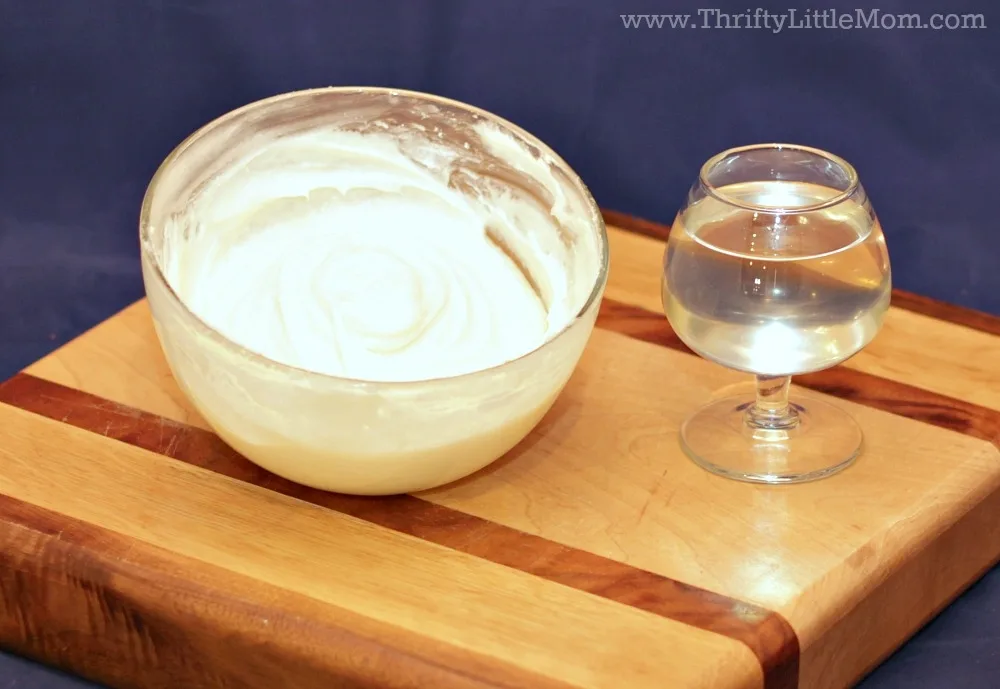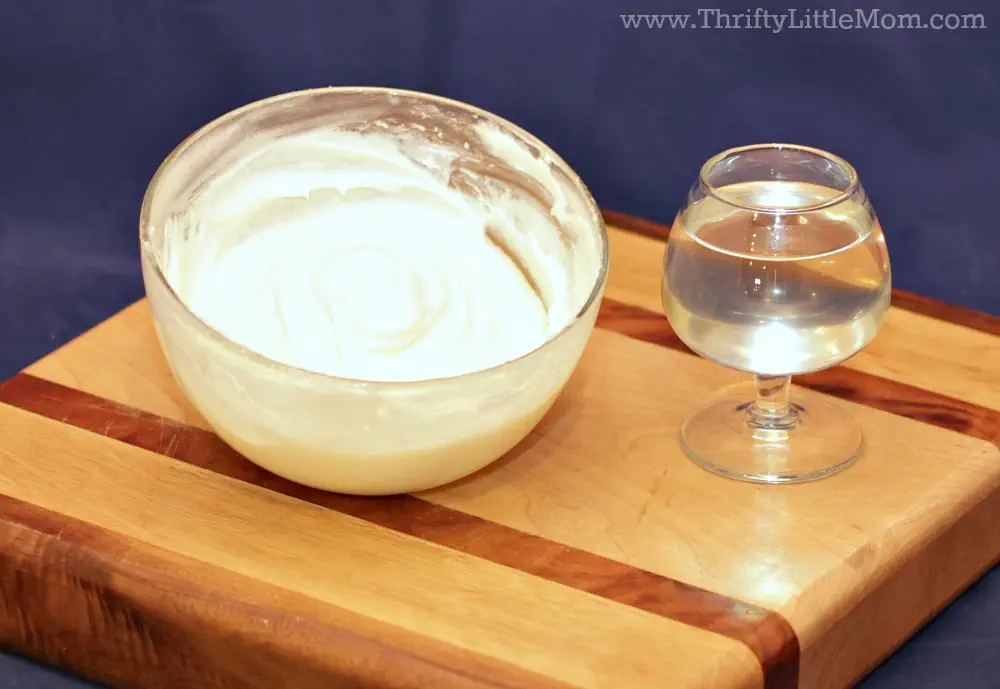 Make frosting:
Cream together butter, cream cheese and powdered sugar until well blended and smooth adding 1 Tablespoon of the cooled simple syrup at the end. Refrigerate to stiffen slightly making it easier to pipe onto the top of the dessert.
Step 4)
Assemble Trifle either in a large dish or single serving containers:
Begin with a layer of cubed cake, add a layer of blueberries then drizzle a teaspoon or two of the simple syrup over your layers.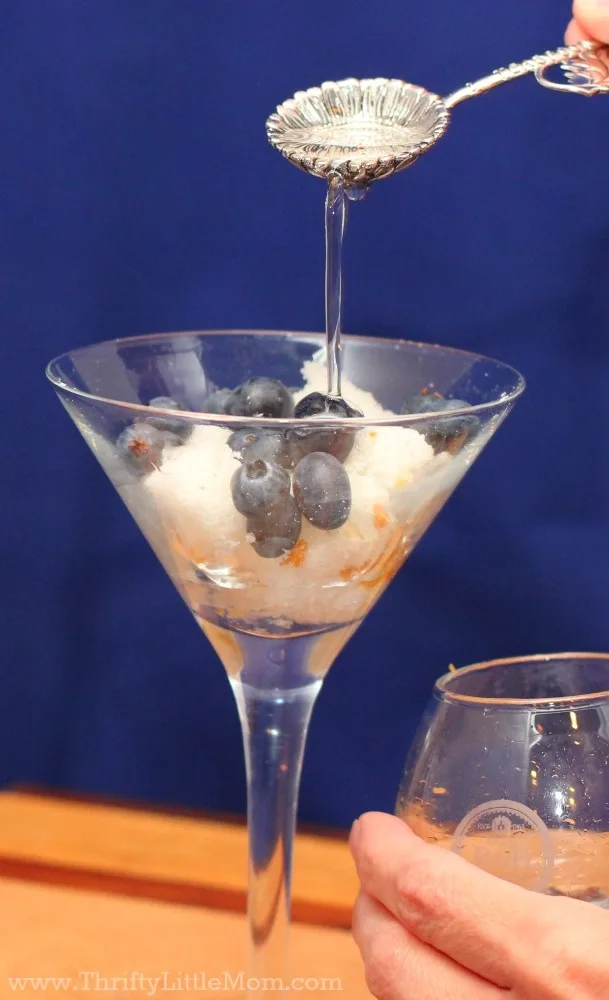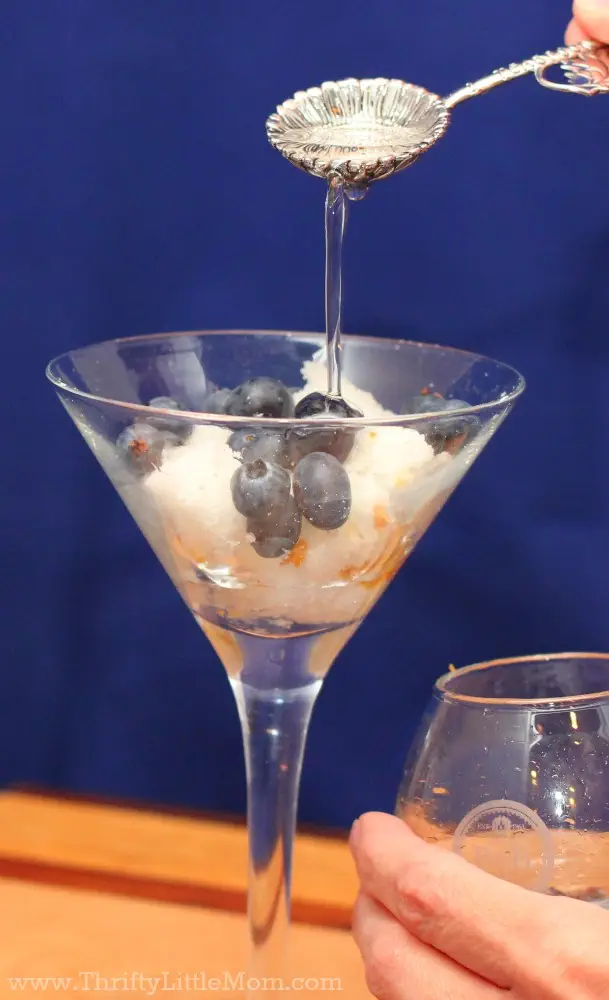 Add another layer of cubed cake and a layer of strawberries drizzling the syrup over your layers at the end again. Continue in this manner until you've filled your dish(es). Finish with a generous drizzling of the syrup then pipe dollops of the frosting on the top.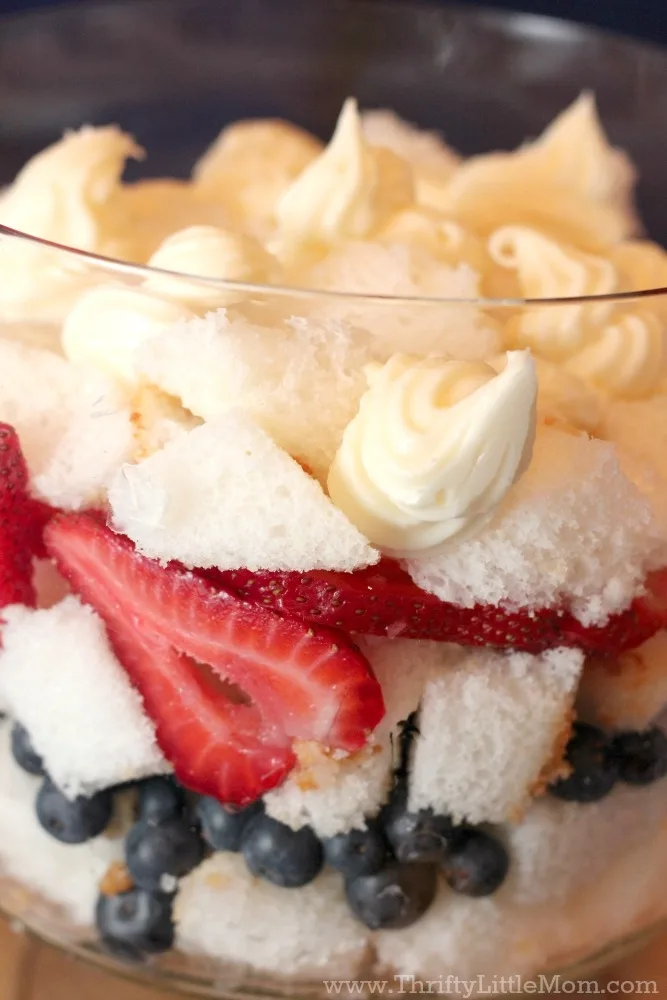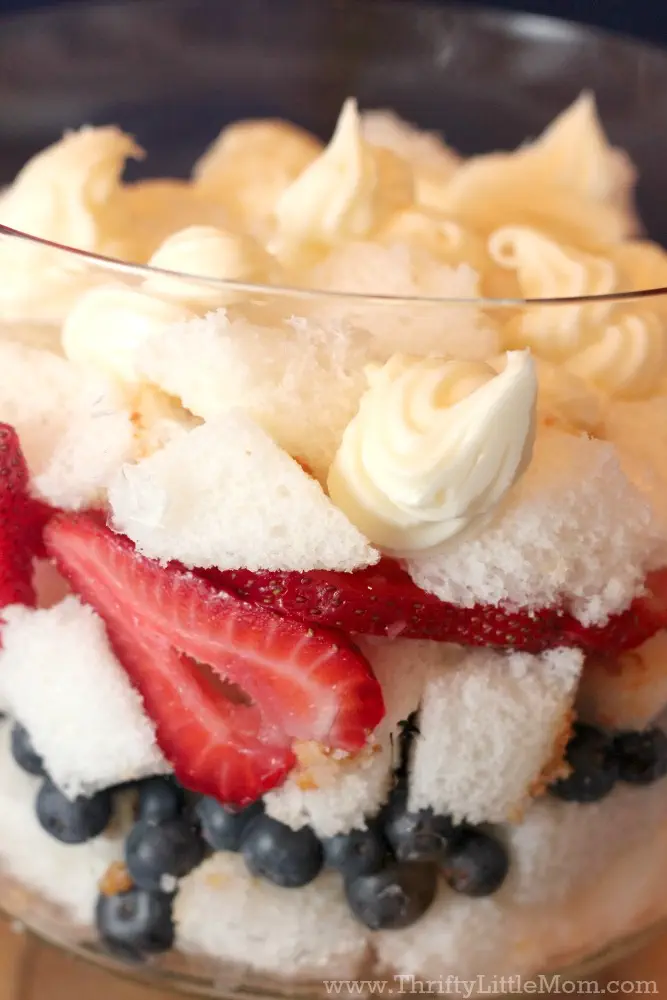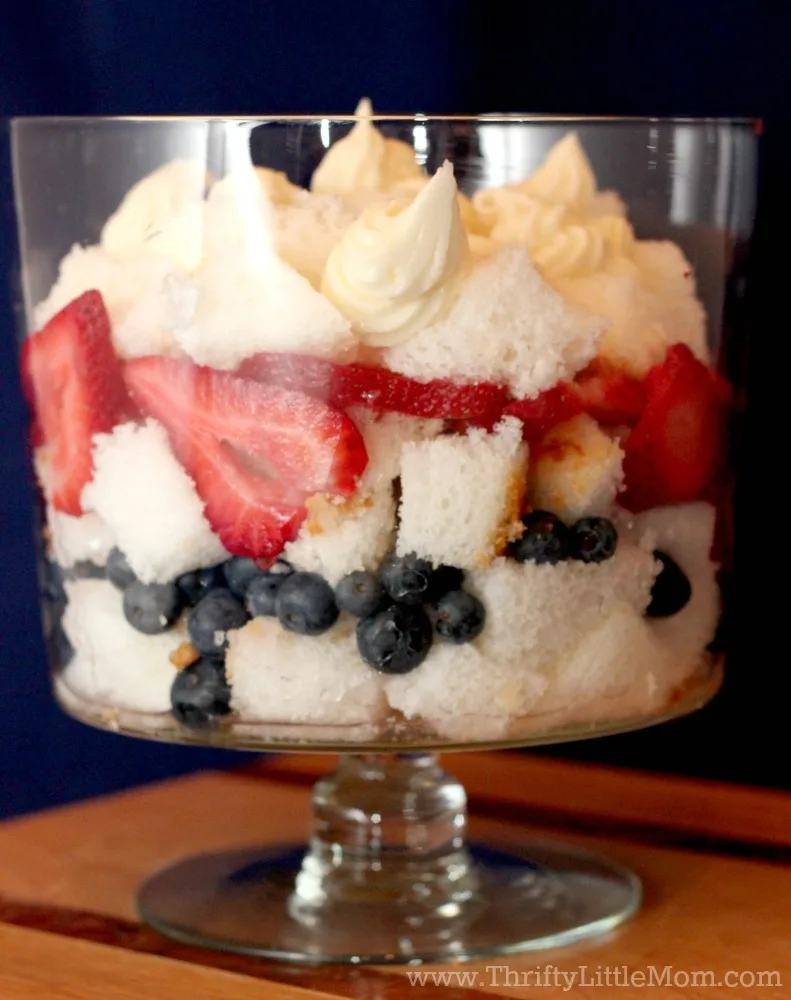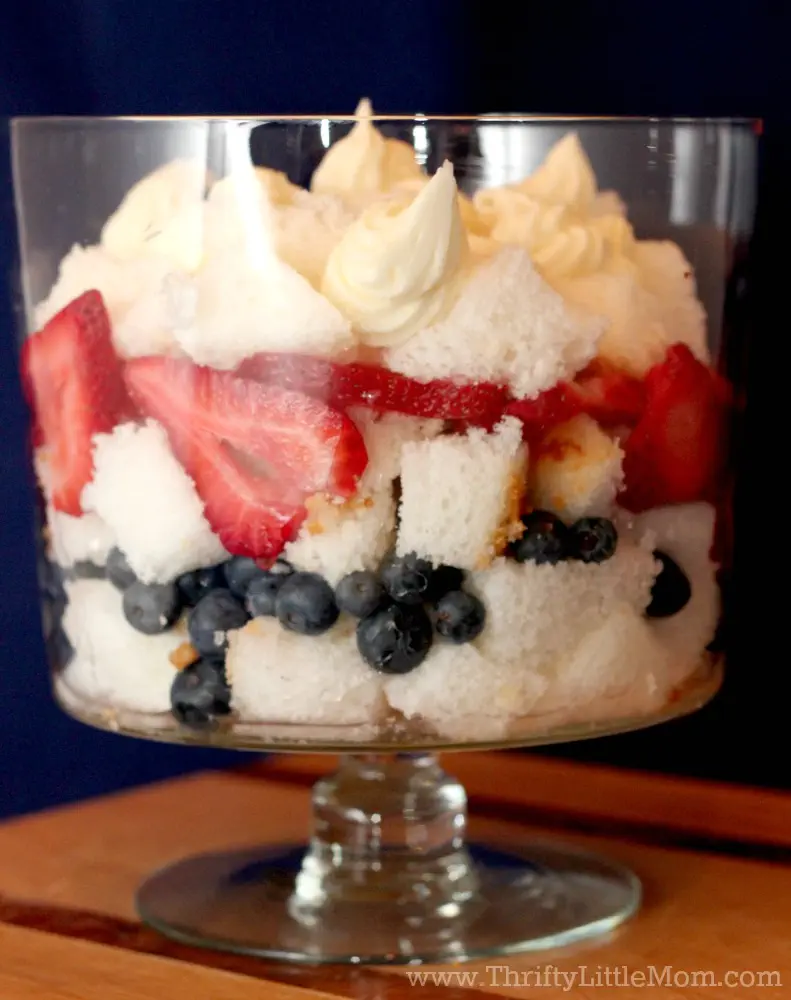 Whether your Independence Day is filled with fireworks & parades or a simple gathering of family & friends, you will be proud to serve this beautiful and delicious dessert!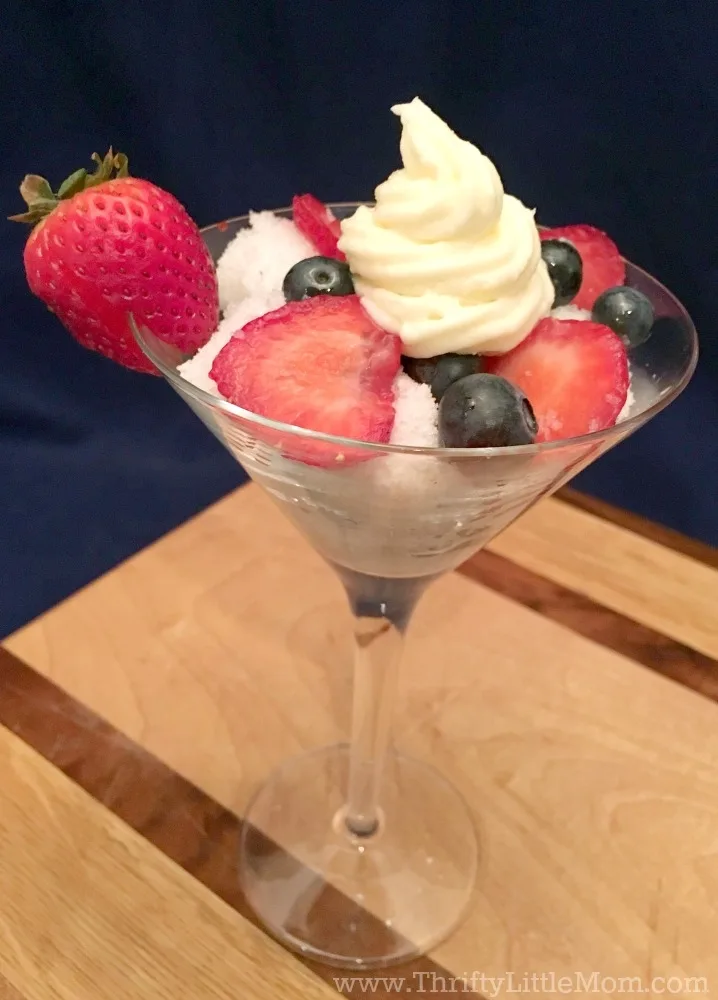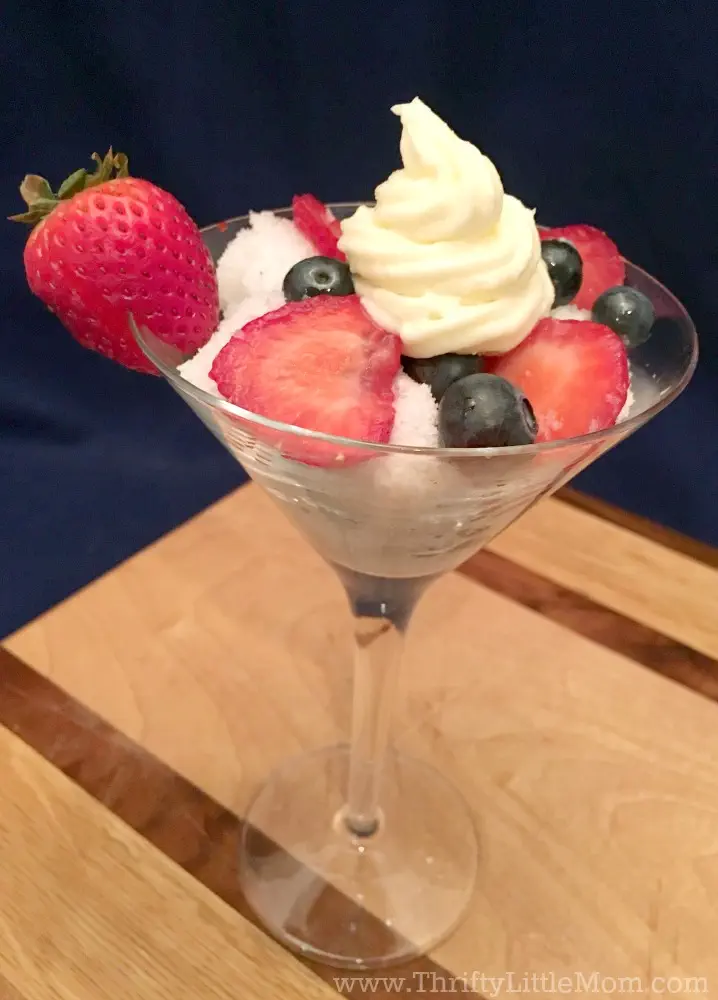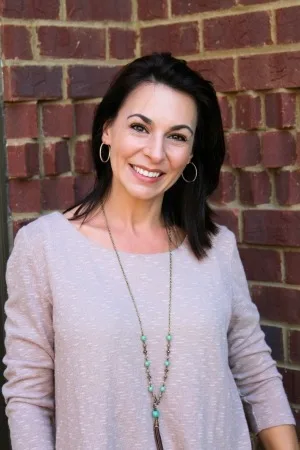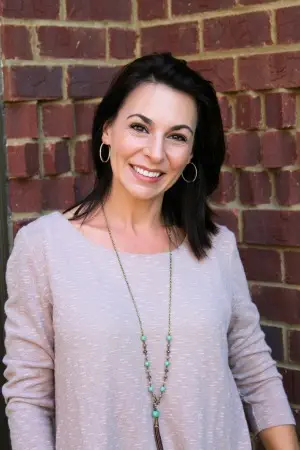 Hi, I'm Rhonda! I'm a regular contributing author at Thrifty Little Mom.  I have a wonderful, caring husband, 3 beautiful, sweet & smart girls and a fluffy little dog who thinks his job is to be my bodyguard!  Entertaining is my thing and I can do so (to my standards) on a dime.  Lastly, my whole family and I are foodies; I love preparing and eating a variety of healthy meals much of which I love to share with readers.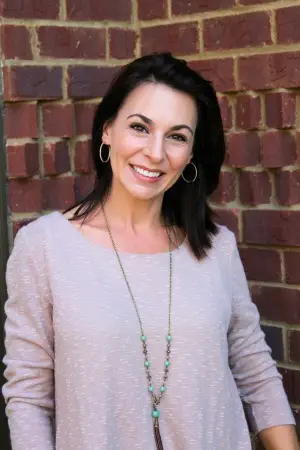 Rhonda is the owner of My Symphony Seasonings, LLC located in Georgia. She has a passion for good food, health & entertaining which was the perfect combination for creating My Symphony Seasonings, a company that encourages you to cook and eat whole foods, close to nature by providing original recipe blends of organic herbs & spices, free of fillers and artificial preservatives to add flavor, richness and health benefits to your dishes!