The Best Alternative to Blog Conferences
This post contains affiliate links. As an Amazon Associate, I earn from qualifying purchases. I also earn from qualifying purchases made with other brands and programs. See my
privacy policy.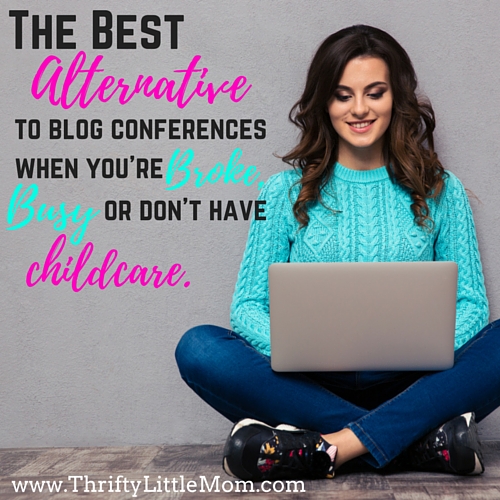 Maybe it's money, it's time or it's even childcare but whatever the reason, you just can't go to blog conferences right now.  Last year I went on a blog conference beinge (literally) because my husband and I wanted to try to have another kid.  I knew if I got pregnant that I was not going to be doing much traveling at all.  Boy was I right!  In January I found I was due with twins right around prime conference time which knocks me out of the running for going anywhere this year.
Blog conferences are fun but they aren't cheap.  A $250-$600 registration fee, gas or plane tickets, hotel rooms, parking and meals all add up fast.  It can cost around $1,000 just to attend one for a weekend!  Plus you've got to arrange someone to take care of the kids while your gone.
But just because you can't travel right now or afford all the costs associated with going, doesn't mean that there aren't even better alternatives out there for you! These are things I've invested my money in and have gained tons of value from without ever leaving my living room!
Elite Blog Academy
What is it?
Elite Blog Academy (EBA) is online blogging course that you register for and take at your own pace.  It offers videos, handouts, tutorials, tip sheets and even live Q & A opportunities with the creator: Ruth Soukup of Living Well Spending Less.  This is an in-depth blogging course that teaches you how to build a successful blog from the ground up.
Who created it:
Ruth Soukup is a New York Times best selling author and a very successful blogger at Living Well Spending Less who gets several million pageviews per month.  She's been blogging for many years and created the course as a way to help other bloggers skip the growing pains on their own and know exactly what to do to grow a profitable blog.
What will I learn?
Whenever you have time, you simply login to the dashboard and take the course one Unit at a time.  Each unit has a video, a handout, tools, tips and step by step directions for implementing these items on your own blog.
Ruth breaks down the Elite Blog Academy course goals as follows:
Overcome the destructive cycle of comparison by embracing what makes YOUR platform unique and therefore marketable.
Eliminate blog confusion by creating an organized framework that sets the stage for everything you do.
Master the four essential strategies to creating blog content that gets noticed and shared.
Discover the secret to harnessing the most powerful free marketing tool in the world.
Understand what is not working in your current monetization model and instead develop concrete goals and a solid plan for achieving them.
Dramatically increase your site's passive income by mastering the four key strategies of optimizing ad network revenue.
Take advantage of the critical—but often ignored—connection between SEO and ad revenue.
Stop spinning your wheels and instead develop new affiliate sales techniques that actually work.
Overcome your fear of private advertising and instead learn to approach brands with confidence.
Learn what it really takes to earn a six-figure income from your blog, then develop your own product along with a successful marketing plan to sell it.
Eliminate time wasters and instead uncover three simple but critically important strategies for working more efficiently.
Create a solid working business plan to take your blogging business to the next level.
It is possible to create a successful business from a blog, and at Elite Blog Academy, I share exactly how it's done, step-by-step.
How Much Is It?
If you are operating your blog as a legit business, it's considered a business expense. Either way, you should consider it a great way invest in your blogging future if you plan to actually do the course all the way through.
Remember, a blogging conference will have a registration fee of $250 to $1000 and that's just for 2 to 3 days.  So you are saving way more money than you would spend on traveling to a blogging conference and you'll walk away with far more practical application that makes a huge difference in the momentum of your blog.
Do I get to network?
Yes!  This course also includes a private forum where you can network, get advice and give advice to other amazing bloggers on the same journey.
How Long Does it Take?
About 12 Weeks and a completion of 30 course assignments to get through the whole course but I would say longer if you decide to take it really serious.  If you complete it in 12 weeks you can expect to spend 5-10 hours a week on the lessons.
Remember one of the biggest perks to this is that you can do it in the margins of your life at your own pace.  So even if you feel like you have a crazy life, every night when the kids go to bed, you can sit down and go to blogging school for 1-2 hours.
Is it right for me?
It doesn't really matter if you are brand new to blogging, getting serious about your blog or just looking to find ways to make more money with your already successful blog, this course will teach you a good bit of valuable information and help you stay grounded and rooted in what matters most.
I'd been blogging for several years when I started Unit 1 as a refresher and way of getting back to the basics of blogging.  It's easy to get lost in the hustle and bustle of maintaining what I've already build that I forget the basic important stuff.
My good friend Rosemarie Groner took it step by step over a year ago and now her blog is generating around 20K-30K per month.  Yep- that's not a typo. $20,000 to $30,000 per MONTH.  She has a great Elite Blog Academy Review on her blog!
So it works, but only if you commit to going through it step by step.  Applying as you go.  Following through.  Otherwise it will be a waste of your time and money.
Once the twins get here, I plan on taking the whole 12 weeks to go through it again.  That's a perk of having lifetime access to the content and any upgrades they make from year to year!
When Does It Open?
EBA usually opens once per year but there are rumors circulating that it will briefly open back up in September of 2016.  The best thing to do is get on the EBA email list so you know when she actually opens the doors again!  Plus when you get on the list, she'll send you lots of goodies including a free mini course called Blogging Made Simple and a free ebook titled: 7 Surefire Ways To Boost Your Blog Income Overnight.  Just click the "Download It Free" image below and you can hop on the mailing list for the next opening!  Don't miss out!  Do it now!
If you feel left out or frustrated by the fact that blogging conferences just aren't in the cards for you, consider taking EBA as an alternative and see just how much awesomeness comes from it.  Remember, you'll get out what you put in.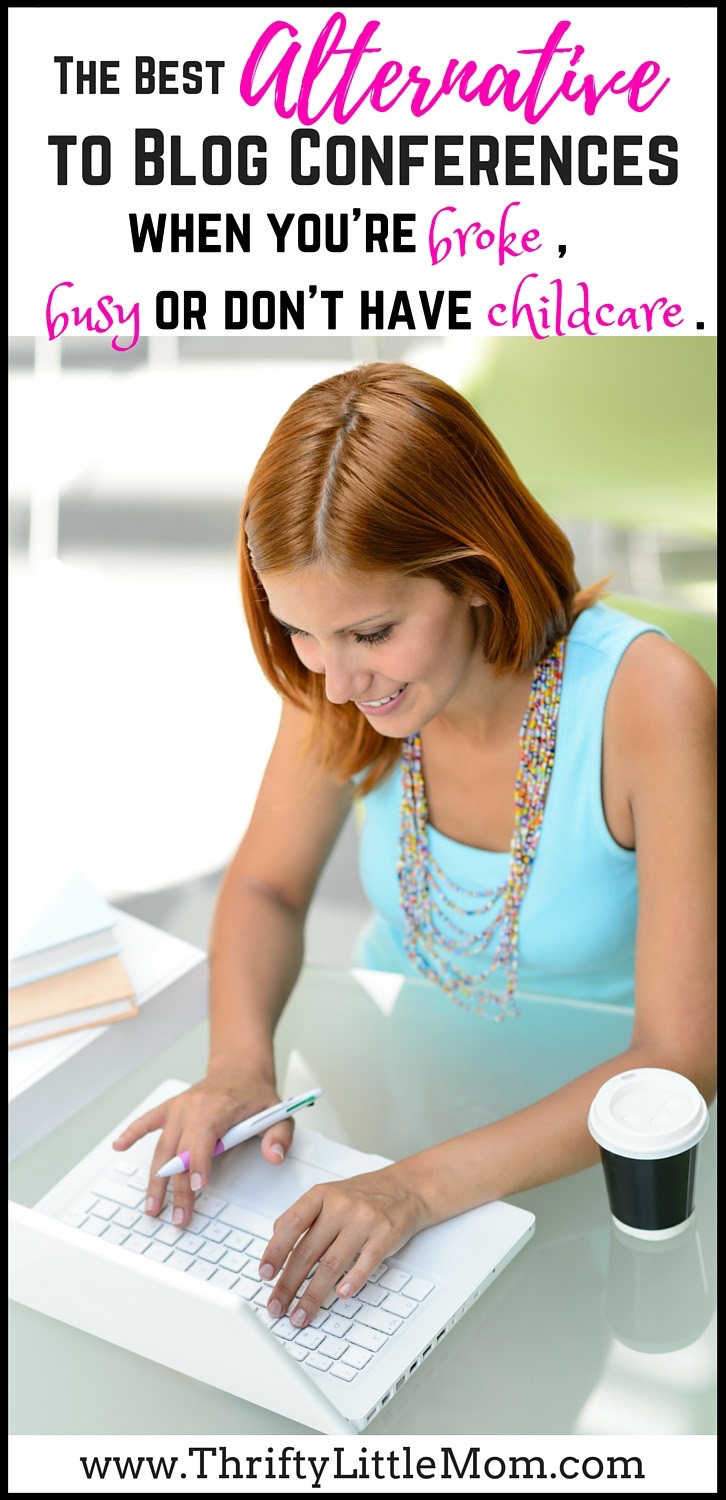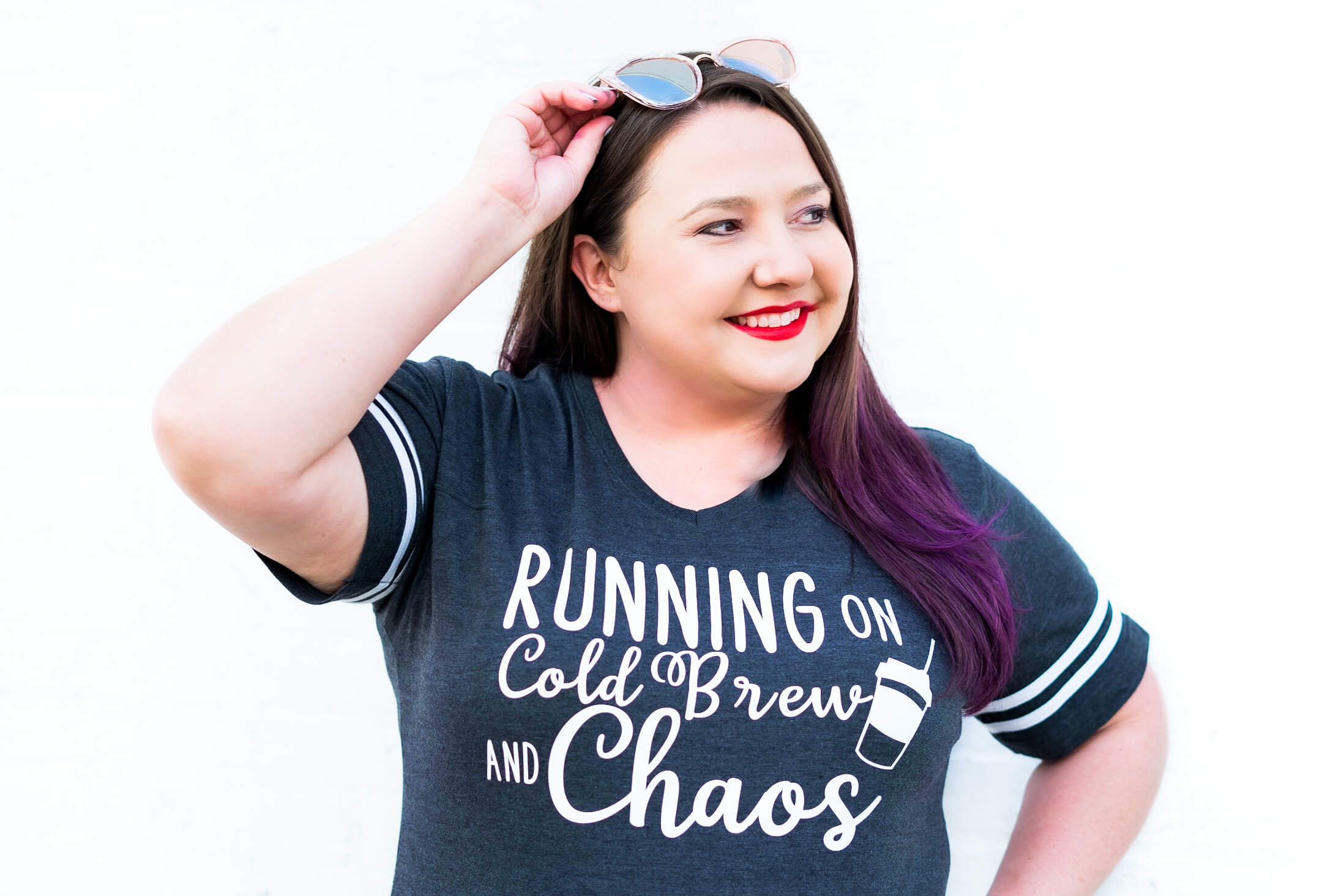 Kim Anderson is the organized chaos loving author behind the Thrifty Little Mom Blog.  She helps other people who thrive in organized chaos to stress less, remember more and feel in control of their time, money, and home. Kim is the author of: Live, Save, Spend, Repeat: The Life You Want with the Money You Have. She's been featured on Time.com, Money.com, Good Housekeeping, Women's Day, and more!