Top 10 Must Have Backyard Fire Pit Accessories
This post contains affiliate links. As an Amazon Associate, I earn from qualifying purchases. I also earn from qualifying purchases made with other brands and programs. See my
privacy policy.
Summer is quickly approaching and that means more time spent outside enjoying nature and all the warmth the season has to offer. One of my favorite parts of summer and even fall is getting to use my backyard fire pit regularly! There are several accessories that I found that really enhance the use, versatility and entertainment factor of backyard Fire pit hangouts whether it's just you, you and the family or even a crowd.
I hope this post inspires you to 1) consider building your own fire pit and 2) make it your favorite at-home oasis with the right accessories! Here's my top 10 must have fire pit accessories:
1. Start with a Decent Fire Pit: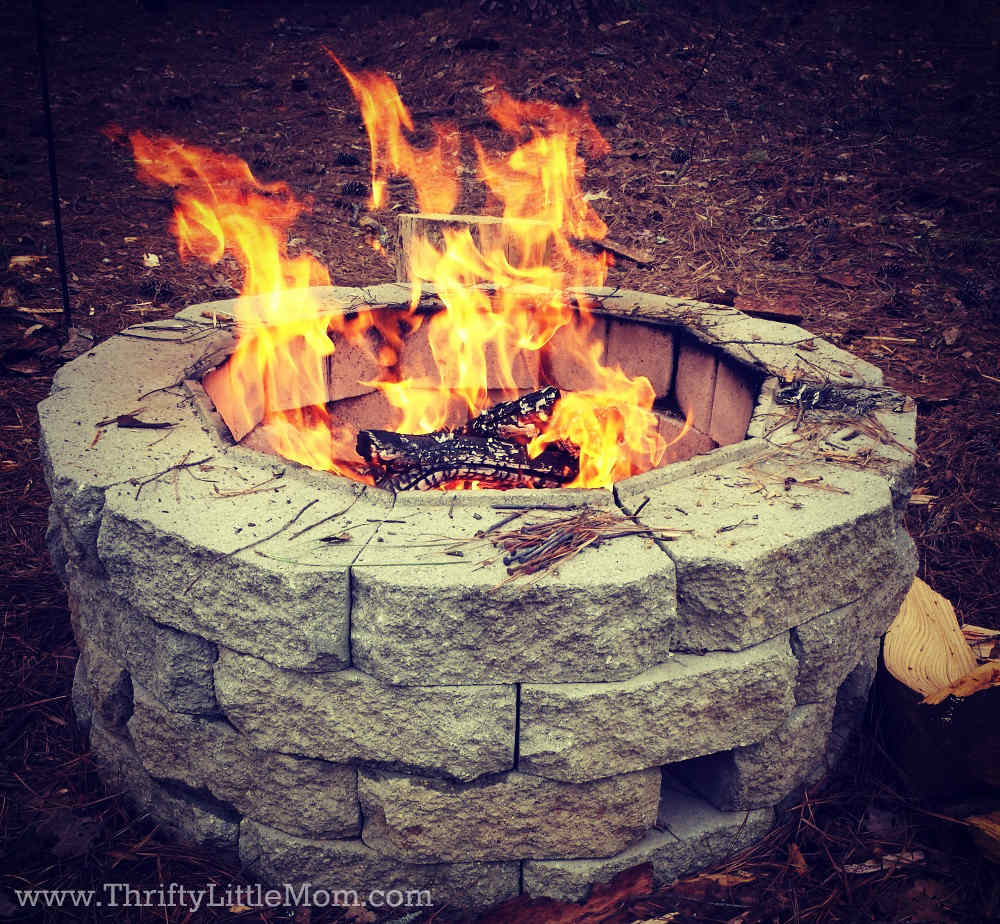 I our case we were able to build our own for about $60 worth of materials from the home improvement store.  Here's my husband's "how to" video or visit this link to my blog post with step by step instructions.  
This has been perfect for our own uses as well as large enough to get a crowd around for some outdoor cooking!  The video says dueling fire pits buts that's only because a tree fell on our old one so he filmed making a new one as well as fixing up the old one.
I've tried chimineas & those small metal ones you can buy but they just aren't the same…
Note: You can buy the bricks featured in the video without the ridges but they cost a little extra.
The How To Build a Fire Pit Video my Husband Made:
2. Get Some Comfortable Seating:
There is nothing that can ruin a fire pit for me more than not having anywhere comfortable to sit. And with the amount of snacks and food we make around the fire pit, having some kind of tables are a must for me! You don't want food and drinks all over the ground in the dark. That's asking for spills and bugs. Here are some of my favorite fire pit accessories for various budgets.
Chairs-
Now you could go with your traditional tailgate folding quad kind of chair but I find those are actually really difficult or adults, seniors and kids to get in and out of easily. They also take up a lot of width around your pit. I really like these tall back arm rest chairs because they are super easy to get in and out of, they are narrow and they have lot of great back support.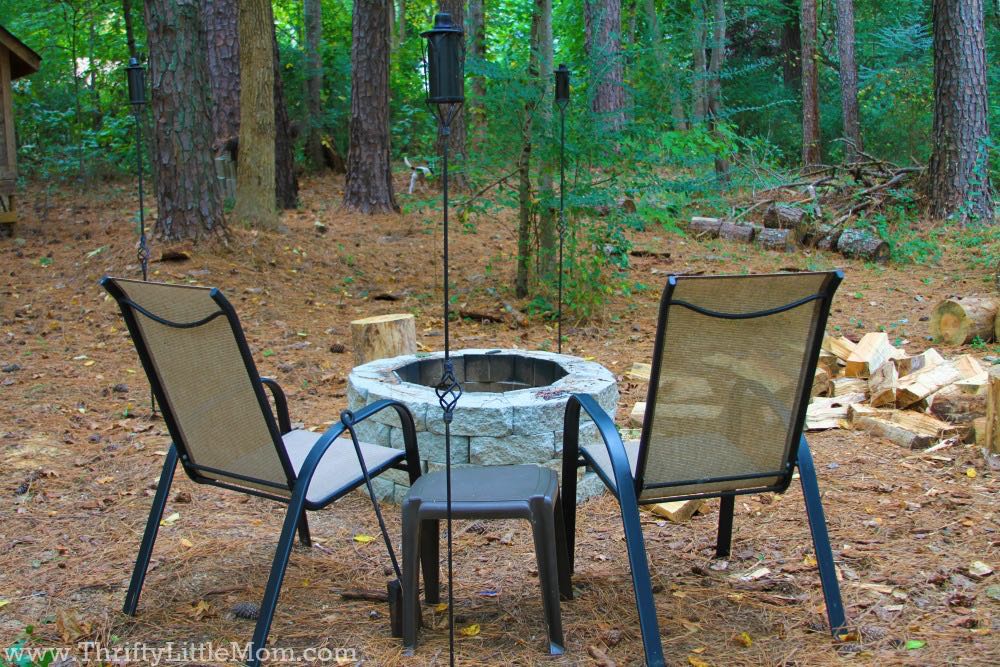 I have really loved these Stack Sling Deep Chairs by Room Essentials from Target (pictured above)! They are about $15 -$20 each, they carry them every summer and are worth the small investment. Let's just say that I bought these 3 years ago, a tree fell on the whole stack of them and they are still holding up really well. Plus the fabric that makes the seat is super easy to clean off.
I also like the Risen Adirondack chairs from Target too! They are about $19 each and I believe the would hold up well, be comfortable and look snazzy by your own fire pit!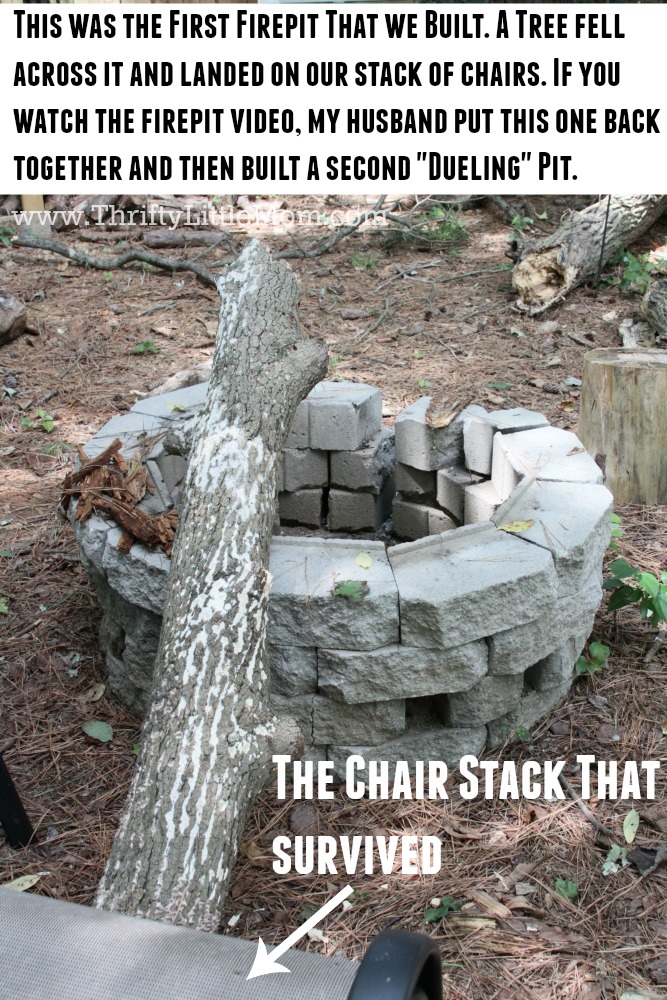 3. Have Tables
Side tables are imperative if you plan to have food or drinks around your fire. I set one small table between every two chairs and it's perfect. It allows people to sit, relax, eat and drink without feeling rushed or getting tired of juggling a drink and plate. I recommend two types of tables.
A foldable table like this Adams Manufacturing 8500-48-3700 Quik-Fold Side Table, White.
2. Square Resin Stackable Tables (Like the one in my picture at the top of the post). These are about the same cost as the folding table above and you can find them usually at your local Home Improvement store.
Easy Folding Food Tables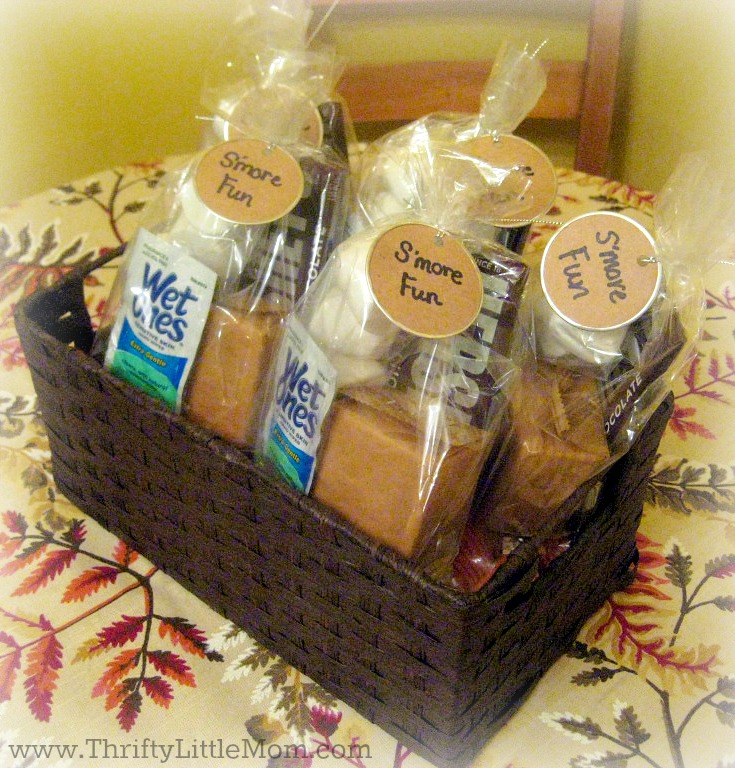 I like both round tables and long tables for outside. These are really nice when you want to set up your hotdog or burger condiments outside near the fire pit. I also use them most for setting up drinks and my smore's kits!
I really love these plastic folding tables because they are sturdy, lightweight, fold up, can be adjusted for height and can be moved indoors and outdoors with ease! I use mine all the time around the house too!
There are also similar tables (see image below) that are a little longer and have adjustable height as well if you want to set up a buffet style station.
4. Cooking Gear
Fire Pit Roasting Sticks: From hotdogs to marshmallows to smores, these are a must for any backyard fire pit shindigs!
Paper Plate Supports: One other thing I hate is trying to eat a meal outside on flimsy paper plates. Investing very little in these supports can make your outdoor parties a little less stressful for diners.

Coffee Cups with lids: Typically speaking, when the weather cools down at night or toward the fall, I crank up my crock pot or coffee pot and make it so my guests can take a warm drink out with them to enjoy by the fire. These insulated coffee cups with lids are perfect for keeping guests warm as well as keeping bugs out of their beverages.

Fire Pit Grill Grate: If you want to expand your fire pit cooking experience beyond wieners on a stick, consider trying a grill grate! You'll want to make sure that the grate is at least a little bigger than the diameter of your fire pit opening so it doesn't fall in. The grate pictured below comes in 24 inch, 30 inch, 36 inch and 40 inch depending on your needs.
Heavy Duty Aluminum Foil: One other fun way to cook outside is pioneer style…sort of. You simply put your meat and veggies in a heavy duty foil wrap and drop it down in the pit beside the fire.
Food Tents To Keep Away Bugs: These are nice to keep the flies away from the food you plan to set up outside for your family or guests.
4. Bug Defense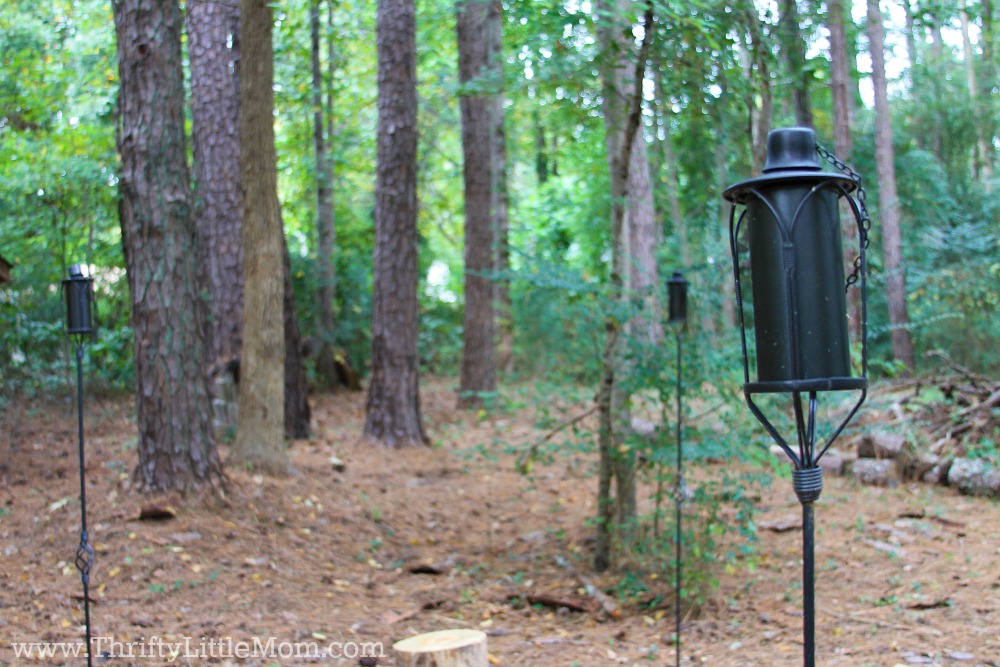 There is nothing that can ruin a backyard party faster than mosquitos. We have a real issue with them in our backyard. I've tried a few options that work well for us and I've also had friends who have had success with the bug prevention so I'll share those with you next!
Tiki Torches w/ Bug Defense Fuel- We use decorative Tiki Torches around our seating area filled with a bug repellant fuel and we have never had a mosquito problem around the fire.


Mosquito Foggers- My good friend Rhonda purchased a Burgess 1443 Propane Insect Fogger for Fast and Effective Mosquito Control in Your Yard
and swears by it. I've not tried it myself but given the amount of time I plan to spend in my infested backyard this summer, I'll probably be giving it a try! They highly recommend wearing some kind of mask while fogging your yard to protect yourself from the chemicals while fogging.


I hope these tips an ideas will help you as you consider creating you own outdoor fun this summer and fall with the best fire pit accessories! These are all small things that go a long way in keep you, your family or your guests comfortable around the fire for get togethers! Feel free to leave a comment about your own favorite fire pit accessory you've found over the years!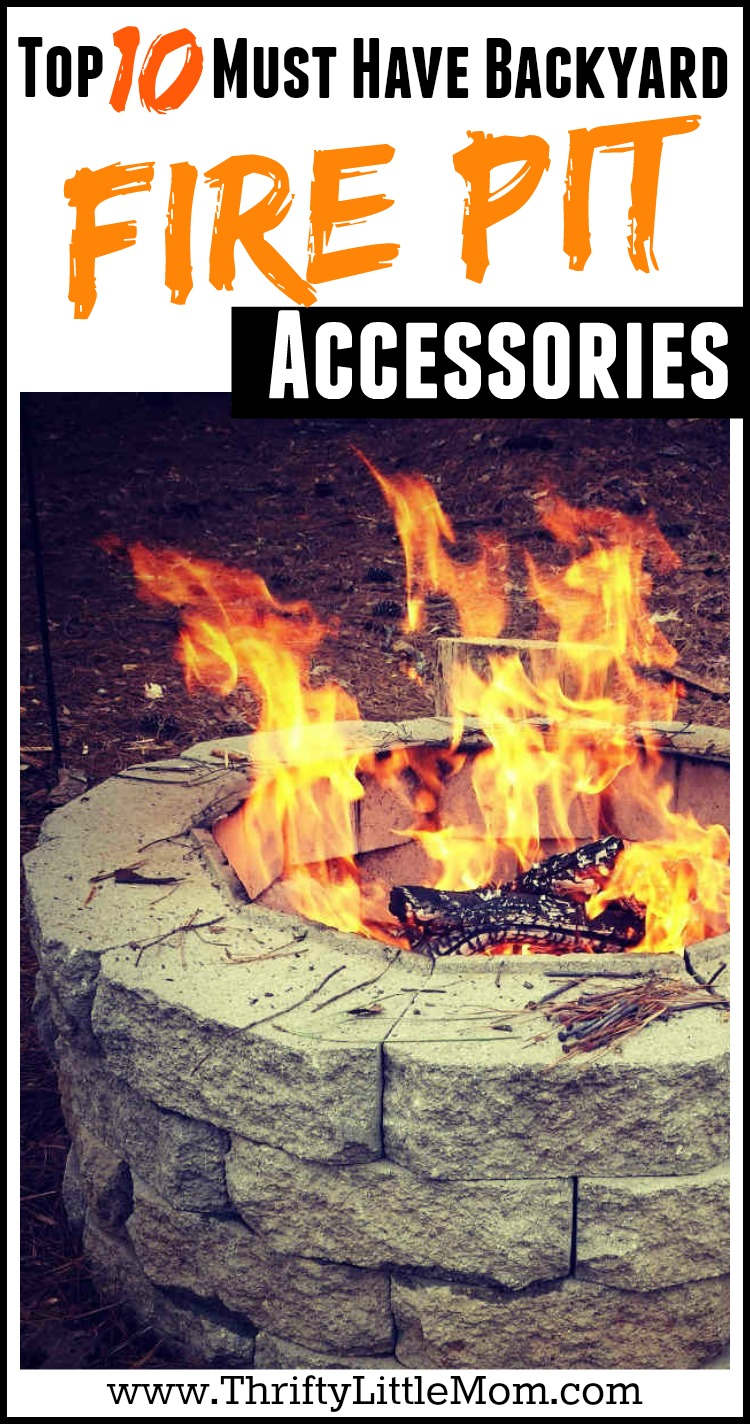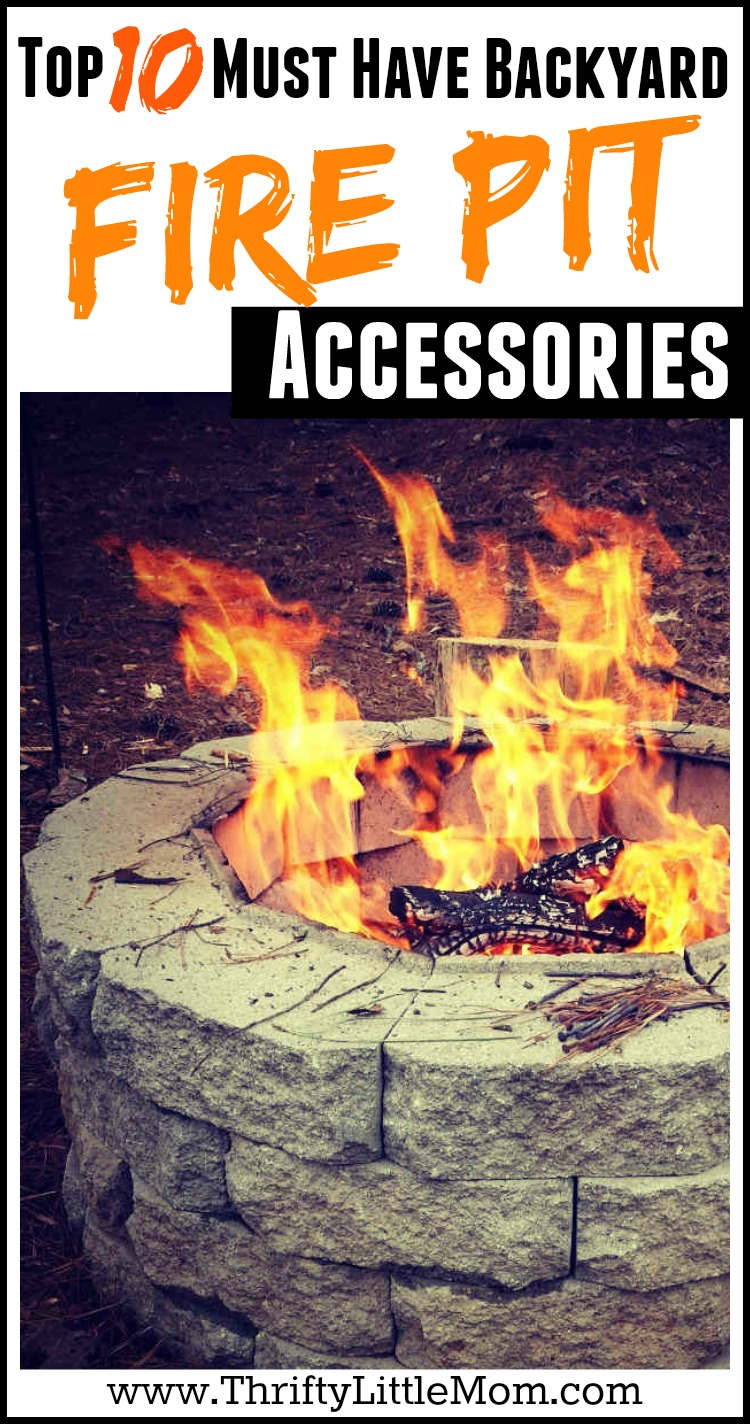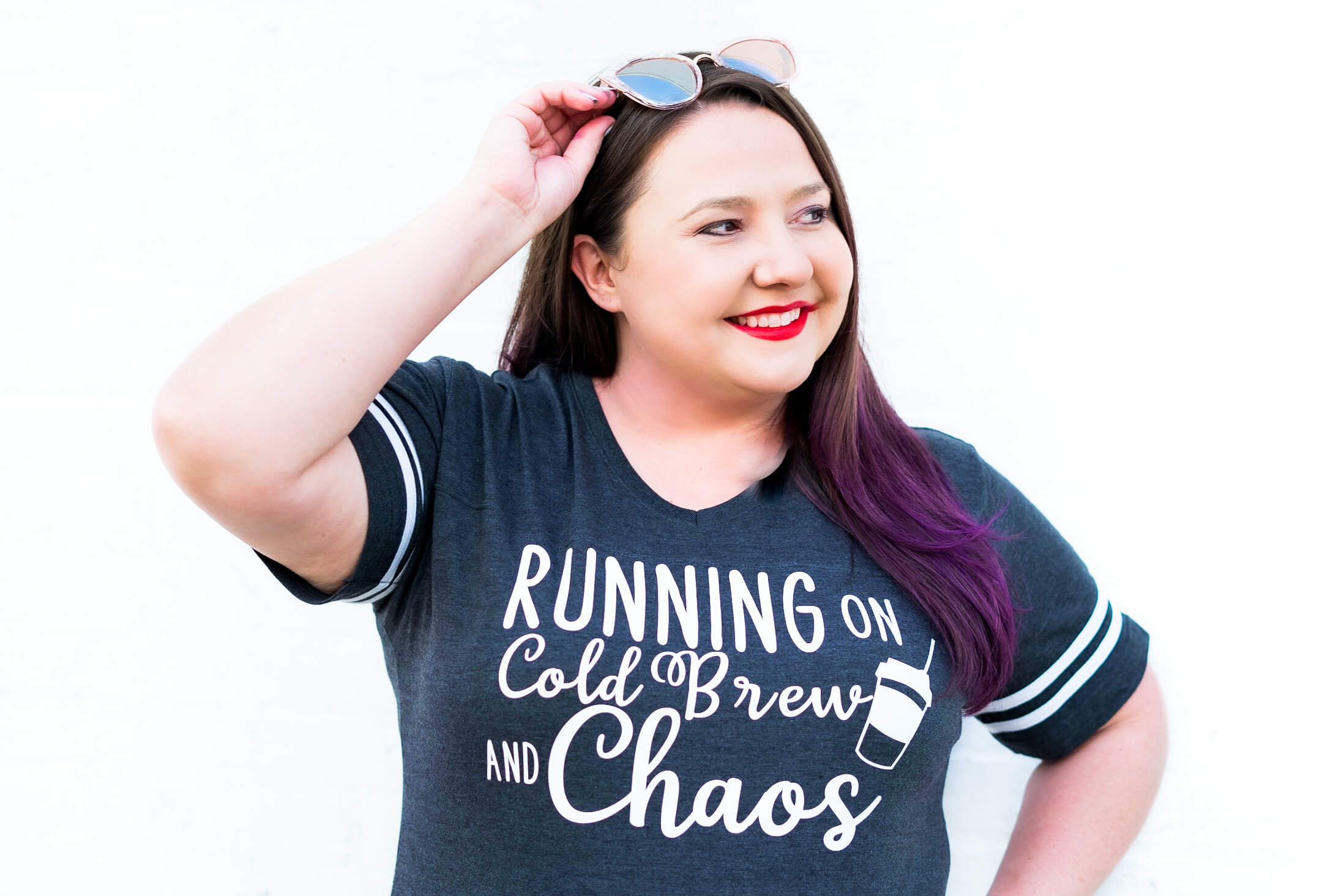 Kim Anderson is the organized chaos loving author behind the Thrifty Little Mom Blog.  She helps other people who thrive in organized chaos to stress less, remember more and feel in control of their time, money, and home. Kim is the author of: Live, Save, Spend, Repeat: The Life You Want with the Money You Have. She's been featured on Time.com, Money.com, Good Housekeeping, Women's Day, and more!