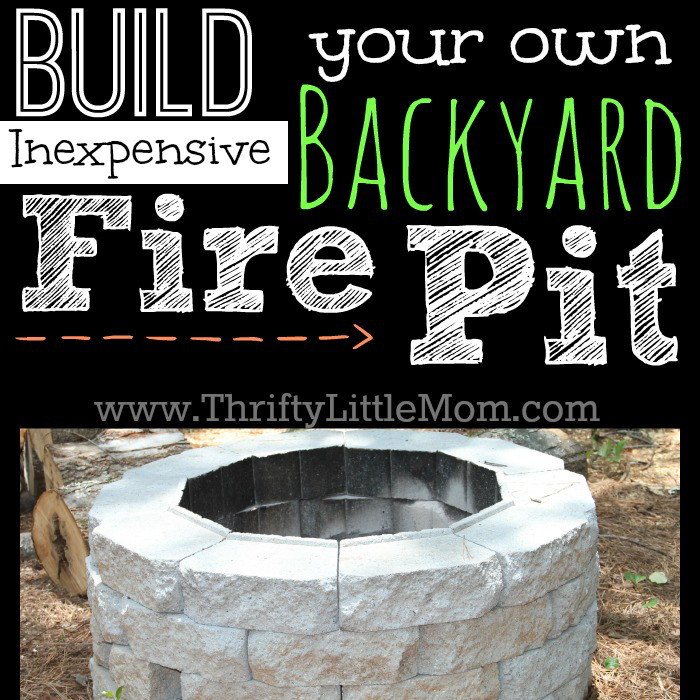 Update: 3/24/2017- Ready to conquer your ever growing To-Do list?  For a limited time you can get FREE access to the Conquer Your To-Do list Mini-Course!
If you're looking for an easy DIY inexpensive firepit tutorial, then you've come to the right place.
Summer and fall are the best times to be outside, enjoying nature.  One aspect we love most about summer and fall are bonfires.  However, it's hard to achieve that true bonfire feel in anything but a firepit.  Chimenea's just don't get the job done.  It's amazing how something like sitting around a fire can bring people together and get them talking.   Add hot dogs, smores, or food cooking in heavy duty tin-foil and you've got a party!    So after my husband got way to fire happy and cracked the Chimenea we had, we decided to build a real firepit.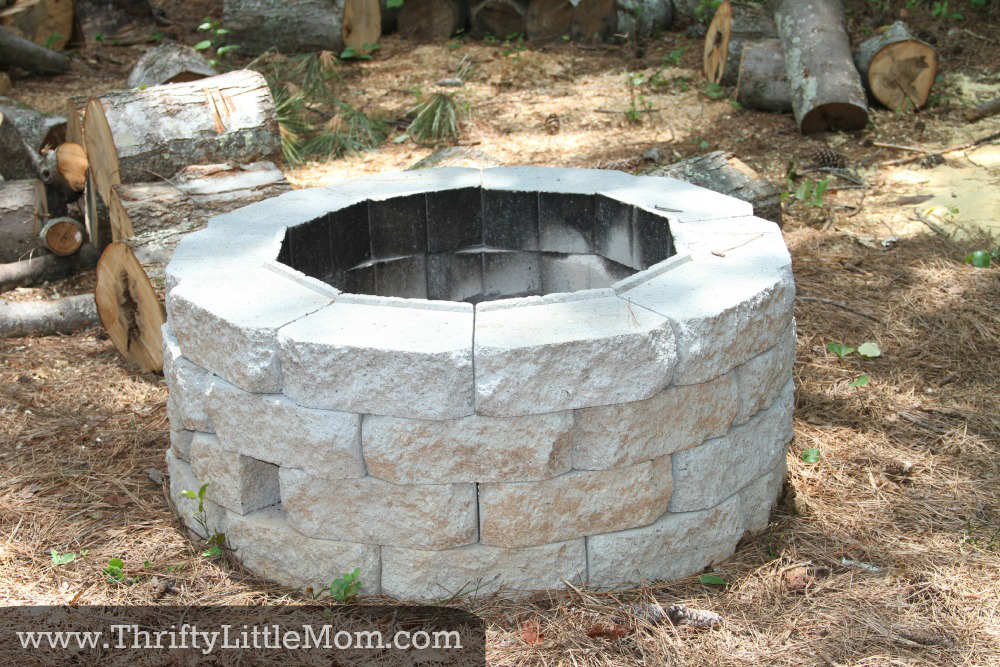 Here's how we made our DIY Inexpensive Firepit:
You can read about it below, or watch the video that my husband created that I embedded below:
1.  I called my local Fire Marshal and ask what size "recreational" firepit we were allowed to have in our residential backyard.  (This is not for burning brush piles people- its "recreational").
2. It started with a trip to Home Depot, not much money and a little creativity.  If you don't have any cash but you've got a lot of rocks, we also wrote an article about how to build a fire pit with rocks: Build Your Own Backyard Fire pit Using Free Materials.
3.We decided to go with concrete the retaining wall blocks because they were $1.25 each.  We bought about 40.  They come in many colors so you can get all fancy if you want to.
4. That means our pit was $50 to build.
5. No mortar is needed.  It's all about stacking them correctly.
6. We came home and my husband proceeded to use a chisel and hammer to gently remove the rear lip found on 30 of the blocks so they would stack flat.  We kept the lip on 10 blocks since they would be the top blocks.
7.  We broke one block in half using chisel and hammer on purpose.  (This is for level 2 of the pit so that air can reach the fire).
8. We picked a flat area in the back yard and cleared out the grass/pine straw.
9. We began the base by placing 10 "blocks" in a circle on the ground.  They fit together nicely.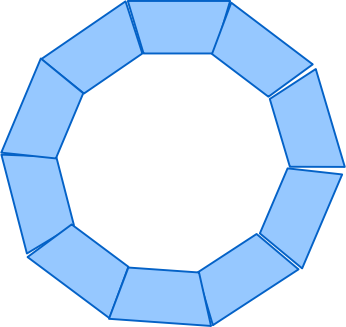 Level 1 Block Formation
10. Then we started level two, placing these blocks so that they were centered on the cracks of the level 1 blocks.  This way the structure is sturdy.  (You don't want 10 blocks stacked 4 high straight on top of one another because you are just asking for them to fall over.)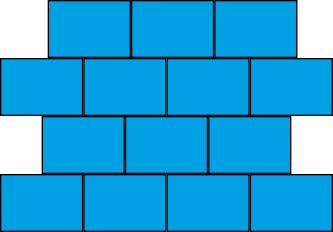 Each level should be stacked so blocks are centered on crack below it.
11.  Also on level two, we had to place the broken in half blocks midway between two neighboring blocks on opposite sides.  That way air could get into the pit and we don't have a smoky mess.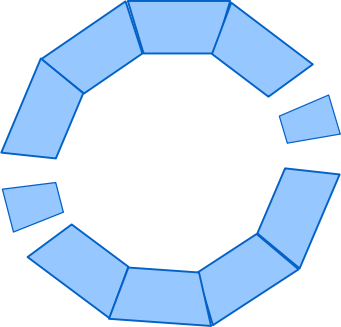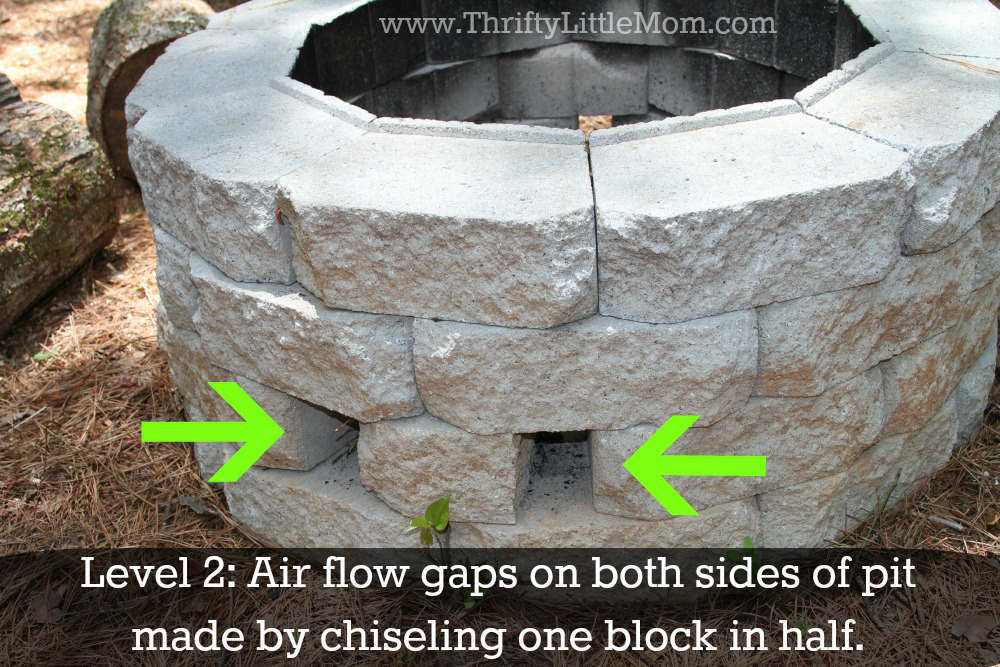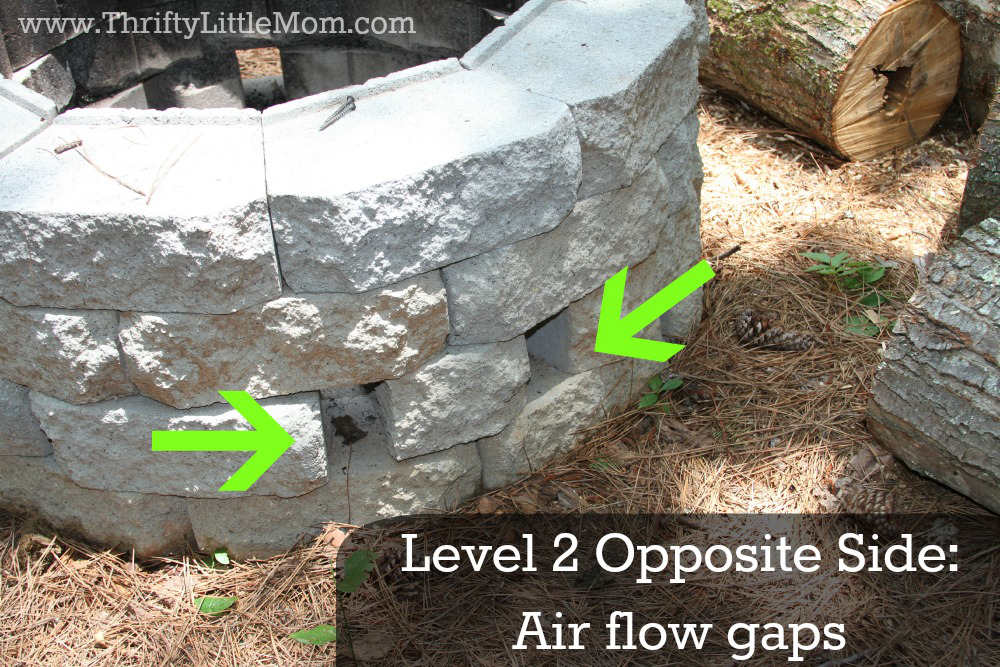 12.  Level three was the same as level one.  10 whole blocks stacked centered on the crack of the blocks below.
13. Level four is 10 whole blocks stacked centered on the crack of the blocks below and the lip left on these blocks formed a lip around the inside.  You can see the small ridge on the inside of each top block in the pictures below.  That's it!
14. Size of Opening- I've had many people ask about the size of the opening when the project is complete and it is just around 2ft in diameter.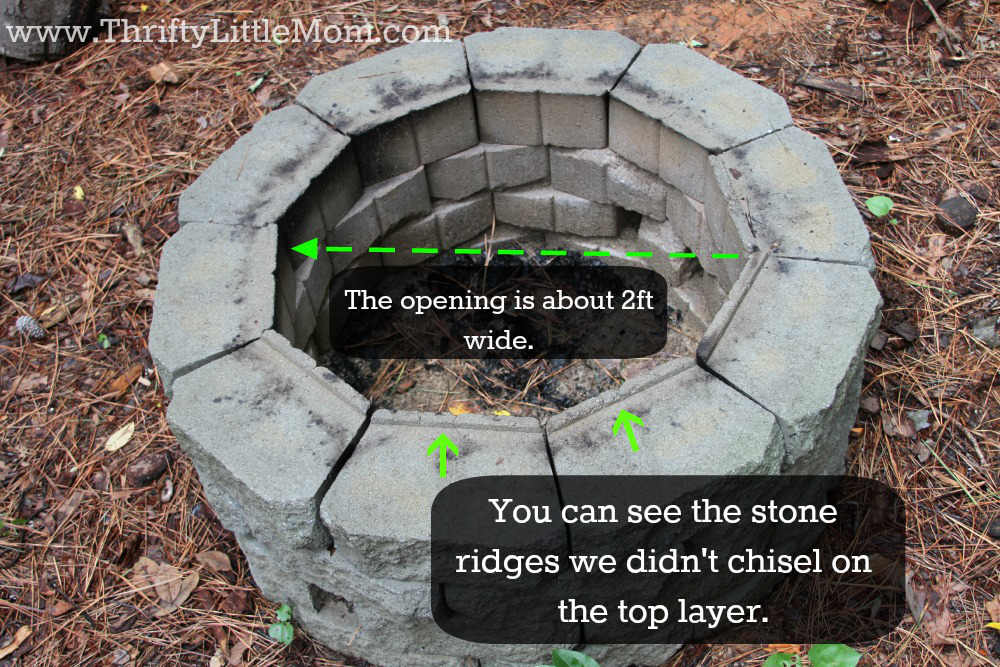 Once you've got your firepit build, you can throw a fun firepit party!  Here's my post on Hosting a backyard firepit party.So this is how we made an easy DIY inexpensive firepit ourselves with only $60.  We use it all the time and it's a great way to entertain guests.  If you plan to do a lot of entertaining and want to keep your people comfortable, check out my article on 10 Must Have Backyard Fire Pit Accessories.
Please note that  we are not firepit professionals, if you copy this design and use the fire pit, you do so at your own risk.  This was made for simple recreational use.  Always be careful with animals and small children around firepits.  The sides of the pit are NOT made to be sat upon.  The fire should not be raging above the blocks at the top of the pit.  Let me know if you have any questions or comments!
If you liked this post you might also like these other posts from Thrifty Little Mom: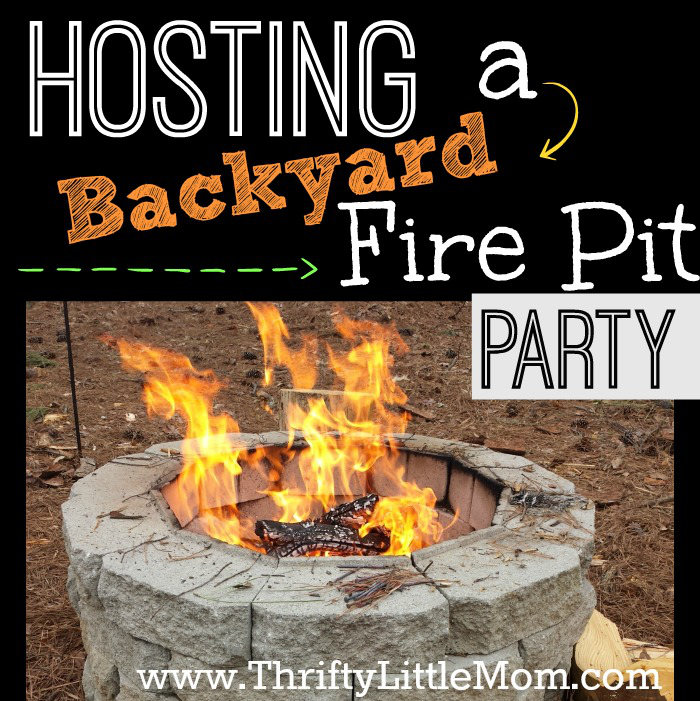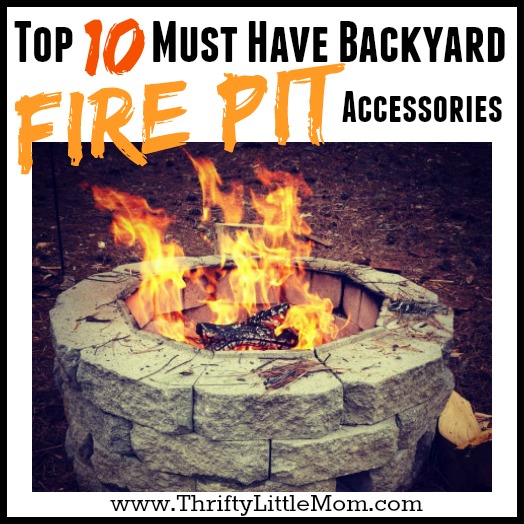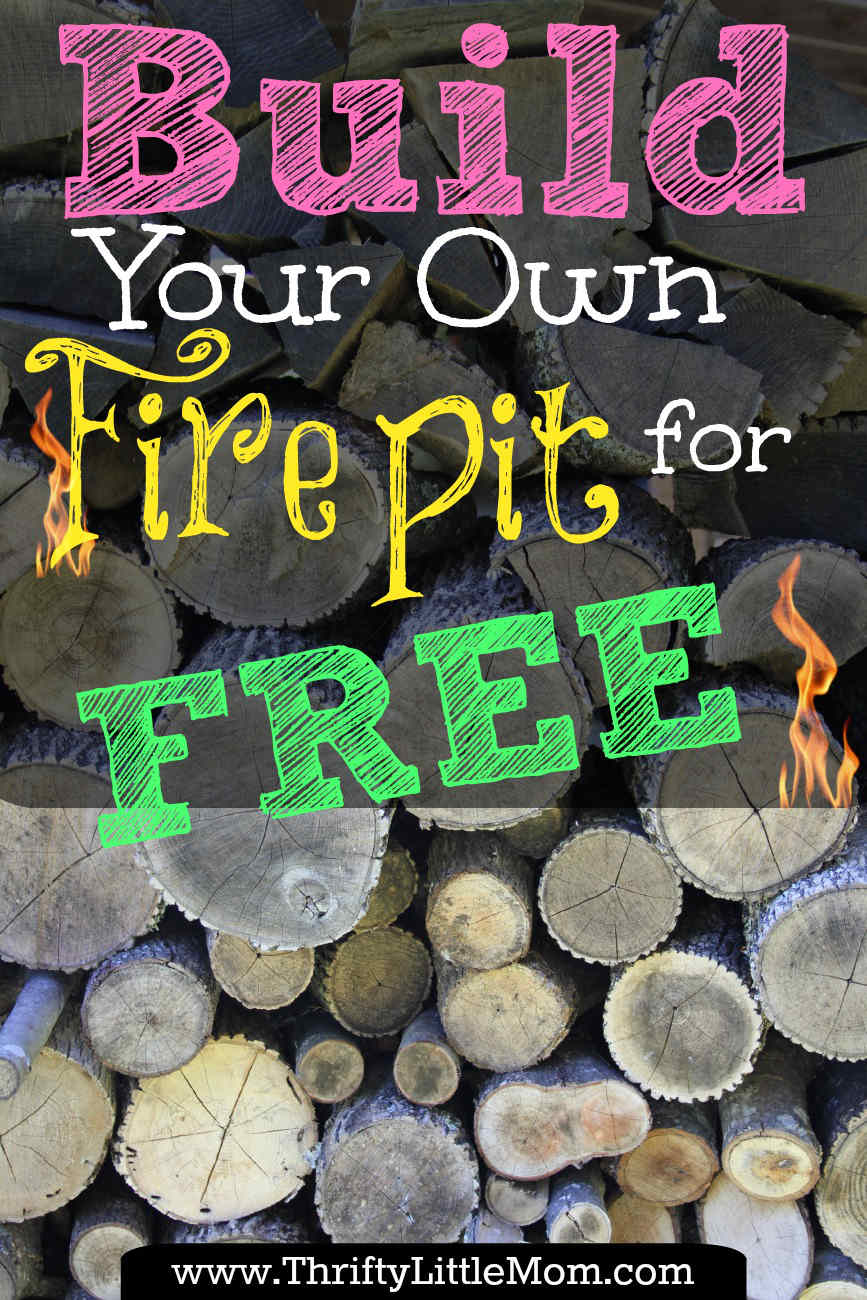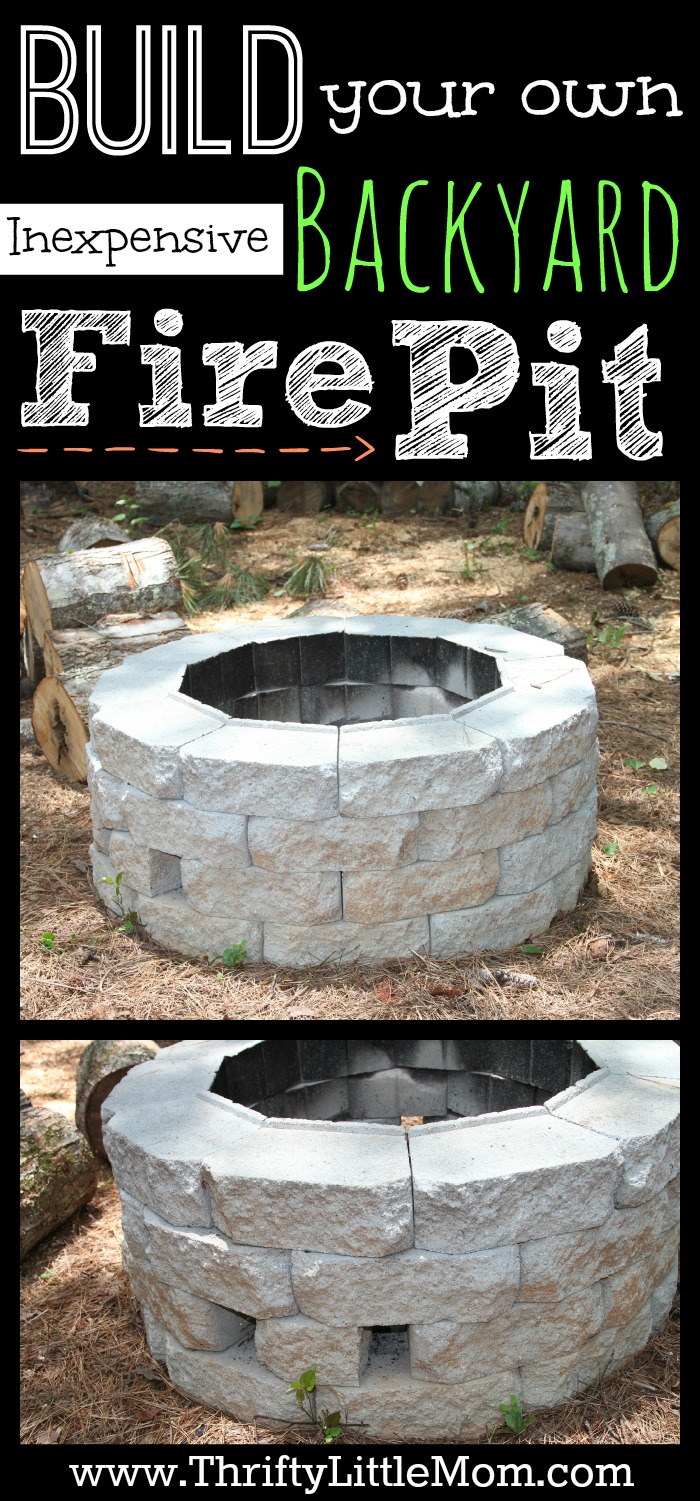 Access my FREE Party Printables Vault!
Subscribe to my weekly celebration email and get access to my printable gifts, party planners, cleaning lists and more! Be the hostess with the mostess!
Don't forget to check out what's in the resource library! https://thriftylittlemom.com/thrifty-little-mom-resource-library/ Password: Thriftyprints
Summary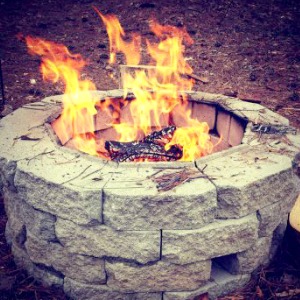 Article Name
Easy DIY Inexpensive Fire pit for Backyard Fun
Description
This fire pit can be build for around $60. Step by step instructions plus a video on how to build these quick and easy fire pits!
Author
Kim Anderson
Publisher Name
Thrifty Little Mom
Publisher Logo