The Best Budgeting App For Chronically Disorganized People
This post contains affiliate links. As an Amazon Associate, I earn from qualifying purchases. I also earn from qualifying purchases made with other brands and programs. See my
privacy policy.
Thanks to Dave Ramsey Solutions for sponsoring this post.  All thoughts and opinions expressed are 100% mine!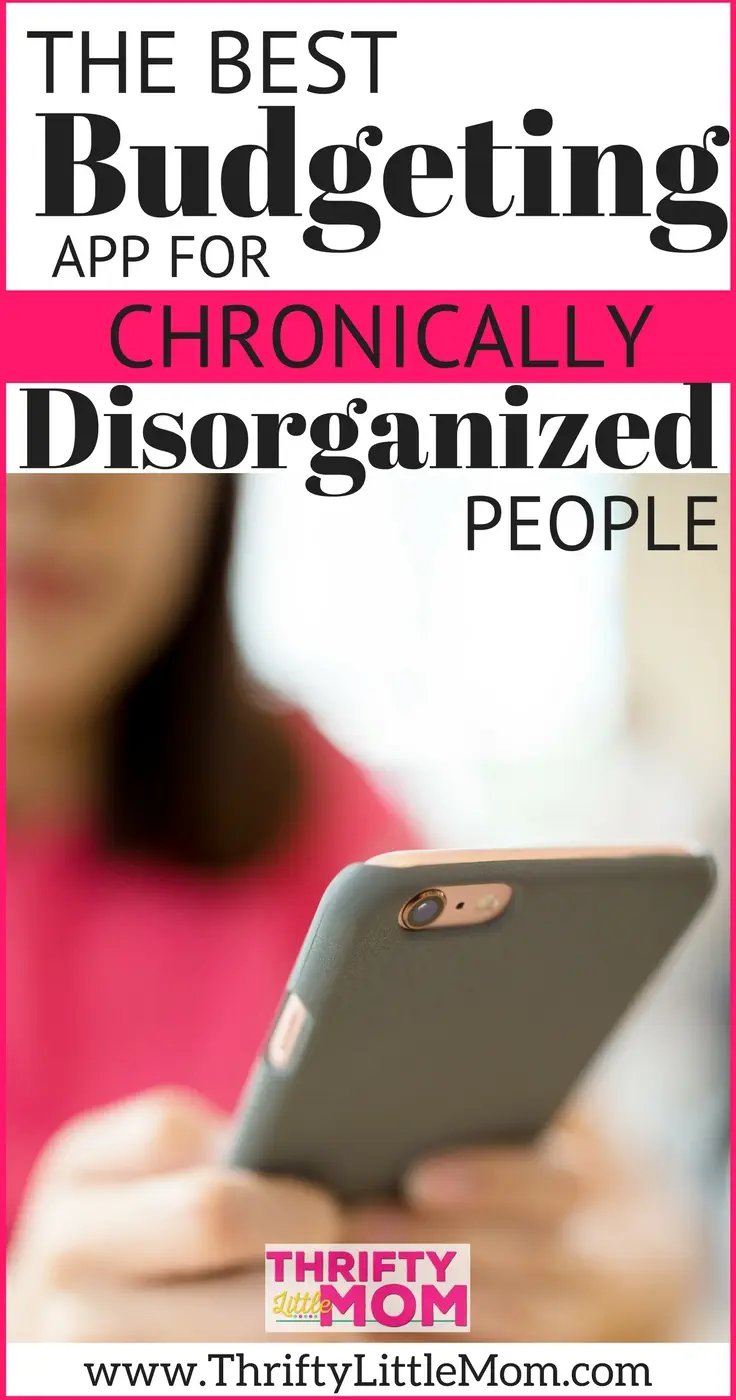 Budgeting isn't the easiest of tasks. For some people it's extremely intimidating, especially if you are a non math lover.  Lucky for you we live in the age of some of the most fantastic apps created for budgeting that take all the mystery out of the process!  My favorite by far is Dave Ramsey Solutions EveryDollar budget app and website dashboard because it's extremely easy to use.  You don't have to set up spreadsheets or figure out formulas.  You just login each month and set up your new budget.  I've used several budgeting systems in the past and this one by far is the fastest and easiest at fixing items you may enter incorrectly.
Here are 3 common issues that EveryDollar solves:
Budgeting can overwhelm people because it seems like a Herculean effort to set up. However, EveryDollar has pretty much every category you need already set up- you just fill them in with the amounts you plan to spend and it does the rest.
Paper and Pencil budgets don't go everywhere you go and don't automatically update more than one person. I love that when my husband spends money and enters his transaction, it shows up so I can see it. This way if he buys $15 in groceries, I know I have $15 less to spend this month and we don't go over.
Budgeting is time consuming. It's true that it takes intentional time to set up your budget but money is what keeps your family fed, clothed and cared for.  It has to be a priority and this app gives users grace in that you simply do it one month at a time.  And they send you email reminders that it's time to sit down and do your budget!  That's great for chronically forgetful people like me!
Tracking Holiday Spending- With the holidays already upon us, now is the time to cushion your budget for those gifts, baking supplies, gift wrap and parties!  You can set up a holiday spending category and track everything to help you stay out of debt this holiday season!
How much does it cost?
EveryDollar is free. I'm using the free version right now and it suits my needs.
However, you can always upgrade to the PAID Plus version which cost $99 per year (about $8.25 per month).
The paid version will automatically grab your bank transactions so all you have to do is drag and drop them into the category they belong to!
The Plus version also offers  phone support and can monitor account balances.
This will also help you stay on top of automatic payments you may have set up like Netflix or utilities.  Now you don't have to login to your bank account to track those numbers.
So if you'd rather not have to manually enter transactions each time you spend, the Plus version would make it even faster for people who are forgetful.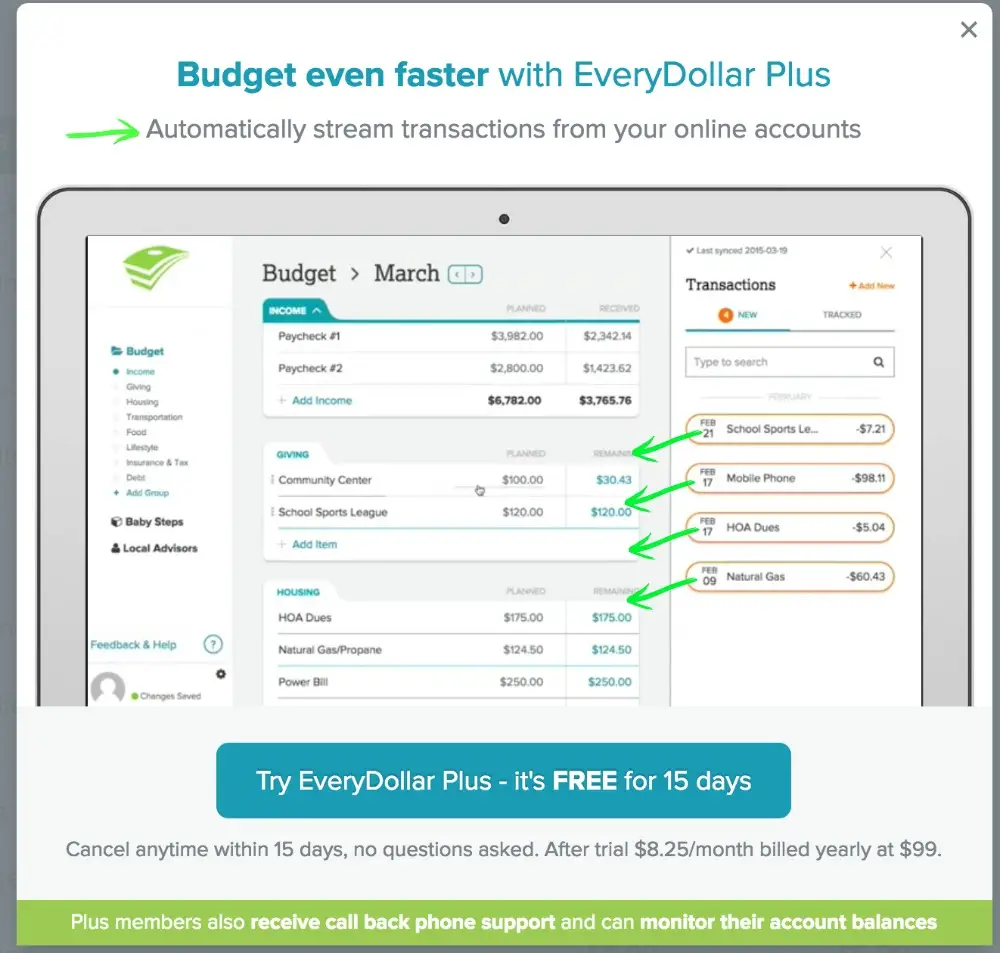 EveryDollar is super easy to use so I want to teach you in just a few steps how to set it up so you can start bossing your money around too (even if you absolutely hate budgeting).
Step 1- Set up your account.
Set up your account online.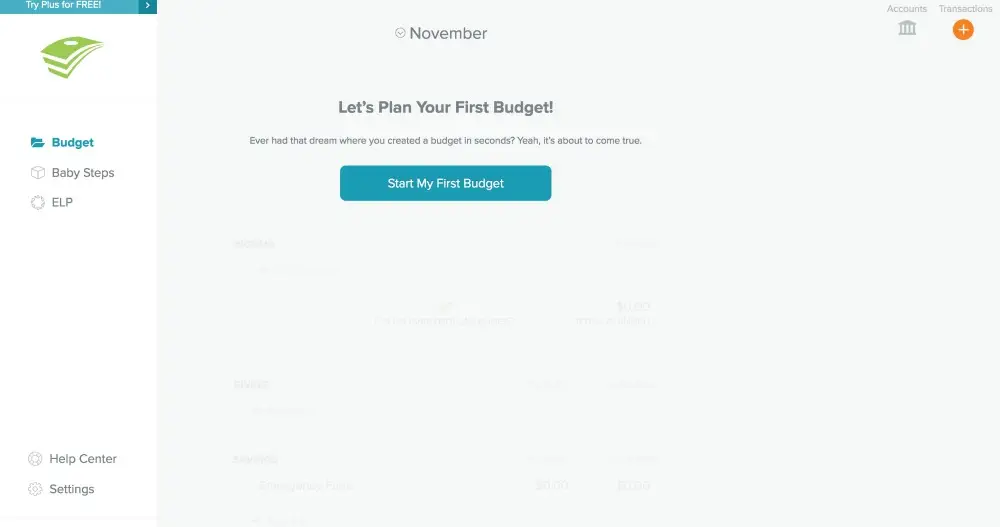 Step 2-  Enter your income.
Enter on the income line how much your income will be for the month you are planning.  The example below is for November.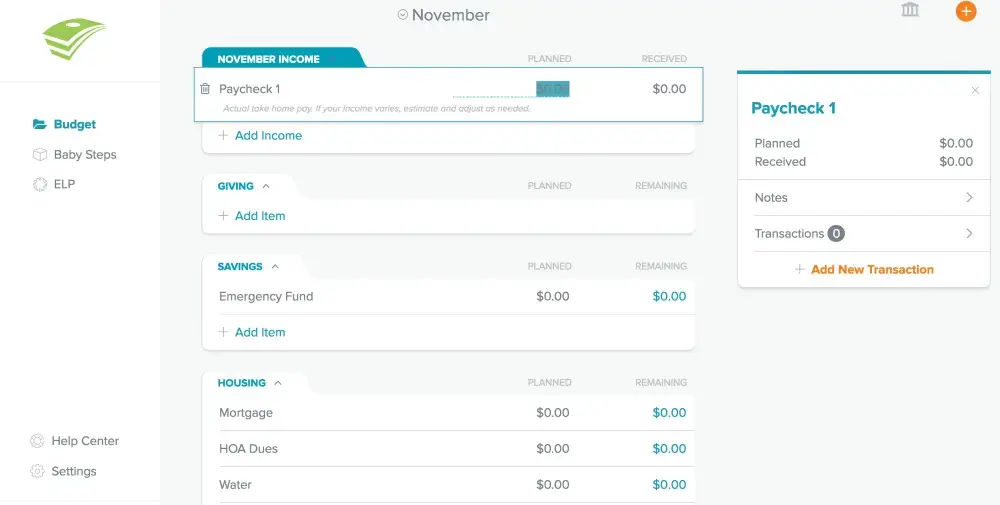 Step 3- Enter how much you plan to spend.
After you have entered how much money you make, you can go down through each category and type in what you plan to spend on each item listed.  Some categories will apply to you & others won't.
For example: We don't have HOA dues where we live.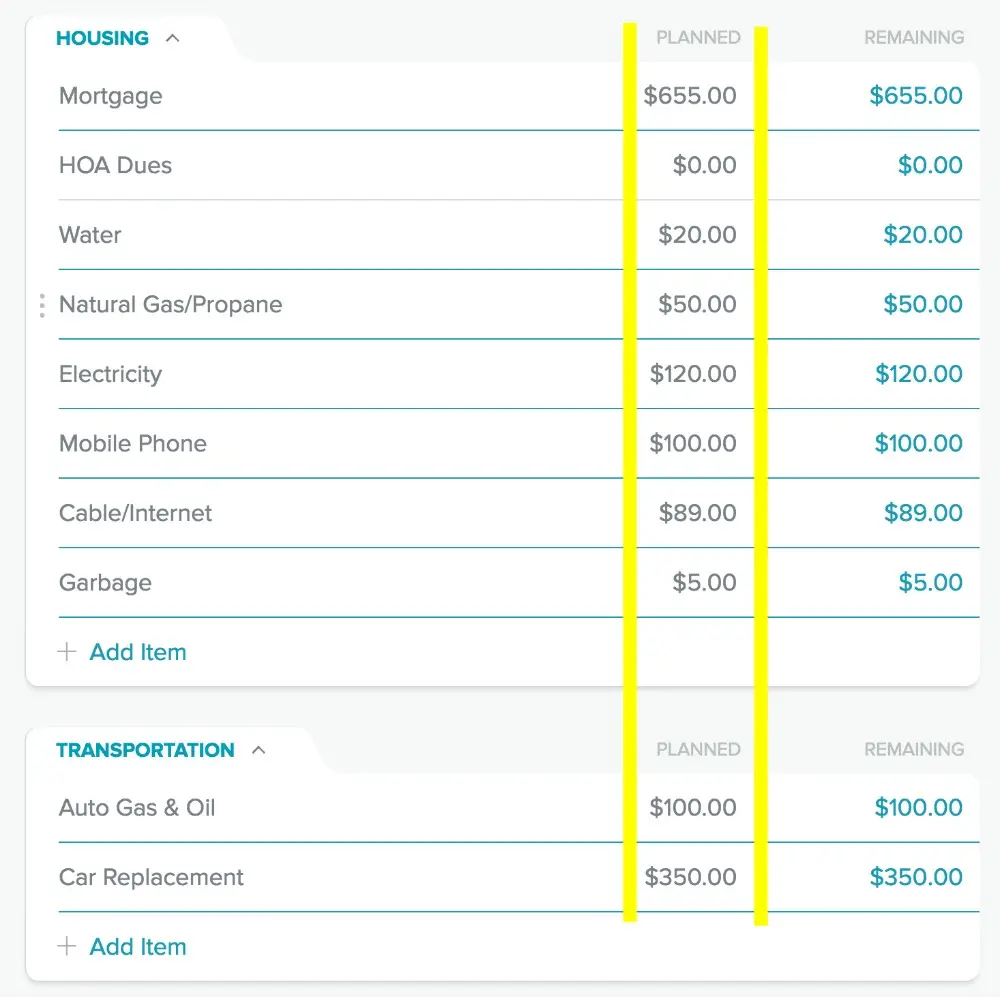 Step 4- Enter any extra categories the app doesn't already have that you need.
If you need to create a category or line item that you don't see, it's super easy to add them by clicking either + Add Item or + Add New Budget Group at bottom of your budget page.

Budgeting Tip:
If you aren't sure how much to delegate, go back through your bills and use them as a guide for what you expect to spend. For example, glance at last year's bill for the month you are currently in and put something in that ball park as your budgeted item.  I usually give it at least a $5 cushion in case the rate has gone up. So if my gas bill last year during the month I'm budgeting was $150.00 I'd budget $155.00 just in case. 
Step 5- Manage what's left over.
Once you get done spreading out your money across your known expenses, you may find that you have left over money or you may find out that you have overspent your income.
If you've overspent you'll need to go through and see what items you can tweak to stay within the amount of money that you actually make.  Groceries is a good place to start since you have control over what you spend there.
If you have money left over, you'll want to either cushion some of your other line items or you can set up a savings fund of some sort.  It might be for Christmas, Vacation or even a new car!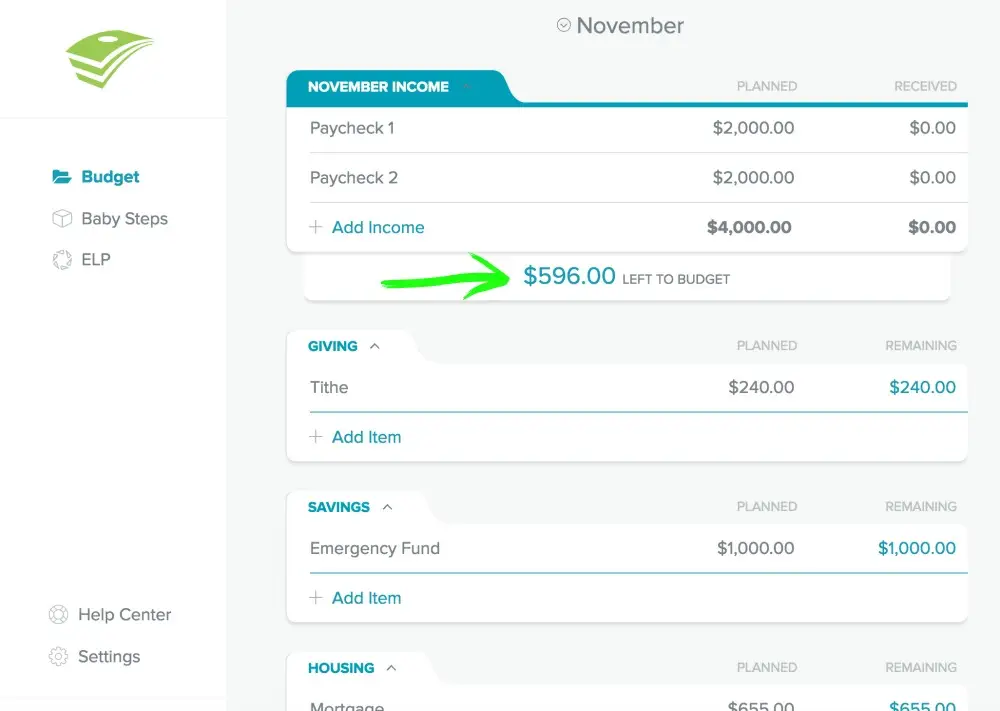 Step 6- Finish Your Budget
EveryDollar has a cool feature that lets you know when your budgeting is done.  Under your income numbers you will find that it gives you a check mark followed by a statement that says, "IT'S AN EVERYDOLLAR BUDGET".  Meaning you gave every dollar you own a place to go, a category or an assignment.  Now you are done setting up your budget!  SUPER EASY!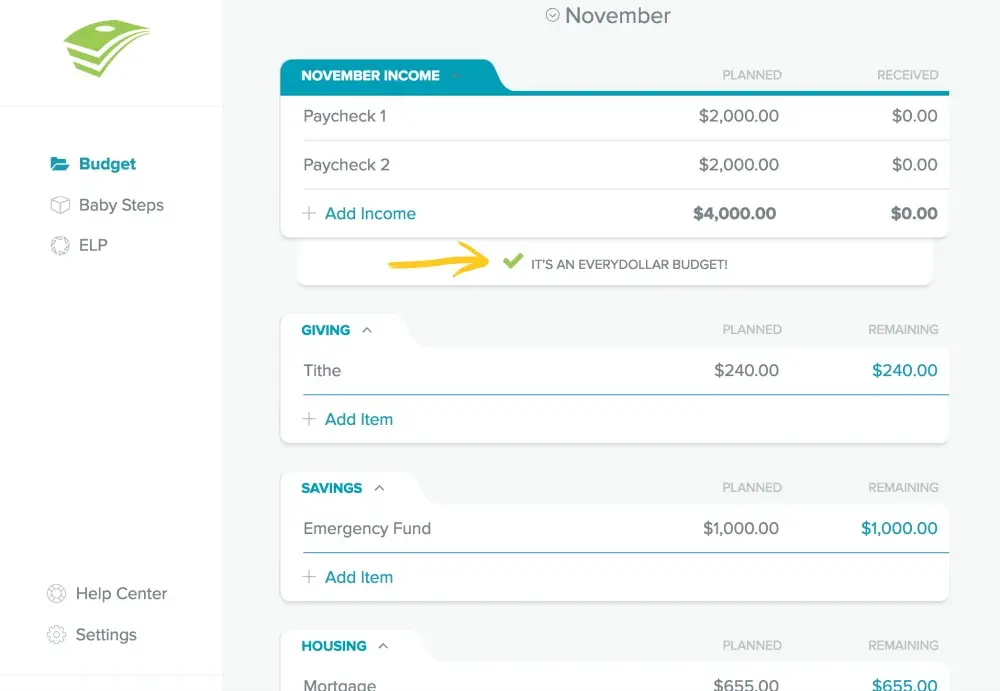 Step 7- Enter what you spend when you spend it!
Now that you know what you can spend, when you do spend money, you'll need to enter that transaction.  Try to do it before you leave the store parking lot!
Simply tap + Add New Transaction.
Enter Date
Enter Expense Total
Enter where you shopped.
Then tap "Track Expense"
It only takes a few seconds to manually enter transactions and it's worth it. In our case, because my husband and I share the app it's vital that we both enter our transactions so we know how much each of us has spent out of a given category!
If you've got the Plus version of the EveryDollar, you can drag and drop the transaction into the spot it belongs when it hits your bank account.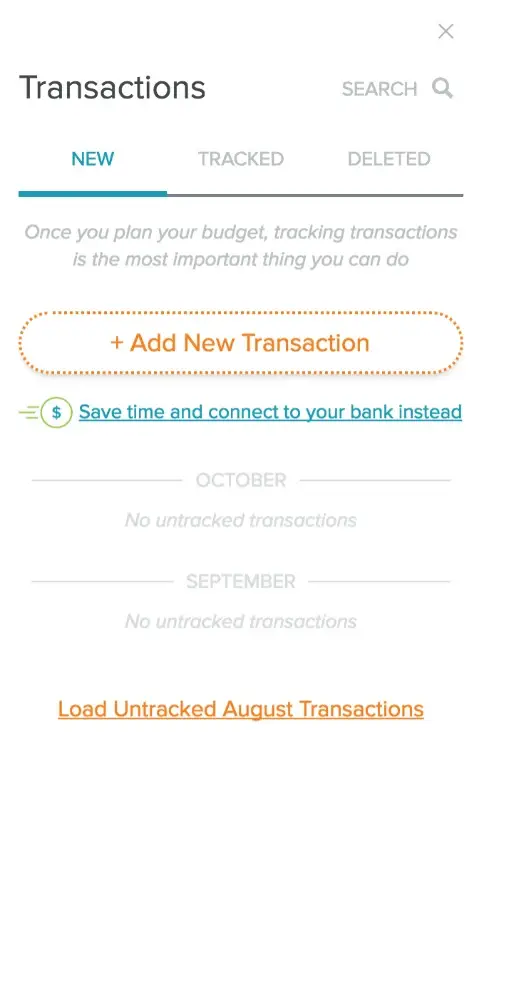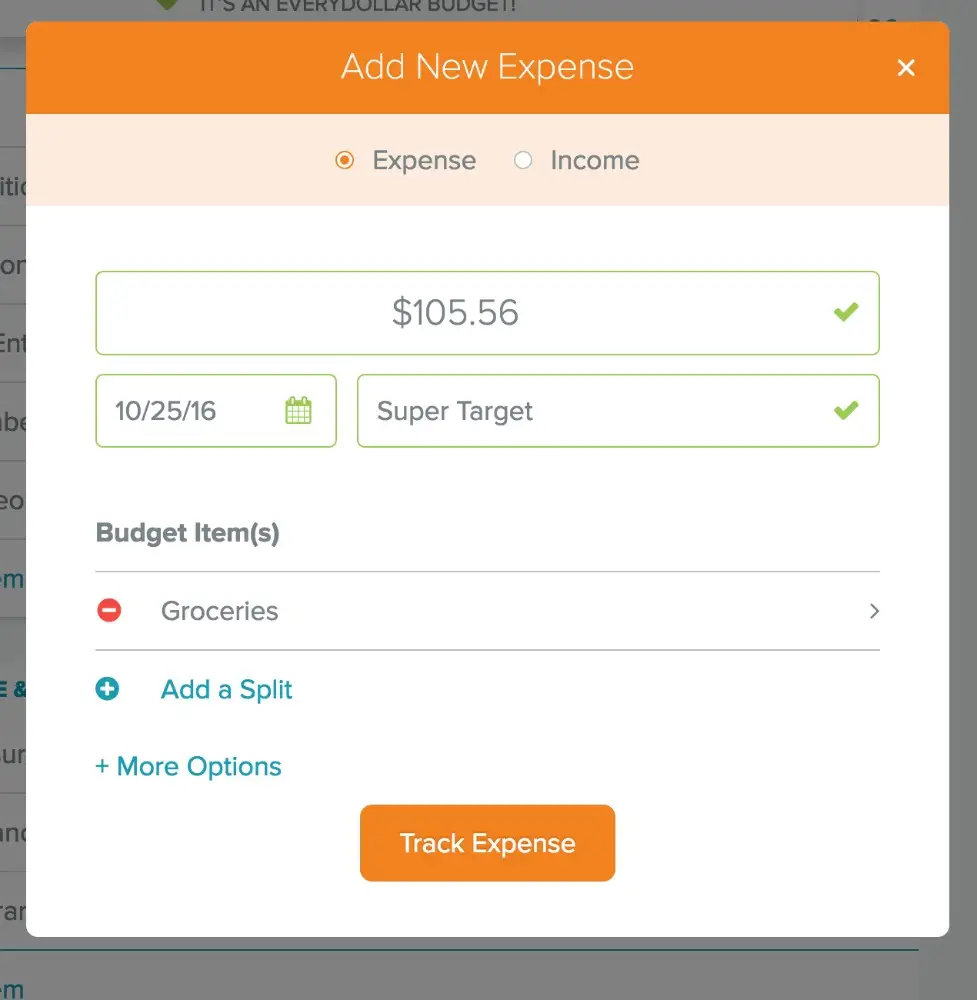 Step 8- Avoid overspending by checking the app.
The app has 3 functions to help insure that you stay within your income for that month.
Planned: What you are planning to spend that month.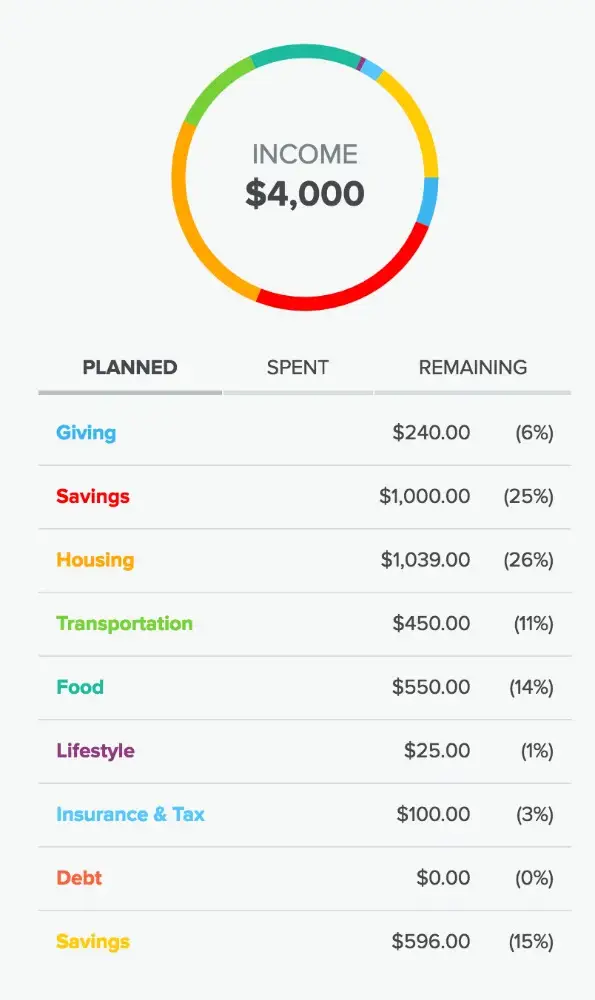 Spent: What you have entered as spent thus far this month.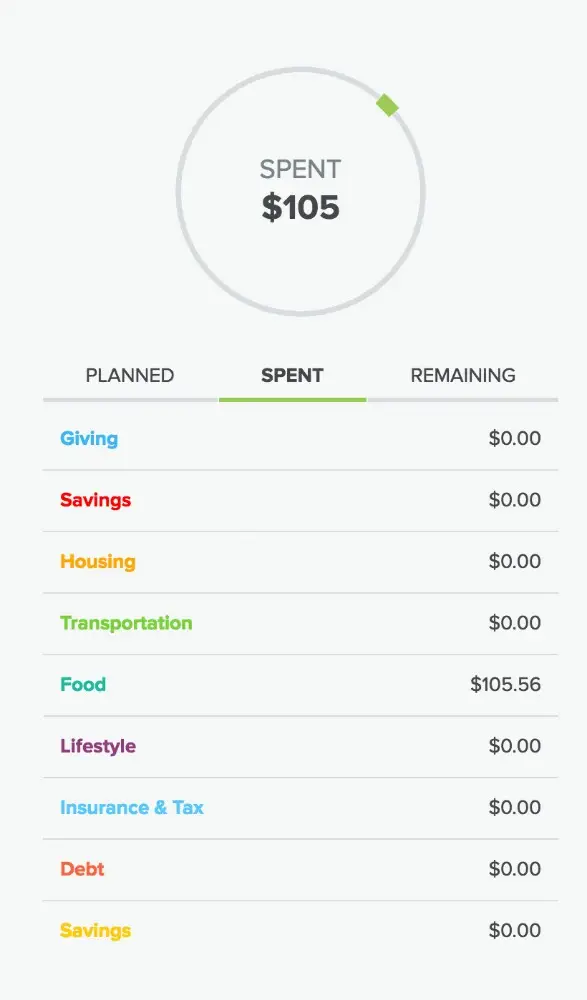 Remaining: How much you have left to spend out of your income.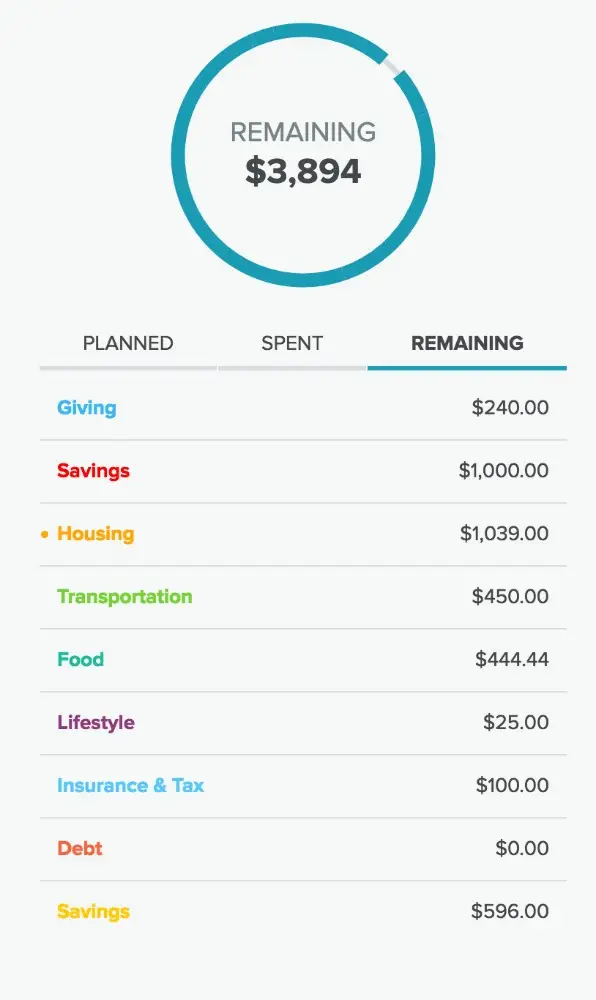 Step 9- Use the app to track holiday and gift spending.
One other way I use EveryDollar is to set up Christmas budgets for each person in my family.  As I buy something here or there I can simply add it to what I've spent on them already.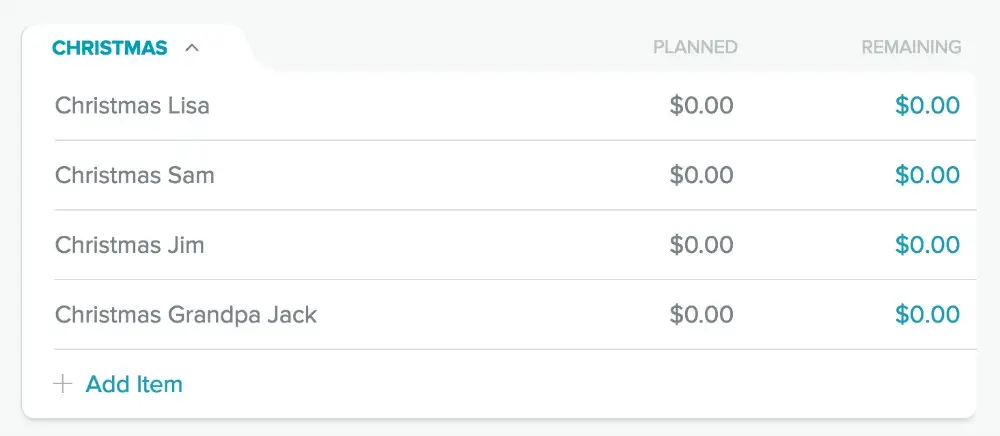 I really love how easy this app is to use.  It's designed well to help people who hate spreadsheets and formulas to be able to create their own very simple budget in about an hour a month.
Plus, now you can have instant, up to the minute access to your money, putting you in firm control of your finances!  Doesn't that feel good?  Be sure to download the EveryDollar app for FREE and start trying it out.  I think you might just love it as much as I do!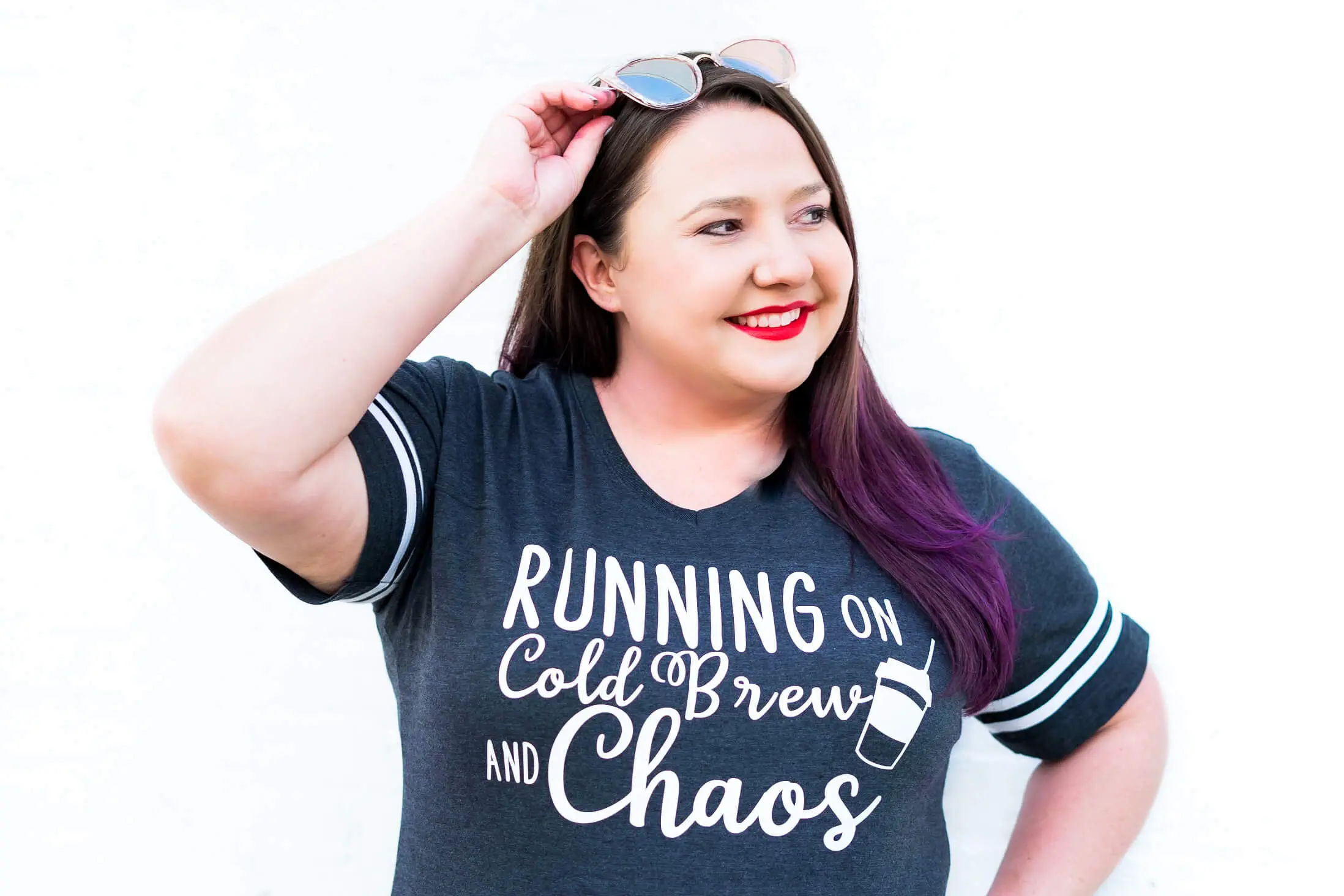 Kim Anderson is the organized chaos loving author behind the Thrifty Little Mom Blog.  She helps other people who thrive in organized chaos to stress less, remember more and feel in control of their time, money, and home. Kim is the author of: Live, Save, Spend, Repeat: The Life You Want with the Money You Have. She's been featured on Time.com, Money.com, Good Housekeeping, Women's Day, and more!