Overcoming the Fear of Starting Your Own Business
This post contains affiliate links. As an Amazon Associate, I earn from qualifying purchases. I also earn from qualifying purchases made with other brands and programs. See my
privacy policy.
Have you ever dreamed of starting your own business?  Maybe you sit at your desk at your day job and imagine yourself telling your boss "Sayonara!" and doing the thing you REALLY want to do with your life.  Maybe you daydream about a life where you are your own boss and you take the income ceiling off yourself.  You might even let your mind explore all your business ideas as you commute in bumper to bumper traffic every morning and evening.
My small business aspirations really became apparent to me once I had my first child and became a stay at home parent.  The stay at home life was okay but this mama needed to do, dream and create.  I needed to be more than a parent.
If this sounds like you, you are a prime candidate for becoming a small business owner.  But there are probably many many variables keeping you from going after what you want and the over arching one is and will always be – FEAR.
Dear friend I can tell you that if a business idea is begging to be put out in the world you will not be happy until you go after it.  I think the scariest part of starting a business is the overwhelming reality that you just don't know where to start.
The First Place to Start-
The most detailed place to start is to call your local Chamber of Commerce and ask if they have any business start up materials or resources.  Where I live, I obtained a workbook that walked me through what kind of company to set up and what I needed to do to get set up in my state.  Start there.
Dream, Learn, Make a Plan and Grow-
Okay, I realize thats dreaming, learning, making a plan and growing could each be there on category but the goal I'm going after here is to tell you about a solid resource of small business information that doesn't bore you to death.  A community of like minded women, coming together to take charge of their dreams and businesses.
2 years ago I was invited as a guest to attend a brand new event, Christy Wright's Business Boutique.  Now if you don't know who Christy Wright is, she is a business coach on Dave Ramsey's team.  After tons of research and planning Dave's team decided to create resources and events aimed at helping female business owners go after their dreams!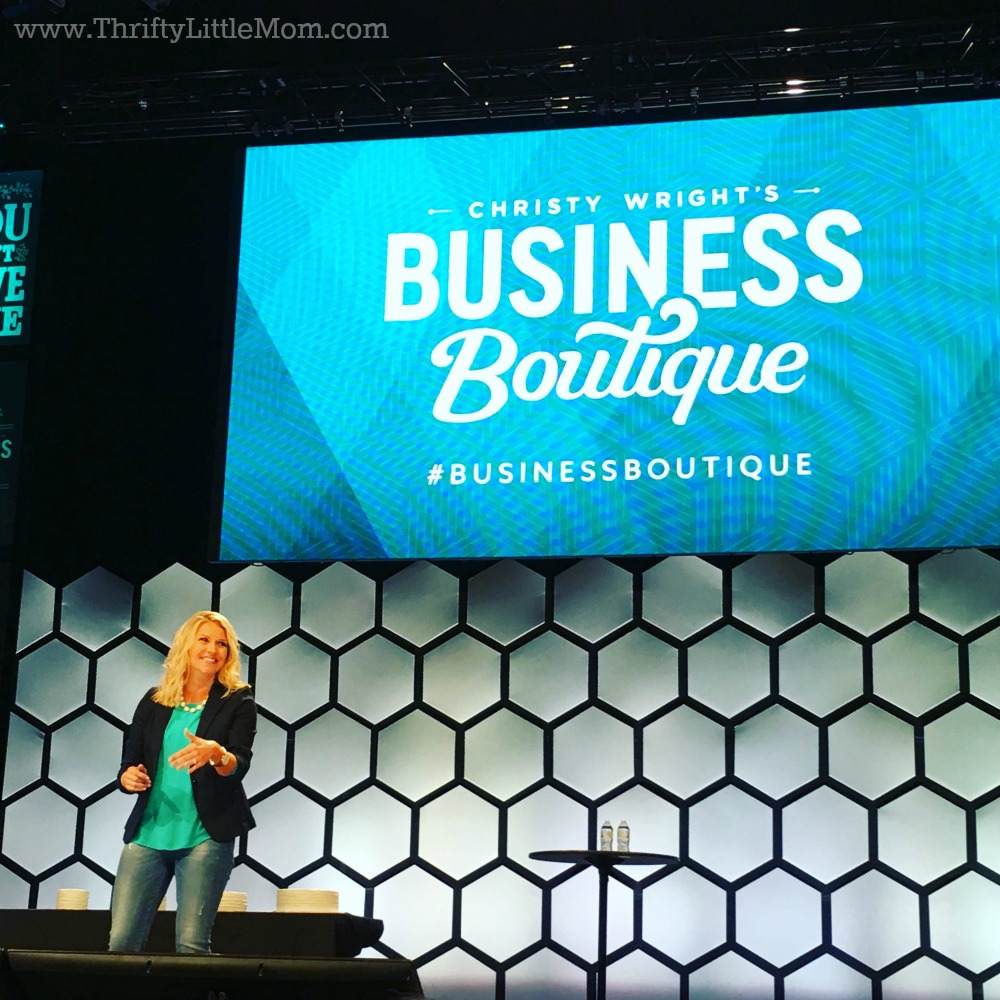 This was the most comprehensive and step by step conference I have ever attended.  This isn't just motivational speaking. This conference literally breaks down step-by-step how to get your business going with a strong foundation!
Every attendee gets a tote bag with a workbook for each break out!  They cover topics from getting your idea nailed down, knowing your why, knowing your customer, money, taxes, marketing, sales- you name it- they most likely cover it during this two day event!  I find the registration price is ridiculously low and good for what you get from this event.
I always leave this event charged up and ready to take on the world.  I get tons of ideas and have time during the conference to make a plan to implement them!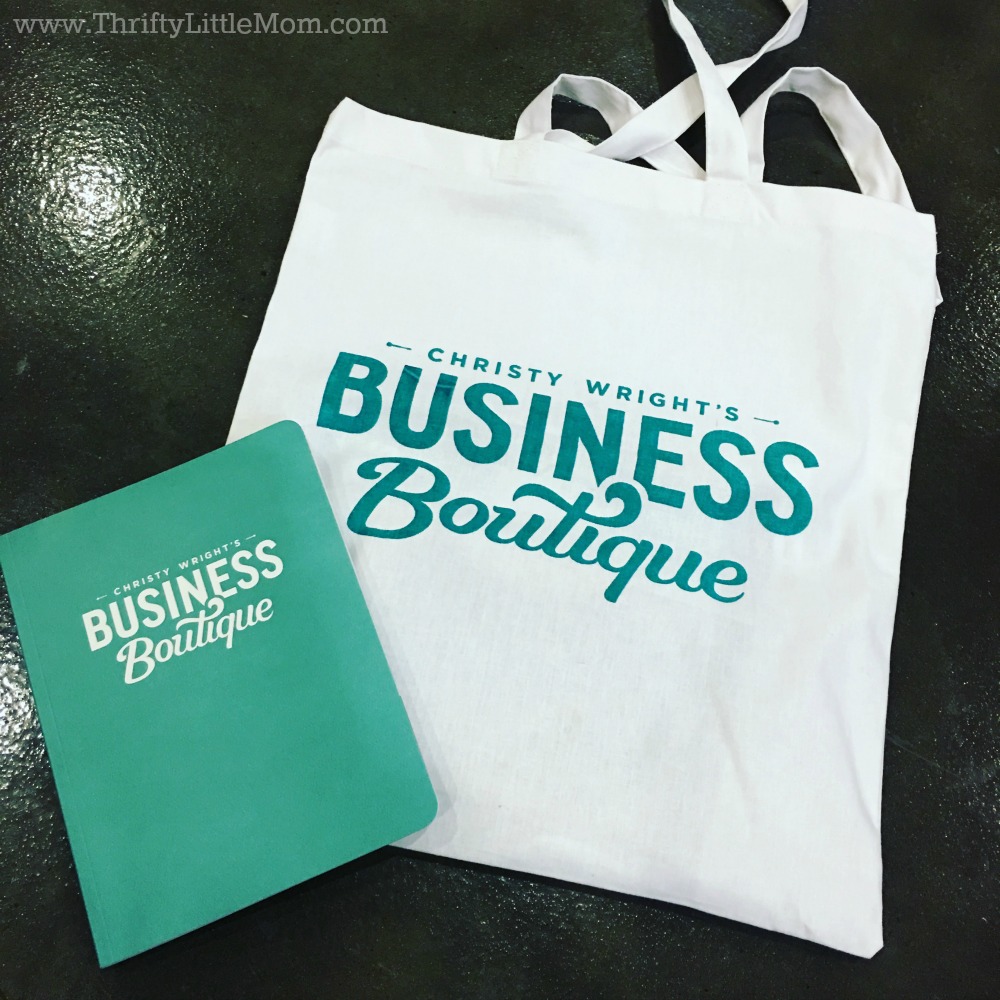 So you can drop your kids off at grandma's house and go figure out your dreams or be inspired to press onward in the one you've already started!
When you leave this 2 day conference paralysis of analysis should be out of your way!  My best friend Rhonda has had a awesome business idea for several years but hadn't pushed go quite yet so I took her with me.  Within a month of attending, she was creating her product and testing it out!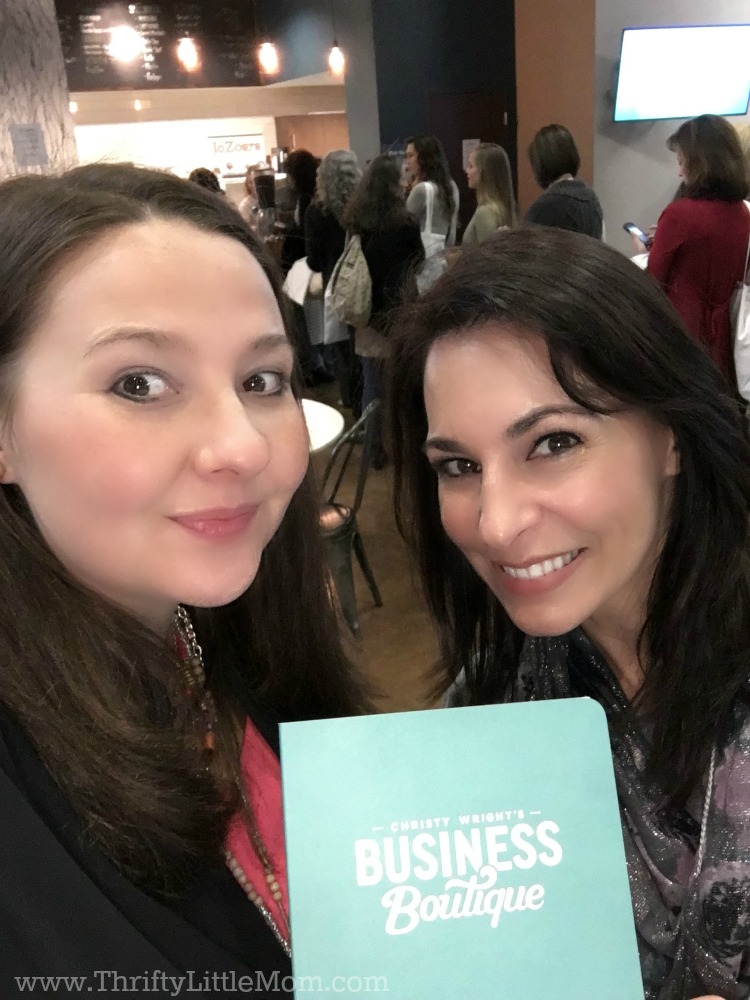 1-Day Local Events
In this post I'm going to talk specifically about the Business Boutique Event in Nashville, TN because I have attended it twice.  But if you can't wait until that conference they also do Business Boutique 1-Day Events around the country so visit their website here to see if any of the 1-Day events will be near where you live so you can attend!
What is Business Boutique Really Like?
Arrival-
When you arrive, you park for free, you walk to the registration tables, check in with your ticket and they give you a name badge, and a tote bag with some cool freebies, discounts and little swag.  The conference was created with business dreamers, starters and builders in mind.  Therefore, we got to indicate on our name badge if we were a dreamer, starter or builder to help us connect with other attendees faster and easier.
Each year they design an app around the event so that you can network and connect with other business people before, during and after the weekend!  The app will keep you alerted throughout the event when it's time to head to a session or other pertinent information!  Be sure you get it and use it!
Then you can go inside the event and explore the Marketplace  Showcase where small business owners are set up selling their really awesome goods and services!
The Large Sessions-
When the event starts, all the attendees go into a large auditorium together for a few back to back sessions taught by Christy Wright.
In the first session she helps attendees evaluate where they are going in whatever stage of business they are in.
Christy takes you through how to map out the steps to get yourself where you want to be.
There are several guest speakers which typically include Dave Ramsey himself!  As well as his daughter Rachel Cruze.  Each year they have a variety of new speakers who share on topics that they are experts in!  This year I was thrilled to get to learn some marketing from Amy Porterfield, sales from Nicole Walters and brand message clarity from Donald Miller.
As I mentioned, they give you a workbook when you arrive with guided notes to help you keep track and remember all the stuff you are learning when you leave.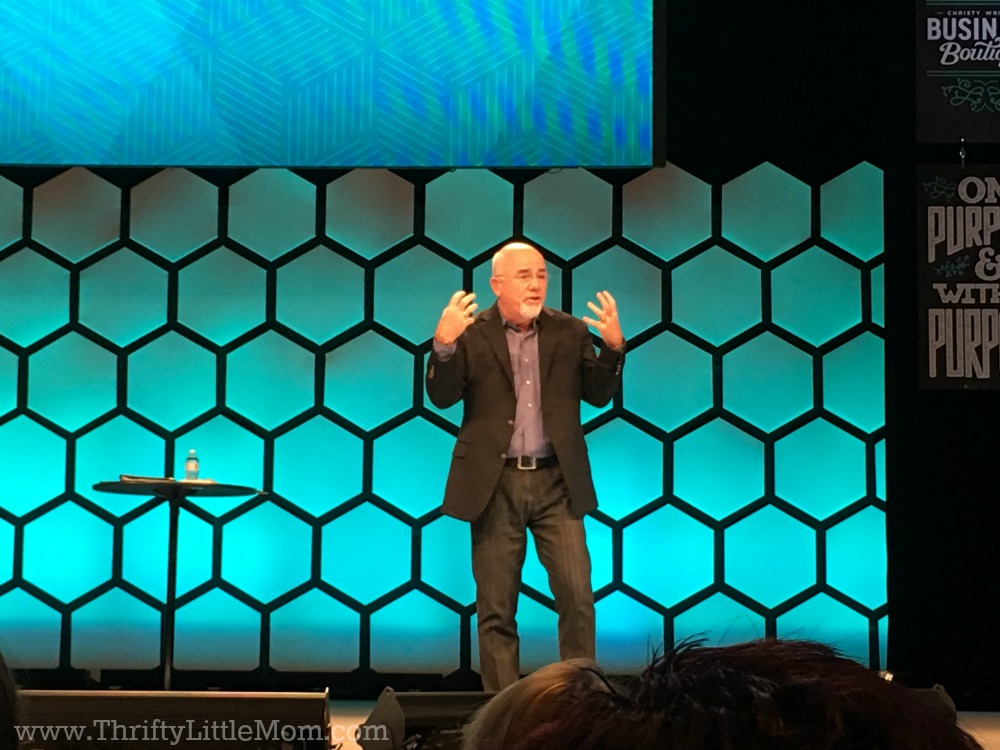 The Breakout Sessions-
Breakout sessions are much smaller than main sessions and are conducted as small class rooms.  The past few years you have needed to PRE-REGISTER for these break-out sessions.  Therefore, you want to watch your email box for an announcement for when those registrations open.
If you don't get a spot in one of the small break-outs that you want, they plan for there to be a breakout in the large main group each time.  I lucked out in that all the speakers I wanted to hear ended up doing a rotation in the large room so I didn't need to register (because I missed the email).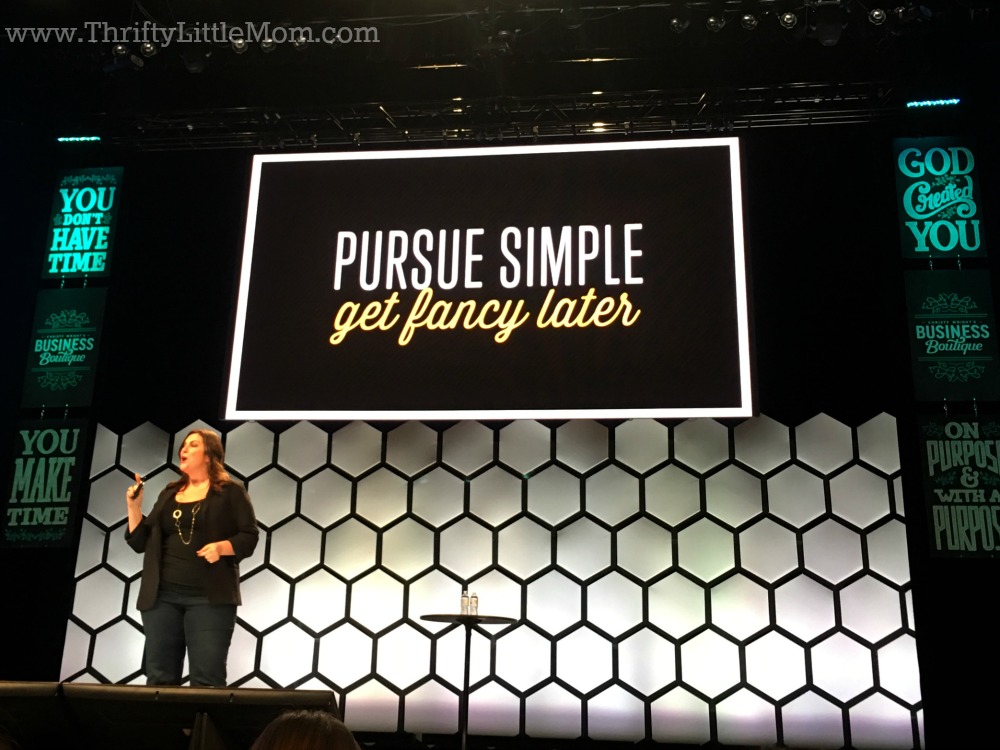 The Food Situation-
Food isn't included in the event unless you purchase a VIP ticket with which you get free boxed lunches each day.  If you aren't VIP then at lunchtime, local food trucks roll up to serve attendees fantastic local food on site so you don't have to leave.  Otherwise you'll want to hit your hotel continental breakfast or a Starbucks on the way to the event.  Dinner is also on your own but the event usually wraps up at 6:00 pm so you won't be starving.
I always pack a few bars or snacks in my tote bag just in case I get hungry.
What you should bring-
Since this is a two day intensive learning event here's what I recommend having with you:
A sweater or jacket because the main auditorium gets chilly.
A bottle of water
A few snacks in your tote bag in-between sessions.
Money for the Showcase Marketplace.
Your favorite writing pen.
What to wear-
Being that this is a business event I always go business casual.  There was a strong variety of comfortable, business casual and dressy.  It's sort of up to you, but I wore some dark jeans and dressy blouse and felt comfortable.  There isn't a ton of walking but I still chose to wear flats because you may end up standing in several lines during the event between the coffee shop, the food truck lines and meeting your favorite speakers.
Free Headshots- I don't know if they will provide this service each year but this year they had a professional photographer providing headshots for attendee for free.  So if you need a nice picture for your website, print materials or social sites be sure you do dress your best and put on some makeup if you plan to take advantage of this opportunity!
Nursing Moms- This year they had a nice, dark, comfortable nursing mothers room with a screen that streamed all the sessions.  That way if you end up needing to nurse or pump while you are at the event you have a place to go that's private with other moms.
Bathrooms- So I'm sure as you can imagine, an event with this many women (and so few men) will probably be a bathroom line nightmare but the team was amazing.  They got smart and re-signed 80% of the men's restrooms to say "women" on the door.  Yeah you had walk passed some urinals but the lines were way shorter than they would have been otherwise.
Other Business Boutique Resources-
Until you can physically get yourself to the Business Boutique Event in Nashville, TN, consider checking out these resources created by Christy Wright and her team.

Like most things, you'll only get out what you put in.  But this event can help you get the jump start you need to get your business going or take what you have to the next level.  Hope to see you there!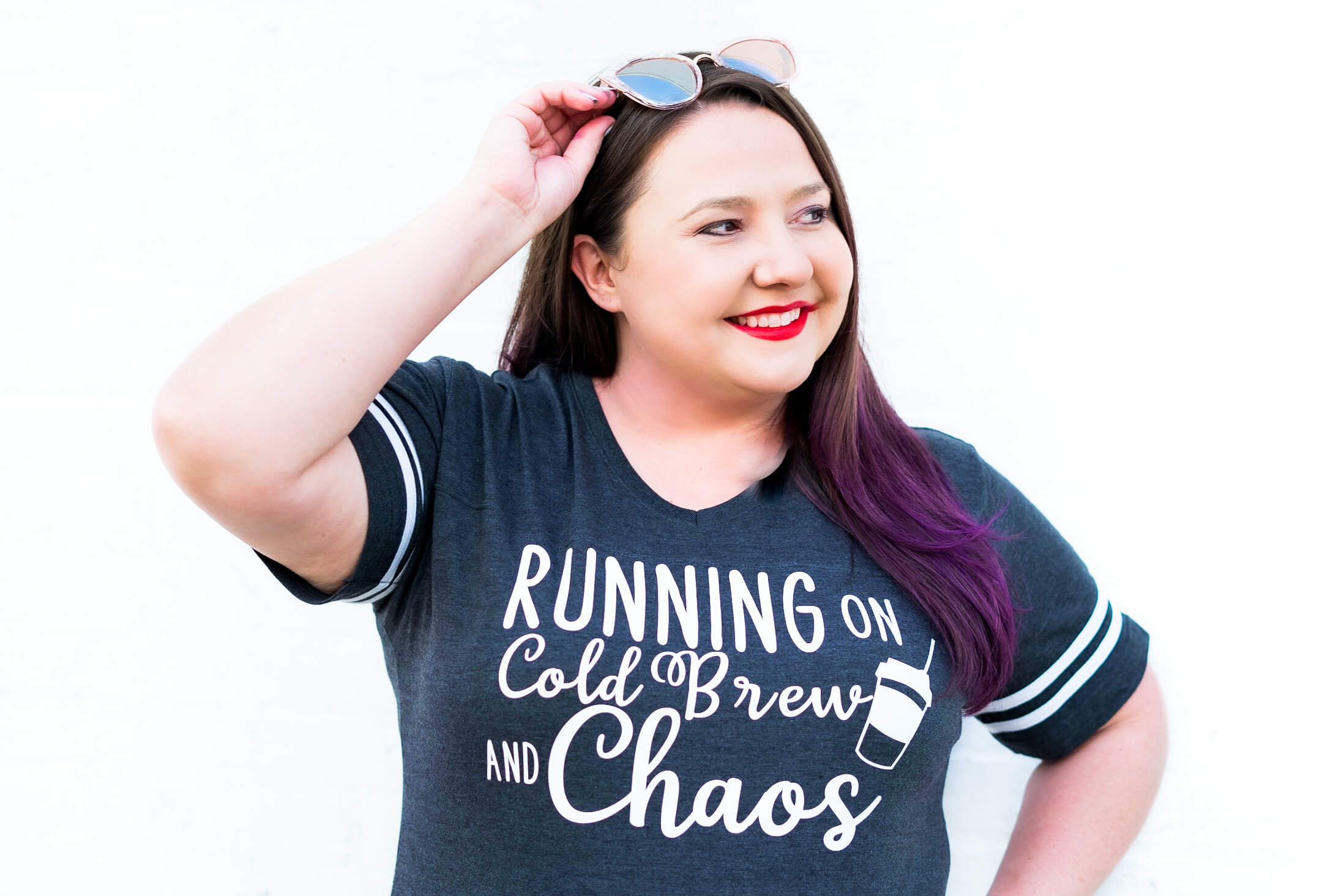 Kim Anderson is the organized chaos loving author behind the Thrifty Little Mom Blog.  She helps other people who thrive in organized chaos to stress less, remember more and feel in control of their time, money, and home. Kim is the author of: Live, Save, Spend, Repeat: The Life You Want with the Money You Have. She's been featured on Time.com, Money.com, Good Housekeeping, Women's Day, and more!