Making Your Own Home Business Side Hustle
This post contains affiliate links. As an Amazon Associate, I earn from qualifying purchases. I also earn from qualifying purchases made with other brands and programs. See my
privacy policy.
Thank you to Inventables for Sponsoring this post.  The thoughts and opinions expressed in the post are 100% mine.
In 2009 I said a timid, "Peace out!" to my day job as an Administrative Assistant.  It wasn't that I hated my job, it was that my commute to that job was killing me.  It seemed weird back then being home, without kids, and living on my husband's salary.  But honestly, that scenario lit the entrepreneurial spirit in me that I'd never had the time or energy to realize.   Flash forward almost 10 ten years and I've grown 2 home business side hustles into a fulltime career!  I want to share my wisdom with you today and let you in on my newest home business expansion experiment.
If you are thinking about starting a home business here's my advice to help you get going.
1. Decide what kind of home business you want to create.
There are so many ways that you use your skills, talents, and passions to earn a living.  In my case, my business is an online content creation and consulting biz (I coach/consult bloggers).  As I have grown an audience in both of these realms I'm always looking for creative ways to expand my businesses.
First, I really love writing so book writing and blogging fulfills that use of my skills and talents.
Second, I really love working one-on-one with people and teaching them.  So my consulting biz fills that dream gap.
However, I've always wanted to have a physical product of some kind. For years I've been trying to DIY the things I want to make to sell but as a coach, I've learned how important it is to value your time.  Making a product is often a time for money scenario so you've got to be mindful of the time you spend making something vs the price you charge.
My physical product AH HA moment!
This spring I was at an event called Workbenchcon and walked up to a booth with an INVENTABLES banner.  I watched as this rather compact machine took information from an ordinary laptop and carved logos, phrases and cut patterns into wood and other materials for hours at a time.  I couldn't shake the feeling that this X-Carve machine was the solution to my next product creation search.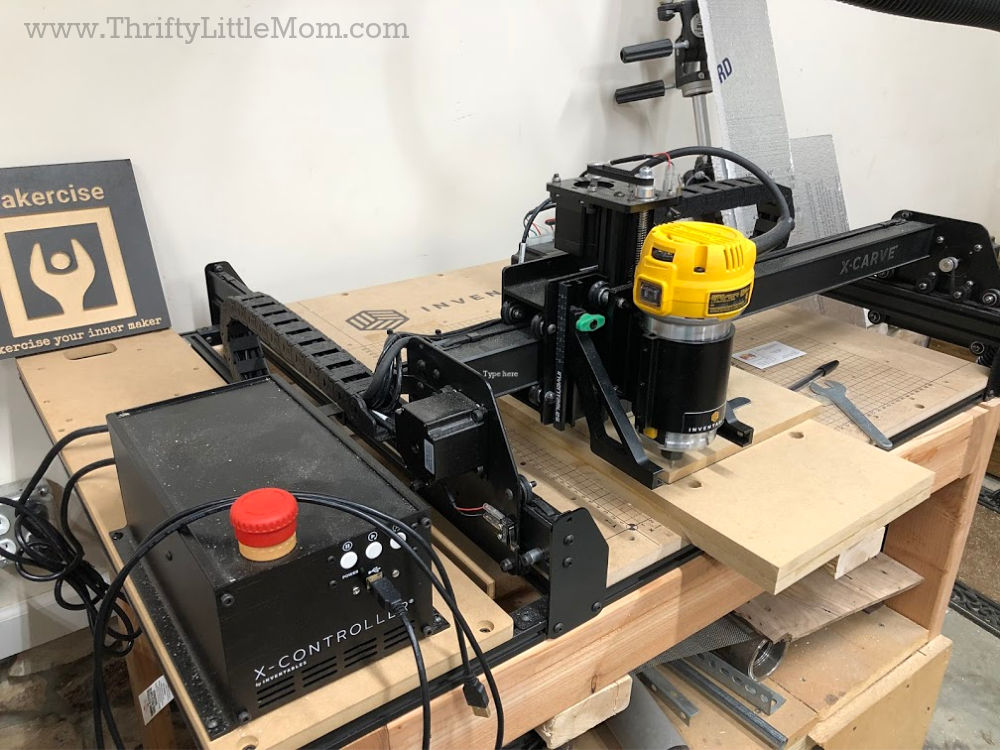 As a blogger and consultant, I'm used to making money with my hourly services and my digital products.  Physical products weren't something I had gotten my feet wet in yet.  I seemed that I'd be able to manufacture what I wanted to make with this machine and make it faster!
At the beginning of the summer, we got our X-carve and have been experimenting with it non-stop.   Easel is the free software you use to design your products and it's ridiculously easy to use.   Before I started using it I was having flashbacks to my days of using AutoCAD in my High School drafting class.  But Easel is extremely intuitive.  You should go play around with it here just to see how fun it can be to design stuff!  You don't need an X-Carve to play around in Easel.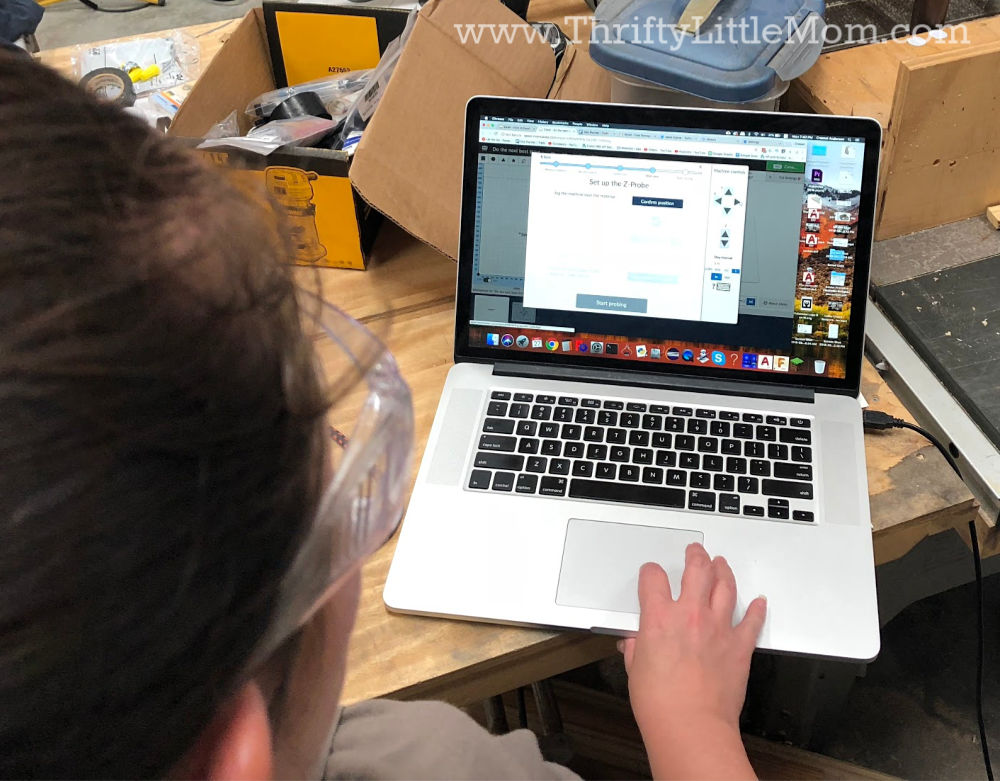 At this point, I've launched a new line of inspiring jewelry and plan to make office decor for my brand, Just Keep Blogging, and my niche audience.  It's totally new for me, totally exciting and I'm essentially creating a small scale manufacturing process in my garage.  Inventibles and the X-carve made that happen.  If you are thinking of making something using a CNC type machine, then definitely check out the X-carve!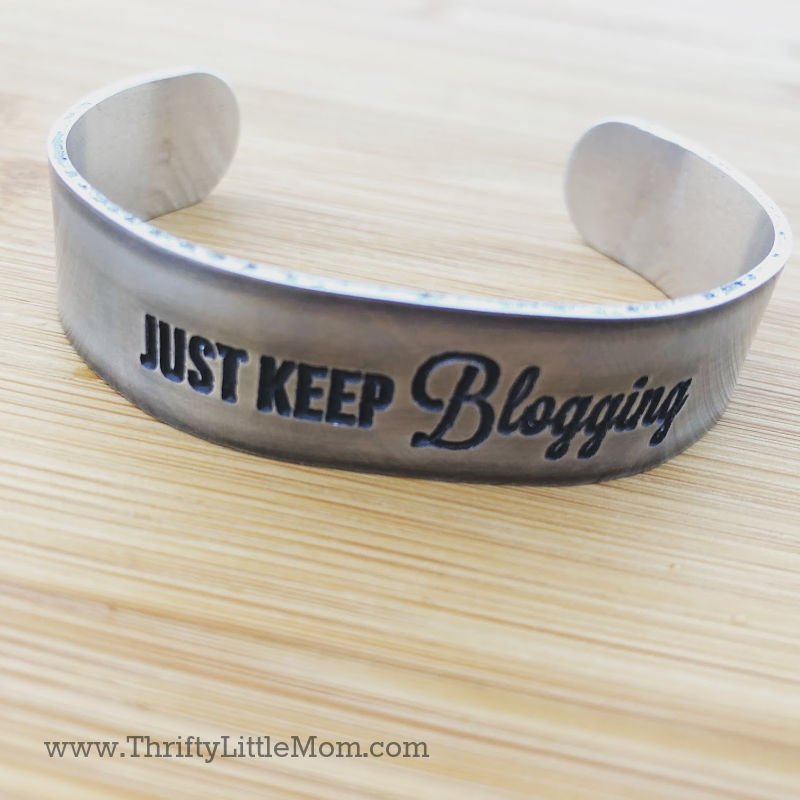 Here is what I love about Inventable's X-Carve so far: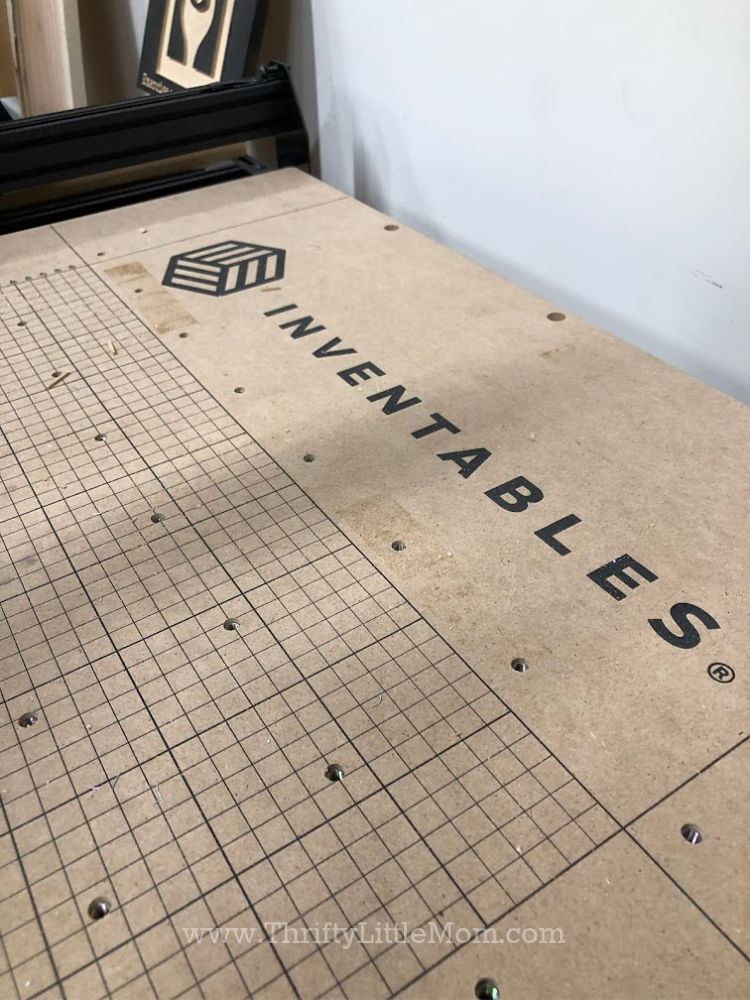 I can literally set up my project, put it on the X-carve, start the machine and walk away.  I go about doing other tasks while it works on my creation.
I'm excited about the possibilities with the X-carve because with the computer integration you can personalize everything.  Think monograms, logos, names, sayings, quotes, etc.
I can use different mediums like wood and metal.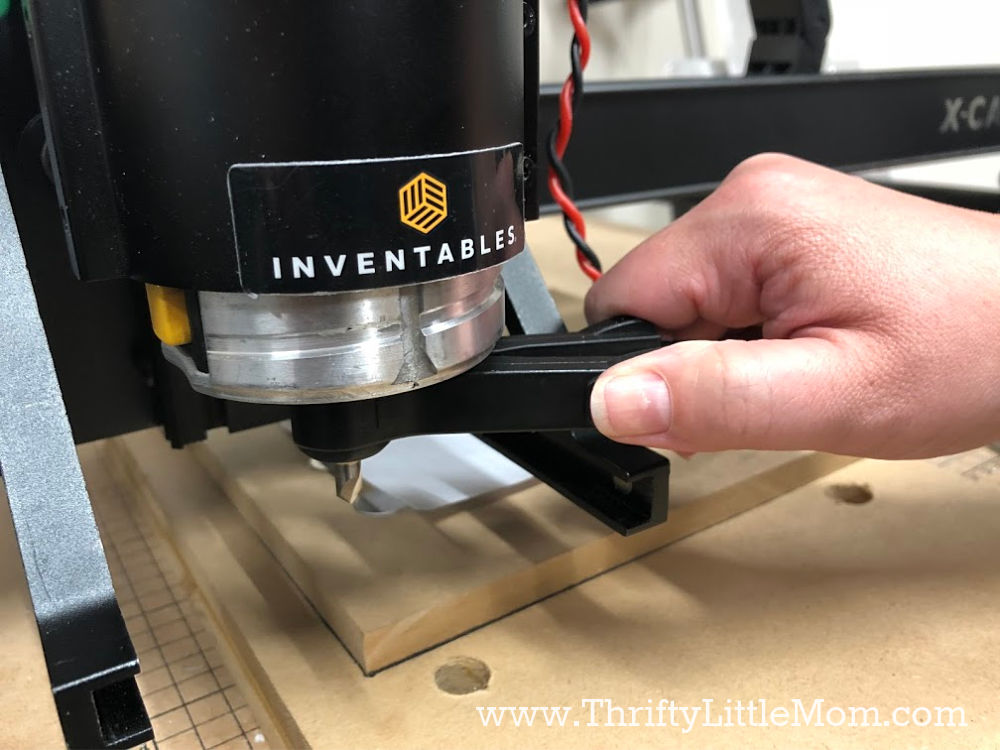 I'm not sure what you want to do, make or create for your home business but start with what you are good at and something you can see yourself doing for a long time.  Consider your time, margins and profits.
Once you know what you want to make or do and have nailed down the processes (how you will make the product), it's time to think about overhead and get legit.
2. Try to start your side hustle with low overhead.
As you think about your side hustle, decide what you will need to get started.  I think it's smart to start with the basic supplies that you need and get fancier as you make more money to fund those bigger and better things.
For example, to get my blogger jewelry business going, I needed:
A laptop – Already owned one.
X-Carve Machine 

You can buy one of these or do monthly payment plans with 0% financing through Affirm make it easy to spread out the cost.

X-Carve Bit Accessories
Jewelry Making Supplies
Shipping Envelopes
Shopify
That's sort of my minimal startup list for getting that side hustle home business off the ground.
Depending on what you want to do as your home business, your list may look different but I encourage you to start with basics and then get to expand to get fancier once the money comes rolling in.
3. Set up a legit home business.
It's really not as hard it sounds and if you are doing a single member LLC or sole proprietorship you probably don't need a lawyer involved, but you an always use one if you want.  You simply go to your Secretary of State website and figure out what you need to do to register as a business there and follow the instructions.
I've done this in both N.C and G.A. and both take about 20 minutes and around $100.
Some counties or cities may want you to pay Home Occupancy Business taxes which is like $65-$75 a year depending on where you live.
4. Decide if you want an EIN or to use your Social Security Number.
If you don't want to put your Social Security Number on forms and applications for all things business go ahead and get an EIN.  You can simply apply for the number online. It's free and you get the number instantly when you apply.
5. Create a business bank account.
One of the least expensive banks I know of is Wells Fargo for setting up a business checking account.  They require a low account balance which is perfect for brand new businesses that are just getting started.
If you are wondering why you should bother with a business account, in my experience it just helps keep things clean, tidy and neat for IRS, taxes and shows that you are trying to create a legit business over just a hobby.
6. Set up shop.
Whether you travel your way around to festivals or craft fairs or you do it online it's a good idea to decide when and where you will sell your products or services.
Here are some examples:
Now that I have X-Carve for physical products, I have recently set up my first Shopify store and plan to sell the items online.  With my physical product business, I could also sell my items at local gift shops, Etsy, craft fairs, festivals and special events.
What space will be your space inside your home for conducting your business?
Do you need storage, garage or workshop space?
Do you need a website or an online store?
If you do your coaching or consulting will you meet in person and online via a program like Skype or Zoom?
7. Educate Yourself on Your Home Business
I think we often think to have a business of our own we have to come up with some crazy new spectacular idea. Therefore, if it's super unique you'll be exploring a whole new world and there won't be any books or courses on it.
When I started blogging there wasn't a ton out there on how to do it and make money but I found a few people out there who had written ebooks on Amazon.  So I read them, implemented them and what I read worked.
I think it's wise when starting any home business to do some research online and find resources, ebooks, videos and courses that can help eliminate any learning curve you can.  Even if your idea is new or out of the box, there is some part of that process that someone has done before you.
For example, if you plan to sell physical products like me, find an online course or ebook that talks about creating your own physical products, marketing, email lists, websites, e-commerce, shipping, Facebook Ads, Google Ads, taxes etc.
If you plan to make a home business around food, find a resource online about starting an at-home food business so you know when you need to have the FDA or other government approval.
In other words, don't assume you know everything.  Be willing to be educated and speed up the progress toward success by eliminating your educational gaps, learning from other and not skipping vital steps.
The reason I educate myself so much and regularly is that it's a gentle reminder that what I see for my future is possible and that other people have come along ahead of me and they have done it.  It's proven.  It's helped me stay the course.
8. Implement Your Home Business & Give it Time
Once you understand how to start the business, you've decided on your product, you've got your shop all ready to go and you're ready to sell, it's time to work.
The truth is, there are people that get a lucky break from day one but the majority of home business side hustles out there take at least 1-2 years to get off the ground where you've got traction.  I think it's important to internalize that kind of time frame so you don't throw in the towel too early.  IT TAKES TIME and CONSISTENCY to grow anything.
This is why most people start their home business side hustle before they quit their full-time jobs.  If they can get their side hustle home business to be profitable, then they feel comfortable exiting the "secure" day job— whatever that means anymore— and entering into fulltime entrepreneurship.
Bottom line- it's gonna take hard work, focus, and consistency to get where you want to be with your home business.  That's the combination that creates forward growth.
9. Anticipate Home Business Pitfalls
Having a home business was wonderful for me!  It eliminated my awful commute, I saved on gasoline, I drove my car less, I ate healthier at home.  I took breaks, I worked without breaks.  I was my own BOSS!
But over time there are some things you need to be aware of when working at home:
There is no one to manage your time but you.  It's MUCH easier to get distracted with a home business.
You have to get yourself out of bed and work.
It's best to establish a routine for yourself each day so you are productive.
It's wise to keep television and entertainment off during your work time.
It's wise to take a nap if you are tired but set an alarm.
Work and home life boundaries get really grey.  You may try to do house stuff when you are working and work when you should be hanging out with the family.
Other people don't always respect your space or time.
It's important not to graze all day on junk food since you are home and you do get bored, stressed or overwhelmed at times.
It's easier for people to expect more from you because you aren't at a 9-5 with a boss who dictates time off.
You have to intentionally take vacations.
10. Set Goals & Keep Dreaming
I can't emphasize enough how important it is for home business people to constantly dream.  You need to set goals for yourself and know what exactly you are working towards.
What's it all for? How does this home business get you closer to what you really want out of life?
Despite the pitfalls, I listed in #8, there are a ton of awesome perks.
Little to no commute.
Sick days whenever I need them without needing a doctor's note.
I can take vacation whenever I want.
The nature of online business lets me live and work from just about anywhere that has internet.
I have less stress.
I enjoy what I do each day and find fulfillment in my career.
I can tag in and help family/friends if I have to.
11. When You Get Profitable, Hire a CPA/Book Keeper
Once you start making some decent money from your home business, I think it's helpful and wise to get a CPA to help handle all the stuff that you may not find interesting, that you find stressful or that you just shouldn't do on your own.
The first year a CPA did my taxes it was a huge burden off my shoulders because I knew that she knew what she was doing!
12. JUST START!
I think that anyone who has a dream of having a home business should just start.  Experiment.  Live in a realm where you try things and see if they work.  If you find something you are passionate about and capable of doing for the next 2-5 years, you should pursue it.
Some people put off starting because of fear of failure.
The trouble I see more than anything is not that people fail to start.  It's that they fail to stick with something for the long haul.  Which leads me to my next point…
13. Just Keep Going!
A home business can be tweaked and morphed over the years.  But the key in my book to true success is doing that one thing well, day in and day out, even when it's getting hard or you hit speedbumps.
I have had many friends that are serial starters and fail to see anything beyond 6 months at a time.  A lot of my momprenuer type friends find themselves bouncing from one MLM idea to the next even when the business idea they have is great!
Heck! I used to be a person who bounced from idea to idea.  The difference was, I found something I LOVED and once I saw it was scalable, I committed to doing it until I saw my goal of a full-time home business.
If you've been thinking about starting a home business I hope this article helps to give you the confidence to not be afraid to start!  You can do this!  Just take it one day at a time and don't be afraid to try!
If you enjoyed this post, you might also like these articles from Thrifty Little Mom: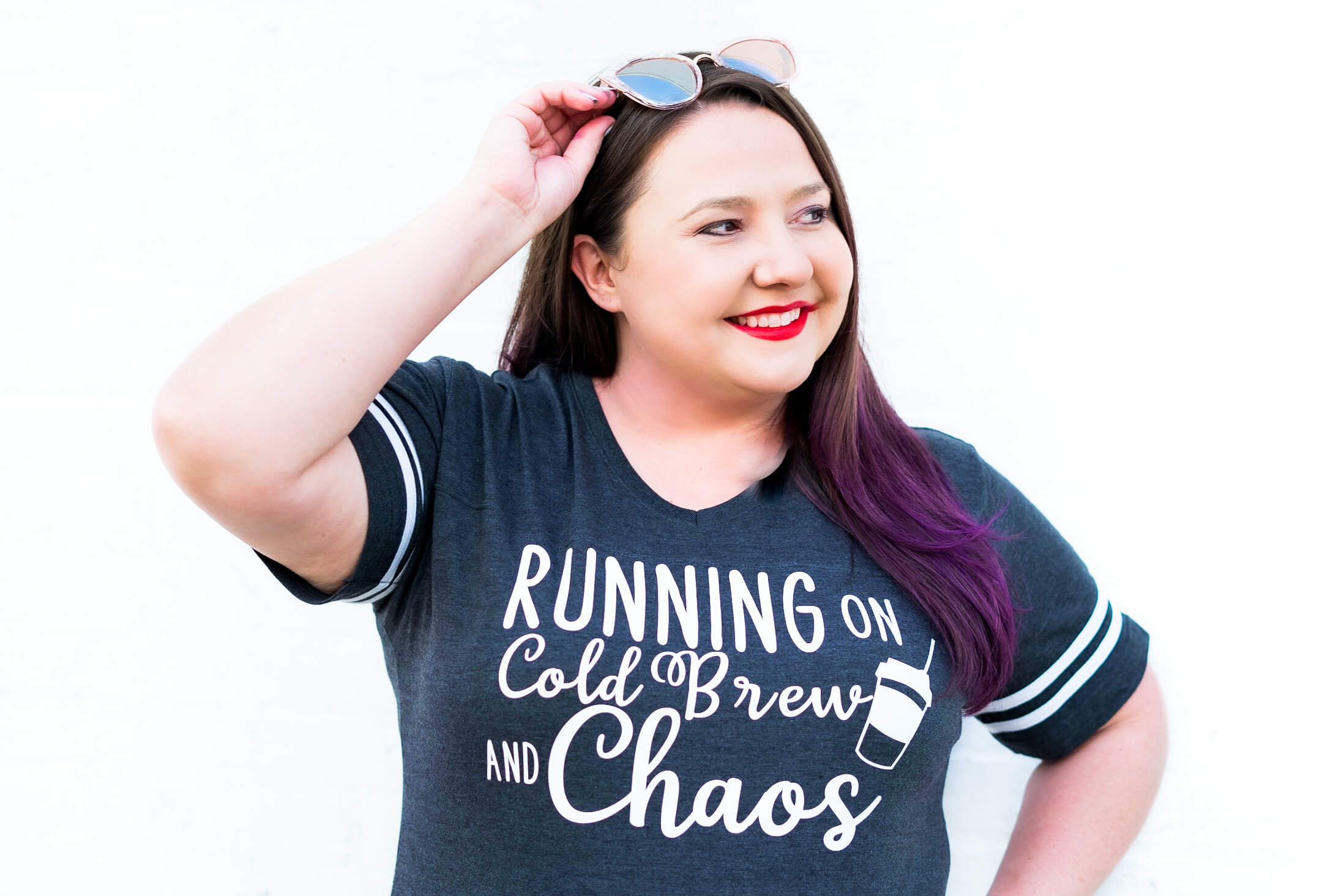 Kim Anderson is the organized chaos loving author behind the Thrifty Little Mom Blog.  She helps other people who thrive in organized chaos to stress less, remember more and feel in control of their time, money, and home. Kim is the author of: Live, Save, Spend, Repeat: The Life You Want with the Money You Have. She's been featured on Time.com, Money.com, Good Housekeeping, Women's Day, and more!