My Thrifty Minecraft Bedroom Makeover & Wall Decor
This post contains affiliate links. As an Amazon Associate, I earn from qualifying purchases. I also earn from qualifying purchases made with other brands and programs. See my
privacy policy.
This post will show you exactly how you can create a fun and thrifty Minecraft bedroom!
When I originally started looking for inspiration for this room, I found myself honestly overwhelmed by the amount of work some people have put into their kid's rooms. Murals, pixel tiles from floor to ceiling, bricks painted onto the walls! Which is great. High five to those parents.
I, however, have a more minimalist approach to my kid's rooms because frankly, I know in a year or two, I may decide I want to change it again and I prefer to do room makeovers in less than a few hours.
Honestly, I like to be the coolest mom on the planet and I regularly look for ways to earn myself that badge of honor. In this case, it was going above the norm Target supplies and getting really creative with room decor. It was pretty darn fun, it was inexpensive and YOU my friend can do it too without breaking the bank. Here are all my Minecraft room ideas, how you can do it and where to get all the other goodies I added.
Note: "Minecraft" is a trademark of Mojang Synergies AB
1. Minecraft Bedroom Light Ideas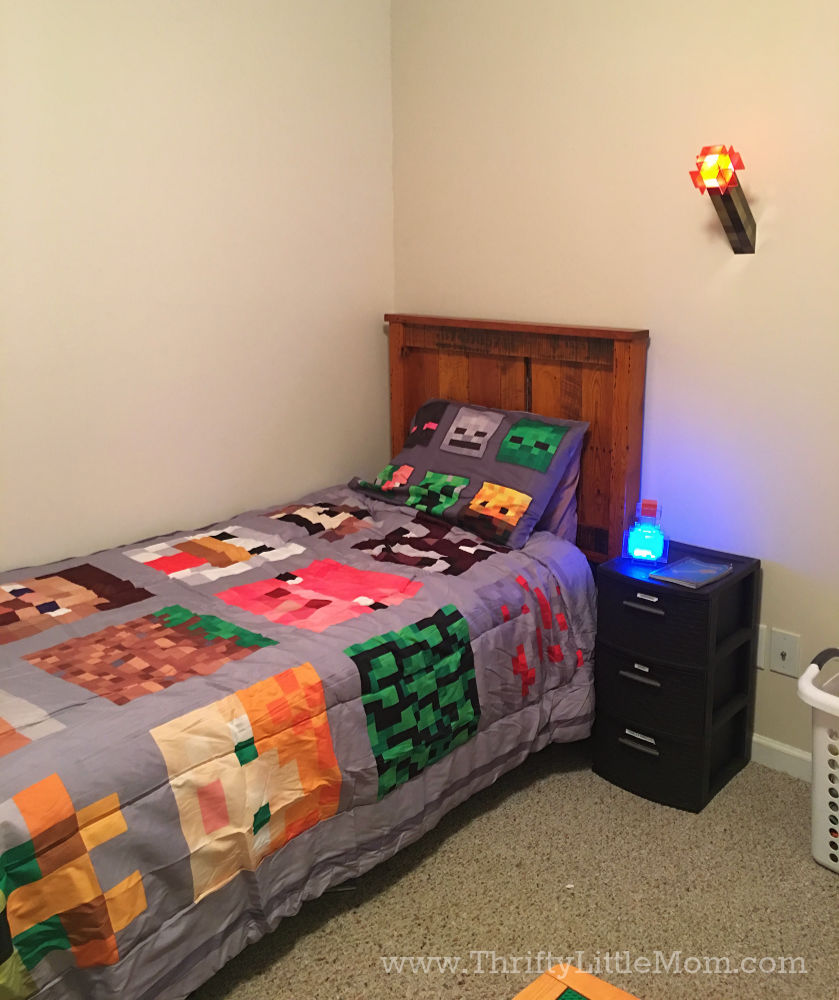 My son has both of these. The Light-Up Wall Torch is hung on his wall and the potion bottle is on his sidetable as a night light. He loves them both!!!
These wer the two light options that I was TOTALLY geeking out about. They were just soooo cool and knew that if I was going to NOT DIY some part of the room that these were worth the cost.
Don't you wish you could make things like this easily? I do but since I can't, I just invested in these little lights and my DIY fun with the rest of the wall art!
ThinkGeek Minecraft Redstone Light-Up Wall Torch Toy – Looks Like It Came Straight Out of the Game – Officially-Licensed Minecraft Merchandise

ThinkGeek Minecraft Color Changing Potion Bottle – Lights Up and Switches Between 8 Different Colors – Officially Licensed Minecraft Merchandise
2. Minecraft Bedroom Bedding Ideas
1. Sheet Sets Savings
When I went to buy the bedding my rebellious thrifty side kicked in. I decided that I really REALLY wanted the bedspread but that I could live without the Kids Minecraft Twin Bedding Sheet Set (Twin)
.
Instead, I opted for a plain green sheet set and a plain red sheet set because they were sooo much cheaper and knew no one would see the sheets as much as the comforter.
2. Comforters – Go all in.
I highly recommend that you go for the comforter as it helps really make the room awesome!
Minecraft Full Or Queen Quilt Blanket & Shams 100% Polyester
Jay Franco Minecraft Isometric Characters Twin Comforter – Super Soft Kids Reversible Bedding Features Creeper – Fade Resistant Polyester Microfiber Fill (Official Minecraft Product)
3. Minecraft Bedroom Ideas- Throw Pillows
I plan to add these to the room once I've made the rest of my wall art. These are really fun and on Amazon they seem to be the thriftiest price tag.
Check out all these character pillow options on Amazon.


4. Minecraft Bedroom Curtains
We don't currently have curtains because we have really nice blinds but if you are looking for some legit curtains, these will do the trick! Check out all the Jay Franco design options.
Jay Franco Mojang Minecraft Spawn Gray 4 Piece Curtain Set (2 Panels, 2 Tiebacks) …
5. Minecraft Wall Decor You Can Make Yourself
When we moved my son had his name on the wall with those cutesy nursery style letters. But now he's a big kid so I took the letters down and me and my sister-in-law had a craft night where we added grid lines/squares to the letters and painted them to have that pixel effect.
I think you could do this with almost ANYTHING you wanted to. Canvas, furniture, lamps, etc. The goal is to make it have that pixelated feel. I'm hoping this random idea might trigger something you could do too. All you need is to make it look pixelated.
I felt like I wanted to take the design one step further and add a 3D element. I happened upon a bag of those geometric math squares, grabbed the glue on and it was on like donkey kong. I was super happy with the outcome.
Step 1: Grid Your Minecraft Wall Decor
Use painters tape and pencil to create grid patterns on the item you plan to paint.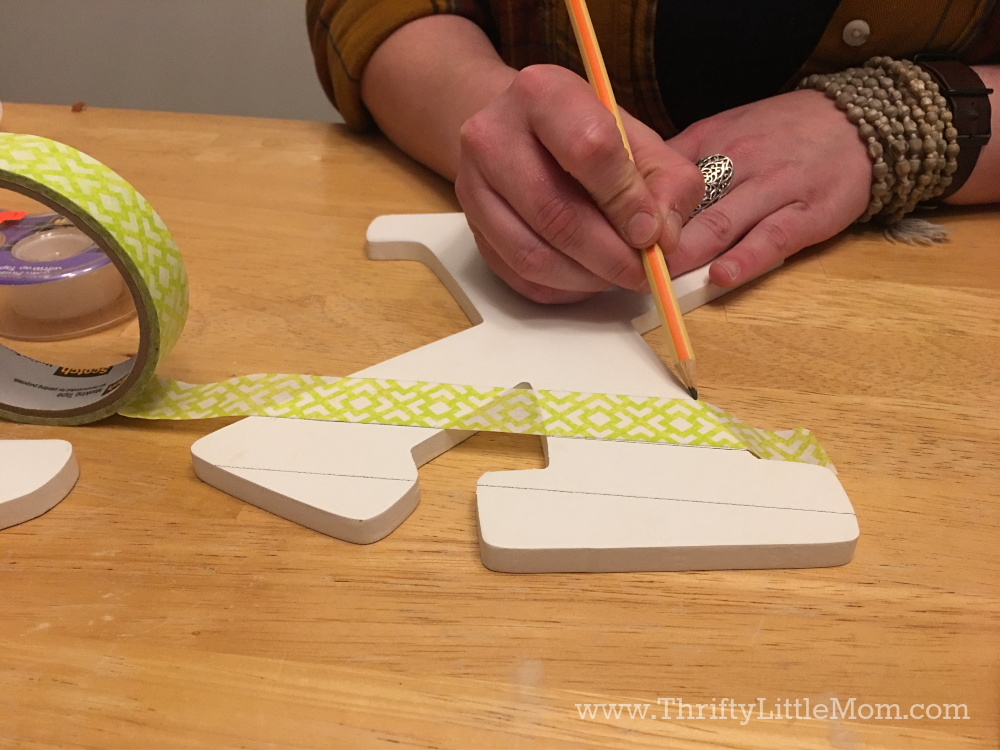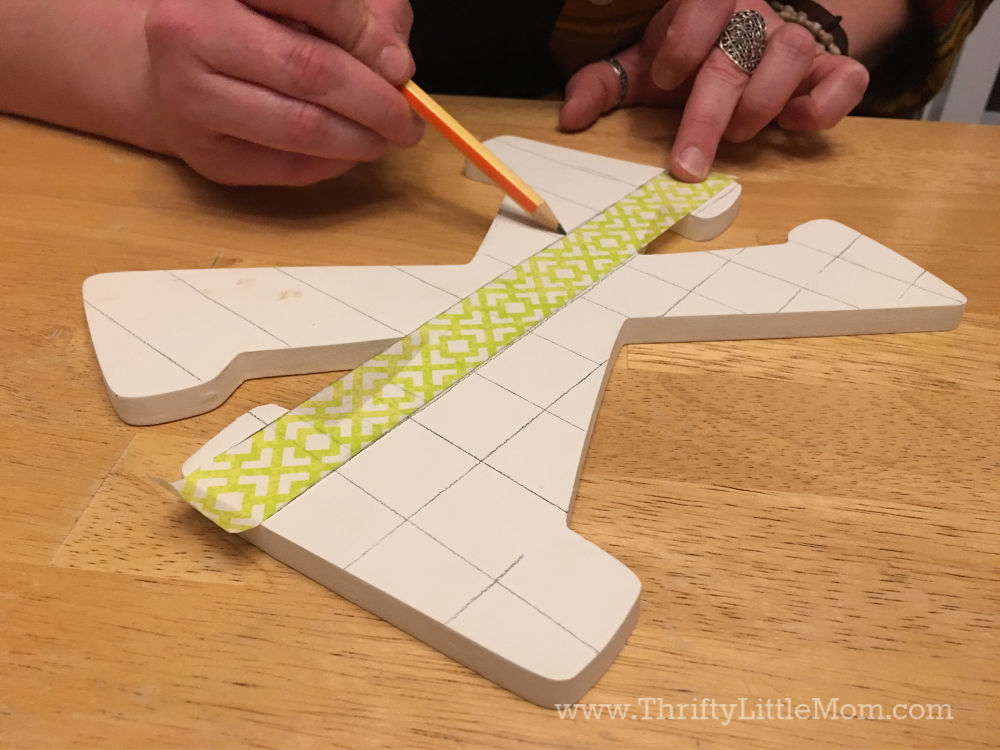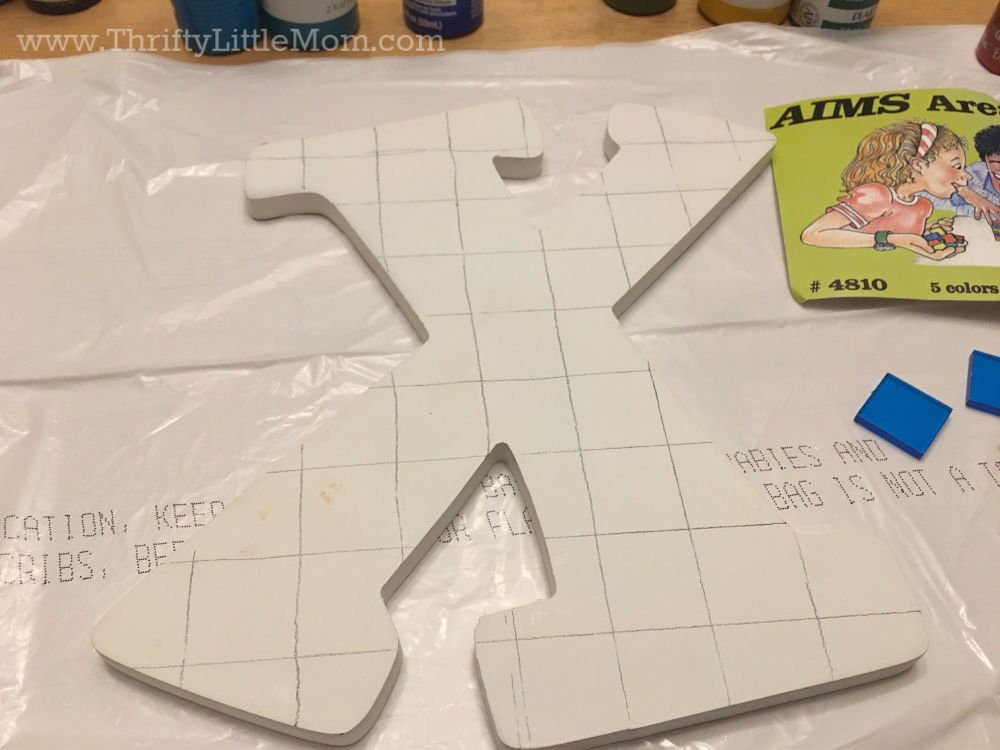 Step 2: Paint Your Minecraft Room Ideas with a 3 Dimensional Painting Approach
Up close often times these styles of painting can look like crap but once you hang them on the wall they look AMAZING! So trust yourself as you paint these little squares in monochromatic style color schemes.
Remember the look is pixelated so it's okay that they have lots of color variations. I made these colors by choosing one solid color and then mixing it with white or black acrylic paint.
This is not about perfection but more about letting it create a variety of shades and textures as to give it a pixel look.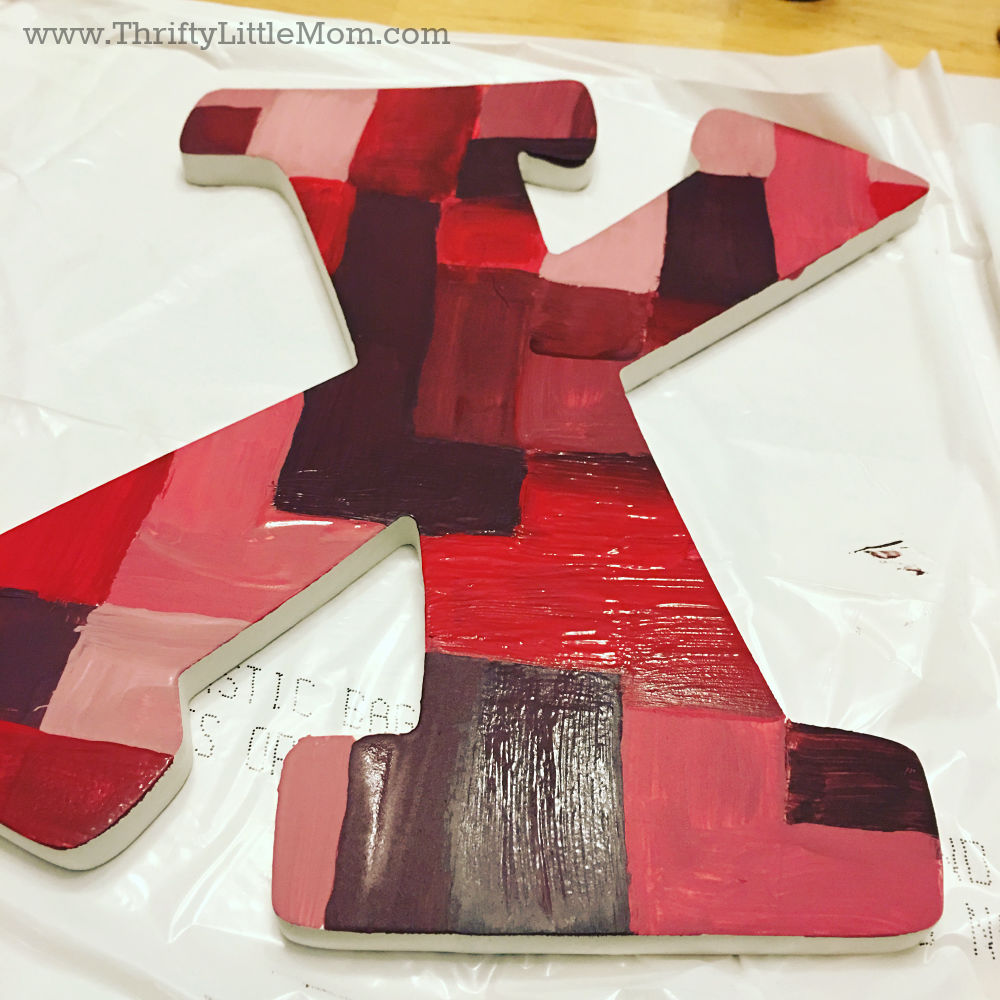 Optional: Add a fun 3D effect with geometric tiles.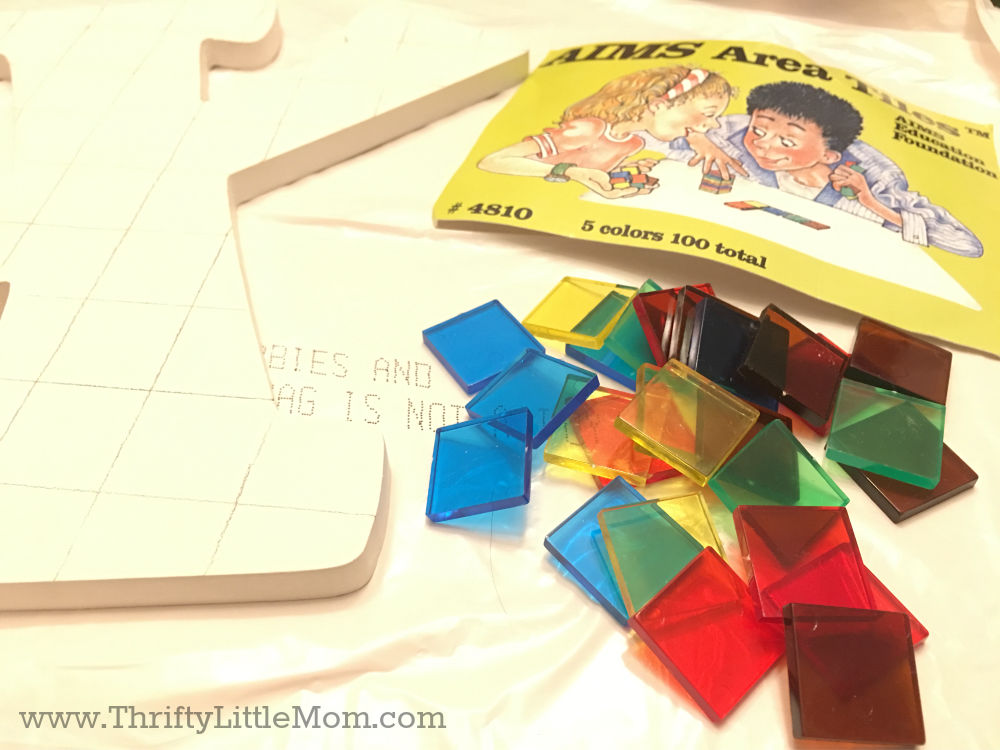 Once you are done you can hang up the letters to form your child's name!

I also made this Steve inspired Mine man. You can see how in the video below!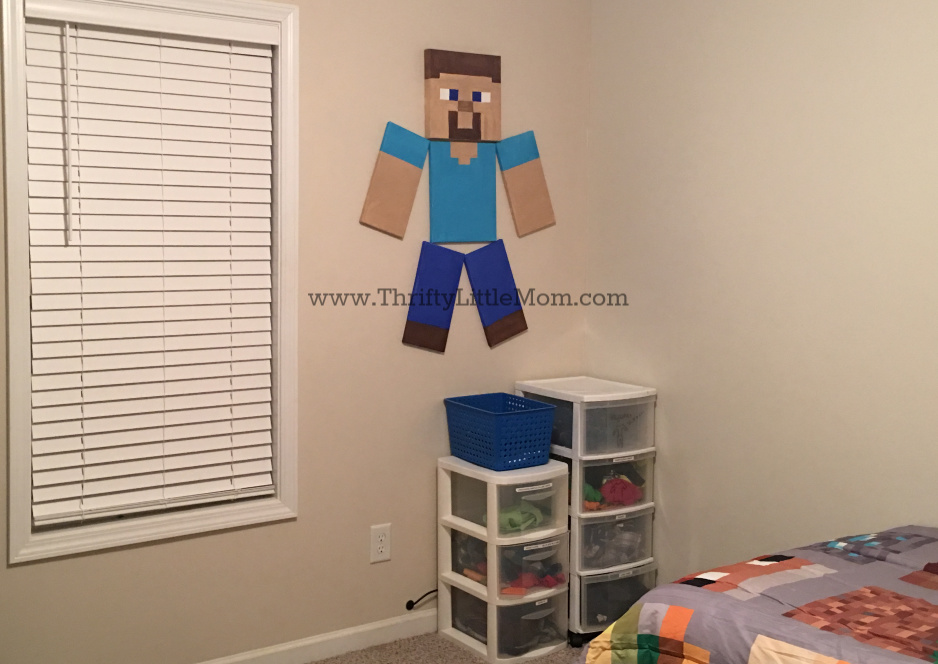 Watch the How-To Video Here:
7. Minecraft Bedroom Wall Decor You Can Buy
If you aren't feeling THAT crafty lol, consider getting one of these cool personalized wall decals. I was just going for the old reduce, reuse and recycle method.
Personalized Gamer Name decal – 3d looking Gamer Room Wall Vinyl Decal Sticker
The thriftiest wall decor option for a Minecraft themed room are posters in my opinion.
Trends International" Minecraft-Sprites 2.0″ Wall Poster, 22.375″ x 34″
Trends International Minecraft Window Wall Poster 22.375″ x 34″
This might just be my favorite one!

I hope you have found this post helpful in your own quest to for a Minecraft inspired Minecraft bedroom makeover!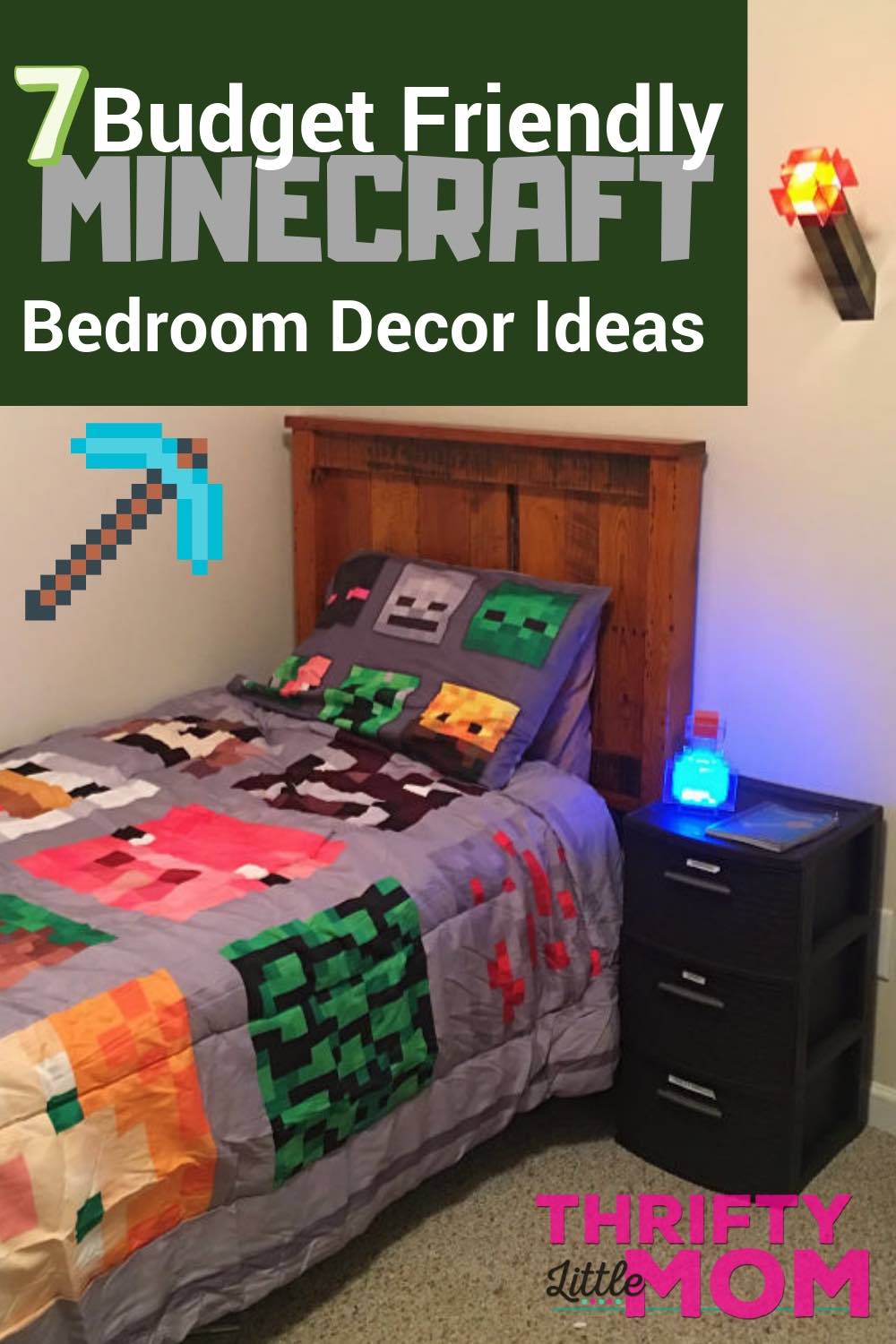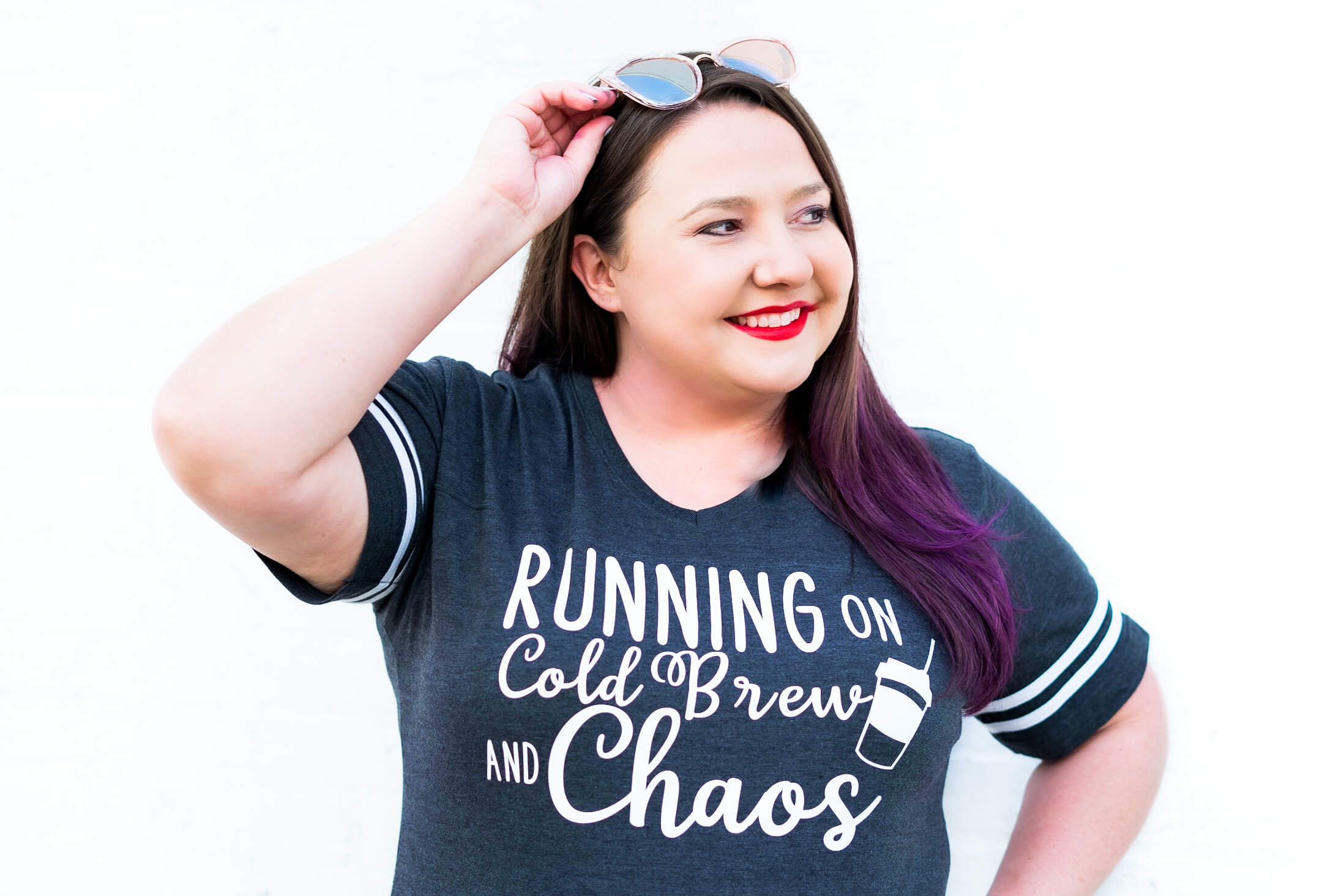 Kim Anderson is the organized chaos loving author behind the Thrifty Little Mom Blog.  She helps other people who thrive in organized chaos to stress less, remember more and feel in control of their time, money, and home. Kim is the author of: Live, Save, Spend, Repeat: The Life You Want with the Money You Have. She's been featured on Time.com, Money.com, Good Housekeeping, Women's Day, and more!