9 Thrifty Party Shop Places Most People Forget About
This post contains affiliate links. As an Amazon Associate, I earn from qualifying purchases. I also earn from qualifying purchases made with other brands and programs. See my
privacy policy.
In 2017, my family moved from very bustling suburbia to a very small town nestled near the mountains of North Carolina.  The one thing they don't have in my new little town is a party shop believe it or not.   So I've had to find new ways to find party supplies in my town.
The other benefit of shopping in these stores is that they are usually cheaper than a dedicated party store would be.  The options may be fewer, but choosing the right color palette can let you get away with a festive and detailed party, even if they aren't super specific like you might find at a national party shop chain.
Nationwide Party Shop Options:
Party Shop Option #1- Walmart
No matter where you live if you live in the US, you most likely have a Walmart.  In fact, I once went to visit family in Pierre, South Dakota and the ONLY thing that town had was a Walmart.

Where to look for party supplies:

The nice thing about Walmart is that most of them have a bakery, grocery store and a healthy party/seasonal celebration section making it a great one-stop party shop option.
Don't forget to visit the craft area as well.  My local Walmart actually keeps the "bulk" party supplies in the craft section of the store.
This is one stop party shop and a place where you will get a great price on your supplies.
If your local Walmart doesn't have all the items you want, consider ordering via Walmart.com Party Supplies.
Party Shop Option #2- Target
Oh man, be still my heart when I walk up down the party supply isles at Target.

Where to look for party supplies:  

When you are inside of a Target store there are three main areas that you can almost always find party supplies.

The main party isle, near the stationary and office supplies.

This is where you'll find some of the most Pinterest worthy party theme supplies.

The Dollar Stop (my personal favorite) which is right up front as you enter the store.

This is where you'll find super cute, seasonal and great priced party items.

The seasonal section.

Located at the very back of the store, this section will house all your holidays and seasonal celebration specific items.

If for some reason your local Target store is sold out of a theme you love, you can always order online or have to check to see if there is another store in the area that might carry the item you need.
Party Shop Option #3- Dollar Tree
Dollar Tree's are fairly significant nationwide option nowadays.  Let me just tell you, they have SERIOUSLY upped their game in the last few years.  This is usually one of my very first party shop stops in my town because it's worth it just to see what they have that might surprise me.
Where to look for party supplies:

At the front of most Dollar Trees stores, you'll find the seasonal section.  This is a great place to start if you are planning a holiday or season related party.
Next, the first isle of the store usually has floor to ceiling party decorations.  This section is going to be more "party neutral" than the front and you can mix and match solid colors for table clothes, napkins, cups, plates, and even silverware.
As you approach the end of this isle you should find a large selection of party serving ware.  These items are usually white, clear or silver and the variety of options usually sets my imagination on fire. Tiny serving forks, serving spoons, tongs, tiny bowls, and disposable even champagne glasses.
Before you go, don't forget to glance over in the far left, front corner of the store where you'll find a large array of mylar balloons to choose from!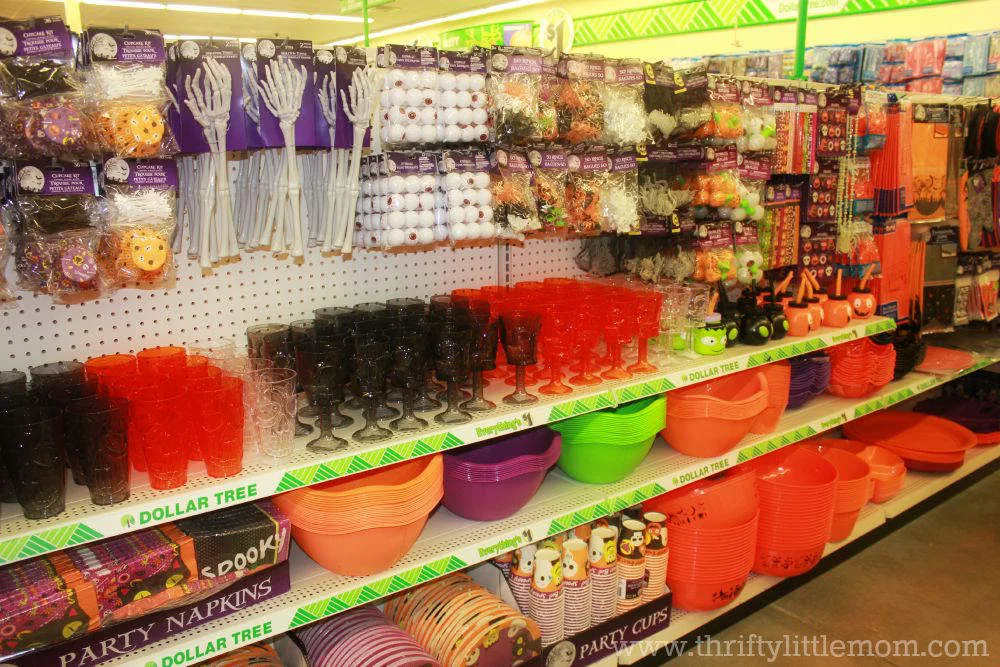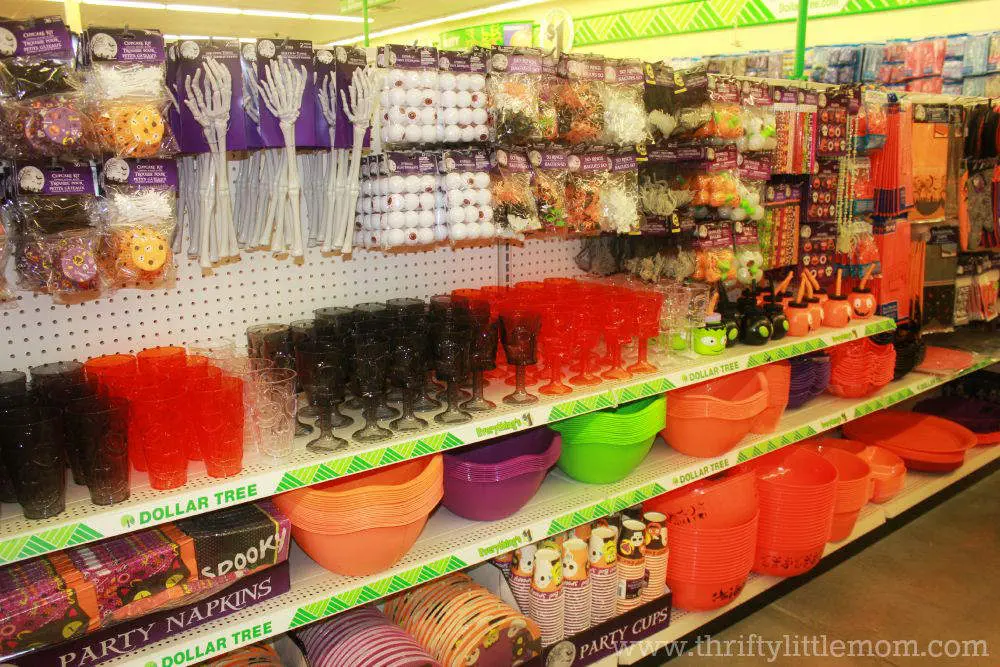 Party Shop Option #4- Dollar General
Okay, I'm going to be super honest here.  Before I moved to rural town, I just didn't understand Dollar General.  I would see them and be like, "Why wouldn't someone just drive to Walmart".  But now, after living in a small country town for over a year, I get that you don't want to "run to town" most of the time because it just takes too stinking long.  It's not convenient.
These little stores are not only convenient but I've been pleasantly surprised by the variety and cool factor of a lot of their party supplies!
Where to look for party supplies:

Each Dollar General seems to be different as to where they place their party isle but you can ask a store associate to direct you to the right place.
These stores also usually have a seasonal/holiday section.
Sidewalk Sales- Dollar General has to move merchandise on the regular and so they have some pretty awesome sidewalk sales on their seasonal and even nonseasonal merchandise.  I highly recommend taking a look through the bins if they are having one when you go looking for items for your next party!
Party Shop Option #5- Hobby Lobby
This is another store that I could get lost in for hours.
Hobby Lobby has MASSIVE party sections of the store.
Their seasonal isles go on for days.

How to save money:

If you have a party coming up, it's a good idea to watch the Hobby Lobby weekly ad to see what's on sale.
Hobby Lobby will often run sales ranging from 30%-50% off on the regular.
If seasonal items aren't marked at least 40% with the signs, then wait a few weeks and come back.  These items usually sit at full price for a minute before they put them on sale for the remainder of the season.
If you find something you love that's not on sale, don't forget about the ongoing, weekly 40% off coupon on any non-sale items.  There are some restrictions (but not many).
Party Shop Option #6- Big Lots & Discount Stores
One more party shop option that I think many people forget about is Big Lots.   These stores usually have pretty good prices on party supply options and given that they are an outlet store you just never know what treasure you might stumble upon at a fraction of the original retail price.
Party Shop Option #7 – Find an Independently Owned Party Store-
If you prefer to support small local businesses, consider Googling, "Party store near me" and see what comes up.  You might discover a little mom and pop owned shop in your town that you didn't know about!
Party Shop Option #8- Local Party Supply Rental Companies
If I'm throwing a particularly large shindig, I'll check out the websites of my local party supply rental companies where you can find inexpensive chairs, tables, table clothes, centerpieces, fountains and inflatable jump houses for rent.
The beauty of these companies is that they deliver, set up, tear down and you don't have to store any of the party supplies at your house, in your attic or in your garage.
Party Shop Option #9- Local Thrift Stores
Okay before you freak out, hear me out.  Thrift stores are actually great places to find really classy glass or ceramic party platters and serving ware.
I would say that when people declutter their kitchen, these can be some of the first items to be placed into the thrift store bags because they were really nice gifts that just never get used and take up valuable kitchen real estate.
Many thrift stores also get brand new items from big retailers.  For example, I regularly see clearance Target party supply items in my local Goodwill.
Don't be afraid to browse the isles and just see what you find!  My best friend Rhonda is the queen of versatile Goodwill decor for every celebration she has at her house.  Check out this post titled, Decorate Your Mantel Like the Magazines All Year Long, where Rhonda created really pretty mantel decor for almost every holiday using 3 simple thrift store glassware items.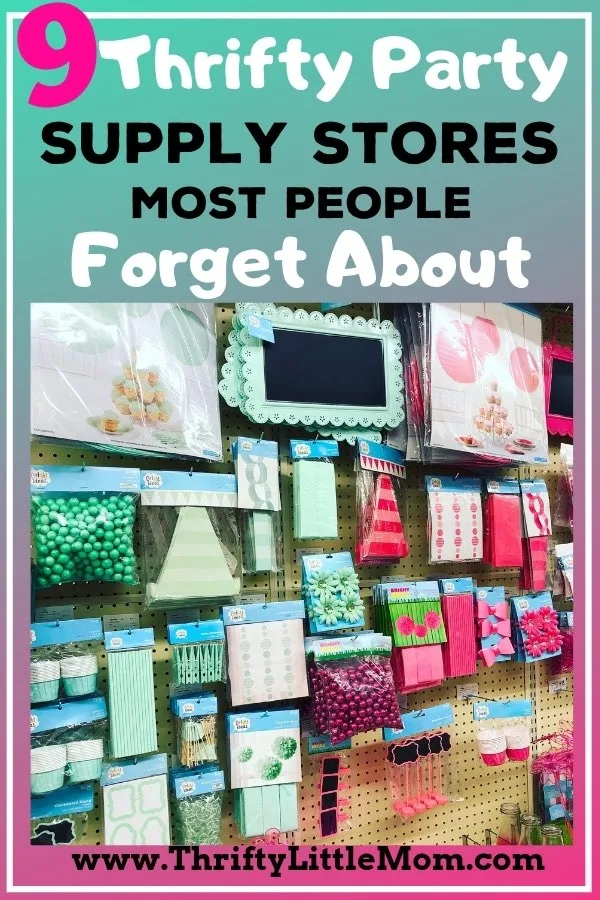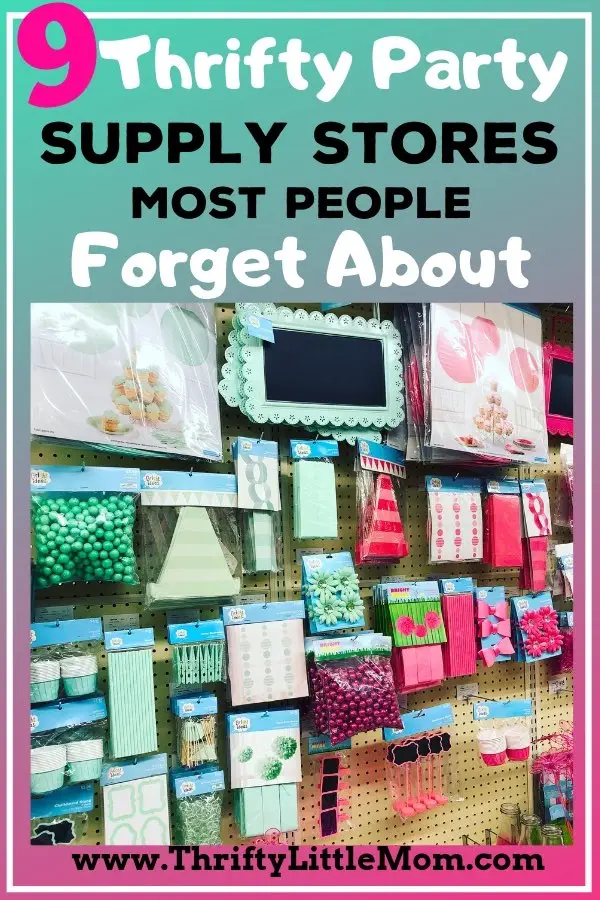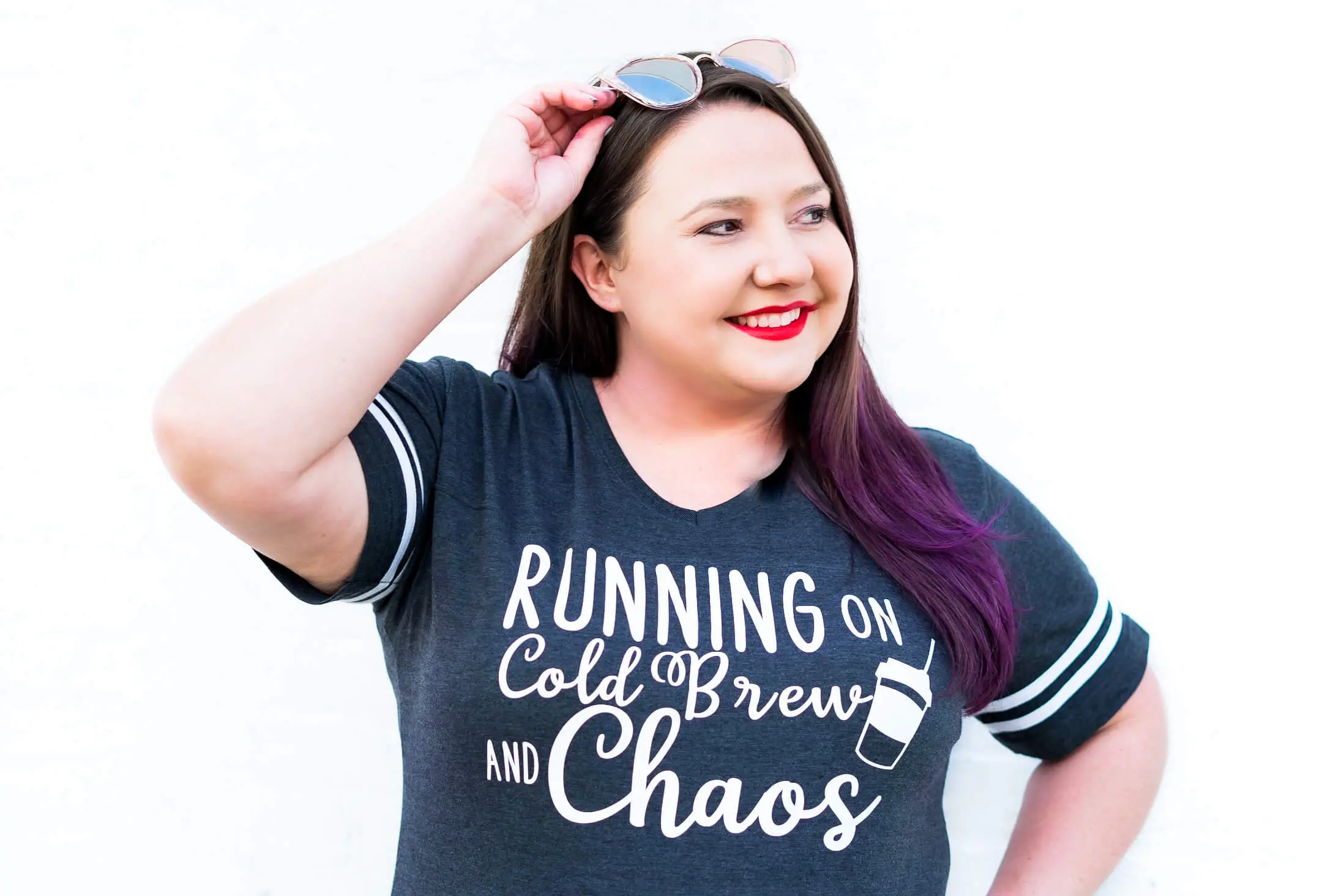 Kim Anderson is the organized chaos loving author behind the Thrifty Little Mom Blog.  She helps other people who thrive in organized chaos to stress less, remember more and feel in control of their time, money, and home. Kim is the author of: Live, Save, Spend, Repeat: The Life You Want with the Money You Have. She's been featured on Time.com, Money.com, Good Housekeeping, Women's Day, and more!